Half Price Silver Age and Bronze Age Comics
Howdy!
Today's newsletter is one where you might really want to check out the end listing, as Will Moulton was finally able to grade and enter into our online inventory some of the really nice older 1960's, 1970's, and 1980's comics that I purchased in Colorado Springs a couple of months ago. It may seem wasteful that we have such great older comics in stock for so long before listing them, but truth be told, we are buying remarkable collections at such a frenetic pace that we can barely keep up. All facts considered, that's really not such a bad problem to have...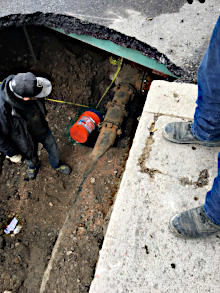 Pipe repair outside the building

Part of the reason why I asked Will to grade that particularly nice collection is that I am trying to raise a little extra money for my wife, Nanette. She pays our bills at Mile High Comics, and the aggravation of paying the contractor for that big hole that we had to dig (and the 12" pressurized pipe repair that we endured) last week falls upon her. I truly never enjoy selling even our best older comics at half price during one of our especially generous codeword sales, but if it helps my beloved Nanette get over this unexpected cash flow hump, then so be it.
What this means for you is that you can gleefully pillage our entire inventory of ten million back issue comics right now at half price when you utilize the 50% off BIGDIG! codeword. Only new issues, a few variants, and our professionally-graded comics are exempt. Other than those minor exclusions, this system wide 50% off sale covers all of our Marvel, DC, Dark Horse, Image, IDW, BOOM!, Valiant, Dynamic Forces, Archie, Harvey, Dell, Gold Key, and hundreds of additional small press publishers, as well as all of our Golden Age, Silver Age, Bronze Age, Copper Age, and Modern comics. Even our older Marvel and Warren magazines are included in this great sale, which will last until we finally cover the cost of that huge pipe repair. Sigh...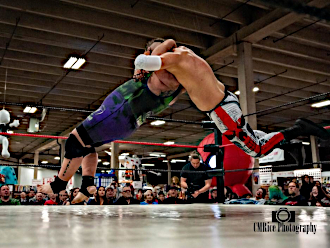 Some of the action at our last New Era Wrestling event

I will close by quickly mentioning that we be hosting an entertaining New Era Professional Wrestling event at Jason St. on Saturday evening beginning at 6:30 PM (first match at 7:00) and our monthly All-Ages Drag Show starting at 5 PM (show at 6:00) on Sunday. Bettie will be performing a new number in the All-Ages show on Sunday, so if you've ever wanted to see me perform in drag in Denver, this is your opportunity.
Happy collecting!
Chuck Rozanski,
President - Mile High Comics, Inc.
May 11, 2019
Newly Arrived back issues:
MARVEL

AMAZING SPIDER-MAN (1999) (#1-58, #500-700.5) (MARVEL) #545

AMAZING SPIDER-MAN (1999) (#1-58, #500-700.5) (MARVEL) #545 Near Mint/Mint

AVENGERS (1963) (#1-402) (MARVEL) #24 Very Good
AVENGERS (1963) (#1-402) (MARVEL) #200 NEWSSTAND Good
AVENGERS (1963) (#1-402) (MARVEL) #277 NEWSSTAND Fine

AVENGERS (1996) (#1-13) (HEROES REBORN) (MARVEL) #5 Near Mint/Mint
AVENGERS (1996) (#1-13) (HEROES REBORN) (MARVEL) #5 CLOSE-UP Near Mint/Mint

AVENGERS DISASSEMBLED: THOR TPB (2004) #1 Fine

AVENGERS: ENDGAME PRELUDE TPB (2019) #1 Near Mint/Mint

AVENGERS: INFINITY WAR PRELUDE TPB (2018) #1 Near Mint/Mint

BLACK WIDOW (2014) (#1-20) (MARVEL) #16 DEL RAY Very Fine

CAPTAIN AMERICA BY WAID & SAMNEE: HOME OF THE BRAVE TPB (2018) #1 Near Mint/Mint

CAPTAIN AMERICA BY WAID: PROMISED LAND TPB (2018) #1 Near Mint/Mint

CAPTAIN AMERICA VOL. 1: WINTER IN AMERICA TPB (2019) #1 Fine

CAPTAIN AMERICA: DEATH OF CAPTAIN AMERICA TPB (2008) #1 Fine

CAPTAIN MARVEL (1968) (#1-62) (MARVEL) #2 Fine
CAPTAIN MARVEL (1968) (#1-62) (MARVEL) #9 Very Good
CAPTAIN MARVEL (1968) (#1-62) (MARVEL) #18 Good

CAPTAIN MARVEL (2014) (#1-15) (MARVEL) #7 Near Mint/Mint
CAPTAIN MARVEL (2014) (#1-15) (MARVEL) #8 Near Mint/Mint
CAPTAIN MARVEL (2014) (#1-15) (MARVEL) #11 Near Mint/Mint
CAPTAIN MARVEL (2014) (#1-15) (MARVEL) #12 Near Mint/Mint
CAPTAIN MARVEL (2014) (#1-15) (MARVEL) #13 Near Mint/Mint
CAPTAIN MARVEL (2014) (#1-15) (MARVEL) #15 Near Mint/Mint

CLOAK & DAGGER: NEGATIVE EXPOSURE TPB (2019) #1 Near Mint/Mint

COSMIC POWERS UNLIMITED (1995) #5 Near Mint/Mint

DAREDEVIL (1964) (#1-380) (MAN WITHOUT FEAR) (MARVEL) #157 Very Good


DAREDEVIL (1964) (#1-380) (MAN WITHOUT FEAR) (MARVEL) #164

DAREDEVIL (1964) (#1-380) (MAN WITHOUT FEAR) (MARVEL) #164 Fine
DAREDEVIL (1964) (#1-380) (MAN WITHOUT FEAR) (MARVEL) #171 NEWSSTAND Fine
DAREDEVIL (1964) (#1-380) (MAN WITHOUT FEAR) (MARVEL) #171 NEWSSTAND Good
DAREDEVIL (1964) (#1-380) (MAN WITHOUT FEAR) (MARVEL) #172 NEWSSTAND Fine
DAREDEVIL (1964) (#1-380) (MAN WITHOUT FEAR) (MARVEL) #173 NEWSSTAND Fine
DAREDEVIL (1964) (#1-380) (MAN WITHOUT FEAR) (MARVEL) #173 NEWSSTAND Very Good
DAREDEVIL (1964) (#1-380) (MAN WITHOUT FEAR) (MARVEL) #174 NEWSSTAND Very Fine
DAREDEVIL (1964) (#1-380) (MAN WITHOUT FEAR) (MARVEL) #174 NEWSSTAND Fine
DAREDEVIL (1964) (#1-380) (MAN WITHOUT FEAR) (MARVEL) #175 NEWSSTAND Good

DAREDEVIL ANNUAL (1967) #1 Good

DEADPOOL & CABLE: SPLIT SECOND TPB (2016) #1 Near Mint/Mint

DEADPOOL VOL. 1: MERCIN HARD FOR THE MONEY TPB (2019) #1 Near Mint/Mint

DEADPOOL VOL. 3: GOOD, THE BAD, & THE UGLY TPB (2013) #1 4TH PRINT Near Mint/Mint

DEADPOOL VS. OLD MAN LOGAN TPB (2018) #1 Very Fine

DEADPOOL: SECRET AGENT DEADPOOL TPB (2019) #1 Near Mint/Mint

DESPICABLE DEADPOOL VOL. 1: DEADPOOL KILLS CABLE TPB (2017) #1 Fine

FANTASY MASTERPIECES (1966) #1 Good

GUARDIANS OF THE GALAXY VOL. 1: COSMIC AVENGERS TPB (2014) #1 3RD PRINT Near Mint/Mint

GUIDEBOOK TO THE MARVEL CINEMATIC UNIVERSE HC (2016) #1 Near Mint/Mint

INFINITY WARS PRIME (2018) #1 PEREZ Near Mint/Mint

INFINITY WARS: FALLEN GUARDIAN (2018) #1 DEKAL Fine

IRON MAN (1968) (#1-332) (INVINCIBLE IRON MAN)(MARVEL) #2 Fine
IRON MAN (1968) (#1-332) (INVINCIBLE IRON MAN)(MARVEL) #3 Fine
IRON MAN (1968) (#1-332) (INVINCIBLE IRON MAN)(MARVEL) #3 Very Good
IRON MAN (1968) (#1-332) (INVINCIBLE IRON MAN)(MARVEL) #5 Fine
IRON MAN (1968) (#1-332) (INVINCIBLE IRON MAN)(MARVEL) #5 Very Fine
IRON MAN (1968) (#1-332) (INVINCIBLE IRON MAN)(MARVEL) #6 Fine
IRON MAN (1968) (#1-332) (INVINCIBLE IRON MAN)(MARVEL) #6 Very Good


IRON MAN (1968) (#1-332) (INVINCIBLE IRON MAN)(MARVEL) #6

IRON MAN (1968) (#1-332) (INVINCIBLE IRON MAN)(MARVEL) #6 Very Fine
IRON MAN (1968) (#1-332) (INVINCIBLE IRON MAN)(MARVEL) #7 Good
IRON MAN (1968) (#1-332) (INVINCIBLE IRON MAN)(MARVEL) #7 Fine
IRON MAN (1968) (#1-332) (INVINCIBLE IRON MAN)(MARVEL) #9 Very Fine
IRON MAN (1968) (#1-332) (INVINCIBLE IRON MAN)(MARVEL) #10 Good
IRON MAN (1968) (#1-332) (INVINCIBLE IRON MAN)(MARVEL) #15 Fine
IRON MAN (1968) (#1-332) (INVINCIBLE IRON MAN)(MARVEL) #15 Good
IRON MAN (1968) (#1-332) (INVINCIBLE IRON MAN)(MARVEL) #16 Good
IRON MAN (1968) (#1-332) (INVINCIBLE IRON MAN)(MARVEL) #17 Very Good
IRON MAN (1968) (#1-332) (INVINCIBLE IRON MAN)(MARVEL) #18 Very Good
IRON MAN (1968) (#1-332) (INVINCIBLE IRON MAN)(MARVEL) #21 Fine
IRON MAN (1968) (#1-332) (INVINCIBLE IRON MAN)(MARVEL) #22 Good
IRON MAN (1968) (#1-332) (INVINCIBLE IRON MAN)(MARVEL) #23 Good
IRON MAN (1968) (#1-332) (INVINCIBLE IRON MAN)(MARVEL) #24 Fine
IRON MAN (1968) (#1-332) (INVINCIBLE IRON MAN)(MARVEL) #24 Very Good
IRON MAN (1968) (#1-332) (INVINCIBLE IRON MAN)(MARVEL) #25 Fine
IRON MAN (1968) (#1-332) (INVINCIBLE IRON MAN)(MARVEL) #26 Fine
IRON MAN (1968) (#1-332) (INVINCIBLE IRON MAN)(MARVEL) #26 Very Good
IRON MAN (1968) (#1-332) (INVINCIBLE IRON MAN)(MARVEL) #27 Very Good
IRON MAN (1968) (#1-332) (INVINCIBLE IRON MAN)(MARVEL) #27 Very Fine
IRON MAN (1968) (#1-332) (INVINCIBLE IRON MAN)(MARVEL) #28 Fine
IRON MAN (1968) (#1-332) (INVINCIBLE IRON MAN)(MARVEL) #28 Very Good
IRON MAN (1968) (#1-332) (INVINCIBLE IRON MAN)(MARVEL) #29 Very Good
IRON MAN (1968) (#1-332) (INVINCIBLE IRON MAN)(MARVEL) #30 Fine
IRON MAN (1968) (#1-332) (INVINCIBLE IRON MAN)(MARVEL) #30 Very Fine
IRON MAN (1968) (#1-332) (INVINCIBLE IRON MAN)(MARVEL) #31 Fine
IRON MAN (1968) (#1-332) (INVINCIBLE IRON MAN)(MARVEL) #31 Very Fine
IRON MAN (1968) (#1-332) (INVINCIBLE IRON MAN)(MARVEL) #32 Fine
IRON MAN (1968) (#1-332) (INVINCIBLE IRON MAN)(MARVEL) #32 Very Fine
IRON MAN (1968) (#1-332) (INVINCIBLE IRON MAN)(MARVEL) #33 Fine
IRON MAN (1968) (#1-332) (INVINCIBLE IRON MAN)(MARVEL) #33 Very Good
IRON MAN (1968) (#1-332) (INVINCIBLE IRON MAN)(MARVEL) #34 Fine
IRON MAN (1968) (#1-332) (INVINCIBLE IRON MAN)(MARVEL) #34 Good
IRON MAN (1968) (#1-332) (INVINCIBLE IRON MAN)(MARVEL) #34 Very Fine
IRON MAN (1968) (#1-332) (INVINCIBLE IRON MAN)(MARVEL) #35 Near Mint/Mint
IRON MAN (1968) (#1-332) (INVINCIBLE IRON MAN)(MARVEL) #35 Fine
IRON MAN (1968) (#1-332) (INVINCIBLE IRON MAN)(MARVEL) #35 Very Good
IRON MAN (1968) (#1-332) (INVINCIBLE IRON MAN)(MARVEL) #36 Near Mint/Mint
IRON MAN (1968) (#1-332) (INVINCIBLE IRON MAN)(MARVEL) #37 Very Fine
IRON MAN (1968) (#1-332) (INVINCIBLE IRON MAN)(MARVEL) #38 Near Mint/Mint
IRON MAN (1968) (#1-332) (INVINCIBLE IRON MAN)(MARVEL) #38 Very Good
IRON MAN (1968) (#1-332) (INVINCIBLE IRON MAN)(MARVEL) #39 Very Fine
IRON MAN (1968) (#1-332) (INVINCIBLE IRON MAN)(MARVEL) #40 Fine


IRON MAN (1968) (#1-332) (INVINCIBLE IRON MAN)(MARVEL) #40

IRON MAN (1968) (#1-332) (INVINCIBLE IRON MAN)(MARVEL) #40 Very Fine
IRON MAN (1968) (#1-332) (INVINCIBLE IRON MAN)(MARVEL) #42 Fine
IRON MAN (1968) (#1-332) (INVINCIBLE IRON MAN)(MARVEL) #42 Very Good
IRON MAN (1968) (#1-332) (INVINCIBLE IRON MAN)(MARVEL) #43 Fine
IRON MAN (1968) (#1-332) (INVINCIBLE IRON MAN)(MARVEL) #43 Very Good
IRON MAN (1968) (#1-332) (INVINCIBLE IRON MAN)(MARVEL) #45 Very Good
IRON MAN (1968) (#1-332) (INVINCIBLE IRON MAN)(MARVEL) #46 Fine
IRON MAN (1968) (#1-332) (INVINCIBLE IRON MAN)(MARVEL) #46 Very Fine
IRON MAN (1968) (#1-332) (INVINCIBLE IRON MAN)(MARVEL) #46 Very Good
IRON MAN (1968) (#1-332) (INVINCIBLE IRON MAN)(MARVEL) #48 Near Mint/Mint
IRON MAN (1968) (#1-332) (INVINCIBLE IRON MAN)(MARVEL) #48 Very Fine
IRON MAN (1968) (#1-332) (INVINCIBLE IRON MAN)(MARVEL) #49 Very Fine
IRON MAN (1968) (#1-332) (INVINCIBLE IRON MAN)(MARVEL) #51 Very Fine
IRON MAN (1968) (#1-332) (INVINCIBLE IRON MAN)(MARVEL) #52 Fine
IRON MAN (1968) (#1-332) (INVINCIBLE IRON MAN)(MARVEL) #53 Very Good
IRON MAN (1968) (#1-332) (INVINCIBLE IRON MAN)(MARVEL) #56 Near Mint/Mint
IRON MAN (1968) (#1-332) (INVINCIBLE IRON MAN)(MARVEL) #56 Very Fine
IRON MAN (1968) (#1-332) (INVINCIBLE IRON MAN)(MARVEL) #57 Fine
IRON MAN (1968) (#1-332) (INVINCIBLE IRON MAN)(MARVEL) #59 Fine
IRON MAN (1968) (#1-332) (INVINCIBLE IRON MAN)(MARVEL) #60 Very Fine
IRON MAN (1968) (#1-332) (INVINCIBLE IRON MAN)(MARVEL) #61 Very Good
IRON MAN (1968) (#1-332) (INVINCIBLE IRON MAN)(MARVEL) #61 Very Fine
IRON MAN (1968) (#1-332) (INVINCIBLE IRON MAN)(MARVEL) #63 Fine
IRON MAN (1968) (#1-332) (INVINCIBLE IRON MAN)(MARVEL) #64 Fine
IRON MAN (1968) (#1-332) (INVINCIBLE IRON MAN)(MARVEL) #65 Very Fine
IRON MAN (1968) (#1-332) (INVINCIBLE IRON MAN)(MARVEL) #66 Very Fine
IRON MAN (1968) (#1-332) (INVINCIBLE IRON MAN)(MARVEL) #67 Fine
IRON MAN (1968) (#1-332) (INVINCIBLE IRON MAN)(MARVEL) #67 Very Fine
IRON MAN (1968) (#1-332) (INVINCIBLE IRON MAN)(MARVEL) #68 Very Fine
IRON MAN (1968) (#1-332) (INVINCIBLE IRON MAN)(MARVEL) #69 Near Mint/Mint
IRON MAN (1968) (#1-332) (INVINCIBLE IRON MAN)(MARVEL) #69 Very Fine
IRON MAN (1968) (#1-332) (INVINCIBLE IRON MAN)(MARVEL) #70 Fine
IRON MAN (1968) (#1-332) (INVINCIBLE IRON MAN)(MARVEL) #71 Very Good
IRON MAN (1968) (#1-332) (INVINCIBLE IRON MAN)(MARVEL) #73 Fine
IRON MAN (1968) (#1-332) (INVINCIBLE IRON MAN)(MARVEL) #73 Very Good
IRON MAN (1968) (#1-332) (INVINCIBLE IRON MAN)(MARVEL) #73 Very Fine
IRON MAN (1968) (#1-332) (INVINCIBLE IRON MAN)(MARVEL) #75 Fine
IRON MAN (1968) (#1-332) (INVINCIBLE IRON MAN)(MARVEL) #75 Very Fine
IRON MAN (1968) (#1-332) (INVINCIBLE IRON MAN)(MARVEL) #75 Very Good
IRON MAN (1968) (#1-332) (INVINCIBLE IRON MAN)(MARVEL) #76 Very Good
IRON MAN (1968) (#1-332) (INVINCIBLE IRON MAN)(MARVEL) #77 Very Fine
IRON MAN (1968) (#1-332) (INVINCIBLE IRON MAN)(MARVEL) #79 Very Fine
IRON MAN (1968) (#1-332) (INVINCIBLE IRON MAN)(MARVEL) #80 Very Fine


IRON MAN (1968) (#1-332) (INVINCIBLE IRON MAN)(MARVEL) #82

IRON MAN (1968) (#1-332) (INVINCIBLE IRON MAN)(MARVEL) #82 Very Good
IRON MAN (1968) (#1-332) (INVINCIBLE IRON MAN)(MARVEL) #86 Fine
IRON MAN (1968) (#1-332) (INVINCIBLE IRON MAN)(MARVEL) #87 Very Fine
IRON MAN (1968) (#1-332) (INVINCIBLE IRON MAN)(MARVEL) #88 Good
IRON MAN (1968) (#1-332) (INVINCIBLE IRON MAN)(MARVEL) #90 Very Good
IRON MAN (1968) (#1-332) (INVINCIBLE IRON MAN)(MARVEL) #91 Very Fine
IRON MAN (1968) (#1-332) (INVINCIBLE IRON MAN)(MARVEL) #92 Very Fine
IRON MAN (1968) (#1-332) (INVINCIBLE IRON MAN)(MARVEL) #93 Very Good
IRON MAN (1968) (#1-332) (INVINCIBLE IRON MAN)(MARVEL) #94 Fine
IRON MAN (1968) (#1-332) (INVINCIBLE IRON MAN)(MARVEL) #99 Very Fine
IRON MAN (1968) (#1-332) (INVINCIBLE IRON MAN)(MARVEL) #100 Very Fine
IRON MAN (1968) (#1-332) (INVINCIBLE IRON MAN)(MARVEL) #101 Fine
IRON MAN (1968) (#1-332) (INVINCIBLE IRON MAN)(MARVEL) #104 Very Fine
IRON MAN (1968) (#1-332) (INVINCIBLE IRON MAN)(MARVEL) #105 Very Fine
IRON MAN (1968) (#1-332) (INVINCIBLE IRON MAN)(MARVEL) #107 Fine
IRON MAN (1968) (#1-332) (INVINCIBLE IRON MAN)(MARVEL) #107 Very Fine
IRON MAN (1968) (#1-332) (INVINCIBLE IRON MAN)(MARVEL) #108 Very Fine
IRON MAN (1968) (#1-332) (INVINCIBLE IRON MAN)(MARVEL) #109 Fine
IRON MAN (1968) (#1-332) (INVINCIBLE IRON MAN)(MARVEL) #110 Very Good
IRON MAN (1968) (#1-332) (INVINCIBLE IRON MAN)(MARVEL) #114 Very Good
IRON MAN (1968) (#1-332) (INVINCIBLE IRON MAN)(MARVEL) #115 Fine
IRON MAN (1968) (#1-332) (INVINCIBLE IRON MAN)(MARVEL) #118 Very Fine
IRON MAN (1968) (#1-332) (INVINCIBLE IRON MAN)(MARVEL) #119 Very Fine
IRON MAN (1968) (#1-332) (INVINCIBLE IRON MAN)(MARVEL) #120 Very Fine
IRON MAN (1968) (#1-332) (INVINCIBLE IRON MAN)(MARVEL) #122 Near Mint/Mint
IRON MAN (1968) (#1-332) (INVINCIBLE IRON MAN)(MARVEL) #123 Very Fine
IRON MAN (1968) (#1-332) (INVINCIBLE IRON MAN)(MARVEL) #124 Very Fine
IRON MAN (1968) (#1-332) (INVINCIBLE IRON MAN)(MARVEL) #125 Very Good
IRON MAN (1968) (#1-332) (INVINCIBLE IRON MAN)(MARVEL) #126 Fine
IRON MAN (1968) (#1-332) (INVINCIBLE IRON MAN)(MARVEL) #127 Very Good
IRON MAN (1968) (#1-332) (INVINCIBLE IRON MAN)(MARVEL) #128 NEWSSTAND Fine
IRON MAN (1968) (#1-332) (INVINCIBLE IRON MAN)(MARVEL) #129 Very Fine
IRON MAN (1968) (#1-332) (INVINCIBLE IRON MAN)(MARVEL) #135 NEWSSTAND Very Good
IRON MAN (1968) (#1-332) (INVINCIBLE IRON MAN)(MARVEL) #136 Fine
IRON MAN (1968) (#1-332) (INVINCIBLE IRON MAN)(MARVEL) #137 Fine
IRON MAN (1968) (#1-332) (INVINCIBLE IRON MAN)(MARVEL) #146 NEWSSTAND Very Good
IRON MAN (1968) (#1-332) (INVINCIBLE IRON MAN)(MARVEL) #150 Fine
IRON MAN (1968) (#1-332) (INVINCIBLE IRON MAN)(MARVEL) #150 NEWSSTAND Very Fine

IRON MAN & SUB-MARINER (1968) #1 Very Good

IVX (INHUMANS VS. X-MEN) (2016) #2 DODSON Near Mint/Mint


MARVEL COMICS PRESENTS (1988) (#1-175) (MARVEL) #50

MARVEL COMICS PRESENTS (1988) (#1-175) (MARVEL) #50 Very Fine

MARVEL FANFARE (1982) #45 Near Mint/Mint

MARVEL TALES (1964) (#1-291) #225 Very Fine

MARVEL ZOMBIES (VOL.5) (2010) #1 Near Mint/Mint
MARVEL ZOMBIES (VOL.5) (2010) #3 Near Mint/Mint
MARVEL ZOMBIES (VOL.5) (2010) #5 Near Mint/Mint

MIGHTY CAPTAIN MARVEL (MARVEL NOW) (CAROL DANVERS) (2016) #8 Near Mint/Mint

MIGHTY THOR VOL. 3: ASGARD/SHI'AR WAR TPB (2018) #1 Near Mint/Mint

MIGHTY THOR VOL. 4: WAR THOR TPB (2018) #1 Near Mint/Mint

MOON KNIGHT (1980) (#1-38) (MARVEL) #2 NEWSSTAND Very Good
MOON KNIGHT (1980) (#1-38) (MARVEL) #8 NEWSSTAND Very Good
MOON KNIGHT (1980) (#1-38) (MARVEL) #10 NEWSSTAND Very Good

MOON KNIGHT (1989) (#1-60) (MARVEL) (MARC SPECTOR) #1 Near Mint/Mint

NAM (1986) #53 NEWSSTAND Near Mint/Mint

NEW AVENGERS VOL.12: POWERLOSS TPB (2010) #1 Fine

NIGHTBREED (CLIVE BARKER'S) (1990) #1 Near Mint/Mint
NIGHTBREED (CLIVE BARKER'S) (1990) #4 Near Mint/Mint
NIGHTBREED (CLIVE BARKER'S) (1990) #6 Very Fine
NIGHTBREED (CLIVE BARKER'S) (1990) #7 Near Mint/Mint
NIGHTBREED (CLIVE BARKER'S) (1990) #9 Near Mint/Mint
NIGHTBREED (CLIVE BARKER'S) (1990) #10 Very Fine
NIGHTBREED (CLIVE BARKER'S) (1990) #13 Fine

OLD MAN LOGAN (2015) (#1-5) (MARVEL SECRET WARS) #1 SORRENTINO Near Mint/Mint

POWER PACK (1984) (#1-62) (MARVEL) #1 Very Fine

PUNISHER (1987) (#1-104) (MARVEL) #18 NEWSSTAND Fine

PUNISHER ANNUAL (1988) #1 Very Fine


PUNISHER WAR JOURNAL (1988) #1

PUNISHER WAR JOURNAL (1988) #1 Very Fine
PUNISHER WAR JOURNAL (1988) #6 Near Mint/Mint

RAWHIDE KID (1955) (#1-151) (MARVEL) #45 Good
RAWHIDE KID (1955) (#1-151) (MARVEL) #48 Good
RAWHIDE KID (1955) (#1-151) (MARVEL) #52 Very Good
RAWHIDE KID (1955) (#1-151) (MARVEL) #53 Good
RAWHIDE KID (1955) (#1-151) (MARVEL) #54 Good
RAWHIDE KID (1955) (#1-151) (MARVEL) #56 Very Good
RAWHIDE KID (1955) (#1-151) (MARVEL) #57 Very Good
RAWHIDE KID (1955) (#1-151) (MARVEL) #58 Good
RAWHIDE KID (1955) (#1-151) (MARVEL) #58 Fine
RAWHIDE KID (1955) (#1-151) (MARVEL) #58 Very Good
RAWHIDE KID (1955) (#1-151) (MARVEL) #59 Very Good
RAWHIDE KID (1955) (#1-151) (MARVEL) #60 Fine
RAWHIDE KID (1955) (#1-151) (MARVEL) #61 Good
RAWHIDE KID (1955) (#1-151) (MARVEL) #61 Very Good
RAWHIDE KID (1955) (#1-151) (MARVEL) #62 Good
RAWHIDE KID (1955) (#1-151) (MARVEL) #62 Very Fine
RAWHIDE KID (1955) (#1-151) (MARVEL) #63 Very Fine
RAWHIDE KID (1955) (#1-151) (MARVEL) #64 Fine
RAWHIDE KID (1955) (#1-151) (MARVEL) #64 Very Good
RAWHIDE KID (1955) (#1-151) (MARVEL) #65 Very Good
RAWHIDE KID (1955) (#1-151) (MARVEL) #66 Fine
RAWHIDE KID (1955) (#1-151) (MARVEL) #66 Very Good
RAWHIDE KID (1955) (#1-151) (MARVEL) #67 Good
RAWHIDE KID (1955) (#1-151) (MARVEL) #68 Fine
RAWHIDE KID (1955) (#1-151) (MARVEL) #69 Very Good
RAWHIDE KID (1955) (#1-151) (MARVEL) #69 Very Fine
RAWHIDE KID (1955) (#1-151) (MARVEL) #70 Good
RAWHIDE KID (1955) (#1-151) (MARVEL) #70 Very Fine
RAWHIDE KID (1955) (#1-151) (MARVEL) #71 Very Good
RAWHIDE KID (1955) (#1-151) (MARVEL) #72 Fine
RAWHIDE KID (1955) (#1-151) (MARVEL) #73 Very Good
RAWHIDE KID (1955) (#1-151) (MARVEL) #74 Fine

SENSATIONAL SPIDER-MAN (1996) #3 NEWSSTAND Near Mint/Mint

SHURI VOL. 1: SEARCH FOR BLACK PANTHER TPB (2019) #1 Near Mint/Mint

SILVER SURFER (1987) (#1-146) (MARVEL) #105 Near Mint/Mint
SILVER SURFER (1987) (#1-146) (MARVEL) #110 Very Fine


SILVER SURFER (1987) (#1-146) (MARVEL) #111

SILVER SURFER (1987) (#1-146) (MARVEL) #111 Near Mint/Mint

SPIDER-GIRL (1998) (#0-100) #1 WIZARD 1/2 Near Mint/Mint
SPIDER-GIRL (1998) (#0-100) #1 WIZARD 1/2 Very Fine

SPIDER-MAN (1990) (#1-74, PETER PARKER SPIDEY #75-98) #67 NEWSSTAND Near Mint/Mint
SPIDER-MAN (1990) (#1-74, PETER PARKER SPIDEY #75-98) #67 NEWSSTAND Very Fine
SPIDER-MAN (1990) (#1-74, PETER PARKER SPIDEY #75-98) #75 Near Mint/Mint

SPIDER-MEN II TPB (PETER PARKER & MILES MORALES) (2018) #1 Fine

SUB-MARINER (1968) (#1-72) (PRINCE NAMOR SUB-MARINER) #62 Fine
SUB-MARINER (1968) (#1-72) (PRINCE NAMOR SUB-MARINER) #63 Fine
SUB-MARINER (1968) (#1-72) (PRINCE NAMOR SUB-MARINER) #68 Fine
SUB-MARINER (1968) (#1-72) (PRINCE NAMOR SUB-MARINER) #69 Fine
SUB-MARINER (1968) (#1-72) (PRINCE NAMOR SUB-MARINER) #70 Very Fine
SUB-MARINER (1968) (#1-72) (PRINCE NAMOR SUB-MARINER) #71 Fine

SUB-MARINER ANNUAL (1971) #1 Very Good

SUPER-VILLAIN TEAM-UP (1975) #4 Fine
SUPER-VILLAIN TEAM-UP (1975) #4 Very Fine

SUPER-VILLAIN TEAM-UP GIANT SIZE (1975) #2 Good

SUPERIOR SPIDER-MAN (2013) (#1-33) (MARVEL) #1 Fine
SUPERIOR SPIDER-MAN (2013) (#1-33) (MARVEL) #15 Near Mint/Mint
SUPERIOR SPIDER-MAN (2013) (#1-33) (MARVEL) #17 Near Mint/Mint
SUPERIOR SPIDER-MAN (2013) (#1-33) (MARVEL) #20 Near Mint/Mint
SUPERIOR SPIDER-MAN (2013) (#1-33) (MARVEL) #22 Very Fine
SUPERIOR SPIDER-MAN (2013) (#1-33) (MARVEL) #23 Very Fine
SUPERIOR SPIDER-MAN (2013) (#1-33) (MARVEL) #25 Near Mint/Mint
SUPERIOR SPIDER-MAN (2013) (#1-33) (MARVEL) #26 Very Fine
SUPERIOR SPIDER-MAN (2013) (#1-33) (MARVEL) #27 Near Mint/Mint
SUPERIOR SPIDER-MAN (2013) (#1-33) (MARVEL) #30 Fine

TALES OF SUSPENSE (1959) (#1-99) (ATLAS/MARVEL) #60 Very Good
TALES OF SUSPENSE (1959) (#1-99) (ATLAS/MARVEL) #61 Very Good
TALES OF SUSPENSE (1959) (#1-99) (ATLAS/MARVEL) #81 Good
TALES OF SUSPENSE (1959) (#1-99) (ATLAS/MARVEL) #82 Very Good
TALES OF SUSPENSE (1959) (#1-99) (ATLAS/MARVEL) #83 Good
TALES OF SUSPENSE (1959) (#1-99) (ATLAS/MARVEL) #83 Very Good
TALES OF SUSPENSE (1959) (#1-99) (ATLAS/MARVEL) #97 Fine


TALES OF SUSPENSE (1959) (#1-99) (ATLAS/MARVEL) #97

TALES OF SUSPENSE (1959) (#1-99) (ATLAS/MARVEL) #97 Good
TALES OF SUSPENSE (1959) (#1-99) (ATLAS/MARVEL) #97 Very Good

TALES OF THE AGE OF APOCALYPSE (STARRING THE X-MEN) #1 Near Mint/Mint

TALES TO ASTONISH (1959) (#1-21 ATLAS, #22-101 MARVEL) #59 Fair

THANOS RISING HC (2014) #1 Fine

THOR (1962) (#83-125 JOURNEY INTO MYSTERY, 126-502) #300 Fine
THOR (1962) (#83-125 JOURNEY INTO MYSTERY, 126-502) #314 NEWSSTAND Good

THOR ANNUAL (1965) #11 NEWSSTAND Fine

THOR VOL. 1: GOD OF THUNDER REBORN TPB (2018) #1 Near Mint/Mint

THOR VS. HULK: CHAMPIONS OF THE UNIVERSE TPB (2018) #1 Near Mint/Mint

UNBELIEVABLE GWENPOOL VOL. 4: BEYOND FOURTH WALL TPB (2017) #1 Near Mint/Mint

UNCANNY AVENGERS (2012) (#1-25) #25 Near Mint/Mint

UNCANNY X-MEN (2018) (#1-UP) (MARVEL) #6 RIBIC Near Mint/Mint

VENOM: LETHAL PROTECTOR (1993) #1 Near Mint/Mint
VENOM: LETHAL PROTECTOR (1993) #1 Fine
VENOM: LETHAL PROTECTOR (1993) #3 Near Mint/Mint

WEAPON H (2018) #7 STEVENS Near Mint/Mint

WHAT IF... (1977) (#1-47) (MARVEL) #26 NEWSSTAND Fine
WHAT IF... (1977) (#1-47) (MARVEL) #30 NEWSSTAND Fine

WHAT IF... (1989) (#1-114, & 200) (MARVEL) #1 Near Mint/Mint
WHAT IF... (1989) (#1-114, & 200) (MARVEL) #26 Near Mint/Mint

WOLVERINE (1988) (#1/2-189) (MARVEL) #114 Near Mint/Mint
WOLVERINE (1988) (#1/2-189) (MARVEL) #116 Near Mint/Mint

WOLVERINE ENCYCLOPEDIA #1 Near Mint/Mint
WOLVERINE ENCYCLOPEDIA #2 Near Mint/Mint

WOLVERINE: INFINITY WATCH (2019) #1 MCKONE Near Mint/Mint


X-MEN (1963) (#1-113, UNCANNY X-MEN #114-544) (MARVEL) #14

X-MEN (1963) (#1-113, UNCANNY X-MEN #114-544) (MARVEL) #14 Fair
X-MEN (1963) (#1-113, UNCANNY X-MEN #114-544) (MARVEL) #150 NEWSSTAND Fine
X-MEN (1963) (#1-113, UNCANNY X-MEN #114-544) (MARVEL) #150 Very Fine
X-MEN (1963) (#1-113, UNCANNY X-MEN #114-544) (MARVEL) #151 Near Mint/Mint
X-MEN (1963) (#1-113, UNCANNY X-MEN #114-544) (MARVEL) #151 Very Fine
X-MEN (1963) (#1-113, UNCANNY X-MEN #114-544) (MARVEL) #152 Near Mint/Mint
X-MEN (1963) (#1-113, UNCANNY X-MEN #114-544) (MARVEL) #153 Near Mint/Mint
X-MEN (1963) (#1-113, UNCANNY X-MEN #114-544) (MARVEL) #153 Very Fine
X-MEN (1963) (#1-113, UNCANNY X-MEN #114-544) (MARVEL) #154 Near Mint/Mint
X-MEN (1963) (#1-113, UNCANNY X-MEN #114-544) (MARVEL) #155 Very Fine
X-MEN (1963) (#1-113, UNCANNY X-MEN #114-544) (MARVEL) #157 Near Mint/Mint
X-MEN (1963) (#1-113, UNCANNY X-MEN #114-544) (MARVEL) #157 Very Fine
X-MEN (1963) (#1-113, UNCANNY X-MEN #114-544) (MARVEL) #159 Near Mint/Mint
X-MEN (1963) (#1-113, UNCANNY X-MEN #114-544) (MARVEL) #159 Very Fine
X-MEN (1963) (#1-113, UNCANNY X-MEN #114-544) (MARVEL) #161 Near Mint/Mint
X-MEN (1963) (#1-113, UNCANNY X-MEN #114-544) (MARVEL) #161 Very Fine
X-MEN (1963) (#1-113, UNCANNY X-MEN #114-544) (MARVEL) #200 Very Fine
X-MEN (1963) (#1-113, UNCANNY X-MEN #114-544) (MARVEL) #201 Very Fine
X-MEN (1963) (#1-113, UNCANNY X-MEN #114-544) (MARVEL) #248 Near Mint/Mint
X-MEN (1963) (#1-113, UNCANNY X-MEN #114-544) (MARVEL) #248 2ND PRT Near Mint/Mint
X-MEN (1963) (#1-113, UNCANNY X-MEN #114-544) (MARVEL) #248 Very Fine
X-MEN (1963) (#1-113, UNCANNY X-MEN #114-544) (MARVEL) #268 Near Mint/Mint
X-MEN (1963) (#1-113, UNCANNY X-MEN #114-544) (MARVEL) #268 Fine
X-MEN (1963) (#1-113, UNCANNY X-MEN #114-544) (MARVEL) #268 Very Fine
X-MEN (1963) (#1-113, UNCANNY X-MEN #114-544) (MARVEL) #269 NEWSSTAND Very Good
X-MEN (1963) (#1-113, UNCANNY X-MEN #114-544) (MARVEL) #269 Very Fine

X-MEN (1991) (#1-275) (MARVEL) #25 Near Mint/Mint
X-MEN (1991) (#1-275) (MARVEL) #53 NEWSSTAND Very Good
X-MEN (1991) (#1-275) (MARVEL) #62 VARIANT Near Mint/Mint

X-MEN SPECIAL EDITION (1983) #1 Near Mint/Mint

X-MEN: PHOENIX ENDSONG COLLECTION (2005) #1 TPB Fine

X-MEN: PHOENIX RISING TPB #1 2ND PRINT Fine

YOU ARE DEADPOOL TPB (2018) #1 Near Mint/Mint

DC
ADVENTURES OF THE SUPER SONS VOL. 1: ACTION DETECTIVES (2019) #1 TPB Near Mint/Mint


BATGIRL (2011) (#0-52) (DC NEW52) #13 NEWSSTAND

BATGIRL (2011) (#0-52) (DC NEW52) #13 NEWSSTAND Fine

BATGIRL VOL. 1: BATGIRL OF BURNSIDE TPB (2015) #1 Near Mint/Mint

BATGIRL VOL. 2: FAMILY BUSINESS TPB (2016) #1 Near Mint/Mint

BATGIRL VOL. 2: KNIGHTFALL DESCENDS TPB (2013) #1 Near Mint/Mint

BATGIRL VOL. 3: MINDFIELDS TPB (2016) #1 Near Mint/Mint

BATGIRL VOL. 4: WANTED TPB (2014) #1 Near Mint/Mint

BATGIRL VOL. 5: DEADLINE TPB (2015) #1 Near Mint/Mint

BATMAN (1940) (#0-713) (DC) #401 NO MONTH Fine

BATMAN & HARLEY QUINN TPB (2019) #1 Near Mint/Mint

BATMAN & ROBIN (2011) (#1-40) (NEW 52) #20 Near Mint/Mint

BATMAN/BATGIRL (BATMAN AND BATGIRL) (1997) #1 Near Mint/Mint

BATMAN/FLASH: THE BUTTON HC (2017) #1 Near Mint/Mint

BATMAN/SUPERMAN (2013) #1 BLANK CVR Near Mint/Mint
BATMAN/SUPERMAN (2013) #2 Near Mint/Mint
BATMAN/SUPERMAN (2013) #18 Near Mint/Mint

BATMAN/SUPERMAN ANNUAL (2014) #1 Near Mint/Mint
BATMAN/SUPERMAN ANNUAL (2014) #2 Very Fine

BATMAN/THE SHADOW (2017) #5 MATTINA Near Mint/Mint

BATMAN: ARKHAM KNIGHT - GENESIS (2015) #2 Near Mint/Mint

BATMAN: THE KILLING JOKE HC (ALAN MOORE) (2008) #1 9TH PRINT Very Fine

BATMAN: YEAR ONE DELUXE HC (FRANK MILLER) (2017) #1 Near Mint/Mint

BATMAN: YEAR TWO TPB (1990) #1 2ND PRT Fine

CATWOMAN VOL. 1: COPYCATS TPB (2019) #1 Near Mint/Mint


CONVERGENCE: BATMAN - SHADOW OF THE BAT (2015) #2

CONVERGENCE: BATMAN - SHADOW OF THE BAT (2015) #2 Near Mint/Mint

DARK KNIGHT (1986) #2 1ST PRT Fine

DARK NIGHTS: METAL (2017) #5 LEE Near Mint/Mint

DARK NIGHTS: METAL - DARK KNIGHTS RISING TPB (2019) #1 Very Fine

DC COMICS BOMBSHELLS VOL. 1: ENLISTED TPB (2016) #1 Near Mint/Mint

DC COMICS BOMBSHELLS VOL. 2: ALLIES TPB (2016) #1 Near Mint/Mint

DC COMICS BOMBSHELLS VOL. 3: UPRISING TPB (2017) #1 Near Mint/Mint

DC COMICS BOMBSHELLS VOL. 4: QUEENS TPB (2017) #1 Near Mint/Mint

DC COMICS BOMBSHELLS VOL. 5: DEATH OF ILLUSION TPB (2017) #1 Near Mint/Mint

DEATHSTROKE (2016) (#1-UP) (DC REBIRTH) #30 VARIANT Near Mint/Mint

DOOM PATROL VOL. 1: BRICK BY BRICK TPB (2017) #1 2ND PRINT Near Mint/Mint

FABLES (2002) #149 (DC: Vertigo Press) Near Mint/Mint

FLASH (1959) (#105-350) (DC) #196 Good

FLASH (2016) (#1-UP) (DC REBIRTH) #49 VARIANT Near Mint/Mint

FOREVER EVIL (2013) #6 Near Mint/Mint
FOREVER EVIL (2013) #7 Near Mint/Mint

HARDWARE (1993) #45 (DC: Milestone Press) Near Mint/Mint
HARDWARE (1993) #46 (DC: Milestone Press) Near Mint/Mint
HARDWARE (1993) #47 (DC: Milestone Press) Near Mint/Mint
HARDWARE (1993) #48 (DC: Milestone Press) Near Mint/Mint
HARDWARE (1993) #49 (DC: Milestone Press) Near Mint/Mint
HARDWARE (1993) #50 (DC: Milestone Press) Near Mint/Mint

HARLEY QUINN (2000) (#1-38) (DC) #18 Near Mint/Mint
HARLEY QUINN (2000) (#1-38) (DC) #19 Near Mint/Mint
HARLEY QUINN (2000) (#1-38) (DC) #20 Very Fine
HARLEY QUINN (2000) (#1-38) (DC) #21 Near Mint/Mint
HARLEY QUINN (2000) (#1-38) (DC) #22 Very Fine


HARLEY QUINN (2000) (#1-38) (DC) #23

HARLEY QUINN (2000) (#1-38) (DC) #23 Near Mint/Mint
HARLEY QUINN (2000) (#1-38) (DC) #24 Near Mint/Mint

HARLEY QUINN VOL. 1: DIE LAUGHING TPB (DC REBIRTH) (2017) #1 Near Mint/Mint

HELLBLAZER (1988) (#1-300) (DC VERTIGO) #57 (DC: Vertigo Press) Very Fine
HELLBLAZER (1988) (#1-300) (DC VERTIGO) #84 (DC: Vertigo Press) Very Fine
HELLBLAZER (1988) (#1-300) (DC VERTIGO) #85 (DC: Vertigo Press) Very Fine
HELLBLAZER (1988) (#1-300) (DC VERTIGO) #86 (DC: Vertigo Press) Fine
HELLBLAZER (1988) (#1-300) (DC VERTIGO) #86 (DC: Vertigo Press) Near Mint/Mint
HELLBLAZER (1988) (#1-300) (DC VERTIGO) #87 (DC: Vertigo Press) Near Mint/Mint
HELLBLAZER (1988) (#1-300) (DC VERTIGO) #87 (DC: Vertigo Press) Very Fine
HELLBLAZER (1988) (#1-300) (DC VERTIGO) #88 (DC: Vertigo Press) Near Mint/Mint
HELLBLAZER (1988) (#1-300) (DC VERTIGO) #89 (DC: Vertigo Press) Near Mint/Mint
HELLBLAZER (1988) (#1-300) (DC VERTIGO) #90 (DC: Vertigo Press) Very Fine
HELLBLAZER (1988) (#1-300) (DC VERTIGO) #91 (DC: Vertigo Press) Near Mint/Mint
HELLBLAZER (1988) (#1-300) (DC VERTIGO) #92 (DC: Vertigo Press) Near Mint/Mint
HELLBLAZER (1988) (#1-300) (DC VERTIGO) #93 (DC: Vertigo Press) Near Mint/Mint
HELLBLAZER (1988) (#1-300) (DC VERTIGO) #94 (DC: Vertigo Press) Near Mint/Mint
HELLBLAZER (1988) (#1-300) (DC VERTIGO) #95 (DC: Vertigo Press) Near Mint/Mint
HELLBLAZER (1988) (#1-300) (DC VERTIGO) #96 (DC: Vertigo Press) Fine
HELLBLAZER (1988) (#1-300) (DC VERTIGO) #97 (DC: Vertigo Press) Near Mint/Mint
HELLBLAZER (1988) (#1-300) (DC VERTIGO) #98 (DC: Vertigo Press) Near Mint/Mint
HELLBLAZER (1988) (#1-300) (DC VERTIGO) #99 (DC: Vertigo Press) Near Mint/Mint
HELLBLAZER (1988) (#1-300) (DC VERTIGO) #100 (DC: Vertigo Press) Very Fine
HELLBLAZER (1988) (#1-300) (DC VERTIGO) #101 (DC: Vertigo Press) Near Mint/Mint
HELLBLAZER (1988) (#1-300) (DC VERTIGO) #102 (DC: Vertigo Press) Near Mint/Mint
HELLBLAZER (1988) (#1-300) (DC VERTIGO) #103 (DC: Vertigo Press) Fine
HELLBLAZER (1988) (#1-300) (DC VERTIGO) #104 (DC: Vertigo Press) Near Mint/Mint
HELLBLAZER (1988) (#1-300) (DC VERTIGO) #105 (DC: Vertigo Press) Very Fine
HELLBLAZER (1988) (#1-300) (DC VERTIGO) #106 (DC: Vertigo Press) Near Mint/Mint
HELLBLAZER (1988) (#1-300) (DC VERTIGO) #107 (DC: Vertigo Press) Near Mint/Mint
HELLBLAZER (1988) (#1-300) (DC VERTIGO) #108 (DC: Vertigo Press) Near Mint/Mint
HELLBLAZER (1988) (#1-300) (DC VERTIGO) #109 (DC: Vertigo Press) Near Mint/Mint
HELLBLAZER (1988) (#1-300) (DC VERTIGO) #110 (DC: Vertigo Press) Near Mint/Mint
HELLBLAZER (1988) (#1-300) (DC VERTIGO) #110 UNBAGGED (DC: Vertigo Press) Near Mint/Mint
HELLBLAZER (1988) (#1-300) (DC VERTIGO) #111 (DC: Vertigo Press) Near Mint/Mint
HELLBLAZER (1988) (#1-300) (DC VERTIGO) #112 (DC: Vertigo Press) Near Mint/Mint
HELLBLAZER (1988) (#1-300) (DC VERTIGO) #113 (DC: Vertigo Press) Near Mint/Mint
HELLBLAZER (1988) (#1-300) (DC VERTIGO) #114 (DC: Vertigo Press) Near Mint/Mint
HELLBLAZER (1988) (#1-300) (DC VERTIGO) #115 (DC: Vertigo Press) Near Mint/Mint
HELLBLAZER (1988) (#1-300) (DC VERTIGO) #116 (DC: Vertigo Press) Near Mint/Mint
HELLBLAZER (1988) (#1-300) (DC VERTIGO) #117 (DC: Vertigo Press) Near Mint/Mint


HELLBLAZER (1988) (#1-300) (DC VERTIGO) #258

HELLBLAZER (1988) (#1-300) (DC VERTIGO) #258 (DC: Vertigo Press) Very Fine
HELLBLAZER (1988) (#1-300) (DC VERTIGO) #259 (DC: Vertigo Press) Very Fine
HELLBLAZER (1988) (#1-300) (DC VERTIGO) #260 (DC: Vertigo Press) Near Mint/Mint
HELLBLAZER (1988) (#1-300) (DC VERTIGO) #261 (DC: Vertigo Press) Near Mint/Mint
HELLBLAZER (1988) (#1-300) (DC VERTIGO) #262 (DC: Vertigo Press) Near Mint/Mint
HELLBLAZER (1988) (#1-300) (DC VERTIGO) #263 (DC: Vertigo Press) Near Mint/Mint
HELLBLAZER (1988) (#1-300) (DC VERTIGO) #264 (DC: Vertigo Press) Near Mint/Mint
HELLBLAZER (1988) (#1-300) (DC VERTIGO) #265 (DC: Vertigo Press) Near Mint/Mint
HELLBLAZER (1988) (#1-300) (DC VERTIGO) #266 (DC: Vertigo Press) Near Mint/Mint
HELLBLAZER (1988) (#1-300) (DC VERTIGO) #267 (DC: Vertigo Press) Near Mint/Mint
HELLBLAZER (1988) (#1-300) (DC VERTIGO) #268 (DC: Vertigo Press) Near Mint/Mint
HELLBLAZER (1988) (#1-300) (DC VERTIGO) #269 (DC: Vertigo Press) Fine
HELLBLAZER (1988) (#1-300) (DC VERTIGO) #270 (DC: Vertigo Press) Near Mint/Mint
HELLBLAZER (1988) (#1-300) (DC VERTIGO) #271 (DC: Vertigo Press) Near Mint/Mint
HELLBLAZER (1988) (#1-300) (DC VERTIGO) #272 (DC: Vertigo Press) Near Mint/Mint
HELLBLAZER (1988) (#1-300) (DC VERTIGO) #273 (DC: Vertigo Press) Near Mint/Mint
HELLBLAZER (1988) (#1-300) (DC VERTIGO) #274 (DC: Vertigo Press) Near Mint/Mint

HOUSE OF WHISPERS (2018) (#1-UP) (DC SANDMAN UNIVERSE) #1 Near Mint/Mint

IMAGINARY FIENDS (2017) #2 Near Mint/Mint

JUSTICE LEAGUE (2011) (#0-52) (DC NEW52) #30 Near Mint/Mint

JUSTICE LEAGUE ADVENTURES (2001) #11 Near Mint/Mint

JUSTICE LEAGUE OF AMERICA (2006) (#0-60) #40 Near Mint/Mint
JUSTICE LEAGUE OF AMERICA (2006) (#0-60) #41 A Near Mint/Mint
JUSTICE LEAGUE OF AMERICA (2006) (#0-60) #45 Near Mint/Mint
JUSTICE LEAGUE OF AMERICA (2006) (#0-60) #50 Near Mint/Mint

LEGENDS OF THE DC UNIVERSE 80-PAGE GIANT (1998) #2 Near Mint/Mint

NIGHTWING (2016) (#1-UP) (DC REBIRTH) #50 VARIANT Near Mint/Mint

OUR ARMY AT WAR (1952) #288 Very Fine

PREACHER TPB (2009) #1 7TH PRINT (DC: Vertigo Press) Very Fine
PREACHER TPB (2009) #2 7TH PRINT (DC: Vertigo Press) Near Mint/Mint
PREACHER TPB (2009) #3 6TH PRINT (DC: Vertigo Press) Near Mint/Mint

PROMETHEA (1999) #4 (DC/America's Best) Near Mint/Mint

PRYZM MINI COMIC (2002) #1 Near Mint/Mint

RED ROBIN (2009) #13 Near Mint/Mint
RED ROBIN (2009) #15 Near Mint/Mint

ROBIN (1993) (#0-183) (DC) #100 Near Mint/Mint

SUICIDE SQUAD (2016) (#1-UP) (DC REBIRTH) #40 VARIANT Near Mint/Mint
SUICIDE SQUAD (2016) (#1-UP) (DC REBIRTH) #44 VARIANT Near Mint/Mint
SUICIDE SQUAD (2016) (#1-UP) (DC REBIRTH) #46 VARIANT Near Mint/Mint

SUPERGIRL (2005) (#0-67) (DC) #44 Very Fine
SUPERGIRL (2005) (#0-67) (DC) #45 Near Mint/Mint
SUPERGIRL (2005) (#0-67) (DC) #46 Near Mint/Mint
SUPERGIRL (2005) (#0-67) (DC) #47 Very Fine
SUPERGIRL (2005) (#0-67) (DC) #48 Near Mint/Mint
SUPERGIRL (2005) (#0-67) (DC) #49 Near Mint/Mint
SUPERGIRL (2005) (#0-67) (DC) #50 Near Mint/Mint
SUPERGIRL (2005) (#0-67) (DC) #51 Very Fine
SUPERGIRL (2005) (#0-67) (DC) #52 Very Fine
SUPERGIRL (2005) (#0-67) (DC) #53 Near Mint/Mint
SUPERGIRL (2005) (#0-67) (DC) #54 Fine
SUPERGIRL (2005) (#0-67) (DC) #55 Near Mint/Mint
SUPERGIRL (2005) (#0-67) (DC) #56 Near Mint/Mint
SUPERGIRL (2005) (#0-67) (DC) #57 Near Mint/Mint
SUPERGIRL (2005) (#0-67) (DC) #58 Near Mint/Mint
SUPERGIRL (2005) (#0-67) (DC) #59 Very Fine

SUPERGIRL VOL. 1: LAST DAUGHTER OF KRYPTON TPB (2012) #1 3RD PRINT Near Mint/Mint

SUPERGIRL VOL. 2: GIRL IN THE WORLD TPB (2013) #1 Near Mint/Mint

SUPERGIRL VOL. 3: SANCTUARY TPB (2013) #1 Near Mint/Mint

SUPERGIRL VOL. 4: OUT OF THE PAST TPB (2014) #1 Near Mint/Mint

SUPERGIRL VOL. 5: RED DAUGHTER OF KRYPTON TPB (2014) #1 Near Mint/Mint

SUPERGIRL VOL. 6: CRUCIBLE TPB (2015) #1 Near Mint/Mint


SUPERMAN (1939) (#1-423) (DC) #181

SUPERMAN (1939) (#1-423) (DC) #181 Very Good

SUPERMAN (1986) (#0-226, #650-714) (DC) #75 BAGGED Near Mint/Mint
SUPERMAN (1986) (#0-226, #650-714) (DC) #182 Near Mint/Mint

SUPERMAN (2011) (#0-52) (DC NEW52) #37 Near Mint/Mint
SUPERMAN (2011) (#0-52) (DC NEW52) #38 Fine
SUPERMAN (2011) (#0-52) (DC NEW52) #40 Near Mint/Mint
SUPERMAN (2011) (#0-52) (DC NEW52) #41 Near Mint/Mint

SUPERMAN (2016) (#1-45) (DC REBIRTH) #43 Near Mint/Mint
SUPERMAN (2016) (#1-45) (DC REBIRTH) #44 Near Mint/Mint

SUPERMAN ADVENTURES (1996) #39 Near Mint/Mint

SUPERMAN UNCHAINED (2013) #5 Near Mint/Mint
SUPERMAN UNCHAINED (2013) #6 Near Mint/Mint
SUPERMAN UNCHAINED (2013) #7 Near Mint/Mint

SUPERMAN/BATMAN (2003) #68 Near Mint/Mint
SUPERMAN/BATMAN (2003) #69 Near Mint/Mint
SUPERMAN/BATMAN (2003) #70 Near Mint/Mint
SUPERMAN/BATMAN (2003) #71 Very Fine
SUPERMAN/BATMAN (2003) #74 Near Mint/Mint
SUPERMAN/BATMAN (2003) #75 Near Mint/Mint
SUPERMAN/BATMAN (2003) #76 Near Mint/Mint
SUPERMAN/BATMAN (2003) #77 Very Fine
SUPERMAN/BATMAN (2003) #78 Near Mint/Mint

TEEN TITANS (2003) (#1-100) (DC) #77 Very Fine
TEEN TITANS (2003) (#1-100) (DC) #78 Near Mint/Mint
TEEN TITANS (2003) (#1-100) (DC) #83 Near Mint/Mint

WONDER WOMAN & JUSTICE LEAGUE DARK: WITCHING HOUR HC (2019) #1 Very Fine

WONDER WOMAN VOL. 8: DARK GODS TPB (2019) #1 Near Mint/Mint

WONDER WOMAN: LOVE AND MURDER TPB (2009) #1 Very Fine

Y-THE LAST MAN: UNMANNED TPB (VOL. 1) (2002) #1 10TH PRINT (DC: Vertigo Press) Near Mint/Mint

DARK HORSE COMICS

STAR WARS (1998) (#0-83) (DARK HORSE) #11

STAR WARS (1998) (#0-83) (DARK HORSE) #11 Very Fine

STAR WARS TALES #11 Near Mint/Mint
STAR WARS TALES #12 Very Fine
STAR WARS TALES #13 Near Mint/Mint

STAR WARS: UNION (1999) #1 Near Mint/Mint
STAR WARS: UNION (1999) #1 Fine

SWORD DAUGHTER (2018) #2 B CHATER Near Mint/Mint

IMAGE COMICS
LIBERTY MEADOWS (#27-37) (IMAGE) (2002) #27 Fine

MONSTRESS TPB (2016) #3 Near Mint/Mint
MOONSHINE TPB (2017) #1 Near Mint/Mint

NINE RINGS OF WU TANG #1 VARIANT Near Mint/Mint

PARADISO (2017) #2 B Near Mint/Mint

RAT QUEENS VOL. 3: DEMONS TPB (2016) #1 Very Fine

SAVAGE DRAGON-THE SERIES (1993) (#0-UP) #99 Near Mint/Mint
SAVAGE DRAGON-THE SERIES (1993) (#0-UP) #100 Near Mint/Mint

SEX CRIMINALS (2013) #20 B UNBAGGED Near Mint/Mint

SPAWN (1992) #87 Fine
SPAWN (1992) #115 Near Mint/Mint
SPAWN (1992) #116 Near Mint/Mint
SPAWN (1992) #117 Near Mint/Mint
SPAWN (1992) #118 Near Mint/Mint
SPAWN (1992) #119 Near Mint/Mint
SPAWN (1992) #195 Near Mint/Mint
SPAWN (1992) #196 Near Mint/Mint
SPAWN (1992) #197 Near Mint/Mint
SPAWN (1992) #198 Very Fine
SPAWN (1992) #199 Near Mint/Mint

TEENAGE MUTANT NINJA TURTLES (1996) (#1-23) (IMAGE) #23 Very Fine


TOMB RAIDER (1999) (#0-50) (IMAGE TOP COW) #1 VARIANT

TOMB RAIDER (1999) (#0-50) (IMAGE TOP COW) #1 VARIANT (Image Top Cow) Near Mint/Mint
TOMB RAIDER (1999) (#0-50) (IMAGE TOP COW) #1 TURNER (Image Top Cow) Very Fine
TOMB RAIDER (1999) (#0-50) (IMAGE TOP COW) #1 HOLOFOIL (Image Top Cow) Near Mint/Mint
TOMB RAIDER (1999) (#0-50) (IMAGE TOP COW) #20 (Image Top Cow) Near Mint/Mint
TOMB RAIDER (1999) (#0-50) (IMAGE TOP COW) #22 NEWSSTAND (Image Top Cow) Near Mint/Mint
TOMB RAIDER (1999) (#0-50) (IMAGE TOP COW) #22 NEWSSTAND (Image Top Cow) Very Fine

WARLANDS (1999) #1 ARMORCHROM Near Mint/Mint

WICKED + THE DIVINE VOL. 2: FANDEMONIUM TPB (2015) #1 Near Mint/Mint

WILDC.A.T.S. (1992) (#0-50) (IMAGE) #1 WIZACE SGN Near Mint/Mint
WILDC.A.T.S. (1992) (#0-50) (IMAGE) #1 WIZARD ACE Near Mint/Mint
WILDC.A.T.S. (1992) (#0-50) (IMAGE) #8 Near Mint/Mint
WILDC.A.T.S. (1992) (#0-50) (IMAGE) #25 Near Mint/Mint
WILDC.A.T.S. (1992) (#0-50) (IMAGE) #25 NEWSSTAND Near Mint/Mint
WILDC.A.T.S. (1992) (#0-50) (IMAGE) #31 Near Mint/Mint
WILDC.A.T.S. (1992) (#0-50) (IMAGE) #40 VARIANT Near Mint/Mint
WILDC.A.T.S. (1992) (#0-50) (IMAGE) #44 Near Mint/Mint
WILDC.A.T.S. (1992) (#0-50) (IMAGE) #47 Near Mint/Mint
WILDC.A.T.S. (1992) (#0-50) (IMAGE) #48 Near Mint/Mint
WILDC.A.T.S. (1992) (#0-50) (IMAGE) #49 Near Mint/Mint
WILDC.A.T.S. (1992) (#0-50) (IMAGE) #50 Near Mint/Mint

WILDC.A.T.S. TRILOGY (1993) #1 ASHCAN Near Mint/Mint

WILDC.A.T.S./ALIENS (1998) #1 Very Fine

WILDC.A.T.S./X-MEN: GOLDEN AGE #1 Near Mint/Mint
WILDC.A.T.S./X-MEN: GOLDEN AGE #1 VARIANT Very Fine

WILDC.A.T.S./X-MEN: MODERN AGE #1 Near Mint/Mint

WITCHBLADE (1995) (#1-185, #500) (IMAGE) #54 (Image Top Cow) Near Mint/Mint
WITCHBLADE (1995) (#1-185, #500) (IMAGE) #54 (Image Top Cow) Very Fine
WITCHBLADE (1995) (#1-185, #500) (IMAGE) #57 (Image Top Cow) Near Mint/Mint
WITCHBLADE (1995) (#1-185, #500) (IMAGE) #57 (Image Top Cow) Very Fine
WITCHBLADE (1995) (#1-185, #500) (IMAGE) #58 (Image Top Cow) Fine
WITCHBLADE (1995) (#1-185, #500) (IMAGE) #58 (Image Top Cow) Near Mint/Mint
WITCHBLADE (1995) (#1-185, #500) (IMAGE) #129 A (Image Top Cow) Near Mint/Mint
WITCHBLADE (1995) (#1-185, #500) (IMAGE) #130 A (Image Top Cow) Near Mint/Mint
WITCHBLADE (1995) (#1-185, #500) (IMAGE) #131 A (Image Top Cow) Near Mint/Mint
WITCHBLADE (1995) (#1-185, #500) (IMAGE) #132 A (Image Top Cow) Fine


WITCHBLADE (1995) (#1-185, #500) (IMAGE) #133 B

WITCHBLADE (1995) (#1-185, #500) (IMAGE) #133 B (Image Top Cow) Very Fine
WITCHBLADE (1995) (#1-185, #500) (IMAGE) #134 A (Image Top Cow) Fine
WITCHBLADE (1995) (#1-185, #500) (IMAGE) #135 A (Image Top Cow) Near Mint/Mint
WITCHBLADE (1995) (#1-185, #500) (IMAGE) #136 (Image Top Cow) Near Mint/Mint
WITCHBLADE (1995) (#1-185, #500) (IMAGE) #137 (Image Top Cow) Fine
WITCHBLADE (1995) (#1-185, #500) (IMAGE) #138 (Image Top Cow) Near Mint/Mint
WITCHBLADE (1995) (#1-185, #500) (IMAGE) #139 A (Image Top Cow) Near Mint/Mint
WITCHBLADE (1995) (#1-185, #500) (IMAGE) #140 A (Image Top Cow) Very Fine

INDEPENDENTS
ADVENTURES OF ROBIN HOOD (1957) #6 (MAGAZINE ENTERPRISES) Very Good

BLOODSHOT SALVATION (2017) #1 2ND PRINT (Valiant Comics) Near Mint/Mint
BLOODSHOT SALVATION (2017) #3 D SMALLWOO (Valiant Comics) Near Mint/Mint
BLOODSHOT SALVATION (2017) #4 I BODENHEI (Valiant Comics) Near Mint/Mint
BLOODSHOT SALVATION (2017) #5 D SMALLWOO (Valiant Comics) Near Mint/Mint
BLOODSHOT SALVATION (2017) #6 A ROCAFORT (Valiant Comics) Near Mint/Mint

BREATHLESS (2018) #3 (Black Mask) Near Mint/Mint
BREATHLESS (2018) #4 (Black Mask) Near Mint/Mint

BRILLIANT TRASH (2017) #2 B PETRAITE (After-Shock Comics) Near Mint/Mint

CLASSIFIED SECRETS OF INFESTATION ASHCAN (2010) #1 (IDW Publishing) Near Mint/Mint

CODENAME: ACTION (2013) #1 FRANCAVILL (DYNAMITE Entertainment) Near Mint/Mint

DOCTOR WHO: LOST DIMENSION HC (2018) #2 (Titan Distributing) Near Mint/Mint

INSANE CLOWN POSSE: RAZE DESERTZ OF GLASS (1999) #1 (Chaos Comics) Near Mint/Mint
INSANE CLOWN POSSE: RAZE DESERTZ OF GLASS (1999) #1 RED CLOWN (Chaos Comics) Near Mint/Mint

LADY DEATH: JUDGEMENT WAR (1999) #2 (Chaos Comics) Near Mint/Mint

LIBERTY MEADOWS (#1-26) (INSIGHT STUDIOS) (1999) #25 (Insight Studios Group) Near Mint/Mint
LIBERTY MEADOWS (#1-26) (INSIGHT STUDIOS) (1999) #26 (Insight Studios Group) Near Mint/Mint

POISON ELVES (1995) (1-80) (SIRIUS) #50 (Sirius) Near Mint/Mint

RED SONJA (2017) (#0-25) (DYNAMITE) #3 B CAMPBELL (DYNAMITE Entertainment) Near Mint/Mint


RICK & MORTY (2015) #11 VARIANT

RICK & MORTY (2015) #11 VARIANT (Oni Press Inc.) Near Mint/Mint
RICK & MORTY (2015) #14 VARIANT (Oni Press Inc.) Near Mint/Mint

SAMURAI JACK (2013) #7 (IDW Publishing) Near Mint/Mint
SAMURAI JACK (2013) #10 SUBSCRIPT (IDW Publishing) Near Mint/Mint
SAMURAI JACK (2013) #11 (IDW Publishing) Near Mint/Mint
SAMURAI JACK (2013) #12 (IDW Publishing) Near Mint/Mint
SAMURAI JACK (2013) #13 (IDW Publishing) Near Mint/Mint
SAMURAI JACK (2013) #14 (IDW Publishing) Near Mint/Mint
SAMURAI JACK (2013) #15 (IDW Publishing) Near Mint/Mint
SAMURAI JACK (2013) #18 (IDW Publishing) Near Mint/Mint
SAMURAI JACK (2013) #19 (IDW Publishing) Near Mint/Mint

SHADOWMAN VOL. 3 (1999) #4 (Acclaim/Valiant) Fine

SIMPSONS COMICS (BONGO) (1993) #68 (Bongo Comics) Near Mint/Mint
SIMPSONS COMICS (BONGO) (1993) #69 (Bongo Comics) Near Mint/Mint
SIMPSONS COMICS (BONGO) (1993) #70 (Bongo Comics) Near Mint/Mint
SIMPSONS COMICS (BONGO) (1993) #71 (Bongo Comics) Near Mint/Mint
SIMPSONS COMICS (BONGO) (1993) #72 (Bongo Comics) Near Mint/Mint
SIMPSONS COMICS (BONGO) (1993) #73 (Bongo Comics) Near Mint/Mint
SIMPSONS COMICS (BONGO) (1993) #74 (Bongo Comics) Near Mint/Mint
SIMPSONS COMICS (BONGO) (1993) #157 (Bongo Comics) Near Mint/Mint
SIMPSONS COMICS (BONGO) (1993) #158 (Bongo Comics) Near Mint/Mint
SIMPSONS COMICS (BONGO) (1993) #159 (Bongo Comics) Very Fine
SIMPSONS COMICS (BONGO) (1993) #160 (Bongo Comics) Very Fine
SIMPSONS COMICS (BONGO) (1993) #161 (Bongo Comics) Near Mint/Mint
SIMPSONS COMICS (BONGO) (1993) #162 (Bongo Comics) Near Mint/Mint
SIMPSONS COMICS (BONGO) (1993) #163 (Bongo Comics) Near Mint/Mint
SIMPSONS COMICS (BONGO) (1993) #164 (Bongo Comics) Near Mint/Mint
SIMPSONS COMICS (BONGO) (1993) #165 (Bongo Comics) Near Mint/Mint
SIMPSONS COMICS (BONGO) (1993) #166 (Bongo Comics) Near Mint/Mint
SIMPSONS COMICS (BONGO) (1993) #167 (Bongo Comics) Near Mint/Mint
SIMPSONS COMICS (BONGO) (1993) #169 (Bongo Comics) Very Fine
SIMPSONS COMICS (BONGO) (1993) #170 (Bongo Comics) Near Mint/Mint
SIMPSONS COMICS (BONGO) (1993) #171 (Bongo Comics) Near Mint/Mint
SIMPSONS COMICS (BONGO) (1993) #172 (Bongo Comics) Near Mint/Mint
SIMPSONS COMICS (BONGO) (1993) #173 (Bongo Comics) Near Mint/Mint

SURVIVAL FETISH (2018) #1 B BOSS (Black Mask) Near Mint/Mint

TANK GIRL GN (REMASTERED) (2009) #1 (TITAN BOOKS) Near Mint/Mint


TAROT: WITCH OF THE BLACK ROSE (2000) #13

TAROT: WITCH OF THE BLACK ROSE (2000) #13 (Broadsword Comics) Near Mint/Mint
TAROT: WITCH OF THE BLACK ROSE (2000) #14 (Broadsword Comics) Near Mint/Mint
TAROT: WITCH OF THE BLACK ROSE (2000) #15 (Broadsword Comics) Near Mint/Mint
TAROT: WITCH OF THE BLACK ROSE (2000) #16 (Broadsword Comics) Near Mint/Mint
TAROT: WITCH OF THE BLACK ROSE (2000) #58 (Broadsword Comics) Near Mint/Mint
TAROT: WITCH OF THE BLACK ROSE (2000) #59 (Broadsword Comics) Near Mint/Mint
TAROT: WITCH OF THE BLACK ROSE (2000) #60 VARIANT (Broadsword Comics) Near Mint/Mint
TAROT: WITCH OF THE BLACK ROSE (2000) #61 VARIANT (Broadsword Comics) Near Mint/Mint
TAROT: WITCH OF THE BLACK ROSE (2000) #62 (Broadsword Comics) Near Mint/Mint
TAROT: WITCH OF THE BLACK ROSE (2000) #64 VARIANT (Broadsword Comics) Near Mint/Mint
TAROT: WITCH OF THE BLACK ROSE (2000) #65 (Broadsword Comics) Near Mint/Mint

THRESHOLD (1998) (#1-54) (AVATAR) #20 KAOS MOON (Avatar Comics) Near Mint/Mint

UNDERTAKER (1999) #1 1/2 (Chaos Comics) Near Mint/Mint

WALK THROUGH HELL (2018) #3 (After-Shock Comics) Near Mint/Mint
WALK THROUGH HELL (2018) #4 (After-Shock Comics) Near Mint/Mint

XXX LIVENUDEGIRLS (2002) #1 (Penny Dreadful Press) Very Fine
XXX LIVENUDEGIRLS (2002) #2 (Penny Dreadful Press) Near Mint/Mint
XXX LIVENUDEGIRLS (2002) #2 (Penny Dreadful Press) Fine
XXX LIVENUDEGIRLS (2002) #2 (Penny Dreadful Press) Very Fine

XXX WOMEN (Eros Comix (Fantagraphics)) #1 (Eros Comix (Fantagraphics)) Near Mint/Mint
XXX WOMEN (Eros Comix (Fantagraphics)) #1 (Eros Comix (Fantagraphics)) Fine
XXX WOMEN (Eros Comix (Fantagraphics)) #2 (Eros Comix (Fantagraphics)) Very Fine
XXX WOMEN (Eros Comix (Fantagraphics)) #4 (Eros Comix (Fantagraphics)) Fine

XXXENOPHILE #6 (Palliard Press) Very Fine
XXXENOPHILE #10 (Palliard Press) Very Fine
XXXENOPHILE #11 (Palliard Press) Very Fine