Local News - Wrestling, All-Ages Drag, and Free X-MEN: DARK PHOENIX Tickets
Howdy!
I really don't have time to write a newsletter today, but I did want to let you know about some cool events that we are hosting here at Mile High Comics over the next four days. First, if you have not been in to check out the mega-store lately, you really need to stop by. Our head comics buyer, Will Moulton, added an amazing number of high grade 1970's and 1980's comics into our inventory this week, as well as some really rare variants. There is a huge listing of just this week's scarce back issue comics additions for you at the end of this newsletter...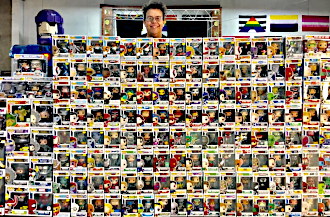 Lisa with just some of the FUNKO POPs that just came in!

While Will has been buying comics like a madman, our head toys buyer, Lisa Woolley, as gone equally berserk in purchasing massive collections of action figures, statues, and Funko Pop! figures. Our Pop! selection now exceeds over 2,000 different pieces, which we believe elevates us to being the #1 Funko source for at least 500 miles in any direction from Denver. You need to stop by and see all of the super cool rare variant figures that we now have in stock!
As regards events, tomorrow (Saturday) evening New Era Wrestling is returning to the mega-store with their incredibly talented team of pro wrestlers. We had over 300 attendees at last month's event, so I strongly encourage you to arrive early for best seating. And just so you know, Mile High Comics asks for nothing from New Era for letting them use our facility. We view the truly awesome entertainment that they provide as a benefit for our community, so we let them use our space for free. That helps keep the cost of the event at below the cost of a movie. Please bring your entire family by on Saturday evening at 6:30 to watch the incredible feats of athleticism put on by the stars of New Era Wrestling. Your kids will love it!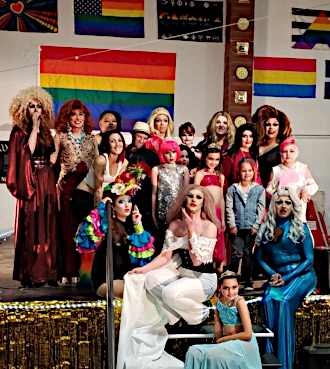 Last month All Age Drag Performers

Our second event this weekend is our 3rd monthly All-Ages Drag Show put on by the legendary Miss Jessica. Our incredibly fun show attracted over 200 attendees last month, and is starting to make the news nationwide, as it is the only regularly scheduled performance event (of which we are aware...) in the entire country for young drag performers. Being able to perform for their friends and family enthuses our young people so much that they literally rock the house with their wonderful positive energy, and heartfelt enthusiasm. Please stop by on Sunday evening and join in the fun as these awesome kids share their joy! Doors open at 5:00, show begins at 6:00. Entry cost is a suggested donation of $5, all of which is donated to the White Rose Scholarship Fund. Free snacks provided by the awesome owners of Mile High Hamburger Mary's. All performances are family-friendly.
Last, but certainly not least, Will Moulton worked out a deal with 20th Century Fox Pictures for us to be one of only 12 retail stores in the entire nation to host an #X-MENDAY. The party will take place on this Monday evening starting at 4 PM, and will feature all sorts of cool memorabilia that we will be giving away for free. The first 100 fans in line that evening will receive a special swag package of X-MEN items, while the first 500 will receive free copies of an exclusive X-MEN poster created just for Mile High Comics. Twentieth Century has then also promised to hold a free drawing for pairs of tickets to an exclusive sneak preview of X-MEN: DARK Phoenix. Woo! In addition, all of our back issues will be 50% off. It really doesn't get any better than that...
Happy collecting!
Chuck Rozanski,
President - Mile High Comics, Inc.
May 10, 2019
MARVEL
AKIRA (MARVEL) (1988) #17 NEWSSTAND Very Fine


AKIRA (MARVEL) (1988) #19 NEWSSTAND

AKIRA (MARVEL) (1988) #19 NEWSSTAND Very Fine
AKIRA (MARVEL) (1988) #20 NEWSSTAND Near Mint/Mint
AKIRA (MARVEL) (1988) #21 NEWSSTAND Very Fine
AKIRA (MARVEL) (1988) #22 NEWSSTAND Near Mint/Mint
AKIRA (MARVEL) (1988) #23 NEWSSTAND Near Mint/Mint
AKIRA (MARVEL) (1988) #26 NEWSSTAND Near Mint/Mint
AKIRA (MARVEL) (1988) #30 NEWSSTAND Very Fine

AMAZING ADVENTURES (1970) (#1-39) (MARVEL) #5 Near Mint/Mint
AMAZING ADVENTURES (1970) (#1-39) (MARVEL) #7 Near Mint/Mint
AMAZING ADVENTURES (1970) (#1-39) (MARVEL) #15 Near Mint/Mint

ASTONISHING TALES (MARVEL) (1970) #2 Very Fine
ASTONISHING TALES (MARVEL) (1970) #3 Near Mint/Mint
ASTONISHING TALES (MARVEL) (1970) #5 Fine
ASTONISHING TALES (MARVEL) (1970) #7 Near Mint/Mint
ASTONISHING TALES (MARVEL) (1970) #10 Very Fine
ASTONISHING TALES (MARVEL) (1970) #11 Very Fine
ASTONISHING TALES (MARVEL) (1970) #16 Very Fine
ASTONISHING TALES (MARVEL) (1970) #17 Very Fine
ASTONISHING TALES (MARVEL) (1970) #22 Very Fine
ASTONISHING TALES (MARVEL) (1970) #23 Very Fine
ASTONISHING TALES (MARVEL) (1970) #24 Near Mint/Mint
ASTONISHING TALES (MARVEL) (1970) #26 Near Mint/Mint

AVENGERS (1963) (#1-402) (MARVEL) #109 Near Mint/Mint
AVENGERS (1963) (#1-402) (MARVEL) #110 Near Mint/Mint
AVENGERS (1963) (#1-402) (MARVEL) #116 Fine
AVENGERS (1963) (#1-402) (MARVEL) #116 Good
AVENGERS (1963) (#1-402) (MARVEL) #117 Very Good
AVENGERS (1963) (#1-402) (MARVEL) #118 Very Good
AVENGERS (1963) (#1-402) (MARVEL) #120 Near Mint/Mint
AVENGERS (1963) (#1-402) (MARVEL) #123 Near Mint/Mint
AVENGERS (1963) (#1-402) (MARVEL) #124 Near Mint/Mint
AVENGERS (1963) (#1-402) (MARVEL) #128 Near Mint/Mint
AVENGERS (1963) (#1-402) (MARVEL) #144 Good
AVENGERS (1963) (#1-402) (MARVEL) #154 Fine
AVENGERS (1963) (#1-402) (MARVEL) #157 Fine
AVENGERS (1963) (#1-402) (MARVEL) #159 WHITMAN Fine
AVENGERS (1963) (#1-402) (MARVEL) #164 Fine
AVENGERS (1963) (#1-402) (MARVEL) #166 Fine


AVENGERS (1963) (#1-402) (MARVEL) #167

AVENGERS (1963) (#1-402) (MARVEL) #167 Fine
AVENGERS (1963) (#1-402) (MARVEL) #171 Very Fine

AVENGERS (1998) (#0-84, 500-503) (MARVEL) #51 Near Mint/Mint
AVENGERS (1998) (#0-84, 500-503) (MARVEL) #52 Near Mint/Mint
AVENGERS (1998) (#0-84, 500-503) (MARVEL) #56 Near Mint/Mint
AVENGERS (1998) (#0-84, 500-503) (MARVEL) #57 Near Mint/Mint

AVENGERS ANNUAL (1967) #6 Very Good

AVENGERS GIANT-SIZE (GIANT SIZE) (1974) #5 Good

BLACK PANTHER (1976) (#1-15) (MARVEL) #4 Near Mint/Mint
BLACK PANTHER (1976) (#1-15) (MARVEL) #7 Near Mint/Mint

BLACK PANTHER (2009) (#1-12 & #513-529) (MARVEL) #513 Fine

CAPTAIN AMERICA (1968) (#100-454) (MARVEL) #114 Near Mint/Mint
CAPTAIN AMERICA (1968) (#100-454) (MARVEL) #115 Near Mint/Mint
CAPTAIN AMERICA (1968) (#100-454) (MARVEL) #118 Near Mint/Mint
CAPTAIN AMERICA (1968) (#100-454) (MARVEL) #120 Near Mint/Mint
CAPTAIN AMERICA (1968) (#100-454) (MARVEL) #121 Near Mint/Mint
CAPTAIN AMERICA (1968) (#100-454) (MARVEL) #122 Near Mint/Mint
CAPTAIN AMERICA (1968) (#100-454) (MARVEL) #123 Near Mint/Mint
CAPTAIN AMERICA (1968) (#100-454) (MARVEL) #124 Near Mint/Mint
CAPTAIN AMERICA (1968) (#100-454) (MARVEL) #125 Near Mint/Mint
CAPTAIN AMERICA (1968) (#100-454) (MARVEL) #126 Near Mint/Mint
CAPTAIN AMERICA (1968) (#100-454) (MARVEL) #127 Near Mint/Mint
CAPTAIN AMERICA (1968) (#100-454) (MARVEL) #128 Near Mint/Mint
CAPTAIN AMERICA (1968) (#100-454) (MARVEL) #131 Near Mint/Mint
CAPTAIN AMERICA (1968) (#100-454) (MARVEL) #132 Near Mint/Mint
CAPTAIN AMERICA (1968) (#100-454) (MARVEL) #133 Near Mint/Mint
CAPTAIN AMERICA (1968) (#100-454) (MARVEL) #148 Near Mint/Mint
CAPTAIN AMERICA (1968) (#100-454) (MARVEL) #161 Near Mint/Mint
CAPTAIN AMERICA (1968) (#100-454) (MARVEL) #162 Near Mint/Mint
CAPTAIN AMERICA (1968) (#100-454) (MARVEL) #173 Near Mint/Mint
CAPTAIN AMERICA (1968) (#100-454) (MARVEL) #176 Near Mint/Mint
CAPTAIN AMERICA (1968) (#100-454) (MARVEL) #178 Near Mint/Mint
CAPTAIN AMERICA (1968) (#100-454) (MARVEL) #193 Very Good
CAPTAIN AMERICA (1968) (#100-454) (MARVEL) #196 Near Mint/Mint
CAPTAIN AMERICA (1968) (#100-454) (MARVEL) #198 Near Mint/Mint
CAPTAIN AMERICA (1968) (#100-454) (MARVEL) #201 Near Mint/Mint


CAPTAIN AMERICA (1968) (#100-454) (MARVEL) #218

CAPTAIN AMERICA (1968) (#100-454) (MARVEL) #218 Near Mint/Mint
CAPTAIN AMERICA (1968) (#100-454) (MARVEL) #221 Near Mint/Mint
CAPTAIN AMERICA (1968) (#100-454) (MARVEL) #244 Near Mint/Mint

CAPTAIN AMERICA GIANT-SIZE (1975) #1 Good

CAPTAIN MARVEL (1968) (#1-62) (MARVEL) #3 Near Mint/Mint
CAPTAIN MARVEL (1968) (#1-62) (MARVEL) #5 Near Mint/Mint
CAPTAIN MARVEL (1968) (#1-62) (MARVEL) #6 Near Mint/Mint
CAPTAIN MARVEL (1968) (#1-62) (MARVEL) #7 Near Mint/Mint
CAPTAIN MARVEL (1968) (#1-62) (MARVEL) #11 Near Mint/Mint
CAPTAIN MARVEL (1968) (#1-62) (MARVEL) #12 Near Mint/Mint
CAPTAIN MARVEL (1968) (#1-62) (MARVEL) #14 Near Mint/Mint
CAPTAIN MARVEL (1968) (#1-62) (MARVEL) #16 Near Mint/Mint
CAPTAIN MARVEL (1968) (#1-62) (MARVEL) #17 Near Mint/Mint
CAPTAIN MARVEL (1968) (#1-62) (MARVEL) #18 Near Mint/Mint
CAPTAIN MARVEL (1968) (#1-62) (MARVEL) #19 Near Mint/Mint
CAPTAIN MARVEL (1968) (#1-62) (MARVEL) #25 Near Mint/Mint
CAPTAIN MARVEL (1968) (#1-62) (MARVEL) #31 Near Mint/Mint
CAPTAIN MARVEL (1968) (#1-62) (MARVEL) #62 Very Fine

CHAMBER OF DARKNESS (1969) #5 Near Mint/Mint
CHAMBER OF DARKNESS (1969) #7 Near Mint/Mint

CONAN (1970) (#1-275) (CONAN THE BARBARIAN) (MARVEL) #4 Near Mint/Mint
CONAN (1970) (#1-275) (CONAN THE BARBARIAN) (MARVEL) #5 Near Mint/Mint
CONAN (1970) (#1-275) (CONAN THE BARBARIAN) (MARVEL) #6 Near Mint/Mint
CONAN (1970) (#1-275) (CONAN THE BARBARIAN) (MARVEL) #7 Near Mint/Mint
CONAN (1970) (#1-275) (CONAN THE BARBARIAN) (MARVEL) #8 Near Mint/Mint
CONAN (1970) (#1-275) (CONAN THE BARBARIAN) (MARVEL) #10 Near Mint/Mint
CONAN (1970) (#1-275) (CONAN THE BARBARIAN) (MARVEL) #16 Fine
CONAN (1970) (#1-275) (CONAN THE BARBARIAN) (MARVEL) #18 Fine
CONAN (1970) (#1-275) (CONAN THE BARBARIAN) (MARVEL) #26 Very Fine
CONAN (1970) (#1-275) (CONAN THE BARBARIAN) (MARVEL) #33 Very Fine
CONAN (1970) (#1-275) (CONAN THE BARBARIAN) (MARVEL) #35 Fine
CONAN (1970) (#1-275) (CONAN THE BARBARIAN) (MARVEL) #39 Very Fine
CONAN (1970) (#1-275) (CONAN THE BARBARIAN) (MARVEL) #40 Near Mint/Mint
CONAN (1970) (#1-275) (CONAN THE BARBARIAN) (MARVEL) #41 Very Fine
CONAN (1970) (#1-275) (CONAN THE BARBARIAN) (MARVEL) #47 Fine
CONAN (1970) (#1-275) (CONAN THE BARBARIAN) (MARVEL) #48 Near Mint/Mint
CONAN (1970) (#1-275) (CONAN THE BARBARIAN) (MARVEL) #50 Fine
CONAN (1970) (#1-275) (CONAN THE BARBARIAN) (MARVEL) #57 Very Fine
CONAN (1970) (#1-275) (CONAN THE BARBARIAN) (MARVEL) #62 Near Mint/Mint


CONAN (1970) (#1-275) (CONAN THE BARBARIAN) (MARVEL) #82

CONAN (1970) (#1-275) (CONAN THE BARBARIAN) (MARVEL) #82 Near Mint/Mint
CONAN (1970) (#1-275) (CONAN THE BARBARIAN) (MARVEL) #100 Very Fine
CONAN (1970) (#1-275) (CONAN THE BARBARIAN) (MARVEL) #112 Near Mint/Mint
CONAN (1970) (#1-275) (CONAN THE BARBARIAN) (MARVEL) #115 Near Mint/Mint

CONAN GIANT-SIZE (1974) #1 Near Mint/Mint
CONAN GIANT-SIZE (1974) #2 Fine

CREATURES ON THE LOOSE (1971) #17 Near Mint/Mint
CREATURES ON THE LOOSE (1971) #21 Near Mint/Mint
CREATURES ON THE LOOSE (1971) #28 Near Mint/Mint

CRYPT OF SHADOWS (1973) (#1-21) (MARVEL) #9 Near Mint/Mint
CRYPT OF SHADOWS (1973) (#1-21) (MARVEL) #10 Near Mint/Mint

DAREDEVIL (1964) (#1-380) (MAN WITHOUT FEAR) (MARVEL) #131 Good
DAREDEVIL (1964) (#1-380) (MAN WITHOUT FEAR) (MARVEL) #132 Good
DAREDEVIL (1964) (#1-380) (MAN WITHOUT FEAR) (MARVEL) #137 Very Good
DAREDEVIL (1964) (#1-380) (MAN WITHOUT FEAR) (MARVEL) #140 Very Good
DAREDEVIL (1964) (#1-380) (MAN WITHOUT FEAR) (MARVEL) #141 Good
DAREDEVIL (1964) (#1-380) (MAN WITHOUT FEAR) (MARVEL) #149 Fine
DAREDEVIL (1964) (#1-380) (MAN WITHOUT FEAR) (MARVEL) #150 Fine
DAREDEVIL (1964) (#1-380) (MAN WITHOUT FEAR) (MARVEL) #151 Very Fine
DAREDEVIL (1964) (#1-380) (MAN WITHOUT FEAR) (MARVEL) #154 Fine
DAREDEVIL (1964) (#1-380) (MAN WITHOUT FEAR) (MARVEL) #156 Very Good

DAREDEVIL ANNUAL (1967) #4 Very Good

DAREDEVIL GIANT-SIZE (1975) #1 Good

DARTH VADER (STAR WARS) (2015) #1 HASTINGB&W Near Mint/Mint
DARTH VADER (STAR WARS) (2015) #1 HASTINGS Near Mint/Mint

DEAD OF NIGHT (1973) #2 Near Mint/Mint

DEFENDERS (1972) (#1-152) (MARVEL) #1 Fair
DEFENDERS (1972) (#1-152) (MARVEL) #1 Good
DEFENDERS (1972) (#1-152) (MARVEL) #2 Very Good
DEFENDERS (1972) (#1-152) (MARVEL) #3 Good
DEFENDERS (1972) (#1-152) (MARVEL) #4 Good
DEFENDERS (1972) (#1-152) (MARVEL) #5 Good
DEFENDERS (1972) (#1-152) (MARVEL) #6 Fine
DEFENDERS (1972) (#1-152) (MARVEL) #7 Good


DEFENDERS (1972) (#1-152) (MARVEL) #8

DEFENDERS (1972) (#1-152) (MARVEL) #8 Near Mint/Mint
DEFENDERS (1972) (#1-152) (MARVEL) #8 Very Good
DEFENDERS (1972) (#1-152) (MARVEL) #9 Very Good
DEFENDERS (1972) (#1-152) (MARVEL) #10 Near Mint/Mint
DEFENDERS (1972) (#1-152) (MARVEL) #10 Very Good
DEFENDERS (1972) (#1-152) (MARVEL) #11 Fine
DEFENDERS (1972) (#1-152) (MARVEL) #11 Very Good
DEFENDERS (1972) (#1-152) (MARVEL) #12 Good
DEFENDERS (1972) (#1-152) (MARVEL) #12 Very Fine
DEFENDERS (1972) (#1-152) (MARVEL) #13 Very Good
DEFENDERS (1972) (#1-152) (MARVEL) #13 Very Fine
DEFENDERS (1972) (#1-152) (MARVEL) #14 Near Mint/Mint
DEFENDERS (1972) (#1-152) (MARVEL) #14 Good
DEFENDERS (1972) (#1-152) (MARVEL) #15 Near Mint/Mint
DEFENDERS (1972) (#1-152) (MARVEL) #15 Very Fine
DEFENDERS (1972) (#1-152) (MARVEL) #16 Fine
DEFENDERS (1972) (#1-152) (MARVEL) #16 Very Good
DEFENDERS (1972) (#1-152) (MARVEL) #17 Fine
DEFENDERS (1972) (#1-152) (MARVEL) #18 Very Fine
DEFENDERS (1972) (#1-152) (MARVEL) #18 Very Good
DEFENDERS (1972) (#1-152) (MARVEL) #19 Fine
DEFENDERS (1972) (#1-152) (MARVEL) #20 Near Mint/Mint
DEFENDERS (1972) (#1-152) (MARVEL) #20 Very Good
DEFENDERS (1972) (#1-152) (MARVEL) #21 Very Good
DEFENDERS (1972) (#1-152) (MARVEL) #21 Very Fine
DEFENDERS (1972) (#1-152) (MARVEL) #22 Very Good
DEFENDERS (1972) (#1-152) (MARVEL) #24 Fine
DEFENDERS (1972) (#1-152) (MARVEL) #25 Fine
DEFENDERS (1972) (#1-152) (MARVEL) #25 Very Fine
DEFENDERS (1972) (#1-152) (MARVEL) #26 Very Fine
DEFENDERS (1972) (#1-152) (MARVEL) #26 Very Good
DEFENDERS (1972) (#1-152) (MARVEL) #27 Good
DEFENDERS (1972) (#1-152) (MARVEL) #27 Very Good
DEFENDERS (1972) (#1-152) (MARVEL) #28 Fine
DEFENDERS (1972) (#1-152) (MARVEL) #29 Very Good
DEFENDERS (1972) (#1-152) (MARVEL) #31 Fine
DEFENDERS (1972) (#1-152) (MARVEL) #32 Near Mint/Mint
DEFENDERS (1972) (#1-152) (MARVEL) #32 Fine
DEFENDERS (1972) (#1-152) (MARVEL) #33 Fine
DEFENDERS (1972) (#1-152) (MARVEL) #34 Fine
DEFENDERS (1972) (#1-152) (MARVEL) #34 Very Fine
DEFENDERS (1972) (#1-152) (MARVEL) #35 Fine
DEFENDERS (1972) (#1-152) (MARVEL) #35 Very Fine


DEFENDERS (1972) (#1-152) (MARVEL) #38

DEFENDERS (1972) (#1-152) (MARVEL) #38 Fine
DEFENDERS (1972) (#1-152) (MARVEL) #39 Fine
DEFENDERS (1972) (#1-152) (MARVEL) #41 Very Fine
DEFENDERS (1972) (#1-152) (MARVEL) #42 Near Mint/Mint
DEFENDERS (1972) (#1-152) (MARVEL) #43 Very Fine
DEFENDERS (1972) (#1-152) (MARVEL) #44 Very Fine
DEFENDERS (1972) (#1-152) (MARVEL) #45 Fine
DEFENDERS (1972) (#1-152) (MARVEL) #46 Fine
DEFENDERS (1972) (#1-152) (MARVEL) #47 Fine
DEFENDERS (1972) (#1-152) (MARVEL) #47 WHITMAN Fine
DEFENDERS (1972) (#1-152) (MARVEL) #48 Very Fine
DEFENDERS (1972) (#1-152) (MARVEL) #49 Very Fine
DEFENDERS (1972) (#1-152) (MARVEL) #50 Very Fine
DEFENDERS (1972) (#1-152) (MARVEL) #51 Very Fine
DEFENDERS (1972) (#1-152) (MARVEL) #52 Near Mint/Mint
DEFENDERS (1972) (#1-152) (MARVEL) #52 Very Fine
DEFENDERS (1972) (#1-152) (MARVEL) #53 Near Mint/Mint
DEFENDERS (1972) (#1-152) (MARVEL) #54 Very Fine
DEFENDERS (1972) (#1-152) (MARVEL) #55 Very Fine
DEFENDERS (1972) (#1-152) (MARVEL) #58 Near Mint/Mint
DEFENDERS (1972) (#1-152) (MARVEL) #59 Near Mint/Mint
DEFENDERS (1972) (#1-152) (MARVEL) #60 Fine
DEFENDERS (1972) (#1-152) (MARVEL) #61 Very Fine
DEFENDERS (1972) (#1-152) (MARVEL) #62 Very Fine
DEFENDERS (1972) (#1-152) (MARVEL) #63 Fine
DEFENDERS (1972) (#1-152) (MARVEL) #64 Fine
DEFENDERS (1972) (#1-152) (MARVEL) #65 Fine
DEFENDERS (1972) (#1-152) (MARVEL) #78 Very Fine
DEFENDERS (1972) (#1-152) (MARVEL) #84 Near Mint/Mint
DEFENDERS (1972) (#1-152) (MARVEL) #101 Very Fine
DEFENDERS (1972) (#1-152) (MARVEL) #111 Near Mint/Mint

DEFENDERS ANNUAL (1976) #1 Fine

DEFENDERS GIANT-SIZE (1974) #1 Fine
DEFENDERS GIANT-SIZE (1974) #1 Good
DEFENDERS GIANT-SIZE (1974) #2 Good
DEFENDERS GIANT-SIZE (1974) #3 Very Good
DEFENDERS GIANT-SIZE (1974) #4 Good
DEFENDERS GIANT-SIZE (1974) #5 Good

DOCTOR STRANGE (1974) (#1-81) (MARVEL) (DR. STRANGE) #6 Near Mint/Mint
DOCTOR STRANGE (1974) (#1-81) (MARVEL) (DR. STRANGE) #8 Very Good


DOCTOR STRANGE (1974) (#1-81) (MARVEL) (DR. STRANGE) #14

DOCTOR STRANGE (1974) (#1-81) (MARVEL) (DR. STRANGE) #14 Very Fine
DOCTOR STRANGE (1974) (#1-81) (MARVEL) (DR. STRANGE) #15 Very Fine
DOCTOR STRANGE (1974) (#1-81) (MARVEL) (DR. STRANGE) #16 Very Fine
DOCTOR STRANGE (1974) (#1-81) (MARVEL) (DR. STRANGE) #17 Fine
DOCTOR STRANGE (1974) (#1-81) (MARVEL) (DR. STRANGE) #18 Very Fine
DOCTOR STRANGE (1974) (#1-81) (MARVEL) (DR. STRANGE) #27 Very Fine
DOCTOR STRANGE (1974) (#1-81) (MARVEL) (DR. STRANGE) #30 Very Fine

ETERNALS (1976) (#1-19) (MARVEL) (JACK KIRBY) #3 Near Mint/Mint
ETERNALS (1976) (#1-19) (MARVEL) (JACK KIRBY) #13 Very Fine

FANTASTIC FOUR (1961) (#1-416) (MARVEL) #100 Near Mint/Mint
FANTASTIC FOUR (1961) (#1-416) (MARVEL) #149 Near Mint/Mint
FANTASTIC FOUR (1961) (#1-416) (MARVEL) #152 Near Mint/Mint

FEAR (ADVENTURE INTO...) (1970) #7 Near Mint/Mint
FEAR (ADVENTURE INTO...) (1970) #15 Near Mint/Mint

FRANKENSTEIN (1973) #11 Near Mint/Mint

GHOST RIDER (1973) (#1-81) (MARVEL) #2 Near Mint/Mint
GHOST RIDER (1973) (#1-81) (MARVEL) #10 Near Mint/Mint

GODZILLA (1977) (#1-24) (MARVEL) #12 Very Fine

HULK ANNUAL (1968) #3 Very Fine

IRON FIST (1975) (#1-15) (MARVEL) #7 Near Mint/Mint

IRON MAN (1968) (#1-332) (INVINCIBLE IRON MAN)(MARVEL) #4 Near Mint/Mint
IRON MAN (1968) (#1-332) (INVINCIBLE IRON MAN)(MARVEL) #9 Near Mint/Mint
IRON MAN (1968) (#1-332) (INVINCIBLE IRON MAN)(MARVEL) #10 Near Mint/Mint
IRON MAN (1968) (#1-332) (INVINCIBLE IRON MAN)(MARVEL) #13 Near Mint/Mint
IRON MAN (1968) (#1-332) (INVINCIBLE IRON MAN)(MARVEL) #16 Near Mint/Mint
IRON MAN (1968) (#1-332) (INVINCIBLE IRON MAN)(MARVEL) #17 Near Mint/Mint
IRON MAN (1968) (#1-332) (INVINCIBLE IRON MAN)(MARVEL) #24 Near Mint/Mint
IRON MAN (1968) (#1-332) (INVINCIBLE IRON MAN)(MARVEL) #35 Near Mint/Mint
IRON MAN (1968) (#1-332) (INVINCIBLE IRON MAN)(MARVEL) #36 Near Mint/Mint
IRON MAN (1968) (#1-332) (INVINCIBLE IRON MAN)(MARVEL) #48 Near Mint/Mint
IRON MAN (1968) (#1-332) (INVINCIBLE IRON MAN)(MARVEL) #51 Near Mint/Mint
IRON MAN (1968) (#1-332) (INVINCIBLE IRON MAN)(MARVEL) #52 Near Mint/Mint
IRON MAN (1968) (#1-332) (INVINCIBLE IRON MAN)(MARVEL) #58 Near Mint/Mint
IRON MAN (1968) (#1-332) (INVINCIBLE IRON MAN)(MARVEL) #66 Near Mint/Mint


IRON MAN (1968) (#1-332) (INVINCIBLE IRON MAN)(MARVEL) #70

IRON MAN (1968) (#1-332) (INVINCIBLE IRON MAN)(MARVEL) #70 Near Mint/Mint
IRON MAN (1968) (#1-332) (INVINCIBLE IRON MAN)(MARVEL) #73 Near Mint/Mint
IRON MAN (1968) (#1-332) (INVINCIBLE IRON MAN)(MARVEL) #75 Near Mint/Mint
IRON MAN (1968) (#1-332) (INVINCIBLE IRON MAN)(MARVEL) #79 Near Mint/Mint
IRON MAN (1968) (#1-332) (INVINCIBLE IRON MAN)(MARVEL) #82 Near Mint/Mint
IRON MAN (1968) (#1-332) (INVINCIBLE IRON MAN)(MARVEL) #83 Near Mint/Mint
IRON MAN (1968) (#1-332) (INVINCIBLE IRON MAN)(MARVEL) #88 Near Mint/Mint
IRON MAN (1968) (#1-332) (INVINCIBLE IRON MAN)(MARVEL) #89 Near Mint/Mint
IRON MAN (1968) (#1-332) (INVINCIBLE IRON MAN)(MARVEL) #92 Near Mint/Mint
IRON MAN (1968) (#1-332) (INVINCIBLE IRON MAN)(MARVEL) #98 Near Mint/Mint
IRON MAN (1968) (#1-332) (INVINCIBLE IRON MAN)(MARVEL) #99 Near Mint/Mint
IRON MAN (1968) (#1-332) (INVINCIBLE IRON MAN)(MARVEL) #101 Near Mint/Mint
IRON MAN (1968) (#1-332) (INVINCIBLE IRON MAN)(MARVEL) #102 Near Mint/Mint
IRON MAN (1968) (#1-332) (INVINCIBLE IRON MAN)(MARVEL) #104 Near Mint/Mint
IRON MAN (1968) (#1-332) (INVINCIBLE IRON MAN)(MARVEL) #105 Near Mint/Mint
IRON MAN (1968) (#1-332) (INVINCIBLE IRON MAN)(MARVEL) #126 NEWSSTAND Near Mint/Mint
IRON MAN (1968) (#1-332) (INVINCIBLE IRON MAN)(MARVEL) #131 Near Mint/Mint
IRON MAN (1968) (#1-332) (INVINCIBLE IRON MAN)(MARVEL) #133 Near Mint/Mint
IRON MAN (1968) (#1-332) (INVINCIBLE IRON MAN)(MARVEL) #149 Near Mint/Mint
IRON MAN (1968) (#1-332) (INVINCIBLE IRON MAN)(MARVEL) #151 Near Mint/Mint
IRON MAN (1968) (#1-332) (INVINCIBLE IRON MAN)(MARVEL) #161 Near Mint/Mint

IRON MAN ANNUAL (1970) #2 Near Mint/Mint

KA-ZAR (1970) (#1-3) (MARVEL) #1 Near Mint/Mint
KA-ZAR (1970) (#1-3) (MARVEL) #3 Near Mint/Mint

MACHINE MAN (1978) (#1-19) (MARVEL) #1 Near Mint/Mint

MAN-THING (1974) (#1-22) (MARVEL) #2 Near Mint/Mint
MAN-THING (1974) (#1-22) (MARVEL) #4 Near Mint/Mint
MAN-THING (1974) (#1-22) (MARVEL) #5 Near Mint/Mint
MAN-THING (1974) (#1-22) (MARVEL) #6 Near Mint/Mint
MAN-THING (1974) (#1-22) (MARVEL) #7 Near Mint/Mint
MAN-THING (1974) (#1-22) (MARVEL) #9 Near Mint/Mint

MARVEL CLASSICS (1976) #2 Fine
MARVEL CLASSICS (1976) #3 Very Fine
MARVEL CLASSICS (1976) #4 Fine
MARVEL CLASSICS (1976) #6 Very Fine
MARVEL CLASSICS (1976) #7 Very Fine
MARVEL CLASSICS (1976) #8 Fine
MARVEL CLASSICS (1976) #9 Very Fine

MARVEL CLASSICS (1976) #11 Fine
MARVEL CLASSICS (1976) #12 Very Fine
MARVEL CLASSICS (1976) #13 Near Mint/Mint
MARVEL CLASSICS (1976) #14 Near Mint/Mint
MARVEL CLASSICS (1976) #15 Very Fine
MARVEL CLASSICS (1976) #16 Near Mint/Mint
MARVEL CLASSICS (1976) #17 Very Fine
MARVEL CLASSICS (1976) #19 Very Fine
MARVEL CLASSICS (1976) #20 Very Fine
MARVEL CLASSICS (1976) #21 Very Fine
MARVEL CLASSICS (1976) #22 Very Fine
MARVEL CLASSICS (1976) #23 Very Fine
MARVEL CLASSICS (1976) #24 Fine
MARVEL CLASSICS (1976) #24 Near Mint/Mint
MARVEL CLASSICS (1976) #25 Very Fine
MARVEL CLASSICS (1976) #26 Near Mint/Mint
MARVEL CLASSICS (1976) #27 Very Fine
MARVEL CLASSICS (1976) #28 Fine
MARVEL CLASSICS (1976) #29 Fine
MARVEL CLASSICS (1976) #29 Very Fine
MARVEL CLASSICS (1976) #30 Near Mint/Mint
MARVEL CLASSICS (1976) #31 Near Mint/Mint
MARVEL CLASSICS (1976) #32 Very Fine
MARVEL CLASSICS (1976) #33 Fine
MARVEL CLASSICS (1976) #33 Very Fine
MARVEL CLASSICS (1976) #34 Fine
MARVEL CLASSICS (1976) #35 Fine
MARVEL CLASSICS (1976) #36 Fine

MARVEL FEATURE (1971) (#1-12) #1 Fine
MARVEL FEATURE (1971) (#1-12) #2 Good
MARVEL FEATURE (1971) (#1-12) #3 Very Good

MARVEL FEATURE (1975) (#1-7) (RED SONJA) #1 Fine

MARVEL PREMIERE (1972) #6 Near Mint/Mint
MARVEL PREMIERE (1972) #8 Good
MARVEL PREMIERE (1972) #13 Near Mint/Mint
MARVEL PREMIERE (1972) #16 Near Mint/Mint
MARVEL PREMIERE (1972) #17 Near Mint/Mint

MARVEL SPECTACULAR (1973) #1 Near Mint/Mint

MARVEL SPECTACULAR (1973) #7 Very Fine
MARVEL SPECTACULAR (1973) #9 Very Fine

MARVEL SPOTLIGHT (1971) (#1-33) (MARVEL) #3 Near Mint/Mint
MARVEL SPOTLIGHT (1971) (#1-33) (MARVEL) #18 Near Mint/Mint
MARVEL SPOTLIGHT (1971) (#1-33) (MARVEL) #19 Near Mint/Mint

MARVEL TEAM-UP (1972) (#1-150) (MARVEL) #8 Near Mint/Mint
MARVEL TEAM-UP (1972) (#1-150) (MARVEL) #20 Near Mint/Mint
MARVEL TEAM-UP (1972) (#1-150) (MARVEL) #76 Very Fine
MARVEL TEAM-UP (1972) (#1-150) (MARVEL) #80 Near Mint/Mint
MARVEL TEAM-UP (1972) (#1-150) (MARVEL) #81 NEWSSTAND Very Fine
MARVEL TEAM-UP (1972) (#1-150) (MARVEL) #93 Near Mint/Mint

MARVEL TRIPLE ACTION (1972) #1 Near Mint/Mint
MARVEL TRIPLE ACTION (1972) #2 Near Mint/Mint

MARVEL TWO-IN-ONE (1974) (#1-100) (MARVEL) #3 Near Mint/Mint
MARVEL TWO-IN-ONE (1974) (#1-100) (MARVEL) #6 Near Mint/Mint

MONSTERS ON THE PROWL (1971) #10 Near Mint/Mint
MONSTERS ON THE PROWL (1971) #11 Near Mint/Mint
MONSTERS ON THE PROWL (1971) #12 Near Mint/Mint
MONSTERS ON THE PROWL (1971) #16 Near Mint/Mint

MS. MARVEL (1977) (#1-23) (MARVEL) (CAROL DANVERS) #19 Near Mint/Mint
MS. MARVEL (1977) (#1-23) (MARVEL) (CAROL DANVERS) #20 Near Mint/Mint
MS. MARVEL (1977) (#1-23) (MARVEL) (CAROL DANVERS) #21 Near Mint/Mint
MS. MARVEL (1977) (#1-23) (MARVEL) (CAROL DANVERS) #22 Near Mint/Mint

MS. MARVEL (2014) (#1-19) (MARVEL) (KAMALA KHAN) #2 VARIANT Near Mint/Mint

OUTLAW KID (1970) #2 Very Fine
OUTLAW KID (1970) #5 Fine
OUTLAW KID (1970) #8 Very Fine
OUTLAW KID (1970) #9 Fine

PHOENIX, THE UNTOLD STORY (1983) #1 NEWSSTAND Fine

POWER MAN/IRON FIST (LUKE CAGE, POWER MAN #1-49) (1972) #3 Near Mint/Mint
POWER MAN/IRON FIST (LUKE CAGE, POWER MAN #1-49) (1972) #5 Near Mint/Mint


POWER MAN/IRON FIST (LUKE CAGE, POWER MAN #1-49) (1972) #10

POWER MAN/IRON FIST (LUKE CAGE, POWER MAN #1-49) (1972) #10 Near Mint/Mint
POWER MAN/IRON FIST (LUKE CAGE, POWER MAN #1-49) (1972) #54 Near Mint/Mint
POWER MAN/IRON FIST (LUKE CAGE, POWER MAN #1-49) (1972) #57 NEWSSTAND Near Mint/Mint

PRINCESS LEIA (STAR WARS) (2015) #1 HASTINGB&W Very Fine
PRINCESS LEIA (STAR WARS) (2015) #1 HASTINGS Near Mint/Mint

PUNISHER (2009) (#1-21) (MARVEL) (FRANKEN-CASTLE) #1 VARIANT Very Fine
PUNISHER (2009) (#1-21) (MARVEL) (FRANKEN-CASTLE) #2 Near Mint/Mint
PUNISHER (2009) (#1-21) (MARVEL) (FRANKEN-CASTLE) #5 VARIANT Near Mint/Mint

PUNISHER MAX (2004) #71 Near Mint/Mint
PUNISHER MAX (2004) #75 Near Mint/Mint

PUNISHER WAR JOURNAL (2006) #19 SKRULL Near Mint/Mint

PUNISHER/BATMAN: DEADLY KNIGHTS (1994) #1 Fine

PUNISHER: THE END (2004) #1 Very Fine

PUNISHERMAX (PUNISHER MAX) (2009) #5 Near Mint/Mint

RED SONJA (1983) (#1-13) (MARVEL) #10 NEWSSTAND Very Fine
RED SONJA (1983) (#1-13) (MARVEL) #13 NEWSSTAND Very Fine

RINGO KID (1970) #4 Near Mint/Mint
RINGO KID (1970) #5 Near Mint/Mint
RINGO KID (1970) #7 Very Fine
RINGO KID (1970) #8 Very Fine
RINGO KID (1970) #9 Fine
RINGO KID (1970) #10 Very Fine
RINGO KID (1970) #12 Very Fine
RINGO KID (1970) #13 Fine
RINGO KID (1970) #14 Very Fine
RINGO KID (1970) #15 Fine
RINGO KID (1970) #16 Fine
RINGO KID (1970) #18 Fine

SHE-HULK (1980) (#1-25) (SAVAGE SHE-HULK) (MARVEL) #1 NEWSSTAND Fine

SHIELD (1968) (#1-18) (MARVEL) #10 Near Mint/Mint
SHIELD (1968) (#1-18) (MARVEL) #15 Near Mint/Mint


SHIELD (1968) (#1-18) (MARVEL) #16

SHIELD (1968) (#1-18) (MARVEL) #16 Near Mint/Mint

SILK (2015) (#1-7) (APRIL) #2 PHANTOMB&W Near Mint/Mint

SILVER SURFER (1987) (#1-146) (MARVEL) #33 NEWSSTAND Fine
SILVER SURFER (1987) (#1-146) (MARVEL) #36 NEWSSTAND Fine
SILVER SURFER (1987) (#1-146) (MARVEL) #56 NEWSSTAND Very Good
SILVER SURFER (1987) (#1-146) (MARVEL) #61 NEWSSTAND Fine
SILVER SURFER (1987) (#1-146) (MARVEL) #64 NEWSSTAND Fine
SILVER SURFER (1987) (#1-146) (MARVEL) #70 NEWSSTAND Very Fine
SILVER SURFER (1987) (#1-146) (MARVEL) #75 NEWSSTAND Near Mint/Mint
SILVER SURFER (1987) (#1-146) (MARVEL) #92 NEWSSTAND Fine
SILVER SURFER (1987) (#1-146) (MARVEL) #93 NEWSSTAND Very Fine
SILVER SURFER (1987) (#1-146) (MARVEL) #94 NEWSSTAND Fine
SILVER SURFER (1987) (#1-146) (MARVEL) #95 NEWSSTAND Very Good
SILVER SURFER (1987) (#1-146) (MARVEL) #97 NEWSSTAND Very Fine
SILVER SURFER (1987) (#1-146) (MARVEL) #98 NEWSSTAND Very Good

SOLO AVENGERS (AVENGERS SPOTLIGHT #21-40) (1987) #12 Very Fine

SPIDER-GWEN (2015) (#0-5) (MARVEL) #1 PHANTOM Near Mint/Mint

SPIDER-MAN (1963) (AMAZING SPIDER-MAN) (#1-441) #116 Near Mint/Mint
SPIDER-MAN (1963) (AMAZING SPIDER-MAN) (#1-441) #122 Near Mint/Mint
SPIDER-MAN (1963) (AMAZING SPIDER-MAN) (#1-441) #127 Near Mint/Mint
SPIDER-MAN (1963) (AMAZING SPIDER-MAN) (#1-441) #128 Near Mint/Mint
SPIDER-MAN (1963) (AMAZING SPIDER-MAN) (#1-441) #131 Near Mint/Mint
SPIDER-MAN (1963) (AMAZING SPIDER-MAN) (#1-441) #132 Near Mint/Mint
SPIDER-MAN (1963) (AMAZING SPIDER-MAN) (#1-441) #133 Near Mint/Mint
SPIDER-MAN (1963) (AMAZING SPIDER-MAN) (#1-441) #137 Near Mint/Mint
SPIDER-MAN (1963) (AMAZING SPIDER-MAN) (#1-441) #144 Near Mint/Mint
SPIDER-MAN (1963) (AMAZING SPIDER-MAN) (#1-441) #145 Near Mint/Mint
SPIDER-MAN (1963) (AMAZING SPIDER-MAN) (#1-441) #146 Near Mint/Mint
SPIDER-MAN (1963) (AMAZING SPIDER-MAN) (#1-441) #150 Near Mint/Mint
SPIDER-MAN (1963) (AMAZING SPIDER-MAN) (#1-441) #155 Very Good
SPIDER-MAN (1963) (AMAZING SPIDER-MAN) (#1-441) #156 Very Fine
SPIDER-MAN (1963) (AMAZING SPIDER-MAN) (#1-441) #157 Fine
SPIDER-MAN (1963) (AMAZING SPIDER-MAN) (#1-441) #164 Fine
SPIDER-MAN (1963) (AMAZING SPIDER-MAN) (#1-441) #167 Fine
SPIDER-MAN (1963) (AMAZING SPIDER-MAN) (#1-441) #168 Very Fine
SPIDER-MAN (1963) (AMAZING SPIDER-MAN) (#1-441) #169 Fine
SPIDER-MAN (1963) (AMAZING SPIDER-MAN) (#1-441) #170 Very Fine
SPIDER-MAN (1963) (AMAZING SPIDER-MAN) (#1-441) #173 Fine


SPIDER-MAN (1963) (AMAZING SPIDER-MAN) (#1-441) #176

SPIDER-MAN (1963) (AMAZING SPIDER-MAN) (#1-441) #176 Very Fine
SPIDER-MAN (1963) (AMAZING SPIDER-MAN) (#1-441) #177 Very Fine
SPIDER-MAN (1963) (AMAZING SPIDER-MAN) (#1-441) #178 Very Fine
SPIDER-MAN (1963) (AMAZING SPIDER-MAN) (#1-441) #179 Near Mint/Mint
SPIDER-MAN (1963) (AMAZING SPIDER-MAN) (#1-441) #180 Near Mint/Mint
SPIDER-MAN (1963) (AMAZING SPIDER-MAN) (#1-441) #181 Very Fine
SPIDER-MAN (1963) (AMAZING SPIDER-MAN) (#1-441) #182 Very Fine
SPIDER-MAN (1963) (AMAZING SPIDER-MAN) (#1-441) #183 Near Mint/Mint
SPIDER-MAN (1963) (AMAZING SPIDER-MAN) (#1-441) #184 Near Mint/Mint
SPIDER-MAN (1963) (AMAZING SPIDER-MAN) (#1-441) #185 Near Mint/Mint
SPIDER-MAN (1963) (AMAZING SPIDER-MAN) (#1-441) #186 Very Fine
SPIDER-MAN (1963) (AMAZING SPIDER-MAN) (#1-441) #187 Near Mint/Mint
SPIDER-MAN (1963) (AMAZING SPIDER-MAN) (#1-441) #188 Very Fine
SPIDER-MAN (1963) (AMAZING SPIDER-MAN) (#1-441) #189 Near Mint/Mint
SPIDER-MAN (1963) (AMAZING SPIDER-MAN) (#1-441) #190 Near Mint/Mint
SPIDER-MAN (1963) (AMAZING SPIDER-MAN) (#1-441) #191 Near Mint/Mint
SPIDER-MAN (1963) (AMAZING SPIDER-MAN) (#1-441) #192 Near Mint/Mint
SPIDER-MAN (1963) (AMAZING SPIDER-MAN) (#1-441) #193 NEWSSTAND Near Mint/Mint
SPIDER-MAN (1963) (AMAZING SPIDER-MAN) (#1-441) #194 NEWSSTAND Near Mint/Mint
SPIDER-MAN (1963) (AMAZING SPIDER-MAN) (#1-441) #196 NEWSSTAND Very Fine
SPIDER-MAN (1963) (AMAZING SPIDER-MAN) (#1-441) #197 NEWSSTAND Very Fine
SPIDER-MAN (1963) (AMAZING SPIDER-MAN) (#1-441) #198 NEWSSTAND Very Fine
SPIDER-MAN (1963) (AMAZING SPIDER-MAN) (#1-441) #199 Very Fine
SPIDER-MAN (1963) (AMAZING SPIDER-MAN) (#1-441) #200 Near Mint/Mint
SPIDER-MAN (1963) (AMAZING SPIDER-MAN) (#1-441) #202 Near Mint/Mint
SPIDER-MAN (1963) (AMAZING SPIDER-MAN) (#1-441) #220 Near Mint/Mint

SPIDER-WOMAN (1978) (#1-50) (JESSICA DREW) (MARVEL) #9 Near Mint/Mint
SPIDER-WOMAN (1978) (#1-50) (JESSICA DREW) (MARVEL) #10 Near Mint/Mint
SPIDER-WOMAN (1978) (#1-50) (JESSICA DREW) (MARVEL) #14 Near Mint/Mint
SPIDER-WOMAN (1978) (#1-50) (JESSICA DREW) (MARVEL) #15 NEWSSTAND Near Mint/Mint
SPIDER-WOMAN (1978) (#1-50) (JESSICA DREW) (MARVEL) #16 NEWSSTAND Near Mint/Mint
SPIDER-WOMAN (1978) (#1-50) (JESSICA DREW) (MARVEL) #29 Near Mint/Mint
SPIDER-WOMAN (1978) (#1-50) (JESSICA DREW) (MARVEL) #38 Near Mint/Mint

SPIDER-WOMAN (2009) (#1-7) (JESSICA DREW) (MARVEL) #1 VARIANT Very Fine

SPOOF (1970) #1 Very Fine

STAR WARS (1977) (#1-107) (MARVEL) #32 Near Mint/Mint
STAR WARS (1977) (#1-107) (MARVEL) #33 Near Mint/Mint
STAR WARS (1977) (#1-107) (MARVEL) #48 Near Mint/Mint


STAR WARS (2015) (#1-UP) (MARVEL) #1 2ND PRINT

STAR WARS (2015) (#1-UP) (MARVEL) #1 2ND PRINT Near Mint/Mint
STAR WARS (2015) (#1-UP) (MARVEL) #1 3RD PRINT Near Mint/Mint
STAR WARS (2015) (#1-UP) (MARVEL) #1 4TH PRINT Near Mint/Mint
STAR WARS (2015) (#1-UP) (MARVEL) #1 5TH PRINT Near Mint/Mint
STAR WARS (2015) (#1-UP) (MARVEL) #1 BAM B&W Very Fine
STAR WARS (2015) (#1-UP) (MARVEL) #1 BLANK CVR Near Mint/Mint
STAR WARS (2015) (#1-UP) (MARVEL) #1 CARDCOMICS Near Mint/Mint
STAR WARS (2015) (#1-UP) (MARVEL) #1 CHRISTOPHE Near Mint/Mint
STAR WARS (2015) (#1-UP) (MARVEL) #1 COMICX Near Mint/Mint
STAR WARS (2015) (#1-UP) (MARVEL) #1 COMICX B&W Fine
STAR WARS (2015) (#1-UP) (MARVEL) #1 DCBS Near Mint/Mint
STAR WARS (2015) (#1-UP) (MARVEL) #1 DCBS B&W Near Mint/Mint
STAR WARS (2015) (#1-UP) (MARVEL) #1 DFE ALT CV Near Mint/Mint
STAR WARS (2015) (#1-UP) (MARVEL) #1 DFE ALTB&W Near Mint/Mint
STAR WARS (2015) (#1-UP) (MARVEL) #1 FORBIDDEN Near Mint/Mint
STAR WARS (2015) (#1-UP) (MARVEL) #1 HASTINGB&W Very Fine
STAR WARS (2015) (#1-UP) (MARVEL) #1 HASTINGS Near Mint/Mint
STAR WARS (2015) (#1-UP) (MARVEL) #1 HOT TOPIC Near Mint/Mint
STAR WARS (2015) (#1-UP) (MARVEL) #1 LOOTCRATE Very Fine
STAR WARS (2015) (#1-UP) (MARVEL) #1 MILE HIGH Near Mint/Mint
STAR WARS (2015) (#1-UP) (MARVEL) #1 MOVIE CVR Near Mint/Mint
STAR WARS (2015) (#1-UP) (MARVEL) #1 QUESADA Near Mint/Mint
STAR WARS (2015) (#1-UP) (MARVEL) #1 ROSS Very Fine
STAR WARS (2015) (#1-UP) (MARVEL) #1 VAULT Near Mint/Mint
STAR WARS (2015) (#1-UP) (MARVEL) #1 VAULT B&W Near Mint/Mint
STAR WARS (2015) (#1-UP) (MARVEL) #2 MILE HIGH Near Mint/Mint
STAR WARS (2015) (#1-UP) (MARVEL) #3 MILE HIGH Near Mint/Mint
STAR WARS (2015) (#1-UP) (MARVEL) #4 MILE HIGH Near Mint/Mint
STAR WARS (2015) (#1-UP) (MARVEL) #5 MILE HIGH Very Fine
STAR WARS (2015) (#1-UP) (MARVEL) #6 MILE HIGH Near Mint/Mint

STRANGE TALES (1951) (#1-85 ATLAS, #86-188 MARVEL) #175 Near Mint/Mint

SUB-MARINER (1968) (#1-72) (PRINCE NAMOR SUB-MARINER) #2 Very Fine
SUB-MARINER (1968) (#1-72) (PRINCE NAMOR SUB-MARINER) #3 Very Fine
SUB-MARINER (1968) (#1-72) (PRINCE NAMOR SUB-MARINER) #10 Very Fine
SUB-MARINER (1968) (#1-72) (PRINCE NAMOR SUB-MARINER) #11 Fine
SUB-MARINER (1968) (#1-72) (PRINCE NAMOR SUB-MARINER) #12 Near Mint/Mint
SUB-MARINER (1968) (#1-72) (PRINCE NAMOR SUB-MARINER) #16 Very Fine
SUB-MARINER (1968) (#1-72) (PRINCE NAMOR SUB-MARINER) #17 Very Fine
SUB-MARINER (1968) (#1-72) (PRINCE NAMOR SUB-MARINER) #19 Very Fine
SUB-MARINER (1968) (#1-72) (PRINCE NAMOR SUB-MARINER) #20 Very Fine
SUB-MARINER (1968) (#1-72) (PRINCE NAMOR SUB-MARINER) #22 Good


SUB-MARINER (1968) (#1-72) (PRINCE NAMOR SUB-MARINER) #23

SUB-MARINER (1968) (#1-72) (PRINCE NAMOR SUB-MARINER) #23 Very Fine
SUB-MARINER (1968) (#1-72) (PRINCE NAMOR SUB-MARINER) #24 Very Fine
SUB-MARINER (1968) (#1-72) (PRINCE NAMOR SUB-MARINER) #27 Very Fine
SUB-MARINER (1968) (#1-72) (PRINCE NAMOR SUB-MARINER) #28 Fine
SUB-MARINER (1968) (#1-72) (PRINCE NAMOR SUB-MARINER) #29 Fine
SUB-MARINER (1968) (#1-72) (PRINCE NAMOR SUB-MARINER) #30 Fine
SUB-MARINER (1968) (#1-72) (PRINCE NAMOR SUB-MARINER) #32 Very Fine
SUB-MARINER (1968) (#1-72) (PRINCE NAMOR SUB-MARINER) #33 Very Good
SUB-MARINER (1968) (#1-72) (PRINCE NAMOR SUB-MARINER) #38 Very Fine
SUB-MARINER (1968) (#1-72) (PRINCE NAMOR SUB-MARINER) #39 Near Mint/Mint
SUB-MARINER (1968) (#1-72) (PRINCE NAMOR SUB-MARINER) #49 Very Fine
SUB-MARINER (1968) (#1-72) (PRINCE NAMOR SUB-MARINER) #51 Near Mint/Mint
SUB-MARINER (1968) (#1-72) (PRINCE NAMOR SUB-MARINER) #53 Very Fine
SUB-MARINER (1968) (#1-72) (PRINCE NAMOR SUB-MARINER) #56 Near Mint/Mint
SUB-MARINER (1968) (#1-72) (PRINCE NAMOR SUB-MARINER) #57 Very Fine
SUB-MARINER (1968) (#1-72) (PRINCE NAMOR SUB-MARINER) #58 Very Fine
SUB-MARINER (1968) (#1-72) (PRINCE NAMOR SUB-MARINER) #60 Very Fine
SUB-MARINER (1968) (#1-72) (PRINCE NAMOR SUB-MARINER) #61 Fine
SUB-MARINER (1968) (#1-72) (PRINCE NAMOR SUB-MARINER) #62 Very Fine
SUB-MARINER (1968) (#1-72) (PRINCE NAMOR SUB-MARINER) #65 Very Fine
SUB-MARINER (1968) (#1-72) (PRINCE NAMOR SUB-MARINER) #68 Very Fine
SUB-MARINER (1968) (#1-72) (PRINCE NAMOR SUB-MARINER) #69 Very Fine
SUB-MARINER (1968) (#1-72) (PRINCE NAMOR SUB-MARINER) #70 Very Fine

SUPER-VILLAIN TEAM-UP (1975) #5 Fine

TOMB OF DRACULA (1972) (#1-70) (MARVEL) #2 Good
TOMB OF DRACULA (1972) (#1-70) (MARVEL) #4 Good

TOWER OF SHADOWS (1969) #3 Near Mint/Mint
TOWER OF SHADOWS (1969) #4 Near Mint/Mint

TRANSFORMERS (1984) (#1-80) (MARVEL) #3 Fine
TRANSFORMERS (1984) (#1-80) (MARVEL) #4 Very Fine
TRANSFORMERS (1984) (#1-80) (MARVEL) #5 Very Fine

TRANSFORMERS UNIVERSE (1986) #2 NEWSSTAND Very Fine
TRANSFORMERS UNIVERSE (1986) #3 NEWSSTAND Very Fine
TRANSFORMERS UNIVERSE (1986) #4 NEWSSTAND Near Mint/Mint

WARLOCK (1972) (#1-15) (MARVEL) #4 Near Mint/Mint

WEREWOLF BY NIGHT (1972) #16 Near Mint/Mint

WEREWOLF BY NIGHT (1972) #28 Near Mint/Mint
WEREWOLF BY NIGHT (1972) #31 Near Mint/Mint

WEREWOLF BY NIGHT GIANT-SIZE (1974) #3 Near Mint/Mint

WHAT IF... (1989) (#1-114, & 200) (MARVEL) #44 NEWSSTAND Very Fine

WHERE MONSTERS DWELL (1970) #4 Near Mint/Mint
WHERE MONSTERS DWELL (1970) #8 Near Mint/Mint
WHERE MONSTERS DWELL (1970) #9 Near Mint/Mint
WHERE MONSTERS DWELL (1970) #10 Near Mint/Mint
WHERE MONSTERS DWELL (1970) #12 Near Mint/Mint
WHERE MONSTERS DWELL (1970) #29 Near Mint/Mint

WORLDS UNKNOWN (1973) #5 Near Mint/Mint

X-MEN (1963) (#1-113, UNCANNY X-MEN #114-544) (MARVEL) #341 Near Mint/Mint
X-MEN (1963) (#1-113, UNCANNY X-MEN #114-544) (MARVEL) #342 Very Fine
X-MEN (1963) (#1-113, UNCANNY X-MEN #114-544) (MARVEL) #343 Very Fine
X-MEN (1963) (#1-113, UNCANNY X-MEN #114-544) (MARVEL) #344 Near Mint/Mint
X-MEN (1963) (#1-113, UNCANNY X-MEN #114-544) (MARVEL) #345 Near Mint/Mint
X-MEN (1963) (#1-113, UNCANNY X-MEN #114-544) (MARVEL) #346 Very Fine
X-MEN (1963) (#1-113, UNCANNY X-MEN #114-544) (MARVEL) #347 Fine
X-MEN (1963) (#1-113, UNCANNY X-MEN #114-544) (MARVEL) #348 Near Mint/Mint
X-MEN (1963) (#1-113, UNCANNY X-MEN #114-544) (MARVEL) #349 Near Mint/Mint
X-MEN (1963) (#1-113, UNCANNY X-MEN #114-544) (MARVEL) #350 Near Mint/Mint
X-MEN (1963) (#1-113, UNCANNY X-MEN #114-544) (MARVEL) #353 Very Fine
X-MEN (1963) (#1-113, UNCANNY X-MEN #114-544) (MARVEL) #354 VARIANT Near Mint/Mint
X-MEN (1963) (#1-113, UNCANNY X-MEN #114-544) (MARVEL) #355 Near Mint/Mint
X-MEN (1963) (#1-113, UNCANNY X-MEN #114-544) (MARVEL) #356 Near Mint/Mint
X-MEN (1963) (#1-113, UNCANNY X-MEN #114-544) (MARVEL) #357 Very Fine
X-MEN (1963) (#1-113, UNCANNY X-MEN #114-544) (MARVEL) #358 Near Mint/Mint
X-MEN (1963) (#1-113, UNCANNY X-MEN #114-544) (MARVEL) #359 Very Fine

X-MEN (1991) (#1-275) (MARVEL) #69 Near Mint/Mint
X-MEN (1991) (#1-275) (MARVEL) #69 Very Fine
X-MEN (1991) (#1-275) (MARVEL) #70 Near Mint/Mint
X-MEN (1991) (#1-275) (MARVEL) #71 Very Fine
X-MEN (1991) (#1-275) (MARVEL) #72 Very Fine
X-MEN (1991) (#1-275) (MARVEL) #77 Near Mint/Mint
X-MEN (1991) (#1-275) (MARVEL) #78 Fine
X-MEN (1991) (#1-275) (MARVEL) #79 Fine


X-MEN (1991) (#1-275) (MARVEL) #81

X-MEN (1991) (#1-275) (MARVEL) #81 Fine

X-PATROL (ALL-NEW, ALL-DIFFERENT) (1996) #1 NEWSSTAND Very Fine
X-PATROL (ALL-NEW, ALL-DIFFERENT) (1996) #1 NEWSSTAND Fine

X-STATIX (2002) #1 Fine
X-STATIX (2002) #1 Very Fine
X-STATIX (2002) #7 Fine
X-STATIX (2002) #7 Very Fine
X-STATIX (2002) #9 Near Mint/Mint
X-STATIX (2002) #9 Fine
X-STATIX (2002) #9 Very Good
X-STATIX (2002) #10 Good
X-STATIX (2002) #10 Near Mint/Mint
X-STATIX (2002) #10 Fine
X-STATIX (2002) #10 Very Good
X-STATIX (2002) #11 Fine
X-STATIX (2002) #11 Very Good
X-STATIX (2002) #11 Very Fine
X-STATIX (2002) #12 Fine
X-STATIX (2002) #12 Near Mint/Mint
X-STATIX (2002) #12 Good
X-STATIX (2002) #12 Very Good
X-STATIX (2002) #17 Fine
X-STATIX (2002) #17 Near Mint/Mint
X-STATIX (2002) #17 Very Fine
X-STATIX (2002) #18 Near Mint/Mint
X-STATIX (2002) #18 Very Fine
X-STATIX (2002) #19 Near Mint/Mint
X-STATIX (2002) #19 Very Fine
X-STATIX (2002) #20 Near Mint/Mint
X-STATIX (2002) #21 Near Mint/Mint
X-STATIX (2002) #21 Very Fine
X-STATIX (2002) #21 Very Good
X-STATIX (2002) #22 Near Mint/Mint
X-STATIX (2002) #22 Very Good
X-STATIX (2002) #23 Fine
X-STATIX (2002) #23 Near Mint/Mint
X-STATIX (2002) #23 Very Fine
X-STATIX (2002) #24 Near Mint/Mint
X-STATIX (2002) #24 Fine
X-STATIX (2002) #24 Very Fine
X-STATIX (2002) #25 Fine

X-STATIX (2002) #25 Near Mint/Mint
X-STATIX (2002) #25 Very Fine
X-STATIX (2002) #26 Near Mint/Mint
X-STATIX (2002) #26 Good
X-STATIX (2002) #26 Fine
X-STATIX (2002) #26 Very Fine

DC
ABSOLUTE VERTIGO (1995) #1 (DC: Vertigo Press) Fine

ACTION COMICS (1938) (#0-600, 643-904) (DC) #890 Near Mint/Mint
ACTION COMICS (1938) (#0-600, 643-904) (DC) #894 Near Mint/Mint

ADVENTURES IN THE DC UNIVERSE (1997) #1 Near Mint/Mint

ADVENTURES OF SUPERMAN (#0,#424-649) (1987) #574 Near Mint/Mint

ARTEMIS REQUIEM (DC) (WONDER WOMAN) (1996) #2 Near Mint/Mint

ASTRO CITY: DARK AGE BOOK IV (DC WILDSTORM) (2010) #1 Near Mint/Mint
ASTRO CITY: DARK AGE BOOK IV (DC WILDSTORM) (2010) #2 Near Mint/Mint
ASTRO CITY: DARK AGE BOOK IV (DC WILDSTORM) (2010) #3 Near Mint/Mint
ASTRO CITY: DARK AGE BOOK IV (DC WILDSTORM) (2010) #4 Very Fine

AZRAEL (1995) (#1-100) (DC) #88 Near Mint/Mint
AZRAEL (1995) (#1-100) (DC) #89 Near Mint/Mint
AZRAEL (1995) (#1-100) (DC) #90 Near Mint/Mint
AZRAEL (1995) (#1-100) (DC) #91 Near Mint/Mint
AZRAEL (1995) (#1-100) (DC) #92 Near Mint/Mint
AZRAEL (1995) (#1-100) (DC) #94 Near Mint/Mint

BATGIRL (2009) (#1-24) (DC) #1 Near Mint/Mint
BATGIRL (2009) (#1-24) (DC) #1 Fine
BATGIRL (2009) (#1-24) (DC) #1 Very Fine
BATGIRL (2009) (#1-24) (DC) #2 Near Mint/Mint
BATGIRL (2009) (#1-24) (DC) #3 Near Mint/Mint
BATGIRL (2009) (#1-24) (DC) #4 Very Fine
BATGIRL (2009) (#1-24) (DC) #5 Near Mint/Mint
BATGIRL (2009) (#1-24) (DC) #6 Very Fine
BATGIRL (2009) (#1-24) (DC) #7 Near Mint/Mint
BATGIRL (2009) (#1-24) (DC) #8 Near Mint/Mint


BATGIRL (2009) (#1-24) (DC) #9

BATGIRL (2009) (#1-24) (DC) #9 Near Mint/Mint
BATGIRL (2009) (#1-24) (DC) #10 Very Fine
BATGIRL (2009) (#1-24) (DC) #11 Near Mint/Mint
BATGIRL (2009) (#1-24) (DC) #12 Near Mint/Mint
BATGIRL (2009) (#1-24) (DC) #13 Near Mint/Mint
BATGIRL (2009) (#1-24) (DC) #14 Near Mint/Mint
BATGIRL (2009) (#1-24) (DC) #15 Near Mint/Mint
BATGIRL (2009) (#1-24) (DC) #16 Near Mint/Mint

BATMAN (1940) (#0-713) (DC) #600 Near Mint/Mint
BATMAN (1940) (#0-713) (DC) #601 Very Fine
BATMAN (1940) (#0-713) (DC) #602 Very Fine
BATMAN (1940) (#0-713) (DC) #603 Near Mint/Mint
BATMAN (1940) (#0-713) (DC) #604 Near Mint/Mint
BATMAN (1940) (#0-713) (DC) #605 Near Mint/Mint
BATMAN (1940) (#0-713) (DC) #606 Near Mint/Mint
BATMAN (1940) (#0-713) (DC) #607 Near Mint/Mint
BATMAN (1940) (#0-713) (DC) #690 Near Mint/Mint
BATMAN (1940) (#0-713) (DC) #691 Near Mint/Mint
BATMAN (1940) (#0-713) (DC) #692 Near Mint/Mint
BATMAN (1940) (#0-713) (DC) #694 Very Fine
BATMAN (1940) (#0-713) (DC) #696 Very Fine
BATMAN (1940) (#0-713) (DC) #697 Very Fine
BATMAN (1940) (#0-713) (DC) #698 Very Fine
BATMAN (1940) (#0-713) (DC) #700 Near Mint/Mint
BATMAN (1940) (#0-713) (DC) #701 Near Mint/Mint
BATMAN (1940) (#0-713) (DC) #702 Very Fine
BATMAN (1940) (#0-713) (DC) #704 Near Mint/Mint
BATMAN (1940) (#0-713) (DC) #705 Very Fine

BATMAN/DAREDEVIL (DC) (MARVEL) (BATMAN AND DAREDEVIL) #1 Near Mint/Mint

BATMAN: CONFIDENTIAL (2006) #36 Near Mint/Mint
BATMAN: CONFIDENTIAL (2006) #37 Near Mint/Mint
BATMAN: CONFIDENTIAL (2006) #40 Very Fine
BATMAN: CONFIDENTIAL (2006) #41 Near Mint/Mint
BATMAN: CONFIDENTIAL (2006) #43 Near Mint/Mint
BATMAN: CONFIDENTIAL (2006) #45 Near Mint/Mint
BATMAN: CONFIDENTIAL (2006) #47 Near Mint/Mint
BATMAN: CONFIDENTIAL (2006) #52 Near Mint/Mint

BATMAN: GOTHAM ADVENTURES (1998) #20 Near Mint/Mint
BATMAN: GOTHAM ADVENTURES (1998) #21 Fine


BATMAN: GOTHAM ADVENTURES (1998) #47

BATMAN: GOTHAM ADVENTURES (1998) #47 Near Mint/Mint
BATMAN: GOTHAM ADVENTURES (1998) #48 Very Fine
BATMAN: GOTHAM ADVENTURES (1998) #50 Near Mint/Mint
BATMAN: GOTHAM ADVENTURES (1998) #51 Near Mint/Mint
BATMAN: GOTHAM ADVENTURES (1998) #52 Near Mint/Mint
BATMAN: GOTHAM ADVENTURES (1998) #53 Near Mint/Mint
BATMAN: GOTHAM ADVENTURES (1998) #54 Very Fine

BATMAN: RETURN OF BRUCE WAYNE (GRANT MORRISON) (2010) #2 Near Mint/Mint

BATMAN: STREETS OF GOTHAM (PAUL DINI) (2009) #10 Very Fine
BATMAN: STREETS OF GOTHAM (PAUL DINI) (2009) #11 Near Mint/Mint
BATMAN: STREETS OF GOTHAM (PAUL DINI) (2009) #12 Near Mint/Mint
BATMAN: STREETS OF GOTHAM (PAUL DINI) (2009) #15 Very Fine
BATMAN: STREETS OF GOTHAM (PAUL DINI) (2009) #16 Near Mint/Mint
BATMAN: STREETS OF GOTHAM (PAUL DINI) (2009) #17 Near Mint/Mint
BATMAN: STREETS OF GOTHAM (PAUL DINI) (2009) #18 Near Mint/Mint

BIRDS OF PREY (1998) (#1-127) (DC) #41 Near Mint/Mint
BIRDS OF PREY (1998) (#1-127) (DC) #42 Near Mint/Mint

STAR TREK: THE NEXT GENERATION (1988) (#1-6) (DC) #2 Near Mint/Mint
STAR TREK: THE NEXT GENERATION (1988) (#1-6) (DC) #3 Near Mint/Mint
STAR TREK: THE NEXT GENERATION (1988) (#1-6) (DC) #4 Near Mint/Mint
STAR TREK: THE NEXT GENERATION (1988) (#1-6) (DC) #6 NEWSSTAND Fine
STAR TREK: THE NEXT GENERATION (1989) (#1-80) (DC) #1 Near Mint/Mint
STAR TREK: THE NEXT GENERATION (1989) (#1-80) (DC) #2 Near Mint/Mint
STAR TREK: THE NEXT GENERATION (1989) (#1-80) (DC) #3 Near Mint/Mint

SUPERMAN (1939) (#1-423) (DC) #422 NEWSSTAND Very Fine

SUPERMAN (1986) (#0-226, #650-714) (DC) #18 NEWSSTAND Fine

SUPERMAN FOR ALL SEASONS (1998) #2 Near Mint/Mint
SUPERMAN FOR ALL SEASONS (1998) #3 Near Mint/Mint
SUPERMAN FOR ALL SEASONS (1998) #4 Near Mint/Mint

SUPERMAN/BATMAN (2003) #11 Near Mint/Mint
SUPERMAN/BATMAN (2003) #13 VARIANT Near Mint/Mint

V (1985) #4 NEWSSTAND Near Mint/Mint
V (1985) #7 NEWSSTAND Very Fine
V (1985) #9 NEWSSTAND Near Mint/Mint

V (1985) #14 Near Mint/Mint
V (1985) #15 Near Mint/Mint
V (1985) #18 Near Mint/Mint

WHO'S WHO IN STAR TREK (1987) #1 NEWSSTAND Very Fine

DARK HORSE COMICS
ANGEL (1999) (#1-17) (DARK HORSE) (TV SHOW) #1 Near Mint/Mint

BUFFY THE VAMPIRE SLAYER (1998) (#1-63) (DARK HORSE) #14 Near Mint/Mint
BUFFY THE VAMPIRE SLAYER (1998) (#1-63) (DARK HORSE) #14 PHOTO Near Mint/Mint

BUFFY THE VAMPIRE SLAYER (SEASON 8) (#1-40)(2007)(DKH) #28 CHEN Near Mint/Mint
BUFFY THE VAMPIRE SLAYER (SEASON 8) (#1-40)(2007)(DKH) #31 CHEN Near Mint/Mint
BUFFY THE VAMPIRE SLAYER (SEASON 8) (#1-40)(2007)(DKH) #32 CHEN Very Fine
BUFFY THE VAMPIRE SLAYER (SEASON 8) (#1-40)(2007)(DKH) #33 CHEN Near Mint/Mint
BUFFY THE VAMPIRE SLAYER (SEASON 8) (#1-40)(2007)(DKH) #34 CHEN Very Fine
BUFFY THE VAMPIRE SLAYER (SEASON 8) (#1-40)(2007)(DKH) #35 CHEN Near Mint/Mint
BUFFY THE VAMPIRE SLAYER (SEASON 8) (#1-40)(2007)(DKH) #36 CHEN Near Mint/Mint
BUFFY THE VAMPIRE SLAYER (SEASON 8) (#1-40)(2007)(DKH) #37 CHEN Near Mint/Mint
BUFFY THE VAMPIRE SLAYER (SEASON 8) (#1-40)(2007)(DKH) #38 CHEN Near Mint/Mint

CONAN & THE MIDNIGHT GOD (2006) #1 Near Mint/Mint

CONAN THE CIMMERIAN (2008) #1 KUBERT Near Mint/Mint

STAR WARS (1998) (#0-83) (DARK HORSE) #32 Near Mint/Mint
STAR WARS (1998) (#0-83) (DARK HORSE) #33 Near Mint/Mint
STAR WARS (1998) (#0-83) (DARK HORSE) #34 Fine
STAR WARS (1998) (#0-83) (DARK HORSE) #35 Fine
STAR WARS (1998) (#0-83) (DARK HORSE) #48 Fine
STAR WARS (1998) (#0-83) (DARK HORSE) #58 Very Fine
STAR WARS (1998) (#0-83) (DARK HORSE) #60 Near Mint/Mint
STAR WARS (1998) (#0-83) (DARK HORSE) #61 Fine
STAR WARS (1998) (#0-83) (DARK HORSE) #62 Near Mint/Mint
STAR WARS (1998) (#0-83) (DARK HORSE) #63 Very Good
STAR WARS (1998) (#0-83) (DARK HORSE) #64 Near Mint/Mint
STAR WARS (1998) (#0-83) (DARK HORSE) #65 Near Mint/Mint
STAR WARS (1998) (#0-83) (DARK HORSE) #66 Near Mint/Mint
STAR WARS (1998) (#0-83) (DARK HORSE) #67 Near Mint/Mint
STAR WARS (1998) (#0-83) (DARK HORSE) #68 Near Mint/Mint
STAR WARS (1998) (#0-83) (DARK HORSE) #69 Near Mint/Mint


STAR WARS (1998) (#0-83) (DARK HORSE) #70

STAR WARS (1998) (#0-83) (DARK HORSE) #70 Very Fine
STAR WARS (1998) (#0-83) (DARK HORSE) #71 Near Mint/Mint
STAR WARS (1998) (#0-83) (DARK HORSE) #72 Near Mint/Mint
STAR WARS (1998) (#0-83) (DARK HORSE) #73 Near Mint/Mint
STAR WARS (1998) (#0-83) (DARK HORSE) #74 Near Mint/Mint
STAR WARS (1998) (#0-83) (DARK HORSE) #75 Near Mint/Mint
STAR WARS (1998) (#0-83) (DARK HORSE) #76 Near Mint/Mint
STAR WARS (1998) (#0-83) (DARK HORSE) #77 Near Mint/Mint
STAR WARS (1998) (#0-83) (DARK HORSE) #78 Near Mint/Mint
STAR WARS (1998) (#0-83) (DARK HORSE) #79 Very Good
STAR WARS (1998) (#0-83) (DARK HORSE) #80 Near Mint/Mint
STAR WARS (1998) (#0-83) (DARK HORSE) #81 Near Mint/Mint
STAR WARS (1998) (#0-83) (DARK HORSE) #82 Near Mint/Mint
STAR WARS (1998) (#0-83) (DARK HORSE) #83 Fine

STAR WARS BOBA FETT: ENEMY OF THE EMPIRE (1999) #1 NEWSSTAND Very Good

STAR WARS TALES #9 PHOTO Near Mint/Mint
STAR WARS TALES #19 Very Fine
STAR WARS TALES #20 Very Fine
STAR WARS TALES #21 Near Mint/Mint
STAR WARS TALES #22 Very Fine
STAR WARS TALES #23 Near Mint/Mint
STAR WARS TALES #24 Near Mint/Mint

STAR WARS: DARTH VADER & THE LOST COMMAND (2011) #1 SANDA Fine
STAR WARS: DARTH VADER & THE LOST COMMAND (2011) #2 Very Fine
STAR WARS: DARTH VADER & THE LOST COMMAND (2011) #3 Fine
STAR WARS: DARTH VADER & THE LOST COMMAND (2011) #5 Very Fine

STAR WARS: EMPIRE (2002) #11 Fine
STAR WARS: EMPIRE (2002) #13 Fine
STAR WARS: EMPIRE (2002) #14 Near Mint/Mint
STAR WARS: EMPIRE (2002) #18 Near Mint/Mint
STAR WARS: EMPIRE (2002) #19 Very Fine
STAR WARS: EMPIRE (2002) #20 Near Mint/Mint
STAR WARS: EMPIRE (2002) #21 Very Fine
STAR WARS: EMPIRE (2002) #22 Near Mint/Mint
STAR WARS: EMPIRE (2002) #26 Near Mint/Mint
STAR WARS: EMPIRE (2002) #27 Fine
STAR WARS: EMPIRE (2002) #28 Near Mint/Mint
STAR WARS: EMPIRE (2002) #29 Very Fine

STAR WARS: EMPIRE (2002) #31 Near Mint/Mint
STAR WARS: EMPIRE (2002) #35 Fine

STAR WARS: KNIGHT ERRANT - AFLAME (2010) #5 Near Mint/Mint

STAR WARS: KNIGHTS OF THE OLD REPUBLIC (2005) #1 Very Fine
STAR WARS: KNIGHTS OF THE OLD REPUBLIC (2005) #2 Fine
STAR WARS: KNIGHTS OF THE OLD REPUBLIC (2005) #3 Near Mint/Mint
STAR WARS: KNIGHTS OF THE OLD REPUBLIC (2005) #4 Near Mint/Mint
STAR WARS: KNIGHTS OF THE OLD REPUBLIC (2005) #5 Fine
STAR WARS: KNIGHTS OF THE OLD REPUBLIC (2005) #6 Near Mint/Mint
STAR WARS: KNIGHTS OF THE OLD REPUBLIC (2005) #7 Near Mint/Mint
STAR WARS: KNIGHTS OF THE OLD REPUBLIC (2005) #25 Near Mint/Mint
STAR WARS: KNIGHTS OF THE OLD REPUBLIC (2005) #26 Near Mint/Mint
STAR WARS: KNIGHTS OF THE OLD REPUBLIC (2005) #30 Near Mint/Mint
STAR WARS: KNIGHTS OF THE OLD REPUBLIC (2005) #33 Near Mint/Mint
STAR WARS: KNIGHTS OF THE OLD REPUBLIC (2005) #43 Very Fine
STAR WARS: KNIGHTS OF THE OLD REPUBLIC (2005) #44 Near Mint/Mint
STAR WARS: KNIGHTS OF THE OLD REPUBLIC (2005) #46 Near Mint/Mint
STAR WARS: KNIGHTS OF THE OLD REPUBLIC (2005) #48 Very Fine
STAR WARS: KNIGHTS OF THE OLD REPUBLIC (2005) #49 Fine
STAR WARS: KNIGHTS OF THE OLD REPUBLIC (2005) #50 Very Good

STAR WARS: LEGACY (2006) #0 Near Mint/Mint
STAR WARS: LEGACY (2006) #1 Near Mint/Mint
STAR WARS: LEGACY (2006) #2 Fine
STAR WARS: LEGACY (2006) #3 Near Mint/Mint
STAR WARS: LEGACY (2006) #4 Near Mint/Mint
STAR WARS: LEGACY (2006) #5 Near Mint/Mint
STAR WARS: LEGACY (2006) #6 Near Mint/Mint
STAR WARS: LEGACY (2006) #7 Near Mint/Mint
STAR WARS: LEGACY (2006) #8 Near Mint/Mint
STAR WARS: LEGACY (2006) #9 Near Mint/Mint

STAR WARS: LEGACY - WAR (2010) #1 Near Mint/Mint
STAR WARS: LEGACY - WAR (2010) #2 Fine
STAR WARS: LEGACY - WAR (2010) #3 Near Mint/Mint
STAR WARS: LEGACY - WAR (2010) #4 Near Mint/Mint
STAR WARS: LEGACY - WAR (2010) #6 Near Mint/Mint

STAR WARS: QUI-GON & OBI-WAN - LSOOM #1 DANIEL CVR Near Mint/Mint
STAR WARS: QUI-GON & OBI-WAN - LSOOM #2 Near Mint/Mint


STAR WARS: QUI-GON & OBI-WAN - LSOOM #3

STAR WARS: QUI-GON & OBI-WAN - LSOOM #3 Near Mint/Mint

STAR WARS: REBELLION (2006) #3 Near Mint/Mint
STAR WARS: REBELLION (2006) #15 Near Mint/Mint
STAR WARS: REBELLION (2006) #16 Very Fine

IMAGE COMICS
ADRENALYNN: WEAPON OF WAR (IMAGE) (1999) #2 Near Mint/Mint

ASCENSION (IMAGE TOPCOW) (1997) #20 VARIANT (Image Top Cow) Near Mint/Mint

BOMB QUEEN (VOL. 6) (2009) #1 Very Fine
BOMB QUEEN (VOL. 6) (2009) #2 Near Mint/Mint
BOMB QUEEN (VOL. 6) (2009) #3 Fine

INDEPENDENTS
BART SIMPSON COMICS (2000) #7 (Bongo Comics) Near Mint/Mint
BART SIMPSON COMICS (2000) #8 (Bongo Comics) Near Mint/Mint
BART SIMPSON COMICS (2000) #9 (Bongo Comics) Near Mint/Mint

LUXURA/WIDOW: BLOOD LUST OMEGA (VAMPRESS LUXURA) (1996) #1 NUDE (Brainstorm Comics) Near Mint/Mint
LUXURA/WIDOW: BLOOD LUST OMEGA (VAMPRESS LUXURA) (1996) #1 NUDE (Brainstorm Comics) Very Fine

PRINCE VALIANT (1954) #1 FC #699 (Dell Publishing) Fair

X-O MANOWAR (1992) (#0-68) (VALIANT) #44 NEWSSTAND (Acclaim/Valiant) Fine
X-O MANOWAR (1992) (#0-68) (VALIANT) #46 NEWSSTAND (Acclaim/Valiant) Fine
X-O MANOWAR (1992) (#0-68) (VALIANT) #47 NEWSSTAND (Acclaim/Valiant) Good
X-O MANOWAR (1992) (#0-68) (VALIANT) #50 O (Acclaim/Valiant) Near Mint/Mint
X-O MANOWAR (1992) (#0-68) (VALIANT) #50 X (Acclaim/Valiant) Near Mint/Mint
X-O MANOWAR (1992) (#0-68) (VALIANT) #63 (Acclaim/Valiant) Near Mint/Mint
X-O MANOWAR (1992) (#0-68) (VALIANT) #65 (Acclaim/Valiant) Very Fine
X-O MANOWAR (1992) (#0-68) (VALIANT) #66 (Acclaim/Valiant) Very Fine
X-O MANOWAR (1992) (#0-68) (VALIANT) #67 (Acclaim/Valiant) Fine
X-O MANOWAR (1992) (#0-68) (VALIANT) #67 (Acclaim/Valiant) Very Fine
X-O MANOWAR (1992) (#0-68) (VALIANT) #67 (Acclaim/Valiant) Very Good
X-O MANOWAR (1992) (#0-68) (VALIANT) #68 (Acclaim/Valiant) Fine
X-O MANOWAR (1992) (#0-68) (VALIANT) #68 (Acclaim/Valiant) Very Fine

X-O MANOWAR (2012) (#0-50) (VALIANT) #0 MANN (Valiant Comics) Near Mint/Mint
X-O MANOWAR (2012) (#0-50) (VALIANT) #0 HITCH (Valiant Comics) Very Good


X-O MANOWAR/IRON MAN: HEAVY METAL (1996) #1

X-O MANOWAR/IRON MAN: HEAVY METAL (1996) #1 (Acclaim/Valiant) Near Mint/Mint
X-O MANOWAR/IRON MAN: HEAVY METAL (1996) #1 (Acclaim/Valiant) Very Fine

X-RAY COMIX #1 (Spectrum Comix) Very Fine

X-SHEMALES: NEW BEGINNING #2 (Friendly Comics) Fine