50% Off BIGDIG! Codeword Sale Begins Today
Howdy!
I hope that your Free Comic Book Day was as fun and enjoyable as ours turned out to be. Here at Jason St., we were blessed to have 5,000+ avid comic book fans pass through our doors on Saturday, all of whom seemed to be having a delightful time. I was especially pleased by all the multi-generational family groups that showed up, as the kids were always smiling. It is during FCBD that I realize why I will probably never retire, as I can clearly see that it is beholden upon me to keep this incredibly positive spirit alive here in Denver, for as long as I possibly can. Check out the photos below to gain an inkling into all the joy that was expressed during this happiest day of the year. It was great!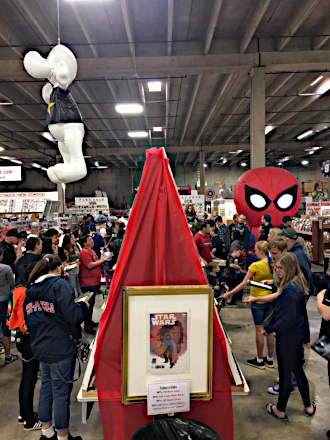 FCBD 2019 at Mile High Comics Mega Store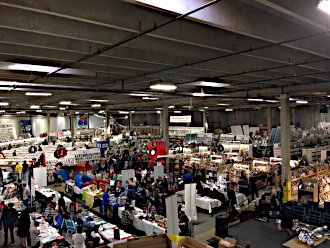 FCBD 2019 at Mile High Comics Mega Store

In addition to working really hard to make our event enjoyable, we also expended a great deal of time and effort this year toward raising money for this year's charity, Camp Aranu'tiq, a special summer getaway designed specifically for the needs of Transgender children. Our efforts raised $15,203.00, 100% of which will be donated to help cover the cost of room and board at this fun facility for over a dozen children who otherwise would have been unable to attend. On a very personal basis, I sincerely thank every single person who contributed to this wonderful cause. Working together, we are making our world a better place, one dollar at a time.
Moving on to other news, I am having to eat a little crow today, as I have no choice but to reverse a "no big codewords" policy that I put into place just four weeks ago. At that time, I wrote in my newsletter that the period from May-September was ridiculously busy for us at our Jason St. Mega-Store (which it is), so I was cutting back on all of our overly-generous online codeword sales until the fall. That seemed like a very logical decision at the time, but just last week, a critical underground seal on the 12" pressurized water line that feeds the massive sprinkler system in Jason St. ceiling decided to suddenly disintegrate, creating an underground torrent right below the front steps of the Jason St. store. Yow!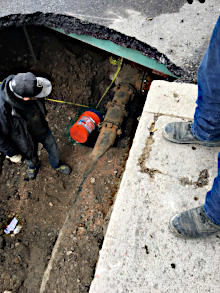 Pipe repair outside the building

Suffice it to say, not only did that sudden water disaster necessitate immediate attention, but it cost us a not-so-small fortune in emergency repair costs. The worst part was that they actually had to bring in a jackhammer, and bust out a corner the floor in our foyer, as the leak extended under the front foundation of our building! The good news is that (after enormous effort) the huge water line was fixed in time for us to safely host Free Comic Book Day. The bad news is that, even though this year's FCBD was the highest-grossing single day in our history, all the money had to immediately go toward those unexpected repairs. Grrrrrrrr......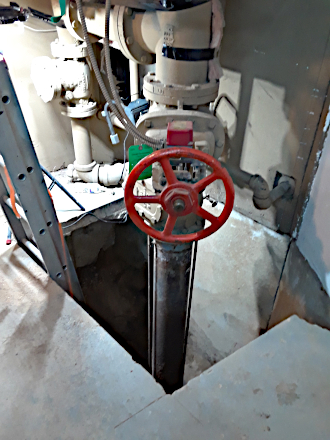 Pipe repair inside the building

As a direct response to those unexpected repair costs, Nanette and Will have told me that I now have no choice but to sell a bunch of even our very best comics at half price, at least until we cover those contractor invoices. Dammit! In all honesty, that just annoys the bejeezus out of me, as building our overall selection of back issues through an even broader diversity of titles and issue numbers is my #1 goal on any given day. Into each life a little rain must fall, however, so effective immediately I am offering you a 50% off BIGDIG! codeword sale on all ten million of our back issue comics and magazines. The sale does not include new issues, a few variants, and our professionally-graded comics, but it does include all of our Golden Age, Silver Age, and Bronze Age comics. Please do enjoy this enormous BIGDIG! half price sale with our sincere thanks a nd gratitude for your kindness, and your support of Mile High Comics.
Happy collecting!
Chuck Rozanski,
President - Mile High Comics, Inc.
May 6, 2019
P.S. Below are a few photos from FCBD, and a listing of some recent back issue arrivals from our website's Premium New-In-Stock link. We do keep buying great comics every day!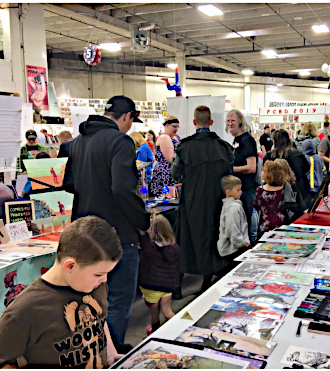 FCBD 2019 at Mile High Comics Mega Store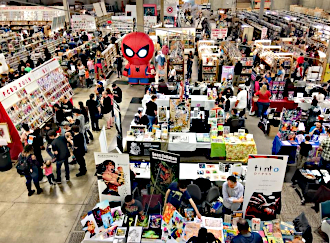 FCBD 2019 at Mile High Comics Mega Store

MARVEL
AMAZING SPIDER-MAN: WORLDWIDE HC (2016) #3 Near Mint/Mint


ATLAS: MARVEL BOY TPB (MARVEL)(URANIAN) (2010) #1

ATLAS: MARVEL BOY TPB (MARVEL)(URANIAN) (2010) #1 Fine

DAKOTA NORTH: DESIGN FOR DYING TPB (2018) #1 Near Mint/Mint

DAREDEVIL BY MARK WAID HC (2013) #3 Fine
DAREDEVIL BY MARK WAID HC (2013) #3 Near Mint/Mint
DAREDEVIL BY MARK WAID HC (2013) #5 Near Mint/Mint

DAREDEVIL BY MARK WAID PREMIERE HC (2012) #6 Near Mint/Mint

DAREDEVIL BY MARK WAID TPB (2012) #5 Near Mint/Mint
DAREDEVIL BY MARK WAID TPB (2012) #6 Near Mint/Mint
DAREDEVIL BY MARK WAID TPB (2012) #7 Near Mint/Mint

DAREDEVIL VOL. 3: DAREDEVIL YOU KNOW TPB (2015) #1 Near Mint/Mint

DAREDEVIL/PUNISHER: SEVENTH CIRCLE TPB (2016) #1 Near Mint/Mint

DAREDEVIL: BACK IN BLACK VOL. 3: DARK ART TPB (2017) #1 Near Mint/Mint

DAREDEVIL: BACK IN BLACK VOL. 4: IDENTITY TPB (2017) #1 Near Mint/Mint

DAREDEVIL: BACK IN BLACK VOL. 5: SUPREME TPB (2017) #1 Near Mint/Mint

DAREDEVIL: BACK IN BLACK VOL. 7: MAYOR MURDOCK TPB (2018) #1 Near Mint/Mint

DAREDEVIL: BACK IN BLACK VOL. 8: DEATH OF DAREDEVIL TPB (2019) #1 Near Mint/Mint

DAREDEVIL: DARK NIGHTS TPB (2014) #1 Near Mint/Mint

DAREDEVIL: END OF DAYS HC (2013) #1 Near Mint/Mint

DAREDEVIL: FATHER HC (2006) #1 Fine

DAREDEVIL: SEASON ONE PREMIERE HC (2012) #1 Near Mint/Mint

DECADES: MARVEL IN THE 40'S TPB (2019) #1 Near Mint/Mint

FROM THE MARVEL VAULT TPB (2011) #1 Near Mint/Mint


LAST PLANET STANDING TPB (2006) #1

LAST PLANET STANDING TPB (2006) #1 Near Mint/Mint

MAGNETO VOL. 3: SHADOW GAMES TPB (2015) #1 Near Mint/Mint

MAN-THING BY R. L. STINE TPB (2017) #1 Near Mint/Mint

MAN-THING BY STEVE GERBER COMPLETE COLLECTION TPB (2015) #2 Near Mint/Mint

MARVEL 100TH ANNIVERSARY TPB (2014) #1 Near Mint/Mint

MARVEL 1602 TPB (3RD EDITION) (2010) #1 Near Mint/Mint

MARVEL 1602: SPIDER-MAN HC (2010) #1 Near Mint/Mint

MARVEL 70TH ANNIVERSARY TPB (2009) #1 Near Mint/Mint

MARVEL BOY PREMIERE HC (2008) #1 VARIANT Very Fine

MARVEL FANFARE: STRANGE TALES TPB (2008) #1 Near Mint/Mint

MARVEL FIRSTS: 1970'S TPB (2012) #2 Very Fine

MARVEL FIRSTS: 1980'S TPB (2013) #1 Fine
MARVEL FIRSTS: 1980'S TPB (2013) #2 Near Mint/Mint
MARVEL FIRSTS: 1980'S TPB (2013) #3 Near Mint/Mint

MARVEL FIRSTS: 1990'S TPB (2016) #1 Near Mint/Mint
MARVEL FIRSTS: 1990'S TPB (2016) #2 Near Mint/Mint

MARVEL FIRSTS: BEFORE MARVEL NOW TPB (2012) #1 Near Mint/Mint

MARVEL FIRSTS: WWII SUPER HEROES TPB (2013) #1 Near Mint/Mint

MARVEL FRONTIER COMICS: COMPLETE COLLECTION TPB (2015) #1 Near Mint/Mint

MARVEL KNIGHTS 2099 TPB (2005) #1 Very Good

MARVEL KNIGHTS MARVEL BOY BY MORRISON & JONES TPB (2018) #1 Near Mint/Mint

MARVEL KNIGHTS PUNISHER: PURGATORY TPB (2019) #1 Near Mint/Mint

MARVEL KNIGHTS: DAREDEVIL BY SMITH & QUESADA - GUARDIAN (2018) #1 Fine

MARVEL KNIGHTS: FANTASTIC FOUR BY MORRISON & LEE - 1234 (2018) #1 Near Mint/Mint


MARVEL KNIGHTS: HULK - TRANSFORME TPB (2014) #1

MARVEL KNIGHTS: HULK - TRANSFORME TPB (2014) #1 Near Mint/Mint

MARVEL KNIGHTS: SPIDER-MAN - FIGHT NIGHT TPB (2014) #1 Near Mint/Mint

MARVEL KNIGHTS: X-MEN - HAUNTED TPB (2014) #1 Near Mint/Mint

MARVEL LEGACY COMPANION TPB (2018) #1 Near Mint/Mint

MARVEL MANGAVERSE TPB (2002) #2 Fine

MARVEL MANGAVERSE: X-MEN: RONIN TPB (VOL. 4) (2003) #1 Very Fine

MARVEL MASTERWORKS NEW EDITION: AVENGERS HC (2002) #17 Near Mint/Mint

MARVEL POINT ONE TPB (2011) #2 Near Mint/Mint

MARVEL SUPER HERO SPECTACULAR TPB (2016) #1 Near Mint/Mint

MARVEL SUPER HERO TEAM-UP TPB (2009) #1 Near Mint/Mint

MARVEL SUPER HEROES: LARGER THAN LIFE TPB (2017) #1 Near Mint/Mint

MARVEL TALES BY ALAN DAVIS TPB (2012) #1 Near Mint/Mint

MARVEL TEAM-UP: FREEDOM RING TPB (VOL. 4) (2006) #1 Fine
MARVEL TEAM-UP: FREEDOM RING TPB (VOL. 4) (2006) #1 Near Mint/Mint

MARVEL TEAM-UP: GOLDEN CHILD TPB (VOL. 1) (2005) #1 Fine

MARVEL TWO-IN-ONE VOL. 2: NEXT OF KIN TPB (2019) #1 Near Mint/Mint

MARVEL UNIVERSE VS. PUNISHER TPB (2011) #1 Near Mint/Mint

MARVEL UNIVERSE VS. THE AVENGERS TPB (2013) #1 Near Mint/Mint

MARVEL UNIVERSE: TIME & AGAIN TPB (2019) #1 Near Mint/Mint

MARVEL VISIONARIES: JACK KIRBY HC (2004) #2 Very Fine

MARVEL WEDDINGS TPB (2005) #1 Very Good
MARVEL WEDDINGS TPB (2005) #1 Very Fine

MARVEL WESTERNS HC (2006) #1 Fine

MARVELS PROJECT: BIRTH OF THE SUPER HEROES HC (2010) #1 Fine

MARVELS TPB (REMASTERED EDITION) (2018) #1 Near Mint/Mint

MARVELS: EYE OF THE CAMERA TPB (2010) #1 Near Mint/Mint

PUNISHER (2000) (#1-12) (MARVEL KNIGHTS) #1 Near Mint/Mint

SAVAGE WOLVERINE (2013) #1 MILE HIGH Near Mint/Mint

SPIDER-ISLAND: WARZONES TPB (2015) #1 Very Fine

SPIDER-MAN UNLIMITED (1999) (#1-5) #1 WIZARD 1/2 Near Mint/Mint
SPIDER-MAN UNLIMITED (1999) (#1-5) #1 WIZARD 1/2 Very Fine

SPIDER-MAN: DEATH OF CAPTAIN STACY TPB (2004) #1 Fine

STRANGE TALES 2 HC (2011) #1 Near Mint/Mint

SUPREME POWER: POWERS AND PRINCIPALITIES TPB (VOL. 2) (2004) #1 Near Mint/Mint

ULTIMATE WOLVERINE VS. HULK (2005) #1 Near Mint/Mint

ULTIMATE X-MEN: ULTIMATE COLLECTION TPB (2006) #1 Fine

DC
BATMAN BY NEAL ADAMS TPB (2018) #2 Near Mint/Mint

BATMAN VOL. 4: ZERO YEAR - SECRET CITY TPB (2014) #1 4TH PRINT Near Mint/Mint

BATMAN: EARTH ONE TPB (2014) #1 3RD PRINT Near Mint/Mint

BATMAN: NO MAN'S LAND TPB (BATGIRL) (2011) #2 4TH PRINT Very Fine

BATMAN: SHADOW OF THE BAT TPB (2016) #4 Near Mint/Mint


CUBA: MY REVOLUTION HC (2010) #1

CUBA: MY REVOLUTION HC (2010) #1 Near Mint/Mint

CYBORG VOL. 1: IMITATION OF LIFE TPB (DC REBIRTH) (2017) #1 Near Mint/Mint

CYBORG VOL. 2: DANGER IN DETROIT TPB (DC REBIRTH) (2017) #1 Near Mint/Mint

CYBORG VOL. 2: ENEMY OF THE STATE TPB (2016) #1 Near Mint/Mint

CYBORG VOL. 3: SINGULARITY TPB (DC REBIRTH) (2018) #1 Near Mint/Mint

DAMAGE VOL. 1: OUT OF CONTROL TPB (2018) #1 Near Mint/Mint

DANGER GIRL: BACK IN BLACK TPB (2007) #1 Near Mint/Mint

DANGER GIRL: BODY SHOTS TPB (2007) #1 (DC/Wildstorm) Fine

DARK KNIGHT STRIKES AGAIN COLLECTED (2002) #1 9TH PRINT Very Fine

LEGION OF SUPER-HEROES: AN EYE FOR AN EYE TPB (2007) #1 Near Mint/Mint

LEGION OF SUPER-HEROES: THE MORE THINGS CHANGE TPB (2008) #1 Fine

MAJESTIC: WHILE YOU WERE OUT TPB (VOL. 1) (2005) #1 (DC/Wildstorm) Fine

MANHUNTER: UNLEASHED TPB (VOL. 4) (2007) #1 Very Fine

MARTIAN MANHUNTER: RINGS OF SATURN TPB (2014) #1 Near Mint/Mint

RED ROBIN (2009) #1 Near Mint/Mint
RED ROBIN (2009) #2 Near Mint/Mint

SUPERGIRL (2005) (#0-67) (DC) #42 Near Mint/Mint
SUPERGIRL (2005) (#0-67) (DC) #43 Near Mint/Mint
SUPERGIRL (2005) (#0-67) (DC) #60 Near Mint/Mint
SUPERGIRL (2005) (#0-67) (DC) #61 Near Mint/Mint
SUPERGIRL (2005) (#0-67) (DC) #62 Near Mint/Mint
SUPERGIRL (2005) (#0-67) (DC) #63 Near Mint/Mint
SUPERGIRL (2005) (#0-67) (DC) #64 Very Fine

SUPERGIRL: BEING SUPER (2016) #1 Very Fine


SUPERMAN (1986) (#0-226, #650-714) (DC) #175

SUPERMAN (1986) (#0-226, #650-714) (DC) #175 Near Mint/Mint

SUPERMAN (2011) (#0-52) (DC NEW52) #52 Near Mint/Mint

SUPERMAN (2016) (#1-45) (DC REBIRTH) #1 Near Mint/Mint
SUPERMAN (2016) (#1-45) (DC REBIRTH) #2 Near Mint/Mint
SUPERMAN (2016) (#1-45) (DC REBIRTH) #10 Near Mint/Mint

SUPERMAN ADVENTURES (1996) #41 Near Mint/Mint
SUPERMAN ADVENTURES (1996) #64 Near Mint/Mint
SUPERMAN ADVENTURES (1996) #65 Very Fine
SUPERMAN ADVENTURES (1996) #66 Very Fine

SUPERMAN MILLENNIUM EDITION (1939 SERIES) (2000) #76 Near Mint/Mint

SUPERMAN REBIRTH (2016) #1 Very Fine

SUPERMAN/BATMAN (2003) #61 Near Mint/Mint
SUPERMAN/BATMAN (2003) #80 Near Mint/Mint

SUPERMAN: CAMELOT FALLS COLLECTION (2006) #1 HC Fine

SUPERMAN: EXILE TPB (1998) #1 Fine

SUPERMAN: GROUNDED TPB (2012) #2 Near Mint/Mint

SUPERMAN: PHANTOM ZONE TPB (2013) #1 Near Mint/Mint

TEEN TITANS (2003) (#1-100) (DC) #91 Near Mint/Mint
TEEN TITANS (2003) (#1-100) (DC) #92 Near Mint/Mint

TEEN TITANS: GO (2003) #48 Near Mint/Mint

DARK HORSE COMICS
AW YEAH COMICS & ACTION TPB (2014) #1 Near Mint/Mint

AXE COP: BAD GUY EARTH TPB (VOL. 2) (DARK HORSE) (2011) #1 2ND PRINT Near Mint/Mint

CRYPTOCRACY TPB (2017) #1 Near Mint/Mint

MADMAN COMICS TPB (1996) #2 Very Fine

MADMAN COMICS: HEAVEN AND HELL TPB (VOL. 4) (2001) #1 Near Mint/Mint

MAGNUS ROBOT FIGHTER HC (RUSS MANNING'S) (2004) #2 Fine
MAGNUS ROBOT FIGHTER HC (RUSS MANNING'S) (2004) #3 Fine

MAN WITH THE SCREAMING BRAIN TPB (2005) #1 Near Mint/Mint

MANDALA TPB (2014) #1 Very Fine

MARKED MAN HC (2012) #1 Near Mint/Mint

MARTIN MYSTERY DIGEST TPB (DARK HORSE/BONELLI COMICS) (1999) #3 Near Mint/Mint
MARTIN MYSTERY DIGEST TPB (DARK HORSE/BONELLI COMICS) (1999) #5 Near Mint/Mint
MARTIN MYSTERY DIGEST TPB (DARK HORSE/BONELLI COMICS) (1999) #6 Near Mint/Mint

MASS EFFECT VOL. 2: EVOLUTION TPB (2011) #1 Near Mint/Mint

MASS EFFECT VOL. 3: INVASION TPB (2012) #1 Near Mint/Mint

MASS EFFECT VOL. 4: HOMEWORLDS TPB (2012) #1 Near Mint/Mint

MASS EFFECT: DISCOVERY TPB (2017) #1 Near Mint/Mint

MASS EFFECT: FOUNDATION TPB (2014) #1 Near Mint/Mint
MASS EFFECT: FOUNDATION TPB (2014) #3 Near Mint/Mint

MASS EFFECT: REDEMPTION TPB (2010) #1 Near Mint/Mint

SIN CITY: HELL & BACK #6 Very Fine
SIN CITY: HELL & BACK #7 Near Mint/Mint

STAR WARS (1998) (#0-83) (DARK HORSE) #13 Fine
STAR WARS (1998) (#0-83) (DARK HORSE) #13 Very Fine
STAR WARS (1998) (#0-83) (DARK HORSE) #18 Fine
STAR WARS (1998) (#0-83) (DARK HORSE) #34 Very Fine
STAR WARS (1998) (#0-83) (DARK HORSE) #35 Very Good
STAR WARS (1998) (#0-83) (DARK HORSE) #36 Very Good
STAR WARS (1998) (#0-83) (DARK HORSE) #37 Near Mint/Mint

STAR WARS TALES #2 Very Fine
STAR WARS TALES #9 Very Fine

STAR WARS TALES #10 Near Mint/Mint

STAR WARS: CHEWBACCA (2000) #1 Near Mint/Mint

STAR WARS: JEDI QUEST (2001) #1 Fine
STAR WARS: JEDI QUEST (2001) #2 Fine
STAR WARS: JEDI QUEST (2001) #3 Fine
STAR WARS: JEDI QUEST (2001) #4 Near Mint/Mint

STAR WARS: JEDI VS. SITH (2001) #6 Near Mint/Mint

STAR WARS: UNION #3 Near Mint/Mint

SUPERMAN VS. TERMINATOR: DEATH TO THE FUTURE (2000) #3 Near Mint/Mint
SUPERMAN VS. TERMINATOR: DEATH TO THE FUTURE (2000) #4 Near Mint/Mint

IMAGE COMICS
ASCENSION (IMAGE TOPCOW) (1997) #1 VARIANT (Image Top Cow) Near Mint/Mint

CUTTER TPB (2017) #1 Near Mint/Mint

DANCER TPB (2012) #1 Near Mint/Mint

DARK CORRIDOR TPB (2016) #1 Near Mint/Mint

LEGACY OF KAIN: SOUL REAVER #1 (Image Top Cow) Near Mint/Mint

MADAME FRANKENSTEIN TPB (2015) #1 Near Mint/Mint

MADMAN ATOMIC COMICS VOL. 3: ELECTRIC ALLEGORIES TPB (2010) #1 Near Mint/Mint

MAGDALENA TPB (2011) #2 (Image Top Cow) Near Mint/Mint

MAGE COLLECTED EDITION (#1-8) (1998) #1 Very Good

MAGE: HERO DEFINED TPB (IMAGE) (1998) #1 Fine


MAGE: HERO DISCOVERED HC (2010) #1

MAGE: HERO DISCOVERED HC (2010) #1 Very Fine

MANIFEST DESTINY TPB (2014) #3 Near Mint/Mint

MARKSMEN TPB (2012) #1 Very Fine

RISING STARS (1999) #0 (Image Top Cow) Near Mint/Mint

SAVAGE DRAGON-THE SERIES (1993) (#0-UP) #150 Near Mint/Mint

SOUL SAGA (2000) #1 TURNER (Image Top Cow) Near Mint/Mint

SPAWN (1992) #91 Near Mint/Mint
SPAWN (1992) #91 Fine
SPAWN (1992) #91 Very Fine
SPAWN (1992) #92 Near Mint/Mint
SPAWN (1992) #92 Very Good
SPAWN (1992) #93 Fine
SPAWN (1992) #93 Near Mint/Mint
SPAWN (1992) #93 Very Fine
SPAWN (1992) #94 Near Mint/Mint
SPAWN (1992) #94 Fine
SPAWN (1992) #94 Very Fine
SPAWN (1992) #94 Very Good
SPAWN (1992) #95 Near Mint/Mint
SPAWN (1992) #95 Very Fine
SPAWN (1992) #96 Near Mint/Mint
SPAWN (1992) #96 Fine
SPAWN (1992) #96 Very Fine
SPAWN (1992) #97 Near Mint/Mint
SPAWN (1992) #97 Very Fine
SPAWN (1992) #98 Fine
SPAWN (1992) #98 Near Mint/Mint
SPAWN (1992) #98 Very Good
SPAWN (1992) #111 Near Mint/Mint
SPAWN (1992) #112 Near Mint/Mint
SPAWN (1992) #113 Near Mint/Mint
SPAWN (1992) #114 Near Mint/Mint
SPAWN (1992) #123 Near Mint/Mint
SPAWN (1992) #124 Near Mint/Mint
SPAWN (1992) #125 Near Mint/Mint

SPAWN (1992) #172 Near Mint/Mint
SPAWN (1992) #193 Very Fine
SPAWN (1992) #194 Near Mint/Mint
SPAWN (1992) #200 A Near Mint/Mint
SPAWN (1992) #201 Fine
SPAWN (1992) #202 Near Mint/Mint
SPAWN (1992) #203 Near Mint/Mint
SPAWN (1992) #204 Near Mint/Mint
SPAWN (1992) #205 Very Fine
SPAWN (1992) #206 Near Mint/Mint
SPAWN (1992) #207 Very Fine
SPAWN (1992) #225 OBAMA Near Mint/Mint
SPAWN (1992) #226 Near Mint/Mint
SPAWN (1992) #227 Near Mint/Mint
SPAWN (1992) #228 Fine
SPAWN (1992) #229 Near Mint/Mint
SPAWN (1992) #230 Near Mint/Mint
SPAWN (1992) #263 Very Fine
SPAWN (1992) #264 Near Mint/Mint
SPAWN (1992) #265 Near Mint/Mint
SPAWN (1992) #266 A LARSEN Very Fine
SPAWN (1992) #267 A ALBUQUER Very Fine
SPAWN (1992) #268 A MCFARLAN Near Mint/Mint
SPAWN (1992) #269 A MCFARLAN Near Mint/Mint
SPAWN (1992) #270 A SHANYAR Near Mint/Mint
SPAWN (1992) #271 A HABCHI Near Mint/Mint

SPAWN JAPANESE LANGUAGE ED (DENGEKI AMERICAN COMICS) (1992) #1 Near Mint/Mint
SPAWN JAPANESE LANGUAGE ED (DENGEKI AMERICAN COMICS) (1992) #2 Near Mint/Mint
SPAWN JAPANESE LANGUAGE ED (DENGEKI AMERICAN COMICS) (1992) #3 Near Mint/Mint
SPAWN JAPANESE LANGUAGE ED (DENGEKI AMERICAN COMICS) (1992) #4 Near Mint/Mint
SPAWN JAPANESE LANGUAGE ED (DENGEKI AMERICAN COMICS) (1992) #5 Near Mint/Mint
SPAWN JAPANESE LANGUAGE ED (DENGEKI AMERICAN COMICS) (1992) #6 Near Mint/Mint
SPAWN JAPANESE LANGUAGE ED (DENGEKI AMERICAN COMICS) (1992) #7 Near Mint/Mint
SPAWN JAPANESE LANGUAGE ED (DENGEKI AMERICAN COMICS) (1992) #8 Near Mint/Mint
SPAWN JAPANESE LANGUAGE ED (DENGEKI AMERICAN COMICS) (1992) #9 Near Mint/Mint
SPAWN JAPANESE LANGUAGE ED (DENGEKI AMERICAN COMICS) (1992) #11 Near Mint/Mint
SPAWN JAPANESE LANGUAGE ED (DENGEKI AMERICAN COMICS) (1992) #12 Near Mint/Mint
SPAWN JAPANESE LANGUAGE ED (DENGEKI AMERICAN COMICS) (1992) #13 Near Mint/Mint
SPAWN JAPANESE LANGUAGE ED (DENGEKI AMERICAN COMICS) (1992) #14 Near Mint/Mint

SPAWN KILLS EVERYONE (2016) #1 A MCFARLAN Near Mint/Mint


SPAWN: THE DARK AGES (1999) #10

SPAWN: THE DARK AGES (1999) #10 Near Mint/Mint
SPAWN: THE DARK AGES (1999) #15 Near Mint/Mint
SPAWN: THE DARK AGES (1999) #16 Near Mint/Mint
SPAWN: THE DARK AGES (1999) #28 Near Mint/Mint

SPAWN: THE UNDEAD (1999) #9 Near Mint/Mint

STORMWATCH ART PORTFOLIO (1994) #1 Near Mint/Mint

TOMB RAIDER (1999) (#0-50) (IMAGE TOP COW) #18 (Image Top Cow) Near Mint/Mint
TOMB RAIDER (1999) (#0-50) (IMAGE TOP COW) #30 (Image Top Cow) Very Fine
TOMB RAIDER (1999) (#0-50) (IMAGE TOP COW) #31 (Image Top Cow) Very Fine

TOP COW CLASSICS: FATHOM #1 (Image Top Cow) Near Mint/Mint

INDEPENDENTS
AWESOME 2: AWESOMER TPB (2009) #1 (Top Shelf Productions) Very Fine

BAD COMPANY: KANO GN (2007) #1 (Rebellion) Very Fine

BAJA TPB (2011) #1 (IDW Publishing) Near Mint/Mint

BALONEY: TALE IN 3 SYMPHONIC ACTS TPB (2008) #1 (Drawn & Quarterly) Near Mint/Mint

BEAUTIFUL CREATURES TPB (2018) #1 (Red 5 Comics) Near Mint/Mint

BEIRUT 1990: SNAPSHOTS OF A CIVIL WAR HC (2013) #1 (Humanoids Publishing) Near Mint/Mint

BETA TESTING THE APOCALYPSE TPB (2012) #1 (Fantagraphics) Near Mint/Mint

BILL & TED SAVE THE UNIVERSE TPB (2018) #1 (Boom Studios Publishing) Near Mint/Mint

BORDERLINE TPB (2005) #4 (DYNAMITE Entertainment) Fine

BOUNTY KILLER TPB (2013) #1 (Kickstart Comics) Near Mint/Mint

CROSSED VOL. 4: BADLANDS TPB (2012) #1 (Avatar Comics) Very Fine

CROSSED VOL.15 TPB (2016) #1 (Avatar Comics) Near Mint/Mint

CRYPTICS TPB (2008) #1 (IDW Publishing) Fine

CRYPTOZOO CREW TPB (2005) #2 (NBM) Near Mint/Mint
CRYPTOZOO CREW TPB (2005) #2 (NBM) Very Fine

CRYSIS TPB (2012) #1 (IDW Publishing) Near Mint/Mint

CSI: CASE FILES TPB (2006) #1 (IDW Publishing) Fine
CSI: CASE FILES TPB (2006) #2 (IDW Publishing) Fine

CSI: DYING IN THE GUTTERS TPB (2007) #1 (IDW Publishing) Near Mint/Mint

CURB STOMP TPB (2016) #1 (Boom Studios Publishing) Near Mint/Mint

CURSE OF THE WENDIGO TPB (2011) #1 (DYNAMITE Entertainment) Near Mint/Mint

CURSE OF THE WERE-WOMAN GN (2008) #1 (Devil's Due) Near Mint/Mint

CURSE TPB (2015) #1 (Boom Studios Publishing) Near Mint/Mint

CURSED PIRATE GIRL TPB (2016) #1 (Boom Studios Publishing) Near Mint/Mint

CVO: AFRICAN BLOOD TPB (2008) #1 (IDW Publishing) Near Mint/Mint

CVO: COVERT VAMPIRIC OPERATIONS TPB (2004) #1 (IDW Publishing) Near Mint/Mint

CVO: COVERT VAMPIRIC OPERATIONS-ROGUE STATE TPB (2005) #1 (IDW Publishing) Near Mint/Mint

D4VE TPB (2015) #2 (IDW Publishing) Near Mint/Mint

DAMNED TPB (CYBEROSIA) (2003) #1 (CYBEROSIA PUBLISHING LLC) Fine

DAMNED TPB (BOOM STUDIOS) (2013) #1 (Boom Studios Publishing) Near Mint/Mint
DAMNED TPB (BOOM STUDIOS) (2013) #1 (Boom Studios Publishing) Very Fine

DAMPYR TPB (2005) #7 (IDW Publishing) Fine
DAMPYR TPB (2005) #7 (IDW Publishing) Near Mint/Mint
DAMPYR TPB (2005) #8 (IDW Publishing) Very Fine

DAMSELS TPB (2017) #1 (DYNAMITE Entertainment) Near Mint/Mint


DAN DARE OMNIBUS HC (2009) #1 VARIANT

DAN DARE OMNIBUS HC (2009) #1 VARIANT (DYNAMITE Entertainment) Very Fine

DAN DARE OMNIBUS TPB (2009) #1 (DYNAMITE Entertainment) Near Mint/Mint

DAN THE UNHARMABLE TPB (2013) #1 (Avatar Comics) Near Mint/Mint
DAN THE UNHARMABLE TPB (2013) #2 (Avatar Comics) Near Mint/Mint

DANGER GIRL: BACK IN BLACK TPB (2014) #1 (IDW Publishing) Near Mint/Mint

DARE NOVEL (2009) #1 SC (IDW Publishing) Near Mint/Mint

DAWN/VAMPIRELLA HC (2016) #1 (DYNAMITE Entertainment) Near Mint/Mint

MADMAN ADVENTURES COLLECTION (2002) #1 SC (Oni Press Inc.) Very Fine
MADMAN ADVENTURES COLLECTION (2002) #1 SC (Oni Press Inc.) Fine

MAGIC THE GATHERING VOL. 2: SPELL THIEF TPB (2012) #1 (IDW Publishing) Near Mint/Mint

MAGIC THE GATHERING VOL. 3: PATH OF VENGEANCE TPB (2013) #1 (IDW Publishing) Near Mint/Mint

MAGIC THE GATHERING VOL. 4: THEROS TPB (2014) #1 (IDW Publishing) Near Mint/Mint

MAGIC WHISTLE (VOL. 2) (1998) #10 (Alternate Concepts) Near Mint/Mint

MAGIC WHISTLE: BODY ARMOR FOR DIGNITY (VOL. 2 #11) (2008) #1 (Alternate Concepts) Near Mint/Mint

MAGNUS ROBOT FIGHTER VOL. 2: UNCANNY VALLEY TPB (2015) #1 (DYNAMITE Entertainment) Near Mint/Mint

MAINTENANCE: IT'S A DIRTY JOB TPB (VOL. 1) (2007) #1 (Oni Press Inc.) Near Mint/Mint

MALLEUS MALEFICARIUM: GUIDE TO CATCHING WITCHES TPB (2012) #1 (Amaze Ink) Near Mint/Mint

MAN WITH NO NAME VOL. 2: HOLLIDAY IN THE SUN TPB (2010) #1 (DYNAMITE Entertainment) Near Mint/Mint

MANKIND: STORY OF ALL OF US TPB (2012) #1 (Zenescope Entertainment Inc) Near Mint/Mint

MARCH OF THE CRABS HC (2015) #1 (Boom Studios Publishing) Near Mint/Mint

MARCH TPB (2013) #2 (Top Shelf Productions) Near Mint/Mint
MARCH TPB (2013) #3 (Top Shelf Productions) Near Mint/Mint

MARS IDW TPB (2005) #1 (IDW Publishing) Fine

MAXX: MAXXIMIZED HC (2014) #1 (IDW Publishing) Near Mint/Mint

PURGATORI VS. VAMPIRELLA (2000) #1 (Chaos Comics) Near Mint/Mint

PURGATORI: EMPIRE (2000) #1 (Chaos Comics) Near Mint/Mint
PURGATORI: EMPIRE (2000) #3 (Chaos Comics) Near Mint/Mint

RAY BRADBURY: MARTIAN CHRONICLES SPECIAL EDITION (1994) #1 (Topps Publishing) Near Mint/Mint

RAZOR (1992) (#0-12) (RAZOR UNCUT #13-51) (LONDON) #11 (London Night Studios) Near Mint/Mint
RAZOR (1992) (#0-12) (RAZOR UNCUT #13-51) (LONDON) #11 (London Night Studios) Very Fine

REALITY CHECK (1996) (#1-12) (SIRIUS) #1 (Sirius) Very Fine
REALITY CHECK (1996) (#1-12) (SIRIUS) #11 (Sirius) Near Mint/Mint
REALITY CHECK (1996) (#1-12) (SIRIUS) #12 (Sirius) Fine
REALITY CHECK (1996) (#1-12) (SIRIUS) #12 (Sirius) Near Mint/Mint
REALITY CHECK (1996) (#1-12) (SIRIUS) #12 (Sirius) Very Fine

RHUDIPRRT, PRINCE OF FUR #8 (Mu Press) Very Fine

ROSE 'N' GUNN (1995) (#1-6) (BISHOP) (ROSE & GUNN) #4 (Bishop Press) Near Mint/Mint
ROSE 'N' GUNN (1995) (#1-6) (BISHOP) (ROSE & GUNN) #4 (Bishop Press) Very Fine

SHADOWMAN VOL. 3 (1999) #5 (Acclaim/Valiant) Fine

SIMPSONS COMICS (BONGO) (1993) #46 (Bongo Comics) Near Mint/Mint
SIMPSONS COMICS (BONGO) (1993) #49 (Bongo Comics) Near Mint/Mint
SIMPSONS COMICS (BONGO) (1993) #62 (Bongo Comics) Near Mint/Mint
SIMPSONS COMICS (BONGO) (1993) #63 (Bongo Comics) Near Mint/Mint
SIMPSONS COMICS (BONGO) (1993) #64 (Bongo Comics) Very Fine
SIMPSONS COMICS (BONGO) (1993) #65 (Bongo Comics) Near Mint/Mint
SIMPSONS COMICS (BONGO) (1993) #66 (Bongo Comics) Near Mint/Mint
SIMPSONS COMICS (BONGO) (1993) #67 (Bongo Comics) Near Mint/Mint
SIMPSONS COMICS (BONGO) (1993) #75 (Bongo Comics) Near Mint/Mint
SIMPSONS COMICS (BONGO) (1993) #79 (Bongo Comics) Near Mint/Mint
SIMPSONS COMICS (BONGO) (1993) #80 (Bongo Comics) Near Mint/Mint
SIMPSONS COMICS (BONGO) (1993) #81 (Bongo Comics) Very Fine
SIMPSONS COMICS (BONGO) (1993) #82 (Bongo Comics) Near Mint/Mint
SIMPSONS COMICS (BONGO) (1993) #136 (Bongo Comics) Near Mint/Mint
SIMPSONS COMICS (BONGO) (1993) #155 (Bongo Comics) Very Fine
SIMPSONS COMICS (BONGO) (1993) #156 (Bongo Comics) Very Fine


SIMPSONS COMICS (BONGO) (1993) #174

SIMPSONS COMICS (BONGO) (1993) #174 (Bongo Comics) Near Mint/Mint
SIMPSONS COMICS (BONGO) (1993) #175 (Bongo Comics) Near Mint/Mint
SIMPSONS COMICS (BONGO) (1993) #176 (Bongo Comics) Very Fine
SIMPSONS COMICS (BONGO) (1993) #177 (Bongo Comics) Near Mint/Mint
SIMPSONS COMICS (BONGO) (1993) #178 (Bongo Comics) Near Mint/Mint
SIMPSONS COMICS (BONGO) (1993) #180 (Bongo Comics) Near Mint/Mint
SIMPSONS COMICS (BONGO) (1993) #181 (Bongo Comics) Very Fine
SIMPSONS COMICS (BONGO) (1993) #183 (Bongo Comics) Very Fine
SIMPSONS COMICS (BONGO) (1993) #196 (Bongo Comics) Near Mint/Mint
SIMPSONS COMICS (BONGO) (1993) #197 (Bongo Comics) Very Fine
SIMPSONS COMICS (BONGO) (1993) #198 (Bongo Comics) Very Fine
SIMPSONS COMICS (BONGO) (1993) #199 (Bongo Comics) Very Fine
SIMPSONS COMICS (BONGO) (1993) #200 (Bongo Comics) Very Fine
SIMPSONS COMICS (BONGO) (1993) #201 (Bongo Comics) Very Fine

STRANGE KISS #1 (Avatar Comics) Near Mint/Mint
STRANGE KISS #3 (Avatar Comics) Near Mint/Mint

TAROT: WITCH OF THE BLACK ROSE (2000) #10 VARIANT (Broadsword Comics) Near Mint/Mint
TAROT: WITCH OF THE BLACK ROSE (2000) #11 (Broadsword Comics) Very Fine
TAROT: WITCH OF THE BLACK ROSE (2000) #12 VARIANT (Broadsword Comics) Near Mint/Mint
TAROT: WITCH OF THE BLACK ROSE (2000) #13 (Broadsword Comics) Very Fine
TAROT: WITCH OF THE BLACK ROSE (2000) #19 VARIANT (Broadsword Comics) Very Fine
TAROT: WITCH OF THE BLACK ROSE (2000) #20 VARIANT (Broadsword Comics) Near Mint/Mint
TAROT: WITCH OF THE BLACK ROSE (2000) #57 (Broadsword Comics) Near Mint/Mint
TAROT: WITCH OF THE BLACK ROSE (2000) #66 VARIANT (Broadsword Comics) Near Mint/Mint
TAROT: WITCH OF THE BLACK ROSE (2000) #67 VARIANT (Broadsword Comics) Near Mint/Mint
TAROT: WITCH OF THE BLACK ROSE (2000) #76 (Broadsword Comics) Very Fine
TAROT: WITCH OF THE BLACK ROSE (2000) #77 (Broadsword Comics) Near Mint/Mint
TAROT: WITCH OF THE BLACK ROSE (2000) #100 VARIANT (Broadsword Comics) Near Mint/Mint

VAMPEROTICA ILLUSTRATED #1 (Brainstorm Comics) Near Mint/Mint
VAMPEROTICA ILLUSTRATED #1 PREMIUM (Brainstorm Comics) Near Mint/Mint

VAMPI (HARRIS) (2000) #1 RED FOIL (Harris Comics) Near Mint/Mint

VAMPIRELLA (1997) (#0-26) (MONTHLY) (HARRIS) #20 (Harris Comics) Near Mint/Mint
VAMPIRELLA (1997) (#0-26) (MONTHLY) (HARRIS) #23 (Harris Comics) Near Mint/Mint
VAMPIRELLA (1997) (#0-26) (MONTHLY) (HARRIS) #24 VARIANT (Harris Comics) Near Mint/Mint
VAMPIRELLA (1997) (#0-26) (MONTHLY) (HARRIS) #25 VARIANT (Harris Comics) Near Mint/Mint


VAMPIRELLA (1997) (#0-26) (MONTHLY) (HARRIS) #25 VARIANT

VAMPIRELLA (1997) (#0-26) (MONTHLY) (HARRIS) #25 VARIANT (Harris Comics) Very Fine
VAMPIRELLA (1997) (#0-26) (MONTHLY) (HARRIS) #25 VARIANT (Harris Comics) Fine
VAMPIRELLA (1997) (#0-26) (MONTHLY) (HARRIS) #26 (Harris Comics) Near Mint/Mint