Free Comic Book Day Sets Available - Codeword Sale Ending
Howdy!
As I full expected, our announcement on Tuesday that we were opening up advance reservations for full sets of all 53 of this year's Free Comic Book Day variant editions caused an immediate surge in orders. If you have not yet reserved your full FCBD set, please do so right away. At our current pace, we will be sold out of sets well before May 4th even arrives.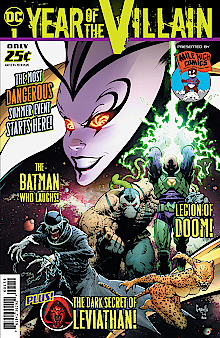 DC YEAR OF THE VILLAIN #0 Mile High Exclusive

A full set can be yours in exchange for a $75 donation to Camp Aranu?tiq, a very special summer camp that allows transgender kids to interact with other children like themselves, oftentimes for the very first time. We are trying to raise the money for a large group of children to be able to have this experience of a lifetime, so we have dedicated our entire 2019 FCBD effort toward helping them. In addition to the base donation we do also have to require a flat $15 domestic shipping charge, or $30 for International orders. On the plus side, however, we will also include with your set our 2019 DC YEAR OF THE VILLAIN #0 Mile High Comics variant from DC Comics, and a free copy of our exclusive new Mile High Comics variant of THANOS #1, which would otherwise cost you $9.95 by itself.
If you are not seeking an entire set of the FCBD variants, we do also offer single issues for free in exchange for any $10 order increment, net of all discounts. If, for example, your order totals $50 after all discounts have been taken into account, you can request five variants from the attached list at the end of this newsletter be included in your order entirely for free. If your order is over $100 (net) you can request a dozen FCBD variants. Just let us know in the "notes" as to which issues you would like us to send you.

2007 FCBD variant of UMBRELLA ACADEMY

Please do bear in mind that we cannot ship any orders containing FCBD variants until Monday, May 6th. By ordering today, however, you guarantee yourself copies of what are turning out to be increasingly scarce and collectible variants. With the 2007 FCBD variant of UMBRELLA ACADEMY now a solid $75 book just about everywhere, any doubts about the long term viability of FCBD variants have been completely dispelled. Add to that fact the reality that many comics retailers are ordering minimal quantities of many of these titles, and it makes it easy to understand why so many smart fans have already placed their FCBD orders with us.
Finally, if you shop with us at our Jason St. Mega-Store, you will qualify for one free FCBD variant for every $10 you spend with us. Save your tickets, as they will be worth their weight in gold on May 4th. We are expecting upwards of 10,000 people to come to Jason St. that day, so we will probably start running out of some single FCBD issues by noon. Please, please, please! plan to arrive early. 'Nuff said...
My only other comment for today is a quick reminder that our 40% off TAXTIME! codeword sale is still in effect for you through this weekend on all ten million of our back issue comics and magazines. Only new issues, a few variants, and our professionally-graded comics are excluded from this generous sale. Please do not procrastinate in placing your order with us, as our new FCBD codeword that is going into effect next week may well be only at 30% this year. Simply put, with our Mega-Store business already up 70%+ over last year, we are starting to have a hard time keeping up with demand...
Happy collecting!
Chuck Rozanski,
President - Mile High Comics, Inc.
April 18, 2019


Here are all 53 Free Comics Book Day Variants:


ANIMOSITY TALES FREE COMIC BOOK DAY (2019) #1

AVENGERS/SAVAGE AVENGERS FREE COMIC BOOK DAY (2019) #1

BLASTOSAURUS FREE COMIC BOOK DAY (2019) #1

BLOODSHOT FREE COMIC BOOK DAY (2019) #1

BOB'S BURGERS FREE COMIC BOOK DAY (2019) #1

BUFFY THE VAMPIRE SLAYER/FIREFLY FREE COMIC BOOK DAY (2019) #1

CAPTAIN CANUCK FREE COMIC BOOK DAY (2019) #1

CASPER'S SPOOKSVILLE FREE COMIC BOOK DAY (2019) #1

DARK AGE FREE COMIC BOOK DAY (2019) #1

DEADLY CLASS: KILLER SET FREE COMIC BOOK DAY (2019) #1

DEAR JUSTICE LEAGUE FREE COMIC BOOK DAY MINI COMIC (2019) #1

DEFEND COMICS: CBLDF FREE COMIC BOOK DAY (2019) #1

DESCENDANTS: DIZZY'S NEW FORTUNE FREE COMIC BOOK DAY (2019) #1

DOCTOR WHO: 13TH DOCTOR FREE COMIC BOOK DAY (2019) #1

DRAGONFLY & DRAGONFLYMAN FREE COMIC BOOK DAY (2019) #1

GHOST HOG FREE COMIC BOOK DAY (2019) #1

GILLBERT FREE COMIC BOOK DAY (2019) #1

GO FISH FREE COMIC BOOK DAY (2019) #1

GRUMBLE VS. THE GOON FREE COMIC BOOK DAY (2019) #1

H1 IGNITION FREE COMIC BOOK DAY (2019) #1

HOPE FREE COMIC BOOK DAY (2019) #1

INTERCEPTOR FREE COMIC BOOK DAY (2019) #1

KINO'S JOURNEY: BEAUTIFUL WORLD FREE COMIC BOOK DAY (2019) #1

LADY MECHANIKA FREE COMIC BOOK DAY (2019) #1

LITTLE LULU FREE COMIC BOOK DAY (2019) #1

LUCY & ANDY NEANDERTHAL FREE COMIC BOOK DAY (2019) #1

LUMBERJANES: SHAPES OF FRIENDSHIP FREE COMIC BOOK DAY (2019) #1

MALIKA: FIRE & FROST FREE COMIC BOOK DAY (2019) #1

MIDNIGHT SKY FREE COMIC BOOK DAY (2019) #0

MINECRAFT FREE COMIC BOOK DAY (2019) #1

MY HERO ACADEMIA FREE COMIC BOOK DAY (2019) #1

OUR FAVORITE THING IS MY FAVORITE THING IS MONSTER FCBD (2019) #1

OVERSTREET GUIDE TO COLLECTING FREE COMIC BOOK DAY (2019) #1

POKEMON FREE COMIC BOOK DAY (2019) #1

PUNCHLINE FREE COMIC BOOK DAY (2019) #1

RIVERDALE SEASON 3 FREE COMIC BOOK DAY (2019) #1

ROBOTECH FREE COMIC BOOK DAY (2019) #0

SHEETS STORY FREE COMIC BOOK DAY (2019) #1

SPAWN FREE COMIC BOOK DAY (2019) #1

SPIDER-MAN/VENOM FREE COMIC BOOK DAY (2019) #1

STAR WARS ADVENTURES FREE COMIC BOOK DAY (2019) #1

STARBURNS PRESENTS FREE COMIC BOOK DAY (2019) #2

STRANGER THINGS/BLACK HAMMER FREE COMIC BOOK DAY (2019) #1

STREET FIGHTER: SAKURA VS. KARIN FREE COMIC BOOK DAY (2019) #1

STRIKER FORCE 7 FREE COMIC BOOK DAY (2019) #1

TEENAGE MUTANT NINJA TURTLES FREE COMIC BOOK DAY (2019) #1

TICK FREE COMIC BOOK DAY (2019) #1

TREASURY OF BRITISH COMICS PRESENTS FUNNY PAGES FCBD (2019) #1

UNDER THE MOON: A CATWOMAN TALE FREE COMIC BOOK DAY (2019) #1

VAMPIRELLA (2019) (#0-UP) (DYNAMITE) #0

WITCH HAT ATELIER FREE COMIC BOOK DAY (2019) #1

WOLFIE MONSTER & THE BIG BAD PIZZA BATTLE FCBD (2019) #1

ZAGOR: ALIEN SAGA FREE COMIC BOOK DAY (2019) #1