Reserve Your Free Comic Book Day Variants Today!
Howdy!
I have finally recovered today from either hosting, and/or participating in, six different events over this last weekend. I am thrilled to report that every single one of our events was a wonderful success. Through our comics and toys auction and our poker tournament on Saturday morning we raised a record total of $3,510.00 to pay for Easter baskets for poor children. Our New Era wrestling tournament later that evening also set a record, with well over 300 attendees. Their charity was a local one that helps military families with food, and other necessities, when a loved one is deployed overseas.
I did stop by visit the wrestling event (where I once again engaged in mock battle with my good friend, the truly evil wrestling manager, Alexis Vain!), but first I performed in drag in our annual Denver Onyx Ball, which is a local benefit for cancer research. After having a basal cell cancer removed from my own nose in August, I am now much more sensitized to the importance this wonderful benefit show. My performance at the Onyx Ball went very well, despite a zipper on my beaded gown that chose to tear out on me just as I was going on stage. Never let them see you sweat!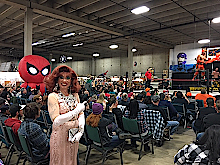 Bettie Visits New Era Wrestling

On Sunday, I stopped by Jason St. briefly to watch Aaron Reilly and his awesome Jedi warriors of the Saber Legion joust with light sabers, and then helped for a bit with setting up our performance area for our All-Ages Drag Show. Then I quickly headed over to the famous Studio Lites Wig Boutique to have my makeup and hair done, so that I could then open our show at 6 PM. We had a few technical problems at the beginning with our sound system, but once those were resolved, we totally rocked it! Our 200+ attendees all loved the truly vivacious energy that the kids put into their performances. In all honesty, it was the most energetic, heartfelt, and positive show that I have experienced in Denver in many years. We also raised $2,183.00 that night through donations for the White Rose Scholarship Fund, so it was a remarkably positive event.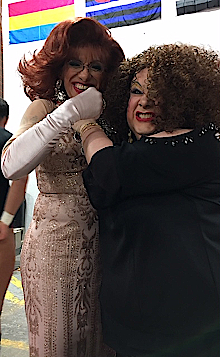 The evil Alexis Vain is Bettie?s arch-nemesis!

All of the above having been said, one question that I have been asked is why I choose to provide free space in our store to kids to perform in drag, which some people find offensive. Quite simply, the answer is that these children and teens have nowhere else that they can perform. Bars are an inappropriate venue, and most wouldn't entertain the idea, anyway. In our case, we actually have a full size stage already built from when we hosted Imperial Court shows during our Denver Comic-Con opening night parties. There really is no reason in the world why we shouldn't make our beautiful facility available to these children and their parents.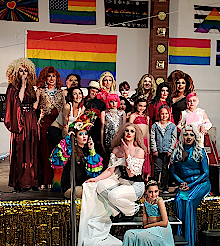 The cast of our All-Ages Drag Show!

As regards creating offense, I would encourage anyone entertaining such notions to first attend one of our shows, and see for themselves the joyful performances these kids put together. Our shows are totally family oriented, and we require all of our under 18 performers to bring a parent or guardian. No drugs or alcohol are allowed, and no overtly risqu? performances are permitted. Simply put, ours is a wonderful group of young people who (oftentimes for the first time in their lives) are being allowed to express themselves, and to just have some fun. I am proud to be able to help these kids, and I am truly grateful to all the members of our Mile High Comics staff (and my beloved wife, Nanette) for standing with me in providing this vital Community service.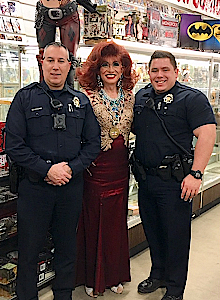 Bettie with Jason and Jayson, the two awesome off-duty Denver police officers
who provide security at our All-Ages Drag Shows. We always request them, as they
love watching over our kids!

With my frenetic weekend behind me, I can now concentrate on preparing for this year's incredible Free Comic Book Day. In all honesty, this event really scares me, as we may not be able to handle the crowds. We had approximately 4,500 fans through our doors at our Jason St. Mega-Store on FCBD last year, but that was with our Colorado Blvd. and Lakewood subsidiary stores still open. Now that we've closed those other two locations, everyone who shops with us will have no choice but to stop by Jason St., especially since (as far as we know...), we are the only comics shop in Denver that has purchased large quantities of all 53 of this year's FCBD variants. Factor in our current unbelievable 70%! growth rate in sales at Jason St. for 2019, and we are thinking that as many as 10,000 fans may visit us during this year's FCBD. Yow!
If you shop with us online, your opportunity to reserve 2019 FCBD variants begins today. Place any online order with us through Friday, May 3rd, and you can reserve one FCBD variant for every $10 (net) in your order. If your order is over $100 (after all discounts) you can reserve 12 of the variants. Or, if you want to guarantee that you will receive all 53 of this year's FCBD issues, plus our two Mile High Comics exclusive variants, you can donate $75 to Camp Aranu?tiq, a special summer camp for transgender youth. This official 2019 charity of the International Court System was endorsed by our Queen Mother I of the Americas, Nicole the Great, because it is especially helpful to kids who live in small towns and rural areas, many of whom have never been able to meet other transgender children. We are all about helping kids, so we are very proud to dedicate our donations from our FCBD 2019 to Camp Aranu?tiq.
So you know, due directly to rising costs of the FCBD variants from the publishers, we have only 200 complete FCBD sets available this year. We received advance online donations for over 200 sets last year, and had all 200 of our sets committed last year by the Monday after FCBD. That being the case, we fully expect to run out of our 2019 sets quickly, so PLEASE reserve your set today. Shipping for FCBD sets this year is a flat $15 domestic, and $30 International. That's a very good rate, especially considering the prodigious weight of 55 comics...
I did want you to also know that each 2019 FCBD set from us will also include a free copy of our Mile High Comics THANOS #1 (which releases on April 24th), and our DC YEAR OF THE VILLAIN #0. If you wish to reserve a copy of our THANOS variant separately, we are offering them through May 4th for only $9.95 each. After May 4th, they will be priced at $24.95 each. Other dates notwithstanding, please do remember that no orders containing any FCBD issues can ship until Monday, May 6th.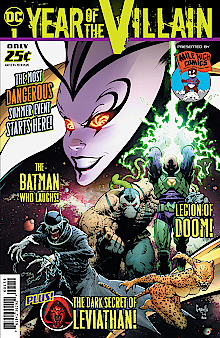 DC YEAR OF THE VILLAIN #0 Mile High Exclusive

I will close with a quick reminder that our 40% off TAXTIME! codeword sale is still in effect for you on all ten million+ of our back issue comics and magazines listed on our website, excepting only new issues, a few variants, and our professionally-graded comics. With FCBD on the horizon, and then our incredibly busy summer season about to begin, I encourage you to take advantage of the 40% TAXTIME! savings, while you still can. 'Nuff said.
Happy collecting!
Chuck Rozanski,
President - Mile High Comics, Inc.
April 16, 2019
Here are all 53 Free Comics Book Day Variants:

ANIMOSITY TALES FREE COMIC BOOK DAY (2019) #1

AVENGERS/SAVAGE AVENGERS FREE COMIC BOOK DAY (2019) #1

BLASTOSAURUS FREE COMIC BOOK DAY (2019) #1

BLOODSHOT FREE COMIC BOOK DAY (2019) #1

BOB'S BURGERS FREE COMIC BOOK DAY (2019) #1

BUFFY THE VAMPIRE SLAYER/FIREFLY FREE COMIC BOOK DAY (2019) #1

CAPTAIN CANUCK FREE COMIC BOOK DAY (2019) #1

CASPER'S SPOOKSVILLE FREE COMIC BOOK DAY (2019) #1

DARK AGE FREE COMIC BOOK DAY (2019) #1

DEADLY CLASS: KILLER SET FREE COMIC BOOK DAY (2019) #1

DEAR JUSTICE LEAGUE FREE COMIC BOOK DAY MINI COMIC (2019) #1

DEFEND COMICS: CBLDF FREE COMIC BOOK DAY (2019) #1

DESCENDANTS: DIZZY'S NEW FORTUNE FREE COMIC BOOK DAY (2019) #1

DOCTOR WHO: 13TH DOCTOR FREE COMIC BOOK DAY (2019) #1

DRAGONFLY & DRAGONFLYMAN FREE COMIC BOOK DAY (2019) #1

GHOST HOG FREE COMIC BOOK DAY (2019) #1

GILLBERT FREE COMIC BOOK DAY (2019) #1

GO FISH FREE COMIC BOOK DAY (2019) #1

GRUMBLE VS. THE GOON FREE COMIC BOOK DAY (2019) #1

H1 IGNITION FREE COMIC BOOK DAY (2019) #1

HOPE FREE COMIC BOOK DAY (2019) #1

INTERCEPTOR FREE COMIC BOOK DAY (2019) #1

KINO'S JOURNEY: BEAUTIFUL WORLD FREE COMIC BOOK DAY (2019) #1

LADY MECHANIKA FREE COMIC BOOK DAY (2019) #1

LITTLE LULU FREE COMIC BOOK DAY (2019) #1

LUCY & ANDY NEANDERTHAL FREE COMIC BOOK DAY (2019) #1

LUMBERJANES: SHAPES OF FRIENDSHIP FREE COMIC BOOK DAY (2019) #1

MALIKA: FIRE & FROST FREE COMIC BOOK DAY (2019) #1

MIDNIGHT SKY FREE COMIC BOOK DAY (2019) #0

MINECRAFT FREE COMIC BOOK DAY (2019) #1

MY HERO ACADEMIA FREE COMIC BOOK DAY (2019) #1

OUR FAVORITE THING IS MY FAVORITE THING IS MONSTER FCBD (2019) #1

OVERSTREET GUIDE TO COLLECTING FREE COMIC BOOK DAY (2019) #1

POKEMON FREE COMIC BOOK DAY (2019) #1

PUNCHLINE FREE COMIC BOOK DAY (2019) #1

RIVERDALE SEASON 3 FREE COMIC BOOK DAY (2019) #1

ROBOTECH FREE COMIC BOOK DAY (2019) #0

SHEETS STORY FREE COMIC BOOK DAY (2019) #1

SPAWN FREE COMIC BOOK DAY (2019) #1

SPIDER-MAN/VENOM FREE COMIC BOOK DAY (2019) #1

STAR WARS ADVENTURES FREE COMIC BOOK DAY (2019) #1

STARBURNS PRESENTS FREE COMIC BOOK DAY (2019) #2

STRANGER THINGS/BLACK HAMMER FREE COMIC BOOK DAY (2019) #1

STREET FIGHTER: SAKURA VS. KARIN FREE COMIC BOOK DAY (2019) #1

STRIKER FORCE 7 FREE COMIC BOOK DAY (2019) #1

TEENAGE MUTANT NINJA TURTLES FREE COMIC BOOK DAY (2019) #1

TICK FREE COMIC BOOK DAY (2019) #1

TREASURY OF BRITISH COMICS PRESENTS FUNNY PAGES FCBD (2019) #1

UNDER THE MOON: A CATWOMAN TALE FREE COMIC BOOK DAY (2019) #1

VAMPIRELLA (2019) (#0-UP) (DYNAMITE) #0

WITCH HAT ATELIER FREE COMIC BOOK DAY (2019) #1

WOLFIE MONSTER & THE BIG BAD PIZZA BATTLE FCBD (2019) #1

ZAGOR: ALIEN SAGA FREE COMIC BOOK DAY (2019) #1