Huge Comics, Graphic Novels, and Books Sale
Howdy!
I am back in the Mile High Comics offices today after my epic adventure as Bettie Pages to the incredible Night of a Thousand Gowns drag ball, in New York City. As promised, I have a beautiful array of pictures from that wonderful charity event to share with you. First, however, I want to mention that we are starting a new 40% off TAXTIME! codeword sale today on all of our back issue comics and magazines. Only new issues, a few variant editions, and our professionally-graded items are excluded from the new TAXTIME! codeword.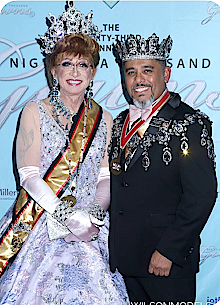 Bettie with Emperor Harrington of New York

In addition to discounting almost all of our ten million back issue comics and magazines for you, Will Moulton and I decided to slash all of our book prices for you. Effective immediately, all of our comics trade paperbacks and graphic novels are priced for you at 40% off, while all of our comics hardbacks are 30% off. These price changes on our books require no codeword, as they have already been applied right into our individual title listings. Please do enjoy this great sale on our 300,000+ books with our sincere thanks for your continuing support of Mile High Comics.
In other news, if you are anywhere near Denver this weekend, you really should try to stop by our immense Mega-Store at 4600 Jason St. On Saturday morning at 10 AM we will begin registering the final players for our monthly Texas Hold'em Poker Tournament. At 11:30 AM, our monthly no-minimum-bid comics and toys auction begins, and finally at 6 PM we host the wild and crazy athletes of New Era Wrestling. Whew! On Sunday. Aaron Riley has his The Saber Legion Light Sabers fencing group in our events area at 2:00 PM, followed by our incredibly entertaining monthly All-Ages Drag Show at 6 PM. Suffice it to say, we are all going to very busy this weekend!
I will close today's newsletter with my array of photos from the amazing Night of a Thousand Gowns, the largest and most prestigious drag ball in America. As you are probably already aware, in my official role as the Imperial Crown Princess of the Americas I perform as a drag queen (Bettie Pages) at charity events all around the nation. I subscribe to the very elegant form of "crowns and gowns" female impersonation championed by the founder of our organization, Jose Sarria, as opposed to the sometimes overly exuberant and raunchy drag that you might see on RuPaul's cable TV show, or in some of the wilder gay bars. These beautiful photos should help to make the distinction that I am trying to draw fairly obvious.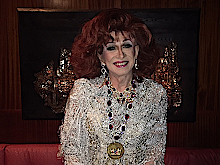 Bettie Pages at Night of a Thousand Gowns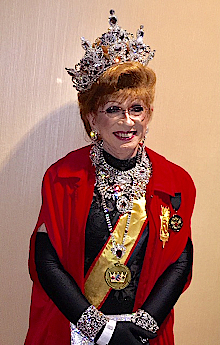 Bettie Pages at Night of a Thousand Gowns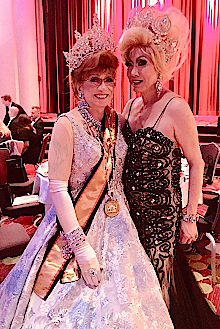 Bettie Pages at Night of a Thousand Gowns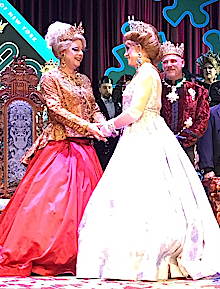 Bettie Pages at Night of a Thousand Gowns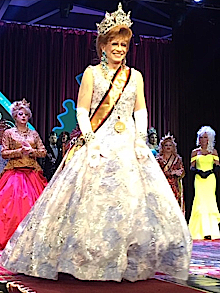 Bettie Pages at Night of a Thousand Gowns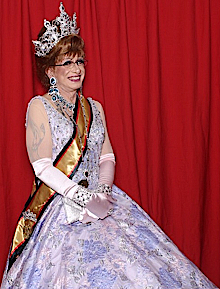 Bettie Pages at Night of a Thousand Gowns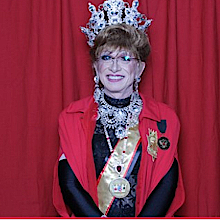 Bettie Pages at Night of a Thousand Gowns

As an aside, if you would like to see me perform the lip synch number that I performed in New York, you can see me perform it again at our All-Ages show here in Denver in Sunday night. If I can get into their lineup, I will also perform that number in Sacramento at their Cornonation, a week from Friday. I believe that the show in Sacramento on Friday is at the Badlands Night Club. Then on Easter Sunday, I will fly to San Diego in the morning to help our Queen Mother I of the Americas Nicole the Great with handing out 600+ Easter baskets filled with eggs and chocolates to poor kids from San Diego and Tijuana. All of our proceeds from this month's Texas Hold'em tournament will be dedicated to helping pay for those Easter baskets for the poor. Love is love...
Happy collecting!
Chuck Rozanski,
President - Mile High Comics, Inc.
April 8, 2019
P.S. Here are some great back issues Will and Pam purchased while I was in New York. All are 40% off when you utilize the TAXTIME! codeword.
MARVEL

AVENGERS (1963) (#1-402) (MARVEL) #203

AVENGERS (1963) (#1-402) (MARVEL) #203 Very Fine

IRON MAN (1968) (#1-332) (INVINCIBLE IRON MAN)(MARVEL) #143 Very Fine

JUNGLE ACTION (1972) (#1-24) (MARVEL) #2 Very Good
JUNGLE ACTION (1972) (#1-24) (MARVEL) #11 Good

MARVEL TWO-IN-ONE ANNUAL (1976) #5 Near Mint/Mint

MOON KNIGHT (2006) (#1-30) (MARVEL) #22 Near Mint/Mint
MOON KNIGHT (2006) (#1-30) (MARVEL) #23 Near Mint/Mint

STAR WARS: DARTH VADER (2017) #4 Near Mint/Mint

ULTRAFORCE ASHCAN (1994) #1 LIMITED ED (Marvel Malibu/Ultraverse) Near Mint/Mint

DC
BATMAN (1940) (#0-713) (DC) #229 Very Good
BATMAN (1940) (#0-713) (DC) #419 Very Fine

CATWOMAN (2011) (#1-52) (DC NEW52) #39 HARLEY Very Fine

CATWOMAN-THE SERIES (1993) (#1-94) (DC) #89 Near Mint/Mint

PREACHER (1995) #18 (DC: Vertigo Press) Near Mint/Mint
PREACHER (1995) #19 (DC: Vertigo Press) Near Mint/Mint
PREACHER (1995) #20 (DC: Vertigo Press) Near Mint/Mint
PREACHER (1995) #21 (DC: Vertigo Press) Near Mint/Mint
PREACHER (1995) #22 (DC: Vertigo Press) Near Mint/Mint
PREACHER (1995) #23 UNBAGGED (DC: Vertigo Press) Near Mint/Mint
PREACHER (1995) #24 (DC: Vertigo Press) Near Mint/Mint
PREACHER (1995) #24 (DC: Vertigo Press) Very Fine
PREACHER (1995) #25 (DC: Vertigo Press) Near Mint/Mint
PREACHER (1995) #26 (DC: Vertigo Press) Near Mint/Mint
PREACHER (1995) #27 (DC: Vertigo Press) Near Mint/Mint
PREACHER (1995) #29 (DC: Vertigo Press) Near Mint/Mint
PREACHER (1995) #30 (DC: Vertigo Press) Near Mint/Mint

DARK HORSE COMICS
VAMPIRELLA (1991) (#1-4) (DARK HORSE) #2 Near Mint/Mint
VAMPIRELLA (1991) (#1-4) (DARK HORSE) #3 Very Fine
VAMPIRELLA (1991) (#1-4) (DARK HORSE) #4 Near Mint/Mint

VAMPIRELLA'S SUMMER NIGHTS (1992) #1 Near Mint/Mint

IMAGE COMICS
MANHATTAN PROJECTS: SUN BEYOND THE STARS (2015) #1 Very Fine


SILVER SURFER/WITCHBLADE #1 1/2

SILVER SURFER/WITCHBLADE #1 1/2 (Image Top Cow) Near Mint/Mint

TALES OF THE WITCHBLADE (1996) #1 GREEN (Image Top Cow) Near Mint/Mint
TALES OF THE WITCHBLADE COLLECTED EDITION #1 (Image Top Cow) Near Mint/Mint

WITCHBLADE COLLECTED EDITIONS #1 (Image Top Cow) Near Mint/Mint
WITCHBLADE COLLECTED EDITIONS #2 (Image Top Cow) Near Mint/Mint
WITCHBLADE COLLECTED EDITIONS #3 (Image Top Cow) Near Mint/Mint
WITCHBLADE COLLECTED EDITIONS #4 (Image Top Cow) Near Mint/Mint
WITCHBLADE COLLECTED EDITIONS #7 (Image Top Cow) Near Mint/Mint
WITCHBLADE COLLECTED EDITIONS #8 (Image Top Cow) Near Mint/Mint

WITCHBLADE SPRING PIN-UP #1 (Image Top Cow) Near Mint/Mint

WOLVERINE/WITCHBLADE #1 Near Mint/Mint
WOLVERINE/WITCHBLADE #1 VARIANT Near Mint/Mint
WOLVERINE/WITCHBLADE #1 GOLD Near Mint/Mint

INDEPENDENTS
LADY DEATH: ODYSSEY (1996) #1 (Chaos Comics) Near Mint/Mint
LADY DEATH: ODYSSEY (1996) #4 VARIANT (Chaos Comics) Near Mint/Mint

LADY DEATH: RETRIBUTION (1998) #1 (Chaos Comics) Near Mint/Mint
LADY DEATH: RETRIBUTION (1998) #1 PREMIUM (Chaos Comics) Near Mint/Mint

MEDORA #1 (Lobster Comixxx) Near Mint/Mint
MEDORA #1 NUDE (Lobster Comixxx) Near Mint/Mint

METAL BIKINI (1996) (#0-6) (ACADEMY COMICS) #1 (Academy Comics) Near Mint/Mint
METAL BIKINI (1996) (#0-6) (ACADEMY COMICS) #2 (Academy Comics) Near Mint/Mint
METAL BIKINI (1996) (#0-6) (ACADEMY COMICS) #3 (Academy Comics) Near Mint/Mint
METAL BIKINI (1996) (#0-6) (ACADEMY COMICS) #4 (Academy Comics) Near Mint/Mint

MORTAL KOMBAT TOURNAMENT EDITION II (1995) #1 (Marvel Malibu/Ultraverse) Near Mint/Mint

MORTAL KOMBAT: BLOOD & THUNDER (1994) #3 (Marvel Malibu/Ultraverse) Near Mint/Mint
MORTAL KOMBAT: BLOOD & THUNDER (1994) #5 (Marvel Malibu/Ultraverse) Very Fine
MORTAL KOMBAT: BLOOD & THUNDER (1994) #6 (Marvel Malibu/Ultraverse) Near Mint/Mint

MOXI (1996) #1 PLATINUM (Lightning Comics) Near Mint/Mint

MOXI: STRANGE DAZE (1996) #1 PLATINUM (Lightning Comics) Near Mint/Mint

MUTANT CHRONICLES: GOLGOTHA #2 (Acclaim/Valiant) Near Mint/Mint
MUTANT CHRONICLES: GOLGOTHA #4 (Acclaim/Valiant) Near Mint/Mint

PERG #6 GOLD NUDE (Lightning Comics) Near Mint/Mint

SINJA: DEADLY SINS #1 NUDE (Lightning Comics) Near Mint/Mint

SLICE GIRLS COMICS #1 (Marketsquare Productions) Near Mint/Mint

SPANDEX TIGHTS: ADVENTURES OF THE AEROBIC DUO #1 (Lost Cause Productions) Near Mint/Mint

TERMINATOR 2 NUCLEAR TWILIGHT/CYBERNETIC DAWN FLIPBOOK (1996) #0 (Marvel Malibu/Ultraverse) Near Mint/Mint

TIGER WOMAN: NEW BEGINNING #1 (Millennium/Expand) Near Mint/Mint

VAMPIRELLA (1992) (#0-5) (HARRIS) #0 DFE S&N (Harris Comics) Very Fine
VAMPIRELLA (1992) (#0-5) (HARRIS) #1 COMM ED (Harris Comics) Near Mint/Mint
VAMPIRELLA (1992) (#0-5) (HARRIS) #2 (Harris Comics) Very Fine
VAMPIRELLA (1992) (#0-5) (HARRIS) #4 (Harris Comics) Fine
VAMPIRELLA (1992) (#0-5) (HARRIS) #4 (Harris Comics) Near Mint/Mint
VAMPIRELLA (1992) (#0-5) (HARRIS) #4 (Harris Comics) Very Good
VAMPIRELLA (1992) (#0-5) (HARRIS) #5 (Harris Comics) Near Mint/Mint
VAMPIRELLA (1992) (#0-5) (HARRIS) #5 (Harris Comics) Fine

VAMPIRELLA (1997) (#0-26) (MONTHLY) (HARRIS) #0 ASHCAN LTD (Harris Comics) Near Mint/Mint
VAMPIRELLA (1997) (#0-26) (MONTHLY) (HARRIS) #1 CONNOR CVR (Harris Comics) Near Mint/Mint
VAMPIRELLA (1997) (#0-26) (MONTHLY) (HARRIS) #1 AE VARIANT (Harris Comics) Near Mint/Mint
VAMPIRELLA (1997) (#0-26) (MONTHLY) (HARRIS) #1 CONNOR CVR (Harris Comics) Very Fine
VAMPIRELLA (1997) (#0-26) (MONTHLY) (HARRIS) #1 AE VARIANT (Harris Comics) Very Fine
VAMPIRELLA (1997) (#0-26) (MONTHLY) (HARRIS) #1 CONNOR CVR (Harris Comics) Fine
VAMPIRELLA (1997) (#0-26) (MONTHLY) (HARRIS) #1 GOLD LTD (Harris Comics) Near Mint/Mint


VAMPIRELLA (1997) (#0-26) (MONTHLY) (HARRIS) #2

VAMPIRELLA (1997) (#0-26) (MONTHLY) (HARRIS) #2 (Harris Comics) Near Mint/Mint
VAMPIRELLA (1997) (#0-26) (MONTHLY) (HARRIS) #2 VARIANT (Harris Comics) Near Mint/Mint
VAMPIRELLA (1997) (#0-26) (MONTHLY) (HARRIS) #3 (Harris Comics) Near Mint/Mint
VAMPIRELLA (1997) (#0-26) (MONTHLY) (HARRIS) #4 LINSNER CV (Harris Comics) Near Mint/Mint
VAMPIRELLA (1997) (#0-26) (MONTHLY) (HARRIS) #4 LINSNER CV (Harris Comics) Very Fine
VAMPIRELLA (1997) (#0-26) (MONTHLY) (HARRIS) #4 LINSNER CV (Harris Comics) Fine
VAMPIRELLA (1997) (#0-26) (MONTHLY) (HARRIS) #5 (Harris Comics) Near Mint/Mint
VAMPIRELLA (1997) (#0-26) (MONTHLY) (HARRIS) #6 (Harris Comics) Near Mint/Mint
VAMPIRELLA (1997) (#0-26) (MONTHLY) (HARRIS) #6 (Harris Comics) Very Fine
VAMPIRELLA (1997) (#0-26) (MONTHLY) (HARRIS) #7 (Harris Comics) Near Mint/Mint
VAMPIRELLA (1997) (#0-26) (MONTHLY) (HARRIS) #7 SHI (Harris Comics) Near Mint/Mint
VAMPIRELLA (1997) (#0-26) (MONTHLY) (HARRIS) #7 (Harris Comics) Very Fine
VAMPIRELLA (1997) (#0-26) (MONTHLY) (HARRIS) #8 (Harris Comics) Near Mint/Mint
VAMPIRELLA (1997) (#0-26) (MONTHLY) (HARRIS) #9 (Harris Comics) Near Mint/Mint
VAMPIRELLA (1997) (#0-26) (MONTHLY) (HARRIS) #10 (Harris Comics) Near Mint/Mint
VAMPIRELLA (1997) (#0-26) (MONTHLY) (HARRIS) #10 B&W (Harris Comics) Near Mint/Mint
VAMPIRELLA (1997) (#0-26) (MONTHLY) (HARRIS) #11 (Harris Comics) Near Mint/Mint
VAMPIRELLA (1997) (#0-26) (MONTHLY) (HARRIS) #12 (Harris Comics) Near Mint/Mint
VAMPIRELLA (1997) (#0-26) (MONTHLY) (HARRIS) #12 VARIANT (Harris Comics) Near Mint/Mint

VAMPIRELLA CLASSIC #1 (Harris Comics) Near Mint/Mint
VAMPIRELLA CLASSIC #2 (Harris Comics) Near Mint/Mint

VAMPIRELLA CLASSIC #3 (Harris Comics) Near Mint/Mint
VAMPIRELLA CLASSIC #4 (Harris Comics) Near Mint/Mint
VAMPIRELLA CLASSIC #5 (Harris Comics) Near Mint/Mint

VAMPIRELLA CROSSOVER GALLERY #1 (Harris Comics) Near Mint/Mint
VAMPIRELLA CROSSOVER GALLERY #1 LTD CHROME (Harris Comics) Near Mint/Mint
VAMPIRELLA CROSSOVER GALLERY #1 MONKEYMAN (Harris Comics) Near Mint/Mint
VAMPIRELLA CROSSOVER GALLERY #1 PAINKILLER (Harris Comics) Near Mint/Mint
VAMPIRELLA CROSSOVER GALLERY #1 SAVAGEDRAG (Harris Comics) Near Mint/Mint
VAMPIRELLA CROSSOVER GALLERY #1 VIRGIN CVR (Harris Comics) Near Mint/Mint

VAMPIRELLA VS. PANTHA #1 ALT EDIT (Harris Comics) Near Mint/Mint

VAMPIRELLA: BLOOD LUST #1 (Harris Comics) Near Mint/Mint
VAMPIRELLA: BLOOD LUST #1 NO LOGO (Harris Comics) Near Mint/Mint

VAMPIRELLA: DEATH & DESTRUCTION #1 DFE S&N (Harris Comics) Near Mint/Mint
VAMPIRELLA: DEATH & DESTRUCTION #1 LIMITED (Harris Comics) Very Fine
VAMPIRELLA: DEATH & DESTRUCTION #1 SATIN VART (Harris Comics) Near Mint/Mint
VAMPIRELLA: DEATH & DESTRUCTION #2 (Harris Comics) Near Mint/Mint

VAMPIRELLA: HELL ON EARTH ASHCAN (2002) #1 LTD ASHCAN (Harris Comics) Near Mint/Mint

VAMPIRELLA: HOLY WAR ASHCAN (1998) #1 LIMITED ED (Harris Comics) Near Mint/Mint


VELVET TALES OF THE ASSASSIN #1

VELVET TALES OF THE ASSASSIN #1 (Mythic Comics) Near Mint/Mint
VELVET TALES OF THE ASSASSIN #2 (Mythic Comics) Near Mint/Mint

WEEZUL #1 COMM (Lightning Comics) Near Mint/Mint

WICKED (1994) (#1-4) (MILLENNIUM) #2 (Millennium Publishing) Near Mint/Mint
WICKED (1994) (#1-4) (MILLENNIUM) #3 (Millennium Publishing) Near Mint/Mint
WICKED (1994) (#1-4) (MILLENNIUM) #4 (Millennium Publishing) Near Mint/Mint