Comic Book Stores Need Your Help!
Howdy!
I am writing today's newsletter on a flight to New York City, where I will be attending the awesome Night of a Thousand Gowns charity drag ball on Saturday evening. This wonderful event in the prestigious Marriot Marquis Hotel ballroom is truly my favorite International Court System Coronation of the year, as the pomp and pageantry are truly without comparison. I will have lots of photos for you next week.
While I am on my trip to NY, our staff at Jason St. will be doing their best to integrate the stock and fixtures of our recently-closed Lakewood, Colorado retail store into our already vast Mega-Store displays. They will also continue to explain to a few disbelieving fans that my headline proclaiming "Lakewood Store Closed" on Monday's newsletter was not an April Fool's Day joke. Honestly, that thought never occurred to me, as we had been actively publicizing the imminent closure of that store for over a month. The fact that so many people missed the notices in my newsletters, and also failed to notice the "store closing" signs on the front door, came as quite a surprise to me.
All of the above having been said, I do at this point want to ask everyone who reads my newsletter to please not ignore the plight of their local comics shop. While our Jason St. Mega-Store had the highest-grossing month in its history in March, the news that I am hearing from other comics stores around the nation is really rather grim. New comics unit sales for individual comics titles sank to what I believe to be their lowest point ever in February, with only one title (barely) selling 100,000 copies in the Direct Market, and only 18 titles selling over 50,000. Truth be told, I believe that is a completely non-sustainable level of sales as compared with what is needed for the entire comics industry to survive.
Before you overreact to somewhat apocalyptic statement that I just wrote, bear in mind that comics sales do vary a great deal month-to-month, and all it takes is one hit title to boost all the averages right back up again. In the meantime, however, local comics retailers do suffer dreadfully when we hit these slower periods. It is during these moments of peril when they really and truly need their core audience of comics fans to step up to help them.
How can you help? Start by thinking about the fact that darn near every comic book store in America is jam-packed with awesome supplies of back issue comics, trade paperbacks, hardbacks, action figures, statues, posters, and much more, all of which are far too frequently ignored. Sadly, a truly discouraging number of long term comics fans have become so used to having these endless arrays available to them seven days a week, that they do not consider that many years of the profits of their favorite store are tied up in all that unsold product. They stop by their local shop to shoot the breeze, pick up their subscriptions, and maybe buy a candy bar. The entire rest of the store might as well not exist for far too many fans.
In our Lakewood store, for example, we had over $250,000.00 (our cost) in books, etc. available for sale. We were paying over $10,000 a month in rent to provide our fans with this vast array of hand-picked treasures, but after all our expense and effort, we generated less than $5,000 a month in sales from our backlist. Almost all our sales in Lakewood were from new releases, which were declining, and simultaneously were no longer enough to cover that expensive overhead. At the same time, I can guarantee you that the $250,000 in backlist product that we just shifted from Lakewood over to Jason St. will now generate vastly more sales revenue for us, with absolutely no additional rent. Our closing Lakewood was totally a no-brainier...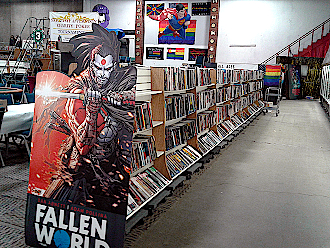 Some of Lakewood's Trade Paperback and Hardcovers Now in the Jason Street Location

My last thought on this topic is to suggest that you consider for a moment that all retail is going through huge changes right now. A dozen or so extremely large online retailers are controlling well over 80% of all online sales, and their growing dominance and ability to provide convenience is obliterating thousands of family-run retailers, both online, and brick-and-mortar. Jason St. clearly illustrates that there are innovative ways around this retailing apocalypse, but for most local comics shops the working capital to make adaptive changes no longer exists. Please help your local comic book retailer now, today, immediately. Their future existence is in your hands, far more than you might realize. Thank you.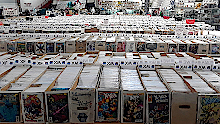 Ocean of comics in our Jason Street Location

I will close today's newsletter with a quick mention that our 60% off SPRINGBREAK! codeword sale will be ending next Monday. This exceptionally generous 60% off sale applies to all ten million of our back issue comics and magazines, excluding only new issues, a few variants, and our professionally-graded comics. Please bear in mind that our busiest season is about to begin in our Jason St. Mega-Store, as we get flooded with both national and International visitors during May-August. That being the case, we will need to shift a few of our 20 staff members from filling online orders, to helping visitors in the store. Barring an unforeseen circumstance, it is going to be a while before we offer you the chance to pick and choose from our very best back issues at only 40% of list. You have five days of SPRINGBREAK! remaining. Just saying...
Happy collecting!
Chuck Rozanski,
President - Mile High Comics, Inc.
April 3, 2019
P.S. Here are a few more new arrivals:
MARVEL

AMAZING ADULT FANTASY OMNIBUS HC (2007) #1

AMAZING ADULT FANTASY OMNIBUS HC (2007) #1 Near Mint/Mint

AVENGERS (1963) (#1-402) (MARVEL) #71 Very Fine

DARK REIGN: THE LIST - AVENGERS (2009) #1 2ND PRINT Very Fine

ETERNALS (1976) (#1-19) (MARVEL) (JACK KIRBY) #7 Very Fine
ETERNALS (1976) (#1-19) (MARVEL) (JACK KIRBY) #9 Very Fine
ETERNALS (1976) (#1-19) (MARVEL) (JACK KIRBY) #10 Very Fine
ETERNALS (1976) (#1-19) (MARVEL) (JACK KIRBY) #12 Very Fine
ETERNALS (1976) (#1-19) (MARVEL) (JACK KIRBY) #17 Very Fine

HOWARD THE DUCK (2015) (NOVEMBER) (#1-11) #1 Near Mint/Mint
HOWARD THE DUCK (2015) (NOVEMBER) (#1-11) #1 LIM Near Mint/Mint
HOWARD THE DUCK (2015) (NOVEMBER) (#1-11) #1 QUINONE2ND Near Mint/Mint

HULK (1962) (#1-6, #102-474, #600-635)(INCREDIBLE)(MV) #340 Very Fine
HULK (1962) (#1-6, #102-474, #600-635)(INCREDIBLE)(MV) #377 2ND PRT Fine

MARVEL TALES (#1-291) (1964) #39 Very Fine

MIGHTY AVENGERS (2013) (#1-14) #4 EPTING VAR Near Mint/Mint

NEW MUTANTS (1983) (#1-100) (MARVEL) #87 Very Fine
NEW MUTANTS (1983) (#1-100) (MARVEL) #98 Near Mint/Mint

NICK FURY VS. S.H.I.E.L.D. (1988) #1 Near Mint/Mint
NICK FURY VS. S.H.I.E.L.D. (1988) #2 Near Mint/Mint
NICK FURY VS. S.H.I.E.L.D. (1988) #3 Near Mint/Mint

PUNISHER (1985) (#1-5) (MARVEL) #1 Fine
PUNISHER (1985) (#1-5) (MARVEL) #2 Fine
PUNISHER (1985) (#1-5) (MARVEL) #3 Very Fine
PUNISHER (1985) (#1-5) (MARVEL) #4 Fine
PUNISHER (1985) (#1-5) (MARVEL) #5 Very Fine

PUNISHER (1987) (#1-104) (MARVEL) #1 Very Fine

SECRET WARS (1984) #7 Near Mint/Mint
SECRET WARS (1984) #8 Very Fine

SECRET WARS II (1985) #8 Near Mint/Mint
SECRET WARS II (1985) #9 Fine


SHE-HULK (1989) (#1-60) (SENSATIONAL SHE-HULK)(MARVEL) #1 NEWSSTAND

SHE-HULK (1989) (#1-60) (SENSATIONAL SHE-HULK)(MARVEL) #1 NEWSSTAND Very Fine
SHE-HULK (1989) (#1-60) (SENSATIONAL SHE-HULK)(MARVEL) #17 Near Mint/Mint

SILVER SURFER (1982) (#1) (MARVEL) #1 Fine

SILVER SURFER (1987) (#1-146) (MARVEL) #1 Fine
SILVER SURFER (1987) (#1-146) (MARVEL) #1 Near Mint/Mint
SILVER SURFER (1987) (#1-146) (MARVEL) #9 Near Mint/Mint
SILVER SURFER (1987) (#1-146) (MARVEL) #10 Very Fine
SILVER SURFER (1987) (#1-146) (MARVEL) #12 Fine
SILVER SURFER (1987) (#1-146) (MARVEL) #14 Very Fine
SILVER SURFER (1987) (#1-146) (MARVEL) #15 Very Fine
SILVER SURFER (1987) (#1-146) (MARVEL) #17 Very Fine
SILVER SURFER (1987) (#1-146) (MARVEL) #18 Near Mint/Mint
SILVER SURFER (1987) (#1-146) (MARVEL) #19 Fine
SILVER SURFER (1987) (#1-146) (MARVEL) #20 Fine
SILVER SURFER (1987) (#1-146) (MARVEL) #39 Near Mint/Mint
SILVER SURFER (1987) (#1-146) (MARVEL) #44 Near Mint/Mint
SILVER SURFER (1987) (#1-146) (MARVEL) #45 Fine
SILVER SURFER (1987) (#1-146) (MARVEL) #46 Fine
SILVER SURFER (1987) (#1-146) (MARVEL) #46 Near Mint/Mint
SILVER SURFER (1987) (#1-146) (MARVEL) #47 Fine
SILVER SURFER (1987) (#1-146) (MARVEL) #47 Near Mint/Mint
SILVER SURFER (1987) (#1-146) (MARVEL) #49 Near Mint/Mint
SILVER SURFER (1987) (#1-146) (MARVEL) #58 Near Mint/Mint

SILVER SURFER (1988) (#1-2) (MARVEL) (EPIC) (MOEBIUS) #1 Near Mint/Mint
SILVER SURFER (1988) (#1-2) (MARVEL) (EPIC) (MOEBIUS) #2 Very Fine

SILVER SURFER ANNUAL (1988) (#1-7) (MARVEL) #1 Near Mint/Mint
SILVER SURFER ANNUAL (1988) (#1-7) (MARVEL) #2 Fine

SPIDER-MAN (1963) (AMAZING SPIDER-MAN) (#1-441) #238 NEWSSTAND Fine
SPIDER-MAN (1963) (AMAZING SPIDER-MAN) (#1-441) #239 NEWSSTAND Fine
SPIDER-MAN (1963) (AMAZING SPIDER-MAN) (#1-441) #252 Fine
SPIDER-MAN (1963) (AMAZING SPIDER-MAN) (#1-441) #298 Near Mint/Mint
SPIDER-MAN (1963) (AMAZING SPIDER-MAN) (#1-441) #299 Near Mint/Mint
SPIDER-MAN (1963) (AMAZING SPIDER-MAN) (#1-441) #300 Very Fine
SPIDER-MAN (1963) (AMAZING SPIDER-MAN) (#1-441) #301 Very Fine
SPIDER-MAN (1963) (AMAZING SPIDER-MAN) (#1-441) #316 Fine


SUPERNATURAL THRILLERS (1972) #7

SUPERNATURAL THRILLERS (1972) #7 Near Mint/Mint

THING (1983) (#1-36) (MARVEL) (FANTASTIC FOUR) #35 Very Fine

THOR (1962) (#83-125 JOURNEY INTO MYSTERY, 126-502) #337 NEWSSTAND Very Fine

THOR ANNUAL (1965) #6 Very Fine

WEB OF SPIDER-MAN (1985) (#1-129) (MARVEL) #1 Near Mint/Mint
WEB OF SPIDER-MAN (1985) (#1-129) (MARVEL) #1 Fine
WEB OF SPIDER-MAN (1985) (#1-129) (MARVEL) #119 Near Mint/Mint

WOLVERINE (1982) (#1-4) (MARVEL LIMITED SERIES) #1 Fine
WOLVERINE (1982) (#1-4) (MARVEL LIMITED SERIES) #2 NEWSSTAND Very Fine
WOLVERINE (1982) (#1-4) (MARVEL LIMITED SERIES) #3 NEWSSTAND Very Fine
WOLVERINE (1982) (#1-4) (MARVEL LIMITED SERIES) #4 NEWSSTAND Fine

WOLVERINE (1988) (#1/2-189) (MARVEL) #1 Near Mint/Mint
WOLVERINE (1988) (#1/2-189) (MARVEL) #2 Near Mint/Mint
WOLVERINE (1988) (#1/2-189) (MARVEL) #2 Very Fine
WOLVERINE (1988) (#1/2-189) (MARVEL) #3 Near Mint/Mint
WOLVERINE (1988) (#1/2-189) (MARVEL) #3 Very Fine
WOLVERINE (1988) (#1/2-189) (MARVEL) #4 Near Mint/Mint
WOLVERINE (1988) (#1/2-189) (MARVEL) #4 Very Fine
WOLVERINE (1988) (#1/2-189) (MARVEL) #6 Near Mint/Mint
WOLVERINE (1988) (#1/2-189) (MARVEL) #8 Very Fine
WOLVERINE (1988) (#1/2-189) (MARVEL) #10 Very Fine
WOLVERINE (1988) (#1/2-189) (MARVEL) #17 Very Fine

X-FACTOR (1986) (#1-149) (ORIGINAL X-MEN) #1 Fine
X-FACTOR (1986) (#1-149) (ORIGINAL X-MEN) #1 Near Mint/Mint
X-FACTOR (1986) (#1-149) (ORIGINAL X-MEN) #5 Fine
X-FACTOR (1986) (#1-149) (ORIGINAL X-MEN) #6 Fine
X-FACTOR (1986) (#1-149) (ORIGINAL X-MEN) #6 Near Mint/Mint
X-FACTOR (1986) (#1-149) (ORIGINAL X-MEN) #9 Near Mint/Mint
X-FACTOR (1986) (#1-149) (ORIGINAL X-MEN) #23 Near Mint/Mint
X-FACTOR (1986) (#1-149) (ORIGINAL X-MEN) #24 Near Mint/Mint

X-MEN (1963) (#1-113, UNCANNY X-MEN #114-544) (MARVEL) #129 TOY INSERT Fine
X-MEN (1963) (#1-113, UNCANNY X-MEN #114-544) (MARVEL) #266 Near Mint/Mint
X-MEN (1963) (#1-113, UNCANNY X-MEN #114-544) (MARVEL) #266 Fine


X-MEN (1991) (#1-275) (MARVEL) #58 NEWSSTAND

X-MEN (1991) (#1-275) (MARVEL) #58 NEWSSTAND Near Mint/Mint
X-MEN (1991) (#1-275) (MARVEL) #62 Near Mint/Mint
X-MEN (1991) (#1-275) (MARVEL) #62 VARIANT Fine
X-MEN (1991) (#1-275) (MARVEL) #68 Near Mint/Mint
X-MEN (1991) (#1-275) (MARVEL) #68 NEWSSTAND Very Good
X-MEN (1991) (#1-275) (MARVEL) #69 Near Mint/Mint
X-MEN (1991) (#1-275) (MARVEL) #69 Very Fine
X-MEN (1991) (#1-275) (MARVEL) #70 Near Mint/Mint
X-MEN (1991) (#1-275) (MARVEL) #73 NEWSSTAND Very Fine
X-MEN (1991) (#1-275) (MARVEL) #77 NEWSSTAND Fine
X-MEN (1991) (#1-275) (MARVEL) #77 Very Fine
X-MEN (1991) (#1-275) (MARVEL) #78 Very Fine
X-MEN (1991) (#1-275) (MARVEL) #81 Near Mint/Mint
X-MEN (1991) (#1-275) (MARVEL) #81 Very Fine
X-MEN (1991) (#1-275) (MARVEL) #82 Near Mint/Mint
X-MEN (1991) (#1-275) (MARVEL) #83 Very Fine
X-MEN (1991) (#1-275) (MARVEL) #84 Near Mint/Mint
X-MEN (1991) (#1-275) (MARVEL) #86 Near Mint/Mint
X-MEN (1991) (#1-275) (MARVEL) #87 Near Mint/Mint
X-MEN (1991) (#1-275) (MARVEL) #88 Near Mint/Mint
X-MEN (1991) (#1-275) (MARVEL) #88 Fine
X-MEN (1991) (#1-275) (MARVEL) #88 Very Fine
X-MEN (1991) (#1-275) (MARVEL) #90 Near Mint/Mint
X-MEN (1991) (#1-275) (MARVEL) #90 Very Fine
X-MEN (1991) (#1-275) (MARVEL) #93 Near Mint/Mint
X-MEN (1991) (#1-275) (MARVEL) #95 Near Mint/Mint
X-MEN (1991) (#1-275) (MARVEL) #95 Very Fine
X-MEN (1991) (#1-275) (MARVEL) #96 Near Mint/Mint
X-MEN (1991) (#1-275) (MARVEL) #98 NEWSSTAND Fine
X-MEN (1991) (#1-275) (MARVEL) #100 ADAMS NEWS Good
X-MEN (1991) (#1-275) (MARVEL) #100 BYRNE Very Fine
X-MEN (1991) (#1-275) (MARVEL) #100 SMITH Very Fine
X-MEN (1991) (#1-275) (MARVEL) #103 NEWSSTAND Very Good
X-MEN (1991) (#1-275) (MARVEL) #108 Near Mint/Mint
X-MEN (1991) (#1-275) (MARVEL) #109 Fine
X-MEN (1991) (#1-275) (MARVEL) #109 Very Fine
X-MEN (1991) (#1-275) (MARVEL) #110 NEWSSTAND Fine
X-MEN (1991) (#1-275) (MARVEL) #111 Near Mint/Mint
X-MEN (1991) (#1-275) (MARVEL) #112 Near Mint/Mint
X-MEN (1991) (#1-275) (MARVEL) #114 NEWSSTAND Fine
X-MEN (1991) (#1-275) (MARVEL) #115 Near Mint/Mint
X-MEN (1991) (#1-275) (MARVEL) #115 Fine


X-MEN (1991) (#1-275) (MARVEL) #115 VARIANT

X-MEN (1991) (#1-275) (MARVEL) #115 VARIANT Very Fine
X-MEN (1991) (#1-275) (MARVEL) #115 VARIANT Fine
X-MEN (1991) (#1-275) (MARVEL) #116 Very Fine
X-MEN (1991) (#1-275) (MARVEL) #118 Near Mint/Mint
X-MEN (1991) (#1-275) (MARVEL) #120 NEWSSTAND Fine
X-MEN (1991) (#1-275) (MARVEL) #125 NEWSSTAND Near Mint/Mint
X-MEN (1991) (#1-275) (MARVEL) #128 Very Fine
X-MEN (1991) (#1-275) (MARVEL) #129 Fine
X-MEN (1991) (#1-275) (MARVEL) #133 Near Mint/Mint
X-MEN (1991) (#1-275) (MARVEL) #134 Fine
X-MEN (1991) (#1-275) (MARVEL) #134 Very Fine
X-MEN (1991) (#1-275) (MARVEL) #135 Near Mint/Mint
X-MEN (1991) (#1-275) (MARVEL) #135 NEWSSTAND Very Fine
X-MEN (1991) (#1-275) (MARVEL) #135 Very Fine
X-MEN (1991) (#1-275) (MARVEL) #142 NEWSSTAND Fine
X-MEN (1991) (#1-275) (MARVEL) #143 Near Mint/Mint
X-MEN (1991) (#1-275) (MARVEL) #143 NEWSSTAND Fine
X-MEN (1991) (#1-275) (MARVEL) #150 Near Mint/Mint
X-MEN (1991) (#1-275) (MARVEL) #150 NEWSSTAND Very Fine
X-MEN (1991) (#1-275) (MARVEL) #155 NEWSSTAND Very Fine
X-MEN (1991) (#1-275) (MARVEL) #177 Near Mint/Mint
X-MEN (1991) (#1-275) (MARVEL) #190 NEWSSTAND Very Fine
X-MEN (1991) (#1-275) (MARVEL) #190 NEWSSTAND Fine
X-MEN (1991) (#1-275) (MARVEL) #196 Very Fine
X-MEN (1991) (#1-275) (MARVEL) #197 Very Fine
X-MEN (1991) (#1-275) (MARVEL) #198 Near Mint/Mint
X-MEN (1991) (#1-275) (MARVEL) #198 Very Fine
X-MEN (1991) (#1-275) (MARVEL) #199 Near Mint/Mint
X-MEN (1991) (#1-275) (MARVEL) #199 Very Fine
X-MEN (1991) (#1-275) (MARVEL) #206 Near Mint/Mint
X-MEN (1991) (#1-275) (MARVEL) #206 Fine
X-MEN (1991) (#1-275) (MARVEL) #206 BIANCHI Near Mint/Mint
X-MEN (1991) (#1-275) (MARVEL) #206 Very Fine
X-MEN (1991) (#1-275) (MARVEL) #207 Near Mint/Mint
X-MEN (1991) (#1-275) (MARVEL) #207 CHEUNG Very Fine
X-MEN (1991) (#1-275) (MARVEL) #214 Near Mint/Mint
X-MEN (1991) (#1-275) (MARVEL) #214 Fine
X-MEN (1991) (#1-275) (MARVEL) #214 Good
X-MEN (1991) (#1-275) (MARVEL) #214 Very Fine
X-MEN (1991) (#1-275) (MARVEL) #215 Near Mint/Mint
X-MEN (1991) (#1-275) (MARVEL) #218 Near Mint/Mint
X-MEN (1991) (#1-275) (MARVEL) #218 NEWSSTAND Fine


X-MEN (1991) (#1-275) (MARVEL) #218

X-MEN (1991) (#1-275) (MARVEL) #218 Very Fine
X-MEN (1991) (#1-275) (MARVEL) #225 2ND PRINT Near Mint/Mint
X-MEN (1991) (#1-275) (MARVEL) #236 FINCH CVR Near Mint/Mint
X-MEN (1991) (#1-275) (MARVEL) #237 FINCH CVR Fine
X-MEN (1991) (#1-275) (MARVEL) #238 Near Mint/Mint
X-MEN (1991) (#1-275) (MARVEL) #239 Near Mint/Mint
X-MEN (1991) (#1-275) (MARVEL) #241 Near Mint/Mint
X-MEN (1991) (#1-275) (MARVEL) #242 Near Mint/Mint
X-MEN (1991) (#1-275) (MARVEL) #249 Fine
X-MEN (1991) (#1-275) (MARVEL) #249 Very Fine
X-MEN (1991) (#1-275) (MARVEL) #252 Fine
X-MEN (1991) (#1-275) (MARVEL) #252 Near Mint/Mint
X-MEN (1991) (#1-275) (MARVEL) #252 Very Fine
X-MEN (1991) (#1-275) (MARVEL) #259 Near Mint/Mint
X-MEN (1991) (#1-275) (MARVEL) #271 Near Mint/Mint

YOUNG AVENGERS (2005) (#1-12) #1 DIRECT CUT Near Mint/Mint

DC
BATMAN AND THE MAD MONK (MATT WAGNER) (2006) #3 Near Mint/Mint
BATMAN AND THE MAD MONK (MATT WAGNER) (2006) #6 Near Mint/Mint

BATMAN: THE KILLING JOKE (ALAN MOORE) (1988) #1 Near Mint/Mint
BATMAN: THE KILLING JOKE (ALAN MOORE) (1988) #1 Very Fine
BATMAN: THE KILLING JOKE (ALAN MOORE) (1988) #1 2ND PRINT Near Mint/Mint
BATMAN: THE KILLING JOKE (ALAN MOORE) (1988) #1 3RD PRINT Near Mint/Mint
BATMAN: THE KILLING JOKE (ALAN MOORE) (1988) #1 6TH PRINT Near Mint/Mint
BATMAN: THE KILLING JOKE (ALAN MOORE) (1988) #1 6TH PRINT Very Fine

DOOM PATROL (1987) (#1-87) (DC) (DC VERTIGO) #27 (DC: Vertigo Press) Very Fine
DOOM PATROL (1987) (#1-87) (DC) (DC VERTIGO) #42 (DC: Vertigo Press) Fine
DOOM PATROL (1987) (#1-87) (DC) (DC VERTIGO) #42 (DC: Vertigo Press) Very Fine
DOOM PATROL (1987) (#1-87) (DC) (DC VERTIGO) #45 (DC: Vertigo Press) Near Mint/Mint
DOOM PATROL (1987) (#1-87) (DC) (DC VERTIGO) #47 (DC: Vertigo Press) Near Mint/Mint

FLASH (1987) (#0-247) (DC) #49 Near Mint/Mint

HELLBLAZER (1988) (#1-300) (DC VERTIGO) #39 (DC: Vertigo Press) Near Mint/Mint
HELLBLAZER (1988) (#1-300) (DC VERTIGO) #39 (DC: Vertigo Press) Very Fine


HELLBLAZER (1988) (#1-300) (DC VERTIGO) #40

HELLBLAZER (1988) (#1-300) (DC VERTIGO) #40 (DC: Vertigo Press) Near Mint/Mint
HELLBLAZER (1988) (#1-300) (DC VERTIGO) #41 (DC: Vertigo Press) Very Fine

LAST DAYS OF THE JUSTICE SOCIETY OF AMERICA SPECIAL (1986) #1 Fine

SANDMAN (1988) (#1-75) (DC/VERTIGO) #1 (DC: Vertigo Press) Near Mint/Mint
SANDMAN (1988) (#1-75) (DC/VERTIGO) #1 (DC: Vertigo Press) Fine
SANDMAN (1988) (#1-75) (DC/VERTIGO) #1 (DC: Vertigo Press) Very Fine
SANDMAN (1988) (#1-75) (DC/VERTIGO) #8 (DC: Vertigo Press) Very Fine

DARK HORSE COMICS
COFFIN ART OF VAMPIRE HUNTER D SC SLIPCASE EDITION (2006) #1 Fine

FLAMING CARROT (1988) (#18-32) (DARK HORSE) #21 Near Mint/Mint
FLAMING CARROT (1988) (#18-32) (DARK HORSE) #23 Near Mint/Mint
FLAMING CARROT (1988) (#18-32) (DARK HORSE) #24 Near Mint/Mint

VAMPIRELLA (1991) (#1-4) (DARK HORSE) #1 Near Mint/Mint

INDEPENDENTS
BLOOD SWORD (1988) #23 (Jademan Comic) Near Mint/Mint
BLOOD SWORD (1988) #25 (Jademan Comic) Near Mint/Mint
BLOOD SWORD (1988) #27 (Jademan Comic) Near Mint/Mint
BLOOD SWORD (1988) #29 (Jademan Comic) Near Mint/Mint
BLOOD SWORD (1988) #30 (Jademan Comic) Near Mint/Mint

BLOOD SWORD DYNASTY (1989) #9 (Jademan Comic) Near Mint/Mint
BLOOD SWORD DYNASTY (1989) #11 (Jademan Comic) Near Mint/Mint
BLOOD SWORD DYNASTY (1989) #12 (Jademan Comic) Near Mint/Mint
BLOOD SWORD DYNASTY (1989) #15 (Jademan Comic) Near Mint/Mint
BLOOD SWORD DYNASTY (1989) #16 (Jademan Comic) Near Mint/Mint
BLOOD SWORD DYNASTY (1989) #18 (Jademan Comic) Near Mint/Mint
BLOOD SWORD DYNASTY (1989) #19 (Jademan Comic) Near Mint/Mint
BLOOD SWORD DYNASTY (1989) #20 (Jademan Comic) Near Mint/Mint

CAPTAIN N (NINTENDO) (1990) #4 (Acclaim/Valiant) Fine

CHILDREN OF FIRE (1987) #2 (Fantagor Press) Fine
CHILDREN OF FIRE (1987) #3 (Fantagor Press) Fine

COLOUR OF MAGIC (1991) #1 (Innovation Publishing) Very Fine

COMPLETE CHEECH WIZARD (1986) #1 (Fantagraphics) Near Mint/Mint

CRITTERS (1986) #32 (Fantagraphics) Fine
CRITTERS (1986) #34 (Fantagraphics) Fine
CRITTERS (1986) #35 (Fantagraphics) Fine
CRITTERS (1986) #36 (Fantagraphics) Fine
CRITTERS (1986) #38 (Fantagraphics) Fine
CRITTERS (1986) #42 (Fantagraphics) Near Mint/Mint

CYBERPUNK (1989) #1 (Innovation Publishing) Near Mint/Mint

DEEP IMAGE 3-D IN ART AND SCIENCE #1 (3-D Zone) Near Mint/Mint

DEN (RICHARD CORBEN) (1988) #1 (Fantagor Press) Very Fine
DEN (RICHARD CORBEN) (1988) #2 (Fantagor Press) Fine
DEN (RICHARD CORBEN) (1988) #3 (Fantagor Press) Near Mint/Mint
DEN (RICHARD CORBEN) (1988) #4 (Fantagor Press) Very Fine
DEN (RICHARD CORBEN) (1988) #5 (Fantagor Press) Fine
DEN (RICHARD CORBEN) (1988) #6 (Fantagor Press) Fine
DEN (RICHARD CORBEN) (1988) #7 (Fantagor Press) Very Fine
DEN (RICHARD CORBEN) (1988) #8 (Fantagor Press) Near Mint/Mint

DRUNKEN FIST (1988) #16 (Jademan Comic) Near Mint/Mint
DRUNKEN FIST (1988) #21 (Jademan Comic) Near Mint/Mint
DRUNKEN FIST (1988) #22 (Jademan Comic) Near Mint/Mint
DRUNKEN FIST (1988) #23 (Jademan Comic) Near Mint/Mint
DRUNKEN FIST (1988) #24 (Jademan Comic) Near Mint/Mint
DRUNKEN FIST (1988) #25 (Jademan Comic) Near Mint/Mint

FANTAGOR PRESENTS (1970) #3 (Fantagor Press) Fine

FLAMING CARROT (1984) (#1-5) (AARDVARK) #1 (Aardvark-Vanaheim) Fine
FLAMING CARROT (1984) (#1-5) (AARDVARK) #2 (Aardvark-Vanaheim) Fine
FLAMING CARROT (1984) (#1-5) (AARDVARK) #3 (Aardvark-Vanaheim) Very Fine
FLAMING CARROT (1984) (#1-5) (AARDVARK) #4 (Aardvark-Vanaheim) Fine
FLAMING CARROT (1984) (#1-5) (AARDVARK) #5 (Aardvark-Vanaheim) Fine
FLAMING CARROT (1984) (#1-5) (AARDVARK) #5 (Aardvark-Vanaheim) Very Fine

FLAMING CARROT (1985) (#6-17) (RENEGADE) #6 (Renegade Press) Fine


FLAMING CARROT (1985) (#6-17) (RENEGADE) #7

FLAMING CARROT (1985) (#6-17) (RENEGADE) #7 (Renegade Press) Fine
FLAMING CARROT (1985) (#6-17) (RENEGADE) #7 (Renegade Press) Very Fine
FLAMING CARROT (1985) (#6-17) (RENEGADE) #8 (Renegade Press) Fine
FLAMING CARROT (1985) (#6-17) (RENEGADE) #9 (Renegade Press) Fine
FLAMING CARROT (1985) (#6-17) (RENEGADE) #12 (Renegade Press) Very Fine
FLAMING CARROT (1985) (#6-17) (RENEGADE) #14 (Renegade Press) Near Mint/Mint
FLAMING CARROT (1985) (#6-17) (RENEGADE) #15 NO PRICE (Renegade Press) Near Mint/Mint
FLAMING CARROT (1985) (#6-17) (RENEGADE) #16 (Renegade Press) Near Mint/Mint
FLAMING CARROT (1985) (#6-17) (RENEGADE) #17 (Renegade Press) Near Mint/Mint

FORCE OF BUDDHA'S PALM (1988) #5 (Jademan Comic) Near Mint/Mint
FORCE OF BUDDHA'S PALM (1988) #23 (Jademan Comic) Near Mint/Mint
FORCE OF BUDDHA'S PALM (1988) #24 (Jademan Comic) Near Mint/Mint
FORCE OF BUDDHA'S PALM (1988) #31 (Jademan Comic) Near Mint/Mint
FORCE OF BUDDHA'S PALM (1988) #34 (Jademan Comic) Near Mint/Mint

GAMEBOY (1990) #3 (Acclaim/Valiant) Very Good

IRON MARSHAL (1990) #2 (Jademan Comic) Near Mint/Mint
IRON MARSHAL (1990) #3 (Jademan Comic) Very Fine
IRON MARSHAL (1990) #4 (Jademan Comic) Near Mint/Mint
IRON MARSHAL (1990) #8 (Jademan Comic) Near Mint/Mint
IRON MARSHAL (1990) #11 (Jademan Comic) Near Mint/Mint

LEGEND OF ZELDA (1990) #4 (Acclaim/Valiant) Fine

LET THEM EAT CHEESECAKE: ART OF OLIVIA (1993) #1 (Trade Items) Fine

LIBERTY MEADOWS (#1-26) (INSIGHT STUDIOS) (1999) #3 (Insight Studios Group) Very Fine

LONE WOLF AND CUB (1987) #1 1ST PRT (First Comics) Near Mint/Mint
LONE WOLF AND CUB (1987) #15 (First Comics) Near Mint/Mint
LONE WOLF AND CUB (1987) #16 (First Comics) Near Mint/Mint
LONE WOLF AND CUB (1987) #19 (First Comics) Near Mint/Mint
LONE WOLF AND CUB (1987) #23 (First Comics) Near Mint/Mint
LONE WOLF AND CUB (1987) #24 (First Comics) Near Mint/Mint
LONE WOLF AND CUB (1987) #25 (First Comics) Near Mint/Mint
LONE WOLF AND CUB (1987) #26 (First Comics) Near Mint/Mint
LONE WOLF AND CUB (1987) #28 (First Comics) Near Mint/Mint
LONE WOLF AND CUB (1987) #29 (First Comics) Near Mint/Mint


NAUSICAA OF THE VALLEY OF THE WIND (1988) #1

NAUSICAA OF THE VALLEY OF THE WIND (1988) #1 (Viz Comics) Very Fine

ORIENTAL HEROES (1988) #7 (Jademan Comic) Near Mint/Mint
ORIENTAL HEROES (1988) #14 (Jademan Comic) Near Mint/Mint
ORIENTAL HEROES (1988) #15 (Jademan Comic) Near Mint/Mint
ORIENTAL HEROES (1988) #16 (Jademan Comic) Near Mint/Mint
ORIENTAL HEROES (1988) #17 (Jademan Comic) Near Mint/Mint
ORIENTAL HEROES (1988) #18 (Jademan Comic) Near Mint/Mint
ORIENTAL HEROES (1988) #19 (Jademan Comic) Near Mint/Mint
ORIENTAL HEROES (1988) #20 (Jademan Comic) Near Mint/Mint
ORIENTAL HEROES (1988) #21 (Jademan Comic) Near Mint/Mint
ORIENTAL HEROES (1988) #22 (Jademan Comic) Near Mint/Mint
ORIENTAL HEROES (1988) #23 (Jademan Comic) Near Mint/Mint
ORIENTAL HEROES (1988) #24 (Jademan Comic) Near Mint/Mint
ORIENTAL HEROES (1988) #30 (Jademan Comic) Near Mint/Mint
ORIENTAL HEROES (1988) #31 (Jademan Comic) Near Mint/Mint

SUPER MARIO BROS. (1991) #5 (Acclaim/Valiant) Fine