New Collections Arrive - All 50% Off
Howdy!
Last night was one of the most joyous moments that I have ever experienced, as we were the host to over 80 parents and children who were participating in our first ever Jessica's All-Ages Drag Show. I have long known that there was a dire need for a performance venue for young people outside of the traditional bar scene, but last night was just so beyond amazing in its positive energy that it actually surprised me. As a case in point, we had about 15 kids who ditched their parents and sat in a group together right up by the stage. Their combined enthusiasm was totally infectious! The extremely cold weather and snow flurries did keep our total attendance at our first event below 100, but just barely. Numbers mattered not in the least, however, as everyone who attended Jessica's show last night told me that they had a truly enjoyable experience. Yay!
All of the above having been said, the people who I wish would have joined us inside to watch the show were the three anonymous protesters who showed up in scary " Guy Fawkes" masks, and who were yelling at our attendees and their parents that they should not participate in our show because (in their eyes...) we promote pedophilia by putting on a drag event for under-21 performers. Had those three gentlemen set aside their completely unjustified prejudice for just one moment, they could have been witness to the heartfelt happiness of both our performers, and our audience members. As it was, they accomplished nothing in the brief time that they were there (it was only 3 degrees outside...) but to scare some of younger participants. That was really not very nice of them, especially in light of the fact that they professed to be trying to "protect" the children. Just saying...
In other news, this upcoming Saturday we will be hosting a huge regional Yu-GI-Oh Tournament at Jason St. If you live locally and would like to participate, arrive early! A week from Saturday 3/16 will feature the return of the truly crazy athletes of New Era Professional Wrestling, while on Saturday 3/23 we will host another of our No-Minimum-Bid Comics and Toys Auctions in conjunction with this month's POKER Tournament. March is going to be a very busy month...
As regards back issue comics, another immense private collection is being shipped to us today. Before it arrives, Will and Pam are both working on adding as many back issues as they possibly can from all of the collections that are arriving here at Jason St. Keep an eye on our daily Premium New-In-Stock link for the scarcer issues, or our overall New-In-Stock link for the entire list. Almost all of the comics listed in New-In-Stock are available to you at 50% off right now when you utilize our current STANLEE! codeword at checkout. Only new issues, a few variants, and our professionally-graded comic are excluded from this huge half price sale.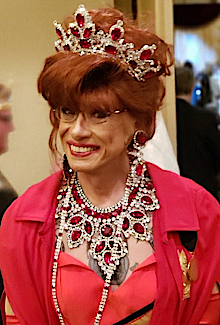 Bettie Pages performance in the March Show

I will close with a link to a portion of my opening performance in the show last night. If you would like to see Bettie perform live, please be patient. It is going to take me at least a couple of weeks to recover from my severe leg trauma that occurred last Thursday night when a pile of steel chairs fell on me. As it stands, my next scheduled event will not be until the Out-Of-Town Show for the Imperial Court of New York. That should be held at Industry Bar, in New York City, on Friday night April 5th. I am hoping that the swelling in my right leg will be completely mitigated by then. Fingers crossed.
Happy collecting!
Chuck Rozanski,
President - Mile High Comics, Inc.
March 4, 2019
P.S. Below are just a few more comics that we just added into our online inventory for you:
MARVEL

ADVENTURES ON THE PLANET OF THE APES (1975) #1

ADVENTURES ON THE PLANET OF THE APES (1975) #1 Very Good

CAPTAIN AMERICA (1968) (#100-454) (MARVEL) #106 Very Good

GUARDIANS OF THE GALAXY (1990) (#1-62) (MARVEL) #53 Near Mint/Mint

MIGHTY MARVEL CALENDAR #1 1975 Near Mint/Mint
MIGHTY MARVEL CALENDAR #1976 Very Fine

SGT. FURY AND HIS HOWLING COMMANDOS (1963) #97 Fine
SGT. FURY AND HIS HOWLING COMMANDOS (1963) #98 Fine
SGT. FURY AND HIS HOWLING COMMANDOS (1963) #99 Fine
SGT. FURY AND HIS HOWLING COMMANDOS (1963) #100 Fine
SGT. FURY AND HIS HOWLING COMMANDOS (1963) #101 Fine
SGT. FURY AND HIS HOWLING COMMANDOS (1963) #102 Very Fine
SGT. FURY AND HIS HOWLING COMMANDOS (1963) #103 Fine
SGT. FURY AND HIS HOWLING COMMANDOS (1963) #104 Fine
SGT. FURY AND HIS HOWLING COMMANDOS (1963) #106 Fine
SGT. FURY AND HIS HOWLING COMMANDOS (1963) #107 Very Fine
SGT. FURY AND HIS HOWLING COMMANDOS (1963) #108 Very Fine
SGT. FURY AND HIS HOWLING COMMANDOS (1963) #111 Fine
SGT. FURY AND HIS HOWLING COMMANDOS (1963) #113 Very Fine
SGT. FURY AND HIS HOWLING COMMANDOS (1963) #115 Fine
SGT. FURY AND HIS HOWLING COMMANDOS ANNUAL (1965) #2 Very Good
SGT. FURY AND HIS HOWLING COMMANDOS ANNUAL (1965) #3 Fine
SGT. FURY AND HIS HOWLING COMMANDOS ANNUAL (1965) #5 Fine
SGT. FURY AND HIS HOWLING COMMANDOS ANNUAL (1965) #6 Fine
SGT. FURY AND HIS HOWLING COMMANDOS ANNUAL (1965) #7 Very Fine

SHANNA THE SHE-DEVIL (1972) (#1-5) (MARVEL) #1 Very Fine
SHANNA THE SHE-DEVIL (1972) (#1-5) (MARVEL) #2 Very Fine
SHANNA THE SHE-DEVIL (1972) (#1-5) (MARVEL) #4 Fine
SHANNA THE SHE-DEVIL (1972) (#1-5) (MARVEL) #5 Fine

SPIDER-MAN (1963) (AMAZING SPIDER-MAN) (#1-441) #127 Fine

ULTIMATE MARVEL FLIPBOOK (2005) #25 NEWSSTAND Fine

X-MEN (1963) (#1-113, UNCANNY X-MEN #114-544) (MARVEL) #128 NEWSSTAND Fine
X-MEN (1963) (#1-113, UNCANNY X-MEN #114-544) (MARVEL) #129 NEWSSTAND Fine
X-MEN (1963) (#1-113, UNCANNY X-MEN #114-544) (MARVEL) #130 NEWSSTAND Fine
X-MEN (1963) (#1-113, UNCANNY X-MEN #114-544) (MARVEL) #131 NEWSSTAND Fine


X-MEN (1963) (#1-113, UNCANNY X-MEN #114-544) (MARVEL) #132 NEWSSTAND

X-MEN (1963) (#1-113, UNCANNY X-MEN #114-544) (MARVEL) #132 NEWSSTAND Very Fine
X-MEN (1963) (#1-113, UNCANNY X-MEN #114-544) (MARVEL) #133 NEWSSTAND Very Fine
X-MEN (1963) (#1-113, UNCANNY X-MEN #114-544) (MARVEL) #134 NEWSSTAND Very Fine
X-MEN (1963) (#1-113, UNCANNY X-MEN #114-544) (MARVEL) #135 NEWSSTAND Fine
X-MEN (1963) (#1-113, UNCANNY X-MEN #114-544) (MARVEL) #136 NEWSSTAND Very Good
X-MEN (1963) (#1-113, UNCANNY X-MEN #114-544) (MARVEL) #137 NEWSSTAND Fine
X-MEN (1963) (#1-113, UNCANNY X-MEN #114-544) (MARVEL) #138 NEWSSTAND Fine
X-MEN (1963) (#1-113, UNCANNY X-MEN #114-544) (MARVEL) #139 NEWSSTAND Fine
X-MEN (1963) (#1-113, UNCANNY X-MEN #114-544) (MARVEL) #140 NEWSSTAND Fine
X-MEN (1963) (#1-113, UNCANNY X-MEN #114-544) (MARVEL) #141 Fine
X-MEN (1963) (#1-113, UNCANNY X-MEN #114-544) (MARVEL) #142 Very Fine
X-MEN (1963) (#1-113, UNCANNY X-MEN #114-544) (MARVEL) #144 Near Mint/Mint
X-MEN (1963) (#1-113, UNCANNY X-MEN #114-544) (MARVEL) #148 Near Mint/Mint
X-MEN (1963) (#1-113, UNCANNY X-MEN #114-544) (MARVEL) #149 Near Mint/Mint
X-MEN (1963) (#1-113, UNCANNY X-MEN #114-544) (MARVEL) #151 Near Mint/Mint
X-MEN (1963) (#1-113, UNCANNY X-MEN #114-544) (MARVEL) #152 Near Mint/Mint
X-MEN (1963) (#1-113, UNCANNY X-MEN #114-544) (MARVEL) #153 Very Fine
X-MEN (1963) (#1-113, UNCANNY X-MEN #114-544) (MARVEL) #156 Very Fine
X-MEN (1963) (#1-113, UNCANNY X-MEN #114-544) (MARVEL) #157 Near Mint/Mint
X-MEN (1963) (#1-113, UNCANNY X-MEN #114-544) (MARVEL) #158 Very Fine
X-MEN (1963) (#1-113, UNCANNY X-MEN #114-544) (MARVEL) #159 NEWSSTAND Very Fine
X-MEN (1963) (#1-113, UNCANNY X-MEN #114-544) (MARVEL) #160 Very Fine
X-MEN (1963) (#1-113, UNCANNY X-MEN #114-544) (MARVEL) #162 Very Fine
X-MEN (1963) (#1-113, UNCANNY X-MEN #114-544) (MARVEL) #163 Very Fine
X-MEN (1963) (#1-113, UNCANNY X-MEN #114-544) (MARVEL) #164 NEWSSTAND Very Fine
X-MEN (1963) (#1-113, UNCANNY X-MEN #114-544) (MARVEL) #166 Very Fine
X-MEN (1963) (#1-113, UNCANNY X-MEN #114-544) (MARVEL) #167 Near Mint/Mint
X-MEN (1963) (#1-113, UNCANNY X-MEN #114-544) (MARVEL) #168 Fine
X-MEN (1963) (#1-113, UNCANNY X-MEN #114-544) (MARVEL) #169 Fine
X-MEN (1963) (#1-113, UNCANNY X-MEN #114-544) (MARVEL) #171 Fine
X-MEN (1963) (#1-113, UNCANNY X-MEN #114-544) (MARVEL) #173 Very Fine
X-MEN (1963) (#1-113, UNCANNY X-MEN #114-544) (MARVEL) #178 Very Fine
X-MEN (1963) (#1-113, UNCANNY X-MEN #114-544) (MARVEL) #179 Very Fine
X-MEN (1963) (#1-113, UNCANNY X-MEN #114-544) (MARVEL) #182 Near Mint/Mint
X-MEN (1963) (#1-113, UNCANNY X-MEN #114-544) (MARVEL) #183 Very Fine
X-MEN (1963) (#1-113, UNCANNY X-MEN #114-544) (MARVEL) #184 Very Fine
X-MEN (1963) (#1-113, UNCANNY X-MEN #114-544) (MARVEL) #185 Near Mint/Mint
X-MEN (1963) (#1-113, UNCANNY X-MEN #114-544) (MARVEL) #187 Near Mint/Mint
X-MEN (1963) (#1-113, UNCANNY X-MEN #114-544) (MARVEL) #188 NEWSSTAND Very Fine
X-MEN (1963) (#1-113, UNCANNY X-MEN #114-544) (MARVEL) #191 Near Mint/Mint

DC

DARK KNIGHT III: THE MASTER RACE (2015) #1

DARK KNIGHT III: THE MASTER RACE (2015) #1 Near Mint/Mint

DC 100 PAGE SUPER SPECTACULAR (1971) #6 Fine
DC 100 PAGE SUPER SPECTACULAR (1971) #19 Very Fine
DC 100 PAGE SUPER SPECTACULAR (1971) #20 Fine

LEGENDS OF THE DC UNIVERSE CRISIS ON INFINITE EARTHS (1999) #1 Near Mint/Mint

NEW GODS (1971) #1 Fine
NEW GODS (1971) #1 Good
NEW GODS (1971) #1 Very Good
NEW GODS (1971) #2 Fine
NEW GODS (1971) #2 Very Good
NEW GODS (1971) #3 Fine
NEW GODS (1971) #4 Fine
NEW GODS (1971) #5 Fine
NEW GODS (1971) #6 Fine
NEW GODS (1971) #7 Fine
NEW GODS (1971) #8 Very Good
NEW GODS (1971) #9 Fine
NEW GODS (1971) #10 Near Mint/Mint

OMAC (1974) (#1-8) (ONE MAN ARMY CORPS) (JACK KIRBY) #1 Fine

OUR FIGHTING FORCES (1954) #120 Very Good

PHANTOM STRANGER (1969) (#1-42) #3 Fine
PHANTOM STRANGER (1969) (#1-42) #5 Very Good
PHANTOM STRANGER (1969) (#1-42) #10 Very Good

PLOP (1973) #1 Fine
PLOP (1973) #2 Fine
PLOP (1973) #3 Fine
PLOP (1973) #7 Fine

PREACHER (1995) #45 (DC: Vertigo Press) Near Mint/Mint
PREACHER (1995) #46 (DC: Vertigo Press) Near Mint/Mint
PREACHER (1995) #47 (DC: Vertigo Press) Near Mint/Mint

PREZ (1973) #1 Fine

PREZ (1973) #1 Very Fine
PREZ (1973) #2 Very Good
PREZ (1973) #3 Fine
PREZ (1973) #4 Fine

RIMA, THE JUNGLE GIRL (1974) #1 Very Fine

SANDMAN (1974) (#1-6) (DC) #1 Fine
SANDMAN (1974) (#1-6) (DC) #1 Very Good
SANDMAN (1974) (#1-6) (DC) #1 Very Fine

SECRET ORIGINS (1973) (#1-7) (DC) #1 Very Good
SECRET ORIGINS (1973) (#1-7) (DC) #2 Fine
SECRET ORIGINS (1973) (#1-7) (DC) #3 Very Good
SECRET ORIGINS (1973) (#1-7) (DC) #6 Very Good

SHADOW (1973) (#1-12) (DC) #1 Very Fine
SHADOW (1973) (#1-12) (DC) #2 Very Fine
SHADOW (1973) (#1-12) (DC) #2 Very Good
SHADOW (1973) (#1-12) (DC) #3 Fine
SHADOW (1973) (#1-12) (DC) #3 Very Good
SHADOW (1973) (#1-12) (DC) #4 Fine
SHADOW (1973) (#1-12) (DC) #4 Very Good
SHADOW (1973) (#1-12) (DC) #5 Fine
SHADOW (1973) (#1-12) (DC) #5 Very Fine
SHADOW (1973) (#1-12) (DC) #6 Very Fine
SHADOW (1973) (#1-12) (DC) #9 Very Fine
SHADOW (1973) (#1-12) (DC) #10 Very Fine
SHADOW (1973) (#1-12) (DC) #11 Fine

SHAZAM! (1973) (#1-35) (WITH ONE MAGIC WORD...) #2 Very Good
SHAZAM! (1973) (#1-35) (WITH ONE MAGIC WORD...) #3 Fine
SHAZAM! (1973) (#1-35) (WITH ONE MAGIC WORD...) #4 Fine
SHAZAM! (1973) (#1-35) (WITH ONE MAGIC WORD...) #5 Fine
SHAZAM! (1973) (#1-35) (WITH ONE MAGIC WORD...) #5 Very Good
SHAZAM! (1973) (#1-35) (WITH ONE MAGIC WORD...) #7 Fine
SHAZAM! (1973) (#1-35) (WITH ONE MAGIC WORD...) #8 Fine
SHAZAM! (1973) (#1-35) (WITH ONE MAGIC WORD...) #9 Fine
SHAZAM! (1973) (#1-35) (WITH ONE MAGIC WORD...) #10 Fine
SHAZAM! (1973) (#1-35) (WITH ONE MAGIC WORD...) #11 Very Fine
SHAZAM! (1973) (#1-35) (WITH ONE MAGIC WORD...) #12 Very Good
SHAZAM! (1973) (#1-35) (WITH ONE MAGIC WORD...) #13 Fine


SHAZAM! (1973) (#1-35) (WITH ONE MAGIC WORD...) #14

SHAZAM! (1973) (#1-35) (WITH ONE MAGIC WORD...) #14 Fine
SHAZAM! (1973) (#1-35) (WITH ONE MAGIC WORD...) #15 Fine
SHAZAM! (1973) (#1-35) (WITH ONE MAGIC WORD...) #16 Fine
SHAZAM! (1973) (#1-35) (WITH ONE MAGIC WORD...) #16 Very Fine
SHAZAM! (1973) (#1-35) (WITH ONE MAGIC WORD...) #17 Very Good
SHAZAM! (1973) (#1-35) (WITH ONE MAGIC WORD...) #18 Fine
SHAZAM! (1973) (#1-35) (WITH ONE MAGIC WORD...) #19 Fine
SHAZAM! (1973) (#1-35) (WITH ONE MAGIC WORD...) #20 Fine

SHOWCASE (1956) (#1-104) (SHOWCASE PRESENTS...) (DC) #75 Good

STAR SPANGLED WAR STORIES (1952) #146 Fine
STAR SPANGLED WAR STORIES (1952) #173 Very Good

WITCHING HOUR (1969) (#1-85) (DC) #4 Fine
WITCHING HOUR (1969) (#1-85) (DC) #14 Good
WITCHING HOUR (1969) (#1-85) (DC) #29 Fine

WONDER WOMAN (1942) (#1-329) (DC) #185 Fine
WONDER WOMAN (1942) (#1-329) (DC) #206 Fine
WONDER WOMAN (1942) (#1-329) (DC) #207 Fine
WONDER WOMAN (1942) (#1-329) (DC) #207 Very Fine

IMAGE COMICS
DANGER GIRL (1998) (#1-4) (IMAGE) #1 Near Mint/Mint
DANGER GIRL (1998) (#1-4) (IMAGE) #1 AM PREVEIW Near Mint/Mint
DANGER GIRL (1998) (#1-4) (IMAGE) #1 AU VARIANT Near Mint/Mint
DANGER GIRL (1998) (#1-4) (IMAGE) #1 TOUR ED. Near Mint/Mint
DANGER GIRL (1998) (#1-4) (IMAGE) #1 Very Fine
DANGER GIRL (1998) (#1-4) (IMAGE) #2 VARIANT Near Mint/Mint
DANGER GIRL (1998) (#1-4) (IMAGE) #2 VARIANT Very Fine
DANGER GIRL (1998) (#1-4) (IMAGE) #3 Near Mint/Mint
DANGER GIRL (1998) (#1-4) (IMAGE) #4 Near Mint/Mint
DANGER GIRL (1998) (#1-4) (IMAGE) #4 VARIANT Near Mint/Mint
DANGER GIRL (1998) (#1-4) (IMAGE) #4 VARIANT Very Fine

DANGER GIRL: THE DANGEROUS COLLECTION #1 Near Mint/Mint

INDEPENDENTS
BANANA SPLITS (1969) #4 (Gold Key) Very Good
BANANA SPLITS (1969) #5 (Gold Key) Fine
BANANA SPLITS (1969) #8 (Gold Key) Fine

BEAGLE BOYS (1964) #10 (Gold Key) Fine
BEAGLE BOYS (1964) #12 (Gold Key) Fine
BEAGLE BOYS (1964) #13 (Gold Key) Fine
BEAGLE BOYS (1964) #14 (Gold Key) Fine
BEAGLE BOYS (1964) #20 (Gold Key) Fine

BROTHERS OF THE SPEAR (1972) (#1-17) (GOLD KEY) #6 (Gold Key) Fine

BUGS BUNNY (1962) (#86-218) (GOLD KEY) #136 (Gold Key) Fine

BULLWINKLE AND ROCKY (CHARLTON) (1970) #2 (Charlton) Very Good

CAPTAIN ATOM (1965) (#78-89) (CHARLTON) #83 (Charlton) Very Good

CHRISTMAS PARADE (GOLDKEY) (1963) #8 (Gold Key) Very Good
CHRISTMAS PARADE (GOLDKEY) (1963) #9 (Gold Key) Fine

DUDLEY DO-RIGHT (1970) #3 (Charlton) Very Good

E-MAN (1973) (#1-10) (CHARLTON) #6 (Charlton) Fine

EYESIS THE UNTOUCHABLE (2014) #1 (PUNCTUREPRESS.COM) Very Fine
EYESIS THE UNTOUCHABLE (2014) #2 (PUNCTUREPRESS.COM) Near Mint/Mint
EYESIS THE UNTOUCHABLE (2014) #3 (PUNCTUREPRESS.COM) Very Fine

FATHOM PREVIEW SPECIAL (1998) #1 (Image Top Cow) Near Mint/Mint
FATHOM PREVIEW SPECIAL (1998) #1 (Image Top Cow) Very Fine

FIGHTIN' 5 (1964) #40 (Charlton) Very Good

GHOST MANOR (1968) #8 (Charlton) Very Good
GHOST MANOR (1968) #15 (Charlton) Very Good

GHOSTLY TALES (1966) #78 (Charlton) Fine
GHOSTLY TALES (1966) #101 (Charlton) Very Good

HANNA-BARBERA PARADE (1971) #1 (Charlton) Fine


HAUNTED (HAUNTED LIBRARY #21 ON) (1971) #16

HAUNTED (HAUNTED LIBRARY #21 ON) (1971) #16 (Charlton) Fine

INFESTATION 2 (2012) #1 A (IDW Publishing) Very Fine
INFESTATION 2 (2012) #2 (IDW Publishing) Near Mint/Mint

INFESTATION 2: TEENAGE MUTANT NINJA TURTLES (2012) #1 A (IDW Publishing) Near Mint/Mint
INFESTATION 2: TEENAGE MUTANT NINJA TURTLES (2012) #2 (IDW Publishing) Near Mint/Mint

MANY GHOSTS OF DR. GRAVES (1967) #2 (Charlton) Very Good
MANY GHOSTS OF DR. GRAVES (1967) #45 (Charlton) Fine

MIDNIGHT TALES (1972) #7 (Charlton) Fine
MIDNIGHT TALES (1972) #9 (Charlton) Fine

PEACEMAKER (VOL.3) (1967) #3 (Charlton) Very Good

PHANTOM (1969) (#30-74) (CHARLTON) #35 (Charlton) Fine
PHANTOM (1969) (#30-74) (CHARLTON) #36 (Charlton) Fine
PHANTOM (1969) (#30-74) (CHARLTON) #39 (Charlton) Fine
PHANTOM (1969) (#30-74) (CHARLTON) #43 (Charlton) Fine
PHANTOM (1969) (#30-74) (CHARLTON) #46 (Charlton) Very Good

STRANGE SUSPENSE STORIES (VOL. 1)(#2-9) (1968) #4 (Charlton) Very Good

TEENAGE MUTANT NINJA TURTLES (2011) (#1-UP) (IDW Publishing) #1 INC B (IDW Publishing) Very Fine
TEENAGE MUTANT NINJA TURTLES (2011) (#1-UP) (IDW Publishing) #2 A (IDW Publishing) Near Mint/Mint
TEENAGE MUTANT NINJA TURTLES (2011) (#1-UP) (IDW Publishing) #3 A (IDW Publishing) Near Mint/Mint
TEENAGE MUTANT NINJA TURTLES (2011) (#1-UP) (IDW Publishing) #4 A (IDW Publishing) Near Mint/Mint
TEENAGE MUTANT NINJA TURTLES (2011) (#1-UP) (IDW Publishing) #5 A (IDW Publishing) Near Mint/Mint
TEENAGE MUTANT NINJA TURTLES (2011) (#1-UP) (IDW Publishing) #6 A (IDW Publishing) Very Fine
TEENAGE MUTANT NINJA TURTLES (2011) (#1-UP) (IDW Publishing) #7 A (IDW Publishing) Near Mint/Mint
TEENAGE MUTANT NINJA TURTLES (2011) (#1-UP) (IDW Publishing) #8 A (IDW Publishing) Near Mint/Mint
TEENAGE MUTANT NINJA TURTLES (2011) (#1-UP) (IDW Publishing) #9 A (IDW Publishing) Near Mint/Mint
TEENAGE MUTANT NINJA TURTLES (2011) (#1-UP) (IDW Publishing) #10 A (IDW Publishing) Near Mint/Mint
TEENAGE MUTANT NINJA TURTLES (2011) (#1-UP) (IDW Publishing) #11 A (IDW Publishing) Very Fine
TEENAGE MUTANT NINJA TURTLES (2011) (#1-UP) (IDW Publishing) #12 A (IDW Publishing) Near Mint/Mint
TEENAGE MUTANT NINJA TURTLES (2011) (#1-UP) (IDW Publishing) #13 A (IDW Publishing) Very Fine
TEENAGE MUTANT NINJA TURTLES (2011) (#1-UP) (IDW Publishing) #14 A (IDW Publishing) Very Fine
TEENAGE MUTANT NINJA TURTLES (2011) (#1-UP) (IDW Publishing) #15 A (IDW Publishing) Near Mint/Mint
TEENAGE MUTANT NINJA TURTLES (2011) (#1-UP) (IDW Publishing) #16 A (IDW Publishing) Very Fine
TEENAGE MUTANT NINJA TURTLES (2011) (#1-UP) (IDW Publishing) #17 A (IDW Publishing) Near Mint/Mint
TEENAGE MUTANT NINJA TURTLES (2011) (#1-UP) (IDW Publishing) #18 A (IDW Publishing) Near Mint/Mint


TEENAGE MUTANT NINJA TURTLES (2011) (#1-UP) (IDW Publishing) #19 A

TEENAGE MUTANT NINJA TURTLES (2011) (#1-UP) (IDW Publishing) #19 A (IDW Publishing) Near Mint/Mint
TEENAGE MUTANT NINJA TURTLES (2011) (#1-UP) (IDW Publishing) #20 A (IDW Publishing) Near Mint/Mint
TEENAGE MUTANT NINJA TURTLES (2011) (#1-UP) (IDW Publishing) #21 (IDW Publishing) Near Mint/Mint
TEENAGE MUTANT NINJA TURTLES (2011) (#1-UP) (IDW Publishing) #21 INCENTIVE (IDW Publishing) Near Mint/Mint
TEENAGE MUTANT NINJA TURTLES (2011) (#1-UP) (IDW Publishing) #22 A (IDW Publishing) Near Mint/Mint
TEENAGE MUTANT NINJA TURTLES (2011) (#1-UP) (IDW Publishing) #23 A (IDW Publishing) Near Mint/Mint
TEENAGE MUTANT NINJA TURTLES (2011) (#1-UP) (IDW Publishing) #24 A (IDW Publishing) Near Mint/Mint
TEENAGE MUTANT NINJA TURTLES (2011) (#1-UP) (IDW Publishing) #25 A (IDW Publishing) Near Mint/Mint
TEENAGE MUTANT NINJA TURTLES (2011) (#1-UP) (IDW Publishing) #26 A (IDW Publishing) Near Mint/Mint
TEENAGE MUTANT NINJA TURTLES (2011) (#1-UP) (IDW Publishing) #27 A (IDW Publishing) Near Mint/Mint
TEENAGE MUTANT NINJA TURTLES (2011) (#1-UP) (IDW Publishing) #28 A (IDW Publishing) Near Mint/Mint
TEENAGE MUTANT NINJA TURTLES (2011) (#1-UP) (IDW Publishing) #29 A (IDW Publishing) Near Mint/Mint
TEENAGE MUTANT NINJA TURTLES (2011) (#1-UP) (IDW Publishing) #30 A (IDW Publishing) Near Mint/Mint
TEENAGE MUTANT NINJA TURTLES (2011) (#1-UP) (IDW Publishing) #31 A (IDW Publishing) Near Mint/Mint
TEENAGE MUTANT NINJA TURTLES (2011) (#1-UP) (IDW Publishing) #32 A (IDW Publishing) Near Mint/Mint
TEENAGE MUTANT NINJA TURTLES (2011) (#1-UP) (IDW Publishing) #33 A (IDW Publishing) Near Mint/Mint
TEENAGE MUTANT NINJA TURTLES (2011) (#1-UP) (IDW Publishing) #34 A (IDW Publishing) Near Mint/Mint
TEENAGE MUTANT NINJA TURTLES (2011) (#1-UP) (IDW Publishing) #35 A (IDW Publishing) Near Mint/Mint
TEENAGE MUTANT NINJA TURTLES (2011) (#1-UP) (IDW Publishing) #36 A (IDW Publishing) Very Fine
TEENAGE MUTANT NINJA TURTLES (2011) (#1-UP) (IDW Publishing) #37 A (IDW Publishing) Near Mint/Mint
TEENAGE MUTANT NINJA TURTLES (2011) (#1-UP) (IDW Publishing) #38 A (IDW Publishing) Very Fine
TEENAGE MUTANT NINJA TURTLES (2011) (#1-UP) (IDW Publishing) #39 A (IDW Publishing) Very Fine
TEENAGE MUTANT NINJA TURTLES (2011) (#1-UP) (IDW Publishing) #40 A (IDW Publishing) Near Mint/Mint
TEENAGE MUTANT NINJA TURTLES (2011) (#1-UP) (IDW Publishing) #41 A (IDW Publishing) Near Mint/Mint
TEENAGE MUTANT NINJA TURTLES (2011) (#1-UP) (IDW Publishing) #42 A (IDW Publishing) Near Mint/Mint
TEENAGE MUTANT NINJA TURTLES (2011) (#1-UP) (IDW Publishing) #43 A (IDW Publishing) Near Mint/Mint
TEENAGE MUTANT NINJA TURTLES (2011) (#1-UP) (IDW Publishing) #44 A (IDW Publishing) Near Mint/Mint
TEENAGE MUTANT NINJA TURTLES (2011) (#1-UP) (IDW Publishing) #45 A (IDW Publishing) Near Mint/Mint
TEENAGE MUTANT NINJA TURTLES (2011) (#1-UP) (IDW Publishing) #47 A (IDW Publishing) Near Mint/Mint
TEENAGE MUTANT NINJA TURTLES (2011) (#1-UP) (IDW Publishing) #48 A (IDW Publishing) Near Mint/Mint
TEENAGE MUTANT NINJA TURTLES (2011) (#1-UP) (IDW Publishing) #48 SUBSCRIPT (IDW Publishing) Near Mint/Mint
TEENAGE MUTANT NINJA TURTLES (2011) (#1-UP) (IDW Publishing) #49 (IDW Publishing) Near Mint/Mint
TEENAGE MUTANT NINJA TURTLES (2011) (#1-UP) (IDW Publishing) #50 A (IDW Publishing) Near Mint/Mint
TEENAGE MUTANT NINJA TURTLES (2011) (#1-UP) (IDW Publishing) #51 (IDW Publishing) Near Mint/Mint
TEENAGE MUTANT NINJA TURTLES (2011) (#1-UP) (IDW Publishing) #52 (IDW Publishing) Near Mint/Mint
TEENAGE MUTANT NINJA TURTLES (2011) (#1-UP) (IDW Publishing) #53 (IDW Publishing) Near Mint/Mint
TEENAGE MUTANT NINJA TURTLES (2011) (#1-UP) (IDW Publishing) #54 (IDW Publishing) Near Mint/Mint
TEENAGE MUTANT NINJA TURTLES (2011) (#1-UP) (IDW Publishing) #55 (IDW Publishing) Near Mint/Mint
TEENAGE MUTANT NINJA TURTLES (2011) (#1-UP) (IDW Publishing) #56 (IDW Publishing) Near Mint/Mint
TEENAGE MUTANT NINJA TURTLES (2011) (#1-UP) (IDW Publishing) #57 (IDW Publishing) Near Mint/Mint
TEENAGE MUTANT NINJA TURTLES (2011) (#1-UP) (IDW Publishing) #58 (IDW Publishing) Near Mint/Mint
TEENAGE MUTANT NINJA TURTLES (2011) (#1-UP) (IDW Publishing) #59 INCENTIVE (IDW Publishing) Near Mint/Mint


TEENAGE MUTANT NINJA TURTLES (2011) (#1-UP) (IDW Publishing) #59 SUBSCRIPT

TEENAGE MUTANT NINJA TURTLES (2011) (#1-UP) (IDW Publishing) #59 SUBSCRIPT (IDW Publishing) Near Mint/Mint
TEENAGE MUTANT NINJA TURTLES (2011) (#1-UP) (IDW Publishing) #59 (IDW Publishing) Very Fine
TEENAGE MUTANT NINJA TURTLES (2011) (#1-UP) (IDW Publishing) #60 (IDW Publishing) Near Mint/Mint
TEENAGE MUTANT NINJA TURTLES (2011) (#1-UP) (IDW Publishing) #60 INCENTIVE (IDW Publishing) Very Fine
TEENAGE MUTANT NINJA TURTLES (2011) (#1-UP) (IDW Publishing) #60 SUBSCRIPT (IDW Publishing) Very Fine
TEENAGE MUTANT NINJA TURTLES (2011) (#1-UP) (IDW Publishing) #61 (IDW Publishing) Very Fine
TEENAGE MUTANT NINJA TURTLES (2011) (#1-UP) (IDW Publishing) #62 (IDW Publishing) Near Mint/Mint
TEENAGE MUTANT NINJA TURTLES (2011) (#1-UP) (IDW Publishing) #63 (IDW Publishing) Near Mint/Mint
TEENAGE MUTANT NINJA TURTLES (2011) (#1-UP) (IDW Publishing) #64 (IDW Publishing) Near Mint/Mint
TEENAGE MUTANT NINJA TURTLES (2011) (#1-UP) (IDW Publishing) #65 (IDW Publishing) Near Mint/Mint
TEENAGE MUTANT NINJA TURTLES (2011) (#1-UP) (IDW Publishing) #66 (IDW Publishing) Near Mint/Mint
TEENAGE MUTANT NINJA TURTLES (2011) (#1-UP) (IDW Publishing) #67 (IDW Publishing) Near Mint/Mint
TEENAGE MUTANT NINJA TURTLES (2011) (#1-UP) (IDW Publishing) #68 (IDW Publishing) Near Mint/Mint
TEENAGE MUTANT NINJA TURTLES (2011) (#1-UP) (IDW Publishing) #69 (IDW Publishing) Near Mint/Mint
TEENAGE MUTANT NINJA TURTLES (2011) (#1-UP) (IDW Publishing) #70 (IDW Publishing) Near Mint/Mint
TEENAGE MUTANT NINJA TURTLES (2011) (#1-UP) (IDW Publishing) #71 (IDW Publishing) Near Mint/Mint
TEENAGE MUTANT NINJA TURTLES (2011) (#1-UP) (IDW Publishing) #72 A WACHTER (IDW Publishing) Near Mint/Mint
TEENAGE MUTANT NINJA TURTLES (2011) (#1-UP) (IDW Publishing) #73 A SMITH (IDW Publishing) Very Fine
TEENAGE MUTANT NINJA TURTLES (2011) (#1-UP) (IDW Publishing) #74 A SMITH (IDW Publishing) Near Mint/Mint
TEENAGE MUTANT NINJA TURTLES (2011) (#1-UP) (IDW Publishing) #75 A SMITH (IDW Publishing) Near Mint/Mint
TEENAGE MUTANT NINJA TURTLES (2011) (#1-UP) (IDW Publishing) #76 A COUCEIRO (IDW Publishing) Near Mint/Mint
TEENAGE MUTANT NINJA TURTLES (2011) (#1-UP) (IDW Publishing) #77 A COUCEIRO (IDW Publishing) Near Mint/Mint
TEENAGE MUTANT NINJA TURTLES (2011) (#1-UP) (IDW Publishing) #78 A COUCEIRO (IDW Publishing) Near Mint/Mint
TEENAGE MUTANT NINJA TURTLES (2011) (#1-UP) (IDW Publishing) #79 A COUCEIRO (IDW Publishing) Near Mint/Mint
TEENAGE MUTANT NINJA TURTLES (2011) (#1-UP) (IDW Publishing) #80 A COUCEIRO (IDW Publishing) Near Mint/Mint
TEENAGE MUTANT NINJA TURTLES (2011) (#1-UP) (IDW Publishing) #81 A WACHTER (IDW Publishing) Near Mint/Mint
TEENAGE MUTANT NINJA TURTLES (2011) (#1-UP) (IDW Publishing) #82 A WACHTER (IDW Publishing) Near Mint/Mint

TEENAGE MUTANT NINJA TURTLES/GHOSTBUSTERS (2014) #1 (IDW Publishing) Near Mint/Mint
TEENAGE MUTANT NINJA TURTLES/GHOSTBUSTERS (2014) #2 (IDW Publishing) Near Mint/Mint
TEENAGE MUTANT NINJA TURTLES/GHOSTBUSTERS (2014) #3 (IDW Publishing) Near Mint/Mint
TEENAGE MUTANT NINJA TURTLES/GHOSTBUSTERS (2014) #4 (IDW Publishing) Very Fine

TEENAGE MUTANT NINJA TURTLES/GHOSTBUSTERS II (2017) #1 A SCHOENIN (IDW Publishing) Near Mint/Mint
TEENAGE MUTANT NINJA TURTLES/GHOSTBUSTERS II (2017) #2 A SCHOENIN (IDW Publishing) Near Mint/Mint
TEENAGE MUTANT NINJA TURTLES/GHOSTBUSTERS II (2017) #3 A SCHOENIN (IDW Publishing) Near Mint/Mint
TEENAGE MUTANT NINJA TURTLES/GHOSTBUSTERS II (2017) #4 A SCHOENIN (IDW Publishing) Near Mint/Mint
TEENAGE MUTANT NINJA TURTLES/GHOSTBUSTERS II (2017) #5 A SHOENING (IDW Publishing) Near Mint/Mint

TEENAGE MUTANT NINJA TURTLES: CASEY & APRIL (2015) #1 (IDW Publishing) Near Mint/Mint
TEENAGE MUTANT NINJA TURTLES: CASEY & APRIL (2015) #2 (IDW Publishing) Near Mint/Mint
TEENAGE MUTANT NINJA TURTLES: CASEY & APRIL (2015) #3 (IDW Publishing) Near Mint/Mint


TEENAGE MUTANT NINJA TURTLES: CASEY & APRIL (2015) #4

TEENAGE MUTANT NINJA TURTLES: CASEY & APRIL (2015) #4 (IDW Publishing) Near Mint/Mint

TEENAGE MUTANT NINJA TURTLES: DIMENSION X (2017) #1 A PITARRA (IDW Publishing) Near Mint/Mint
TEENAGE MUTANT NINJA TURTLES: DIMENSION X (2017) #2 A PITARRA (IDW Publishing) Near Mint/Mint
TEENAGE MUTANT NINJA TURTLES: DIMENSION X (2017) #3 A PITARRA (IDW Publishing) Near Mint/Mint
TEENAGE MUTANT NINJA TURTLES: DIMENSION X (2017) #3 B RANDOLF (IDW Publishing) Near Mint/Mint
TEENAGE MUTANT NINJA TURTLES: DIMENSION X (2017) #4 A PITARRA (IDW Publishing) Near Mint/Mint
TEENAGE MUTANT NINJA TURTLES: DIMENSION X (2017) #4 B JOHNSON (IDW Publishing) Near Mint/Mint
TEENAGE MUTANT NINJA TURTLES: DIMENSION X (2017) #5 A PITARRA (IDW Publishing) Near Mint/Mint
TEENAGE MUTANT NINJA TURTLES: DIMENSION X (2017) #5 B ROUSSEAU (IDW Publishing) Near Mint/Mint

TEENAGE MUTANT NINJA TURTLES: MUTANIMALS (2015) #1 (IDW Publishing) Fine
TEENAGE MUTANT NINJA TURTLES: MUTANIMALS (2015) #2 (IDW Publishing) Near Mint/Mint
TEENAGE MUTANT NINJA TURTLES: MUTANIMALS (2015) #3 (IDW Publishing) Very Fine
TEENAGE MUTANT NINJA TURTLES: MUTANIMALS (2015) #4 (IDW Publishing) Near Mint/Mint

TEENAGE MUTANT NINJA TURTLES: TURTLES IN TIME (2014) #1 (IDW Publishing) Near Mint/Mint
TEENAGE MUTANT NINJA TURTLES: TURTLES IN TIME (2014) #2 (IDW Publishing) Near Mint/Mint
TEENAGE MUTANT NINJA TURTLES: TURTLES IN TIME (2014) #3 (IDW Publishing) Very Fine
TEENAGE MUTANT NINJA TURTLES: TURTLES IN TIME (2014) #4 (IDW Publishing) Near Mint/Mint

TIME FOR LOVE (1967) #4 (Charlton) Very Good

X-FILES: CONSPIRACY (2014) #1 (IDW Publishing) Near Mint/Mint
X-FILES: CONSPIRACY (2014) #2 (IDW Publishing) Near Mint/Mint

X-FILES: CONSPIRACY - CROW (2014) #1 (IDW Publishing) Near Mint/Mint

X-FILES: CONSPIRACY - GHOSTBUSTERS (2014) #1 (IDW Publishing) Very Fine

X-FILES: CONSPIRACY - TEENAGE MUTANT NINJA TURTLES (2014) #1 (IDW Publishing) Near Mint/Mint


X-FILES: CONSPIRACY - TRANSFORMERS (2014) #1

X-FILES: CONSPIRACY - TRANSFORMERS (2014) #1 (IDW Publishing) Very Fine