X-MEN, TMNT, Graphic Novels, more!
Howdy!
I am back to writing a newsletter after taking a couple of days off to recover from my trip to San Francisco Coronation. I had an excellent weekend in SF, but it has proven to be very humbling to me to try and be the chief assistant to our Queen Mother at these huge public events, while simultaneously trying to get myself ready to appear publicly as the Imperial Crown Princess of the Americas. Blessedly, several kind (past) Empresses from San Francisco stepped in to help me with my makeup and my hair. Otherwise, I would have been in serious trouble...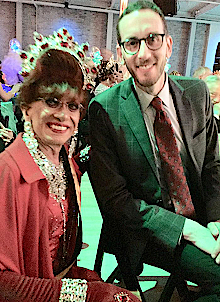 Bettie with Scott Weiner, California State Senate Assembly Chairperson

Ever since yesterday morning, I have also been dealing with reactions to the article that appeared on the website of Denver's Westword magazine about our upcoming Sunday evening youth drag event. Westword has quite a large circulation in Denver, as it is our most popular alternative news source, so even their website receives huge traffic. If, as I have been told, the article about our show also appears in the 50,000+ copies of tomorrow's print edition, there should be even greater response. The good news is that hundreds of people have indicated that they want to come to our event. The bad news is that a late-season arctic front may drop our temperatures into the single digits on Sunday. All I can do is to cross my fingers....
In other news, even more great collections keep wandering into Jason St. Will Moulton purchased an amazing TMNT comics collection yesterday, I bought a run of X-MEN (1963) #128-#250, Lisa purchased a huge collection of SIMPSON'S toys and a slew of assorted Pop! Figures, and Pam added hundreds of Near Mint comics trade paperbacks and hardbacks. Some of these new acquisitions are already posted into our Premium New-In-Stock link, with more being added every day. We have been BUSY!
I will close by thanking everyone who has written to us, or put a "like" on our FaceBook page about Bettie and our upcoming show. Our positive reactions have outpaced our negatives by more than 20:1, but we are all truly grateful for each and every act of kindness and support. Love is love.
Happy collecting!
Chuck Rozanski,
President - Mile High Comics, Inc.
February 27, 2019
P.S. Our ongoing 50% off STANLEE! codeword sale is still in effect for you on all ten million of our in-stock back issue comics and magazines. Only new issues, a few variants, and our professionally-graded issues are excluded from these huge savings.
MARVEL
AMAZING SPIDER-MAN (2017) (#789-801) (MARVEL LEGACY) #800 LAND Very Fine
AMAZING SPIDER-MAN (2017) (#789-801) (MARVEL LEGACY) #800 FRENZ Very Fine
AMAZING SPIDER-MAN (2017) (#789-801) (MARVEL LEGACY) #800 RIVERA Very Fine
AMAZING SPIDER-MAN (2017) (#789-801) (MARVEL LEGACY) #800 BRADSHAW Very Fine
AMAZING SPIDER-MAN (2017) (#789-801) (MARVEL LEGACY) #800 Very Fine


DAREDEVIL (1964) (#1-380) (MAN WITHOUT FEAR) (MARVEL) #37

DAREDEVIL (1964) (#1-380) (MAN WITHOUT FEAR) (MARVEL) #37 Fine
DAREDEVIL (1964) (#1-380) (MAN WITHOUT FEAR) (MARVEL) #41 Fine
DAREDEVIL (1964) (#1-380) (MAN WITHOUT FEAR) (MARVEL) #42 Fine
DAREDEVIL (1964) (#1-380) (MAN WITHOUT FEAR) (MARVEL) #45 Very Fine
DAREDEVIL (1964) (#1-380) (MAN WITHOUT FEAR) (MARVEL) #48 Fine
DAREDEVIL (1964) (#1-380) (MAN WITHOUT FEAR) (MARVEL) #49 Fine
DAREDEVIL (1964) (#1-380) (MAN WITHOUT FEAR) (MARVEL) #50 Fine
DAREDEVIL (1964) (#1-380) (MAN WITHOUT FEAR) (MARVEL) #53 Very Fine
DAREDEVIL (1964) (#1-380) (MAN WITHOUT FEAR) (MARVEL) #55 Very Good
DAREDEVIL (1964) (#1-380) (MAN WITHOUT FEAR) (MARVEL) #56 Fine
DAREDEVIL (1964) (#1-380) (MAN WITHOUT FEAR) (MARVEL) #57 Fine
DAREDEVIL (1964) (#1-380) (MAN WITHOUT FEAR) (MARVEL) #58 Fine
DAREDEVIL (1964) (#1-380) (MAN WITHOUT FEAR) (MARVEL) #59 Very Good
DAREDEVIL (1964) (#1-380) (MAN WITHOUT FEAR) (MARVEL) #60 Fine
DAREDEVIL (1964) (#1-380) (MAN WITHOUT FEAR) (MARVEL) #61 Fine
DAREDEVIL (1964) (#1-380) (MAN WITHOUT FEAR) (MARVEL) #62 Fine
DAREDEVIL (1964) (#1-380) (MAN WITHOUT FEAR) (MARVEL) #63 Fine
DAREDEVIL (1964) (#1-380) (MAN WITHOUT FEAR) (MARVEL) #64 Very Fine
DAREDEVIL (1964) (#1-380) (MAN WITHOUT FEAR) (MARVEL) #65 Very Fine
DAREDEVIL (1964) (#1-380) (MAN WITHOUT FEAR) (MARVEL) #66 Fine
DAREDEVIL (1964) (#1-380) (MAN WITHOUT FEAR) (MARVEL) #67 Fine
DAREDEVIL (1964) (#1-380) (MAN WITHOUT FEAR) (MARVEL) #68 Fine
DAREDEVIL (1964) (#1-380) (MAN WITHOUT FEAR) (MARVEL) #69 Very Fine
DAREDEVIL (1964) (#1-380) (MAN WITHOUT FEAR) (MARVEL) #70 Fine
DAREDEVIL (1964) (#1-380) (MAN WITHOUT FEAR) (MARVEL) #71 Fine
DAREDEVIL (1964) (#1-380) (MAN WITHOUT FEAR) (MARVEL) #72 Fine
DAREDEVIL (1964) (#1-380) (MAN WITHOUT FEAR) (MARVEL) #74 Fine
DAREDEVIL (1964) (#1-380) (MAN WITHOUT FEAR) (MARVEL) #75 Fine
DAREDEVIL (1964) (#1-380) (MAN WITHOUT FEAR) (MARVEL) #76 Fine
DAREDEVIL (1964) (#1-380) (MAN WITHOUT FEAR) (MARVEL) #77 Fine
DAREDEVIL (1964) (#1-380) (MAN WITHOUT FEAR) (MARVEL) #78 Very Good


DAREDEVIL (1964) (#1-380) (MAN WITHOUT FEAR) (MARVEL) #79

DAREDEVIL (1964) (#1-380) (MAN WITHOUT FEAR) (MARVEL) #79 Very Good
DAREDEVIL (1964) (#1-380) (MAN WITHOUT FEAR) (MARVEL) #80 Fine
DAREDEVIL (1964) (#1-380) (MAN WITHOUT FEAR) (MARVEL) #81 Very Fine
DAREDEVIL (1964) (#1-380) (MAN WITHOUT FEAR) (MARVEL) #83 Fine
DAREDEVIL (1964) (#1-380) (MAN WITHOUT FEAR) (MARVEL) #84 Fine
DAREDEVIL (1964) (#1-380) (MAN WITHOUT FEAR) (MARVEL) #85 Fine

DAREDEVIL (2019) (#1-UP) (MARVEL) #2 SCALERA Very Fine

DEADPOOL CLASSIC TPB (2008) #23 Near Mint/Mint

DRACULA LIVES! (MAGAZINE) (1973) #1 Fine
DRACULA LIVES! (MAGAZINE) (1973) #2 Fine
DRACULA LIVES! (MAGAZINE) (1973) #3 Fine
DRACULA LIVES! (MAGAZINE) (1973) #4 Fine
DRACULA LIVES! (MAGAZINE) (1973) #5 Fine

EPIC ILLUSTRATED (1980) #12 Fine
EPIC ILLUSTRATED (1980) #24 Fine

FANTASTIC FOUR (1961) (#1-416) (MARVEL) #30 Good
FANTASTIC FOUR (1961) (#1-416) (MARVEL) #32 Very Good
FANTASTIC FOUR (1961) (#1-416) (MARVEL) #33 Very Good
FANTASTIC FOUR (1961) (#1-416) (MARVEL) #34 Very Good
FANTASTIC FOUR (1961) (#1-416) (MARVEL) #36 Very Good
FANTASTIC FOUR (1961) (#1-416) (MARVEL) #37 Fine
FANTASTIC FOUR (1961) (#1-416) (MARVEL) #38 Very Good
FANTASTIC FOUR (1961) (#1-416) (MARVEL) #40 Fair
FANTASTIC FOUR (1961) (#1-416) (MARVEL) #40 Very Good
FANTASTIC FOUR (1961) (#1-416) (MARVEL) #41 Fine
FANTASTIC FOUR (1961) (#1-416) (MARVEL) #42 Fine
FANTASTIC FOUR (1961) (#1-416) (MARVEL) #45 Very Good
FANTASTIC FOUR (1961) (#1-416) (MARVEL) #46 Fine
FANTASTIC FOUR (1961) (#1-416) (MARVEL) #49 Very Good
FANTASTIC FOUR (1961) (#1-416) (MARVEL) #50 Fine
FANTASTIC FOUR (1961) (#1-416) (MARVEL) #50 Good
FANTASTIC FOUR (1961) (#1-416) (MARVEL) #51 Very Good
FANTASTIC FOUR (1961) (#1-416) (MARVEL) #53 Very Good
FANTASTIC FOUR (1961) (#1-416) (MARVEL) #55 Fine


FANTASTIC FOUR (1961) (#1-416) (MARVEL) #56

FANTASTIC FOUR (1961) (#1-416) (MARVEL) #56 Fine
FANTASTIC FOUR (1961) (#1-416) (MARVEL) #57 Very Good
FANTASTIC FOUR (1961) (#1-416) (MARVEL) #58 Fine
FANTASTIC FOUR (1961) (#1-416) (MARVEL) #59 Fine
FANTASTIC FOUR (1961) (#1-416) (MARVEL) #60 Fine
FANTASTIC FOUR (1961) (#1-416) (MARVEL) #60 Very Good
FANTASTIC FOUR (1961) (#1-416) (MARVEL) #61 Fine
FANTASTIC FOUR (1961) (#1-416) (MARVEL) #62 Good
FANTASTIC FOUR (1961) (#1-416) (MARVEL) #63 Fine
FANTASTIC FOUR (1961) (#1-416) (MARVEL) #64 Very Good
FANTASTIC FOUR (1961) (#1-416) (MARVEL) #65 Very Good
FANTASTIC FOUR (1961) (#1-416) (MARVEL) #66 Fine
FANTASTIC FOUR (1961) (#1-416) (MARVEL) #67 Fine
FANTASTIC FOUR (1961) (#1-416) (MARVEL) #67 Very Good
FANTASTIC FOUR (1961) (#1-416) (MARVEL) #68 Fine
FANTASTIC FOUR (1961) (#1-416) (MARVEL) #70 Fine
FANTASTIC FOUR (1961) (#1-416) (MARVEL) #72 Fine
FANTASTIC FOUR (1961) (#1-416) (MARVEL) #73 Very Fine
FANTASTIC FOUR (1961) (#1-416) (MARVEL) #74 Fine
FANTASTIC FOUR (1961) (#1-416) (MARVEL) #75 Fine
FANTASTIC FOUR (1961) (#1-416) (MARVEL) #77 Fine
FANTASTIC FOUR (1961) (#1-416) (MARVEL) #81 Fine
FANTASTIC FOUR (1961) (#1-416) (MARVEL) #81 Very Fine
FANTASTIC FOUR (1961) (#1-416) (MARVEL) #82 Fine
FANTASTIC FOUR (1961) (#1-416) (MARVEL) #83 Fine
FANTASTIC FOUR (1961) (#1-416) (MARVEL) #84 Very Fine
FANTASTIC FOUR (1961) (#1-416) (MARVEL) #85 Very Fine
FANTASTIC FOUR (1961) (#1-416) (MARVEL) #86 Fine
FANTASTIC FOUR (1961) (#1-416) (MARVEL) #87 Good
FANTASTIC FOUR (1961) (#1-416) (MARVEL) #88 Fine
FANTASTIC FOUR (1961) (#1-416) (MARVEL) #89 Fine
FANTASTIC FOUR (1961) (#1-416) (MARVEL) #90 Fine
FANTASTIC FOUR (1961) (#1-416) (MARVEL) #91 Fine
FANTASTIC FOUR (1961) (#1-416) (MARVEL) #92 Fine
FANTASTIC FOUR (1961) (#1-416) (MARVEL) #93 Fine
FANTASTIC FOUR (1961) (#1-416) (MARVEL) #94 Very Good
FANTASTIC FOUR (1961) (#1-416) (MARVEL) #95 Fine
FANTASTIC FOUR (1961) (#1-416) (MARVEL) #96 Fine
FANTASTIC FOUR (1961) (#1-416) (MARVEL) #97 Very Good


FANTASTIC FOUR (1961) (#1-416) (MARVEL) #98

FANTASTIC FOUR (1961) (#1-416) (MARVEL) #98 Very Good
FANTASTIC FOUR (1961) (#1-416) (MARVEL) #99 Fine
FANTASTIC FOUR (1961) (#1-416) (MARVEL) #99 Near Mint/Mint
FANTASTIC FOUR (1961) (#1-416) (MARVEL) #100 Fine
FANTASTIC FOUR (1961) (#1-416) (MARVEL) #100 Very Fine
FANTASTIC FOUR (1961) (#1-416) (MARVEL) #100 Very Good
FANTASTIC FOUR (1961) (#1-416) (MARVEL) #101 Fine
FANTASTIC FOUR (1961) (#1-416) (MARVEL) #101 Very Good
FANTASTIC FOUR (1961) (#1-416) (MARVEL) #102 Fine
FANTASTIC FOUR (1961) (#1-416) (MARVEL) #104 Very Good
FANTASTIC FOUR (1961) (#1-416) (MARVEL) #105 Very Fine
FANTASTIC FOUR (1961) (#1-416) (MARVEL) #107 Fine
FANTASTIC FOUR (1961) (#1-416) (MARVEL) #108 Fine
FANTASTIC FOUR (1961) (#1-416) (MARVEL) #109 Fine
FANTASTIC FOUR (1961) (#1-416) (MARVEL) #110 Fine
FANTASTIC FOUR (1961) (#1-416) (MARVEL) #111 Fine
FANTASTIC FOUR (1961) (#1-416) (MARVEL) #112 Very Fine
FANTASTIC FOUR (1961) (#1-416) (MARVEL) #113 Fine
FANTASTIC FOUR (1961) (#1-416) (MARVEL) #114 Fine
FANTASTIC FOUR (1961) (#1-416) (MARVEL) #115 Fine
FANTASTIC FOUR (1961) (#1-416) (MARVEL) #116 Very Fine
FANTASTIC FOUR (1961) (#1-416) (MARVEL) #118 Very Good
FANTASTIC FOUR (1961) (#1-416) (MARVEL) #119 Fine
FANTASTIC FOUR (1961) (#1-416) (MARVEL) #120 Fine
FANTASTIC FOUR (1961) (#1-416) (MARVEL) #120 Very Good
FANTASTIC FOUR (1961) (#1-416) (MARVEL) #121 Fine
FANTASTIC FOUR (1961) (#1-416) (MARVEL) #122 Fine
FANTASTIC FOUR (1961) (#1-416) (MARVEL) #123 Very Fine
FANTASTIC FOUR (1961) (#1-416) (MARVEL) #124 Fine
FANTASTIC FOUR (1961) (#1-416) (MARVEL) #125 Very Good
FANTASTIC FOUR (1961) (#1-416) (MARVEL) #126 Fine
FANTASTIC FOUR (1961) (#1-416) (MARVEL) #127 Fine
FANTASTIC FOUR (1961) (#1-416) (MARVEL) #128 Fine
FANTASTIC FOUR (1961) (#1-416) (MARVEL) #129 Fine
FANTASTIC FOUR (1961) (#1-416) (MARVEL) #130 Fine
FANTASTIC FOUR (1961) (#1-416) (MARVEL) #131 Fine
FANTASTIC FOUR (1961) (#1-416) (MARVEL) #132 Very Fine
FANTASTIC FOUR (1961) (#1-416) (MARVEL) #133 Near Mint/Mint


FANTASTIC FOUR (1961) (#1-416) (MARVEL) #134

FANTASTIC FOUR (1961) (#1-416) (MARVEL) #134 Fine
FANTASTIC FOUR (1961) (#1-416) (MARVEL) #135 Very Good
FANTASTIC FOUR (1961) (#1-416) (MARVEL) #135 Very Fine
FANTASTIC FOUR (1961) (#1-416) (MARVEL) #136 Fine
FANTASTIC FOUR (1961) (#1-416) (MARVEL) #136 Very Fine
FANTASTIC FOUR (1961) (#1-416) (MARVEL) #137 Fine
FANTASTIC FOUR (1961) (#1-416) (MARVEL) #138 Very Fine
FANTASTIC FOUR (1961) (#1-416) (MARVEL) #139 Very Fine
FANTASTIC FOUR (1961) (#1-416) (MARVEL) #140 Fine
FANTASTIC FOUR (1961) (#1-416) (MARVEL) #141 Near Mint/Mint
FANTASTIC FOUR (1961) (#1-416) (MARVEL) #142 Fine
FANTASTIC FOUR (1961) (#1-416) (MARVEL) #142 Very Fine
FANTASTIC FOUR (1961) (#1-416) (MARVEL) #143 Near Mint/Mint
FANTASTIC FOUR (1961) (#1-416) (MARVEL) #143 Very Fine
FANTASTIC FOUR (1961) (#1-416) (MARVEL) #145 Fine
FANTASTIC FOUR (1961) (#1-416) (MARVEL) #147 Fine
FANTASTIC FOUR (1961) (#1-416) (MARVEL) #148 Near Mint/Mint
FANTASTIC FOUR (1961) (#1-416) (MARVEL) #150 Fine
FANTASTIC FOUR (1961) (#1-416) (MARVEL) #152 Fine
FANTASTIC FOUR (1961) (#1-416) (MARVEL) #153 Fine
FANTASTIC FOUR (1961) (#1-416) (MARVEL) #154 Very Fine
FANTASTIC FOUR (1961) (#1-416) (MARVEL) #155 Fine
FANTASTIC FOUR (1961) (#1-416) (MARVEL) #155 Very Good
FANTASTIC FOUR (1961) (#1-416) (MARVEL) #157 Fine
FANTASTIC FOUR (1961) (#1-416) (MARVEL) #159 Fine
FANTASTIC FOUR (1961) (#1-416) (MARVEL) #161 Fine
FANTASTIC FOUR (1961) (#1-416) (MARVEL) #321 NEWSSTAND Fine

FANTASTIC FOUR ANNUAL (1963) #3 Very Good
FANTASTIC FOUR ANNUAL (1963) #4 Fine
FANTASTIC FOUR ANNUAL (1963) #7 Fine
FANTASTIC FOUR ANNUAL (1963) #8 Fine
FANTASTIC FOUR ANNUAL (1963) #8 Very Good
FANTASTIC FOUR ANNUAL (1963) #9 Very Fine
FANTASTIC FOUR ANNUAL (1963) #10 Fine

FANTASTIC FOUR GIANT-SIZE (GIANT-SIZE SUPER-STARS) (1974) #3 Very Good
FANTASTIC FOUR GIANT-SIZE (GIANT-SIZE SUPER-STARS) (1974) #4 Fine

FANTASY MASTERPIECES (1966) #2 Good


FANTASY MASTERPIECES (1966) #3

FANTASY MASTERPIECES (1966) #3 Fine
FANTASY MASTERPIECES (1966) #6 Fine
FANTASY MASTERPIECES (1966) #7 Fine
FANTASY MASTERPIECES (1966) #8 Fine
FANTASY MASTERPIECES (1966) #9 Very Good
FANTASY MASTERPIECES (1966) #11 Good

FEAR (ADVENTURE INTO...) (1970) #1 Fine
FEAR (ADVENTURE INTO...) (1970) #1 Near Mint/Mint
FEAR (ADVENTURE INTO...) (1970) #1 Very Good
FEAR (ADVENTURE INTO...) (1970) #1 Very Fine
FEAR (ADVENTURE INTO...) (1970) #2 Fine
FEAR (ADVENTURE INTO...) (1970) #2 Very Good
FEAR (ADVENTURE INTO...) (1970) #2 Very Fine
FEAR (ADVENTURE INTO...) (1970) #3 Very Fine
FEAR (ADVENTURE INTO...) (1970) #4 Very Good
FEAR (ADVENTURE INTO...) (1970) #5 Very Fine
FEAR (ADVENTURE INTO...) (1970) #6 Very Good
FEAR (ADVENTURE INTO...) (1970) #9 Very Good
FEAR (ADVENTURE INTO...) (1970) #10 Very Fine
FEAR (ADVENTURE INTO...) (1970) #10 Very Good
FEAR (ADVENTURE INTO...) (1970) #11 Fine
FEAR (ADVENTURE INTO...) (1970) #12 Fine
FEAR (ADVENTURE INTO...) (1970) #13 Fine
FEAR (ADVENTURE INTO...) (1970) #14 Very Fine
FEAR (ADVENTURE INTO...) (1970) #15 Very Good
FEAR (ADVENTURE INTO...) (1970) #16 Fine
FEAR (ADVENTURE INTO...) (1970) #17 Fine
FEAR (ADVENTURE INTO...) (1970) #18 Fine
FEAR (ADVENTURE INTO...) (1970) #20 Fine
FEAR (ADVENTURE INTO...) (1970) #20 Very Fine
FEAR (ADVENTURE INTO...) (1970) #21 Fine
FEAR (ADVENTURE INTO...) (1970) #22 Near Mint/Mint
FEAR (ADVENTURE INTO...) (1970) #22 Fine
FEAR (ADVENTURE INTO...) (1970) #22 Very Fine
FEAR (ADVENTURE INTO...) (1970) #23 Fine
FEAR (ADVENTURE INTO...) (1970) #24 Fine
FEAR (ADVENTURE INTO...) (1970) #25 Very Fine
FEAR (ADVENTURE INTO...) (1970) #27 Fine
FEAR (ADVENTURE INTO...) (1970) #28 Fine


FEAR (ADVENTURE INTO...) (1970) #30

FEAR (ADVENTURE INTO...) (1970) #30 Fine

FRANKENSTEIN (1973) #1 Fine
FRANKENSTEIN (1973) #2 Fine
FRANKENSTEIN (1973) #2 Very Fine
FRANKENSTEIN (1973) #3 Fine
FRANKENSTEIN (1973) #4 Near Mint/Mint
FRANKENSTEIN (1973) #4 Very Good
FRANKENSTEIN (1973) #5 Fine
FRANKENSTEIN (1973) #5 Very Good
FRANKENSTEIN (1973) #6 Fine
FRANKENSTEIN (1973) #6 Very Good
FRANKENSTEIN (1973) #7 Fine
FRANKENSTEIN (1973) #8 Fine
FRANKENSTEIN (1973) #8 Very Good
FRANKENSTEIN (1973) #9 Fine
FRANKENSTEIN (1973) #10 Fine
FRANKENSTEIN (1973) #11 Fine
FRANKENSTEIN (1973) #14 Very Fine
FRANKENSTEIN (1973) #15 Very Fine

GHOST RIDER (1973) (#1-81) (MARVEL) #1 Fine

JUNGLE ACTION (1972) (#1-24) (MARVEL) #1 Very Fine
JUNGLE ACTION (1972) (#1-24) (MARVEL) #3 Fine
JUNGLE ACTION (1972) (#1-24) (MARVEL) #4 Near Mint/Mint
JUNGLE ACTION (1972) (#1-24) (MARVEL) #4 Fine
JUNGLE ACTION (1972) (#1-24) (MARVEL) #5 Fine
JUNGLE ACTION (1972) (#1-24) (MARVEL) #5 Very Fine
JUNGLE ACTION (1972) (#1-24) (MARVEL) #6 Fine
JUNGLE ACTION (1972) (#1-24) (MARVEL) #7 Fine
JUNGLE ACTION (1972) (#1-24) (MARVEL) #8 Fine
JUNGLE ACTION (1972) (#1-24) (MARVEL) #9 Fine
JUNGLE ACTION (1972) (#1-24) (MARVEL) #10 Very Fine
JUNGLE ACTION (1972) (#1-24) (MARVEL) #13 Fine
JUNGLE ACTION (1972) (#1-24) (MARVEL) #14 Very Good

LIFE OF CAPTAIN MARVEL (2018) (#1-5) (MARVEL) #1 ARTGERM Very Fine

MARVEL COLLECTORS ITEM CLASSICS (1965) #2 Very Good


MARVEL COLLECTORS ITEM CLASSICS (1965) #3

MARVEL COLLECTORS ITEM CLASSICS (1965) #3 Very Good
MARVEL COLLECTORS ITEM CLASSICS (1965) #4 Good
MARVEL COLLECTORS ITEM CLASSICS (1965) #5 Very Good
MARVEL COLLECTORS ITEM CLASSICS (1965) #6 Good
MARVEL COLLECTORS ITEM CLASSICS (1965) #7 Fine
MARVEL COLLECTORS ITEM CLASSICS (1965) #8 Good
MARVEL COLLECTORS ITEM CLASSICS (1965) #9 Very Good
MARVEL COLLECTORS ITEM CLASSICS (1965) #10 Good
MARVEL COLLECTORS ITEM CLASSICS (1965) #11 Fine
MARVEL COLLECTORS ITEM CLASSICS (1965) #13 Very Good
MARVEL COLLECTORS ITEM CLASSICS (1965) #14 Fine
MARVEL COLLECTORS ITEM CLASSICS (1965) #16 Very Good
MARVEL COLLECTORS ITEM CLASSICS (1965) #18 Very Fine
MARVEL COLLECTORS ITEM CLASSICS (1965) #19 Very Good
MARVEL COLLECTORS ITEM CLASSICS (1965) #21 Fine
MARVEL COLLECTORS ITEM CLASSICS (1965) #22 Very Good

MARVEL DOUBLE FEATURE (1973) #1 Fine

MARVEL FEATURE (1971) (#1-12) #1 Fine
MARVEL FEATURE (1971) (#1-12) #1 Very Good
MARVEL FEATURE (1971) (#1-12) #2 Fine
MARVEL FEATURE (1971) (#1-12) #3 Very Good
MARVEL FEATURE (1971) (#1-12) #4 Very Fine
MARVEL FEATURE (1971) (#1-12) #7 Fine
MARVEL FEATURE (1971) (#1-12) #9 Near Mint/Mint
MARVEL FEATURE (1971) (#1-12) #10 Fine
MARVEL FEATURE (1971) (#1-12) #11 Fine
MARVEL FEATURE (1971) (#1-12) #11 Very Fine
MARVEL FEATURE (1971) (#1-12) #12 Fine

MARVEL PREMIERE (1972) #2 Very Good
MARVEL PREMIERE (1972) #3 Fine
MARVEL PREMIERE (1972) #4 Fine
MARVEL PREMIERE (1972) #5 Fine
MARVEL PREMIERE (1972) #5 Very Good
MARVEL PREMIERE (1972) #6 Fine
MARVEL PREMIERE (1972) #6 Very Fine
MARVEL PREMIERE (1972) #7 Fine
MARVEL PREMIERE (1972) #9 Fine
MARVEL PREMIERE (1972) #9 Very Good

MARVEL PREMIERE (1972) #10 Fine
MARVEL PREMIERE (1972) #10 Very Fine
MARVEL PREMIERE (1972) #11 Very Good
MARVEL PREMIERE (1972) #12 Very Good
MARVEL PREMIERE (1972) #13 Fine
MARVEL PREMIERE (1972) #13 Very Good
MARVEL PREMIERE (1972) #14 Very Fine
MARVEL PREMIERE (1972) #15 Very Fine
MARVEL PREMIERE (1972) #16 Near Mint/Mint
MARVEL PREMIERE (1972) #16 Very Good
MARVEL PREMIERE (1972) #18 Fine
MARVEL PREMIERE (1972) #19 Fine
MARVEL PREMIERE (1972) #20 Fine
MARVEL PREMIERE (1972) #23 Fine

MARVEL PREVIEW (1975) #1 Very Good
MARVEL PREVIEW (1975) #2 Very Good

MARVEL SPECTACULAR (1973) #1 Fine
MARVEL SPECTACULAR (1973) #2 Fine
MARVEL SPECTACULAR (1973) #3 Fine
MARVEL SPECTACULAR (1973) #4 Fine

MARVEL TEAM-UP (1972) (#1-150) (MARVEL) #97 Near Mint/Mint
MARVEL TEAM-UP (1972) (#1-150) (MARVEL) #98 Near Mint/Mint
MARVEL TEAM-UP (1972) (#1-150) (MARVEL) #99 Near Mint/Mint

MARVEL'S GREATEST COMICS (1969) #23 Fine
MARVEL'S GREATEST COMICS (1969) #24 Fine
MARVEL'S GREATEST COMICS (1969) #25 Fine
MARVEL'S GREATEST COMICS (1969) #26 Very Fine
MARVEL'S GREATEST COMICS (1969) #27 Fine
MARVEL'S GREATEST COMICS (1969) #28 Fine
MARVEL'S GREATEST COMICS (1969) #28 Very Good
MARVEL'S GREATEST COMICS (1969) #30 Fine
MARVEL'S GREATEST COMICS (1969) #31 Fine
MARVEL'S GREATEST COMICS (1969) #32 Fine
MARVEL'S GREATEST COMICS (1969) #33 Fine
MARVEL'S GREATEST COMICS (1969) #34 Fine


MARVEL'S GREATEST COMICS (1969) #35

MARVEL'S GREATEST COMICS (1969) #35 Near Mint/Mint
MARVEL'S GREATEST COMICS (1969) #41 Near Mint/Mint

MASTER OF KUNG FU (1974) (#15-125) (MARVEL) (SHANG-CHI) #99 Near Mint/Mint
MASTER OF KUNG FU (1974) (#15-125) (MARVEL) (SHANG-CHI) #101 Near Mint/Mint

MIGHTY THOR (2017) (#700-UP) (MARVEL LEGACY) #700 MOVIE CVR Near Mint/Mint

MONSTERS UNLEASHED (1973) (#1-11) (MARVEL MAGAZINE) #1 Fine
MONSTERS UNLEASHED (1973) (#1-11) (MARVEL MAGAZINE) #2 Fine
MONSTERS UNLEASHED (1973) (#1-11) (MARVEL MAGAZINE) #3 Very Good

SAVAGE SWORD OF CONAN (2019) #2 LARRAZ Very Fine

SAVAGE SWORD OF CONAN (MAGAZINE) (1974) #1 Fine
SAVAGE SWORD OF CONAN (MAGAZINE) (1974) #2 Fine
SAVAGE SWORD OF CONAN (MAGAZINE) (1974) #3 Very Good
SAVAGE SWORD OF CONAN (MAGAZINE) (1974) #4 Fine
SAVAGE SWORD OF CONAN (MAGAZINE) (1974) #4 Very Good
SAVAGE SWORD OF CONAN (MAGAZINE) (1974) #6 Very Good
SAVAGE SWORD OF CONAN (MAGAZINE) (1974) #11 Very Good
SAVAGE SWORD OF CONAN (MAGAZINE) (1974) #12 Fine
SAVAGE SWORD OF CONAN (MAGAZINE) (1974) #13 Very Good
SAVAGE SWORD OF CONAN (MAGAZINE) (1974) #14 Fine

SAVAGE TALES (1971) (#1-13) (MARVEL/CURTIS) (CONAN) #1 Very Good
SAVAGE TALES (1971) (#1-13) (MARVEL/CURTIS) (CONAN) #2 Very Good
SAVAGE TALES (1971) (#1-13) (MARVEL/CURTIS) (CONAN) #3 Fine
SAVAGE TALES (1971) (#1-13) (MARVEL/CURTIS) (CONAN) #3 Good
SAVAGE TALES (1971) (#1-13) (MARVEL/CURTIS) (CONAN) #3 Very Good
SAVAGE TALES (1971) (#1-13) (MARVEL/CURTIS) (CONAN) #4 Very Good
SAVAGE TALES (1971) (#1-13) (MARVEL/CURTIS) (CONAN) #5 Very Good

SHIELD (1973) (#1-5) (MARVEL)(NICK FURY & HIS AGENTS) #1 Fine
SHIELD (1973) (#1-5) (MARVEL)(NICK FURY & HIS AGENTS) #2 Fine
SHIELD (1973) (#1-5) (MARVEL)(NICK FURY & HIS AGENTS) #2 Very Fine
SHIELD (1973) (#1-5) (MARVEL)(NICK FURY & HIS AGENTS) #3 Fine
SHIELD (1973) (#1-5) (MARVEL)(NICK FURY & HIS AGENTS) #5 Fine

SPECIAL MARVEL EDITION #1 Fine
SPECIAL MARVEL EDITION #1 Very Good

SPECIAL MARVEL EDITION #1 Very Fine
SPECIAL MARVEL EDITION #2 Very Good
SPECIAL MARVEL EDITION #3 Fine
SPECIAL MARVEL EDITION #3 Very Good
SPECIAL MARVEL EDITION #4 Fine
SPECIAL MARVEL EDITION #5 Fine
SPECIAL MARVEL EDITION #8 Fine
SPECIAL MARVEL EDITION #9 Fine
SPECIAL MARVEL EDITION #10 Fine
SPECIAL MARVEL EDITION #11 Fine

SPECTACULAR SPIDER-MAN MAGAZINE (1968) #1 Very Good
SPECTACULAR SPIDER-MAN MAGAZINE (1968) #2 Fine

SPIDER-GEDDON: COVERT OPS TPB (2019) #1 Near Mint/Mint

STAR WARS BY JASON AARON OMNIBUS HC (2018) #1 Near Mint/Mint

SUB-MARINER (1968) (#1-72) (PRINCE NAMOR SUB-MARINER) #5 Fine
SUB-MARINER (1968) (#1-72) (PRINCE NAMOR SUB-MARINER) #6 Fine
SUB-MARINER (1968) (#1-72) (PRINCE NAMOR SUB-MARINER) #7 Fine
SUB-MARINER (1968) (#1-72) (PRINCE NAMOR SUB-MARINER) #8 Fine
SUB-MARINER (1968) (#1-72) (PRINCE NAMOR SUB-MARINER) #9 Fine
SUB-MARINER (1968) (#1-72) (PRINCE NAMOR SUB-MARINER) #10 Good
SUB-MARINER (1968) (#1-72) (PRINCE NAMOR SUB-MARINER) #11 Fine
SUB-MARINER (1968) (#1-72) (PRINCE NAMOR SUB-MARINER) #12 Fine
SUB-MARINER (1968) (#1-72) (PRINCE NAMOR SUB-MARINER) #13 Fine
SUB-MARINER (1968) (#1-72) (PRINCE NAMOR SUB-MARINER) #13 Very Good
SUB-MARINER (1968) (#1-72) (PRINCE NAMOR SUB-MARINER) #14 Fine
SUB-MARINER (1968) (#1-72) (PRINCE NAMOR SUB-MARINER) #15 Very Good
SUB-MARINER (1968) (#1-72) (PRINCE NAMOR SUB-MARINER) #16 Very Good
SUB-MARINER (1968) (#1-72) (PRINCE NAMOR SUB-MARINER) #19 Fine
SUB-MARINER (1968) (#1-72) (PRINCE NAMOR SUB-MARINER) #20 Very Fine
SUB-MARINER (1968) (#1-72) (PRINCE NAMOR SUB-MARINER) #21 Fine
SUB-MARINER (1968) (#1-72) (PRINCE NAMOR SUB-MARINER) #22 Very Good
SUB-MARINER (1968) (#1-72) (PRINCE NAMOR SUB-MARINER) #23 Fine
SUB-MARINER (1968) (#1-72) (PRINCE NAMOR SUB-MARINER) #24 Fine
SUB-MARINER (1968) (#1-72) (PRINCE NAMOR SUB-MARINER) #25 Very Good
SUB-MARINER (1968) (#1-72) (PRINCE NAMOR SUB-MARINER) #26 Fine
SUB-MARINER (1968) (#1-72) (PRINCE NAMOR SUB-MARINER) #27 Very Good
SUB-MARINER (1968) (#1-72) (PRINCE NAMOR SUB-MARINER) #27 Very Fine


SUB-MARINER (1968) (#1-72) (PRINCE NAMOR SUB-MARINER) #28

SUB-MARINER (1968) (#1-72) (PRINCE NAMOR SUB-MARINER) #28 Fine
SUB-MARINER (1968) (#1-72) (PRINCE NAMOR SUB-MARINER) #29 Fine
SUB-MARINER (1968) (#1-72) (PRINCE NAMOR SUB-MARINER) #30 Very Fine
SUB-MARINER (1968) (#1-72) (PRINCE NAMOR SUB-MARINER) #31 Very Good
SUB-MARINER (1968) (#1-72) (PRINCE NAMOR SUB-MARINER) #32 Fine
SUB-MARINER (1968) (#1-72) (PRINCE NAMOR SUB-MARINER) #33 Fine
SUB-MARINER (1968) (#1-72) (PRINCE NAMOR SUB-MARINER) #34 Fine
SUB-MARINER (1968) (#1-72) (PRINCE NAMOR SUB-MARINER) #35 Near Mint/Mint
SUB-MARINER (1968) (#1-72) (PRINCE NAMOR SUB-MARINER) #36 Very Good
SUB-MARINER (1968) (#1-72) (PRINCE NAMOR SUB-MARINER) #37 Fine
SUB-MARINER (1968) (#1-72) (PRINCE NAMOR SUB-MARINER) #38 Fine
SUB-MARINER (1968) (#1-72) (PRINCE NAMOR SUB-MARINER) #39 Very Good
SUB-MARINER (1968) (#1-72) (PRINCE NAMOR SUB-MARINER) #40 Fine
SUB-MARINER (1968) (#1-72) (PRINCE NAMOR SUB-MARINER) #41 Fine
SUB-MARINER (1968) (#1-72) (PRINCE NAMOR SUB-MARINER) #42 Fine
SUB-MARINER (1968) (#1-72) (PRINCE NAMOR SUB-MARINER) #43 Fine
SUB-MARINER (1968) (#1-72) (PRINCE NAMOR SUB-MARINER) #44 Fine
SUB-MARINER (1968) (#1-72) (PRINCE NAMOR SUB-MARINER) #45 Fine
SUB-MARINER (1968) (#1-72) (PRINCE NAMOR SUB-MARINER) #46 Fine
SUB-MARINER (1968) (#1-72) (PRINCE NAMOR SUB-MARINER) #47 Fine
SUB-MARINER (1968) (#1-72) (PRINCE NAMOR SUB-MARINER) #48 Fine
SUB-MARINER (1968) (#1-72) (PRINCE NAMOR SUB-MARINER) #49 Fine
SUB-MARINER (1968) (#1-72) (PRINCE NAMOR SUB-MARINER) #50 Very Fine
SUB-MARINER (1968) (#1-72) (PRINCE NAMOR SUB-MARINER) #51 Fine
SUB-MARINER (1968) (#1-72) (PRINCE NAMOR SUB-MARINER) #51 Very Fine
SUB-MARINER (1968) (#1-72) (PRINCE NAMOR SUB-MARINER) #52 Fine
SUB-MARINER (1968) (#1-72) (PRINCE NAMOR SUB-MARINER) #53 Fine
SUB-MARINER (1968) (#1-72) (PRINCE NAMOR SUB-MARINER) #55 Fine
SUB-MARINER (1968) (#1-72) (PRINCE NAMOR SUB-MARINER) #56 Fine
SUB-MARINER (1968) (#1-72) (PRINCE NAMOR SUB-MARINER) #56 Very Fine
SUB-MARINER (1968) (#1-72) (PRINCE NAMOR SUB-MARINER) #57 Very Fine
SUB-MARINER (1968) (#1-72) (PRINCE NAMOR SUB-MARINER) #58 Fine
SUB-MARINER (1968) (#1-72) (PRINCE NAMOR SUB-MARINER) #59 Fine
SUB-MARINER (1968) (#1-72) (PRINCE NAMOR SUB-MARINER) #60 Fine
SUB-MARINER (1968) (#1-72) (PRINCE NAMOR SUB-MARINER) #60 Very Fine
SUB-MARINER (1968) (#1-72) (PRINCE NAMOR SUB-MARINER) #61 Fine
SUB-MARINER (1968) (#1-72) (PRINCE NAMOR SUB-MARINER) #62 Very Fine
SUB-MARINER (1968) (#1-72) (PRINCE NAMOR SUB-MARINER) #63 Near Mint/Mint
SUB-MARINER (1968) (#1-72) (PRINCE NAMOR SUB-MARINER) #63 Fine
SUB-MARINER (1968) (#1-72) (PRINCE NAMOR SUB-MARINER) #64 Fine


SUB-MARINER (1968) (#1-72) (PRINCE NAMOR SUB-MARINER) #64

SUB-MARINER (1968) (#1-72) (PRINCE NAMOR SUB-MARINER) #64 Very Fine
SUB-MARINER (1968) (#1-72) (PRINCE NAMOR SUB-MARINER) #65 Fine
SUB-MARINER (1968) (#1-72) (PRINCE NAMOR SUB-MARINER) #65 Very Fine
SUB-MARINER (1968) (#1-72) (PRINCE NAMOR SUB-MARINER) #66 Fine
SUB-MARINER (1968) (#1-72) (PRINCE NAMOR SUB-MARINER) #66 Very Fine
SUB-MARINER (1968) (#1-72) (PRINCE NAMOR SUB-MARINER) #67 Fine
SUB-MARINER (1968) (#1-72) (PRINCE NAMOR SUB-MARINER) #68 Fine
SUB-MARINER (1968) (#1-72) (PRINCE NAMOR SUB-MARINER) #69 Fine
SUB-MARINER (1968) (#1-72) (PRINCE NAMOR SUB-MARINER) #70 Fine
SUB-MARINER (1968) (#1-72) (PRINCE NAMOR SUB-MARINER) #71 Near Mint/Mint
SUB-MARINER (1968) (#1-72) (PRINCE NAMOR SUB-MARINER) #72 Fine

SUB-MARINER ANNUAL (1971) #2 Very Fine

TALES OF ASGARD (1968) #1 Very Good

TALES OF THE ZOMBIE (1973) #1 Fine
TALES OF THE ZOMBIE (1973) #1 Very Good
TALES OF THE ZOMBIE (1973) #2 Fine
TALES OF THE ZOMBIE (1973) #3 Fine

THOR (1962) (#83-125 JOURNEY INTO MYSTERY, 126-502) #101 Fair
THOR (1962) (#83-125 JOURNEY INTO MYSTERY, 126-502) #111 Good
THOR (1962) (#83-125 JOURNEY INTO MYSTERY, 126-502) #112 Good
THOR (1962) (#83-125 JOURNEY INTO MYSTERY, 126-502) #114 Very Good
THOR (1962) (#83-125 JOURNEY INTO MYSTERY, 126-502) #115 Very Good
THOR (1962) (#83-125 JOURNEY INTO MYSTERY, 126-502) #116 Very Good
THOR (1962) (#83-125 JOURNEY INTO MYSTERY, 126-502) #118 Very Good
THOR (1962) (#83-125 JOURNEY INTO MYSTERY, 126-502) #125 Fine
THOR (1962) (#83-125 JOURNEY INTO MYSTERY, 126-502) #126 Very Good
THOR (1962) (#83-125 JOURNEY INTO MYSTERY, 126-502) #127 Very Good
THOR (1962) (#83-125 JOURNEY INTO MYSTERY, 126-502) #128 Fine
THOR (1962) (#83-125 JOURNEY INTO MYSTERY, 126-502) #129 Fine
THOR (1962) (#83-125 JOURNEY INTO MYSTERY, 126-502) #131 Fair
THOR (1962) (#83-125 JOURNEY INTO MYSTERY, 126-502) #132 Very Good
THOR (1962) (#83-125 JOURNEY INTO MYSTERY, 126-502) #134 Fine
THOR (1962) (#83-125 JOURNEY INTO MYSTERY, 126-502) #135 Very Good
THOR (1962) (#83-125 JOURNEY INTO MYSTERY, 126-502) #137 Fine
THOR (1962) (#83-125 JOURNEY INTO MYSTERY, 126-502) #137 Very Good
THOR (1962) (#83-125 JOURNEY INTO MYSTERY, 126-502) #140 Fine
THOR (1962) (#83-125 JOURNEY INTO MYSTERY, 126-502) #142 Fine


THOR (1962) (#83-125 JOURNEY INTO MYSTERY, 126-502) #145

THOR (1962) (#83-125 JOURNEY INTO MYSTERY, 126-502) #145 Fine
THOR (1962) (#83-125 JOURNEY INTO MYSTERY, 126-502) #147 Very Good
THOR (1962) (#83-125 JOURNEY INTO MYSTERY, 126-502) #148 Very Good
THOR (1962) (#83-125 JOURNEY INTO MYSTERY, 126-502) #150 Fine
THOR (1962) (#83-125 JOURNEY INTO MYSTERY, 126-502) #151 Very Good
THOR (1962) (#83-125 JOURNEY INTO MYSTERY, 126-502) #153 Very Fine
THOR (1962) (#83-125 JOURNEY INTO MYSTERY, 126-502) #154 Very Good
THOR (1962) (#83-125 JOURNEY INTO MYSTERY, 126-502) #155 Very Fine
THOR (1962) (#83-125 JOURNEY INTO MYSTERY, 126-502) #221 Fine
THOR (1962) (#83-125 JOURNEY INTO MYSTERY, 126-502) #222 Fine
THOR (1962) (#83-125 JOURNEY INTO MYSTERY, 126-502) #223 Fine
THOR (1962) (#83-125 JOURNEY INTO MYSTERY, 126-502) #224 Fine
THOR (1962) (#83-125 JOURNEY INTO MYSTERY, 126-502) #225 Fine
THOR (1962) (#83-125 JOURNEY INTO MYSTERY, 126-502) #226 Very Fine
THOR (1962) (#83-125 JOURNEY INTO MYSTERY, 126-502) #227 Fine
THOR (1962) (#83-125 JOURNEY INTO MYSTERY, 126-502) #228 Very Fine
THOR (1962) (#83-125 JOURNEY INTO MYSTERY, 126-502) #229 Fine
THOR (1962) (#83-125 JOURNEY INTO MYSTERY, 126-502) #231 Fine
THOR (1962) (#83-125 JOURNEY INTO MYSTERY, 126-502) #233 Fine
THOR (1962) (#83-125 JOURNEY INTO MYSTERY, 126-502) #234 Very Fine
THOR (1962) (#83-125 JOURNEY INTO MYSTERY, 126-502) #235 Fine
THOR (1962) (#83-125 JOURNEY INTO MYSTERY, 126-502) #236 Fine
THOR (1962) (#83-125 JOURNEY INTO MYSTERY, 126-502) #236 Very Fine
THOR (1962) (#83-125 JOURNEY INTO MYSTERY, 126-502) #237 Very Fine
THOR (1962) (#83-125 JOURNEY INTO MYSTERY, 126-502) #238 Fine
THOR (1962) (#83-125 JOURNEY INTO MYSTERY, 126-502) #239 Fine
THOR (1962) (#83-125 JOURNEY INTO MYSTERY, 126-502) #240 Fine
THOR (1962) (#83-125 JOURNEY INTO MYSTERY, 126-502) #241 Fine
THOR (1962) (#83-125 JOURNEY INTO MYSTERY, 126-502) #242 Fine
THOR (1962) (#83-125 JOURNEY INTO MYSTERY, 126-502) #243 Fine

THOR ANNUAL (1965) #3 Very Good

THOR: GOD OF THUNDER (2012) #13 PHOTO Very Fine

TOWER OF SHADOWS ANNUAL (1971) #1 Fine

TWO-GUN KID (1948) #93 Fine
TWO-GUN KID (1948) #94 Fine
TWO-GUN KID (1948) #94 Very Good

UNCANNY TALES (UNCANNY TALES FROM THE GRAVE #3-12) (1973) #2 Fine
UNCANNY TALES (UNCANNY TALES FROM THE GRAVE #3-12) (1973) #3 Very Good

UNKNOWN WORLDS OF SCIENCE FICTION (1975) #3 Very Good
UNKNOWN WORLDS OF SCIENCE FICTION (1975) #4 Very Good

VAMPIRE TALES (1973) #1 Fine
VAMPIRE TALES (1973) #2 Fine
VAMPIRE TALES (1973) #2 Very Good

WAR IS HELL (1973) (#1-15) (MARVEL) #1 Fine
WAR IS HELL (1973) (#1-15) (MARVEL) #1 Very Good
WAR IS HELL (1973) (#1-15) (MARVEL) #2 Fine
WAR IS HELL (1973) (#1-15) (MARVEL) #4 Fine

WEB OF SPIDER-MAN (1985) (#1-129) (MARVEL) #101 Near Mint/Mint
WEB OF SPIDER-MAN (1985) (#1-129) (MARVEL) #101 Very Fine
WEB OF SPIDER-MAN (1985) (#1-129) (MARVEL) #102 Near Mint/Mint
WEB OF SPIDER-MAN (1985) (#1-129) (MARVEL) #102 Fine
WEB OF SPIDER-MAN (1985) (#1-129) (MARVEL) #102 SIGNED Very Fine
WEB OF SPIDER-MAN (1985) (#1-129) (MARVEL) #102 Very Fine

X-MEN (1963) (#1-113, UNCANNY X-MEN #114-544) (MARVEL) #70 Fine
X-MEN (1963) (#1-113, UNCANNY X-MEN #114-544) (MARVEL) #71 Very Good
X-MEN (1963) (#1-113, UNCANNY X-MEN #114-544) (MARVEL) #72 Near Mint/Mint
X-MEN (1963) (#1-113, UNCANNY X-MEN #114-544) (MARVEL) #72 Very Fine
X-MEN (1963) (#1-113, UNCANNY X-MEN #114-544) (MARVEL) #73 Very Fine
X-MEN (1963) (#1-113, UNCANNY X-MEN #114-544) (MARVEL) #74 Fine
X-MEN (1963) (#1-113, UNCANNY X-MEN #114-544) (MARVEL) #75 Very Fine
X-MEN (1963) (#1-113, UNCANNY X-MEN #114-544) (MARVEL) #76 Fine
X-MEN (1963) (#1-113, UNCANNY X-MEN #114-544) (MARVEL) #77 Fine
X-MEN (1963) (#1-113, UNCANNY X-MEN #114-544) (MARVEL) #78 Fine
X-MEN (1963) (#1-113, UNCANNY X-MEN #114-544) (MARVEL) #79 Fine
X-MEN (1963) (#1-113, UNCANNY X-MEN #114-544) (MARVEL) #80 Fine
X-MEN (1963) (#1-113, UNCANNY X-MEN #114-544) (MARVEL) #81 Fine


X-MEN (1963) (#1-113, UNCANNY X-MEN #114-544) (MARVEL) #82

X-MEN (1963) (#1-113, UNCANNY X-MEN #114-544) (MARVEL) #82 Very Fine
X-MEN (1963) (#1-113, UNCANNY X-MEN #114-544) (MARVEL) #83 Very Fine
X-MEN (1963) (#1-113, UNCANNY X-MEN #114-544) (MARVEL) #84 Good
X-MEN (1963) (#1-113, UNCANNY X-MEN #114-544) (MARVEL) #85 Fine
X-MEN (1963) (#1-113, UNCANNY X-MEN #114-544) (MARVEL) #87 Fine
X-MEN (1963) (#1-113, UNCANNY X-MEN #114-544) (MARVEL) #88 Fine
X-MEN (1963) (#1-113, UNCANNY X-MEN #114-544) (MARVEL) #89 Fine
X-MEN (1963) (#1-113, UNCANNY X-MEN #114-544) (MARVEL) #95 Fine

DC
ACTION COMICS (1938) (#0-600, 643-904) (DC) #359 Good
ACTION COMICS (1938) (#0-600, 643-904) (DC) #390 Very Good
ACTION COMICS (1938) (#0-600, 643-904) (DC) #396 Fine

ADVENTURE COMICS (1938) (#32-503) (DC) #426 Very Fine
ADVENTURE COMICS (1938) (#32-503) (DC) #427 Very Fine
ADVENTURE COMICS (1938) (#32-503) (DC) #429 Very Fine

ALL-STAR WESTERN (1970) (#1-11) (DC) #3 Fine

AQUAMAN (1962) (#1-63) (DC) #52 Fine

BATMAN (1940) (#0-713) (DC) #213 Fine
BATMAN (1940) (#0-713) (DC) #222 Very Good
BATMAN (1940) (#0-713) (DC) #223 Very Fine
BATMAN (1940) (#0-713) (DC) #251 Fine
BATMAN (1940) (#0-713) (DC) #252 Fine
BATMAN (1940) (#0-713) (DC) #253 Very Good
BATMAN (1940) (#0-713) (DC) #254 Very Good
BATMAN (1940) (#0-713) (DC) #255 Fine
BATMAN (1940) (#0-713) (DC) #256 Fine
BATMAN (1940) (#0-713) (DC) #257 Very Fine
BATMAN (1940) (#0-713) (DC) #258 Fine
BATMAN (1940) (#0-713) (DC) #259 Fine
BATMAN (1940) (#0-713) (DC) #260 Very Good
BATMAN (1940) (#0-713) (DC) #261 Very Good
BATMAN (1940) (#0-713) (DC) #262 Fine


BATMAN (1940) (#0-713) (DC) #269

BATMAN (1940) (#0-713) (DC) #269 Fine
BATMAN (1940) (#0-713) (DC) #272 Fine

BEWARE THE CREEPER (1968) #1 Good
BEWARE THE CREEPER (1968) #5 Fine

BLACK MAGIC (1973) #1 Fine
BLACK MAGIC (1973) #2 Fine
BLACK MAGIC (1973) #3 Very Fine

BLACKEST NIGHT (2009) #6 VARIANT Near Mint/Mint

BOMBSHELLS UNITED TPB (2018) #3 Near Mint/Mint

BRAVE AND THE BOLD (1955) #86 Fine
BRAVE AND THE BOLD (1955) #90 Fine
BRAVE AND THE BOLD (1955) #111 Fine
BRAVE AND THE BOLD (1955) #112 Fine

CHALLENGERS OF THE UNKNOWN (1958) (#1-87) (DC) #73 Fine
CHALLENGERS OF THE UNKNOWN (1958) (#1-87) (DC) #74 Very Good
CHALLENGERS OF THE UNKNOWN (1958) (#1-87) (DC) #75 Fine
CHALLENGERS OF THE UNKNOWN (1958) (#1-87) (DC) #78 Very Fine
CHALLENGERS OF THE UNKNOWN (1958) (#1-87) (DC) #79 Very Fine
CHALLENGERS OF THE UNKNOWN (1958) (#1-87) (DC) #80 Very Fine

DARK MANSION OF FORBIDDEN LOVE (1971) #1 Fine

DEMON (1972) (#1-16) (JACK KIRBY) (DC) #1 Fine
DEMON (1972) (#1-16) (JACK KIRBY) (DC) #2 Fine
DEMON (1972) (#1-16) (JACK KIRBY) (DC) #2 Very Fine
DEMON (1972) (#1-16) (JACK KIRBY) (DC) #3 Fine
DEMON (1972) (#1-16) (JACK KIRBY) (DC) #3 Very Good
DEMON (1972) (#1-16) (JACK KIRBY) (DC) #4 Fine
DEMON (1972) (#1-16) (JACK KIRBY) (DC) #4 Very Fine
DEMON (1972) (#1-16) (JACK KIRBY) (DC) #5 Fine
DEMON (1972) (#1-16) (JACK KIRBY) (DC) #6 Fine
DEMON (1972) (#1-16) (JACK KIRBY) (DC) #7 Fine
DEMON (1972) (#1-16) (JACK KIRBY) (DC) #7 Very Fine
DEMON (1972) (#1-16) (JACK KIRBY) (DC) #8 Fine


DEMON (1972) (#1-16) (JACK KIRBY) (DC) #8

DEMON (1972) (#1-16) (JACK KIRBY) (DC) #8 Near Mint/Mint
DEMON (1972) (#1-16) (JACK KIRBY) (DC) #8 Very Fine
DEMON (1972) (#1-16) (JACK KIRBY) (DC) #9 Fine
DEMON (1972) (#1-16) (JACK KIRBY) (DC) #9 Very Good
DEMON (1972) (#1-16) (JACK KIRBY) (DC) #10 Fine
DEMON (1972) (#1-16) (JACK KIRBY) (DC) #11 Very Fine
DEMON (1972) (#1-16) (JACK KIRBY) (DC) #12 Very Fine
DEMON (1972) (#1-16) (JACK KIRBY) (DC) #13 Very Fine
DEMON (1972) (#1-16) (JACK KIRBY) (DC) #14 Very Good
DEMON (1972) (#1-16) (JACK KIRBY) (DC) #16 Fine
DEMON (1972) (#1-16) (JACK KIRBY) (DC) #16 Very Fine

DETECTIVE COMICS (1937) (#0-881) (DC) #412 Very Good
DETECTIVE COMICS (1937) (#0-881) (DC) #413 Good
DETECTIVE COMICS (1937) (#0-881) (DC) #418 Very Good
DETECTIVE COMICS (1937) (#0-881) (DC) #436 Fine
DETECTIVE COMICS (1937) (#0-881) (DC) #437 Very Good
DETECTIVE COMICS (1937) (#0-881) (DC) #438 Fine
DETECTIVE COMICS (1937) (#0-881) (DC) #439 Fine
DETECTIVE COMICS (1937) (#0-881) (DC) #440 Fine
DETECTIVE COMICS (1937) (#0-881) (DC) #441 Fine
DETECTIVE COMICS (1937) (#0-881) (DC) #442 Very Fine
DETECTIVE COMICS (1937) (#0-881) (DC) #444 Fine
DETECTIVE COMICS (1937) (#0-881) (DC) #445 Fine
DETECTIVE COMICS (1937) (#0-881) (DC) #447 Fine

DOOM PATROL (1964) (#86-124) (DC) #86 Very Good
DOOM PATROL (1964) (#86-124) (DC) #87 Very Good
DOOM PATROL (1964) (#86-124) (DC) #88 Very Good
DOOM PATROL (1964) (#86-124) (DC) #89 Good
DOOM PATROL (1964) (#86-124) (DC) #90 Very Good
DOOM PATROL (1964) (#86-124) (DC) #91 Very Good
DOOM PATROL (1964) (#86-124) (DC) #92 Very Good
DOOM PATROL (1964) (#86-124) (DC) #93 Fine
DOOM PATROL (1964) (#86-124) (DC) #94 Good
DOOM PATROL (1964) (#86-124) (DC) #94 Very Good
DOOM PATROL (1964) (#86-124) (DC) #95 Very Good
DOOM PATROL (1964) (#86-124) (DC) #96 Very Good
DOOM PATROL (1964) (#86-124) (DC) #97 Good
DOOM PATROL (1964) (#86-124) (DC) #99 Very Good


DOOM PATROL (1964) (#86-124) (DC) #101

DOOM PATROL (1964) (#86-124) (DC) #101 Very Good
DOOM PATROL (1964) (#86-124) (DC) #102 Good
DOOM PATROL (1964) (#86-124) (DC) #102 Very Good
DOOM PATROL (1964) (#86-124) (DC) #103 Very Good
DOOM PATROL (1964) (#86-124) (DC) #104 Good
DOOM PATROL (1964) (#86-124) (DC) #105 Fine
DOOM PATROL (1964) (#86-124) (DC) #106 Very Good
DOOM PATROL (1964) (#86-124) (DC) #107 Good
DOOM PATROL (1964) (#86-124) (DC) #108 Good
DOOM PATROL (1964) (#86-124) (DC) #109 Good
DOOM PATROL (1964) (#86-124) (DC) #110 Good
DOOM PATROL (1964) (#86-124) (DC) #110 Very Good
DOOM PATROL (1964) (#86-124) (DC) #111 Very Good
DOOM PATROL (1964) (#86-124) (DC) #112 Very Good
DOOM PATROL (1964) (#86-124) (DC) #113 Very Good
DOOM PATROL (1964) (#86-124) (DC) #114 Very Good
DOOM PATROL (1964) (#86-124) (DC) #115 Very Good
DOOM PATROL (1964) (#86-124) (DC) #116 Fine
DOOM PATROL (1964) (#86-124) (DC) #117 Very Good
DOOM PATROL (1964) (#86-124) (DC) #118 Very Good
DOOM PATROL (1964) (#86-124) (DC) #119 Very Good
DOOM PATROL (1964) (#86-124) (DC) #120 Good
DOOM PATROL (1964) (#86-124) (DC) #121 Very Good
DOOM PATROL (1964) (#86-124) (DC) #124 Fine

FLASH (1959) (#105-350) (DC) #199 Fine
FLASH (1959) (#105-350) (DC) #206 Fine
FLASH (1959) (#105-350) (DC) #209 Very Good
FLASH (1959) (#105-350) (DC) #216 Very Fine
FLASH (1959) (#105-350) (DC) #220 Fine
FLASH (1959) (#105-350) (DC) #222 Fine
FLASH (1959) (#105-350) (DC) #224 Fine
FLASH (1959) (#105-350) (DC) #225 Very Good
FLASH (1959) (#105-350) (DC) #226 Fine

FOREVER PEOPLE (1971) #1 Fine
FOREVER PEOPLE (1971) #1 Very Fine
FOREVER PEOPLE (1971) #1 Very Good

FOREVER PEOPLE (1971) #2 Very Fine
FOREVER PEOPLE (1971) #5 Fine
FOREVER PEOPLE (1971) #8 Fine
FOREVER PEOPLE (1971) #8 Very Good
FOREVER PEOPLE (1971) #9 Fine
FOREVER PEOPLE (1971) #10 Fine
FOREVER PEOPLE (1971) #11 Fine

FROM BEYOND THE UNKNOWN (1969) #2 Very Fine
FROM BEYOND THE UNKNOWN (1969) #2 Very Good
FROM BEYOND THE UNKNOWN (1969) #5 Fine
FROM BEYOND THE UNKNOWN (1969) #11 Very Good
FROM BEYOND THE UNKNOWN (1969) #24 Very Fine

GHOSTS (1971) #7 Very Fine
GHOSTS (1971) #13 Fine

GI COMBAT (1957) (#44-288) (DC) #117 Fair
GI COMBAT (1957) (#44-288) (DC) #119 Good
GI COMBAT (1957) (#44-288) (DC) #141 Very Good

GREEN LANTERN (1960) (#1-224) (DC) #71 Very Good
GREEN LANTERN (1960) (#1-224) (DC) #72 Fine
GREEN LANTERN (1960) (#1-224) (DC) #77 Fine
GREEN LANTERN (1960) (#1-224) (DC) #78 Fine
GREEN LANTERN (1960) (#1-224) (DC) #79 Fine
GREEN LANTERN (1960) (#1-224) (DC) #80 Fine
GREEN LANTERN (1960) (#1-224) (DC) #82 Fine
GREEN LANTERN (1960) (#1-224) (DC) #83 Very Good
GREEN LANTERN (1960) (#1-224) (DC) #84 Fine
GREEN LANTERN (1960) (#1-224) (DC) #87 Fine
GREEN LANTERN (1960) (#1-224) (DC) #88 Fine
GREEN LANTERN (1960) (#1-224) (DC) #88 Very Good
GREEN LANTERN (1960) (#1-224) (DC) #89 Very Good

HAWK AND DOVE (1968) #2 Good
HAWK AND DOVE (1968) #6 Good

HOUSE OF MYSTERY (1951) #183 Very Good
HOUSE OF MYSTERY (1951) #185 Good
HOUSE OF MYSTERY (1951) #194 Good
HOUSE OF MYSTERY (1951) #195 Good
HOUSE OF MYSTERY (1951) #222 Fine

HOUSE OF SECRETS (1956) #81 Very Good

JIMMY OLSEN (1954) #131 Fine
JIMMY OLSEN (1954) #133 Very Good
JIMMY OLSEN (1954) #134 Fair
JIMMY OLSEN (1954) #135 Fine
JIMMY OLSEN (1954) #135 Very Fine
JIMMY OLSEN (1954) #136 Fine
JIMMY OLSEN (1954) #137 Fine
JIMMY OLSEN (1954) #138 Very Good
JIMMY OLSEN (1954) #140 Good
JIMMY OLSEN (1954) #144 Very Good
JIMMY OLSEN (1954) #145 Very Fine
JIMMY OLSEN (1954) #146 Very Good
JIMMY OLSEN (1954) #147 Very Good
JIMMY OLSEN (1954) #148 Fine
JIMMY OLSEN (1954) #150 Very Fine
JIMMY OLSEN (1954) #158 Very Fine

JUSTICE LEAGUE OF AMERICA (1960) (#1-261) (DC) #74 Fine
JUSTICE LEAGUE OF AMERICA (1960) (#1-261) (DC) #75 Fine
JUSTICE LEAGUE OF AMERICA (1960) (#1-261) (DC) #82 Fine
JUSTICE LEAGUE OF AMERICA (1960) (#1-261) (DC) #85 Good
JUSTICE LEAGUE OF AMERICA (1960) (#1-261) (DC) #99 Fine
JUSTICE LEAGUE OF AMERICA (1960) (#1-261) (DC) #101 Fine
JUSTICE LEAGUE OF AMERICA (1960) (#1-261) (DC) #104 Fine
JUSTICE LEAGUE OF AMERICA (1960) (#1-261) (DC) #107 Fine
JUSTICE LEAGUE OF AMERICA (1960) (#1-261) (DC) #110 Fine

KAMANDI (1972) #1 Fine
KAMANDI (1972) #1 Very Good
KAMANDI (1972) #2 Fine

KAMANDI (1972) #3 Fine
KAMANDI (1972) #3 Near Mint/Mint
KAMANDI (1972) #4 Fine
KAMANDI (1972) #4 Very Fine
KAMANDI (1972) #5 Near Mint/Mint
KAMANDI (1972) #5 Very Fine
KAMANDI (1972) #6 Very Fine
KAMANDI (1972) #7 Fine
KAMANDI (1972) #7 Very Fine
KAMANDI (1972) #8 Fine
KAMANDI (1972) #8 Very Fine
KAMANDI (1972) #9 Fine
KAMANDI (1972) #9 Near Mint/Mint
KAMANDI (1972) #10 Fine
KAMANDI (1972) #10 Very Fine
KAMANDI (1972) #13 Very Fine
KAMANDI (1972) #14 Very Fine
KAMANDI (1972) #15 Very Fine
KAMANDI (1972) #18 Near Mint/Mint
KAMANDI (1972) #18 Very Fine
KAMANDI (1972) #20 Near Mint/Mint
KAMANDI (1972) #23 Very Fine
KAMANDI (1972) #29 Near Mint/Mint

KORAK, SON OF TARZAN (1972) (#46-59) (DC) #46 Very Fine

LEGION OF SUPER-HEROES (1974) (#1-4) (DC) #1 Very Fine
LEGION OF SUPER-HEROES (1974) (#1-4) (DC) #2 Fine
LEGION OF SUPER-HEROES (1974) (#1-4) (DC) #2 Very Fine
LEGION OF SUPER-HEROES (1974) (#1-4) (DC) #3 Very Fine
LEGION OF SUPER-HEROES (1974) (#1-4) (DC) #4 Fine

METAL MEN (1963) #3 Good
METAL MEN (1963) #4 Very Good
METAL MEN (1963) #7 Very Good
METAL MEN (1963) #42 Near Mint/Mint
METAL MEN (1963) #43 Fine
METAL MEN (1963) #44 Fine

MISTER MIRACLE (1971) (#1-25) (DC) #2 Fine


MISTER MIRACLE (1971) (#1-25) (DC) #2

MISTER MIRACLE (1971) (#1-25) (DC) #2 Very Good
MISTER MIRACLE (1971) (#1-25) (DC) #3 Fine
MISTER MIRACLE (1971) (#1-25) (DC) #3 Very Good
MISTER MIRACLE (1971) (#1-25) (DC) #5 Very Good
MISTER MIRACLE (1971) (#1-25) (DC) #6 Very Good
MISTER MIRACLE (1971) (#1-25) (DC) #7 Fine
MISTER MIRACLE (1971) (#1-25) (DC) #8 Fine
MISTER MIRACLE (1971) (#1-25) (DC) #9 Fine
MISTER MIRACLE (1971) (#1-25) (DC) #10 Fine
MISTER MIRACLE (1971) (#1-25) (DC) #11 Very Good
MISTER MIRACLE (1971) (#1-25) (DC) #12 Fine
MISTER MIRACLE (1971) (#1-25) (DC) #13 Fine
MISTER MIRACLE (1971) (#1-25) (DC) #13 Very Fine
MISTER MIRACLE (1971) (#1-25) (DC) #14 Fine
MISTER MIRACLE (1971) (#1-25) (DC) #14 Very Fine
MISTER MIRACLE (1971) (#1-25) (DC) #15 Fine
MISTER MIRACLE (1971) (#1-25) (DC) #15 Very Fine
MISTER MIRACLE (1971) (#1-25) (DC) #16 Fine
MISTER MIRACLE (1971) (#1-25) (DC) #16 Very Good
MISTER MIRACLE (1971) (#1-25) (DC) #17 Fine
MISTER MIRACLE (1971) (#1-25) (DC) #17 Very Fine
MISTER MIRACLE (1971) (#1-25) (DC) #18 Very Good

MY GREATEST ADVENTURE (1955) #80 Very Good
MY GREATEST ADVENTURE (1955) #81 Good
MY GREATEST ADVENTURE (1955) #83 Fair
MY GREATEST ADVENTURE (1955) #84 Fair
MY GREATEST ADVENTURE (1955) #85 Very Good

SANDMAN VOL. 5: A GAME OF YOU TPB (30TH ANNIVERSARY) (2019) #1 Near Mint/Mint

SHAZAM: ORIGINS TPB (2019) #1 Near Mint/Mint

STRANGE ADVENTURES (1950) (#1-244) (DC) #215 Fair
STRANGE ADVENTURES (1950) (#1-244) (DC) #241 Fine
STRANGE ADVENTURES (1950) (#1-244) (DC) #242 Fine
STRANGE ADVENTURES (1950) (#1-244) (DC) #243 Fine
STRANGE ADVENTURES (1950) (#1-244) (DC) #243 Very Fine
STRANGE ADVENTURES (1950) (#1-244) (DC) #244 Fine


STRANGE SPORTS STORIES (1973) #1

STRANGE SPORTS STORIES (1973) #1 Fine

SUPER DC GIANT (1970) #14 Very Good

SUPERBOY (1949) (#1-258) (DC) #181 Very Good
SUPERBOY (1949) (#1-258) (DC) #185 Very Good
SUPERBOY (1949) (#1-258) (DC) #188 Fine
SUPERBOY (1949) (#1-258) (DC) #197 Fine
SUPERBOY (1949) (#1-258) (DC) #198 Fine
SUPERBOY (1949) (#1-258) (DC) #199 Fine
SUPERBOY (1949) (#1-258) (DC) #200 Fine
SUPERBOY (1949) (#1-258) (DC) #202 Very Fine

SUPERMAN (1939) (#1-423) (DC) #176 Very Good
SUPERMAN (1939) (#1-423) (DC) #220 Very Good
SUPERMAN (1939) (#1-423) (DC) #227 Fine
SUPERMAN (1939) (#1-423) (DC) #229 Fine
SUPERMAN (1939) (#1-423) (DC) #233 Fine
SUPERMAN (1939) (#1-423) (DC) #233 Very Good
SUPERMAN (1939) (#1-423) (DC) #234 Fine
SUPERMAN (1939) (#1-423) (DC) #235 Fine
SUPERMAN (1939) (#1-423) (DC) #237 Fine
SUPERMAN (1939) (#1-423) (DC) #238 Fine
SUPERMAN (1939) (#1-423) (DC) #240 Fine
SUPERMAN (1939) (#1-423) (DC) #241 Fine
SUPERMAN (1939) (#1-423) (DC) #243 Fine
SUPERMAN (1939) (#1-423) (DC) #247 Very Fine
SUPERMAN (1939) (#1-423) (DC) #250 Very Good
SUPERMAN (1939) (#1-423) (DC) #251 Fine
SUPERMAN (1939) (#1-423) (DC) #252 Very Fine
SUPERMAN (1939) (#1-423) (DC) #257 Fine
SUPERMAN (1939) (#1-423) (DC) #266 Fine
SUPERMAN (1939) (#1-423) (DC) #270 Fine
SUPERMAN (1939) (#1-423) (DC) #278 Fine

SWAMP THING (1972) (#1-24) #1 Fine
SWAMP THING (1972) (#1-24) #1 Very Good

SWAMP THING (1972) (#1-24) #2 Fine
SWAMP THING (1972) (#1-24) #3 Fine
SWAMP THING (1972) (#1-24) #3 Very Fine
SWAMP THING (1972) (#1-24) #4 Fine
SWAMP THING (1972) (#1-24) #4 Very Fine
SWAMP THING (1972) (#1-24) #4 Very Good
SWAMP THING (1972) (#1-24) #5 Fine
SWAMP THING (1972) (#1-24) #5 Good
SWAMP THING (1972) (#1-24) #7 Fine
SWAMP THING (1972) (#1-24) #8 Very Good
SWAMP THING (1972) (#1-24) #8 Very Fine
SWAMP THING (1972) (#1-24) #9 Near Mint/Mint
SWAMP THING (1972) (#1-24) #9 Very Fine
SWAMP THING (1972) (#1-24) #11 Fine
SWAMP THING (1972) (#1-24) #12 Fine
SWAMP THING (1972) (#1-24) #15 Very Good
SWAMP THING (1972) (#1-24) #16 Very Good
SWAMP THING (1972) (#1-24) #21 Very Good
SWAMP THING (1972) (#1-24) #23 Fine
SWAMP THING (1972) (#1-24) #24 Fine

IMAGE COMICS
COYOTES (2017) #1 Near Mint/Mint

TEENAGE MUTANT NINJA TURTLES (1996) (#1-23) (IMAGE) #1 Fine
TEENAGE MUTANT NINJA TURTLES (1996) (#1-23) (IMAGE) #2 Very Fine
TEENAGE MUTANT NINJA TURTLES (1996) (#1-23) (IMAGE) #3 Fine
TEENAGE MUTANT NINJA TURTLES (1996) (#1-23) (IMAGE) #4 Very Fine
TEENAGE MUTANT NINJA TURTLES (1996) (#1-23) (IMAGE) #5 Near Mint/Mint
TEENAGE MUTANT NINJA TURTLES (1996) (#1-23) (IMAGE) #6 Very Fine
TEENAGE MUTANT NINJA TURTLES (1996) (#1-23) (IMAGE) #7 Very Fine
TEENAGE MUTANT NINJA TURTLES (1996) (#1-23) (IMAGE) #8 Very Fine
TEENAGE MUTANT NINJA TURTLES (1996) (#1-23) (IMAGE) #9 Fine
TEENAGE MUTANT NINJA TURTLES (1996) (#1-23) (IMAGE) #10 Fine
TEENAGE MUTANT NINJA TURTLES (1996) (#1-23) (IMAGE) #11 Very Fine
TEENAGE MUTANT NINJA TURTLES (1996) (#1-23) (IMAGE) #12 Very Fine


TEENAGE MUTANT NINJA TURTLES (1996) (#1-23) (IMAGE) #13

TEENAGE MUTANT NINJA TURTLES (1996) (#1-23) (IMAGE) #13 Very Fine
TEENAGE MUTANT NINJA TURTLES (1996) (#1-23) (IMAGE) #14 Very Fine
TEENAGE MUTANT NINJA TURTLES (1996) (#1-23) (IMAGE) #15 Very Fine
TEENAGE MUTANT NINJA TURTLES (1996) (#1-23) (IMAGE) #16 Very Fine
TEENAGE MUTANT NINJA TURTLES (1996) (#1-23) (IMAGE) #17 Near Mint/Mint
TEENAGE MUTANT NINJA TURTLES (1996) (#1-23) (IMAGE) #18 Near Mint/Mint
TEENAGE MUTANT NINJA TURTLES (1996) (#1-23) (IMAGE) #19 Fine
TEENAGE MUTANT NINJA TURTLES (1996) (#1-23) (IMAGE) #20 Very Good
TEENAGE MUTANT NINJA TURTLES (1996) (#1-23) (IMAGE) #21 Very Good
TEENAGE MUTANT NINJA TURTLES (1996) (#1-23) (IMAGE) #22 Fine
TEENAGE MUTANT NINJA TURTLES (1996) (#1-23) (IMAGE) #23 Fine

UNNATURAL (2018) #1 A ANDOLFO Near Mint/Mint

INDEPENDENTS
ARAKNIS (1995) (#1-4) (MUSHROOM COMICS) #4 (Mushroom Comics) Near Mint/Mint

BRUCE GENTRY (1948) #3 (Superior Publications) Fine

BUFFY THE VAMPIRE SLAYER (2019) (#1-UP) (BOOM STUDIOS) #2 E MOK (Boom Studios Publishing) Fine

CAPTAIN MARVEL: LIBERATION RUN NOVEL HC (2019) #1 (Titan Distributing) Near Mint/Mint

CAVEWOMAN: MARSHVILLE'S BEAUTIES (2018) #1 D ROOTNUDE (Amryl Entertainment) Near Mint/Mint

DANGER DOLL SQUAD: GALACTIC GLADIATORS (2018) #3 F MENDORIS (Action Lab Entertainment) Near Mint/Mint

EERIE MAGAZINE (1965) #66 (Warren Publishing Company) Very Good

FIREFLY (2018) #4 C SAUVAGE (Boom Studios Publishing) Near Mint/Mint

GLINT TPB (2019) #1 (Lion Forge) Near Mint/Mint

HEAVY METAL (MAG) #7710 (Heavy Metal) Very Good
HEAVY METAL (MAG) #7908 (Heavy Metal) Very Good
HEAVY METAL (MAG) #7909 (Heavy Metal) Very Good
HEAVY METAL (MAG) #7911 (Heavy Metal) Very Good
HEAVY METAL (MAG) #8004 (Heavy Metal) Very Good

HEAVY METAL (MAG) #8005 (Heavy Metal) Very Good
HEAVY METAL (MAG) #8102 (Heavy Metal) Very Good
HEAVY METAL (MAG) #8104 (Heavy Metal) Fine
HEAVY METAL (MAG) #8106 (Heavy Metal) Very Good
HEAVY METAL (MAG) #8110 (Heavy Metal) Fine
HEAVY METAL (MAG) #8204 (Heavy Metal) Very Good
HEAVY METAL (MAG) #8205 (Heavy Metal) Very Good

HOT ROD CARTOONS (MAG) #7207 (Petersen Publishing Company) Very Good

KNIGHTS OF THE DINNER TABLE #70 (Kenzer & Company) Near Mint/Mint
KNIGHTS OF THE DINNER TABLE #95 (Kenzer & Company) Near Mint/Mint
KNIGHTS OF THE DINNER TABLE #100 (Kenzer & Company) Near Mint/Mint
KNIGHTS OF THE DINNER TABLE #100 (Kenzer & Company) Very Fine

KNIGHTS OF THE DINNER TABLE ORIGINS 2004 (2004) #1 (Kenzer & Company) Very Fine

MR. WOLF'S CLASS VOL. 2: MYSTERY CLUB HC (2019) #1 (Graphix) Very Fine

NIGHT MARY (2005) #1 (IDW Publishing) Near Mint/Mint
NIGHT MARY (2005) #1 (IDW Publishing) Very Fine
NIGHT MARY (2005) #4 (IDW Publishing) Near Mint/Mint

NIMROD (1998) #7 (Fantagraphics) Near Mint/Mint

NINJA HIGH SCHOOL (1986) (#0-4) (ANTARCTIC) #0 (Antarctic Press) Near Mint/Mint

NINJA HIGH SCHOOL SWIMSUIT SPECIAL (1992) #3 (Antarctic Press) Near Mint/Mint
NINJA HIGH SCHOOL SWIMSUIT SPECIAL (1992) #3 (Antarctic Press) Very Fine
NINJA HIGH SCHOOL SWIMSUIT SPECIAL (1992) #4 (Antarctic Press) Very Fine
NINJA HIGH SCHOOL SWIMSUIT SPECIAL (1992) #2000 (Antarctic Press) Very Fine

NINJA-K VOL. 3: FALLOUT TPB (2019) #1 (Valiant Comics) Near Mint/Mint

NOCTURNALS: DARK FOREVER (2001) #3 (Oni Press Inc.) Near Mint/Mint


POISON ELVES (1995) (1-80) (SIRIUS) #54

POISON ELVES (1995) (1-80) (SIRIUS) #54 (Sirius) Near Mint/Mint
POISON ELVES (1995) (1-80) (SIRIUS) #56 (Sirius) Near Mint/Mint

PSYCHO (MAGAZINE) (1971) #6 (Skywald Publications) Good

RADICAL: WELCOME TO R UNIVERSE FCBD (2010) #1 (Radical Comix) Near Mint/Mint

RAZOR: BURN (1995) #3 (London Night Studios) Near Mint/Mint

RIFLEMAN (1959) #14 (Dell Publishing) Good

SHMOG #1 (Itchy Eyeball Comix) Fine
SHMOG #1 (Itchy Eyeball Comix) Near Mint/Mint
SHMOG #1 (Itchy Eyeball Comix) Very Fine

SHOTGUN MARY (1995) (#1-3) (ANTARCTIC) (MINI-SERIES) #1 CD EDITION (Antarctic Press) Very Fine
SHOTGUN MARY (1995) (#1-3) (ANTARCTIC) (MINI-SERIES) #1 WHITE (Antarctic Press) Very Fine

SMALL BODIED NINJA HIGH SCHOOL COLLECTION #3 (Antarctic Press) Near Mint/Mint
SMALL BODIED NINJA HIGH SCHOOL COLLECTION #5 (Antarctic Press) Near Mint/Mint

TALES OF TEENAGE MUTANT NINJA TURTLES (#1-70) (MIRAGE) (2004) #1 (Mirage Studios) Fine
TALES OF TEENAGE MUTANT NINJA TURTLES (#1-70) (MIRAGE) (2004) #2 (Mirage Studios) Fine
TALES OF TEENAGE MUTANT NINJA TURTLES (#1-70) (MIRAGE) (2004) #3 (Mirage Studios) Very Fine
TALES OF TEENAGE MUTANT NINJA TURTLES (#1-70) (MIRAGE) (2004) #4 (Mirage Studios) Very Fine
TALES OF TEENAGE MUTANT NINJA TURTLES (#1-70) (MIRAGE) (2004) #5 (Mirage Studios) Very Fine
TALES OF TEENAGE MUTANT NINJA TURTLES (#1-70) (MIRAGE) (2004) #7 (Mirage Studios) Very Fine
TALES OF TEENAGE MUTANT NINJA TURTLES (#1-70) (MIRAGE) (2004) #8 (Mirage Studios) Near Mint/Mint
TALES OF TEENAGE MUTANT NINJA TURTLES (#1-70) (MIRAGE) (2004) #9 (Mirage Studios) Fine
TALES OF TEENAGE MUTANT NINJA TURTLES (#1-70) (MIRAGE) (2004) #10 (Mirage Studios) Very Fine
TALES OF TEENAGE MUTANT NINJA TURTLES (#1-70) (MIRAGE) (2004) #11 (Mirage Studios) Very Fine
TALES OF TEENAGE MUTANT NINJA TURTLES (#1-70) (MIRAGE) (2004) #13 (Mirage Studios) Very Fine
TALES OF TEENAGE MUTANT NINJA TURTLES (#1-70) (MIRAGE) (2004) #14 (Mirage Studios) Very Fine
TALES OF TEENAGE MUTANT NINJA TURTLES (#1-70) (MIRAGE) (2004) #15 (Mirage Studios) Near Mint/Mint
TALES OF TEENAGE MUTANT NINJA TURTLES (#1-70) (MIRAGE) (2004) #17 (Mirage Studios) Very Fine
TALES OF TEENAGE MUTANT NINJA TURTLES (#1-70) (MIRAGE) (2004) #18 (Mirage Studios) Very Fine
TALES OF TEENAGE MUTANT NINJA TURTLES (#1-70) (MIRAGE) (2004) #20 (Mirage Studios) Near Mint/Mint
TALES OF TEENAGE MUTANT NINJA TURTLES (#1-70) (MIRAGE) (2004) #21 (Mirage Studios) Very Fine
TALES OF TEENAGE MUTANT NINJA TURTLES (#1-70) (MIRAGE) (2004) #22 (Mirage Studios) Near Mint/Mint


TALES OF TEENAGE MUTANT NINJA TURTLES (#1-70) (MIRAGE) (2004) #24

TALES OF TEENAGE MUTANT NINJA TURTLES (#1-70) (MIRAGE) (2004) #24 (Mirage Studios) Very Fine
TALES OF TEENAGE MUTANT NINJA TURTLES (#1-70) (MIRAGE) (2004) #26 (Mirage Studios) Very Fine
TALES OF TEENAGE MUTANT NINJA TURTLES (#1-70) (MIRAGE) (2004) #28 (Mirage Studios) Very Fine
TALES OF TEENAGE MUTANT NINJA TURTLES (#1-70) (MIRAGE) (2004) #29 (Mirage Studios) Near Mint/Mint
TALES OF TEENAGE MUTANT NINJA TURTLES (#1-70) (MIRAGE) (2004) #30 (Mirage Studios) Very Fine
TALES OF TEENAGE MUTANT NINJA TURTLES (#1-70) (MIRAGE) (2004) #31 (Mirage Studios) Very Fine
TALES OF TEENAGE MUTANT NINJA TURTLES (#1-70) (MIRAGE) (2004) #32 (Mirage Studios) Very Fine
TALES OF TEENAGE MUTANT NINJA TURTLES (#1-70) (MIRAGE) (2004) #33 (Mirage Studios) Very Fine
TALES OF TEENAGE MUTANT NINJA TURTLES (#1-70) (MIRAGE) (2004) #34 (Mirage Studios) Very Fine
TALES OF TEENAGE MUTANT NINJA TURTLES (#1-70) (MIRAGE) (2004) #35 (Mirage Studios) Very Fine
TALES OF TEENAGE MUTANT NINJA TURTLES (#1-70) (MIRAGE) (2004) #36 (Mirage Studios) Near Mint/Mint
TALES OF TEENAGE MUTANT NINJA TURTLES (#1-70) (MIRAGE) (2004) #37 (Mirage Studios) Near Mint/Mint
TALES OF TEENAGE MUTANT NINJA TURTLES (#1-70) (MIRAGE) (2004) #38 (Mirage Studios) Near Mint/Mint
TALES OF TEENAGE MUTANT NINJA TURTLES (#1-70) (MIRAGE) (2004) #39 (Mirage Studios) Near Mint/Mint
TALES OF TEENAGE MUTANT NINJA TURTLES (#1-70) (MIRAGE) (2004) #40 (Mirage Studios) Near Mint/Mint
TALES OF TEENAGE MUTANT NINJA TURTLES (#1-70) (MIRAGE) (2004) #41 (Mirage Studios) Very Fine
TALES OF TEENAGE MUTANT NINJA TURTLES (#1-70) (MIRAGE) (2004) #42 (Mirage Studios) Very Fine
TALES OF TEENAGE MUTANT NINJA TURTLES (#1-70) (MIRAGE) (2004) #43 (Mirage Studios) Near Mint/Mint
TALES OF TEENAGE MUTANT NINJA TURTLES (#1-70) (MIRAGE) (2004) #44 (Mirage Studios) Near Mint/Mint
TALES OF TEENAGE MUTANT NINJA TURTLES (#1-70) (MIRAGE) (2004) #45 (Mirage Studios) Very Fine
TALES OF TEENAGE MUTANT NINJA TURTLES (#1-70) (MIRAGE) (2004) #46 (Mirage Studios) Near Mint/Mint
TALES OF TEENAGE MUTANT NINJA TURTLES (#1-70) (MIRAGE) (2004) #47 (Mirage Studios) Near Mint/Mint
TALES OF TEENAGE MUTANT NINJA TURTLES (#1-70) (MIRAGE) (2004) #48 (Mirage Studios) Near Mint/Mint
TALES OF TEENAGE MUTANT NINJA TURTLES (#1-70) (MIRAGE) (2004) #49 (Mirage Studios) Very Fine
TALES OF TEENAGE MUTANT NINJA TURTLES (#1-70) (MIRAGE) (2004) #50 (Mirage Studios) Near Mint/Mint
TALES OF TEENAGE MUTANT NINJA TURTLES (#1-70) (MIRAGE) (2004) #51 (Mirage Studios) Near Mint/Mint
TALES OF TEENAGE MUTANT NINJA TURTLES (#1-70) (MIRAGE) (2004) #52 (Mirage Studios) Very Fine
TALES OF TEENAGE MUTANT NINJA TURTLES (#1-70) (MIRAGE) (2004) #53 (Mirage Studios) Near Mint/Mint
TALES OF TEENAGE MUTANT NINJA TURTLES (#1-70) (MIRAGE) (2004) #54 (Mirage Studios) Very Fine
TALES OF TEENAGE MUTANT NINJA TURTLES (#1-70) (MIRAGE) (2004) #55 (Mirage Studios) Near Mint/Mint
TALES OF TEENAGE MUTANT NINJA TURTLES (#1-70) (MIRAGE) (2004) #56 (Mirage Studios) Near Mint/Mint
TALES OF TEENAGE MUTANT NINJA TURTLES (#1-70) (MIRAGE) (2004) #57 (Mirage Studios) Near Mint/Mint
TALES OF TEENAGE MUTANT NINJA TURTLES (#1-70) (MIRAGE) (2004) #58 (Mirage Studios) Very Fine
TALES OF TEENAGE MUTANT NINJA TURTLES (#1-70) (MIRAGE) (2004) #59 (Mirage Studios) Very Fine
TALES OF TEENAGE MUTANT NINJA TURTLES (#1-70) (MIRAGE) (2004) #60 (Mirage Studios) Very Fine
TALES OF TEENAGE MUTANT NINJA TURTLES (#1-70) (MIRAGE) (2004) #61 (Mirage Studios) Very Fine
TALES OF TEENAGE MUTANT NINJA TURTLES (#1-70) (MIRAGE) (2004) #62 (Mirage Studios) Very Fine


TALES OF TEENAGE MUTANT NINJA TURTLES (#1-70) (MIRAGE) (2004) #63

TALES OF TEENAGE MUTANT NINJA TURTLES (#1-70) (MIRAGE) (2004) #63 (Mirage Studios) Near Mint/Mint
TALES OF TEENAGE MUTANT NINJA TURTLES (#1-70) (MIRAGE) (2004) #64 (Mirage Studios) Near Mint/Mint
TALES OF TEENAGE MUTANT NINJA TURTLES (#1-70) (MIRAGE) (2004) #65 (Mirage Studios) Very Fine
TALES OF TEENAGE MUTANT NINJA TURTLES (#1-70) (MIRAGE) (2004) #66 (Mirage Studios) Very Fine
TALES OF TEENAGE MUTANT NINJA TURTLES (#1-70) (MIRAGE) (2004) #67 (Mirage Studios) Near Mint/Mint
TALES OF TEENAGE MUTANT NINJA TURTLES (#1-70) (MIRAGE) (2004) #68 (Mirage Studios) Very Fine
TALES OF TEENAGE MUTANT NINJA TURTLES (#1-70) (MIRAGE) (2004) #69 (Mirage Studios) Near Mint/Mint
TALES OF TEENAGE MUTANT NINJA TURTLES (#1-70) (MIRAGE) (2004) #70 (Mirage Studios) Very Fine

TALES OF TEENAGE MUTANT NINJA TURTLES (#71) (ILLUSION) (2011) #71 (Illusion Studios) Very Fine