Ten Million Comics 30% Off - New GREATDEAL! Codeword
Howdy!
I want to begin today by thanking everyone who sent me kind letters of support about the personal nature of my newsletters. After Monday's criticism of my writing about my efforts to help the homeless, and our GLBTQ communities, it was heartening to read so many supporting letters. Thank you.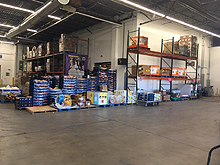 Food Bank was a little light today.

On a closely related topic, as I do each Wednesday, I am heading out to the Food Bank of the Rockies today, at noon. My task at the Food Bank is to search out whatever fresh foods may have been donated, in a frantic twenty-minute scramble. This may seem an odd methodology, but "Feeding Denver's Hungry" is but one of dozens of nonprofits who are blessed to be able to utilize the resources of our Food Bank. As a direct result, they ask us to submit all of our orders for dry goods (granola bars, candy, cookies, crackers, etc.) three days in advance. Those pre-packed pallets are then waiting for us when we arrive.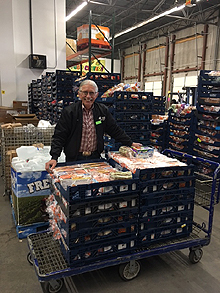 Did pick up some English Muffins

As regards donated fresh foods (bread, milk, juice, yogurt, fruit, etc.), they are available to us only on a first-come basis. New deliveries arrive from grocery stores, restaurants, and local food manufacturers about every five minutes, so there is truly never any way to know what might be available during those precious twenty minutes that we are allotted to select items. With upwards of 600 disabled, elderly, and homeless clients depending upon us to find them something good to eat, however, it is critical that I select as much food as I possibly can in our allotted twenty minutes while also taking great care that I only take what we really need.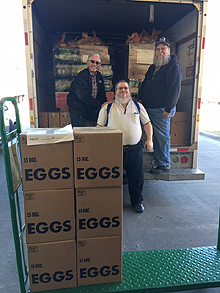 We did pack out our 20 foot truck!

Where this all makes my life particularly stressful is that the management at the Food Bank has told us that an over abundance of foot traffic in the warehouse is hazardous, so I am (literally) the only one from our organization allowed to fill carts with fresh food. Imagine the responsibility of having 600 people depending upon your efforts, and then finding the shelves momentarily bare of fresh food during the only twenty minutes we are allowed. Those instances always bring me to tears. On the good days, however, I am able to bring back to Jason St. 2,000-3,000 lbs of fresh foods. Wish me luck today...
For those of you who would like to help me in my efforts with "Feeding Denver's Hungry," Lynne came up with the idea of immediately adding a line item into our comics database that you can order for $40 that is called: DONATION: FEEDING DENVER'S HUNGRY On May 8th we will ship you a complete set of this year's Free Comic Book Day variant editions in exchange for a $40 donation to "Feeding Denver's Hungry." We will also include with your FCBD set one of our extremely limited edition Mile High Comics STAR WARS (2015) variant editions, all of which retail for a minimum of $24.95 each. We will have only 150 sets available, so please reserve your set today.
I will now close today's newsletter by asking Will to post some fun arrays of the thousands of wonderful comics that we have been adding into our New-In-Stock and Premium New-In-Stock links over the past 48 hours. Even a short glance should reveal that, while we do spend some time on helping the poor, we are also still working very hard to help you. Almost all of these nice comics are available to you at 30% off via our new GREATDEAL! codeword sale. Only new issues, a few variants, and our CGC-graded issues are excluded.
Happy collecting!
Chuck Rozanski,
President - Mile High Comics, Inc.
February 22, 2017