Chuck's Pottery Collection & More Comics
Howdy!
I took a personal day yesterday, and emptied my mountain of newly-arrived boxes filled with Pueblo pottery that had accumulated over the past four weeks. Included among the newest additions to my incredibly cool Pueblo Treasures Museum collection was this awesome circa-1910 Santa Clara Pueblo wedding vase, which actually came with verified documentation (from the seller's mother) that she had purchased the vase in New Mexico nearly 113 years ago, on August 14th, 1909.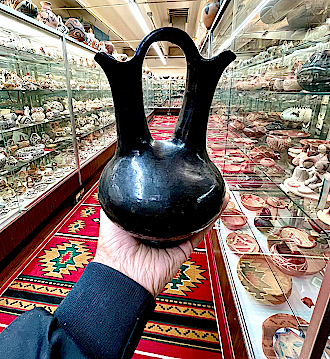 circa-1910 Santa Clara Pueblo wedding vase

I am highlighting this one exceptionally cool ceramic piece for you today because I believe that it helps me to illustrate for you the depths of my own passion for collecting. While I limit my own comic book collecting to only a few genres these days (Underground Comix, giveaways, International reprints, and fanzines), I actually nearly completed a set of all the extant superhero Marvel Comics in 1971 (when I was but 15 years old) , including all of the key issues, except Hulk #1. Sadly, my complete Marvel collection had to then be sold in order for me to have the working capital to form the seminal beginnings of Mile High Comics. Selling my beloved Marvel collection really, really hurt me, but it had to be done.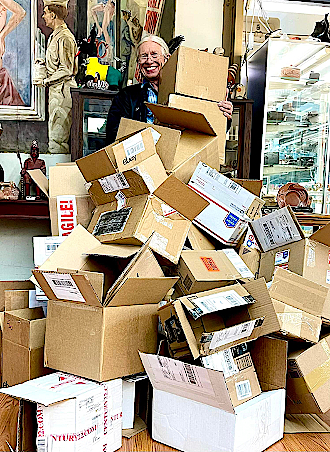 Chuck with his empty boxes from yesterday

After seven subsequent years of struggle, by January of 1977, I had grown Mile High Comics from a single 4,000-piece collection (that I purchased with funds borrowed from my mother during the first week of January, 1970), into my own little mini-empire consisting of three comic book retail stores, and a small mail order comics business that was stocked with my hard-earned inventory of 100,000 back issues. It was on January 14th of that year (exactly 45 years ago today!), that I received the call asking me how much that I would charge to haul away the contents of a basement in Denver that was completely full of old comic books.
That immense comic book collection (accumulated by an incredibly prescient Denver artist by the name of Edgar Church) contained one copy each (in mint condition) of every superhero comic book published in America from 1938-1951, including all of the key issues. You can read all about my epic discovery of that collection in a 17-part history that I wrote for my "Tales From the Database" column for publication in the old Comics Buyer's Guide newspaper, but what is pertinent to today's discussion is that, once again, I had to sell off an incredibly wonderful collection of awesome old comic books in order to fund the continued growth of Mile High Comics. Sigh…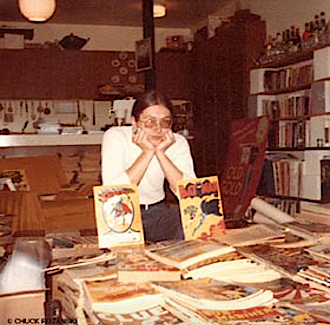 Chuck with the Edgar Church collection in 1977

Forty-five years later, I am totally dedicated to the premise that I will somehow recreate those two incredible collections that I was forced to sell off so many decades ago. Restoring my Marvel collection is not at all out of reach, as we buy additional copies of at least a few early Marvels almost every week, and our depth of stock on pre-1964 issues is thus increasing almost by the day. The Edgar Church collection is an entirely different matter, as those incredibly high-grade Golden Age comics have increased in value exponentially, to the point where they are unattainable by anyone but a crypto-millionaire, which I most definitely am not.
But, in a weird twist of reasoning, that brings me right back to my vast collection of Pueblo ceramics. It was 25 years ago that I first began learning about the creation of this highly spiritual, hand-built, Native American pottery. Aside from coming to love the pure aesthetic beauty of my new-found pottery, within a year of commencing my collection I quickly came to realize that this collectibles market was (in many regards) quite similar to the collector comics market that I first discovered in 1968. Published knowledge about older Pueblo pottery was scarce, there were absolutely no viable price guides, and prices varied wildly from place-to-place depending solely upon the whims and tastes of local dealers and collectors. Those characteristics left the marketplace wide open for someone who was willing to study like crazy (and work really, really hard), to thus accumulate the largest collection in the world for mere pennies on the dollar. That someone ended up being - me.
Long story short, I now own over 10,000 individual pieces of Pueblo pottery, which exceeds the total piece count of any public (or private) museum in America, excepting (possibly) the Smithsonian/Heye collection in Washington, D.C. In effect, my collection has grown into becoming the "Edgar Church" collection of Pueblo pottery. The only difference being that, since all of my pieces are individually crafted (as opposed to mass-manufactured, like comic books), there are absolutely no other truly identical copies of any of my ceramic items. Similar, yes, but none quite identical.
What makes this story seem really cool to me is that I have now created a collection, in an entirely different collecting genre, which is considered to be just as noteworthy as the Edgar Church collection of comics. Multiple museums are vying for the right to merge my 10,000+ pieces into their own exhibits, and I am analyzing as to whether that would be a good idea, or whether endowing my own Pueblo pottery museum might be better. Whichever path that I choose, however, I am firmly committed to the premise that my pottery collection will never be broken up, or sold. After having been forced to give up so much that I truly cherished in order to create for you the Mile High Comics that exists today, I do not at all think that unreasonable for me to ask. 'Nuff said.

STAR WARS: CLONE WARS (2008) #1

I will leave you now with a quick reminder that our 60% off THANKYOU! codeword sale remains in effect for you this weekend on all ten million+ of our back issue comics and magazines, excepting only our new issues, a few variants, and our professionally-graded items. The 60% off savings do, however, apply to the vast majority of the newly-arrived back issues listed for you at the end of this newsletter.
Happy collecting!
Chuck Rozanski/Bettie Pages,
President - Mile High Comics, Inc.
January 14, 2022

MARVEL

AMAZING SPIDER-MAN (1999) (#1-58, #500-700.5) (MARVEL) #567

AMAZING SPIDER-MAN (1999) (#1-58, #500-700.5) (MARVEL) #567 Very Fine
AMAZING SPIDER-MAN (1999) (#1-58, #500-700.5) (MARVEL) #611 Near Mint/Mint
AMAZING SPIDER-MAN (1999) (#1-58, #500-700.5) (MARVEL) #651 Very Fine
AMAZING SPIDER-MAN (1999) (#1-58, #500-700.5) (MARVEL) #654 .1 Near Mint/Mint
AMAZING SPIDER-MAN (1999) (#1-58, #500-700.5) (MARVEL) #671 Near Mint/Mint
AMAZING SPIDER-MAN (1999) (#1-58, #500-700.5) (MARVEL) #677 Near Mint/Mint

BLACK CAT (2019) (#1-12) (MARVEL) #7 Fine

CABLE AND DEADPOOL (2003) #18 Very Fine

DEADPOOL (1993) (#1-4) (CIRCLE CHASE) (MARVEL) #1 Very Good
DEADPOOL (1993) (#1-4) (CIRCLE CHASE) (MARVEL) #2 Very Good
DEADPOOL (1993) (#1-4) (CIRCLE CHASE) (MARVEL) #3 Fine
DEADPOOL (1993) (#1-4) (CIRCLE CHASE) (MARVEL) #4 Fine

DEVIL DINOSAUR (1978) #1 Very Good

ETERNALS (1976) (#1-19) (MARVEL) (JACK KIRBY) #1 Very Good

ETERNALS (1985) (#1-12) (MARVEL LIMITED SERIES) #4 Fine
ETERNALS (1985) (#1-12) (MARVEL LIMITED SERIES) #5 Good
ETERNALS (1985) (#1-12) (MARVEL LIMITED SERIES) #6 Fine
ETERNALS (1985) (#1-12) (MARVEL LIMITED SERIES) #7 Very Good
ETERNALS (1985) (#1-12) (MARVEL LIMITED SERIES) #8 Good
ETERNALS (1985) (#1-12) (MARVEL LIMITED SERIES) #10 Good
ETERNALS (1985) (#1-12) (MARVEL LIMITED SERIES) #11 Very Good
ETERNALS (1985) (#1-12) (MARVEL LIMITED SERIES) #12 Good

FANTASTIC FOUR (1961) (#1-416) (MARVEL) #153 Fine
FANTASTIC FOUR (1961) (#1-416) (MARVEL) #153 Very Good


FANTASTIC FOUR (1961) (#1-416) (MARVEL) #154

FANTASTIC FOUR (1961) (#1-416) (MARVEL) #154 Good
FANTASTIC FOUR (1961) (#1-416) (MARVEL) #154 Very Good
FANTASTIC FOUR (1961) (#1-416) (MARVEL) #155 Very Good
FANTASTIC FOUR (1961) (#1-416) (MARVEL) #156 Near Mint/Mint
FANTASTIC FOUR (1961) (#1-416) (MARVEL) #156 Good
FANTASTIC FOUR (1961) (#1-416) (MARVEL) #156 Very Fine
FANTASTIC FOUR (1961) (#1-416) (MARVEL) #157 Very Good
FANTASTIC FOUR (1961) (#1-416) (MARVEL) #157 Very Fine
FANTASTIC FOUR (1961) (#1-416) (MARVEL) #158 Fine
FANTASTIC FOUR (1961) (#1-416) (MARVEL) #158 Good
FANTASTIC FOUR (1961) (#1-416) (MARVEL) #159 Fine
FANTASTIC FOUR (1961) (#1-416) (MARVEL) #159 Good
FANTASTIC FOUR (1961) (#1-416) (MARVEL) #160 Near Mint/Mint
FANTASTIC FOUR (1961) (#1-416) (MARVEL) #160 Good
FANTASTIC FOUR (1961) (#1-416) (MARVEL) #160 Very Fine
FANTASTIC FOUR (1961) (#1-416) (MARVEL) #161 Good
FANTASTIC FOUR (1961) (#1-416) (MARVEL) #161 Very Good
FANTASTIC FOUR (1961) (#1-416) (MARVEL) #162 Good
FANTASTIC FOUR (1961) (#1-416) (MARVEL) #163 Very Fine
FANTASTIC FOUR (1961) (#1-416) (MARVEL) #163 Very Good
FANTASTIC FOUR (1961) (#1-416) (MARVEL) #164 Near Mint/Mint
FANTASTIC FOUR (1961) (#1-416) (MARVEL) #164 Very Fine
FANTASTIC FOUR (1961) (#1-416) (MARVEL) #165 Good
FANTASTIC FOUR (1961) (#1-416) (MARVEL) #165 Very Good
FANTASTIC FOUR (1961) (#1-416) (MARVEL) #166 Fine
FANTASTIC FOUR (1961) (#1-416) (MARVEL) #166 Very Good
FANTASTIC FOUR (1961) (#1-416) (MARVEL) #167 Very Good
FANTASTIC FOUR (1961) (#1-416) (MARVEL) #168 Fine
FANTASTIC FOUR (1961) (#1-416) (MARVEL) #169 Very Fine
FANTASTIC FOUR (1961) (#1-416) (MARVEL) #170 Good
FANTASTIC FOUR (1961) (#1-416) (MARVEL) #171 Very Good


FANTASTIC FOUR (1961) (#1-416) (MARVEL) #172

FANTASTIC FOUR (1961) (#1-416) (MARVEL) #172 Very Fine
FANTASTIC FOUR (1961) (#1-416) (MARVEL) #173 Near Mint/Mint
FANTASTIC FOUR (1961) (#1-416) (MARVEL) #173 Very Fine
FANTASTIC FOUR (1961) (#1-416) (MARVEL) #174 Near Mint/Mint
FANTASTIC FOUR (1961) (#1-416) (MARVEL) #174 Very Good
FANTASTIC FOUR (1961) (#1-416) (MARVEL) #175 Near Mint/Mint
FANTASTIC FOUR (1961) (#1-416) (MARVEL) #175 Very Fine
FANTASTIC FOUR (1961) (#1-416) (MARVEL) #176 Good
FANTASTIC FOUR (1961) (#1-416) (MARVEL) #176 Near Mint/Mint
FANTASTIC FOUR (1961) (#1-416) (MARVEL) #177 Fine
FANTASTIC FOUR (1961) (#1-416) (MARVEL) #177 Very Fine
FANTASTIC FOUR (1961) (#1-416) (MARVEL) #178 Near Mint/Mint
FANTASTIC FOUR (1961) (#1-416) (MARVEL) #178 Good
FANTASTIC FOUR (1961) (#1-416) (MARVEL) #179 Near Mint/Mint
FANTASTIC FOUR (1961) (#1-416) (MARVEL) #179 Very Fine
FANTASTIC FOUR (1961) (#1-416) (MARVEL) #180 Very Fine
FANTASTIC FOUR (1961) (#1-416) (MARVEL) #180 Very Good
FANTASTIC FOUR (1961) (#1-416) (MARVEL) #181 Fine
FANTASTIC FOUR (1961) (#1-416) (MARVEL) #181 Very Fine
FANTASTIC FOUR (1961) (#1-416) (MARVEL) #182 Near Mint/Mint
FANTASTIC FOUR (1961) (#1-416) (MARVEL) #182 Very Good
FANTASTIC FOUR (1961) (#1-416) (MARVEL) #183 Very Fine
FANTASTIC FOUR (1961) (#1-416) (MARVEL) #184 Near Mint/Mint
FANTASTIC FOUR (1961) (#1-416) (MARVEL) #185 Good
FANTASTIC FOUR (1961) (#1-416) (MARVEL) #185 Fine
FANTASTIC FOUR (1961) (#1-416) (MARVEL) #186 Near Mint/Mint
FANTASTIC FOUR (1961) (#1-416) (MARVEL) #186 Very Fine
FANTASTIC FOUR (1961) (#1-416) (MARVEL) #187 Fine
FANTASTIC FOUR (1961) (#1-416) (MARVEL) #187 Very Fine
FANTASTIC FOUR (1961) (#1-416) (MARVEL) #188 Fine
FANTASTIC FOUR (1961) (#1-416) (MARVEL) #188 Very Fine


FANTASTIC FOUR (1961) (#1-416) (MARVEL) #189

FANTASTIC FOUR (1961) (#1-416) (MARVEL) #189 Near Mint/Mint
FANTASTIC FOUR (1961) (#1-416) (MARVEL) #189 Fine
FANTASTIC FOUR (1961) (#1-416) (MARVEL) #190 Fine
FANTASTIC FOUR (1961) (#1-416) (MARVEL) #190 Very Fine
FANTASTIC FOUR (1961) (#1-416) (MARVEL) #191 Near Mint/Mint
FANTASTIC FOUR (1961) (#1-416) (MARVEL) #192 Near Mint/Mint
FANTASTIC FOUR (1961) (#1-416) (MARVEL) #193 Very Good
FANTASTIC FOUR (1961) (#1-416) (MARVEL) #194 Fine
FANTASTIC FOUR (1961) (#1-416) (MARVEL) #195 Very Fine
FANTASTIC FOUR (1961) (#1-416) (MARVEL) #196 Very Fine
FANTASTIC FOUR (1961) (#1-416) (MARVEL) #197 Very Good
FANTASTIC FOUR (1961) (#1-416) (MARVEL) #198 Fine
FANTASTIC FOUR (1961) (#1-416) (MARVEL) #199 Fine
FANTASTIC FOUR (1961) (#1-416) (MARVEL) #201 Very Good
FANTASTIC FOUR (1961) (#1-416) (MARVEL) #202 WHITMAN Good
FANTASTIC FOUR (1961) (#1-416) (MARVEL) #203 Very Fine
FANTASTIC FOUR (1961) (#1-416) (MARVEL) #205 Very Good
FANTASTIC FOUR (1961) (#1-416) (MARVEL) #206 BLANK CODE Very Good
FANTASTIC FOUR (1961) (#1-416) (MARVEL) #207 NEWSSTAND Fine
FANTASTIC FOUR (1961) (#1-416) (MARVEL) #208 Very Fine
FANTASTIC FOUR (1961) (#1-416) (MARVEL) #209 NEWSSTAND Very Fine
FANTASTIC FOUR (1961) (#1-416) (MARVEL) #210 Near Mint/Mint
FANTASTIC FOUR (1961) (#1-416) (MARVEL) #211 Near Mint/Mint
FANTASTIC FOUR (1961) (#1-416) (MARVEL) #212 NEWSSTAND Very Good
FANTASTIC FOUR (1961) (#1-416) (MARVEL) #213 Near Mint/Mint
FANTASTIC FOUR (1961) (#1-416) (MARVEL) #214 Near Mint/Mint
FANTASTIC FOUR (1961) (#1-416) (MARVEL) #215 Fine
FANTASTIC FOUR (1961) (#1-416) (MARVEL) #216 Very Fine
FANTASTIC FOUR (1961) (#1-416) (MARVEL) #217 Very Fine
FANTASTIC FOUR (1961) (#1-416) (MARVEL) #218 NEWSSTAND Very Fine
FANTASTIC FOUR (1961) (#1-416) (MARVEL) #219 NEWSSTAND Very Fine


FANTASTIC FOUR (1961) (#1-416) (MARVEL) #220

FANTASTIC FOUR (1961) (#1-416) (MARVEL) #220 Very Fine
FANTASTIC FOUR (1961) (#1-416) (MARVEL) #221 NEWSSTAND Fine
FANTASTIC FOUR (1961) (#1-416) (MARVEL) #222 NEWSSTAND Good
FANTASTIC FOUR (1961) (#1-416) (MARVEL) #223 Fine
FANTASTIC FOUR (1961) (#1-416) (MARVEL) #224 NEWSSTAND Fine
FANTASTIC FOUR (1961) (#1-416) (MARVEL) #225 Very Fine
FANTASTIC FOUR (1961) (#1-416) (MARVEL) #226 Near Mint/Mint
FANTASTIC FOUR (1961) (#1-416) (MARVEL) #227 NEWSSTAND Very Fine
FANTASTIC FOUR (1961) (#1-416) (MARVEL) #228 NEWSSTAND Very Fine
FANTASTIC FOUR (1961) (#1-416) (MARVEL) #229 NEWSSTAND Fine
FANTASTIC FOUR (1961) (#1-416) (MARVEL) #230 Fine
FANTASTIC FOUR (1961) (#1-416) (MARVEL) #231 Fine
FANTASTIC FOUR (1961) (#1-416) (MARVEL) #232 Near Mint/Mint
FANTASTIC FOUR (1961) (#1-416) (MARVEL) #233 NEWSSTAND Near Mint/Mint
FANTASTIC FOUR (1961) (#1-416) (MARVEL) #234 Very Fine
FANTASTIC FOUR (1961) (#1-416) (MARVEL) #235 Near Mint/Mint
FANTASTIC FOUR (1961) (#1-416) (MARVEL) #236 Very Fine
FANTASTIC FOUR (1961) (#1-416) (MARVEL) #249 Fine
FANTASTIC FOUR (1961) (#1-416) (MARVEL) #250 NEWSSTAND Near Mint/Mint
FANTASTIC FOUR (1961) (#1-416) (MARVEL) #250 NEWSSTAND Very Fine
FANTASTIC FOUR (1961) (#1-416) (MARVEL) #252 Very Fine
FANTASTIC FOUR (1961) (#1-416) (MARVEL) #255 NEWSSTAND Very Fine
FANTASTIC FOUR (1961) (#1-416) (MARVEL) #255 NEWSSTAND Very Good
FANTASTIC FOUR (1961) (#1-416) (MARVEL) #256 Near Mint/Mint
FANTASTIC FOUR (1961) (#1-416) (MARVEL) #257 NEWSSTAND Very Good
FANTASTIC FOUR (1961) (#1-416) (MARVEL) #257 Very Fine
FANTASTIC FOUR (1961) (#1-416) (MARVEL) #262 NEWSSTAND Good
FANTASTIC FOUR (1961) (#1-416) (MARVEL) #275 Very Fine
FANTASTIC FOUR (1961) (#1-416) (MARVEL) #276 Fine
FANTASTIC FOUR (1961) (#1-416) (MARVEL) #276 Very Fine
FANTASTIC FOUR (1961) (#1-416) (MARVEL) #277 Very Fine


FANTASTIC FOUR (1961) (#1-416) (MARVEL) #278

FANTASTIC FOUR (1961) (#1-416) (MARVEL) #278 Near Mint/Mint
FANTASTIC FOUR (1961) (#1-416) (MARVEL) #279 NEWSSTAND Very Good
FANTASTIC FOUR (1961) (#1-416) (MARVEL) #280 NEWSSTAND Very Good
FANTASTIC FOUR (1961) (#1-416) (MARVEL) #280 Very Fine
FANTASTIC FOUR (1961) (#1-416) (MARVEL) #281 Very Good
FANTASTIC FOUR (1961) (#1-416) (MARVEL) #281 Very Fine
FANTASTIC FOUR (1961) (#1-416) (MARVEL) #282 Near Mint/Mint
FANTASTIC FOUR (1961) (#1-416) (MARVEL) #292 Very Fine
FANTASTIC FOUR (1961) (#1-416) (MARVEL) #294 Fine
FANTASTIC FOUR (1961) (#1-416) (MARVEL) #295 Fine
FANTASTIC FOUR (1961) (#1-416) (MARVEL) #297 Very Good

FRAGGLE ROCK (1985) (#1-8) (MARVEL) #1 (Marvel Star) Very Fine

FRANCIS, BROTHER OF THE UNIVERSE (1980) #1 Fine

GODZILLA (1977) (#1-24) (MARVEL) #6 Good

GROO THE WANDERER (1985) #1 Near Mint/Mint
GROO THE WANDERER (1985) #2 NEWSSTAND Near Mint/Mint
GROO THE WANDERER (1985) #2 Very Good

HEATHCLIFF'S FUNHOUSE (1987) #1 (Marvel Star) Fine

INHUMANS (1975) (#1-12) (MARVEL) #1 Very Good

INVADERS (1975) (#1-41) (MARVEL) #5 Good
INVADERS (1975) (#1-41) (MARVEL) #27 Very Fine
INVADERS (1975) (#1-41) (MARVEL) #28 Fine

INVADERS ANNUAL (1977) #1 Very Fine


IRON FIST (1975) (#1-15) (MARVEL) #1

IRON FIST (1975) (#1-15) (MARVEL) #1 Fair
IRON FIST (1975) (#1-15) (MARVEL) #4 Good
IRON FIST (1975) (#1-15) (MARVEL) #15 Fair

LIFE OF POPE JOHN PAUL II (1983) #1 Near Mint/Mint
LIFE OF POPE JOHN PAUL II (1983) #1 NEWSSTAND Near Mint/Mint
LIFE OF POPE JOHN PAUL II (1983) #1 NEWSSTAND Very Fine
LIFE OF POPE JOHN PAUL II (1983) #1 Very Fine

MARVEL FEATURE (1971) (#1-12) #4 Good

MOON KNIGHT (1980) (#1-38) (MARVEL) #1 NEWSSTAND Fair
MOON KNIGHT (1980) (#1-38) (MARVEL) #2 NEWSSTAND Good
MOON KNIGHT (1980) (#1-38) (MARVEL) #4 NEWSSTAND Fine
MOON KNIGHT (1980) (#1-38) (MARVEL) #28 Very Fine

MOON KNIGHT (1985) (#1-6) (MARVEL) (FIST OF KHONSHU) #2 Near Mint/Mint
MOON KNIGHT (1985) (#1-6) (MARVEL) (FIST OF KHONSHU) #3 Near Mint/Mint
MOON KNIGHT (1985) (#1-6) (MARVEL) (FIST OF KHONSHU) #4 Near Mint/Mint
MOON KNIGHT (1985) (#1-6) (MARVEL) (FIST OF KHONSHU) #5 Near Mint/Mint
MOON KNIGHT (1985) (#1-6) (MARVEL) (FIST OF KHONSHU) #6 Near Mint/Mint

MOON KNIGHT (1989) (#1-60) (MARVEL) (MARC SPECTOR) #2 Very Fine
MOON KNIGHT (1989) (#1-60) (MARVEL) (MARC SPECTOR) #3 Very Fine
MOON KNIGHT (1989) (#1-60) (MARVEL) (MARC SPECTOR) #4 NEWSSTAND Near Mint/Mint
MOON KNIGHT (1989) (#1-60) (MARVEL) (MARC SPECTOR) #6 NEWSSTAND Very Fine

MOON KNIGHT SPECIAL EDITION (1983) #1 Fine

MS. MARVEL (1977) (#1-23) (MARVEL) (CAROL DANVERS) #20 Very Fine
MS. MARVEL (1977) (#1-23) (MARVEL) (CAROL DANVERS) #21 Very Good


MS. MARVEL (1977) (#1-23) (MARVEL) (CAROL DANVERS) #22

MS. MARVEL (1977) (#1-23) (MARVEL) (CAROL DANVERS) #22 Very Fine
MS. MARVEL (1977) (#1-23) (MARVEL) (CAROL DANVERS) #23 Very Good

NOVA (1976) (#1-25) (RICHARD RIDER) (MARVEL) #8 Very Good
NOVA (1976) (#1-25) (RICHARD RIDER) (MARVEL) #12 Very Good
NOVA (1976) (#1-25) (RICHARD RIDER) (MARVEL) #13 Fine
NOVA (1976) (#1-25) (RICHARD RIDER) (MARVEL) #14 Near Mint/Mint
NOVA (1976) (#1-25) (RICHARD RIDER) (MARVEL) #15 Very Fine

RED SONJA (1977) (#1-15) (MARVEL) #1 Good
RED SONJA (1977) (#1-15) (MARVEL) #6 Good
RED SONJA (1977) (#1-15) (MARVEL) #9 Fine

RED SONJA (1983) (#1-2) (MARVEL) #1 Near Mint/Mint
RED SONJA (1983) (#1-2) (MARVEL) #1 Fine
RED SONJA (1983) (#1-2) (MARVEL) #1 Very Fine
RED SONJA (1983) (#1-2) (MARVEL) #2 NEWSSTAND Very Good
RED SONJA (1983) (#1-13) (MARVEL) #1 Good
RED SONJA (1983) (#1-13) (MARVEL) #1 NEWSSTAND Good

SCOOBY-DOO (1977) (#1-9) (MARVEL) #4 Good

SHE-HULK (1980) (#1-25) (SAVAGE SHE-HULK) (MARVEL) #23 NEWSSTAND Good

SMURFS (1982) #1 NEWSSTAND Very Fine

SPIDER-MAN (1963) (AMAZING SPIDER-MAN) (#1-441) #300 NEWSSTAND Fine
SPIDER-MAN (1963) (AMAZING SPIDER-MAN) (#1-441) #347 Fine
SPIDER-MAN (1963) (AMAZING SPIDER-MAN) (#1-441) #375 Fine


SPIDER-MAN (1963) (AMAZING SPIDER-MAN) (#1-441) #378

SPIDER-MAN (1963) (AMAZING SPIDER-MAN) (#1-441) #378 Near Mint/Mint
SPIDER-MAN (1963) (AMAZING SPIDER-MAN) (#1-441) #379 Near Mint/Mint
SPIDER-MAN (1963) (AMAZING SPIDER-MAN) (#1-441) #404 Near Mint/Mint

SPIDER-WOMAN (1978) (#1-50) (JESSICA DREW) (MARVEL) #1 Very Good
SPIDER-WOMAN (1978) (#1-50) (JESSICA DREW) (MARVEL) #2 Very Fine
SPIDER-WOMAN (1978) (#1-50) (JESSICA DREW) (MARVEL) #3 Very Fine
SPIDER-WOMAN (1978) (#1-50) (JESSICA DREW) (MARVEL) #4 Fine
SPIDER-WOMAN (1978) (#1-50) (JESSICA DREW) (MARVEL) #5 Fine
SPIDER-WOMAN (1978) (#1-50) (JESSICA DREW) (MARVEL) #6 Very Fine
SPIDER-WOMAN (1978) (#1-50) (JESSICA DREW) (MARVEL) #7 Good
SPIDER-WOMAN (1978) (#1-50) (JESSICA DREW) (MARVEL) #8 Very Good
SPIDER-WOMAN (1978) (#1-50) (JESSICA DREW) (MARVEL) #9 Fine
SPIDER-WOMAN (1978) (#1-50) (JESSICA DREW) (MARVEL) #10 Very Good
SPIDER-WOMAN (1978) (#1-50) (JESSICA DREW) (MARVEL) #11 Good
SPIDER-WOMAN (1978) (#1-50) (JESSICA DREW) (MARVEL) #12 Very Fine
SPIDER-WOMAN (1978) (#1-50) (JESSICA DREW) (MARVEL) #13 Very Fine
SPIDER-WOMAN (1978) (#1-50) (JESSICA DREW) (MARVEL) #14 Fine
SPIDER-WOMAN (1978) (#1-50) (JESSICA DREW) (MARVEL) #15 NEWSSTAND Good
SPIDER-WOMAN (1978) (#1-50) (JESSICA DREW) (MARVEL) #16 Very Fine
SPIDER-WOMAN (1978) (#1-50) (JESSICA DREW) (MARVEL) #17 NEWSSTAND Good
SPIDER-WOMAN (1978) (#1-50) (JESSICA DREW) (MARVEL) #18 Very Fine
SPIDER-WOMAN (1978) (#1-50) (JESSICA DREW) (MARVEL) #19 Fine
SPIDER-WOMAN (1978) (#1-50) (JESSICA DREW) (MARVEL) #20 Very Fine
SPIDER-WOMAN (1978) (#1-50) (JESSICA DREW) (MARVEL) #21 NEWSSTAND Fine
SPIDER-WOMAN (1978) (#1-50) (JESSICA DREW) (MARVEL) #22 Very Fine
SPIDER-WOMAN (1978) (#1-50) (JESSICA DREW) (MARVEL) #23 Very Fine
SPIDER-WOMAN (1978) (#1-50) (JESSICA DREW) (MARVEL) #24 Very Fine
SPIDER-WOMAN (1978) (#1-50) (JESSICA DREW) (MARVEL) #25 Fine
SPIDER-WOMAN (1978) (#1-50) (JESSICA DREW) (MARVEL) #26 Very Fine
SPIDER-WOMAN (1978) (#1-50) (JESSICA DREW) (MARVEL) #27 Fine


SPIDER-WOMAN (1978) (#1-50) (JESSICA DREW) (MARVEL) #28

SPIDER-WOMAN (1978) (#1-50) (JESSICA DREW) (MARVEL) #28 Fine
SPIDER-WOMAN (1978) (#1-50) (JESSICA DREW) (MARVEL) #29 Good
SPIDER-WOMAN (1978) (#1-50) (JESSICA DREW) (MARVEL) #30 Fine
SPIDER-WOMAN (1978) (#1-50) (JESSICA DREW) (MARVEL) #31 Fine
SPIDER-WOMAN (1978) (#1-50) (JESSICA DREW) (MARVEL) #32 Fine
SPIDER-WOMAN (1978) (#1-50) (JESSICA DREW) (MARVEL) #33 Very Fine
SPIDER-WOMAN (1978) (#1-50) (JESSICA DREW) (MARVEL) #34 Very Fine
SPIDER-WOMAN (1978) (#1-50) (JESSICA DREW) (MARVEL) #35 Very Fine
SPIDER-WOMAN (1978) (#1-50) (JESSICA DREW) (MARVEL) #36 NEWSSTAND Fine
SPIDER-WOMAN (1978) (#1-50) (JESSICA DREW) (MARVEL) #37 Very Fine
SPIDER-WOMAN (1978) (#1-50) (JESSICA DREW) (MARVEL) #38 Very Fine
SPIDER-WOMAN (1978) (#1-50) (JESSICA DREW) (MARVEL) #39 NEWSSTAND Very Good
SPIDER-WOMAN (1978) (#1-50) (JESSICA DREW) (MARVEL) #40 Very Fine
SPIDER-WOMAN (1978) (#1-50) (JESSICA DREW) (MARVEL) #41 Fine
SPIDER-WOMAN (1978) (#1-50) (JESSICA DREW) (MARVEL) #42 Fine
SPIDER-WOMAN (1978) (#1-50) (JESSICA DREW) (MARVEL) #43 Very Good
SPIDER-WOMAN (1978) (#1-50) (JESSICA DREW) (MARVEL) #44 NEWSSTAND Fine
SPIDER-WOMAN (1978) (#1-50) (JESSICA DREW) (MARVEL) #45 NEWSSTAND Fine
SPIDER-WOMAN (1978) (#1-50) (JESSICA DREW) (MARVEL) #46 NEWSSTAND Very Good
SPIDER-WOMAN (1978) (#1-50) (JESSICA DREW) (MARVEL) #47 NEWSSTAND Very Fine
SPIDER-WOMAN (1978) (#1-50) (JESSICA DREW) (MARVEL) #48 NEWSSTAND Very Good
SPIDER-WOMAN (1978) (#1-50) (JESSICA DREW) (MARVEL) #49 Very Fine
SPIDER-WOMAN (1978) (#1-50) (JESSICA DREW) (MARVEL) #50 Very Fine

STAR WARS (1977) (#1-107) (MARVEL) #9 Good
STAR WARS (1977) (#1-107) (MARVEL) #40 NEWSSTAND Good
STAR WARS (1977) (#1-107) (MARVEL) #41 NEWSSTAND Good
STAR WARS (1977) (#1-107) (MARVEL) #74 NEWSSTAND Very Good
STAR WARS (1977) (#1-107) (MARVEL) #77 NEWSSTAND Good

STAR WARS: DARTH VADER (2017) #1 FIGURB9.8S Near Mint/Mint


SUPER-VILLAIN CLASSICS (1983) #1

SUPER-VILLAIN CLASSICS (1983) #1 Fine
SUPER-VILLAIN CLASSICS (1983) #1 NEWSSTAND Fine
SUPER-VILLAIN CLASSICS (1983) #1 Very Fine

TOMB OF DARKNESS (1974) #18 Good
TOMB OF DARKNESS (1974) #20 Very Good
TOMB OF DARKNESS (1974) #21 Good

TOXIC AVENGER (1991) #1 Near Mint/Mint

ULTIMATE COMICS: SPIDER-MAN (2009) #152 Near Mint/Mint

WHAT IF... (1977) (#1-47) (MARVEL) #1 Near Mint/Mint
WHAT IF... (1977) (#1-47) (MARVEL) #2 Good
WHAT IF... (1977) (#1-47) (MARVEL) #12 Good
WHAT IF... (1977) (#1-47) (MARVEL) #26 Fine
WHAT IF... (1977) (#1-47) (MARVEL) #27 NEWSSTAND Good
WHAT IF... (1977) (#1-47) (MARVEL) #29 NEWSSTAND Good
WHAT IF... (1977) (#1-47) (MARVEL) #30 Fine
WHAT IF... (1977) (#1-47) (MARVEL) #35 Very Fine
WHAT IF... (1977) (#1-47) (MARVEL) #36 Fine
WHAT IF... (1977) (#1-47) (MARVEL) #36 Very Fine
WHAT IF... (1977) (#1-47) (MARVEL) #37 Good
WHAT IF... (1977) (#1-47) (MARVEL) #37 NEWSSTAND Near Mint/Mint
WHAT IF... (1977) (#1-47) (MARVEL) #38 NEWSSTAND Very Fine
WHAT IF... (1977) (#1-47) (MARVEL) #39 NEWSSTAND Good
WHAT IF... (1977) (#1-47) (MARVEL) #40 NEWSSTAND Near Mint/Mint
WHAT IF... (1977) (#1-47) (MARVEL) #41 NEWSSTAND Very Fine
WHAT IF... (1977) (#1-47) (MARVEL) #42 NEWSSTAND Near Mint/Mint
WHAT IF... (1977) (#1-47) (MARVEL) #43 NEWSSTAND Near Mint/Mint
WHAT IF... (1977) (#1-47) (MARVEL) #44 NEWSSTAND Near Mint/Mint


WHAT IF... (1977) (#1-47) (MARVEL) #45 NEWSSTAND

WHAT IF... (1977) (#1-47) (MARVEL) #45 NEWSSTAND Near Mint/Mint
WHAT IF... (1977) (#1-47) (MARVEL) #46 NEWSSTAND Fine
WHAT IF... (1977) (#1-47) (MARVEL) #47 NEWSSTAND Fine

WHAT IF... (1989) (#1-114, & 200) (MARVEL) #4 NEWSSTAND Good
WHAT IF... (1989) (#1-114, & 200) (MARVEL) #12 Fine
WHAT IF... (1989) (#1-114, & 200) (MARVEL) #24 NEWSSTAND Good
WHAT IF... (1989) (#1-114, & 200) (MARVEL) #35 NEWSSTAND Good
WHAT IF... (1989) (#1-114, & 200) (MARVEL) #44 Near Mint/Mint
WHAT IF... (1989) (#1-114, & 200) (MARVEL) #50 Near Mint/Mint
WHAT IF... (1989) (#1-114, & 200) (MARVEL) #71 Fine
WHAT IF... (1989) (#1-114, & 200) (MARVEL) #98 Very Fine

X-MEN (1963) (#1-113, UNCANNY X-MEN #114-544) (MARVEL) #122 NEWSSTAND Very Good
X-MEN (1963) (#1-113, UNCANNY X-MEN #114-544) (MARVEL) #149 NEWSSTAND Very Good
X-MEN (1963) (#1-113, UNCANNY X-MEN #114-544) (MARVEL) #270 NEWSSTAND Good
X-MEN (1963) (#1-113, UNCANNY X-MEN #114-544) (MARVEL) #270 Very Fine
X-MEN (1963) (#1-113, UNCANNY X-MEN #114-544) (MARVEL) #271 Near Mint/Mint
X-MEN (1963) (#1-113, UNCANNY X-MEN #114-544) (MARVEL) #271 Very Fine
X-MEN (1963) (#1-113, UNCANNY X-MEN #114-544) (MARVEL) #272 Near Mint/Mint
X-MEN (1963) (#1-113, UNCANNY X-MEN #114-544) (MARVEL) #273 Near Mint/Mint
X-MEN (1963) (#1-113, UNCANNY X-MEN #114-544) (MARVEL) #273 Very Fine
X-MEN (1963) (#1-113, UNCANNY X-MEN #114-544) (MARVEL) #274 Near Mint/Mint
X-MEN (1963) (#1-113, UNCANNY X-MEN #114-544) (MARVEL) #275 Near Mint/Mint
X-MEN (1963) (#1-113, UNCANNY X-MEN #114-544) (MARVEL) #275 NEWSSTAND Near Mint/Mint
X-MEN (1963) (#1-113, UNCANNY X-MEN #114-544) (MARVEL) #276 Near Mint/Mint
X-MEN (1963) (#1-113, UNCANNY X-MEN #114-544) (MARVEL) #276 Very Fine
X-MEN (1963) (#1-113, UNCANNY X-MEN #114-544) (MARVEL) #277 Very Fine
X-MEN (1963) (#1-113, UNCANNY X-MEN #114-544) (MARVEL) #278 Near Mint/Mint
X-MEN (1963) (#1-113, UNCANNY X-MEN #114-544) (MARVEL) #279 Near Mint/Mint


X-MEN (1991) (#1-275) (MARVEL) #18 NEWSSTAND

X-MEN (1991) (#1-275) (MARVEL) #18 NEWSSTAND Very Fine

X-MEN AND ALPHA FLIGHT (1985) #1 Near Mint/Mint
X-MEN AND ALPHA FLIGHT (1985) #1 NEWSSTAND Fine
X-MEN AND ALPHA FLIGHT (1985) #2 Near Mint/Mint
X-MEN AND ALPHA FLIGHT (1985) #2 NEWSSTAND Very Good

X-MEN AND THE MICRONAUTS (1984) #1 Near Mint/Mint
X-MEN AND THE MICRONAUTS (1984) #1 Very Fine
X-MEN AND THE MICRONAUTS (1984) #2 Near Mint/Mint
X-MEN AND THE MICRONAUTS (1984) #3 Very Fine
X-MEN AND THE MICRONAUTS (1984) #4 Near Mint/Mint

X-MEN AND THE TEEN TITANS (1982) #1 Fine
X-MEN AND THE TEEN TITANS (1982) #1 NEWSSTAND Good

X-MEN ANNUAL (1970) #1 Very Good
X-MEN ANNUAL (1970) #8 NEWSSTAND Fine
X-MEN ANNUAL (1970) #8 NEWSSTAND Very Good
X-MEN ANNUAL (1970) #8 NEWSSTAND Good
X-MEN ANNUAL (1970) #10 NEWSSTAND Good
X-MEN ANNUAL (1970) #11 NEWSSTAND Good

X-MEN CLASSICS (1983) #1 Near Mint/Mint
X-MEN CLASSICS (1983) #1 Very Fine
X-MEN CLASSICS (1983) #2 Very Fine
X-MEN CLASSICS (1983) #3 Near Mint/Mint

X-MEN SPECIAL EDITION (1983) #1 Near Mint/Mint
X-MEN SPECIAL EDITION (1983) #1 NEWSSTAND Near Mint/Mint
X-MEN SPECIAL EDITION (1983) #1 Very Fine


X-MEN VS. THE AVENGERS (1987) #2

X-MEN VS. THE AVENGERS (1987) #2 Fine
X-MEN VS. THE AVENGERS (1987) #3 Very Good
X-MEN VS. THE AVENGERS (1987) #4 NEWSSTAND Very Good

DC
ADVENTURE COMICS (1938) (#32-503) (DC) #410 Very Good
ADVENTURE COMICS (1938) (#32-503) (DC) #428 Very Good
ADVENTURE COMICS (1938) (#32-503) (DC) #429 Fine
ADVENTURE COMICS (1938) (#32-503) (DC) #430 Fine
ADVENTURE COMICS (1938) (#32-503) (DC) #431 Very Good
ADVENTURE COMICS (1938) (#32-503) (DC) #432 Fine
ADVENTURE COMICS (1938) (#32-503) (DC) #433 Very Good
ADVENTURE COMICS (1938) (#32-503) (DC) #434 Fine
ADVENTURE COMICS (1938) (#32-503) (DC) #435 Very Good
ADVENTURE COMICS (1938) (#32-503) (DC) #436 Fine
ADVENTURE COMICS (1938) (#32-503) (DC) #437 Fine
ADVENTURE COMICS (1938) (#32-503) (DC) #438 Fine
ADVENTURE COMICS (1938) (#32-503) (DC) #439 Fine
ADVENTURE COMICS (1938) (#32-503) (DC) #440 Fine
ADVENTURE COMICS (1938) (#32-503) (DC) #441 Fine
ADVENTURE COMICS (1938) (#32-503) (DC) #442 Fine
ADVENTURE COMICS (1938) (#32-503) (DC) #443 Fine
ADVENTURE COMICS (1938) (#32-503) (DC) #444 Fine
ADVENTURE COMICS (1938) (#32-503) (DC) #445 Fine
ADVENTURE COMICS (1938) (#32-503) (DC) #446 Very Good
ADVENTURE COMICS (1938) (#32-503) (DC) #447 Very Good
ADVENTURE COMICS (1938) (#32-503) (DC) #448 Very Good
ADVENTURE COMICS (1938) (#32-503) (DC) #449 Very Good
ADVENTURE COMICS (1938) (#32-503) (DC) #450 Very Good
ADVENTURE COMICS (1938) (#32-503) (DC) #451 Fine


ADVENTURE COMICS (1938) (#32-503) (DC) #452

ADVENTURE COMICS (1938) (#32-503) (DC) #452 Very Good
ADVENTURE COMICS (1938) (#32-503) (DC) #461 Fine
ADVENTURE COMICS (1938) (#32-503) (DC) #462 Fine
ADVENTURE COMICS (1938) (#32-503) (DC) #463 Fine
ADVENTURE COMICS (1938) (#32-503) (DC) #464 Fine

BATGIRL (2011) (#0-52) (DC NEW52) #1 3RD PRINT Near Mint/Mint

BATMAN ADVENTURES (1992) #13 Fine

BATMAN CHRONICLES (1995) #5 Very Fine

BATMAN: BLACK & WHITE (1996) (#1-4) #3 Fine
BATMAN: BLACK & WHITE (1996) (#1-4) #4 Fine

BATMAN: GOTHAM ADVENTURES (1998) #50 Fine

BATMAN: THE ANIMATED MOVIE - MASK OF THE PHANTASM (1993) #1 NEWSSTAND Very Good

BLACK CANARY/ORACLE: BIRDS OF PREY (1996) #1 Fine

CHALLENGERS OF THE UNKNOWN (1958) (#1-87) (DC) #4 Very Good
CHALLENGERS OF THE UNKNOWN (1958) (#1-87) (DC) #5 Fair
CHALLENGERS OF THE UNKNOWN (1958) (#1-87) (DC) #6 Fair
CHALLENGERS OF THE UNKNOWN (1958) (#1-87) (DC) #10 Good
CHALLENGERS OF THE UNKNOWN (1958) (#1-87) (DC) #11 Fine
CHALLENGERS OF THE UNKNOWN (1958) (#1-87) (DC) #14 Good
CHALLENGERS OF THE UNKNOWN (1958) (#1-87) (DC) #15 Good
CHALLENGERS OF THE UNKNOWN (1958) (#1-87) (DC) #16 Fair
CHALLENGERS OF THE UNKNOWN (1958) (#1-87) (DC) #17 Fair
CHALLENGERS OF THE UNKNOWN (1958) (#1-87) (DC) #18 Good


CHALLENGERS OF THE UNKNOWN (1958) (#1-87) (DC) #19

CHALLENGERS OF THE UNKNOWN (1958) (#1-87) (DC) #19 Fair
CHALLENGERS OF THE UNKNOWN (1958) (#1-87) (DC) #20 Good
CHALLENGERS OF THE UNKNOWN (1958) (#1-87) (DC) #21 Fair
CHALLENGERS OF THE UNKNOWN (1958) (#1-87) (DC) #22 Very Good
CHALLENGERS OF THE UNKNOWN (1958) (#1-87) (DC) #23 Very Good
CHALLENGERS OF THE UNKNOWN (1958) (#1-87) (DC) #24 Fair
CHALLENGERS OF THE UNKNOWN (1958) (#1-87) (DC) #26 Very Good
CHALLENGERS OF THE UNKNOWN (1958) (#1-87) (DC) #27 Good
CHALLENGERS OF THE UNKNOWN (1958) (#1-87) (DC) #28 Very Good
CHALLENGERS OF THE UNKNOWN (1958) (#1-87) (DC) #29 Very Good
CHALLENGERS OF THE UNKNOWN (1958) (#1-87) (DC) #30 Good
CHALLENGERS OF THE UNKNOWN (1958) (#1-87) (DC) #31 Fair
CHALLENGERS OF THE UNKNOWN (1958) (#1-87) (DC) #32 Good
CHALLENGERS OF THE UNKNOWN (1958) (#1-87) (DC) #33 Fair
CHALLENGERS OF THE UNKNOWN (1958) (#1-87) (DC) #34 Good
CHALLENGERS OF THE UNKNOWN (1958) (#1-87) (DC) #35 Very Good
CHALLENGERS OF THE UNKNOWN (1958) (#1-87) (DC) #36 Very Good
CHALLENGERS OF THE UNKNOWN (1958) (#1-87) (DC) #37 Good
CHALLENGERS OF THE UNKNOWN (1958) (#1-87) (DC) #38 Fair
CHALLENGERS OF THE UNKNOWN (1958) (#1-87) (DC) #39 Fair
CHALLENGERS OF THE UNKNOWN (1958) (#1-87) (DC) #40 Fair
CHALLENGERS OF THE UNKNOWN (1958) (#1-87) (DC) #41 Fine
CHALLENGERS OF THE UNKNOWN (1958) (#1-87) (DC) #42 Fair
CHALLENGERS OF THE UNKNOWN (1958) (#1-87) (DC) #43 Fair
CHALLENGERS OF THE UNKNOWN (1958) (#1-87) (DC) #44 Good
CHALLENGERS OF THE UNKNOWN (1958) (#1-87) (DC) #45 Fair
CHALLENGERS OF THE UNKNOWN (1958) (#1-87) (DC) #46 Good
CHALLENGERS OF THE UNKNOWN (1958) (#1-87) (DC) #47 Good
CHALLENGERS OF THE UNKNOWN (1958) (#1-87) (DC) #48 Fine
CHALLENGERS OF THE UNKNOWN (1958) (#1-87) (DC) #49 Fair
CHALLENGERS OF THE UNKNOWN (1958) (#1-87) (DC) #50 Good


CHALLENGERS OF THE UNKNOWN (1958) (#1-87) (DC) #51

CHALLENGERS OF THE UNKNOWN (1958) (#1-87) (DC) #51 Fair
CHALLENGERS OF THE UNKNOWN (1958) (#1-87) (DC) #52 Fair
CHALLENGERS OF THE UNKNOWN (1958) (#1-87) (DC) #53 Very Good
CHALLENGERS OF THE UNKNOWN (1958) (#1-87) (DC) #54 Fair
CHALLENGERS OF THE UNKNOWN (1958) (#1-87) (DC) #55 Very Good
CHALLENGERS OF THE UNKNOWN (1958) (#1-87) (DC) #57 Very Good
CHALLENGERS OF THE UNKNOWN (1958) (#1-87) (DC) #58 Fair
CHALLENGERS OF THE UNKNOWN (1958) (#1-87) (DC) #59 Good
CHALLENGERS OF THE UNKNOWN (1958) (#1-87) (DC) #60 Good
CHALLENGERS OF THE UNKNOWN (1958) (#1-87) (DC) #61 Very Good
CHALLENGERS OF THE UNKNOWN (1958) (#1-87) (DC) #62 Very Good
CHALLENGERS OF THE UNKNOWN (1958) (#1-87) (DC) #63 Good
CHALLENGERS OF THE UNKNOWN (1958) (#1-87) (DC) #64 Good
CHALLENGERS OF THE UNKNOWN (1958) (#1-87) (DC) #65 Good
CHALLENGERS OF THE UNKNOWN (1958) (#1-87) (DC) #66 Good
CHALLENGERS OF THE UNKNOWN (1958) (#1-87) (DC) #67 Fair
CHALLENGERS OF THE UNKNOWN (1958) (#1-87) (DC) #68 Fair
CHALLENGERS OF THE UNKNOWN (1958) (#1-87) (DC) #69 Good
CHALLENGERS OF THE UNKNOWN (1958) (#1-87) (DC) #70 Good
CHALLENGERS OF THE UNKNOWN (1958) (#1-87) (DC) #71 Very Good
CHALLENGERS OF THE UNKNOWN (1958) (#1-87) (DC) #72 Very Good
CHALLENGERS OF THE UNKNOWN (1958) (#1-87) (DC) #73 Very Good
CHALLENGERS OF THE UNKNOWN (1958) (#1-87) (DC) #74 Good
CHALLENGERS OF THE UNKNOWN (1958) (#1-87) (DC) #75 Good
CHALLENGERS OF THE UNKNOWN (1958) (#1-87) (DC) #76 Very Good
CHALLENGERS OF THE UNKNOWN (1958) (#1-87) (DC) #77 Fine
CHALLENGERS OF THE UNKNOWN (1958) (#1-87) (DC) #78 Very Good

DC 100 PAGE SUPER SPECTACULAR (1971) #6 Good
DC 100 PAGE SUPER SPECTACULAR (1971) #14 Good
DC 100 PAGE SUPER SPECTACULAR (1971) #15 Very Good


DC 100 PAGE SUPER SPECTACULAR (1971) #16

DC 100 PAGE SUPER SPECTACULAR (1971) #16 Fine
DC 100 PAGE SUPER SPECTACULAR (1971) #17 Fine
DC 100 PAGE SUPER SPECTACULAR (1971) #18 Good
DC 100 PAGE SUPER SPECTACULAR (1971) #19 Good
DC 100 PAGE SUPER SPECTACULAR (1971) #20 Very Good
DC 100 PAGE SUPER SPECTACULAR (1971) #21 Very Good
DC 100 PAGE SUPER SPECTACULAR (1971) #22 Good

DETECTIVE COMICS (1937) (#0-881) (DC) #500 Fine

DETECTIVE COMICS (2011) (#0-52) (DC NEW52) #1 2ND PRINT Very Fine

EIGHTY-PAGE GIANT (1964) #1 Very Good
EIGHTY-PAGE GIANT (1964) #2 Good
EIGHTY-PAGE GIANT (1964) #3 Very Good
EIGHTY-PAGE GIANT (1964) #4 Very Good
EIGHTY-PAGE GIANT (1964) #5 Very Good
EIGHTY-PAGE GIANT (1964) #6 Very Good
EIGHTY-PAGE GIANT (1964) #7 Fair
EIGHTY-PAGE GIANT (1964) #9 Very Good
EIGHTY-PAGE GIANT (1964) #10 Very Good
EIGHTY-PAGE GIANT (1964) #11 Fine
EIGHTY-PAGE GIANT (1964) #12 Fine
EIGHTY-PAGE GIANT (1964) #13 Fine
EIGHTY-PAGE GIANT (1964) #14 Fine
EIGHTY-PAGE GIANT (1964) #15 Fine

FLEX MENTALLO (1996) #1 (DC: Vertigo Press) Near Mint/Mint
FLEX MENTALLO (1996) #2 (DC: Vertigo Press) Fine

FLEX MENTALLO (1996) #3 (DC: Vertigo Press) Fine
FLEX MENTALLO (1996) #4 (DC: Vertigo Press) Fine

HELLBLAZER (1988) (#1-300) (DC VERTIGO) #93 (DC: Vertigo Press) Fine
HELLBLAZER (1988) (#1-300) (DC VERTIGO) #94 (DC: Vertigo Press) Fine
HELLBLAZER (1988) (#1-300) (DC VERTIGO) #95 (DC: Vertigo Press) Fine

JUSTICE LEAGUE (2011) (#0-52) (DC NEW52) #1 Very Fine
JUSTICE LEAGUE (2011) (#0-52) (DC NEW52) #12 Near Mint/Mint

KINGDOM COME (1996) #1 Fine
KINGDOM COME (1996) #2 Fine
KINGDOM COME (1996) #3 Fine
KINGDOM COME (1996) #4 Near Mint/Mint

MYSTERY IN SPACE (1951) (#1-117) (DC) #24 Fair
MYSTERY IN SPACE (1951) (#1-117) (DC) #34 Fair
MYSTERY IN SPACE (1951) (#1-117) (DC) #37 Fair
MYSTERY IN SPACE (1951) (#1-117) (DC) #42 Fair
MYSTERY IN SPACE (1951) (#1-117) (DC) #61 Fair
MYSTERY IN SPACE (1951) (#1-117) (DC) #62 Fair
MYSTERY IN SPACE (1951) (#1-117) (DC) #64 Fair
MYSTERY IN SPACE (1951) (#1-117) (DC) #69 Fair
MYSTERY IN SPACE (1951) (#1-117) (DC) #70 Fair
MYSTERY IN SPACE (1951) (#1-117) (DC) #71 Fair
MYSTERY IN SPACE (1951) (#1-117) (DC) #72 Fair
MYSTERY IN SPACE (1951) (#1-117) (DC) #73 Fair
MYSTERY IN SPACE (1951) (#1-117) (DC) #74 Fair
MYSTERY IN SPACE (1951) (#1-117) (DC) #75 Fair
MYSTERY IN SPACE (1951) (#1-117) (DC) #76 Good
MYSTERY IN SPACE (1951) (#1-117) (DC) #77 Fair


MYSTERY IN SPACE (1951) (#1-117) (DC) #78

MYSTERY IN SPACE (1951) (#1-117) (DC) #78 Fair
MYSTERY IN SPACE (1951) (#1-117) (DC) #79 Fair
MYSTERY IN SPACE (1951) (#1-117) (DC) #82 Fair
MYSTERY IN SPACE (1951) (#1-117) (DC) #83 Fair
MYSTERY IN SPACE (1951) (#1-117) (DC) #84 Fair
MYSTERY IN SPACE (1951) (#1-117) (DC) #85 Good
MYSTERY IN SPACE (1951) (#1-117) (DC) #86 Very Good
MYSTERY IN SPACE (1951) (#1-117) (DC) #91 Fine
MYSTERY IN SPACE (1951) (#1-117) (DC) #92 Very Good

SANDMAN (1974) (#1-6) (DC) #1 Good

SECRET SIX (1968) (#1-7) (DC) #1 Good
SECRET SIX (1968) (#1-7) (DC) #2 Very Good
SECRET SIX (1968) (#1-7) (DC) #3 Very Good
SECRET SIX (1968) (#1-7) (DC) #4 Very Good
SECRET SIX (1968) (#1-7) (DC) #5 Fine
SECRET SIX (1968) (#1-7) (DC) #6 Very Good
SECRET SIX (1968) (#1-7) (DC) #7 Very Good

STRANGE ADVENTURES (1950) (#1-244) (DC) #84 Fair
STRANGE ADVENTURES (1950) (#1-244) (DC) #121 Good
STRANGE ADVENTURES (1950) (#1-244) (DC) #122 Good
STRANGE ADVENTURES (1950) (#1-244) (DC) #127 Good
STRANGE ADVENTURES (1950) (#1-244) (DC) #131 Good
STRANGE ADVENTURES (1950) (#1-244) (DC) #134 Very Good
STRANGE ADVENTURES (1950) (#1-244) (DC) #137 Very Good
STRANGE ADVENTURES (1950) (#1-244) (DC) #142 Fair
STRANGE ADVENTURES (1950) (#1-244) (DC) #143 Good
STRANGE ADVENTURES (1950) (#1-244) (DC) #144 Good
STRANGE ADVENTURES (1950) (#1-244) (DC) #145 Good


STRANGE ADVENTURES (1950) (#1-244) (DC) #147

STRANGE ADVENTURES (1950) (#1-244) (DC) #147 Very Good
STRANGE ADVENTURES (1950) (#1-244) (DC) #148 Good
STRANGE ADVENTURES (1950) (#1-244) (DC) #151 Fine
STRANGE ADVENTURES (1950) (#1-244) (DC) #152 Very Good
STRANGE ADVENTURES (1950) (#1-244) (DC) #153 Very Good
STRANGE ADVENTURES (1950) (#1-244) (DC) #154 Good
STRANGE ADVENTURES (1950) (#1-244) (DC) #155 Good
STRANGE ADVENTURES (1950) (#1-244) (DC) #156 Good
STRANGE ADVENTURES (1950) (#1-244) (DC) #157 Fair
STRANGE ADVENTURES (1950) (#1-244) (DC) #159 Very Good
STRANGE ADVENTURES (1950) (#1-244) (DC) #160 Very Good
STRANGE ADVENTURES (1950) (#1-244) (DC) #161 Good
STRANGE ADVENTURES (1950) (#1-244) (DC) #163 Good
STRANGE ADVENTURES (1950) (#1-244) (DC) #164 Very Good
STRANGE ADVENTURES (1950) (#1-244) (DC) #165 Very Good

TOM STRONG (1999) #1 (DC/America's Best) Near Mint/Mint

XOMBI (1994) #17 (DC: Milestone Press) Fine
XOMBI (1994) #18 (DC: Milestone Press) Very Fine

DARK HORSE COMICS
BETTIE PAGE COMICS (1996) #1 Near Mint/Mint

DRAKUUN: SHADOW OF THE WARLOCK TPB #1 Near Mint/Mint

STAR WARS (1998) (#0-83) (DARK HORSE) #38 Near Mint/Mint
STAR WARS (1998) (#0-83) (DARK HORSE) #39 Very Fine
STAR WARS (1998) (#0-83) (DARK HORSE) #40 Very Fine
STAR WARS (1998) (#0-83) (DARK HORSE) #41 Near Mint/Mint


STAR WARS (1998) (#0-83) (DARK HORSE) #42

STAR WARS (1998) (#0-83) (DARK HORSE) #42 Fine
STAR WARS (1998) (#0-83) (DARK HORSE) #43 Fine
STAR WARS (1998) (#0-83) (DARK HORSE) #44 Very Fine
STAR WARS (1998) (#0-83) (DARK HORSE) #45 Very Good
STAR WARS (1998) (#0-83) (DARK HORSE) #46 Fine
STAR WARS (1998) (#0-83) (DARK HORSE) #47 Fine
STAR WARS (1998) (#0-83) (DARK HORSE) #47 Very Fine
STAR WARS (1998) (#0-83) (DARK HORSE) #48 Fine
STAR WARS (1998) (#0-83) (DARK HORSE) #49 Fine
STAR WARS (1998) (#0-83) (DARK HORSE) #50 Near Mint/Mint
STAR WARS (1998) (#0-83) (DARK HORSE) #51 Very Fine
STAR WARS (1998) (#0-83) (DARK HORSE) #52 Fine
STAR WARS (1998) (#0-83) (DARK HORSE) #53 Very Fine
STAR WARS (1998) (#0-83) (DARK HORSE) #54 Near Mint/Mint
STAR WARS (1998) (#0-83) (DARK HORSE) #55 Near Mint/Mint
STAR WARS (1998) (#0-83) (DARK HORSE) #56 Fine
STAR WARS (1998) (#0-83) (DARK HORSE) #57 Near Mint/Mint
STAR WARS (1998) (#0-83) (DARK HORSE) #58 Near Mint/Mint
STAR WARS (1998) (#0-83) (DARK HORSE) #59 Very Fine
STAR WARS (1998) (#0-83) (DARK HORSE) #60 Near Mint/Mint
STAR WARS (1998) (#0-83) (DARK HORSE) #61 Near Mint/Mint
STAR WARS (1998) (#0-83) (DARK HORSE) #62 Near Mint/Mint
STAR WARS (1998) (#0-83) (DARK HORSE) #63 Near Mint/Mint
STAR WARS (1998) (#0-83) (DARK HORSE) #64 Near Mint/Mint
STAR WARS (1998) (#0-83) (DARK HORSE) #65 Near Mint/Mint
STAR WARS (1998) (#0-83) (DARK HORSE) #66 Very Fine
STAR WARS (1998) (#0-83) (DARK HORSE) #67 Fine
STAR WARS (1998) (#0-83) (DARK HORSE) #68 Near Mint/Mint
STAR WARS (1998) (#0-83) (DARK HORSE) #69 Fine
STAR WARS (1998) (#0-83) (DARK HORSE) #70 Fine
STAR WARS (1998) (#0-83) (DARK HORSE) #71 Near Mint/Mint


STAR WARS (1998) (#0-83) (DARK HORSE) #72

STAR WARS (1998) (#0-83) (DARK HORSE) #72 Near Mint/Mint
STAR WARS (1998) (#0-83) (DARK HORSE) #73 Near Mint/Mint
STAR WARS (1998) (#0-83) (DARK HORSE) #74 Very Fine
STAR WARS (1998) (#0-83) (DARK HORSE) #75 Fine
STAR WARS (1998) (#0-83) (DARK HORSE) #76 Near Mint/Mint
STAR WARS (1998) (#0-83) (DARK HORSE) #77 Fine
STAR WARS (1998) (#0-83) (DARK HORSE) #78 Near Mint/Mint
STAR WARS (1998) (#0-83) (DARK HORSE) #79 Near Mint/Mint
STAR WARS (1998) (#0-83) (DARK HORSE) #80 Near Mint/Mint
STAR WARS (1998) (#0-83) (DARK HORSE) #81 Very Fine
STAR WARS (1998) (#0-83) (DARK HORSE) #82 Near Mint/Mint
STAR WARS (1998) (#0-83) (DARK HORSE) #83 Very Fine

STAR WARS BOBA FETT: WHEN THE FAT LADY SWINGS #2 Very Fine

STAR WARS EPISODE II: ATTACK OF THE CLONES (2002) #1 PHOTO Very Fine
STAR WARS EPISODE II: ATTACK OF THE CLONES (2002) #2 PHOTO Fine

STAR WARS EPISODE III: REVENGE OF THE SITH (2005) #1 Fine
STAR WARS EPISODE III: REVENGE OF THE SITH (2005) #2 Near Mint/Mint
STAR WARS EPISODE III: REVENGE OF THE SITH (2005) #3 Near Mint/Mint
STAR WARS EPISODE III: REVENGE OF THE SITH (2005) #4 Near Mint/Mint

STAR WARS JEDI: AAYLA SECURA (2003) #1 Very Fine

STAR WARS JEDI: COUNT DOOKU (2003) #1 Very Good

STAR WARS JEDI: MACE WINDU (2003) #1 Near Mint/Mint

STAR WARS JEDI: SHAAK TI (2003) #1 Near Mint/Mint


STAR WARS JEDI: YODA ONE-SHOT (2004) #1

STAR WARS JEDI: YODA ONE-SHOT (2004) #1 Near Mint/Mint

STAR WARS TAG & BINK: EPISODE 1 (2006) #2 Very Fine

STAR WARS TALES (1999) #9 Fine
STAR WARS TALES (1999) #10 PHOTO Near Mint/Mint
STAR WARS TALES (1999) #11 Near Mint/Mint
STAR WARS TALES (1999) #12 Fine
STAR WARS TALES (1999) #13 Very Good
STAR WARS TALES (1999) #14 PHOTO Near Mint/Mint
STAR WARS TALES (1999) #15 PHOTO Very Fine
STAR WARS TALES (1999) #16 PHOTO Fine
STAR WARS TALES (1999) #17 PHOTO Near Mint/Mint
STAR WARS TALES (1999) #18 PHOTO Fine
STAR WARS TALES (1999) #19 PHOTO Fine
STAR WARS TALES (1999) #20 PHOTO Fine
STAR WARS TALES (1999) #21 Fine
STAR WARS TALES (1999) #22 PHOTO Near Mint/Mint
STAR WARS TALES (1999) #23 PHOTO Fine
STAR WARS TALES (1999) #24 PHOTO Near Mint/Mint

STAR WARS: BOBA FETT OVERKILL ONE-SHOT (2006) #1 Very Fine

STAR WARS: CLONE WARS (2008) #1 Near Mint/Mint
STAR WARS: CLONE WARS (2008) #2 Near Mint/Mint
STAR WARS: CLONE WARS (2008) #3 Near Mint/Mint
STAR WARS: CLONE WARS (2008) #5 Fine
STAR WARS: CLONE WARS (2008) #6 Near Mint/Mint
STAR WARS: CLONE WARS (2008) #7 Very Fine
STAR WARS: CLONE WARS (2008) #8 Near Mint/Mint
STAR WARS: CLONE WARS (2008) #9 Near Mint/Mint


STAR WARS: CLONE WARS (2008) #12

STAR WARS: CLONE WARS (2008) #12 Very Fine

STAR WARS: GENERAL GRIEVOUS (2005) #1 Very Fine
STAR WARS: GENERAL GRIEVOUS (2005) #2 Near Mint/Mint
STAR WARS: GENERAL GRIEVOUS (2005) #3 Fine
STAR WARS: GENERAL GRIEVOUS (2005) #4 Fine

STAR WARS: INVASION (2009) #0 Fine
STAR WARS: INVASION (2009) #1 Near Mint/Mint
STAR WARS: INVASION (2009) #2 Fine
STAR WARS: INVASION (2009) #3 Near Mint/Mint
STAR WARS: INVASION (2009) #4 Very Fine
STAR WARS: INVASION (2009) #5 Near Mint/Mint

STAR WARS: JANGO FETT OPEN SEASONS (2002) #1 Fine

STAR WARS: JEDI VS. SITH (2001) #1 Near Mint/Mint
STAR WARS: JEDI VS. SITH (2001) #2 Fine
STAR WARS: JEDI VS. SITH (2001) #3 Fine
STAR WARS: JEDI VS. SITH (2001) #4 Fine
STAR WARS: JEDI VS. SITH (2001) #5 Fine
STAR WARS: JEDI VS. SITH (2001) #6 Near Mint/Mint

STAR WARS: KNIGHTS OF THE OLD REPUBLIC (2005) #1 Near Mint/Mint
STAR WARS: KNIGHTS OF THE OLD REPUBLIC (2005) #2 Near Mint/Mint
STAR WARS: KNIGHTS OF THE OLD REPUBLIC (2005) #3 Near Mint/Mint
STAR WARS: KNIGHTS OF THE OLD REPUBLIC (2005) #4 Very Fine
STAR WARS: KNIGHTS OF THE OLD REPUBLIC (2005) #5 Very Fine
STAR WARS: KNIGHTS OF THE OLD REPUBLIC (2005) #6 Near Mint/Mint
STAR WARS: KNIGHTS OF THE OLD REPUBLIC (2005) #7 Near Mint/Mint
STAR WARS: KNIGHTS OF THE OLD REPUBLIC (2005) #8 Near Mint/Mint


STAR WARS: KNIGHTS OF THE OLD REPUBLIC (2005) #9

STAR WARS: KNIGHTS OF THE OLD REPUBLIC (2005) #9 Near Mint/Mint
STAR WARS: KNIGHTS OF THE OLD REPUBLIC (2005) #10 Near Mint/Mint
STAR WARS: KNIGHTS OF THE OLD REPUBLIC (2005) #11 Fine
STAR WARS: KNIGHTS OF THE OLD REPUBLIC (2005) #12 Near Mint/Mint
STAR WARS: KNIGHTS OF THE OLD REPUBLIC (2005) #13 Near Mint/Mint
STAR WARS: KNIGHTS OF THE OLD REPUBLIC (2005) #14 Very Good
STAR WARS: KNIGHTS OF THE OLD REPUBLIC (2005) #15 Fine
STAR WARS: KNIGHTS OF THE OLD REPUBLIC (2005) #16 Near Mint/Mint
STAR WARS: KNIGHTS OF THE OLD REPUBLIC (2005) #17 Fine
STAR WARS: KNIGHTS OF THE OLD REPUBLIC (2005) #18 Near Mint/Mint
STAR WARS: KNIGHTS OF THE OLD REPUBLIC (2005) #19 Near Mint/Mint
STAR WARS: KNIGHTS OF THE OLD REPUBLIC (2005) #20 Fine
STAR WARS: KNIGHTS OF THE OLD REPUBLIC (2005) #21 Near Mint/Mint
STAR WARS: KNIGHTS OF THE OLD REPUBLIC (2005) #22 Very Fine
STAR WARS: KNIGHTS OF THE OLD REPUBLIC (2005) #23 Very Fine
STAR WARS: KNIGHTS OF THE OLD REPUBLIC (2005) #24 Near Mint/Mint
STAR WARS: KNIGHTS OF THE OLD REPUBLIC (2005) #25 Near Mint/Mint
STAR WARS: KNIGHTS OF THE OLD REPUBLIC (2005) #26 Near Mint/Mint
STAR WARS: KNIGHTS OF THE OLD REPUBLIC (2005) #27 Near Mint/Mint
STAR WARS: KNIGHTS OF THE OLD REPUBLIC (2005) #28 Near Mint/Mint
STAR WARS: KNIGHTS OF THE OLD REPUBLIC (2005) #28 Very Fine
STAR WARS: KNIGHTS OF THE OLD REPUBLIC (2005) #29 Near Mint/Mint
STAR WARS: KNIGHTS OF THE OLD REPUBLIC (2005) #30 Near Mint/Mint
STAR WARS: KNIGHTS OF THE OLD REPUBLIC (2005) #31 Near Mint/Mint
STAR WARS: KNIGHTS OF THE OLD REPUBLIC (2005) #32 Near Mint/Mint
STAR WARS: KNIGHTS OF THE OLD REPUBLIC (2005) #33 Near Mint/Mint
STAR WARS: KNIGHTS OF THE OLD REPUBLIC (2005) #34 Near Mint/Mint
STAR WARS: KNIGHTS OF THE OLD REPUBLIC (2005) #35 Near Mint/Mint
STAR WARS: KNIGHTS OF THE OLD REPUBLIC (2005) #36 Fine
STAR WARS: KNIGHTS OF THE OLD REPUBLIC (2005) #37 Near Mint/Mint
STAR WARS: KNIGHTS OF THE OLD REPUBLIC (2005) #38 Near Mint/Mint


STAR WARS: KNIGHTS OF THE OLD REPUBLIC (2005) #39

STAR WARS: KNIGHTS OF THE OLD REPUBLIC (2005) #39 Near Mint/Mint
STAR WARS: KNIGHTS OF THE OLD REPUBLIC (2005) #41 Fine
STAR WARS: KNIGHTS OF THE OLD REPUBLIC (2005) #42 Very Fine
STAR WARS: KNIGHTS OF THE OLD REPUBLIC (2005) #43 Near Mint/Mint
STAR WARS: KNIGHTS OF THE OLD REPUBLIC (2005) #44 Fine
STAR WARS: KNIGHTS OF THE OLD REPUBLIC (2005) #45 Very Fine
STAR WARS: KNIGHTS OF THE OLD REPUBLIC (2005) #46 Near Mint/Mint
STAR WARS: KNIGHTS OF THE OLD REPUBLIC (2005) #47 Fine
STAR WARS: KNIGHTS OF THE OLD REPUBLIC (2005) #48 Near Mint/Mint
STAR WARS: KNIGHTS OF THE OLD REPUBLIC (2005) #49 Near Mint/Mint
STAR WARS: KNIGHTS OF THE OLD REPUBLIC (2005) #50 Near Mint/Mint

STAR WARS: LEGACY (2006) #0 Fine
STAR WARS: LEGACY (2006) #1 Very Fine
STAR WARS: LEGACY (2006) #2 Very Fine
STAR WARS: LEGACY (2006) #3 Near Mint/Mint
STAR WARS: LEGACY (2006) #4 Near Mint/Mint
STAR WARS: LEGACY (2006) #5 Near Mint/Mint
STAR WARS: LEGACY (2006) #6 Near Mint/Mint
STAR WARS: LEGACY (2006) #7 Near Mint/Mint
STAR WARS: LEGACY (2006) #8 Near Mint/Mint
STAR WARS: LEGACY (2006) #9 Near Mint/Mint
STAR WARS: LEGACY (2006) #10 Fine
STAR WARS: LEGACY (2006) #11 Near Mint/Mint
STAR WARS: LEGACY (2006) #12 Very Fine
STAR WARS: LEGACY (2006) #13 Very Fine
STAR WARS: LEGACY (2006) #14 Near Mint/Mint
STAR WARS: LEGACY (2006) #15 Near Mint/Mint
STAR WARS: LEGACY (2006) #16 Near Mint/Mint
STAR WARS: LEGACY (2006) #17 Near Mint/Mint
STAR WARS: LEGACY (2006) #19 Very Fine

STAR WARS: LEGACY (2006) #20 Near Mint/Mint
STAR WARS: LEGACY (2006) #21 Near Mint/Mint
STAR WARS: LEGACY (2006) #22 Near Mint/Mint
STAR WARS: LEGACY (2006) #23 Very Fine
STAR WARS: LEGACY (2006) #24 Near Mint/Mint
STAR WARS: LEGACY (2006) #25 Near Mint/Mint
STAR WARS: LEGACY (2006) #26 Near Mint/Mint
STAR WARS: LEGACY (2006) #27 Near Mint/Mint
STAR WARS: LEGACY (2006) #28 Very Fine
STAR WARS: LEGACY (2006) #29 Fine
STAR WARS: LEGACY (2006) #30 Fine
STAR WARS: LEGACY (2006) #31 Very Fine
STAR WARS: LEGACY (2006) #32 Fine
STAR WARS: LEGACY (2006) #33 Very Fine
STAR WARS: LEGACY (2006) #34 Fine
STAR WARS: LEGACY (2006) #35 Very Fine
STAR WARS: LEGACY (2006) #36 Very Fine
STAR WARS: LEGACY (2006) #37 Very Good
STAR WARS: LEGACY (2006) #38 Very Fine
STAR WARS: LEGACY (2006) #39 Very Good
STAR WARS: LEGACY (2006) #40 Very Fine
STAR WARS: LEGACY (2006) #41 Near Mint/Mint
STAR WARS: LEGACY (2006) #42 Near Mint/Mint
STAR WARS: LEGACY (2006) #43 Near Mint/Mint
STAR WARS: LEGACY (2006) #44 Very Fine
STAR WARS: LEGACY (2006) #46 Fine
STAR WARS: LEGACY (2006) #47 Fine

STAR WARS: OBSESSION (2004) #1 Fine
STAR WARS: OBSESSION (2004) #2 Near Mint/Mint
STAR WARS: OBSESSION (2004) #3 Very Fine


STAR WARS: OBSESSION (2004) #4

STAR WARS: OBSESSION (2004) #4 Near Mint/Mint
STAR WARS: OBSESSION (2004) #5 Near Mint/Mint

STAR WARS: PURGE - SECONDS TO DIE ONE-SHOT (2009) #1 Near Mint/Mint

STAR WARS: PURGE ONE-SHOT - LAST STAND OF THE JEDI (2005) #1 Fine

STAR WARS: QUI-GON & OBI-WAN: AURORIENT EXPRESS (2002) #1 Fine

STAR WARS: RETURN OF TAG & BINK SPECIAL EDITION (2006) #1 Near Mint/Mint

STAR WARS: SHADOWS OF THE EMPIRE (1996) #1 Very Good
STAR WARS: SHADOWS OF THE EMPIRE (1996) #3 Near Mint/Mint
STAR WARS: SHADOWS OF THE EMPIRE (1996) #4 Near Mint/Mint
STAR WARS: SHADOWS OF THE EMPIRE (1996) #5 Near Mint/Mint

STAR WARS: VALENTINE STORY (2003) #1 Fine

STAR WARS: ZAM WESELL (2002) #1 Near Mint/Mint

INDEPENDENTS
BART SIMPSON'S TREEHOUSE OF HORROR (BONGO) (1995) #15 (Bongo Comics) Near Mint/Mint

BATTLE FOR A THREE-DIMENSIONAL WORLD (KIRBY) (3-D) (1983) #1 (3-D Cosmic Publications) Near Mint/Mint

DEADWORLD (ARROW) (#1-9) (1986) #3 (Arrow Comics) Near Mint/Mint

DENNIS THE MENACE (1959) (#32-166) (HALLDEN/FAWCETT) #62 (FAWCETT PUBLICATION) Very Good
DENNIS THE MENACE (1959) (#32-166) (HALLDEN/FAWCETT) #65 (FAWCETT PUBLICATION) Very Good
DENNIS THE MENACE (1959) (#32-166) (HALLDEN/FAWCETT) #66 (FAWCETT PUBLICATION) Very Good


DENNIS THE MENACE (1959) (#32-166) (HALLDEN/FAWCETT) #67

DENNIS THE MENACE (1959) (#32-166) (HALLDEN/FAWCETT) #67 (FAWCETT PUBLICATION) Good
DENNIS THE MENACE (1959) (#32-166) (HALLDEN/FAWCETT) #68 (FAWCETT PUBLICATION) Good
DENNIS THE MENACE (1959) (#32-166) (HALLDEN/FAWCETT) #71 (FAWCETT PUBLICATION) Fine

DENNIS THE MENACE GIANTS (1955) #9 2ND PRINT (FAWCETT PUBLICATION) Fine
DENNIS THE MENACE GIANTS (1955) #11 (FAWCETT PUBLICATION) Very Good
DENNIS THE MENACE GIANTS (1955) #12 (FAWCETT PUBLICATION) Good
DENNIS THE MENACE GIANTS (1955) #13 (FAWCETT PUBLICATION) Fine
DENNIS THE MENACE GIANTS (1955) #14 (FAWCETT PUBLICATION) Very Good
DENNIS THE MENACE GIANTS (1955) #15 (FAWCETT PUBLICATION) Fair
DENNIS THE MENACE GIANTS (1955) #17 (FAWCETT PUBLICATION) Fine
DENNIS THE MENACE GIANTS (1955) #18 (FAWCETT PUBLICATION) Fine
DENNIS THE MENACE GIANTS (1955) #19 (FAWCETT PUBLICATION) Fine
DENNIS THE MENACE GIANTS (1955) #21 (FAWCETT PUBLICATION) Very Good
DENNIS THE MENACE GIANTS (1955) #33 (FAWCETT PUBLICATION) Very Good

DENNIS THE MENACE TAKES A POKE AT POISON (1961) #1 (Miscellaneous (Unlisted) Publishers) Fine

DENNIS THE MENACE TELEVISION SPECIAL #2 (FAWCETT PUBLICATION) Good

DONALD DUCK ALBUM (1963) (#1-2) (GOLD KEY) #2 (Gold Key) Very Good

MOEBIUS COMICS (1996) #1 (Caliber Press) Fine

SPIRIT (1973) (#1-2) (KITCHEN SINK) #1 (Kitchen Sink Publishing) Very Fine
SPIRIT (1973) (#1-2) (KITCHEN SINK) #2 (Kitchen Sink Publishing) Fine