High Grade 1980's Comics
Howdy!
I received a text yesterday from a good friend back East, letting me know that he has COVID. I had spoken with him during my last comics buying trip, and after he expressed some hesitancy about vaccines, I strongly urged him to get his shots. He told me that he would, but then procrastinated until it was too late. His symptoms appear mild for now, but I still worry for/about him. This darn disease is dreadfully sneaky, hitting seemingly healthy people really hard, and far too frequently then morphing into pneumonia (or something similar) among the unvaccinated. I hope that does not happen to my friend. He is a really good guy…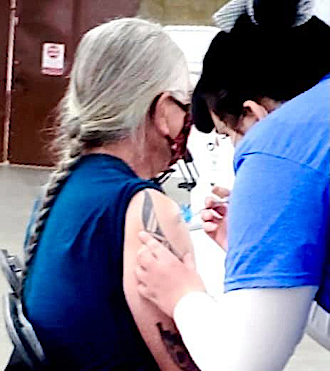 Chuck getting his vaccine last year

On the flip side, the positive news that I read just this morning seems to indicate that the cases of serious COVID illness that are resulting from this new Omicron variant are almost exclusively among the unvaccinated. I think it far too early to be certain that is the case, but present trends seem to point to much milder presentations for the vaccinated. Given that everyone in my family, and all of us working at Mile High Comics, have voluntarily opted to be protected, it now appears that we can continue to operate Mile High Comics through this latest wave, without any fear of extended an shut-down. That's great news, as another complete shut-down (either locally or nationally) would be truly dreadful.
That having been said, we are still taking every reasonable precaution at Mile High Comics. Masks are required for everyone in our public spaces, and many of our staff are even wearing them all day in our warehouse areas. I am personally working by myself in a closed off area of Jason St., that was previously our 3,000 square foot events area. Visitors to our Mega-Store can see me as I sort comics all day, but are kept at a distance by a protective perimeter of chairs.
In those few moments when I do emerge from my sorting area, I always don my protective mask, except for those few moments when taking photos with out-of-state visitors. I do realize that my participating in photos unmasked entails some degree of risk, but I feel a powerful obligation to help make people's visits to Jason St. special, particularly if they have come to see us from far away. Were I not double-vaccinated (and boosted), however, I would not even consider being (momentarily) unmasked in public.

BATMAN (1940) (#0-713) (DC) #95

As regards my comic book sorting efforts, I continued to find absolutely wonderful treasures yesterday. I began the day by removing some very old plastic bags from a prodigious run of BATMAN #95-#250. While most of those earlier (1950's and 1970's) issues are in lower grades, on Monday evening I prepared BATMAN #251-#399 from that same collection for Pam to grade, and those 1980's issues were almost entirely in Fine/Very Fine/Near Mint. A listing of those most recent BATMAN issues is posted for you at the end of this newsletter.

MS. MARVEL (1977) (#1-23) (MARVEL) (CAROL DANVERS) #1

Those same higher grades held true for most of the +/-350 Marvel 1980's comics (MS. MARVEL, GODZILLA, BLACK PANTHER, etc.) that Will Moulton picked out to grade and enter for you in the afternoon. The fact that all of these comics came from a single-owner collection that had been in storage for over 30 years means that (aside from some slight nicks and dings picked up during initial manufacture and sale) most are in the most pristine conditions possible from that era. What surprised me even more is that even some of the 1960's and 1970's lower-grade comics from this wonderful assemblage still retain strikingly beautiful cover sheen. Clearly, this is one of the nicest single-owner collections that I have been blessed to obtain in a long, long time.

BLACK PANTHER (1976) (#1-15) #2

Aside from grading and entering some of my higher-grade Marvel issues in the afternoon, Will purchased several collections from visitors to the Mega-Store, and also finished processing the treasure trove of "Jewelers" variants that I located on last Thursday and Friday. Not surprisingly, those ultra-rare variants (sold only at American military bases overseas…) are selling for us like hotcakes right now. Just saying…
My day today will consist of going back one last time to that incredible collection that contained the "Jewelers" variants, just to see if I missed any. I will then move about a dozen boxes of Will's new collection buys into my sorting area, and search through them for any issues that we might be needing for our website listings. All of the currently unneeded issues will then be sent to our long term storage area, where they will be carefully guarded and protected for at least a couple of years, and more likely for a decade.
Our stashing hundreds of thousands of currently redundant back issue comics into long term storage may seem somewhat remiss of us, but with an average of several thousand more comics a day arriving at Jason St., we find that we are most cost-efficient by only focusing our grading and entering efforts on those issues that we need immediately. The rest are best put away for later, when we'll have the time (and manpower) to check them all over again. Truthfully, I love having hundreds of thousands (millions?) of unsorted comics stashed away. Given the propensity of media executives to mine our comic book history for even the most obscure characters from which to create films and TV shows, having my time capsules filled with older comics has actually proven to be quite lucrative.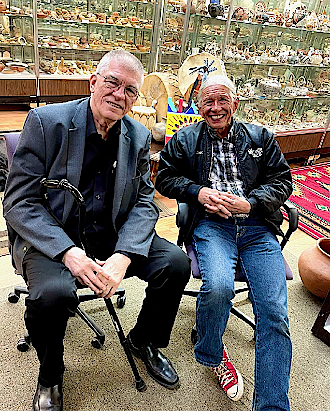 Jim Shooter and Chuck Rozanski Youtube conversation

I will close by providing you with links to all four of my Jim Shooter YouTube videos (Part 1, Part 2, Part 3, and Part 4) that we uploaded this week. These four combine into just one hour-long free form discussion, but I asked our videographer, Chris Brunn, to break our conversation up into four parts, simply for ease of viewing. Our first installment has already had 1,100 views during just the first 48 hours, with exclusively positive comments.
Happy collecting!
Chuck Rozanski/Bettie Pages,
President - Mile High Comics, Inc.
January 5, 2022

P. S. The listing below is filled with some exceptionally nice older comics. Please bear in mind, however, that in most instances that we received but one copy of these scarce comics, so they may already be sold. Also, please allow an extra day (or two) for your order to be shipped, as my extending our 60% off THANKYOU! codeword sale into January has resulted in a remarkably large surge in fresh back issue orders. As per usual, our THANKYOU! codeword applies to all ten million+ of our back issue comics and magazines, with only our new issues, a few variants, and our professionally-graded items exempt. Enjoy!
MARVEL
A-TEAM (1984) #1 Very Fine
A-TEAM (1984) #2 Near Mint/Mint
A-TEAM (1984) #3 Near Mint/Mint

BLACK PANTHER (1976) (#1-15) (MARVEL) #2 Very Fine
BLACK PANTHER (1976) (#1-15) (MARVEL) #3 Very Fine
BLACK PANTHER (1976) (#1-15) (MARVEL) #4 Near Mint/Mint
BLACK PANTHER (1976) (#1-15) (MARVEL) #5 Fine
BLACK PANTHER (1976) (#1-15) (MARVEL) #6 Fine
BLACK PANTHER (1976) (#1-15) (MARVEL) #12 Very Fine
BLACK PANTHER (1976) (#1-15) (MARVEL) #13 Very Fine
BLACK PANTHER (1976) (#1-15) (MARVEL) #14 Very Fine
BLACK PANTHER (1976) (#1-15) (MARVEL) #15 Near Mint/Mint

GODZILLA (1977) (#1-24) (MARVEL) #1 Fine

INDIANA JONES (1983) (#1-34) (MARVEL) (FURTHER ADV..) #17 NEWS JEWEL Very Fine
INDIANA JONES (1983) (#1-34) (MARVEL) (FURTHER ADV..) #18 NEWS JEWEL Very Fine
INDIANA JONES (1983) (#1-34) (MARVEL) (FURTHER ADV..) #19 NEWS JEWEL Near Mint/Mint
INDIANA JONES (1983) (#1-34) (MARVEL) (FURTHER ADV..) #20 NEWS JEWEL Very Fine
INDIANA JONES (1983) (#1-34) (MARVEL) (FURTHER ADV..) #21 NEWS JEWEL Very Fine
INDIANA JONES (1983) (#1-34) (MARVEL) (FURTHER ADV..) #22 NEWS JEWEL Fine
INDIANA JONES (1983) (#1-34) (MARVEL) (FURTHER ADV..) #23 NEWS JEWEL Very Fine
INDIANA JONES (1983) (#1-34) (MARVEL) (FURTHER ADV..) #24 NEWS JEWEL Very Fine
INDIANA JONES (1983) (#1-34) (MARVEL) (FURTHER ADV..) #25 NEWS JEWEL Near Mint/Mint
INDIANA JONES (1983) (#1-34) (MARVEL) (FURTHER ADV..) #26 NEWS JEWEL Very Fine
INDIANA JONES (1983) (#1-34) (MARVEL) (FURTHER ADV..) #27 NEWS JEWEL Near Mint/Mint
INDIANA JONES (1983) (#1-34) (MARVEL) (FURTHER ADV..) #29 NEWS JEWEL Very Fine

IRON MAN (1968) (#1-332) (INVINCIBLE IRON MAN)(MARVEL) #158 NEWS JEWEL Good
IRON MAN (1968) (#1-332) (INVINCIBLE IRON MAN)(MARVEL) #161 NEWS JEWEL Good


IRON MAN (1968) (#1-332) (INVINCIBLE IRON MAN)(MARVEL) #167 NEWS JEWEL

IRON MAN (1968) (#1-332) (INVINCIBLE IRON MAN)(MARVEL) #167 NEWS JEWEL Near Mint/Mint
IRON MAN (1968) (#1-332) (INVINCIBLE IRON MAN)(MARVEL) #167 NEWS JEWEL Very Fine
IRON MAN (1968) (#1-332) (INVINCIBLE IRON MAN)(MARVEL) #168 NEWS JEWEL Very Fine
IRON MAN (1968) (#1-332) (INVINCIBLE IRON MAN)(MARVEL) #169 NEWS JEWEL Near Mint/Mint
IRON MAN (1968) (#1-332) (INVINCIBLE IRON MAN)(MARVEL) #170 NEWS JEWEL Near Mint/Mint
IRON MAN (1968) (#1-332) (INVINCIBLE IRON MAN)(MARVEL) #171 NEWS JEWEL Near Mint/Mint
IRON MAN (1968) (#1-332) (INVINCIBLE IRON MAN)(MARVEL) #172 NEWS JEWEL Near Mint/Mint
IRON MAN (1968) (#1-332) (INVINCIBLE IRON MAN)(MARVEL) #172 NEWS JEWEL Very Good
IRON MAN (1968) (#1-332) (INVINCIBLE IRON MAN)(MARVEL) #173 NEWS JEWEL Near Mint/Mint
IRON MAN (1968) (#1-332) (INVINCIBLE IRON MAN)(MARVEL) #173 NEWS JEWEL Very Fine
IRON MAN (1968) (#1-332) (INVINCIBLE IRON MAN)(MARVEL) #174 NEWS JEWEL Near Mint/Mint
IRON MAN (1968) (#1-332) (INVINCIBLE IRON MAN)(MARVEL) #174 NEWS JEWEL Fine
IRON MAN (1968) (#1-332) (INVINCIBLE IRON MAN)(MARVEL) #175 NEWS JEWEL Near Mint/Mint
IRON MAN (1968) (#1-332) (INVINCIBLE IRON MAN)(MARVEL) #175 NEWS JEWEL Very Fine
IRON MAN (1968) (#1-332) (INVINCIBLE IRON MAN)(MARVEL) #176 NEWS JEWEL Near Mint/Mint
IRON MAN (1968) (#1-332) (INVINCIBLE IRON MAN)(MARVEL) #176 NEWS JEWEL Fine
IRON MAN (1968) (#1-332) (INVINCIBLE IRON MAN)(MARVEL) #177 NEWS JEWEL Near Mint/Mint
IRON MAN (1968) (#1-332) (INVINCIBLE IRON MAN)(MARVEL) #178 NEWS JEWEL Fine
IRON MAN (1968) (#1-332) (INVINCIBLE IRON MAN)(MARVEL) #179 NEWS JEWEL Very Fine
IRON MAN (1968) (#1-332) (INVINCIBLE IRON MAN)(MARVEL) #180 NEWS JEWEL Near Mint/Mint
IRON MAN (1968) (#1-332) (INVINCIBLE IRON MAN)(MARVEL) #181 NEWS JEWEL Fine
IRON MAN (1968) (#1-332) (INVINCIBLE IRON MAN)(MARVEL) #182 NEWS JEWEL Very Fine
IRON MAN (1968) (#1-332) (INVINCIBLE IRON MAN)(MARVEL) #183 NEWS JEWEL Near Mint/Mint
IRON MAN (1968) (#1-332) (INVINCIBLE IRON MAN)(MARVEL) #184 NEWS JEWEL Very Fine
IRON MAN (1968) (#1-332) (INVINCIBLE IRON MAN)(MARVEL) #185 NEWS JEWEL Near Mint/Mint
IRON MAN (1968) (#1-332) (INVINCIBLE IRON MAN)(MARVEL) #185 NEWS JEWEL Very Fine
IRON MAN (1968) (#1-332) (INVINCIBLE IRON MAN)(MARVEL) #186 NEWS JEWEL Near Mint/Mint
IRON MAN (1968) (#1-332) (INVINCIBLE IRON MAN)(MARVEL) #187 NEWS JEWEL Very Fine
IRON MAN (1968) (#1-332) (INVINCIBLE IRON MAN)(MARVEL) #188 NEWS JEWEL Very Fine
IRON MAN (1968) (#1-332) (INVINCIBLE IRON MAN)(MARVEL) #189 NEWS JEWEL Fine
IRON MAN (1968) (#1-332) (INVINCIBLE IRON MAN)(MARVEL) #190 NEWS JEWEL Near Mint/Mint


IRON MAN (1968) (#1-332) (INVINCIBLE IRON MAN)(MARVEL) #191 NEWS JEWEL

IRON MAN (1968) (#1-332) (INVINCIBLE IRON MAN)(MARVEL) #191 NEWS JEWEL Near Mint/Mint
IRON MAN (1968) (#1-332) (INVINCIBLE IRON MAN)(MARVEL) #192 NEWS JEWEL Near Mint/Mint
IRON MAN (1968) (#1-332) (INVINCIBLE IRON MAN)(MARVEL) #193 NEWS JEWEL Very Fine

MACHINE MAN (1984) (#1-4) (MARVEL LIMITED SERIES) #1 NEWS JEWEL Very Fine
MACHINE MAN (1984) (#1-4) (MARVEL LIMITED SERIES) #1 NEWS JEWEL Very Good
MACHINE MAN (1984) (#1-4) (MARVEL LIMITED SERIES) #2 NEWS JEWEL Very Fine
MACHINE MAN (1984) (#1-4) (MARVEL LIMITED SERIES) #3 NEWS JEWEL Very Fine
MACHINE MAN (1984) (#1-4) (MARVEL LIMITED SERIES) #4 NEWS JEWEL Very Fine
MACHINE MAN (1984) (#1-4) (MARVEL LIMITED SERIES) #4 NEWS JEWEL Fine

MAN-THING (1979) (#1-11) (MARVEL) #1 NEWSSTAND Near Mint/Mint

MARVEL TALES (1964) (#1-291) #148 NEWS JEWEL Very Good
MARVEL TALES (1964) (#1-291) #149 NEWS JEWEL Fine
MARVEL TALES (1964) (#1-291) #151 NEWS JEWEL Very Fine
MARVEL TALES (1964) (#1-291) #152 NEWS JEWEL Very Fine
MARVEL TALES (1964) (#1-291) #153 NEWS JEWEL Very Good
MARVEL TALES (1964) (#1-291) #154 NEWS JEWEL Fine
MARVEL TALES (1964) (#1-291) #155 NEWS JEWEL Very Fine
MARVEL TALES (1964) (#1-291) #156 NEWS JEWEL Very Fine
MARVEL TALES (1964) (#1-291) #156 NEWS JEWEL Fine
MARVEL TALES (1964) (#1-291) #157 NEWS JEWEL Fine
MARVEL TALES (1964) (#1-291) #159 NEWS JEWEL Very Fine
MARVEL TALES (1964) (#1-291) #160 NEWS JEWEL Very Good
MARVEL TALES (1964) (#1-291) #161 NEWS JEWEL Very Fine
MARVEL TALES (1964) (#1-291) #162 NEWS JEWEL Near Mint/Mint

MARVEL TEAM-UP (1972) (#1-150) (MARVEL) #109 NEWS JEWEL Very Good
MARVEL TEAM-UP (1972) (#1-150) (MARVEL) #123 NEWS JEWEL Fine
MARVEL TEAM-UP (1972) (#1-150) (MARVEL) #124 NEWS JEWEL Fine


MARVEL TEAM-UP (1972) (#1-150) (MARVEL) #126 NEWS JEWEL

MARVEL TEAM-UP (1972) (#1-150) (MARVEL) #126 NEWS JEWEL Near Mint/Mint
MARVEL TEAM-UP (1972) (#1-150) (MARVEL) #127 NEWS JEWEL Near Mint/Mint
MARVEL TEAM-UP (1972) (#1-150) (MARVEL) #128 NEWS JEWEL Near Mint/Mint
MARVEL TEAM-UP (1972) (#1-150) (MARVEL) #129 NEWS JEWEL Very Fine
MARVEL TEAM-UP (1972) (#1-150) (MARVEL) #130 NEWS JEWEL Near Mint/Mint
MARVEL TEAM-UP (1972) (#1-150) (MARVEL) #131 NEWS JEWEL Very Fine
MARVEL TEAM-UP (1972) (#1-150) (MARVEL) #132 NEWS JEWEL Very Fine
MARVEL TEAM-UP (1972) (#1-150) (MARVEL) #133 NEWS JEWEL Near Mint/Mint
MARVEL TEAM-UP (1972) (#1-150) (MARVEL) #134 NEWS JEWEL Very Fine
MARVEL TEAM-UP (1972) (#1-150) (MARVEL) #135 NEWS JEWEL Near Mint/Mint
MARVEL TEAM-UP (1972) (#1-150) (MARVEL) #136 NEWS JEWEL Near Mint/Mint
MARVEL TEAM-UP (1972) (#1-150) (MARVEL) #137 NEWS JEWEL Very Fine
MARVEL TEAM-UP (1972) (#1-150) (MARVEL) #138 NEWS JEWEL Fine
MARVEL TEAM-UP (1972) (#1-150) (MARVEL) #139 NEWS JEWEL Near Mint/Mint
MARVEL TEAM-UP (1972) (#1-150) (MARVEL) #140 NEWS JEWEL Very Fine
MARVEL TEAM-UP (1972) (#1-150) (MARVEL) #142 NEWS JEWEL Very Good
MARVEL TEAM-UP (1972) (#1-150) (MARVEL) #143 NEWS JEWEL Very Fine
MARVEL TEAM-UP (1972) (#1-150) (MARVEL) #144 NEWS JEWEL Very Fine
MARVEL TEAM-UP (1972) (#1-150) (MARVEL) #145 NEWS JEWEL Very Fine
MARVEL TEAM-UP (1972) (#1-150) (MARVEL) #146 NEWS JEWEL Very Good
MARVEL TEAM-UP (1972) (#1-150) (MARVEL) #147 NEWS JEWEL Fine
MARVEL TEAM-UP (1972) (#1-150) (MARVEL) #148 NEWS JEWEL Very Fine
MARVEL TEAM-UP (1972) (#1-150) (MARVEL) #149 NEWS JEWEL Near Mint/Mint

MARVEL TWO-IN-ONE (1974) (#1-100) (MARVEL) #88 NEWS JEWEL Good
MARVEL TWO-IN-ONE (1974) (#1-100) (MARVEL) #89 NEWS JEWEL Good
MARVEL TWO-IN-ONE (1974) (#1-100) (MARVEL) #93 NEWS JEWEL Very Good
MARVEL TWO-IN-ONE (1974) (#1-100) (MARVEL) #95 NEWS JEWEL Very Good
MARVEL TWO-IN-ONE (1974) (#1-100) (MARVEL) #96 NEWS JEWEL Fine
MARVEL TWO-IN-ONE (1974) (#1-100) (MARVEL) #98 NEWS JEWEL Near Mint/Mint
MARVEL TWO-IN-ONE (1974) (#1-100) (MARVEL) #99 NEWS JEWEL Fine

MS. MARVEL (1977) (#1-23) (MARVEL) (CAROL DANVERS) #1 Near Mint/Mint


MS. MARVEL (1977) (#1-23) (MARVEL) (CAROL DANVERS) #2

MS. MARVEL (1977) (#1-23) (MARVEL) (CAROL DANVERS) #2 Very Fine
MS. MARVEL (1977) (#1-23) (MARVEL) (CAROL DANVERS) #3 Near Mint/Mint
MS. MARVEL (1977) (#1-23) (MARVEL) (CAROL DANVERS) #4 Very Fine
MS. MARVEL (1977) (#1-23) (MARVEL) (CAROL DANVERS) #5 Near Mint/Mint
MS. MARVEL (1977) (#1-23) (MARVEL) (CAROL DANVERS) #7 Very Fine
MS. MARVEL (1977) (#1-23) (MARVEL) (CAROL DANVERS) #8 Near Mint/Mint
MS. MARVEL (1977) (#1-23) (MARVEL) (CAROL DANVERS) #9 Fine
MS. MARVEL (1977) (#1-23) (MARVEL) (CAROL DANVERS) #10 Fine
MS. MARVEL (1977) (#1-23) (MARVEL) (CAROL DANVERS) #11 Very Fine
MS. MARVEL (1977) (#1-23) (MARVEL) (CAROL DANVERS) #12 Very Good
MS. MARVEL (1977) (#1-23) (MARVEL) (CAROL DANVERS) #13 Near Mint/Mint
MS. MARVEL (1977) (#1-23) (MARVEL) (CAROL DANVERS) #14 Near Mint/Mint
MS. MARVEL (1977) (#1-23) (MARVEL) (CAROL DANVERS) #15 Very Fine
MS. MARVEL (1977) (#1-23) (MARVEL) (CAROL DANVERS) #16 Fine
MS. MARVEL (1977) (#1-23) (MARVEL) (CAROL DANVERS) #17 Fine
MS. MARVEL (1977) (#1-23) (MARVEL) (CAROL DANVERS) #18 Very Fine
MS. MARVEL (1977) (#1-23) (MARVEL) (CAROL DANVERS) #19 Very Fine

PETER PARKER (1976) (#1-263) (SPECTACULAR SPIDER-MAN) #65 NEWS JEWEL Very Good
PETER PARKER (1976) (#1-263) (SPECTACULAR SPIDER-MAN) #74 NEWS JEWEL Very Fine
PETER PARKER (1976) (#1-263) (SPECTACULAR SPIDER-MAN) #76 NEWS JEWEL Near Mint/Mint
PETER PARKER (1976) (#1-263) (SPECTACULAR SPIDER-MAN) #76 NEWS JEWEL Very Fine
PETER PARKER (1976) (#1-263) (SPECTACULAR SPIDER-MAN) #77 NEWS JEWEL Near Mint/Mint
PETER PARKER (1976) (#1-263) (SPECTACULAR SPIDER-MAN) #78 NEWS JEWEL Very Fine
PETER PARKER (1976) (#1-263) (SPECTACULAR SPIDER-MAN) #79 NEWS JEWEL Very Good
PETER PARKER (1976) (#1-263) (SPECTACULAR SPIDER-MAN) #80 NEWS JEWEL Fine
PETER PARKER (1976) (#1-263) (SPECTACULAR SPIDER-MAN) #80 NEWS JEWEL Very Good
PETER PARKER (1976) (#1-263) (SPECTACULAR SPIDER-MAN) #81 NEWS JEWEL Very Fine
PETER PARKER (1976) (#1-263) (SPECTACULAR SPIDER-MAN) #82 NEWS JEWEL Very Fine
PETER PARKER (1976) (#1-263) (SPECTACULAR SPIDER-MAN) #83 NEWS JEWEL Very Fine
PETER PARKER (1976) (#1-263) (SPECTACULAR SPIDER-MAN) #84 NEWS JEWEL Very Fine


PETER PARKER (1976) (#1-263) (SPECTACULAR SPIDER-MAN) #85 NEWS JEWEL

PETER PARKER (1976) (#1-263) (SPECTACULAR SPIDER-MAN) #85 NEWS JEWEL Near Mint/Mint
PETER PARKER (1976) (#1-263) (SPECTACULAR SPIDER-MAN) #86 NEWS JEWEL Near Mint/Mint
PETER PARKER (1976) (#1-263) (SPECTACULAR SPIDER-MAN) #87 NEWS JEWEL Very Fine
PETER PARKER (1976) (#1-263) (SPECTACULAR SPIDER-MAN) #88 NEWS JEWEL Very Fine
PETER PARKER (1976) (#1-263) (SPECTACULAR SPIDER-MAN) #89 NEWS JEWEL Fine
PETER PARKER (1976) (#1-263) (SPECTACULAR SPIDER-MAN) #90 NEWS JEWEL Very Fine
PETER PARKER (1976) (#1-263) (SPECTACULAR SPIDER-MAN) #91 NEWS JEWEL Fine
PETER PARKER (1976) (#1-263) (SPECTACULAR SPIDER-MAN) #92 NEWS JEWEL Very Fine
PETER PARKER (1976) (#1-263) (SPECTACULAR SPIDER-MAN) #93 NEWS JEWEL Very Fine
PETER PARKER (1976) (#1-263) (SPECTACULAR SPIDER-MAN) #94 NEWS JEWEL Very Fine
PETER PARKER (1976) (#1-263) (SPECTACULAR SPIDER-MAN) #95 NEWS JEWEL Very Good
PETER PARKER (1976) (#1-263) (SPECTACULAR SPIDER-MAN) #96 NEWS JEWEL Very Good
PETER PARKER (1976) (#1-263) (SPECTACULAR SPIDER-MAN) #97 NEWS JEWEL Very Good
PETER PARKER (1976) (#1-263) (SPECTACULAR SPIDER-MAN) #98 NEWS JEWEL Good
PETER PARKER (1976) (#1-263) (SPECTACULAR SPIDER-MAN) #101 NEWS JEWEL Fine
PETER PARKER (1976) (#1-263) (SPECTACULAR SPIDER-MAN) #102 NEWS JEWEL Fine

PETER PORKER, THE SPECTACULAR SPIDER-HAM (1985) #1 (Marvel Star) Very Fine

ROCKET RACCOON (1985) (#1-4) (MARVEL) #1 Near Mint/Mint

SHE-HULK (1980) (#1-25) (SAVAGE SHE-HULK) (MARVEL) #1 NEWSSTAND Near Mint/Mint
SHE-HULK (1980) (#1-25) (SAVAGE SHE-HULK) (MARVEL) #2 NEWSSTAND Very Fine
SHE-HULK (1980) (#1-25) (SAVAGE SHE-HULK) (MARVEL) #3 NEWSSTAND Near Mint/Mint
SHE-HULK (1980) (#1-25) (SAVAGE SHE-HULK) (MARVEL) #4 Near Mint/Mint
SHE-HULK (1980) (#1-25) (SAVAGE SHE-HULK) (MARVEL) #5 Near Mint/Mint
SHE-HULK (1980) (#1-25) (SAVAGE SHE-HULK) (MARVEL) #6 Near Mint/Mint
SHE-HULK (1980) (#1-25) (SAVAGE SHE-HULK) (MARVEL) #16 Near Mint/Mint
SHE-HULK (1980) (#1-25) (SAVAGE SHE-HULK) (MARVEL) #17 NEWSSTAND Near Mint/Mint
SHE-HULK (1980) (#1-25) (SAVAGE SHE-HULK) (MARVEL) #18 NEWSSTAND Very Fine
SHE-HULK (1980) (#1-25) (SAVAGE SHE-HULK) (MARVEL) #19 Near Mint/Mint


SHE-HULK (1980) (#1-25) (SAVAGE SHE-HULK) (MARVEL) #20

SHE-HULK (1980) (#1-25) (SAVAGE SHE-HULK) (MARVEL) #20 Fine
SHE-HULK (1980) (#1-25) (SAVAGE SHE-HULK) (MARVEL) #21 Near Mint/Mint
SHE-HULK (1980) (#1-25) (SAVAGE SHE-HULK) (MARVEL) #22 NEWSSTAND Very Fine
SHE-HULK (1980) (#1-25) (SAVAGE SHE-HULK) (MARVEL) #23 Near Mint/Mint
SHE-HULK (1980) (#1-25) (SAVAGE SHE-HULK) (MARVEL) #24 Fine
SHE-HULK (1980) (#1-25) (SAVAGE SHE-HULK) (MARVEL) #25 Fine

SHE-HULK (1989) (#1-60) (SENSATIONAL SHE-HULK)(MARVEL) #1 NEWSSTAND Very Fine
SHE-HULK (1989) (#1-60) (SENSATIONAL SHE-HULK)(MARVEL) #2 Near Mint/Mint
SHE-HULK (1989) (#1-60) (SENSATIONAL SHE-HULK)(MARVEL) #3 Near Mint/Mint
SHE-HULK (1989) (#1-60) (SENSATIONAL SHE-HULK)(MARVEL) #4 Very Fine

SILVER SURFER (1988) (#1-2) (MARVEL) (EPIC) (MOEBIUS) #1 Near Mint/Mint

SPIDER-MAN (1963) (AMAZING SPIDER-MAN) (#1-441) #122 Very Good
SPIDER-MAN (1963) (AMAZING SPIDER-MAN) (#1-441) #236 NEWS JEWEL Near Mint/Mint
SPIDER-MAN (1963) (AMAZING SPIDER-MAN) (#1-441) #236 NEWS JEWEL Very Fine
SPIDER-MAN (1963) (AMAZING SPIDER-MAN) (#1-441) #237 NEWS JEWEL Very Fine
SPIDER-MAN (1963) (AMAZING SPIDER-MAN) (#1-441) #239 NEWS JEWEL Very Fine
SPIDER-MAN (1963) (AMAZING SPIDER-MAN) (#1-441) #239 NEWS JEWEL Fine
SPIDER-MAN (1963) (AMAZING SPIDER-MAN) (#1-441) #240 NEWS JEWEL Near Mint/Mint
SPIDER-MAN (1963) (AMAZING SPIDER-MAN) (#1-441) #241 NEWS JEWEL Near Mint/Mint
SPIDER-MAN (1963) (AMAZING SPIDER-MAN) (#1-441) #241 NEWS JEWEL Very Fine
SPIDER-MAN (1963) (AMAZING SPIDER-MAN) (#1-441) #242 NEWS JEWEL Very Fine
SPIDER-MAN (1963) (AMAZING SPIDER-MAN) (#1-441) #242 NEWS JEWEL Fine
SPIDER-MAN (1963) (AMAZING SPIDER-MAN) (#1-441) #243 NEWS JEWEL Good
SPIDER-MAN (1963) (AMAZING SPIDER-MAN) (#1-441) #244 NEWS JEWEL Near Mint/Mint
SPIDER-MAN (1963) (AMAZING SPIDER-MAN) (#1-441) #245 NEWS JEWEL Very Fine
SPIDER-MAN (1963) (AMAZING SPIDER-MAN) (#1-441) #246 NEWS JEWEL Very Fine
SPIDER-MAN (1963) (AMAZING SPIDER-MAN) (#1-441) #247 NEWS JEWEL Very Fine
SPIDER-MAN (1963) (AMAZING SPIDER-MAN) (#1-441) #248 NEWS JEWEL Near Mint/Mint


SPIDER-MAN (1963) (AMAZING SPIDER-MAN) (#1-441) #249 NEWS JEWEL

SPIDER-MAN (1963) (AMAZING SPIDER-MAN) (#1-441) #249 NEWS JEWEL Very Fine
SPIDER-MAN (1963) (AMAZING SPIDER-MAN) (#1-441) #250 NEWS JEWEL Near Mint/Mint
SPIDER-MAN (1963) (AMAZING SPIDER-MAN) (#1-441) #251 NEWS JEWEL Very Fine
SPIDER-MAN (1963) (AMAZING SPIDER-MAN) (#1-441) #253 NEWS JEWEL Very Fine
SPIDER-MAN (1963) (AMAZING SPIDER-MAN) (#1-441) #254 NEWS JEWEL Very Fine
SPIDER-MAN (1963) (AMAZING SPIDER-MAN) (#1-441) #255 NEWS JEWEL Very Fine
SPIDER-MAN (1963) (AMAZING SPIDER-MAN) (#1-441) #256 NEWS JEWEL Fine
SPIDER-MAN (1963) (AMAZING SPIDER-MAN) (#1-441) #257 NEWS JEWEL Good
SPIDER-MAN (1963) (AMAZING SPIDER-MAN) (#1-441) #258 NEWS JEWEL Very Fine
SPIDER-MAN (1963) (AMAZING SPIDER-MAN) (#1-441) #259 NEWS JEWEL Very Good
SPIDER-MAN (1963) (AMAZING SPIDER-MAN) (#1-441) #260 NEWS JEWEL Very Fine
SPIDER-MAN (1963) (AMAZING SPIDER-MAN) (#1-441) #260 NEWS JEWEL Fine
SPIDER-MAN (1963) (AMAZING SPIDER-MAN) (#1-441) #261 NEWS JEWEL Very Fine
SPIDER-MAN (1963) (AMAZING SPIDER-MAN) (#1-441) #262 NEWS JEWEL Good
SPIDER-MAN (1963) (AMAZING SPIDER-MAN) (#1-441) #263 NEWS JEWEL Good
SPIDER-MAN (1963) (AMAZING SPIDER-MAN) (#1-441) #264 NEWS JEWEL Very Fine

SPIDER-WOMAN (1978) (#1-50) (JESSICA DREW) (MARVEL) #1 Very Fine
SPIDER-WOMAN (1978) (#1-50) (JESSICA DREW) (MARVEL) #2 Very Good
SPIDER-WOMAN (1978) (#1-50) (JESSICA DREW) (MARVEL) #3 Very Fine
SPIDER-WOMAN (1978) (#1-50) (JESSICA DREW) (MARVEL) #4 Very Fine
SPIDER-WOMAN (1978) (#1-50) (JESSICA DREW) (MARVEL) #5 Very Fine
SPIDER-WOMAN (1978) (#1-50) (JESSICA DREW) (MARVEL) #6 Fine
SPIDER-WOMAN (1978) (#1-50) (JESSICA DREW) (MARVEL) #7 Very Fine
SPIDER-WOMAN (1978) (#1-50) (JESSICA DREW) (MARVEL) #8 Fine
SPIDER-WOMAN (1978) (#1-50) (JESSICA DREW) (MARVEL) #9 Near Mint/Mint
SPIDER-WOMAN (1978) (#1-50) (JESSICA DREW) (MARVEL) #9 Very Fine
SPIDER-WOMAN (1978) (#1-50) (JESSICA DREW) (MARVEL) #10 Fine
SPIDER-WOMAN (1978) (#1-50) (JESSICA DREW) (MARVEL) #11 Fine
SPIDER-WOMAN (1978) (#1-50) (JESSICA DREW) (MARVEL) #12 Very Fine
SPIDER-WOMAN (1978) (#1-50) (JESSICA DREW) (MARVEL) #13 Near Mint/Mint


SPIDER-WOMAN (1978) (#1-50) (JESSICA DREW) (MARVEL) #14

SPIDER-WOMAN (1978) (#1-50) (JESSICA DREW) (MARVEL) #14 Near Mint/Mint
SPIDER-WOMAN (1978) (#1-50) (JESSICA DREW) (MARVEL) #15 NEWSSTAND Fine
SPIDER-WOMAN (1978) (#1-50) (JESSICA DREW) (MARVEL) #16 NEWSSTAND Very Fine
SPIDER-WOMAN (1978) (#1-50) (JESSICA DREW) (MARVEL) #17 NEWSSTAND Near Mint/Mint
SPIDER-WOMAN (1978) (#1-50) (JESSICA DREW) (MARVEL) #18 NEWSSTAND Near Mint/Mint
SPIDER-WOMAN (1978) (#1-50) (JESSICA DREW) (MARVEL) #19 NEWSSTAND Very Fine
SPIDER-WOMAN (1978) (#1-50) (JESSICA DREW) (MARVEL) #20 NEWSSTAND Near Mint/Mint
SPIDER-WOMAN (1978) (#1-50) (JESSICA DREW) (MARVEL) #21 NEWSSTAND Very Fine
SPIDER-WOMAN (1978) (#1-50) (JESSICA DREW) (MARVEL) #22 NEWSSTAND Fine
SPIDER-WOMAN (1978) (#1-50) (JESSICA DREW) (MARVEL) #23 NEWSSTAND Very Fine
SPIDER-WOMAN (1978) (#1-50) (JESSICA DREW) (MARVEL) #24 NEWSSTAND Near Mint/Mint
SPIDER-WOMAN (1978) (#1-50) (JESSICA DREW) (MARVEL) #25 NEWSSTAND Very Fine
SPIDER-WOMAN (1978) (#1-50) (JESSICA DREW) (MARVEL) #26 Very Fine
SPIDER-WOMAN (1978) (#1-50) (JESSICA DREW) (MARVEL) #27 Near Mint/Mint
SPIDER-WOMAN (1978) (#1-50) (JESSICA DREW) (MARVEL) #28 Fine
SPIDER-WOMAN (1978) (#1-50) (JESSICA DREW) (MARVEL) #29 Fine
SPIDER-WOMAN (1978) (#1-50) (JESSICA DREW) (MARVEL) #30 Very Fine
SPIDER-WOMAN (1978) (#1-50) (JESSICA DREW) (MARVEL) #31 Very Fine
SPIDER-WOMAN (1978) (#1-50) (JESSICA DREW) (MARVEL) #32 Near Mint/Mint
SPIDER-WOMAN (1978) (#1-50) (JESSICA DREW) (MARVEL) #33 Very Fine
SPIDER-WOMAN (1978) (#1-50) (JESSICA DREW) (MARVEL) #34 Near Mint/Mint
SPIDER-WOMAN (1978) (#1-50) (JESSICA DREW) (MARVEL) #35 Near Mint/Mint
SPIDER-WOMAN (1978) (#1-50) (JESSICA DREW) (MARVEL) #36 Very Fine
SPIDER-WOMAN (1978) (#1-50) (JESSICA DREW) (MARVEL) #37 Near Mint/Mint
SPIDER-WOMAN (1978) (#1-50) (JESSICA DREW) (MARVEL) #38 Very Fine
SPIDER-WOMAN (1978) (#1-50) (JESSICA DREW) (MARVEL) #39 Near Mint/Mint
SPIDER-WOMAN (1978) (#1-50) (JESSICA DREW) (MARVEL) #40 NEWSSTAND Near Mint/Mint
SPIDER-WOMAN (1978) (#1-50) (JESSICA DREW) (MARVEL) #41 Near Mint/Mint
SPIDER-WOMAN (1978) (#1-50) (JESSICA DREW) (MARVEL) #42 Very Fine
SPIDER-WOMAN (1978) (#1-50) (JESSICA DREW) (MARVEL) #43 Near Mint/Mint
SPIDER-WOMAN (1978) (#1-50) (JESSICA DREW) (MARVEL) #44 Near Mint/Mint


STAR WARS (1977) (#1-107) (MARVEL) #1

STAR WARS (1977) (#1-107) (MARVEL) #1 Very Good
STAR WARS (1977) (#1-107) (MARVEL) #42 Very Fine

STARRIORS (1984) #1 NEWS JEWEL Fine

THING (1983) (#1-36) (MARVEL) (FANTASTIC FOUR) #12 NEWS JEWEL Near Mint/Mint

TRANSFORMERS (1984) (#1-80) (MARVEL) #4 Near Mint/Mint
TRANSFORMERS (1984) (#1-80) (MARVEL) #4 Very Fine
TRANSFORMERS (1984) (#1-80) (MARVEL) #5 Fine

WOLVERINE (1982) (#1-4) (MARVEL LIMITED SERIES) #2 Near Mint/Mint
WOLVERINE (1982) (#1-4) (MARVEL LIMITED SERIES) #3 Near Mint/Mint
WOLVERINE (1982) (#1-4) (MARVEL LIMITED SERIES) #4 Very Fine

WOLVERINE (1988) (#1/2-189) (MARVEL) #1 Very Fine
WOLVERINE (1988) (#1/2-189) (MARVEL) #2 Near Mint/Mint
WOLVERINE (1988) (#1/2-189) (MARVEL) #3 Fine
WOLVERINE (1988) (#1/2-189) (MARVEL) #4 Very Fine
WOLVERINE (1988) (#1/2-189) (MARVEL) #5 Very Fine
WOLVERINE (1988) (#1/2-189) (MARVEL) #7 Near Mint/Mint
WOLVERINE (1988) (#1/2-189) (MARVEL) #8 Near Mint/Mint
WOLVERINE (1988) (#1/2-189) (MARVEL) #9 Fine
WOLVERINE (1988) (#1/2-189) (MARVEL) #10 Very Fine

X-MEN (1963) (#1-113, UNCANNY X-MEN #114-544) (MARVEL) #188 NEWS JEWEL Near Mint/Mint
X-MEN (1963) (#1-113, UNCANNY X-MEN #114-544) (MARVEL) #189 NEWS JEWEL Near Mint/Mint
X-MEN (1963) (#1-113, UNCANNY X-MEN #114-544) (MARVEL) #190 NEWS JEWEL Near Mint/Mint
X-MEN (1963) (#1-113, UNCANNY X-MEN #114-544) (MARVEL) #191 NEWS JEWEL Near Mint/Mint
X-MEN (1963) (#1-113, UNCANNY X-MEN #114-544) (MARVEL) #192 NEWS JEWEL Very Fine

DC

ALL-STAR WESTERN (1951) (#58-119) (DC) #103

ALL-STAR WESTERN (1951) (#58-119) (DC) #103 Very Good

BATMAN (1940) (#0-713) (DC) #95 Fair
BATMAN (1940) (#0-713) (DC) #102 Fair
BATMAN (1940) (#0-713) (DC) #119 Fair
BATMAN (1940) (#0-713) (DC) #144 Good
BATMAN (1940) (#0-713) (DC) #222 Very Good
BATMAN (1940) (#0-713) (DC) #264 Very Good
BATMAN (1940) (#0-713) (DC) #265 Good
BATMAN (1940) (#0-713) (DC) #266 Good
BATMAN (1940) (#0-713) (DC) #267 Fine
BATMAN (1940) (#0-713) (DC) #268 Very Good
BATMAN (1940) (#0-713) (DC) #269 Fine
BATMAN (1940) (#0-713) (DC) #270 Fine
BATMAN (1940) (#0-713) (DC) #271 Very Good
BATMAN (1940) (#0-713) (DC) #272 Fine
BATMAN (1940) (#0-713) (DC) #272 Very Good
BATMAN (1940) (#0-713) (DC) #273 Very Good
BATMAN (1940) (#0-713) (DC) #274 Fine
BATMAN (1940) (#0-713) (DC) #275 Fine
BATMAN (1940) (#0-713) (DC) #276 Very Good
BATMAN (1940) (#0-713) (DC) #277 Very Good
BATMAN (1940) (#0-713) (DC) #278 Very Good
BATMAN (1940) (#0-713) (DC) #279 Very Good
BATMAN (1940) (#0-713) (DC) #280 Very Good
BATMAN (1940) (#0-713) (DC) #281 Very Good
BATMAN (1940) (#0-713) (DC) #282 Fine
BATMAN (1940) (#0-713) (DC) #283 Good
BATMAN (1940) (#0-713) (DC) #284 Very Good
BATMAN (1940) (#0-713) (DC) #285 Fine
BATMAN (1940) (#0-713) (DC) #286 Fine


BATMAN (1940) (#0-713) (DC) #287

BATMAN (1940) (#0-713) (DC) #287 Fine
BATMAN (1940) (#0-713) (DC) #288 Fine
BATMAN (1940) (#0-713) (DC) #289 Fine
BATMAN (1940) (#0-713) (DC) #290 Very Good
BATMAN (1940) (#0-713) (DC) #291 Fine
BATMAN (1940) (#0-713) (DC) #292 Very Fine
BATMAN (1940) (#0-713) (DC) #293 Fine
BATMAN (1940) (#0-713) (DC) #294 Fine
BATMAN (1940) (#0-713) (DC) #295 Fine
BATMAN (1940) (#0-713) (DC) #296 Near Mint/Mint
BATMAN (1940) (#0-713) (DC) #297 Very Fine
BATMAN (1940) (#0-713) (DC) #298 Very Fine
BATMAN (1940) (#0-713) (DC) #299 Very Fine
BATMAN (1940) (#0-713) (DC) #300 Fine
BATMAN (1940) (#0-713) (DC) #301 Very Fine
BATMAN (1940) (#0-713) (DC) #302 Fine
BATMAN (1940) (#0-713) (DC) #303 Very Good
BATMAN (1940) (#0-713) (DC) #304 Fine
BATMAN (1940) (#0-713) (DC) #305 Very Fine
BATMAN (1940) (#0-713) (DC) #306 Very Fine
BATMAN (1940) (#0-713) (DC) #307 Fine
BATMAN (1940) (#0-713) (DC) #308 Fine
BATMAN (1940) (#0-713) (DC) #309 Fine
BATMAN (1940) (#0-713) (DC) #310 Fine
BATMAN (1940) (#0-713) (DC) #311 Fine
BATMAN (1940) (#0-713) (DC) #312 Fine
BATMAN (1940) (#0-713) (DC) #313 Fine
BATMAN (1940) (#0-713) (DC) #314 Near Mint/Mint
BATMAN (1940) (#0-713) (DC) #315 Near Mint/Mint
BATMAN (1940) (#0-713) (DC) #316 Fine
BATMAN (1940) (#0-713) (DC) #317 Fine


BATMAN (1940) (#0-713) (DC) #318

BATMAN (1940) (#0-713) (DC) #318 Fine
BATMAN (1940) (#0-713) (DC) #319 Fine
BATMAN (1940) (#0-713) (DC) #320 Fine
BATMAN (1940) (#0-713) (DC) #321 Fine
BATMAN (1940) (#0-713) (DC) #322 Fine
BATMAN (1940) (#0-713) (DC) #323 Fine
BATMAN (1940) (#0-713) (DC) #324 Fine
BATMAN (1940) (#0-713) (DC) #325 Fine
BATMAN (1940) (#0-713) (DC) #326 Very Fine
BATMAN (1940) (#0-713) (DC) #327 NEWSSTAND Near Mint/Mint
BATMAN (1940) (#0-713) (DC) #328 Very Fine
BATMAN (1940) (#0-713) (DC) #329 Near Mint/Mint
BATMAN (1940) (#0-713) (DC) #330 Near Mint/Mint
BATMAN (1940) (#0-713) (DC) #331 Near Mint/Mint
BATMAN (1940) (#0-713) (DC) #332 Very Fine
BATMAN (1940) (#0-713) (DC) #333 Near Mint/Mint
BATMAN (1940) (#0-713) (DC) #334 Near Mint/Mint
BATMAN (1940) (#0-713) (DC) #335 Fine
BATMAN (1940) (#0-713) (DC) #336 Very Fine
BATMAN (1940) (#0-713) (DC) #337 Near Mint/Mint
BATMAN (1940) (#0-713) (DC) #338 Fine
BATMAN (1940) (#0-713) (DC) #339 Fine
BATMAN (1940) (#0-713) (DC) #340 ATARI Near Mint/Mint
BATMAN (1940) (#0-713) (DC) #341 Near Mint/Mint
BATMAN (1940) (#0-713) (DC) #342 Very Fine
BATMAN (1940) (#0-713) (DC) #343 ATARI Near Mint/Mint
BATMAN (1940) (#0-713) (DC) #344 Near Mint/Mint
BATMAN (1940) (#0-713) (DC) #345 Near Mint/Mint
BATMAN (1940) (#0-713) (DC) #345 Fine
BATMAN (1940) (#0-713) (DC) #346 ATARI Fine
BATMAN (1940) (#0-713) (DC) #347 Near Mint/Mint


BATMAN (1940) (#0-713) (DC) #348

BATMAN (1940) (#0-713) (DC) #348 Near Mint/Mint
BATMAN (1940) (#0-713) (DC) #349 Near Mint/Mint
BATMAN (1940) (#0-713) (DC) #350 Very Fine
BATMAN (1940) (#0-713) (DC) #351 Very Fine
BATMAN (1940) (#0-713) (DC) #352 Fine
BATMAN (1940) (#0-713) (DC) #353 Very Fine
BATMAN (1940) (#0-713) (DC) #354 Fine
BATMAN (1940) (#0-713) (DC) #355 Very Fine
BATMAN (1940) (#0-713) (DC) #356 Very Fine
BATMAN (1940) (#0-713) (DC) #357 Very Fine
BATMAN (1940) (#0-713) (DC) #358 Fine
BATMAN (1940) (#0-713) (DC) #359 Very Fine
BATMAN (1940) (#0-713) (DC) #360 Fine
BATMAN (1940) (#0-713) (DC) #361 Very Fine
BATMAN (1940) (#0-713) (DC) #362 Near Mint/Mint
BATMAN (1940) (#0-713) (DC) #363 Fine
BATMAN (1940) (#0-713) (DC) #363 NEWSSTAND Fine
BATMAN (1940) (#0-713) (DC) #364 NEWSSTAND Fine
BATMAN (1940) (#0-713) (DC) #365 NEWSSTAND Fine
BATMAN (1940) (#0-713) (DC) #366 NEWSSTAND Fine
BATMAN (1940) (#0-713) (DC) #367 NEWSSTAND Fine
BATMAN (1940) (#0-713) (DC) #368 Very Fine
BATMAN (1940) (#0-713) (DC) #369 NEWSSTAND Very Good
BATMAN (1940) (#0-713) (DC) #370 NEWSSTAND Fine
BATMAN (1940) (#0-713) (DC) #371 NEWSSTAND Fine
BATMAN (1940) (#0-713) (DC) #372 NEWS JEWEL Good
BATMAN (1940) (#0-713) (DC) #372 NEWSSTAND Good
BATMAN (1940) (#0-713) (DC) #373 NEWSSTAND Very Good
BATMAN (1940) (#0-713) (DC) #374 Near Mint/Mint
BATMAN (1940) (#0-713) (DC) #374 NEWSSTAND Fine
BATMAN (1940) (#0-713) (DC) #375 Fine


BATMAN (1940) (#0-713) (DC) #376

BATMAN (1940) (#0-713) (DC) #376 Very Fine
BATMAN (1940) (#0-713) (DC) #377 Near Mint/Mint
BATMAN (1940) (#0-713) (DC) #378 Fine
BATMAN (1940) (#0-713) (DC) #379 Near Mint/Mint
BATMAN (1940) (#0-713) (DC) #380 Fine
BATMAN (1940) (#0-713) (DC) #381 Very Fine
BATMAN (1940) (#0-713) (DC) #382 Near Mint/Mint
BATMAN (1940) (#0-713) (DC) #383 Fine

BATMAN AND THE OUTSIDERS (2019) (#1-UP) (DC) #2 Near Mint/Mint
BATMAN AND THE OUTSIDERS (2019) (#1-UP) (DC) #3 Very Fine
BATMAN AND THE OUTSIDERS (2019) (#1-UP) (DC) #4 Near Mint/Mint
BATMAN AND THE OUTSIDERS (2019) (#1-UP) (DC) #5 VARIANT Near Mint/Mint
BATMAN AND THE OUTSIDERS (2019) (#1-UP) (DC) #6 Near Mint/Mint
BATMAN AND THE OUTSIDERS (2019) (#1-UP) (DC) #7 Near Mint/Mint
BATMAN AND THE OUTSIDERS (2019) (#1-UP) (DC) #8 Near Mint/Mint
BATMAN AND THE OUTSIDERS (2019) (#1-UP) (DC) #9 Near Mint/Mint
BATMAN AND THE OUTSIDERS (2019) (#1-UP) (DC) #10 Very Fine
BATMAN AND THE OUTSIDERS (2019) (#1-UP) (DC) #11 Near Mint/Mint
BATMAN AND THE OUTSIDERS (2019) (#1-UP) (DC) #12 VARIANT Near Mint/Mint
BATMAN AND THE OUTSIDERS (2019) (#1-UP) (DC) #13 VARIANT Near Mint/Mint
BATMAN AND THE OUTSIDERS (2019) (#1-UP) (DC) #13 Very Fine
BATMAN AND THE OUTSIDERS (2019) (#1-UP) (DC) #14 Near Mint/Mint
BATMAN AND THE OUTSIDERS (2019) (#1-UP) (DC) #15 Near Mint/Mint
BATMAN AND THE OUTSIDERS (2019) (#1-UP) (DC) #16 Very Fine

BATMAN AND THE OUTSIDERS ANNUAL (2019) #1 Near Mint/Mint

BATMAN ANNUAL (1961) (#1-28) (DC) #2 Fine
BATMAN ANNUAL (1961) (#1-28) (DC) #3 Good
BATMAN ANNUAL (1961) (#1-28) (DC) #4 Very Good


BATMAN ANNUAL (1961) (#1-28) (DC) #5

BATMAN ANNUAL (1961) (#1-28) (DC) #5 Good
BATMAN ANNUAL (1961) (#1-28) (DC) #6 Very Good
BATMAN ANNUAL (1961) (#1-28) (DC) #7 Fine
BATMAN ANNUAL (1961) (#1-28) (DC) #8 Very Good

BATMAN LOST (2017) #1 2ND PRINT Very Fine

BATMAN SPECIAL (MICHAEL GOLDEN) (1984) #1 Fine

BATMAN WHO LAUGHS (2017) (#1) (DC DARK NIGHTS) #1 3RD PRINT Very Fine

BATMAN/SUPERMAN (2019) (#1-UP) (DC) #1 SUPERMAN Near Mint/Mint
BATMAN/SUPERMAN (2019) (#1-UP) (DC) #2 VARIANT Near Mint/Mint
BATMAN/SUPERMAN (2019) (#1-UP) (DC) #2 Very Fine
BATMAN/SUPERMAN (2019) (#1-UP) (DC) #7 Near Mint/Mint
BATMAN/SUPERMAN (2019) (#1-UP) (DC) #8 Near Mint/Mint
BATMAN/SUPERMAN (2019) (#1-UP) (DC) #9 Very Fine
BATMAN/SUPERMAN (2019) (#1-UP) (DC) #10 Near Mint/Mint
BATMAN/SUPERMAN (2019) (#1-UP) (DC) #11 Near Mint/Mint
BATMAN/SUPERMAN (2019) (#1-UP) (DC) #11 VARIANT Very Fine
BATMAN/SUPERMAN (2019) (#1-UP) (DC) #12 Very Fine

BATMAN/SUPERMAN ANNUAL (2020) #1 Fine

BATMAN: DAWNBREAKER (2017) #1 3RD PRINT Near Mint/Mint

BATMAN: DROWNED (2017) #1 3RD PRINT Very Fine

BATMAN: FORTNITE - ZERO POINT (2021) #1 A JANIN Very Fine
BATMAN: FORTNITE - ZERO POINT (2021) #2 A JANIN Near Mint/Mint
BATMAN: FORTNITE - ZERO POINT (2021) #4 A JANIN Near Mint/Mint


BATMAN: MERCILESS (2017) #1 3RD PRINT

BATMAN: MERCILESS (2017) #1 3RD PRINT Very Fine

BATMAN: MURDER MACHINE (2017) #1 3RD PRINT Very Fine

BATMAN: RED DEATH (2017) #1 4TH PRINT Fine

CRISIS ON INFINITE EARTHS GIANT (2020) #1 Near Mint/Mint
CRISIS ON INFINITE EARTHS GIANT (2020) #2 Near Mint/Mint

DARK DAYS: THE CASTING (2017) #1 Near Mint/Mint

DARK DAYS: THE FORGE (2017) #1 ROMITA Near Mint/Mint

DARK KNIGHTS RISING: THE WILD HUNT (2017) #1 Near Mint/Mint

DCEASED (2019) #1 Very Fine
DCEASED (2019) #2 Fine
DCEASED (2019) #3 HORROR Very Fine
DCEASED (2019) #4 Near Mint/Mint
DCEASED (2019) #5 Very Fine
DCEASED (2019) #6 Fine

DCEASED: DEAD PLANET (2020) #1 3RD PRINT Very Good
DCEASED: DEAD PLANET (2020) #2 Very Fine
DCEASED: DEAD PLANET (2020) #3 Fine

DCEASED: UNKILLABLES (2020) #1 Fine
DCEASED: UNKILLABLES (2020) #2 Fine
DCEASED: UNKILLABLES (2020) #3 VARIANT Very Fine

FLASH FORWARD (2019) #1 Fine
FLASH FORWARD (2019) #2 Fine

FLASH FORWARD (2019) #3 Fine
FLASH FORWARD (2019) #5 Fine
FLASH FORWARD (2019) #6 Fine

FREEDOM FIGHTERS (2018) (#1-12) (DC) #1 Fine
FREEDOM FIGHTERS (2018) (#1-12) (DC) #2 Fine
FREEDOM FIGHTERS (2018) (#1-12) (DC) #3 Fine
FREEDOM FIGHTERS (2018) (#1-12) (DC) #4 Fine
FREEDOM FIGHTERS (2018) (#1-12) (DC) #5 Fine
FREEDOM FIGHTERS (2018) (#1-12) (DC) #6 Fine
FREEDOM FIGHTERS (2018) (#1-12) (DC) #7 Fine
FREEDOM FIGHTERS (2018) (#1-12) (DC) #8 Fine
FREEDOM FIGHTERS (2018) (#1-12) (DC) #9 Fine
FREEDOM FIGHTERS (2018) (#1-12) (DC) #10 Fine
FREEDOM FIGHTERS (2018) (#1-12) (DC) #11 Fine

FUTURE STATE: THE NEXT BATMAN (2021) #1 Fine
FUTURE STATE: THE NEXT BATMAN (2021) #1 Very Fine
FUTURE STATE: THE NEXT BATMAN (2021) #2 Fine
FUTURE STATE: THE NEXT BATMAN (2021) #2 MATTINA Near Mint/Mint

GREEN ARROW (1983) (#1-4) (DC) (1983) #1 NEWS JEWEL Very Fine

GREEN LANTERN: BLACKSTARS (2019) #1 VARIANT Very Fine
GREEN LANTERN: BLACKSTARS (2019) #2 Very Fine
GREEN LANTERN: BLACKSTARS (2019) #3 Very Fine

HOUSE OF MYSTERY (1951) #149 Very Good

HOUSE OF MYSTERY (1951) #150 Very Good
HOUSE OF MYSTERY (1951) #151 Fine
HOUSE OF MYSTERY (1951) #152 Very Good
HOUSE OF MYSTERY (1951) #153 Good
HOUSE OF MYSTERY (1951) #154 Very Good
HOUSE OF MYSTERY (1951) #155 Very Good
HOUSE OF MYSTERY (1951) #156 Good
HOUSE OF MYSTERY (1951) #157 Very Good
HOUSE OF MYSTERY (1951) #158 Fair
HOUSE OF MYSTERY (1951) #159 Fair
HOUSE OF MYSTERY (1951) #160 Good
HOUSE OF MYSTERY (1951) #161 Good
HOUSE OF MYSTERY (1951) #162 Fine
HOUSE OF MYSTERY (1951) #163 Fair
HOUSE OF MYSTERY (1951) #164 Good
HOUSE OF MYSTERY (1951) #165 Very Good
HOUSE OF MYSTERY (1951) #167 Very Good
HOUSE OF MYSTERY (1951) #168 Good
HOUSE OF MYSTERY (1951) #169 Good
HOUSE OF MYSTERY (1951) #170 Very Good
HOUSE OF MYSTERY (1951) #171 Good
HOUSE OF MYSTERY (1951) #172 Good
HOUSE OF MYSTERY (1951) #173 Fair
HOUSE OF MYSTERY (1951) #290 NEWSSTAND Fine
HOUSE OF MYSTERY (1951) #291 NEWSSTAND Very Fine
HOUSE OF MYSTERY (1951) #292 Fine
HOUSE OF MYSTERY (1951) #293 NEWSSTAND Fine
HOUSE OF MYSTERY (1951) #294 NEWSSTAND Very Fine
HOUSE OF MYSTERY (1951) #295 NEWSSTAND Good
HOUSE OF MYSTERY (1951) #296 NEWSSTAND Fine
HOUSE OF MYSTERY (1951) #297 NEWSSTAND Fine
HOUSE OF MYSTERY (1951) #298 NEWSSTAND Very Good


HOUSE OF MYSTERY (1951) #299 NEWSSTAND

HOUSE OF MYSTERY (1951) #299 NEWSSTAND Fine
HOUSE OF MYSTERY (1951) #300 NEWSSTAND Fine
HOUSE OF MYSTERY (1951) #301 NEWSSTAND Fine
HOUSE OF MYSTERY (1951) #302 NEWSSTAND Very Fine
HOUSE OF MYSTERY (1951) #303 NEWSSTAND Fine
HOUSE OF MYSTERY (1951) #304 NEWSSTAND Fine
HOUSE OF MYSTERY (1951) #305 NEWSSTAND Fine
HOUSE OF MYSTERY (1951) #306 Very Fine
HOUSE OF MYSTERY (1951) #307 NEWSSTAND Fine
HOUSE OF MYSTERY (1951) #308 NEWSSTAND Fine
HOUSE OF MYSTERY (1951) #309 Fine
HOUSE OF MYSTERY (1951) #310 Very Good
HOUSE OF MYSTERY (1951) #311 NEWSSTAND Very Fine
HOUSE OF MYSTERY (1951) #312 Fine
HOUSE OF MYSTERY (1951) #313 NEWSSTAND Fine
HOUSE OF MYSTERY (1951) #314 Very Fine
HOUSE OF MYSTERY (1951) #315 Very Fine
HOUSE OF MYSTERY (1951) #316 Very Fine
HOUSE OF MYSTERY (1951) #317 Fine
HOUSE OF MYSTERY (1951) #318 Fine
HOUSE OF MYSTERY (1951) #319 Very Good
HOUSE OF MYSTERY (1951) #320 Fine
HOUSE OF MYSTERY (1951) #321 Fine

HOUSE OF SECRETS (1956) #3 Good
HOUSE OF SECRETS (1956) #10 Fair

JEMM, SON OF SATURN (1984) #2 NEWS JEWEL Very Fine
JEMM, SON OF SATURN (1984) #4 NEWS JEWEL Very Fine
JEMM, SON OF SATURN (1984) #5 NEWS JEWEL Near Mint/Mint


JEMM, SON OF SATURN (1984) #6 NEWS JEWEL

JEMM, SON OF SATURN (1984) #6 NEWS JEWEL Very Good

JUSTICE LEAGUE OF AMERICA (1960) (#1-261) (DC) #212 NEWS JEWEL Near Mint/Mint
JUSTICE LEAGUE OF AMERICA (1960) (#1-261) (DC) #214 NEWS JEWEL Fine

MR. DISTRICT ATTORNEY (1948) #54 Fair
MR. DISTRICT ATTORNEY (1948) #56 Good
MR. DISTRICT ATTORNEY (1948) #57 Very Good
MR. DISTRICT ATTORNEY (1948) #58 Fair

MY GREATEST ADVENTURE (1955) #2 Fair
MY GREATEST ADVENTURE (1955) #6 Fair
MY GREATEST ADVENTURE (1955) #17 Fair
MY GREATEST ADVENTURE (1955) #24 Fair
MY GREATEST ADVENTURE (1955) #26 Fair
MY GREATEST ADVENTURE (1955) #29 Good
MY GREATEST ADVENTURE (1955) #40 Good
MY GREATEST ADVENTURE (1955) #44 Good
MY GREATEST ADVENTURE (1955) #45 Very Good
MY GREATEST ADVENTURE (1955) #47 Good
MY GREATEST ADVENTURE (1955) #62 Very Good
MY GREATEST ADVENTURE (1955) #64 Fair
MY GREATEST ADVENTURE (1955) #73 Very Good
MY GREATEST ADVENTURE (1955) #76 Very Good
MY GREATEST ADVENTURE (1955) #78 Very Good

SHOWCASE (1956) (#1-104) (SHOWCASE PRESENTS...) (DC) #31 Very Good
SHOWCASE (1956) (#1-104) (SHOWCASE PRESENTS...) (DC) #38 Fair

SUPER POWERS (1984) (#1-5) (DC) #2 NEWS JEWEL Near Mint/Mint
SUPER POWERS (1984) (#1-5) (DC) #4 NEWS JEWEL Very Fine


SUPER POWERS (1984) (#1-5) (DC) #5 NEWS JEWEL

SUPER POWERS (1984) (#1-5) (DC) #5 NEWS JEWEL Very Fine

SWAMP THING, SAGA OF (1982) #1 (DC: Vertigo Press) Very Fine
SWAMP THING, SAGA OF (1982) #2 (DC: Vertigo Press) Near Mint/Mint
SWAMP THING, SAGA OF (1982) #3 (DC: Vertigo Press) Near Mint/Mint
SWAMP THING, SAGA OF (1982) #4 (DC: Vertigo Press) Near Mint/Mint
SWAMP THING, SAGA OF (1982) #5 (DC: Vertigo Press) Near Mint/Mint
SWAMP THING, SAGA OF (1982) #6 (DC: Vertigo Press) Near Mint/Mint
SWAMP THING, SAGA OF (1982) #7 (DC: Vertigo Press) Near Mint/Mint
SWAMP THING, SAGA OF (1982) #8 (DC: Vertigo Press) Near Mint/Mint
SWAMP THING, SAGA OF (1982) #9 (DC: Vertigo Press) Near Mint/Mint
SWAMP THING, SAGA OF (1982) #10 (DC: Vertigo Press) Near Mint/Mint
SWAMP THING, SAGA OF (1982) #11 (DC: Vertigo Press) Near Mint/Mint
SWAMP THING, SAGA OF (1982) #12 (DC: Vertigo Press) Very Fine
SWAMP THING, SAGA OF (1982) #13 (DC: Vertigo Press) Very Fine
SWAMP THING, SAGA OF (1982) #14 (DC: Vertigo Press) Near Mint/Mint
SWAMP THING, SAGA OF (1982) #15 (DC: Vertigo Press) Very Fine
SWAMP THING, SAGA OF (1982) #16 (DC: Vertigo Press) Very Fine
SWAMP THING, SAGA OF (1982) #17 NEWSSTAND (DC: Vertigo Press) Very Good
SWAMP THING, SAGA OF (1982) #18 NEWSSTAND (DC: Vertigo Press) Very Good
SWAMP THING, SAGA OF (1982) #19 NEWSSTAND (DC: Vertigo Press) Fine
SWAMP THING, SAGA OF (1982) #20 NEWSSTAND (DC: Vertigo Press) Very Fine
SWAMP THING, SAGA OF (1982) #21 NEWSSTAND (DC: Vertigo Press) Fine
SWAMP THING, SAGA OF (1982) #22 NEWSSTAND (DC: Vertigo Press) Very Fine
SWAMP THING, SAGA OF (1982) #23 NEWSSTAND (DC: Vertigo Press) Very Fine
SWAMP THING, SAGA OF (1982) #24 NEWSSTAND (DC: Vertigo Press) Very Fine
SWAMP THING, SAGA OF (1982) #25 NEWSSTAND (DC: Vertigo Press) Very Fine
SWAMP THING, SAGA OF (1982) #26 NEWSSTAND (DC: Vertigo Press) Very Good
SWAMP THING, SAGA OF (1982) #27 (DC: Vertigo Press) Near Mint/Mint
SWAMP THING, SAGA OF (1982) #27 NEWSSTAND (DC: Vertigo Press) Very Fine
SWAMP THING, SAGA OF (1982) #28 (DC: Vertigo Press) Near Mint/Mint


SWAMP THING, SAGA OF (1982) #28 NEWSSTAND

SWAMP THING, SAGA OF (1982) #28 NEWSSTAND (DC: Vertigo Press) Very Fine
SWAMP THING, SAGA OF (1982) #29 (DC: Vertigo Press) Very Fine
SWAMP THING, SAGA OF (1982) #30 (DC: Vertigo Press) Near Mint/Mint
SWAMP THING, SAGA OF (1982) #31 (DC: Vertigo Press) Near Mint/Mint
SWAMP THING, SAGA OF (1982) #32 (DC: Vertigo Press) Very Fine
SWAMP THING, SAGA OF (1982) #33 (DC: Vertigo Press) Near Mint/Mint
SWAMP THING, SAGA OF (1982) #34 (DC: Vertigo Press) Near Mint/Mint
SWAMP THING, SAGA OF (1982) #35 (DC: Vertigo Press) Near Mint/Mint
SWAMP THING, SAGA OF (1982) #36 (DC: Vertigo Press) Near Mint/Mint

SWAMP THING, SAGA OF ANNUAL (1982) #1 (DC: Vertigo Press) Very Fine
SWAMP THING, SAGA OF ANNUAL (1982) #2 (DC: Vertigo Press) Fine

SWORD OF THE ATOM (1983) #1 NEWS JEWEL Very Fine
SWORD OF THE ATOM (1983) #2 NEWS JEWEL Near Mint/Mint
SWORD OF THE ATOM (1983) #2 NEWS JEWEL Very Fine
SWORD OF THE ATOM (1983) #3 NEWS JEWEL Very Fine
SWORD OF THE ATOM (1983) #4 NEWS JEWEL Near Mint/Mint

TALES OF THE NEW TEEN TITANS (1982) #2 NEWS JEWEL Fine
TALES OF THE NEW TEEN TITANS (1982) #3 NEWS JEWEL Very Fine
TALES OF THE NEW TEEN TITANS (1982) #4 NEWS JEWEL Fine

TEEN TITANS (1980) (#1-91) (DC) #46 NEWS JEWEL Near Mint/Mint
TEEN TITANS (1980) (#1-91) (DC) #48 NEWS JEWEL Very Fine
TEEN TITANS (1980) (#1-91) (DC) #49 NEWS JEWEL Fine
TEEN TITANS (1980) (#1-91) (DC) #51 NEWS JEWEL Very Fine
TEEN TITANS (1980) (#1-91) (DC) #52 NEWS JEWEL Near Mint/Mint
TEEN TITANS (1980) (#1-91) (DC) #53 NEWS JEWEL Fine

IMAGE COMICS
STILLWATER (2020) #1 Near Mint/Mint

INDEPENDENTS
A GIRL WALKS HOME ALONE AT NIGHT (2020) #1 (Behemoth Books) Near Mint/Mint

AUTUMNAL (2020) #1 A SIMMONDS (Vault) Near Mint/Mint

NOTTINGHAM (2021) #2 (Mad Cave Studios) Near Mint/Mint

SUBMARINE ATTACK (1958) #11 (Charlton) Fair
SUBMARINE ATTACK (1958) #12 (Charlton) Good
SUBMARINE ATTACK (1958) #13 (Charlton) Good
SUBMARINE ATTACK (1958) #14 (Charlton) Good
SUBMARINE ATTACK (1958) #15 (Charlton) Good
SUBMARINE ATTACK (1958) #16 (Charlton) Very Good
SUBMARINE ATTACK (1958) #17 (Charlton) Good
SUBMARINE ATTACK (1958) #18 (Charlton) Fine
SUBMARINE ATTACK (1958) #19 (Charlton) Very Good
SUBMARINE ATTACK (1958) #20 (Charlton) Good
SUBMARINE ATTACK (1958) #21 (Charlton) Very Good
SUBMARINE ATTACK (1958) #22 (Charlton) Good
SUBMARINE ATTACK (1958) #23 (Charlton) Very Fine
SUBMARINE ATTACK (1958) #24 (Charlton) Fair
SUBMARINE ATTACK (1958) #25 (Charlton) Good
SUBMARINE ATTACK (1958) #26 (Charlton) Very Good
SUBMARINE ATTACK (1958) #27 (Charlton) Very Good
SUBMARINE ATTACK (1958) #28 (Charlton) Fine
SUBMARINE ATTACK (1958) #29 (Charlton) Fine
SUBMARINE ATTACK (1958) #30 (Charlton) Fair
SUBMARINE ATTACK (1958) #31 (Charlton) Fine

SUBMARINE ATTACK (1958) #32 (Charlton) Fair
SUBMARINE ATTACK (1958) #33 (Charlton) Good