Jim Shooter Video, Silver Age, More!
Howdy!
I slept like a stone last night, after more than a month of stress and worry finally melted away. I realize that I oftentimes exude a calm confidence in my writings (and conversations) about my life as a comic book entrepreneur, but I find it impossible to avoid realizing that an enterprise as large and complex as Mile High Comics has innumerable moving parts, anyone of which can go dreadfully wrong on any given day. That means that nearly every decision that I make is fraught with at least some measure of risk, with some of my decisions having potentially catastrophic outcomes if the stars were to align badly. Simply put, it is my pragmatic awareness of our pervasive risk that has a nearly infinite capacity to keep me up at night.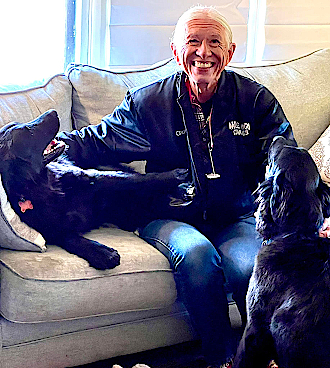 Chuck playing with Nicky and Freyja

I mention the risk with which I deal on a daily basis not to alarm anyone or to seek any measure of sympathy, but rather to celebrate my 52nd anniversary of having borrowed what was to me a huge sum of money ($140) in order to purchase my first major comic book collection. It was in this same bitter cold first week of January of 1970 that I convinced my mother to withdraw that sum (her entire savings) from her bank so that I could buy 4,500 comics from a kid of my same age (14) that I met the previous weekend at the monthly Colorado Springs City Auditorium Antiques Fair.
His comics formed the foundation of my entrepreneurial business that I then set up the following month (with my mother's assistance) at that same monthly City Auditorium Antiques Fair. My success at that prestigious local show allowed me to steadily build my comics inventory throughout my teens, and to then open my very first Mile High Comics retail store (just 56 months later), when I was a mere 19 years old. The rest, as they say, is history.
To be clear, my mother was a hard taskmaster. She was a brilliant salesperson and business manager, but had emerged from the horrors of World War II Germany (she was a little girl of only 8 years of age when the American bombs and tanks destroyed our Bavarian village…) seriously damaged by PTSD. While frequently less than entirely lucid, on her better days she drilled into me throughout my childhood the premise that the world is filled with unimaginable risks, and that I should do everything in my power to plan for, and seek in advance to mitigate, the inevitable impacts of those coming disasters. That instilled capacity of caution remains paramount for me even today, and thus explains why I oftentimes have troubled sleep during periods of higher risk.
Truth be told, I absolutely believe that it has been my early childhood training in risk/reward analysis that has allowed Mile High Comics to emerge whole, and relatively unscathed, through these past 52 years of unceasing change and turmoil in the comics world. Even today, after I have paid off all of our bank debt and built seemingly endless redundancy into our walls of financial safety and security, I do still worry, a lot. Honestly, I believe that my propensity to worry is a good thing, as my experience has been that complacency is a leading cause of death for successful enterprises. I try to never forget that what is totally right and good today, can go dreadfully wrong tomorrow. After all, who could have predicted the (seemingly) endless waves of COVID with which we have had to deal over the past 22 months? You might be on top of the world today, but you just never know what might be coming next.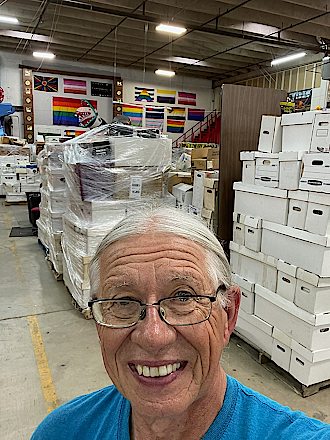 Chuck with some of the pallets of comics from last year

In any event, my (huge) gamble of spending nearly a quarter of a million dollars during November and early December to stock us up for this year's critical holiday season paid off magnificently. Our sales more than doubled over the same period last year, which allowed me to pay off nearly all of those innumerable private collections and vendor invoices. Of even greater importance to me is that we simultaneously vastly improved our overall inventory of comics, books, toys, statues, and collectibles. Those wonderful long term inventory enhancements are the proverbial "seed corn" that (should) allow us to continue our successes during all of 2022. Fingers crossed…
Moving ahead, my biggest concern for January is whether the Omicron variant will blow up so severely that it begins to drag down our entire economy. The fact that vaccinated people are seemingly suffering milder infections is (relatively) good news, but I truly worry for those who have opted out of being protected. That at-risk population of millions includes a disproportionate number of people living in the upper Midwest, which is precisely where I was planning to travel this week on my next comics and toys buying trip. Suffice it to say, I am postponing my journey for at least a week, as we await further COVID news. If this latest wave abates, then I am definitely heading out, ASAP. For right now, however, I believe that the risks are just too high.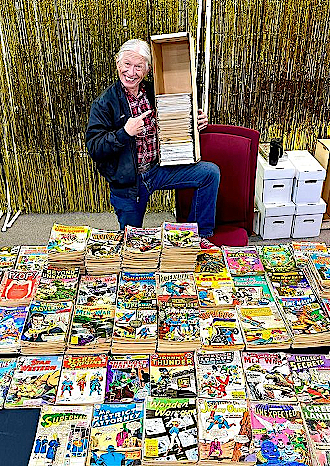 Chuck with some of his older DC Comics accumulation

While I will not be on the road buying collections this week, I will still be providing those of you who shop with us online with incredible numbers of great comics options. Immediately after delivering legendary comics creator, Jim Shooter, into the capable hands of the United Airlines assistance team yesterday morning, I returned to Jason St. to (finally) continue sorting through a huge single-owner collection that I purchased in March of last year. That collection consisted of 70,000 individual issues, including a near-complete (1957-2015) DC Comics accumulation. Most of the early issues are low grade "reader" copies, but that is just fine by me as it makes them more affordable for everyone. I managed to sort through three long boxes of Golden, Silver, and Bronze Age comics from that one collection yesterday, which is about 1,000 individual issues. Whew!
So you know, that one huge collection is far from my only comic book sorting chore. Truth be told, I have somewhere between 12 (at a minimum), and perhaps as many as 30, unsorted pallets of comics stashed in every corner of Jason St. from my frenetic buying efforts of last year. Each pallet consists of about 15,000 individual issues, so my current backlog of unsorted comics is truly prodigious. In many regards, however, my over-purchasing (during times of plenty) is but another of my risk-avoidance efforts. As long as we can pay for all of those collections out of operating cash flow (which we have already accomplished), then deriving the final benefits can be safely delayed without causing any harm. Better yet, if further travel becomes too risky, I am already sitting on a very comfortable gold mine of potential. In a nutshell, that is precisely why I slept like a stone last night.
I want to close out today's newsletter with a couple of fun bits of information. First, Will and Pam will be grading and entering the final +/- 500 "Jewelers" variants that I discovered late last week into our online inventory for you today, and tomorrow. If you are seeking any of these rare issues, keep an eye on our daily Premium New-In-Stock" link each morning. Will generally gets it uploaded for you onto our website at about 11 AM, Mountain Time Zone.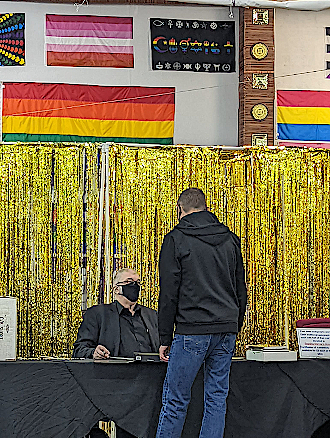 Jim Shooter signing and talking to fans

Second, I imposed upon Jim Shooter to sign several stacks of comics for us during his visit of this past weekend. Some were comics that he autographed for us he personally wrote, plotted, and/or drew, while others were high grade Marvel issues from the 1970's and 1980's which he guided to their creation while working as Marvel's Editor-In-Chief. We may have an initial listing of some of those Jim Shooter autographed issues for you on Wednesday, but the bulk of his comics will be offered to you later in the week.
Third, Will and Pam will also be integrating a few of the comics from my sorting efforts into their grading/entering all of this week. Next week will be even more expansive as regards my wonderful older issues, as I should have at least 3,000 (!) pre-1984 comics ready for them. That is truly going to start off 2022 with a bang!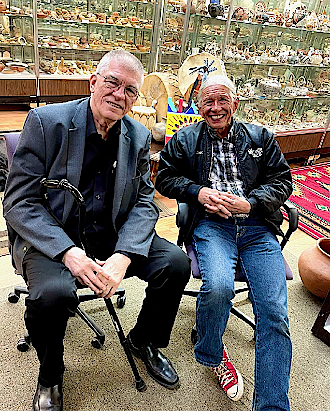 Jim Shooter and Chuck Rozanski Youtube conversation

Finally, here is a link to the first installment (of four) of my very loose and wide-ranging conversation with Jim Shooter about our historic first meeting (1979), and some of the subsequent changes that we wrought. I hope that you can find the time to watch. It was truly fun to reminisce with this amazingly kind and talented comics genius, whom I have been blessed to be able to call my dear friend for over 40 years.
Happy collecting!
Chuck Rozanski/Bettie Pages,
President - Mile High Comics, Inc.
January 1, 2022

P.S. Given that we were blessed with so much success during December, I am not going to be ending our 60% off THANKYOU! this week, as I had originally planned. Let's just roll with it into January, and see how life goes. As has always been the case, the 60% off discount applies to all ten million-plus of our back issue comics and magazines listed on our website, excluding only new issues, a few variants, and our professionally-graded items. Most of the new arrivals below ARE eligible for the 60% THANKYOU! discount. Enjoy!
MARVEL
A DATE WITH MILLIE (1959) #6 (Marvel Atlas Titles) Very Good
A DATE WITH MILLIE (1959) #7 (Marvel Atlas Titles) Very Good

ALIAS (2001) (#1-28) (MARVEL) (BRIAN MICHAEL BENDIS) #1 Very Fine

CAPTAIN AMERICA (1968) (#100-454) (MARVEL) #205 Fine

DEADPOOL (1997) (#0-69) (MARVEL) #61 Fine
DEADPOOL (1997) (#0-69) (MARVEL) #62 Very Fine
DEADPOOL (1997) (#0-69) (MARVEL) #63 Near Mint/Mint
DEADPOOL (1997) (#0-69) (MARVEL) #65 Near Mint/Mint
DEADPOOL (1997) (#0-69) (MARVEL) #68 Near Mint/Mint
DEADPOOL (1997) (#0-69) (MARVEL) #69 Near Mint/Mint

FLINTSTONES (1977) (#1-9) (MARVEL) (HANNA BARBERA) #3 Good

GHOST RIDER (1973) (#1-81) (MARVEL) #20 Fine
GHOST RIDER (1973) (#1-81) (MARVEL) #21 Fine
GHOST RIDER (1973) (#1-81) (MARVEL) #33 Fine
GHOST RIDER (1973) (#1-81) (MARVEL) #58 Very Fine
GHOST RIDER (1973) (#1-81) (MARVEL) #80 Near Mint/Mint
GHOST RIDER (1973) (#1-81) (MARVEL) #81 Fine

GODZILLA (1977) (#1-24) (MARVEL) #2 Fine
GODZILLA (1977) (#1-24) (MARVEL) #3 Fine
GODZILLA (1977) (#1-24) (MARVEL) #4 Very Fine
GODZILLA (1977) (#1-24) (MARVEL) #5 Very Fine
GODZILLA (1977) (#1-24) (MARVEL) #6 Fine
GODZILLA (1977) (#1-24) (MARVEL) #7 Very Fine
GODZILLA (1977) (#1-24) (MARVEL) #8 Fine
GODZILLA (1977) (#1-24) (MARVEL) #9 Very Fine


GODZILLA (1977) (#1-24) (MARVEL) #10

GODZILLA (1977) (#1-24) (MARVEL) #10 Fine
GODZILLA (1977) (#1-24) (MARVEL) #12 Near Mint/Mint
GODZILLA (1977) (#1-24) (MARVEL) #13 Very Fine
GODZILLA (1977) (#1-24) (MARVEL) #14 Fine
GODZILLA (1977) (#1-24) (MARVEL) #15 Fine
GODZILLA (1977) (#1-24) (MARVEL) #16 Fine
GODZILLA (1977) (#1-24) (MARVEL) #17 Very Good
GODZILLA (1977) (#1-24) (MARVEL) #18 Very Fine
GODZILLA (1977) (#1-24) (MARVEL) #19 Near Mint/Mint
GODZILLA (1977) (#1-24) (MARVEL) #20 Very Fine
GODZILLA (1977) (#1-24) (MARVEL) #21 Very Fine
GODZILLA (1977) (#1-24) (MARVEL) #22 Near Mint/Mint
GODZILLA (1977) (#1-24) (MARVEL) #23 NEWSSTAND Very Fine
GODZILLA (1977) (#1-24) (MARVEL) #24 NEWSSTAND Fine

GROO ADVENTURER TPB #1 Near Mint/Mint

HEATHCLIFF (1985) #3 NEWSSTAND (Marvel Star) Good

HULK (1962) (#1-6, #102-474, #600-635)(INCREDIBLE)(MV) #208 Very Good

KATHY (1959) #16 (Marvel Atlas Titles) Very Good

LAFF-A-LYMPICS (1978) #2 Very Good
LAFF-A-LYMPICS (1978) #13 Good

MARVEL TEAM-UP ANNUAL (1976) #3 NEWSSTAND Very Good

MILLIE THE MODEL (1945) #99 Good

MS. MARVEL (1977) (#1-23) (MARVEL) (CAROL DANVERS) #2 Very Good


MS. MARVEL (1977) (#1-23) (MARVEL) (CAROL DANVERS) #3

MS. MARVEL (1977) (#1-23) (MARVEL) (CAROL DANVERS) #3 Good

NAM (1986) #75 Near Mint/Mint
NAM (1986) #76 Near Mint/Mint
NAM (1986) #77 Near Mint/Mint
NAM (1986) #78 Near Mint/Mint
NAM (1986) #79 Near Mint/Mint
NAM (1986) #80 Near Mint/Mint
NAM (1986) #81 Near Mint/Mint
NAM (1986) #82 Near Mint/Mint
NAM (1986) #83 Very Fine
NAM (1986) #84 Near Mint/Mint

NEW MUTANTS (1983) (#1-100) (MARVEL) #8 NEWS JEWEL Near Mint/Mint
NEW MUTANTS (1983) (#1-100) (MARVEL) #9 NEWS JEWEL Near Mint/Mint
NEW MUTANTS (1983) (#1-100) (MARVEL) #10 NEWS JEWEL Very Fine
NEW MUTANTS (1983) (#1-100) (MARVEL) #11 NEWS JEWEL Near Mint/Mint
NEW MUTANTS (1983) (#1-100) (MARVEL) #12 NEWS JEWEL Very Fine
NEW MUTANTS (1983) (#1-100) (MARVEL) #13 NEWS JEWEL Near Mint/Mint
NEW MUTANTS (1983) (#1-100) (MARVEL) #14 NEWS JEWEL Very Fine
NEW MUTANTS (1983) (#1-100) (MARVEL) #15 NEWS JEWEL Near Mint/Mint
NEW MUTANTS (1983) (#1-100) (MARVEL) #16 NEWS JEWEL Near Mint/Mint
NEW MUTANTS (1983) (#1-100) (MARVEL) #17 NEWS JEWEL Near Mint/Mint
NEW MUTANTS (1983) (#1-100) (MARVEL) #18 NEWS JEWEL Very Fine
NEW MUTANTS (1983) (#1-100) (MARVEL) #19 NEWS JEWEL Very Fine
NEW MUTANTS (1983) (#1-100) (MARVEL) #20 NEWS JEWEL Very Good
NEW MUTANTS (1983) (#1-100) (MARVEL) #22 NEWS JEWEL Near Mint/Mint
NEW MUTANTS (1983) (#1-100) (MARVEL) #23 NEWS JEWEL Very Fine
NEW MUTANTS (1983) (#1-100) (MARVEL) #24 NEWS JEWEL Very Fine
NEW MUTANTS (1983) (#1-100) (MARVEL) #25 NEWS JEWEL Fine
NEW MUTANTS (1983) (#1-100) (MARVEL) #26 NEWS JEWEL Very Fine


NEW MUTANTS (1983) (#1-100) (MARVEL) #27 NEWS JEWEL

NEW MUTANTS (1983) (#1-100) (MARVEL) #27 NEWS JEWEL Very Fine
NEW MUTANTS (1983) (#1-100) (MARVEL) #28 NEWS JEWEL Fine

PATSY AND HEDY (1952) #78 Very Good
PATSY AND HEDY (1952) #83 Very Good

POWER MAN/IRON FIST (LUKE CAGE, POWER MAN #1-49) (1972) #77 NEWS JEWEL Fine
POWER MAN/IRON FIST (LUKE CAGE, POWER MAN #1-49) (1972) #90 NEWS JEWEL Very Fine
POWER MAN/IRON FIST (LUKE CAGE, POWER MAN #1-49) (1972) #91 NEWS JEWEL Near Mint/Mint
POWER MAN/IRON FIST (LUKE CAGE, POWER MAN #1-49) (1972) #92 NEWS JEWEL Very Fine
POWER MAN/IRON FIST (LUKE CAGE, POWER MAN #1-49) (1972) #93 NEWS JEWEL Very Fine
POWER MAN/IRON FIST (LUKE CAGE, POWER MAN #1-49) (1972) #94 NEWS JEWEL Near Mint/Mint
POWER MAN/IRON FIST (LUKE CAGE, POWER MAN #1-49) (1972) #95 NEWS JEWEL Near Mint/Mint
POWER MAN/IRON FIST (LUKE CAGE, POWER MAN #1-49) (1972) #96 NEWS JEWEL Near Mint/Mint
POWER MAN/IRON FIST (LUKE CAGE, POWER MAN #1-49) (1972) #97 NEWS JEWEL Fine
POWER MAN/IRON FIST (LUKE CAGE, POWER MAN #1-49) (1972) #98 NEWS JEWEL Near Mint/Mint
POWER MAN/IRON FIST (LUKE CAGE, POWER MAN #1-49) (1972) #99 NEWS JEWEL Very Fine
POWER MAN/IRON FIST (LUKE CAGE, POWER MAN #1-49) (1972) #101 NEWS JEWEL Near Mint/Mint
POWER MAN/IRON FIST (LUKE CAGE, POWER MAN #1-49) (1972) #102 NEWS JEWEL Very Fine
POWER MAN/IRON FIST (LUKE CAGE, POWER MAN #1-49) (1972) #103 NEWS JEWEL Very Fine
POWER MAN/IRON FIST (LUKE CAGE, POWER MAN #1-49) (1972) #104 NEWS JEWEL Fine
POWER MAN/IRON FIST (LUKE CAGE, POWER MAN #1-49) (1972) #105 NEWS JEWEL Very Fine
POWER MAN/IRON FIST (LUKE CAGE, POWER MAN #1-49) (1972) #106 NEWS JEWEL Very Fine
POWER MAN/IRON FIST (LUKE CAGE, POWER MAN #1-49) (1972) #107 NEWS JEWEL Good
POWER MAN/IRON FIST (LUKE CAGE, POWER MAN #1-49) (1972) #108 NEWS JEWEL Near Mint/Mint
POWER MAN/IRON FIST (LUKE CAGE, POWER MAN #1-49) (1972) #109 NEWS JEWEL Near Mint/Mint
POWER MAN/IRON FIST (LUKE CAGE, POWER MAN #1-49) (1972) #110 NEWS JEWEL Near Mint/Mint
POWER MAN/IRON FIST (LUKE CAGE, POWER MAN #1-49) (1972) #112 NEWS JEWEL Very Fine
POWER MAN/IRON FIST (LUKE CAGE, POWER MAN #1-49) (1972) #113 NEWS JEWEL Near Mint/Mint


POWER MAN/IRON FIST (LUKE CAGE, POWER MAN #1-49) (1972) #114 NEWS JEWEL

POWER MAN/IRON FIST (LUKE CAGE, POWER MAN #1-49) (1972) #114 NEWS JEWEL Near Mint/Mint
POWER MAN/IRON FIST (LUKE CAGE, POWER MAN #1-49) (1972) #115 NEWS JEWEL Near Mint/Mint
POWER MAN/IRON FIST (LUKE CAGE, POWER MAN #1-49) (1972) #116 NEWS JEWEL Very Fine

QUASAR (1989) #54 Fine
QUASAR (1989) #55 Near Mint/Mint
QUASAR (1989) #56 Very Fine

QUESTPROBE (1984) #1 NEWS JEWEL Near Mint/Mint
QUESTPROBE (1984) #1 NEWS JEWEL Very Fine
QUESTPROBE (1984) #2 NEWS JEWEL Near Mint/Mint

RED SONJA (1983) (#1-2) (MARVEL) #1 NEWS JEWEL Fine
RED SONJA (1983) (#1-2) (MARVEL) #2 NEWS JEWEL Near Mint/Mint
RED SONJA (1983) (#1-2) (MARVEL) #2 NEWS JEWEL Very Fine

RED SONJA (1983) (#1-13) (MARVEL) #5 NEWS JEWEL Near Mint/Mint
RED SONJA (1983) (#1-13) (MARVEL) #6 NEWS JEWEL Near Mint/Mint
RED SONJA (1983) (#1-13) (MARVEL) #8 NEWS JEWEL Fine

SPIDER-MAN (1963) (AMAZING SPIDER-MAN) (#1-441) #361 Near Mint/Mint
SPIDER-MAN (1963) (AMAZING SPIDER-MAN) (#1-441) #362 Near Mint/Mint

SUB-MARINER (1984) (#1-4) (PRICE NAMOR SUB-MARINER) #3 NEWS JEWEL Near Mint/Mint
SUB-MARINER (1984) (#1-4) (PRICE NAMOR SUB-MARINER) #4 NEWS JEWEL Near Mint/Mint

DC
ACTION COMICS (1938) (#0-600, 643-904) (DC) #466 Good
ACTION COMICS (1938) (#0-600, 643-904) (DC) #663 NEWSSTAND Good
ADVENTURE COMICS (1938) (#32-503) (DC) #216 Good


ADVENTURE COMICS (1938) (#32-503) (DC) #238

ADVENTURE COMICS (1938) (#32-503) (DC) #238 Good
ADVENTURE COMICS (1938) (#32-503) (DC) #238 Fair
ADVENTURE COMICS (1938) (#32-503) (DC) #249 Good
ADVENTURE COMICS (1938) (#32-503) (DC) #252 Good
ADVENTURE COMICS (1938) (#32-503) (DC) #262 Good
ADVENTURE COMICS (1938) (#32-503) (DC) #273 Good
ADVENTURE COMICS (1938) (#32-503) (DC) #275 Good
ADVENTURE COMICS (1938) (#32-503) (DC) #277 Fair
ADVENTURE COMICS (1938) (#32-503) (DC) #281 Very Good
ADVENTURE COMICS (1938) (#32-503) (DC) #285 Fair
ADVENTURE COMICS (1938) (#32-503) (DC) #287 Good

ALL-STAR WESTERN (1951) (#58-119) (DC) #92 Fair
ALL-STAR WESTERN (1951) (#58-119) (DC) #102 Very Good
ALL-STAR WESTERN (1951) (#58-119) (DC) #108 Good
ALL-STAR WESTERN (1951) (#58-119) (DC) #113 Good

BATMAN (1940) (#0-713) (DC) #598 Very Fine
BATMAN (1940) (#0-713) (DC) #601 Fine
BATMAN (1940) (#0-713) (DC) #603 Very Fine
BATMAN (1940) (#0-713) (DC) #604 Fine

BINKY #82 Good

BIONICLE (DC) (LEGO CLUB MEMBERS ONLY) (2001) #4 Fine
BIONICLE (DC) (LEGO CLUB MEMBERS ONLY) (2001) #5 Fine

BLOOD SYNDICATE (1993) #34 (DC: Milestone Press) Near Mint/Mint
BLOOD SYNDICATE (1993) #35 (DC: Milestone Press) Near Mint/Mint

DATE WITH JUDY (1947) #78 Good

DETECTIVE COMICS (1937) (#0-881) (DC) #766 Very Fine
DETECTIVE COMICS (1937) (#0-881) (DC) #768 Very Fine

FALLING IN LOVE (1955) #53 Very Good

FLASH (1959) (#105-350) (DC) #109 Good
FLASH (1959) (#105-350) (DC) #110 Good
FLASH (1959) (#105-350) (DC) #112 Very Good
FLASH (1959) (#105-350) (DC) #114 Good
FLASH (1959) (#105-350) (DC) #118 Fair
FLASH (1959) (#105-350) (DC) #121 Very Good
FLASH (1959) (#105-350) (DC) #122 Good
FLASH (1959) (#105-350) (DC) #127 Very Good
FLASH (1959) (#105-350) (DC) #138 Good

GIRL'S ROMANCES (1950) #86 Good

GREEN LANTERN (1960) (#1-224) (DC) #2 Fair
GREEN LANTERN (1960) (#1-224) (DC) #4 Fair
GREEN LANTERN (1960) (#1-224) (DC) #9 Fair
GREEN LANTERN (1960) (#1-224) (DC) #14 Good
GREEN LANTERN (1960) (#1-224) (DC) #20 Good
GREEN LANTERN (1960) (#1-224) (DC) #31 Good
GREEN LANTERN (1960) (#1-224) (DC) #34 Fair
GREEN LANTERN (1960) (#1-224) (DC) #35 Very Good
GREEN LANTERN (1960) (#1-224) (DC) #44 Good
GREEN LANTERN (1960) (#1-224) (DC) #57 Fair
GREEN LANTERN (1960) (#1-224) (DC) #81 Good
GREEN LANTERN (1960) (#1-224) (DC) #83 Very Good


GREEN LANTERN (1960) (#1-224) (DC) #84

GREEN LANTERN (1960) (#1-224) (DC) #84 Fair
GREEN LANTERN (1960) (#1-224) (DC) #87 Fair
GREEN LANTERN (1960) (#1-224) (DC) #88 Good

GREEN LANTERN (2011) (#0-52) (DC NEW52) #1 VARIANT Fine

HARDWARE (1993) #36 (DC: Milestone Press) Near Mint/Mint

HEART THROBS (1957) (#47-146) (DC) #74 Very Good

ICON (1993) #32 (DC: Milestone Press) Very Fine
ICON (1993) #33 (DC: Milestone Press) Near Mint/Mint

IDENTITY CRISIS (2004) #2 Fine

JOKER: LAST LAUGH (2001) #6 Very Fine

JUST IMAGINE: ROBIN (2002) #1 Very Fine

JUST IMAGINE: SUPERMAN (2001) #1 Very Fine

NIGHTWING (1995) (#1-4) (DC) #1 Very Fine

POWER LORDS (1983) #2 NEWS JEWEL Near Mint/Mint
POWER LORDS (1983) #3 NEWS JEWEL Near Mint/Mint

PREACHER (1995) #6 (DC: Vertigo Press) Very Fine

PRINCE: ALTER EGO #1 Very Good

PROMETHEA (1999) #18 (DC/America's Best) Very Fine

PROMETHEA (1999) #19 (DC/America's Best) Fine
PROMETHEA (1999) #20 (DC/America's Best) Fine
PROMETHEA (1999) #21 (DC/America's Best) Very Fine

SECRET HEARTS (1949) #83 Very Good

SHOWCASE (1956) (#1-104) (SHOWCASE PRESENTS...) (DC) #20 Good
SHOWCASE (1956) (#1-104) (SHOWCASE PRESENTS...) (DC) #23 Good
SHOWCASE (1956) (#1-104) (SHOWCASE PRESENTS...) (DC) #26 Fair
SHOWCASE (1956) (#1-104) (SHOWCASE PRESENTS...) (DC) #29 Good
SHOWCASE (1956) (#1-104) (SHOWCASE PRESENTS...) (DC) #30 Very Good
SHOWCASE (1956) (#1-104) (SHOWCASE PRESENTS...) (DC) #32 Very Good
SHOWCASE (1956) (#1-104) (SHOWCASE PRESENTS...) (DC) #35 Good
SHOWCASE (1956) (#1-104) (SHOWCASE PRESENTS...) (DC) #36 Very Good
SHOWCASE (1956) (#1-104) (SHOWCASE PRESENTS...) (DC) #38 Good
SHOWCASE (1956) (#1-104) (SHOWCASE PRESENTS...) (DC) #39 Fair
SHOWCASE (1956) (#1-104) (SHOWCASE PRESENTS...) (DC) #40 Fair

STAR TREK (1984) (#1-56) (DC) #1 NEWS JEWEL Near Mint/Mint
STAR TREK (1984) (#1-56) (DC) #2 NEWS JEWEL Near Mint/Mint
STAR TREK (1984) (#1-56) (DC) #2 NEWS JEWEL Very Fine
STAR TREK (1984) (#1-56) (DC) #3 NEWS JEWEL Near Mint/Mint
STAR TREK (1984) (#1-56) (DC) #3 NEWS JEWEL Very Fine
STAR TREK (1984) (#1-56) (DC) #4 NEWS JEWEL Near Mint/Mint
STAR TREK (1984) (#1-56) (DC) #5 NEWS JEWEL Near Mint/Mint
STAR TREK (1984) (#1-56) (DC) #6 NEWS JEWEL Near Mint/Mint
STAR TREK (1984) (#1-56) (DC) #7 NEWS JEWEL Near Mint/Mint
STAR TREK (1984) (#1-56) (DC) #8 NEWS JEWEL Very Fine
STAR TREK (1984) (#1-56) (DC) #9 NEWS JEWEL Near Mint/Mint
STAR TREK (1984) (#1-56) (DC) #10 NEWS JEWEL Near Mint/Mint
STAR TREK (1984) (#1-56) (DC) #12 NEWS JEWEL Near Mint/Mint


STAR TREK (1984) (#1-56) (DC) #13 NEWS JEWEL

STAR TREK (1984) (#1-56) (DC) #13 NEWS JEWEL Very Fine

WONDER WOMAN (1942) (#1-329) (DC) #103 Good
WONDER WOMAN (1942) (#1-329) (DC) #108 Fair
WONDER WOMAN (1942) (#1-329) (DC) #123 Very Good
WONDER WOMAN (1942) (#1-329) (DC) #124 Very Good
WONDER WOMAN (1942) (#1-329) (DC) #130 Very Good
WONDER WOMAN (1942) (#1-329) (DC) #134 Very Good
WONDER WOMAN (1942) (#1-329) (DC) #140 Very Good
WONDER WOMAN (1942) (#1-329) (DC) #149 Very Good
WONDER WOMAN (1942) (#1-329) (DC) #150 Very Good
WONDER WOMAN (1942) (#1-329) (DC) #152 Good
WONDER WOMAN (1942) (#1-329) (DC) #152 Very Good
WONDER WOMAN (1942) (#1-329) (DC) #154 Very Good
WONDER WOMAN (1942) (#1-329) (DC) #157 Very Good
WONDER WOMAN (1942) (#1-329) (DC) #166 Fine
WONDER WOMAN (1942) (#1-329) (DC) #172 Very Good
WONDER WOMAN (1942) (#1-329) (DC) #196 Fine

IMAGE COMICS
PITT (1993) (#1-9) (IMAGE) #8 Near Mint/Mint

INDEPENDENTS
ARCHIE (1942) (#1-666) (ARCHIE MJL) #258 (Archie Comics) Good
ARCHIE (1942) (#1-666) (ARCHIE MJL) #261 (Archie Comics) Good
ARCHIE (1942) (#1-666) (ARCHIE MJL) #271 (Archie Comics) Good
ARCHIE (1942) (#1-666) (ARCHIE MJL) #329 (Archie Comics) Good

ARCHIE AT RIVERDALE HIGH (1972) #41 (Archie Comics) Very Good


ARCHIE GIANT SERIES (1954) #452

ARCHIE GIANT SERIES (1954) #452 (Archie Comics) Very Good
ARCHIE GIANT SERIES (1954) #453 (Archie Comics) Very Good
ARCHIE GIANT SERIES (1954) #454 (Archie Comics) Very Good
ARCHIE GIANT SERIES (1954) #455 (Archie Comics) Good

ARCHIE'S TV LAUGH-OUT (1969) #45 (Archie Comics) Very Good
ARCHIE'S TV LAUGH-OUT (1969) #48 (Archie Comics) Very Good
ARCHIE'S TV LAUGH-OUT (1969) #91 (Archie Comics) Good

BETTY AND ME (1965) #135 (Archie Comics) Good

BETTY AND VERONICA (1950) #51 (Archie Comics) Good

BONE (1991) (#1-55) (CARTOON BOOKS) #46 (Cartoon Books) Very Fine
BONE (1991) (#1-55) (CARTOON BOOKS) #48 (Cartoon Books) Fine

CASPER THE GHOST (1958) #188 (Harvey Comics) Good
CASPER THE GHOST (1958) #189 (Harvey Comics) Good

DENNIS THE MENACE (1956) (#15-31) (PINES) #28 (PINES COMICS) Good

DENNIS THE MENACE (1959) (#32-166) (HALLDEN/FAWCETT) #147 (FAWCETT PUBLICATION) Good
DENNIS THE MENACE (1959) (#32-166) (HALLDEN/FAWCETT) #148 (FAWCETT PUBLICATION) Very Good
DENNIS THE MENACE (1959) (#32-166) (HALLDEN/FAWCETT) #149 (FAWCETT PUBLICATION) Very Good
DENNIS THE MENACE (1959) (#32-166) (HALLDEN/FAWCETT) #150 (FAWCETT PUBLICATION) Very Good
DENNIS THE MENACE (1959) (#32-166) (HALLDEN/FAWCETT) #155 (FAWCETT PUBLICATION) Good
DENNIS THE MENACE (1959) (#32-166) (HALLDEN/FAWCETT) #157 (FAWCETT PUBLICATION) Good
DENNIS THE MENACE (1959) (#32-166) (HALLDEN/FAWCETT) #159 (FAWCETT PUBLICATION) Very Good

DENNIS THE MENACE BONUS MAGAZINE (#76-194) (1970) #151 (FAWCETT PUBLICATION) Very Good
DENNIS THE MENACE BONUS MAGAZINE (#76-194) (1970) #158 (FAWCETT PUBLICATION) Very Good


DENNIS THE MENACE BONUS MAGAZINE (#76-194) (1970) #166

DENNIS THE MENACE BONUS MAGAZINE (#76-194) (1970) #166 (FAWCETT PUBLICATION) Very Good
DENNIS THE MENACE BONUS MAGAZINE (#76-194) (1970) #168 (FAWCETT PUBLICATION) Very Good
DENNIS THE MENACE BONUS MAGAZINE (#76-194) (1970) #171 (FAWCETT PUBLICATION) Very Good
DENNIS THE MENACE BONUS MAGAZINE (#76-194) (1970) #173 (FAWCETT PUBLICATION) Very Good
DENNIS THE MENACE BONUS MAGAZINE (#76-194) (1970) #186 (FAWCETT PUBLICATION) Very Good
DENNIS THE MENACE BONUS MAGAZINE (#76-194) (1970) #187 (FAWCETT PUBLICATION) Very Good

DINO (THE FLINTSTONES) (1973) #20 (Charlton) Very Good

EVERYTHING'S ARCHIE (1969) #54 (Archie Comics) Very Good
EVERYTHING'S ARCHIE (1969) #62 (Archie Comics) Very Good

FLINTSTONES (1970) (#1-50) (CHARLTON) (HANNA BARBERA) #50 (Charlton) Fine

GREAT GAZOO (1973) #19 (Charlton) Good

HOT STUFF (1957) #140 (Harvey Comics) Good
HOT STUFF (1957) #146 (Harvey Comics) Good

JOSIE & THE PUSSYCATS (JOSIE #1-106) (1963) #92 (Archie Comics) Fine
JOSIE & THE PUSSYCATS (JOSIE #1-106) (1963) #93 (Archie Comics) Very Good
JOSIE & THE PUSSYCATS (JOSIE #1-106) (1963) #95 (Archie Comics) Very Good
JOSIE & THE PUSSYCATS (JOSIE #1-106) (1963) #101 (Archie Comics) Good

JUGHEAD (1949) (#1-352) #60 (Archie Comics) Good
JUGHEAD (1949) (#1-352) #259 (Archie Comics) Very Good
JUGHEAD (1949) (#1-352) #267 (Archie Comics) Very Good
JUGHEAD (1949) (#1-352) #327 (Archie Comics) Very Good

JUST MARRIED (1958) #26 (Charlton) Very Good

LAUGH (1946) #135 (Archie Comics) Good

LAUGH (1987) #3 (Archie Comics) Very Good

LIFE WITH ARCHIE (1958) #10 (Archie Comics) Very Good
LIFE WITH ARCHIE (1958) #244 (Archie Comics) Very Good

LINDA LARK (1961) #5 (Dell Publishing) Very Good

LITTLE ARCHIE (1956) #114 (Archie Comics) Very Good
LITTLE ARCHIE (1956) #120 (Archie Comics) Very Good

PEBBLES & BAMM BAMM (1972) #36 (Charlton) Very Good

PEP COMICS (1946) (#56-411) (ARCHIE) #320 (Archie Comics) Good
PEP COMICS (1946) (#56-411) (ARCHIE) #334 (Archie Comics) Very Good

REGGIE AND ME (1966) #100 (Archie Comics) Good
REGGIE AND ME (1966) #124 (Archie Comics) Very Good

WARRIORS OF PLASM #1 (Defiant) Near Mint/Mint

YOUNG ROMANCE (1947) (#1-124) (PRIZE) #115 (Prize Group/Headline) Very Good