30% Off HOLIDAY Codeword Ends Saturday
Howdy!
I hope that your new year has dawned with as much promise and hope as ours. To explain, we started off yesterday with an extremely busy day at our Jason St. Mega-Store, with eager fans snapping up back issue comics and out-of-print trade paperbacks and hardbacks at a surprisingly robust pace. This comes on top of a very satisfying holiday sales season online, where we received an outpouring of support from fans around the world for not only our initiatives to help the homeless, but also our core website. We sincerely thank everyone who helped us prosper during this critical time of year.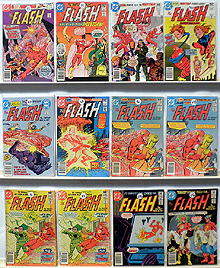 Some of the Flash comics added in the last couple of weeks

As regards our homeless initiative, the winner of the drawing for the $1,000 Mile High Comics shopping spree is Ryan of Aurora, Colorado Congratulations, and thank you very much for participating in our $25 gift certificate program. At the end of this newsletter is a link to a video where I am out on the streets last Thursday with the other volunteers of Jim Scharper's "Feeding Denver's Hungry" organization passing out food and warm clothes. The weather was actually rather nice that day, but is projected to be bitter cold the rest of this week. That makes me very happy that we were able to get the socks, gloves, hats, and scarves paid for by your gift certificate purchases into the hands of our poor, elderly, and disabled citizens ahead of this latest cold front.
As regards news from Mile High Comics, I am cautiously optimistic that 2017 may be our best year, ever. Here is why:
1) Our speed of shipping of orders is excellent, with our fulfillment team having kept up better this holiday season than any December in memory. We do have a small backlog right now because of the New Year's holiday, but it will disappear this week.
2) We have successfully enhanced our website listings by 70,000+ additional comics and books during the past eight months, with several very large collection purchases having added thousands of highly desirable Silver Age and Bronze Age into our website listings, as well as an amazing number of scarce variant editions. This robust growth should continue during 2017, as we have nearly 10,000 more key issues already waiting to be graded.
3) Thanks to our reducing our operating costs through a consolidation of our two warehouses into one back in April, we were able to slash all of our back issue comics and magazine prices for you in early October by 50%-70% off. It is astounding to me just how many comics that we now offer on our website at $2, or less!
I could go on about other positive changes, but I think that our offering lower prices, faster shipping, and a vastly improved selection of hard-to-find comics and books is already quite sufficient. That having been said, all of us here at Mile High Comics hope that we can count on your continued support and patronage during 2017, as without your help none of our positive initiates can succeed. We hope that you will choose to continue to support our efforts. Thank you!

STAR WARS: PRINCESS LEIA #1 MILE HIGH

I will close today's newsletter with a couple of quick news notes. First, our 30% off HOLIDAY! codeword sale on all of our back issue comics and magazines will end on Saturday, at noon. Second, our annual 30%-40% off sale on books will also end at that time. Third, the special offer that I made last week for copies of our STAR WARS: PRINCESS LEIA #1, #2, #3, #4, and #5 variant editions at only $25 each (with the proceeds going into a fund to buy hats, gloves, and scarves for the homeless) will also end on Saturday. Suffice it to say, your benefitting from our HOLIDAY! savings this week is a good idea. Free shipping is also still available on all domestics comics orders with a net of over $50, and all net International orders over $125.

STAR WARS: PRINCESS LEIA #2 MILE HIGH


STAR WARS: PRINCESS LEIA #5 MILE HIGH

Happy collecting!
Chuck Rozanski,
President - Mile High Comics, Inc.
January 2, 2017

P.S. Below is a fun poster that Carrie Fisher signed for us in about 1995. She was an exceptionally nice person, and will be very much missed.
link to a video
where I am out on the streets last Thursday with the other volunteers of Jim Scharper's "Feeding Denver's Hungry" organization passing out food and warm clothes.