New Year's Sale - Marvel and DC Comics and Books Half Price
Howdy!
As 2017 draws to a close, I want to express to you just how grateful I am for the support we have received during this tumultuous year. After a successions of snowstorms and blizzards during last winter, our Jason St. Mega-Store was hit by an epic hailstorm on May 8th, which wrecked all 72 of the skylights in the building, thus allowing giant hailstones and pouring rain to enter our main building in 72 locations. Here is a video link to that awful day, just in case you missed it the first time...
Since that dreadful day, it has taken me seven months of diligent effort to identify and document all of our many thousands of dollars in comics, toys, and books that received water damage from that event. Sadly, our broken skylights have yet to be replaced, and our insurance company is still dragging its feet about our product reimbursement. In many regards that is unimportant, however, as our year has actually turned out wonderfully. Soon after the clean-up from our hailstorm was (mostly) completed, we started receiving an amazing surge in new visitors at Jason St. So many, in fact, that our Mega-Store sales began growing by double digits in June (June 2016 as compared to June 2017...), and are now in the 150%+ range on a month-to-month basis. For a company selling paper collectibles in a world that increasingly becoming digital, that is an amazing level of growth!
In case you are wondering, our growth in sales has been magnified by the extraordinary influx of great collections of comics, books, toys, and statues that we have been able to purchase this year. I took some 20 photos yesterday of showcases filled with cool stuff within the Mega-Store for one of our local newsletters, but I finally had to stop because I came to realize that we had just too many showcases (75) in the building to be able to photograph them all. The same is true of all the awesome back issue comics (300,000+) that Will and Pam have been adding into our New-In-Stock and Premium New-In-Stock links. If I were to have our entire New-In-Stock list for 2017 attached to this newsletter, it would be so large that it would probably cause more than a few e-mail systems to crash. That's just amazing...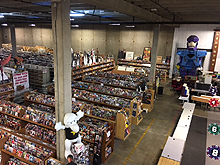 Trade Paper Backs and Hard Covers

Given all of the blessings that we have received this year, I am more than happy to share our good fortune with you by offering you the opportunity to shop our entire gigantic inventory of 10,000,000 back issue comics and magazines at half price right now via our 50% off HOLIDAY! codeword sale. Our annual HOLIDAY! offer typically ends on January 6th, however, so please do place your half price order with us as soon as you can. Only new issues, a few variants, and our professionally-graded comics are excluded.
In closing, I also want to quickly mention that all 200,000+ of our in-stock trade paperbacks and graphic novels are also priced for you right now at 50% off (those discount prices are noted right on the website, with no codeword needed...) and all of our hardback comics collections at discounted for you at 40% off. Close out your 2017 on an enjoyable note by adding some nice comics and books into your collection at half of list price, and help our family business stay alive for another year at the same time. All of us here at Mile High Comics sincerely thank you for your kindness and support during 2017. Without your patronage, we most definitely could not continue to be here to serve you.
Happy New Year!
Chuck Rozanski,
President - Mile High Comics, Inc.
December 29, 2017

P.S. Below is this past week's Premium new-In-stock listing. I think that it is a very nice grouping of comics, books, and magazines....
MARVEL

ALPHA FLIGHT (1983) #1 NEWSSTAND Near Mint/Mint
ALPHA FLIGHT (1983) #2 NEWSSTAND Near Mint/Mint
ALPHA FLIGHT (1983) #3 NEWSSTAND Very Fine

AMAZING SPIDER-MAN (1999) (#1-700.5) (MARVEL) #569 Fine

ASTONISHING X-MEN (2017) (#1-UP) (MARVEL) #7 NOTO Near Mint/Mint
ASTONISHING X-MEN (2017) (#1-UP) (MARVEL) #7 STEVENS Near Mint/Mint

AVENGERS (1963) (#1-402) (MARVEL) #182 Very Good
AVENGERS (1963) (#1-402) (MARVEL) #194 NEWSSTAND Fine
AVENGERS (1963) (#1-402) (MARVEL) #204 NEWSSTAND Very Good
AVENGERS (1963) (#1-402) (MARVEL) #213 NEWSSTAND Near Mint/Mint
AVENGERS (1963) (#1-402) (MARVEL) #214 Very Fine
AVENGERS (1963) (#1-402) (MARVEL) #215 NEWSSTAND Near Mint/Mint
AVENGERS (1963) (#1-402) (MARVEL) #216 NEWSSTAND Near Mint/Mint
AVENGERS (1963) (#1-402) (MARVEL) #217 NEWSSTAND Very Fine
AVENGERS (1963) (#1-402) (MARVEL) #218 Near Mint/Mint
AVENGERS (1963) (#1-402) (MARVEL) #220 NEWSSTAND Fine
AVENGERS (1963) (#1-402) (MARVEL) #221 NEWSSTAND Near Mint/Mint
AVENGERS (1963) (#1-402) (MARVEL) #222 NEWSSTAND Very Fine
AVENGERS (1963) (#1-402) (MARVEL) #223 NEWSSTAND Near Mint/Mint
AVENGERS (1963) (#1-402) (MARVEL) #224 NEWSSTAND Very Fine
AVENGERS (1963) (#1-402) (MARVEL) #225 NEWSSTAND Near Mint/Mint
AVENGERS (1963) (#1-402) (MARVEL) #227 Near Mint/Mint
AVENGERS (1963) (#1-402) (MARVEL) #230 NEWSSTAND Near Mint/Mint
AVENGERS (1963) (#1-402) (MARVEL) #233 NEWSSTAND Very Fine
AVENGERS (1963) (#1-402) (MARVEL) #388 NEWSSTAND Fine

AVENGERS ANNUAL (1967) #11 NEWSSTAND Near Mint/Mint
AVENGERS ANNUAL (1967) #11 NEWSSTAND Very Good

CABLE (2017) (#150-UP) (MARVEL LEGACY) #150 LENTICULAR Near Mint/Mint

CAPTAIN AMERICA (1997) (#1-50) (MARVEL) #50 Very Fine

DAREDEVIL: MAN WITHOUT FEAR (1993) #5 Near Mint/Mint

DAREDEVIL: YELLOW (2001) #1 Near Mint/Mint
DAREDEVIL: YELLOW (2001) #4 Near Mint/Mint

DEADLY HANDS OF KUNG FU (1974) #8 Good
DEADLY HANDS OF KUNG FU (1974) #19 Good

DEFENDERS (1972) (#1-152) (MARVEL) #29 Very Good

ELRIC: DREAMING CITY GN (1982) #1 Fine


EPIC ILLUSTRATED (1980) #3 Very Good
EPIC ILLUSTRATED (1980) #4 Near Mint/Mint
EPIC ILLUSTRATED (1980) #9 Fine
EPIC ILLUSTRATED (1980) #14 Very Fine
EPIC ILLUSTRATED (1980) #28 Fine
EPIC ILLUSTRATED (1980) #33 Fine

EWOKS (STAR WARS) (1985) #6 NEWSSTAND Very Good

FOOM (FRIENDS OF OL' MARVEL) MAGAZINE (1973) #12 Fine

GAMBIT & THE X-TERNALS (1995) #2 NEWSSTAND Fine

HULK! MAGAZINE(RAMPAGING HULK #1-9) (1977) #18 Very Good

IRON FIST/WOLVERINE (2000) #4 Fine

IRON MAN (1968) (#1-332) (INVINCIBLE IRON MAN)(MARVEL) #258 .2 Near Mint/Mint
IRON MAN (1968) (#1-332) (INVINCIBLE IRON MAN)(MARVEL) #258 .4 Near Mint/Mint

IRON MAN (2013) (#1-28) (MARVEL) #1 GRANOV Near Mint/Mint

KA-ZAR (1970) (#1-3) (MARVEL) #1 Fine

KA-ZAR (1981) (#1-34) (THE SAVAGE) (MARVEL) #29 NEWSSTAND Very Fine

KULL THE CONQUEROR (1971) #1 Good

MACHINE MAN (1978) #19 Very Good

MAN-THING (1974) (#1-22) (MARVEL) #1 Very Good

MARVEL COLLECTORS ITEM CLASSICS (1965) #16 Very Fine

MARVEL COMICS PRESENTS (1988) #1 Near Mint/Mint
MARVEL COMICS PRESENTS (1988) #2 Near Mint/Mint
MARVEL COMICS PRESENTS (1988) #4 Near Mint/Mint
MARVEL COMICS PRESENTS (1988) #10 Near Mint/Mint
MARVEL COMICS PRESENTS (1988) #73 Near Mint/Mint
MARVEL COMICS PRESENTS (1988) #80 Near Mint/Mint


MARVEL FANFARE (1982) #45 Near Mint/Mint

MARVEL FEATURE (1971) #7 Fine
MARVEL FEATURE (1971) #8 Good
MARVEL FEATURE (1971) #9 Very Good

MARVEL ILLUSTRATED SWIMSUIT SPECIAL #1992 Very Fine
MARVEL ILLUSTRATED SWIMSUIT SPECIAL #1994 Fine
MARVEL ILLUSTRATED SWIMSUIT SPECIAL #1995 Fine

MARVEL MILESTONE EDITION: AMAZING SPIDER-MAN (1992) #150 Fine

MARVEL PREMIERE (1972) #5 Good
MARVEL PREMIERE (1972) #7 Very Good

MARVEL SUPER SPECIAL (1977) #22 NEWSSTAND Fine

MARVEL SUPER-HERO CONTEST OF CHAMPIONS (1982) #3 NEWSSTAND Very Fine

MARVEL TEAM-UP (1972) #119 NEWSSTAND Very Fine

MARVEL TWO-IN-ONE (1974) (#1-100) (MARVEL) #52 NEWSSTAND Very Good

MARVEL TWO-IN-ONE ANNUAL (1976) #2 Fine

MARVEL ZOMBIES (VOL.2) (2007) #3 Near Mint/Mint

MARVEL ZOMBIES/ARMY OF DARKNESS (2007) #2 Near Mint/Mint
MARVEL ZOMBIES/ARMY OF DARKNESS (2007) #2 Very Fine
MARVEL ZOMBIES/ARMY OF DARKNESS (2007) #3 Near Mint/Mint
MARVEL ZOMBIES/ARMY OF DARKNESS (2007) #3 Very Fine

MASTER OF KUNG FU GIANT-SIZE (1974) #1 Very Good

MAXIMUM CARNAGE (1994) #1 Very Good

MIGHTY THOR (2017) (#700-UP) (MARVEL LEGACY) #700 LENTICULAR Near Mint/Mint

MOON GIRL & DEVIL DINOSAUR VOL. 4: GIRL MOON TPB (2017) #1 Near Mint/Mint

MOON KNIGHT (1980) (#1-38) (MARVEL) #36 Very Fine

NEW AVENGERS (2004) (#1-64) (MARVEL) #7 Very Fine


NEW AVENGERS: ILLUMINATI (2006) #1 Very Fine
NEW AVENGERS: ILLUMINATI (2006) #2 Fine
NEW AVENGERS: ILLUMINATI (2006) #5 Near Mint/Mint

NOT BRAND ECHH! (1967) (#1-13) (MARVEL) #10 Good
NOT BRAND ECHH! (1967) (#1-13) (MARVEL) #12 Good

PHOENIX RESURRECTION: RETURN OF JEAN GREY (2017) #1 ADAMS Near Mint/Mint
PHOENIX RESURRECTION: RETURN OF JEAN GREY (2017) #1 FRISON Near Mint/Mint
PHOENIX RESURRECTION: RETURN OF JEAN GREY (2017) #2 MARTIN Near Mint/Mint

RISE OF THE BLACK PANTHER (2017) #1 SPROUSE Near Mint/Mint

SAVAGE SWORD OF CONAN (MAGAZINE) (1974) #9 Good
SAVAGE SWORD OF CONAN (MAGAZINE) (1974) #50 NEWSSTAND Very Good
SAVAGE SWORD OF CONAN (MAGAZINE) (1974) #51 NEWSSTAND Good

SAVAGE SWORD OF CONAN ANNUAL (MAGAZINE) #1 Very Good

SCARLET SPIDER (2012) #20 Near Mint/Mint

SECRET WARS (2015) #9 Near Mint/Mint

SILVER SURFER (1987) (#1-146) (MARVEL) #1 Near Mint/Mint

SPIDER-MAN (1990) (#1-74, PETER PARKER SPIDEY #75-98) #1 GOLD Near Mint/Mint

SPIDER-MAN/DEADPOOL (2015) #1 Near Mint/Mint

STAR WARS (2015) #2 Near Mint/Mint
STAR WARS (2015) #3 Near Mint/Mint
STAR WARS (2015) #41 MILE HIGH Near Mint/Mint

SUPERIOR SPIDER-MAN (2013) #1 Near Mint/Mint
SUPERIOR SPIDER-MAN (2013) #26 Near Mint/Mint

TED MCKEEVER'S METROPOL (1991) #11 Near Mint/Mint

THOR: GOD OF THUNDER (2012) #3 Near Mint/Mint
THOR: GOD OF THUNDER (2012) #4 Near Mint/Mint
THOR: GOD OF THUNDER (2012) #11 Near Mint/Mint
THOR: GOD OF THUNDER (2012) #12 Near Mint/Mint
THOR: GOD OF THUNDER (2012) #23 Near Mint/Mint

ULTIMATE FALLOUT (2011) #4 2ND BAGLEY Near Mint/Mint


UNCANNY X-MEN (2016) #4 Near Mint/Mint

VENOMVERSE TPB (2017) #1 Near Mint/Mint

VISION/SCARLET WITCH (1982) #2 NEWSSTAND Near Mint/Mint
VISION/SCARLET WITCH (1982) #3 NEWSSTAND Near Mint/Mint

WOLVERINE: OLD MAN LOGAN GIANT-SIZE (2009) #1 Near Mint/Mint

WOLVERINE: ORIGINS (2006) #49 Near Mint/Mint

X-MEN (1991) (#1-275) (MARVEL) #4 NEWSSTAND Fine
X-MEN (1991) (#1-275) (MARVEL) #6 NEWSSTAND Very Fine
X-MEN (1991) (#1-275) (MARVEL) #7 NEWSSTAND Very Good

X-MEN PRIME (2017) #1 WAL-MART Near Mint/Mint

DC
ACTION COMICS (1938) (#0-904) (DC) #904 VARIANT Near Mint/Mint

ADVENTURE COMICS (1938) #493 NEWSSTAND Near Mint/Mint
ADVENTURE COMICS (1938) #494 NEWSSTAND Near Mint/Mint
ADVENTURE COMICS (1938) #496 NEWSSTAND Near Mint/Mint
ADVENTURE COMICS (1938) #497 NEWSSTAND Near Mint/Mint
ADVENTURE COMICS (1938) #498 NEWSSTAND Near Mint/Mint

BATMAN (1940) (#0-713) (DC) #457 Fine
BATMAN (1940) (#0-713) (DC) #497 Near Mint/Mint
BATMAN (1940) (#0-713) (DC) #502 DC LOGO Fine
BATMAN (1940) (#0-713) (DC) #655 Very Fine
BATMAN (1940) (#0-713) (DC) #713 Near Mint/Mint

BATMAN (2011) (#0-52) (DC NEW52) #47 VAR INK Near Mint/Mint

BATMAN/JUDGE DREDD: THE ULTIMATE RIDDLE (PRESTIGE) (1995) #1 Fine

BATMAN: A WORD TO THE WISE (1992) #1 Very Good

BATMAN: THE CULT (JIM STARLIN) (BERNI WRIGHTSON) (1988) #1 Near Mint/Mint

BLACK LIGHTNING (1977) #1 Fine

BLACKHAWK (1957) (#108-273) (DC) #267 NEWSSTAND Fine

BLUE BEETLE VOL. 2: HARD CHOICES TPB (DC REBIRTH) (2017) #1 Near Mint/Mint

DARK KNIGHT STRIKES AGAIN (2001) #1 Near Mint/Mint


DARK KNIGHT STRIKES AGAIN (2001) #3 VARIANT Near Mint/Mint

DC COMICS PRESENTS (1978) #22 NEWSSTAND Near Mint/Mint
DC COMICS PRESENTS (1978) #30 NEWSSTAND Near Mint/Mint
DC COMICS PRESENTS (1978) #40 NEWSSTAND Near Mint/Mint
DC COMICS PRESENTS (1978) #41 NEWSSTAND Very Good
DC COMICS PRESENTS (1978) #42 NEWS ATARI Near Mint/Mint
DC COMICS PRESENTS (1978) #43 NEWSSTAND Very Fine
DC COMICS PRESENTS (1978) #44 NEWSSTAND Very Fine
DC COMICS PRESENTS (1978) #45 NEWSSTAND Very Fine
DC COMICS PRESENTS (1978) #46 NEWSSTAND Near Mint/Mint
DC COMICS PRESENTS (1978) #49 NEWSSTAND Fine
DC COMICS PRESENTS (1978) #52 NEWSSTAND Very Fine
DC COMICS PRESENTS (1978) #55 NEWSSTAND Very Fine
DC COMICS PRESENTS (1978) #56 Near Mint/Mint
DC COMICS PRESENTS (1978) #58 Near Mint/Mint
DC COMICS PRESENTS (1978) #59 NEWSSTAND Near Mint/Mint
DC COMICS PRESENTS (1978) #61 Near Mint/Mint
DC COMICS PRESENTS (1978) #62 NEWSSTAND Near Mint/Mint
DC COMICS PRESENTS (1978) #63 Near Mint/Mint
DC COMICS PRESENTS (1978) #65 Near Mint/Mint
DC COMICS PRESENTS (1978) #67 Near Mint/Mint
DC COMICS PRESENTS (1978) #68 Near Mint/Mint
DC COMICS PRESENTS (1978) #69 NEWSSTAND Near Mint/Mint
DC COMICS PRESENTS (1978) #71 Near Mint/Mint
DC COMICS PRESENTS (1978) #72 Near Mint/Mint
DC COMICS PRESENTS (1978) #73 NEWSSTAND Very Fine
DC COMICS PRESENTS (1978) #76 Near Mint/Mint
DC COMICS PRESENTS (1978) #81 Near Mint/Mint
DC COMICS PRESENTS (1978) #84 Fine
DC COMICS PRESENTS (1978) #86 NEWSSTAND Near Mint/Mint
DC COMICS PRESENTS (1978) #87 NEWSSTAND Fine
DC COMICS PRESENTS (1978) #88 Near Mint/Mint
DC COMICS PRESENTS (1978) #89 NEWSSTAND Very Fine
DC COMICS PRESENTS (1978) #96 MASKINSERT Fine

DC COMICS PRESENTS: NIGHT FORCE (2011) #1 Near Mint/Mint

GREEN ARROW (1983) (#1-4) (DC) (1983) #1 NEWSSTAND Near Mint/Mint
GREEN ARROW (1983) (#1-4) (DC) (1983) #2 NEWSSTAND Fine
GREEN ARROW (1983) (#1-4) (DC) (1983) #3 NEWSSTAND Very Fine
GREEN ARROW (1983) (#1-4) (DC) (1983) #4 NEWSSTAND Fine

JUSTICE LEAGUE OF AMERICA (1960) (#1-261) (DC) #183 NEWSSTAND Fine
JUSTICE LEAGUE OF AMERICA (1960) (#1-261) (DC) #184 Very Fine
JUSTICE LEAGUE OF AMERICA (1960) (#1-261) (DC) #185 NEWSSTAND Very Good
JUSTICE LEAGUE OF AMERICA (1960) (#1-261) (DC) #195 NEWSSTAND Fine
JUSTICE LEAGUE OF AMERICA (1960) (#1-261) (DC) #198 NEWSSTAND Near Mint/Mint


JUSTICE LEAGUE OF AMERICA (1960) (#1-261) (DC) #200 NEWSSTAND Very Fine
JUSTICE LEAGUE OF AMERICA (1960) (#1-261) (DC) #202 NEWSSTAND Fine
JUSTICE LEAGUE OF AMERICA (1960) (#1-261) (DC) #203 NEWSSTAND Very Fine
JUSTICE LEAGUE OF AMERICA (1960) (#1-261) (DC) #204 NEWSSTAND Very Fine
JUSTICE LEAGUE OF AMERICA (1960) (#1-261) (DC) #205 NEWSSTAND Very Fine
JUSTICE LEAGUE OF AMERICA (1960) (#1-261) (DC) #205 NEWSSTAND Fine
JUSTICE LEAGUE OF AMERICA (1960) (#1-261) (DC) #206 NEWSSTAND Very Fine
JUSTICE LEAGUE OF AMERICA (1960) (#1-261) (DC) #206 NEWSSTAND Fine
JUSTICE LEAGUE OF AMERICA (1960) (#1-261) (DC) #207 NEWSSTAND Near Mint/Mint
JUSTICE LEAGUE OF AMERICA (1960) (#1-261) (DC) #208 NEWSSTAND Near Mint/Mint
JUSTICE LEAGUE OF AMERICA (1960) (#1-261) (DC) #209 NEWSSTAND Fine
JUSTICE LEAGUE OF AMERICA (1960) (#1-261) (DC) #210 NEWSSTAND Near Mint/Mint
JUSTICE LEAGUE OF AMERICA (1960) (#1-261) (DC) #211 NEWSSTAND Very Fine
JUSTICE LEAGUE OF AMERICA (1960) (#1-261) (DC) #212 NEWSSTAND Near Mint/Mint
JUSTICE LEAGUE OF AMERICA (1960) (#1-261) (DC) #213 NEWSSTAND Fine

JUSTICE LEAGUE OF AMERICA (2006) (#0-60) #12 VARIANT Near Mint/Mint
JUSTICE LEAGUE OF AMERICA (2006) (#0-60) #12 VARIANT Very Fine

KID ETERNITY (1991) #3 Very Fine

LEGION OF SUPER-HEROES (1980) (#259-354) (DC) #282 NEWSHOSTES Very Fine
LEGION OF SUPER-HEROES (1980) (#259-354) (DC) #286 ATARI Near Mint/Mint
LEGION OF SUPER-HEROES (1980) (#259-354) (DC) #287 NEWSSTAND Very Fine
LEGION OF SUPER-HEROES (1980) (#259-354) (DC) #289 NEWSSTAND Very Fine
LEGION OF SUPER-HEROES (1980) (#259-354) (DC) #294 NEWSSTAND Near Mint/Mint
LEGION OF SUPER-HEROES (1980) (#259-354) (DC) #298 NEWSSTAND Near Mint/Mint
LEGION OF SUPER-HEROES (1980) (#259-354) (DC) #300 NEWSSTAND Near Mint/Mint

MAD (MAGAZINE) #71 Good
MAD (MAGAZINE) #72 Very Good

NATHANIEL DUSK II (1985) #2 Near Mint/Mint
NATHANIEL DUSK II (1985) #3 Very Fine

NEW GODS (1984) #2 Near Mint/Mint
NEW GODS (1984) #3 Near Mint/Mint

SHADOW (1973) (#1-12) (DC) #1 Very Good

SUPERMAN (1939) (#1-423) (DC) #168 Fair

SUPERMAN ANNUAL (1960) #7 Fair

SUPERMAN ANNUAL (2012) #1 Near Mint/Mint

SUPERMAN/GEN-13 (2000) #2 VARIANT Near Mint/Mint

SWAMP THING (2011) #23 .1 DELUXE Near Mint/Mint


TEEN TITANS (1980) (#1-91) (DC) #21 NEWSSTAND Very Fine

TITANS REBIRTH (2016) #1 Near Mint/Mint

WARLORD (1976) #93 Near Mint/Mint
WARLORD (1976) #96 Near Mint/Mint
WARLORD (1976) #97 Near Mint/Mint
WARLORD (1976) #100 Near Mint/Mint
WARLORD (1976) #101 Near Mint/Mint
WARLORD (1976) #103 Near Mint/Mint
WARLORD (1976) #104 Near Mint/Mint
WARLORD (1976) #105 Near Mint/Mint
WARLORD (1976) #106 Near Mint/Mint
WARLORD (1976) #107 Near Mint/Mint
WARLORD (1976) #108 Near Mint/Mint
WARLORD (1976) #109 Near Mint/Mint
WARLORD (1976) #110 Near Mint/Mint
WARLORD (1976) #112 Near Mint/Mint
WARLORD (1976) #117 Near Mint/Mint
WARLORD (1976) #118 Near Mint/Mint
WARLORD (1976) #122 Near Mint/Mint

WONDER WOMAN (1987) (#0-226) (DC) #214 Near Mint/Mint

WORLDS FINEST (1941) #130 Fair
WORLDS FINEST (1941) #136 Fair
WORLDS FINEST (1941) #143 Fair

DARK HORSE COMICS
CREEPY PRESENTS STEVE DITKO HC (2013) #1 Near Mint/Mint

FRAY (2001) #1 Fine

PREDATOR OMNIBUS TPB (2007) #2 Near Mint/Mint

STAR WARS (1998) #15 Near Mint/Mint
STAR WARS (1998) #17 Near Mint/Mint

STAR WARS: CHEWBACCA #3 Near Mint/Mint
STAR WARS: CHEWBACCA #4 Near Mint/Mint

IMAGE COMICS
ANGELA (IMAGE) (1994) #1 Near Mint/Mint
ANGELA (IMAGE) (1994) #2 Fine

BADROCK/WOLVERINE (IMAGE) (MARVEL) (1996) #1 LIEFELD Near Mint/Mint
BADROCK/WOLVERINE (IMAGE) (MARVEL) (1996) #1 LIEFELD Very Fine

OFFICIAL HANDBOOK OF THE INVINCIBLE UNIVERSE (2006) #1 Near Mint/Mint

SAGA TPB (2012) #8 Near Mint/Mint


SPAWN (1992) #1 Fine
SPAWN (1992) #4 Fine
SPAWN (1992) #88 Near Mint/Mint
SPAWN (1992) #97 Near Mint/Mint
SPAWN (1992) #98 Near Mint/Mint
SPAWN (1992) #100 MIGNOLA Near Mint/Mint
SPAWN (1992) #100 MIGNOLA Very Fine
SPAWN (1992) #100 MIGNOLA Fine
SPAWN (1992) #100 CAPULLO Near Mint/Mint
SPAWN (1992) #100 MCFARLANE Near Mint/Mint
SPAWN (1992) #100 MILLER Near Mint/Mint
SPAWN (1992) #101 Near Mint/Mint
SPAWN (1992) #101 Very Fine
SPAWN (1992) #123 Near Mint/Mint
SPAWN (1992) #129 Near Mint/Mint
SPAWN (1992) #141 Very Fine
SPAWN (1992) #142 Near Mint/Mint
SPAWN (1992) #143 Near Mint/Mint
SPAWN (1992) #145 Near Mint/Mint
SPAWN (1992) #223 Near Mint/Mint

TEENAGE MUTANT NINJA TURTLES (IMAGE) (1996) #1 Near Mint/Mint
TEENAGE MUTANT NINJA TURTLES (IMAGE) (1996) #1 Very Fine
TEENAGE MUTANT NINJA TURTLES (IMAGE) (1996) #3 Near Mint/Mint
TEENAGE MUTANT NINJA TURTLES (IMAGE) (1996) #9 Near Mint/Mint
TEENAGE MUTANT NINJA TURTLES (IMAGE) (1996) #10 Near Mint/Mint
TEENAGE MUTANT NINJA TURTLES (IMAGE) (1996) #11 Near Mint/Mint
TEENAGE MUTANT NINJA TURTLES (IMAGE) (1996) #13 Near Mint/Mint
TEENAGE MUTANT NINJA TURTLES (IMAGE) (1996) #14 Near Mint/Mint
TEENAGE MUTANT NINJA TURTLES (IMAGE) (1996) #15 Near Mint/Mint
TEENAGE MUTANT NINJA TURTLES (IMAGE) (1996) #16 Near Mint/Mint
TEENAGE MUTANT NINJA TURTLES (IMAGE) (1996) #17 Near Mint/Mint

VOODOO/ZEALOT: SKIN TRADE #1 DFE S&N Near Mint/Mint

INDEPENDENTS
ARMY OF DARKNESS (#5-UP) (DYNAMITE) (2006) #5 BRADSKETCH (DYNAMITE Entertainment) Near Mint/Mint

ART OF STAR WARS THE LAST JEDI HC (2017) #1 (Trade Items) Near Mint/Mint

ASHES (DAMAGE PRESS) (ADULT) (2005) #1 (Damage Press) Very Fine

BATMAN: SUNDAY CLASSICS 1943-1946 COLLECTION (STERLING) (2007) #1 HC (Sterling Graphics) Near Mint/Mint

BATMAN: THE DAILIES 1943-1946 COLLECTION (STERLING) (2007) #1 HC (Sterling Graphics) Near Mint/Mint

BLADE RUNNER OFFICIAL COLLECTOR'S EDITION MAGAZINE (1982) #1 (FRIEDMAN, INC.) Very Fine

CLASSICS DESECRATED GN (1995) #1 SC (NBM) Fine

COMIC BOOK MARKETPLACE (MAGAZINE) (1993) #49 (Gemstone) Fine
COMIC BOOK MARKETPLACE (MAGAZINE) (1993) #53 (Gemstone) Fine

COMICS FEATURE (MAGAZINE) (1980) #49 (New Media Publishing, Inc.) Very Good
COMICS FEATURE (MAGAZINE) (1980) #54 (New Media Publishing, Inc.) Very Good


COMICS FEATURE (MAGAZINE) (1980) #55 (New Media Publishing, Inc.) Very Good

COMICS JOURNAL (MAG) #37 (Fantagraphics) Very Good
COMICS JOURNAL (MAG) #38 (Fantagraphics) Very Good
COMICS JOURNAL (MAG) #39 (Fantagraphics) Very Good
COMICS JOURNAL (MAG) #40 (Fantagraphics) Very Good
COMICS JOURNAL (MAG) #111 (Fantagraphics) Very Good
COMICS JOURNAL (MAG) #147 (Fantagraphics) Fine
COMICS JOURNAL (MAG) #177 (Fantagraphics) Very Good

COMICS SCENE VOL. 2 MAGAZINE #44 (Starlog) Very Good

CRACKED SUPER MAGAZINE (1968) #8 (Major Magazines) Good

DITKO'S SHORTS HC (2014) #1 (IDW Publishing) Near Mint/Mint

DUCKTALES (2017) #1 INC B (IDW Publishing) Fine

FABLES (2002) #2 (DC: Vertigo Press) Fine
FABLES (2002) #3 (DC: Vertigo Press) Fine
FABLES (2002) #4 (DC: Vertigo Press) Fine
FABLES (2002) #5 (DC: Vertigo Press) Fine

GAME OF THRONES: CLASH OF KINGS (2017) #7 D RUBI B&W (DYNAMITE Entertainment) Near Mint/Mint

GATES OF EDEN MAGAZINE (1982) #1 (Fantaco Enterprises) Very Good

GOLDEN COMICS DIGEST (1969) #16 (Gold Key) Good

HEAVY METAL (MAG) #9405 (Heavy Metal) Fine

HISTORY OF UNDERGROUND COMICS GN (1987) #1 (RONIN PUBLISHING INC.) Fine

IMAGINE (1978) #5 (Star Reach Publication) Fine

JAMES BOND 007: PERMISSION TO DIE (1989) #3 (Eclipse Enterprises) Near Mint/Mint

JONNY QUEST (1986) #29 (Comico) Very Fine
JONNY QUEST (1986) #30 (Comico) Very Fine

LADY LUCK: SIXTEEN COMPLETE STORIES (1980) #1 (Ken Pierce) Near Mint/Mint

LEONARDO (TEENAGE MUTANT NINJA TURTLES) #1 (Mirage Studios) Very Fine

LITTLE EGO TPB (2006) #1 (Heavy Metal) Very Fine

MAGE VOLUME TPB #1 (Donning Company) Very Fine

MAGIC FLUTE (NIGHT MUSIC #9-11) #1 (Eclipse Enterprises) Near Mint/Mint


MAGIC FLUTE (NIGHT MUSIC #9-11) #2 (Eclipse Enterprises) Near Mint/Mint

MARA OF THE CELTS GN (EROS VOL. 17) (1995) #1 SC 2ND PRT (Eros Comix (Fantagraphics)) Very Fine

MARA OF THE CELTS SPECIAL (1993) #1 (Rip Off Press) Near Mint/Mint

MARA: CELTIC SHAMANESS (EROS GN #36) (1998) #1 (Eros Comix (Fantagraphics)) Near Mint/Mint

MAZE AGENCY (1989) (#8-23) (INNOVATION) #8 (Innovation Publishing) Very Fine
MAZE AGENCY (1989) (#8-23) (INNOVATION) #11 (Innovation Publishing) Near Mint/Mint
MAZE AGENCY (1989) (#8-23) (INNOVATION) #13 (Innovation Publishing) Very Fine
MAZE AGENCY (1989) (#8-23) (INNOVATION) #22 (Innovation Publishing) Very Fine

MAZE AGENCY (1997) #3 HUGHES (Caliber Press) Very Fine

MENOMONEE FALLS GAZETTE NEWSPAPER (1971) #231 (STREET ENTERPRISES) Fine

MIGHTY 12: SUPERHEROES OF GREEK MYTH HC (2008) #1 (Little, Brown And Company) Near Mint/Mint

MIRACLEMAN (1985) #4 (Eclipse Enterprises) Near Mint/Mint

MUSINGS #3 (Calliope Comics) Fine

NEXUS (1983) #10 (First Comics) Near Mint/Mint
NEXUS (1983) #57 (First Comics) Near Mint/Mint
NEXUS (1983) #59 (First Comics) Near Mint/Mint

R. CRUMB FROM UNDERGROUNDS TO GENESIS HC (2017) #1 (IDW Publishing) Near Mint/Mint

REH: LONE STAR FICTIONEER (1975) #3 (Nemedian Chronicles) Fine

SCARY MONSTERS #100 (Dennis Druktenis Publishing) Very Fine

SCREAM MAGAZINE (2011) #33 (Screen Power Publishing) Very Fine

SCREEN SUPERSTAR SPECIAL EXPANDED EDITION MAGAZINE (1977) #1 (PARADISE PRESS) Good

SHADE (1990) #13 (DC: Vertigo Press) Near Mint/Mint

SHOCK (MAGAZINE) (VOL. 1) (1969) #8 (Stanley Publications) Good

SIMPSONS COMICS (BONGO) (1993) #48 (Bongo Comics) Near Mint/Mint
SIMPSONS COMICS (BONGO) (1993) #102 (Bongo Comics) Near Mint/Mint
SIMPSONS COMICS (BONGO) (1993) #103 (Bongo Comics) Near Mint/Mint
SIMPSONS COMICS (BONGO) (1993) #104 (Bongo Comics) Near Mint/Mint
SIMPSONS COMICS (BONGO) (1993) #105 (Bongo Comics) Near Mint/Mint
SIMPSONS COMICS (BONGO) (1993) #154 (Bongo Comics) Near Mint/Mint
SIMPSONS COMICS (BONGO) (1993) #155 (Bongo Comics) Near Mint/Mint
SIMPSONS COMICS (BONGO) (1993) #157 (Bongo Comics) Near Mint/Mint
SIMPSONS COMICS (BONGO) (1993) #158 (Bongo Comics) Near Mint/Mint
SIMPSONS COMICS (BONGO) (1993) #159 (Bongo Comics) Near Mint/Mint
SIMPSONS COMICS (BONGO) (1993) #160 (Bongo Comics) Near Mint/Mint
SIMPSONS COMICS (BONGO) (1993) #161 (Bongo Comics) Near Mint/Mint
SIMPSONS COMICS (BONGO) (1993) #164 (Bongo Comics) Near Mint/Mint
SIMPSONS COMICS (BONGO) (1993) #165 (Bongo Comics) Near Mint/Mint
SIMPSONS COMICS (BONGO) (1993) #166 (Bongo Comics) Near Mint/Mint
SIMPSONS COMICS (BONGO) (1993) #167 (Bongo Comics) Near Mint/Mint
SIMPSONS COMICS (BONGO) (1993) #169 (Bongo Comics) Near Mint/Mint
SIMPSONS COMICS (BONGO) (1993) #170 (Bongo Comics) Near Mint/Mint
SIMPSONS COMICS (BONGO) (1993) #171 (Bongo Comics) Near Mint/Mint
SIMPSONS COMICS (BONGO) (1993) #172 (Bongo Comics) Near Mint/Mint
SIMPSONS COMICS (BONGO) (1993) #192 (Bongo Comics) Near Mint/Mint


SPIRIT (MAGAZINE) (#1-16 WARREN) (#17-41 KITCHEN SINK) (1974) #20 (Warren Publishing Company) Fine
SPIRIT (MAGAZINE) (#1-16 WARREN) (#17-41 KITCHEN SINK) (1974) #21 (Warren Publishing Company) Fine
SPIRIT (MAGAZINE) (#1-16 WARREN) (#17-41 KITCHEN SINK) (1974) #22 (Warren Publishing Company) Very Good
SPIRIT (MAGAZINE) (#1-16 WARREN) (#17-41 KITCHEN SINK) (1974) #25 (Warren Publishing Company) Very Good
SPIRIT (MAGAZINE) (#1-16 WARREN) (#17-41 KITCHEN SINK) (1974) #26 (Warren Publishing Company) Very Good

STAR WARS: THE LAST JEDI - COMBALT SQUADRON HC (2017) #1 (Disney Press) Near Mint/Mint

STEAMPUNK (2000) #1 CHROMIUM (DC/Wildstorm) Near Mint/Mint

STEVE DITKO: SPACE WARS HC (2004) #1 (Vanguard) Near Mint/Mint

SUPERMAN SUNDAY CLASSICS 1939-1943 HC (2006) #1 (Sterling Graphics) Fine

TAROT: WITCH OF THE BLACK ROSE #1 VARIANT (Broadsword Comics) Near Mint/Mint
TAROT: WITCH OF THE BLACK ROSE #2 (Broadsword Comics) Near Mint/Mint
TAROT: WITCH OF THE BLACK ROSE #2 VARIANT (Broadsword Comics) Very Fine
TAROT: WITCH OF THE BLACK ROSE #30 VARIANT (Broadsword Comics) Near Mint/Mint
TAROT: WITCH OF THE BLACK ROSE #31 VARIANT (Broadsword Comics) Near Mint/Mint
TAROT: WITCH OF THE BLACK ROSE #32 (Broadsword Comics) Near Mint/Mint

TOMART'S ACTION FIGURE DIGEST #58 (Tomart Publishing) Fine

TOMB RAIDER (1999) (#0-50) (IMAGE TOP COW) #49 (Image Top Cow) Near Mint/Mint
TOMB RAIDER (1999) (#0-50) (IMAGE TOP COW) #50 (Image Top Cow) Near Mint/Mint

VISIONS OF ARZACH HC (1993) #1 (Kitchen Sink Publishing) Fine

VOYAGES GN (1983) #1 4.95 COVER (Innovation Publishing) Fine

WITCHBLADE (1995) #82 (Image Top Cow) Near Mint/Mint
WITCHBLADE (1995) #83 (Image Top Cow) Near Mint/Mint
WITCHBLADE (1995) #84 (Image Top Cow) Near Mint/Mint
WITCHBLADE (1995) #85 (Image Top Cow) Near Mint/Mint
WITCHBLADE (1995) #107 (Image Top Cow) Near Mint/Mint
WITCHBLADE (1995) #126 A (Image Top Cow) Near Mint/Mint
WITCHBLADE (1995) #127 A (Image Top Cow) Near Mint/Mint
WITCHBLADE (1995) #130 A (Image Top Cow) Near Mint/Mint
WITCHBLADE (1995) #131 A (Image Top Cow) Near Mint/Mint
WITCHBLADE (1995) #132 A (Image Top Cow) Near Mint/Mint
WITCHBLADE (1995) #133 A (Image Top Cow) Near Mint/Mint
WITCHBLADE (1995) #134 A (Image Top Cow) Near Mint/Mint
WITCHBLADE (1995) #135 A (Image Top Cow) Near Mint/Mint
WITCHBLADE (1995) #137 (Image Top Cow) Near Mint/Mint
WITCHBLADE (1995) #138 (Image Top Cow) Near Mint/Mint
WITCHBLADE (1995) #139 A (Image Top Cow) Very Fine
WITCHBLADE (1995) #158 A (Image Top Cow) Near Mint/Mint
WITCHBLADE (1995) #159 A (Image Top Cow) Near Mint/Mint
WITCHBLADE (1995) #160 A (Image Top Cow) Near Mint/Mint


WITCHBLADE (1995) #161 A (Image Top Cow) Near Mint/Mint

WITZEND MAGAZINE (1966) #10 (William E. Pearson) Very Fine

ZOMBIE TRAMP VOL.12: VOODOO VIXEN DEATH MATCH TPB (2017) #1 (Action Lab Entertainment) Near Mint/Mint