Holiday Sale - 10,000,000 Back Issue Comics Half Price
Howdy!
I want to begin today by thanking everyone who has placed an order with us during this year's annual 50% off HOLIDAY! codeword sale. Your support has helped to provided us with the means for my wife, Nanette, to catch up with several past due company obligations. Nanette likes for us to be as prompt as possible in paying our bills, but during Sept./Oct./Nov. we are lucky to just stay even, so any progress that we are going to make relies upon us having a decent December.
Blessedly, this year's holiday season has begun quite vigorously for us. More than a few of you heeded my plea for support after I mentioned just how large of a percentage of the total Internet traffic that Amazon (and the top ten other e-commerce websites) are siphoning off this year. Your kindness in continuing to support our family-run business is much appreciated, and I promise you that Nanette will apply all funds received to securing our future as a company. We both want to be here to help you for many years to come.
In other news, our simultaneous system-wide half price sale on all of the comics trade paperbacks and comics graphic novels that we list on our website is also continuing unabated. Unlike comics, there is no codeword needed to receive the 50% discount on books, as I had Will Moulton slash all of our book prices for you right on our website. All of our comics hardbacks are available to you right now at 40% off, which is oftentimes exactly our cost from Diamond. Please do enjoy these great savings on you next book purchase from us with our sincere thanks and gratitude for your support.
I will close by quickly mentioning that the 50% off HOLIDAY! codeword applies to all ten million of our back issue comics, excluding only new issues, a few variants, and our professionally-graded issues.(Priced in Blue) The HOLIDAY! codeword does apply, however, to all of our Golden Age, Silver Age, Bronze Age, Copper Age, and Modern comics, as well as all 200,000+ of our back issue comics and science fiction magazines. If you have been looking to fill in a few holes your collection at bargain prices, now is a great time. We have been adding tens of thousands of great titles and scarce issues into our website inventory for you for this entire year, and our online selections have never been better. Please do enjoy your HOLIDAY savings with our sincere thanks for your kindness and continuing support.
Happy collecting!
Chuck Rozanski,
President - Mile High Comics, Inc.
December 18, 2017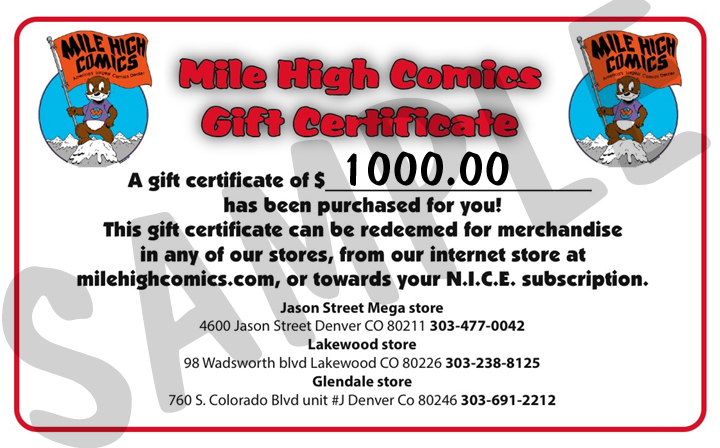 Mile High Comics gift certificates

P.S. If you are looking for a unique present for the DEADPOOL fan in your family, you might consider one of the six exclusive Mile High Comics DEADPOOL variants that we have published. We also can express ship Mile High Comics gift certificates directly to your favorite comics fan, anywhere in the world. Give the gift of fun this year!

DEADPOOL (2012) #30 Mile High Exclusive


DEADPOOL (2012) #30 Mile High Exclusive Signed & Numbered by Greg Horn Limited to 200 copies


DEADPOOL (2016) #1 Mile High Exclusive


DEADPOOL (2016) #2 Mile High Exclusive


DEADPOOL ANNUAL (2013) #1 Mile High Exclusive


DEADPOOL KILLS DEADPOOL (2013) #1 Mile High Exclusive