40%-50% Off Book Sale - 250,000 Comics TPB's, Graphic Novels, and Hardbacks
Howdy!
With just 16 shopping days left until Christmas, I have slashed our prices for you across-the-board on all 200,000+ of our comics trade paperbacks and graphic novels by 50%!, and dropped your cost on all 50,000+ of our comics hardback collections by a full 40%. The only exceptions to this steep discounting are a very few of our oversize books and books less than a year old. Otherwise, all 250,000+ editions in our vast library of comics-related books are now steeply discounted for you right on our webite.
If you are questioning the wisdom of my offering everyone our entire inventory of books at near cost, you are not alone. We had a very lively debate here at the Mile High Comics offices about the logic (or the lack of logic...) of offering so many of our best books at, or near our cost. The argument that I presented revolved around Amazon.com. Simply put, Amazon has instilled in people's minds that books should be sold as a bulk commodity, and has discounted most books on their website by at least a small percentage. This strategy allowed them to put most brick-and-mortar bookstores out of business, and to totally dominate the online book market.
Ironically, while our online sales in many book categories have suffered, our prices have frequently been lower than Amazon. We also have been quite successful in obtaining scarce and rare books (many with tiny print runs) that Amazon seldom offers. Despite our low prices and great selection, however, we have still been on the losing end of a perception gap. With extreme skill and adroitness, Amazon has maneuvered book fans into becoming so habitualized to ordering from them, that smaller book websites are no longer even being considered. I think that you can understand why being steamrollered in this fashion by Amazon really fuels a high degree of frustration in me...
All of the above having been said, what I am asking of you this weekend is that you take a few minutes to browse through our Mile High Comics books listings. If we don't have titles that you are seeking, or if our prices still seem too high, we will understand if you don't place an order with us. With all 250,000 of our books at 40%-50% off, however, I believe that we are quite competitive right now in our pricing on many titles. We also have purchased well over 10,000 more books over just the last four months from private libraries, so the diversity of scarce and out-of-print titles that we presently stock has never been greater in our 48 years in business. Need I say more?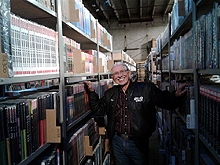 Chuck in the middle of our Trade Shelves


In addition to discounting all of our books to you by 40%-50% off, we also have a 40% off STARWARS! codeword sale in effect for you right now on all ten million of our in-stock comics and magazines, so you can now save substantially on your entire order with us. Only new, graded, and some variant comics are excluded from the sale. (Ones priced in Blue) You can also combine comics and books in a single order to achieve our free shipping plateaus of $50 on Domestic orders, and $125 on orders being delivered to most International destinations. Once you achieve free base shipping, your only freight cost on your entire order will be the small per item books fees that help us to offset the added shipping weight of books. Please do enjoy these great discounts with our sincere thanks for your support of Mile High Comics.

Mile High Comics variant of STAR WARS (2015) #40


I will close today's newsletter with a quick mention that our exclusive Mile High Comics variant of STAR WARS (2015) #40 will be releasing next Wednesday. I love the Pricess Leia cover! We are still accepting pre-orders for this very limited (3,000 copies) variant at only $19.95 through Wednesday. Limit three copies per client, please.
Happy collecting!
Chuck Rozanski,
President - Mile High Comics, Inc.
December 8, 2017

P.S. Will and Pam have purchased several wonderful collections this week. Below are a few sample listings from this week's New-In-Stock and Premium New-in Stock links. No matter what else happens, we keep adding more great comics and books!
MARVEL

AGE OF ULTRON (AVENGERS) (2013) #10 ULTRON


AGE OF ULTRON (AVENGERS) (2013) #10 ULTRON Near Mint/Mint

AMAZING SPIDER-MAN (1999) (#1-700.5) (MARVEL) #644 Near Mint/Mint

AMAZING SPIDER-MAN (2017) (#789-UP) (MARVEL LEGACY) (2017) #792 STEGMAN Near Mint/Mint

AVENGERS A.I. (2013) #1 8 BIT Very Fine

CAPTAIN AMERICA (2017) (#695-UP) (MARVEL LEGACY) #695 MCKONE Fine

CAPTAIN AMERICA: LIVING LEGEND (2013) #1 FARINAS Near Mint/Mint

DAREDEVIL (2017) (#595-UP) (MARVEL LEAGCY) #595 SHALVEY Very Fine

DARTH VADER (STAR WARS) (2015) #1 YOUNG BABY Very Fine

EMERALD CITY OF OZ (2013) #1 SHANOWER Near Mint/Mint

FEARLESS DEFENDERS (2013) #5 VARIANT Near Mint/Mint

GUARDIANS OF THE GALAXY (2013) (#0.1-27) (MARVEL) #1 DFE ALT CV Near Mint/Mint
GUARDIANS OF THE GALAXY (2013) (#0.1-27) (MARVEL) #1 PHANTOM Very Fine
GUARDIANS OF THE GALAXY (2013) (#0.1-27) (MARVEL) #7 RIVERA Near Mint/Mint

HOWARD THE DUCK (MAY) (2015) #1 MAYERIK Near Mint/Mint


IRON MAN (1968) (#1-332) (INVINCIBLE IRON MAN)(MARVEL) #186 NEWSSTAND


IRON MAN (1968) (#1-332) (INVINCIBLE IRON MAN)(MARVEL) #186 NEWSSTAND Fine

MARVEL TEAM-UP ANNUAL (1976) #7 NEWSSTAND Very Good

PRINCESS LEIA (STAR WARS) (2015) #1 YOUNG BABY Near Mint/Mint

PUNISHER (2017) (#218-UP) (MARVEL LEGACY) #218 SMALLWOOD Fine

SECRET WARS (2015) #1 MARVEL BOX Very Fine

SILVER SURFER (2016) (#1-UP) (MARVEL) #1 Near Mint/Mint

SPIDER-MAN (1963) (AMAZING SPIDER-MAN) (#1-441) #430 NEWSSTAND Very Fine

STAR WARS (2015) #40 MILE HIGH Near Mint/Mint

UNBEATABLE SQUIRREL GIRL (OCTOBER) (2015) #27 ALLRED Near Mint/Mint

WEAPON X (2017) (#1-UP) (MARVEL) #12 SORRENTINO Near Mint/Mint

WEB OF SPIDER-MAN (1985) #11 Near Mint/Mint
WEB OF SPIDER-MAN (1985) #12 Near Mint/Mint

WEB OF SPIDER-MAN (1985) #13 Very Fine
WEB OF SPIDER-MAN (1985) #14 Near Mint/Mint
WEB OF SPIDER-MAN (1985) #15 Near Mint/Mint
WEB OF SPIDER-MAN (1985) #16 Near Mint/Mint
WEB OF SPIDER-MAN (1985) #17 Near Mint/Mint
WEB OF SPIDER-MAN (1985) #18 Near Mint/Mint
WEB OF SPIDER-MAN (1985) #18 Fine
WEB OF SPIDER-MAN (1985) #19 Fine
WEB OF SPIDER-MAN (1985) #19 Near Mint/Mint
WEB OF SPIDER-MAN (1985) #19 Very Fine
WEB OF SPIDER-MAN (1985) #21 Near Mint/Mint
WEB OF SPIDER-MAN (1985) #22 Near Mint/Mint
WEB OF SPIDER-MAN (1985) #27 NEWSSTAND Near Mint/Mint
WEB OF SPIDER-MAN (1985) #30 Near Mint/Mint
WEB OF SPIDER-MAN (1985) #31 Near Mint/Mint
WEB OF SPIDER-MAN (1985) #31 Very Fine
WEB OF SPIDER-MAN (1985) #32 Fine
WEB OF SPIDER-MAN (1985) #33 Near Mint/Mint
WEB OF SPIDER-MAN (1985) #34 NEWSSTAND Near Mint/Mint
WEB OF SPIDER-MAN (1985) #35 NEWSSTAND Near Mint/Mint
WEB OF SPIDER-MAN (1985) #36 Near Mint/Mint

WEB OF SPIDER-MAN (1985) #36 NEWSSTAND Very Fine
WEB OF SPIDER-MAN (1985) #36 NEWSSTAND Good
WEB OF SPIDER-MAN (1985) #36 Very Good
WEB OF SPIDER-MAN (1985) #37 NEWSSTAND Near Mint/Mint
WEB OF SPIDER-MAN (1985) #38 Near Mint/Mint
WEB OF SPIDER-MAN (1985) #38 NEWSSTAND Very Fine

DC
ANIMAL MAN (DC) (NEW 52) (2011) #1 Near Mint/Mint

AUTHORITY/LOBO: SPRING BREAK MASSACRE (DC WILDSTORM) (2005) #1 (DC/Wildstorm) Near Mint/Mint

BATGIRL (2011) (#0-52) (DC NEW52) #40 MOVIESTYLE Near Mint/Mint

BATMAN (2011) (#0-52) (DC NEW52) #40 MOVIESTYLE Near Mint/Mint

CATWOMAN (2002) #83 Near Mint/Mint

CATWOMAN (2011) #40 MOVIESTYLE Near Mint/Mint


FLASH (1987) (#0-247) (DC) #46


FLASH (1987) (#0-247) (DC) #46 Very Fine
FLASH (1987) (#0-247) (DC) #47 Near Mint/Mint

FLASH (2011) (#0-52) (DC NEW52) #40 MOVIESTYLE Near Mint/Mint

INFINITY INC. (1984) #45 Near Mint/Mint

JUSTICE LEAGUE (2011) (#0-52) (DC NEW52) #40 MOVIESTYLE Near Mint/Mint

JUSTICE LEAGUE DARK (2011) #40 MOVIESTYLE Near Mint/Mint

SCOOBY APOCALYPSE (2016) #2 Near Mint/Mint

SUPERBOY (1993) (#1-100) (DC) #9 Fine

SUPERBOY (2011) (#1-34) (DC NEW52) #1 Near Mint/Mint

SUPERMAN VS. FLASH TPB (2007) #1 Near Mint/Mint

DARK HORSE COMICS
STAR WARS: KNIGHTS OF THE OLD REPUBLIC (2005) #7 Near Mint/Mint
STAR WARS: KNIGHTS OF THE OLD REPUBLIC (2005) #7 Very Fine


STAR WARS: KNIGHTS OF THE OLD REPUBLIC (2005) #8


STAR WARS: KNIGHTS OF THE OLD REPUBLIC (2005) #8 Near Mint/Mint
STAR WARS: KNIGHTS OF THE OLD REPUBLIC (2005) #8 Very Fine
STAR WARS: KNIGHTS OF THE OLD REPUBLIC (2005) #9 Near Mint/Mint

IMAGE COMICS
ASCENSION (IMAGE TOPCOW) (1997) #21 (Image Top Cow) Near Mint/Mint

BACKLASH (IMAGE) (1994) #29 Near Mint/Mint

WALKING DEAD (2003) #132 LOOTCRATE Near Mint/Mint

WALKING DEAD (2003) #163 DFE S&N Very Fine

INDEPENDENTS
ADVENTURES INTO THE UNKNOWN (1948) #10 (ACG) Very Good

ALIENS/VAMPIRELLA (2015) #1 B&W (DYNAMITE Entertainment) Near Mint/Mint

BARBIE AND KEN (1962) #1 (Dell Publishing) Very Good


BLACK MAGIC (VOL. 3) (1952) #2


BLACK MAGIC (VOL. 3) (1952) #2 (CRESTWOOD PUBLISHING) Good

BOB'S BURGERS (2015) #16 HARBAUGH (DYNAMITE Entertainment) Near Mint/Mint

BONE (CARTOON BOOKS) (#1-55) (1991) #23 (Cartoon Books) Near Mint/Mint
BONE (CARTOON BOOKS) (#1-55) (1991) #23 (Cartoon Books) Very Fine
BONE (CARTOON BOOKS) (#1-55) (1991) #24 (Cartoon Books) Very Fine
BONE (CARTOON BOOKS) (#1-55) (1991) #25 (Cartoon Books) Near Mint/Mint
BONE (CARTOON BOOKS) (#1-55) (1991) #34 (Cartoon Books) Near Mint/Mint
BONE (CARTOON BOOKS) (#1-55) (1991) #52 (Cartoon Books) Near Mint/Mint
BONE (CARTOON BOOKS) (#1-55) (1991) #54 (Cartoon Books) Fine
BONE (CARTOON BOOKS) (#1-55) (1991) #54 (Cartoon Books) Near Mint/Mint

CAPTAIN MARVEL ADVENTURES (1941) #64 (FAWCETT PUBLICATION) Very Good

CRIME SUSPENSTORIES (1992) #16 (Gemstone) Near Mint/Mint
CRIME SUSPENSTORIES (1992) #16 (Gemstone) Very Fine

DANGER (1955) #12 (Charlton) Fine

DICK TRACY (1950) #28 (Harvey Comics) Good

DOCTOR WHO (2012) #15 SUBSCRIPT (IDW Publishing) Near Mint/Mint

DUNGEONS & DRAGONS (SHADOWS OF THE VAMPIRE) (2016) #2 (IDW Publishing) Near Mint/Mint


EDWARD SCISSORHANDS (2014) #1 INCENTIVE


EDWARD SCISSORHANDS (2014) #1 INCENTIVE (IDW Publishing) Near Mint/Mint

GODZILLA: KINGDOM OF MONSTERS (2011) #5 INCENTIVE (IDW Publishing) Near Mint/Mint

GOOFY (1953) #1 FC #658 (Dell Publishing) Very Fine

HACK SLASH VS. VAMPIRELLA (2017) #3 D SUDZUB&W (DYNAMITE Entertainment) Near Mint/Mint

HOLIDAY COMICS (1951) #2 (STAR PUBLICATIONS) Good

HOWDY DOODY (1950) #4 (Dell Publishing) Very Good

INDIAN BRAVES (1951) #1 IW REPRINT (Ace Magazines) Very Fine

JAGUAR GOD (1995) #2 (Verotik) Very Fine

JOHNNY MACK BROWN (1950) #3 (Dell Publishing) Very Fine

JUMBO COMICS (1938) #132 (Fiction House Magazines) Fine

KATY KEENE ANNUAL (1954) #2 (Archie Comics) Good

KERRY DRAKE DETECTIVE CASES (1948) (#6-33) (HARVEY) #9 (Harvey Comics) Fine

KILLER INSTINCT (2017) #3 E CINARB&W (DYNAMITE Entertainment) Near Mint/Mint

KONGA (1960) #5 (Charlton) Fine

LAZARUS MANY REINCARNATIONS #5 SIGNED (Lodestone) Very Fine
LAZARUS MANY REINCARNATIONS #5 VARIANTSGN (Lodestone) Near Mint/Mint

MEET MERTON (1953) #18 SUPERREPRT (Toby Press) Fine

ORPHAN BLACK (2015) #1 LOOT UNBAG (IDW Publishing) Near Mint/Mint

OUTLAWS (1948) #5 (D.S. Publishing Co) Fine
OUTLAWS (1948) #5 (D.S. Publishing Co) Very Fine

PANIC (1997) #8 (Gemstone) Near Mint/Mint

SHEENA (2017) (#0-UP) (DYNAMITE) #4 F SANTUB&W (DYNAMITE Entertainment) Near Mint/Mint
SHEENA (2017) (#0-UP) (DYNAMITE) #4 G SANAPVIR (DYNAMITE Entertainment) Near Mint/Mint

SPARKLER COMICS (1941) #72 (UNITED FEATURE COMICS) Very Fine

WOODY WOODPECKER (1947) (#1-72) (Dell Publishing) #1 FC #169 (Dell Publishing) Very Good