All Comics and Books On Sale 40% Off
Howdy!
For the past two evenings I have been here at our Jason St. Mega-Store late into the night, working to rack one million comics on to our ten-pack storage shelves. These comics are overstock issues that we had packed into groups of ten copies of the same edition many years ago, but never were able to fit on to our shelving. As a result, they have been sitting on pallets in odd corners all around Jason St., oftentimes in the way of our daily actions.
What made this situation especially frustrating to me was that our move of our huge ten-pack racks from our old 56th Ave. building (which I sold 18 months ago) resulted in a long-overdue compression of our ten-packs. Instead of having them loosely spread out over all 22 of our racks, we ended up with 14 tightly-packed units, with 8 empties. Given that each ten-pack rack can hold 180,000 comics, having 8 empties was an amazing blessing. Pam has since completely filled one of those empties with 18,000 ten-packs that she has added (one at a time...) into our online inventory. But even after 18 months of Pam's diligent effort, the rest of our one million ten-packed comics are still jammed into every corner of the store.
Taking matters into my own hands, I decided over the weekend that I would go ahead and move all of our stored ten-packs into those custom-designed racks that were sitting empty, even if they were not yet added into our inventory. While these one million comics still cannot contribute to our online sales, at least they will finally be safe, and out of our way. This is actually quite important, as our Jason St. Mega-Store has increasingly become a tourist destination for thousands of visitors to Colorado. Creating a positive first impression for these out-of-state fans is relatively easy for us, as our store truly is wonderful, and we do have just an amazingly broad inventory of comics, books, toys, and statues on hand. That having been said, by also reducing the clutter that has been caused by our overstock, I help to enhance that positive impression even further. That's a great reason for me to work long into the evening!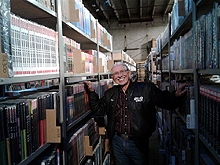 Chuck in the middle of our Trade Shelves


In case you are wondering, I mention my late-night efforts because I would like everyone to remember that Mile High Comics is not some huge corporate endeavor, but rather a family-owned business that was started by me in my parent's basement 48 years ago. While we do now have a staff of 25 and three very nice stores, not much has really changed since I began in 1969. I still pick up a broom and sweep, unplug toilets when necessary, and shelve comics whenever I can find the time. I love every aspect of what I do, and hope to be able to keep providing comics to fans for many years to come. My thanks are extended to everyone who has supported us over these many, many years. Your kindness has been appreciated.
I will close today's newsletter by mentioning that my wife Nanette, and I both thank you sincerely for your kindness and past support, and hope that you can find time in your busy holiday schedule to take a moment to peruse some of the great comics and books that we have stocked for this holiday season. Almost all of our ten million backlist comics and magazines are available to you right now at a full 40% off via our new STARWARS codeword sale, and our huge inventory of 250,000+ comics trade paperbacks, hardbacks, and comics graphic novels are priced for you (right on our website) to be competitive even in an online world that has become totally dominated by Amazon.com. Orders that we receive this week and next can still be shipped to domestic locations well in time for Christmas. Gift certificates are available, too...
Happy collecting!
Chuck Rozanski,
President - Mile High Comics, Inc.
December 6, 2017

P.S. Below are a few especially nice comics, magazines, and books that have been added into our inventory during this past week. Even though we already have the largest stock of comics and comic-related books in the world, we are dedicated to enhancing our selections for you even further!
MARVEL
AMAZING SPIDER-MAN (2015) (#1-32) (MARVEL) #15 ASPEN Near Mint/Mint


AVENGERS (1963) (#1-402) (MARVEL) #5

AVENGERS (1963) (#1-402) (MARVEL) #5 Good
AVENGERS (1963) (#1-402) (MARVEL) #9 Very Good
AVENGERS (1963) (#1-402) (MARVEL) #28 Fine
AVENGERS (1963) (#1-402) (MARVEL) #35 Very Fine
AVENGERS (1963) (#1-402) (MARVEL) #65 Very Fine
AVENGERS (1963) (#1-402) (MARVEL) #159 Very Fine

AVENGERS ANNUAL (1967) #7 Fine

BATTLE SCARS (2011) #6 Very Fine

BLACK BOLT (2017) #8 DERINGTON Near Mint/Mint

BLACK BOLT VOL. 1: HARD TIME TPB (2017) #1 Near Mint/Mint

BLACK PANTHER (2005) (#1-41) (MARVEL) #25 ASPEN Near Mint/Mint

CABLE VOL. 1: CONQUEST TPB (2017) #1 Near Mint/Mint

CAPTAIN AMERICA (1968) (#100-454) (MARVEL) #110 Very Good

CONAN (#1-275)(CONAN THE BARBARIAN)(MARVEL) (1970) #14 Very Fine
CONAN (#1-275)(CONAN THE BARBARIAN)(MARVEL) (1970) #15 BRITISH Very Good


DAREDEVIL (1964) (#1-380) (MAN WITHOUT FEAR) (MARVEL) #9

DAREDEVIL (1964) (#1-380) (MAN WITHOUT FEAR) (MARVEL) #9 Very Good
DAREDEVIL (1964) (#1-380) (MAN WITHOUT FEAR) (MARVEL) #11 Good
DAREDEVIL (1964) (#1-380) (MAN WITHOUT FEAR) (MARVEL) #12 Good

DARK TOWER: GUNSLINGER BORN (2006) #4 SKETCH INC Near Mint/Mint

DEFENDERS (1972) (#1-152) (MARVEL) #1 Very Good
DEFENDERS (1972) (#1-152) (MARVEL) #2 Fine
DEFENDERS (1972) (#1-152) (MARVEL) #3 Good

FANTASTIC FOUR (1961) (#1-416) (MARVEL) #87 Very Good
FANTASTIC FOUR (1961) (#1-416) (MARVEL) #100 Fine

FANTASTIC FOUR ANNUAL (1963) #1 Fair

GHOST RIDER (1973) (#1-81) (MARVEL) #4 Very Fine

HAWKEYE (2017) (#1-UP) (MARVEL NOW) #13 WALSH Near Mint/Mint

HULK (1962) (#1-6, #102-635) (INCREDIBLE) (MARVEL) #122 Fine

HULK (1999) (#1-112) (MARVEL) #92 Very Fine
HULK (1999) (#1-112) (MARVEL) #98 SKETCH CV Near Mint/Mint


IRON MAN (1968) (#1-332) (INVINCIBLE IRON MAN)(MARVEL) #26

IRON MAN (1968) (#1-332) (INVINCIBLE IRON MAN)(MARVEL) #26 Very Fine
IRON MAN (1968) (#1-332) (INVINCIBLE IRON MAN)(MARVEL) #27 Near Mint/Mint

JOURNEY INTO UNKNOWN WORLDS (1950) #33 (Marvel Atlas Titles) Fine

MARVEL COLLECTIBLE CLASSICS: X-MEN (1998) #2 Near Mint/Mint
MARVEL COLLECTIBLE CLASSICS: X-MEN (1998) #4 Near Mint/Mint

MARVEL TALES (1964) #1 BLANK CVR Good

MARVEL TEAM-UP (1972) #1 Very Good

MOON KNIGHT (1989) (#1-60) (MARVEL) (MARC SPECTOR) #19 NEWSSTAND Near Mint/Mint

NEW AVENGERS (2004) (#1-64) (MARVEL) #27 COLISEUM Near Mint/Mint

PLANET HULK HC (LOCAL COMIC SHOP DAY EDITION) (2017) #1 Near Mint/Mint

PUNISHER WAR JOURNAL (2006) #3 NEWSSTAND Very Fine

SHIELD (1968) #15 Very Good

SILVER SURFER (1968) (#1-18) (MARVEL) #5 Fine
SILVER SURFER (1968) (#1-18) (MARVEL) #7 Very Good
SILVER SURFER (1968) (#1-18) (MARVEL) #9 Very Good


SPIDER-MAN (1963) (AMAZING SPIDER-MAN) (#1-441) #7

SPIDER-MAN (1963) (AMAZING SPIDER-MAN) (#1-441) #7 Good
SPIDER-MAN (1963) (AMAZING SPIDER-MAN) (#1-441) #11 Good
SPIDER-MAN (1963) (AMAZING SPIDER-MAN) (#1-441) #17 Good
SPIDER-MAN (1963) (AMAZING SPIDER-MAN) (#1-441) #22 Very Good
SPIDER-MAN (1963) (AMAZING SPIDER-MAN) (#1-441) #24 Fine
SPIDER-MAN (1963) (AMAZING SPIDER-MAN) (#1-441) #25 Very Good
SPIDER-MAN (1963) (AMAZING SPIDER-MAN) (#1-441) #28 Good
SPIDER-MAN (1963) (AMAZING SPIDER-MAN) (#1-441) #32 Fine
SPIDER-MAN (1963) (AMAZING SPIDER-MAN) (#1-441) #114 Very Fine
SPIDER-MAN (1963) (AMAZING SPIDER-MAN) (#1-441) #115 Very Fine

SPIDER-MAN GIANT-SIZE (1974) #4 Fine

STAR WARS VOL. 6: OUT AMONG THE STARS TPB (2017) #1 Near Mint/Mint

STRANGE TALES (1951) #88 Very Good
STRANGE TALES (1951) #101 Very Good
STRANGE TALES (1951) #178 Very Fine
STRANGE TALES (1951) #179 Very Fine
STRANGE TALES (1951) #180 Fine

SUB-MARINER (1968) #4 Fine
SUB-MARINER (1968) #5 Very Good
SUB-MARINER (1968) #34 Fine

TALES OF SUSPENSE (1959) #42 Very Good

TALES TO ASTONISH (1959) #62 Good
TALES TO ASTONISH (1959) #65 Good
TALES TO ASTONISH (1959) #97 Very Fine

THOR (1962) #337 NEWSSTAND Fine

TOMB OF DRACULA (1972) #2 Fine

WARLOCK (1972) #9 Very Good
WARLOCK (1972) #11 Very Fine
WARLOCK (1972) #12 Near Mint/Mint
WARLOCK (1972) #13 Very Fine
WARLOCK (1972) #15 Very Fine

X-MEN (1963) (#1-113, UNCANNY X-MEN #114-544) (MARVEL) #69 Fine
X-MEN (1963) (#1-113, UNCANNY X-MEN #114-544) (MARVEL) #70 Fine

DC
ALL-STAR BATMAN (2016) #1 ASPEN Near Mint/Mint

BATGIRL & THE BIRDS OF PREY VOL. 2: SOURCE CODE TPB (2017) #1 Near Mint/Mint


BATMAN (2011) (#0-52) (DC NEW52) #1 VARIANT

BATMAN (2011) (#0-52) (DC NEW52) #1 VARIANT Near Mint/Mint

BATMAN & ROBIN ADVENTURES TPB (2016) #2 Near Mint/Mint

BATMAN: VENGEANCE OF BANE II-REDEMPTION (1995) #1 Near Mint/Mint

BRAVE AND THE BOLD (1955) #29 Good
BRAVE AND THE BOLD (1955) #34 Very Good

CHALLENGERS OF THE UNKNOWN (1958) #13 Very Good

DARK KNIGHT (1986) #2 1ST PRT Near Mint/Mint

DEMON ANNUAL (1992) #2 Very Fine

DETECTIVE COMICS (1937) (#0-881) (DC) #437 Fine
DETECTIVE COMICS (1937) (#0-881) (DC) #438 Fine
DETECTIVE COMICS (1937) (#0-881) (DC) #448 Fine
DETECTIVE COMICS (1937) (#0-881) (DC) #449 Very Fine
DETECTIVE COMICS (1937) (#0-881) (DC) #462 Fine
DETECTIVE COMICS (1937) (#0-881) (DC) #465 Fine

EIGHTY-PAGE GIANT (1964) #10 Very Good

FABLES (2002) #3 (DC: Vertigo Press) Near Mint/Mint
FABLES (2002) #4 (DC: Vertigo Press) Near Mint/Mint

GREEN ARROW VOL. 4: THE RISE OF STAR CITY TPB (REBIRTH) (2017) #1 Near Mint/Mint

HARLEY QUINN (2000) (#1-38) (DC) #35 Near Mint/Mint

HARLEY QUINN (2016) (#1-UP) (DC REBIRTH) #1 ASPEN Near Mint/Mint
HARLEY QUINN (2016) (#1-UP) (DC REBIRTH) #1 ASPENHOLID Near Mint/Mint

HAWKMAN (1964) (#1-27) (DC) #5 Very Good

IDENTITY CRISIS (2004) #1 RRP Near Mint/Mint

JACK KIRBY'S FOURTH WORLD OMNIBUS HC (2017) #1 Near Mint/Mint

JUSTICE LEAGUE OF AMERICA (1960) (#1-261) (DC) #4 Fair
JUSTICE LEAGUE OF AMERICA (1960) (#1-261) (DC) #141 Fine

LEAGUE OF EXTRAORDINARY GENTLEMEN (1999) #1 (DC/America's Best) Near Mint/Mint

MAD (MAGAZINE) #52 Very Good

OUR ARMY AT WAR (1952) #15 Good
OUR ARMY AT WAR (1952) #16 Fair
OUR ARMY AT WAR (1952) #61 Very Good

OUR FIGHTING FORCES (1954) #3 Good

PREACHER (1995) #7 (DC: Vertigo Press) Near Mint/Mint
PREACHER (1995) #8 (DC: Vertigo Press) Very Good
PREACHER (1995) #9 (DC: Vertigo Press) Very Fine
PREACHER (1995) #10 (DC: Vertigo Press) Fine

SHAZAM: A NEW BEGINNING HC (30TH ANNIVERSARY EDITION) (2017) #1 Near Mint/Mint

STRANGE ADVENTURES (1950) #117 Very Good

SUICIDE SQUAD (2016) (#1-UP) (DC REBIRTH) #1 ASPEN Near Mint/Mint

SUICIDE SQUAD VOL. 7: DRAGON'S HOARD TPB (2017) #1 Near Mint/Mint

SUPERMAN/BATMAN (2003) #26 VARIANT Near Mint/Mint

WATCHMEN: ANNOTATED EDITION HC (2017) #1 Near Mint/Mint


WONDER WOMAN (2006) (#1-44, 600-614) (DC) #14 VARIANT

WONDER WOMAN (2006) (#1-44, 600-614) (DC) #14 VARIANT Near Mint/Mint

DARK HORSE COMICS
BLOOD BLOCKADE BATTLEFRONT TPB (2011) #8 Near Mint/Mint

ELFQUEST 40TH ANNIVERSARY PROMO ASHCAN (2017) #1 Near Mint/Mint

STAR WARS (1998) #46 Fine
STAR WARS (1998) #47 Near Mint/Mint
STAR WARS (1998) #54 Near Mint/Mint
STAR WARS (1998) #54 Very Fine
STAR WARS (1998) #55 Near Mint/Mint
STAR WARS (1998) #55 Fine
STAR WARS (1998) #55 Very Fine
STAR WARS (1998) #57 Fine
STAR WARS (1998) #57 Near Mint/Mint
STAR WARS (1998) #57 Very Fine
STAR WARS (1998) #57 Very Good
STAR WARS (1998) #58 Near Mint/Mint
STAR WARS (1998) #58 Fine
STAR WARS (1998) #58 Very Fine
STAR WARS (1998) #59 Fine
STAR WARS (1998) #59 Near Mint/Mint
STAR WARS (1998) #59 Very Fine
STAR WARS (1998) #60 Fine

STAR WARS (1998) #60 Very Fine
STAR WARS (1998) #61 Fine
STAR WARS (1998) #61 Very Fine
STAR WARS (1998) #62 Near Mint/Mint
STAR WARS (1998) #62 Fine
STAR WARS (1998) #62 Very Fine
STAR WARS (1998) #65 Fine
STAR WARS (1998) #65 Very Fine
STAR WARS (1998) #66 Fine
STAR WARS (1998) #66 Very Fine
STAR WARS (1998) #70 Near Mint/Mint
STAR WARS (1998) #70 Fine
STAR WARS (1998) #70 Very Fine
STAR WARS (1998) #71 Near Mint/Mint
STAR WARS (1998) #71 Fine
STAR WARS (1998) #71 Very Fine
STAR WARS (1998) #77 Fine
STAR WARS (1998) #77 Very Fine
STAR WARS (1998) #78 Near Mint/Mint
STAR WARS (1998) #81 Near Mint/Mint
STAR WARS (1998) #81 Fine
STAR WARS (1998) #81 Very Fine
STAR WARS (1998) #81 Very Good
STAR WARS (1998) #83 Fine
STAR WARS (1998) #83 Near Mint/Mint
STAR WARS (1998) #83 Good
STAR WARS (1998) #83 Very Good
STAR WARS (1998) #83 Very Fine

IMAGE COMICS

AGE OF HEROES (IMAGE) (1998) #5

AGE OF HEROES (IMAGE) (1998) #5 Very Fine

ARIA (IMAGE AVALON STUDIOS) (1999) #4 GLOW VAR Near Mint/Mint
ARIA (IMAGE AVALON STUDIOS) (1999) #4 GLOWNDARK Near Mint/Mint

I HATE FAIRYLAND HC (2017) #1 Near Mint/Mint

INVINCIBLE (2003) #3 Near Mint/Mint

MORNING GLORIES (2010) #1 LARRYS VAR Near Mint/Mint

SHIRTLESS BEAR-FIGHTER TPB (2017) #1 Near Mint/Mint

WILDC.A.T.S. #8 Near Mint/Mint

WITCHBLADE (2017) #1 B GOLDLOGO Near Mint/Mint

INDEPENDENTS
ANGEL SPOTLIGHT: GUNN ONE-SHOT (IDW Publishing) (2006) #1 SKETCH INC (IDW Publishing) Near Mint/Mint


ARMY OF DARKNESS: ASHES 2 ASHES (DEVIL'S DUE DYNAMITE) (2004) #1 PHOTO GLOW

ARMY OF DARKNESS: ASHES 2 ASHES (DEVIL'S DUE DYNAMITE) (2004) #1 PHOTO GLOW (Devil's Due) Very Fine

BABYTEETH TPB (2017) #1 (After-Shock Comics) Near Mint/Mint

BARBARELLA (2017) #1 K WU B&W (DYNAMITE Entertainment) Near Mint/Mint
BARBARELLA (2017) #1 L LINSNVIR (DYNAMITE Entertainment) Near Mint/Mint
BARBARELLA (2017) #1 M ROCAFB&W (DYNAMITE Entertainment) Near Mint/Mint

DEAD POOH ONE-SHOT (2012) #1 SAN DIEGO (Antarctic Press) Near Mint/Mint

DISNEYLAND BIRTHDAY PARTY (DELL GIANT) (1958) #1 (Dell Publishing) Fine

DONALD DUCK (1940) (Dell Publishing) (#1-84) #1 FC #318 (Dell Publishing) Good

DYNAMIC COMICS (1941) #17 (Harry A Chesler) Very Good

HEART BREAK HOTEL MAGAZINE (ALAN MOORE ISSUE #1 & 3) (1987) #1 (Willyprods/small Time Ink) Good

JUDGE DREDD (EAGLE) (#1-33) (1983) #21 (Eagle (British)) Near Mint/Mint

JUNGLE GIRL (2007) #1 VIRGIN CVR (DYNAMITE Entertainment) Near Mint/Mint

KONGA (1960) #14 (Charlton) Fine

MAGNUS ROBOT FIGHTER (1991) #1 W/ CARD (Acclaim/Valiant) Near Mint/Mint

MICKEY MOUSE (1986) (#219-256) (GLADSTONE) #219 (Gladstone) Very Fine

MICKEY MOUSE ALMANAC (1957) #1 (Dell Publishing) Very Fine

MIRACLEMAN (1985) #16 (Eclipse Enterprises) Near Mint/Mint

NATIONAL LAMPOON (MAGAZINE) #7208 (National Lampoon) Good
NATIONAL LAMPOON (MAGAZINE) #7303 (National Lampoon) Good
NATIONAL LAMPOON (MAGAZINE) #7304 (National Lampoon) Good
NATIONAL LAMPOON (MAGAZINE) #7401 (National Lampoon) Good
NATIONAL LAMPOON (MAGAZINE) #7403 (National Lampoon) Fine
NATIONAL LAMPOON (MAGAZINE) #7404 (National Lampoon) Good
NATIONAL LAMPOON (MAGAZINE) #7405 (National Lampoon) Good
NATIONAL LAMPOON (MAGAZINE) #7406 (National Lampoon) Good
NATIONAL LAMPOON (MAGAZINE) #7406 (7506)MISP (National Lampoon) Good
NATIONAL LAMPOON (MAGAZINE) #7407 (National Lampoon) Good
NATIONAL LAMPOON (MAGAZINE) #7408 (National Lampoon) Good
NATIONAL LAMPOON (MAGAZINE) #7409 (National Lampoon) Very Good
NATIONAL LAMPOON (MAGAZINE) #7412 (National Lampoon) Good
NATIONAL LAMPOON (MAGAZINE) #7501 (National Lampoon) Very Good


NATIONAL LAMPOON (MAGAZINE) #7502

NATIONAL LAMPOON (MAGAZINE) #7502 (National Lampoon) Very Good
NATIONAL LAMPOON (MAGAZINE) #7503 (National Lampoon) Very Good
NATIONAL LAMPOON (MAGAZINE) #7505 (National Lampoon) Good
NATIONAL LAMPOON (MAGAZINE) #7507 (National Lampoon) Very Good
NATIONAL LAMPOON (MAGAZINE) #7508 (National Lampoon) Good
NATIONAL LAMPOON (MAGAZINE) #7508 (National Lampoon) Very Good
NATIONAL LAMPOON (MAGAZINE) #7509 (National Lampoon) Good
NATIONAL LAMPOON (MAGAZINE) #7511 (National Lampoon) Very Good
NATIONAL LAMPOON (MAGAZINE) #7512 (National Lampoon) Good
NATIONAL LAMPOON (MAGAZINE) #7601 (National Lampoon) Very Good
NATIONAL LAMPOON (MAGAZINE) #7602 (National Lampoon) Good
NATIONAL LAMPOON (MAGAZINE) #7603 (National Lampoon) Good
NATIONAL LAMPOON (MAGAZINE) #7604 (National Lampoon) Very Good
NATIONAL LAMPOON (MAGAZINE) #7605 (National Lampoon) Good
NATIONAL LAMPOON (MAGAZINE) #7606 (National Lampoon) Good
NATIONAL LAMPOON (MAGAZINE) #7607 (National Lampoon) Good
NATIONAL LAMPOON (MAGAZINE) #7609 (National Lampoon) Very Good
NATIONAL LAMPOON (MAGAZINE) #7701 (National Lampoon) Very Good
NATIONAL LAMPOON (MAGAZINE) #7702 (National Lampoon) Good
NATIONAL LAMPOON (MAGAZINE) #7703 (National Lampoon) Very Good
NATIONAL LAMPOON (MAGAZINE) #7704 (National Lampoon) Very Good
NATIONAL LAMPOON (MAGAZINE) #7705 (National Lampoon) Good
NATIONAL LAMPOON (MAGAZINE) #7706 (National Lampoon) Very Good
NATIONAL LAMPOON (MAGAZINE) #7707 (National Lampoon) Good


NATIONAL LAMPOON (MAGAZINE) #7710

NATIONAL LAMPOON (MAGAZINE) #7710 (National Lampoon) Good
NATIONAL LAMPOON (MAGAZINE) #7712 (National Lampoon) Very Good
NATIONAL LAMPOON (MAGAZINE) #7801 (National Lampoon) Very Good
NATIONAL LAMPOON (MAGAZINE) #7803 (National Lampoon) Very Good
NATIONAL LAMPOON (MAGAZINE) #8202 (National Lampoon) Very Good

NEW LINE CINEMA'S TALES OF HORROR (2007) #1 (DC/Wildstorm) Very Fine

PAINKILLER JANE (2006) #1 ALT COVER (DYNAMITE Entertainment) Near Mint/Mint

PLAYBOY (1953) #7902 (PLAYBOY) Very Good
PLAYBOY (1953) #8001 (PLAYBOY) Very Good

RICK & MORTY TPB (2015) #6 (Oni Press Inc.) Near Mint/Mint

SCREAM QUEENS ILLUSTRATED #1 (Marketsquare Productions) Fine
SCREAM QUEENS ILLUSTRATED #3 (Marketsquare Productions) Fine

SHADOW/BATMAN (2017) #3 H DESJAB&W (DYNAMITE Entertainment) Near Mint/Mint
SHADOW/BATMAN (2017) #3 I PETERB&W (DYNAMITE Entertainment) Near Mint/Mint
SHADOW/BATMAN (2017) #3 J KALUTB&W (DYNAMITE Entertainment) Near Mint/Mint


SHEENA (2007) (#1-5) (DEVIL'S DUE) #1 SKETCH INC

SHEENA (2007) (#1-5) (DEVIL'S DUE) #1 SKETCH INC (Devil's Due) Near Mint/Mint

SILLY SYMPHONIES (1952) #9 (Dell Publishing) Fine

SPIKE VS. DRACULA (2006) #1 PHOTO (IDW Publishing) Near Mint/Mint

SPIKE: LOST AND FOUND ONE-SHOT (2006) #1 PHOTO INC (IDW Publishing) Near Mint/Mint

SUFFER & OBEY MAGAZINE (STANTON & J.J LYONS) #1 (Hci) Near Mint/Mint

TEENAGE MUTANT NINJA TURTLES (1984) #13 (Mirage Studios) Very Good
TEENAGE MUTANT NINJA TURTLES (1984) #31 (Mirage Studios) Very Fine

TWILIGHT ZONE MAGAZINE (VOL. 1) #12 (Viacom Media Publishing) Fine

TWILIGHT ZONE MAGAZINE (VOL.2) (1982) #3 (Viacom Media Publishing) Very Good
TWILIGHT ZONE MAGAZINE (VOL.2) (1982) #4 (Viacom Media Publishing) Very Fine

TWILIGHT ZONE MAGAZINE (VOL.3) #2 (Viacom Media Publishing) Very Fine
TWILIGHT ZONE MAGAZINE (VOL.3) #6 (Viacom Media Publishing) Very Good


TWILIGHT ZONE MAGAZINE ANNUAL #1 1983

TWILIGHT ZONE MAGAZINE ANNUAL #1 1983 (Viacom Media Publishing) Good

VACATION PARADE (1950) #1 (Dell Publishing) Good

WARLORD OF MARS: DEJAH THORIS (2011) #19 DFE ALT CV (DYNAMITE Entertainment) Near Mint/Mint

WARRIOR (1996) #1 (Ultimate Creations) Near Mint/Mint
WARRIOR (1996) #1 ASHCAN (Ultimate Creations) Near Mint/Mint
WARRIOR (1996) #1 ASHCAN (Ultimate Creations) Very Fine
WARRIOR (1996) #1 ASHCAN (Ultimate Creations) Fine
WARRIOR (1996) #4 (Ultimate Creations) Near Mint/Mint
WARRIOR (1996) #4 (Ultimate Creations) Fine
WARRIOR (1996) #4 (Ultimate Creations) Very Fine

WARRIOR NUN AREALA VS. RAZOR #1 CD SOUNDTR (Antarctic Press) Very Fine

WESTERN ROUNDUP #23 (Dell Publishing) Fine

WILDC.H.I.C.K.S. (WILDC.A.T.S.) (1992) #1 (Spoof Cards & Comics (Div./Friendly) Very Fine

ZORRO (1949) (FC#'S & #8-15) (Dell Publishing) #1 FC #882 (Dell Publishing) Very Fine