50% Off Black Friday Sale Ending On Monday
Howdy!
I want to begin today's abbreviated newsletter by letting you know that our annual 50% off BLACKFRIDAY! codeword sale on all of our back issue comics and magazines will be ending on Monday. We have been blessed this year with an outpouring of orders from all around the world for the comic books, trade paperbacks, graphic novels, and hardcovers that we stock. I sincerely thank everyone who has ordered from us, as it is only through your support that we are able to continue to serve those who love comics as much as we do.
Here are the very generous discounts that will end on Monday:
*Ten Million+ Back Issue Comics and Magazines - 50% Off!
*200,000+ Trade Paperbacks and Graphic Novels - 40% Off! (Already discounted online)
*50,000+ Comics Hardback Collections - 30% Off! (Already discounted online)

(Only new issues, few variants, and our professionally graded comics are excluded from the codeword sale)

DEADPOOL VOL.10: EVIL DEADPOOL TPB (2012) #1 (3RD PRINT) for only $5.00


In other news, our $5 book sale on those 100 brand new Marvel Comics trade paperbacks will also be ending on Monday. If you are looking for an inexpensive way to build your own library, or to purchase great Christmas gifts at bargain prices, these 100 $5 books present an excellent opportunity for you. Marvel has closed these books out from their warehouse, which usually means that they are now out-of-print, and will not be available for order from them in the future.
Along those same lines, we did just receive three Marvel trades as free Bonus Books for placing our huge order with them, and we are offering to pass along those books for free to you. Your only cost on these free books is shipping, which is only the small per item fee if you place any sort of order that meets our free shipping minimum of $50 USA, or $125 International. Just let us know in the "notes" as to which book, or books, that you would like included for free with your order. The three free trade paperback titles that we have available for you are:

AVENGERS: ROAD TO AVENGERS TPB (2012)



RUNAWAYS DIGEST VOL. 5: ESCAPE TO NEW YORK TPB (2011)



ULTIMATE COMICS: AVENGERS - CRIME & PUNISHMENT TPB (2011)


I will close today's newsletter by quickly mentioning that we will be hosting an incredible Silver Age Comics and toys auction tomorrow (Saturday 12/2) at our Jason St. Mega-Store beginning at 11:30 AM. You can preview all of the comics lots on our Mile High Comics FaceBook page. If you would like to place a bid on an item from a remote location, send an e-mail to Pam Brandle at pamb@milehighcomics.com. Pam will then bid for you in the live auction, but only up to the point that you specify. All pre-bids must be in to her by 10 AM on Saturday morning. Remote buyers will need to pay exact shipping, only. All bids are by the item, not the entire lot. Just let her know the LOT # and item.
Happy collecting!
Chuck Rozanski,
President - Mile High Comics, Inc.
December 1, 2017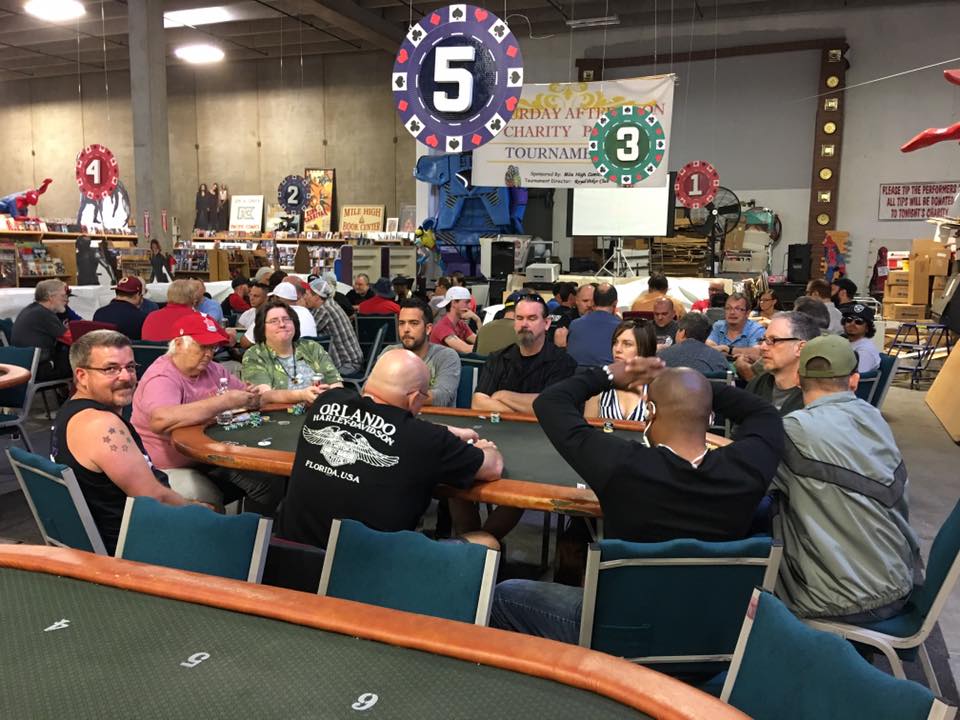 Picture of one of our previous poker events

P.S. Our multitude of Denver poker enthusiasts should make note that we will be hosting our December Texas Hold'em tournament at Jason St. on December 16th, starting at 11 AM. You can register today at any one of our stores. Your payment of the $25 advance buy-in earns you an immediate $25 gift certificate, so you essentially get to play for free! We will also host our annual "stocking stuffers" auction that day, with a 1,000 items offered with no reserves that would make awesome last-minute gifts. Join us for a great day of fun!