Black Friday Sale on Ten Million Comics, Magazines, and Books
Howdy!
If you missed my weekend newsletter, I began our wonderful annual BLACKFRIDAY! comics and books sale on Friday. Here are our BLACKFRIDAY! codeword discounts for 2017:
*Ten Million+ Back Issue Comics and Magazines - 50% Off!
*200,000+ Trade Paperbacks and Graphic Novels - 40% Off!
*50,000+ Comics Hardback Collections - 30% Off!


SPIDER-MAN (1963) #300 Newsstand

Our Black Friday comics and magazine sale applies to pretty much all of our immense inventory of back issues (Priced in Green, Red, and Yellow), excluding only new releases, a few variants, and our professionally graded comics (Priced in Blue). Only new issues and oversized items are excluded on books. That means that all of our Golden Age, Silver Age, Bronze Age, Copper Age, and Modern Age comics are included in the sale, as well as all of our Marvel, DC, Dark Horse, Image, IDW, Boom!, Dell, Gold Key, Charlton, Archie, and Harvey titles. This is an awesome BLACKFRIDAY! sale!

EVIL DEAD: ARMY OF DARKNESS (1992) #2

So you know, we intentionally chose to keep our restrictions to this year's BLACKFRIDAY! codeword sale at a minimum specifically because we want you to be able to obtain as much as possible in exchange for the support that you provide us. We sincerely appreciate your business, and all of us hope that these great holiday discounts help you to have a better holiday season. Thank you!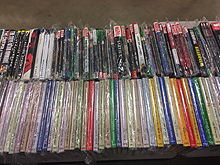 Some of the Marvel Masterworks and other Hardcover bought on Friday.

I will close by quickly mentioning that we have been purchasing some incredible collections during the past couple of days containing thousands of scarce books and comics. An immense library of 100+ of the limited edition gold foil MARVEL MASTERWORKS arrived on Friday, and many of those rare hardcover books should be included for you in tomorrow's Premium New-In-Stock.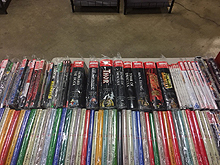 Some more of the Marvel Masterworks and other Hardcover bought on Friday.

Just in case you are not already aware of this fact, the gold foil MARVEL MASTERWORKS editions are among the rarest books Marvel has ever published. The total print runs (which are listed on the back cover...) are almost always under 1,500 copies, and are oftentimes in the 350-600 copies range. If you are a Marvel completist, be sure and grab whatever you can afford from this awesome library while they are priced for you at 30% off during our BLACKFRIDAY! codeword sale. In many instances, this is actually the first time (in 20+ years) that we have owned a copy of some of the limited editions of these MARVEL MASTERWORKS hardcovers. When that one single copy from this awesome collection is sold, I expect it be many years before we are able to obtain another copy. If you want to obtain books from this awesome library, please do not hesitate!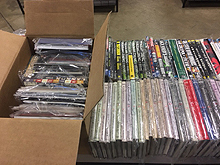 Even more of the Marvel Masterworks and other Hardcover bought on Friday.

Happy collecting!
Chuck Rozanski,
President - Mile High Comics, Inc.
November 20, 2017