Half Price Back Issue Comics Sale Ends Monday
Howdy!
It is a gorgeous Colorado afternoon, and I am getting ready to drive 100 miles south of Denver. I am looking forward to the beautiful journey, as I will be representing our Denver Imperial Court this weekend at the annual Colorado Springs Imperial Court's Coronation. My two friends, Water and Coriander Xaris, have been reigning for the past year as the Monarchs of the Colorado Springs Court, and will be stepping down on Saturday evening. I very much look forward to honoring them both for their year of outstanding service to their Community. As I do here in Denver, they have raised tens of thousands of dollars for deserving local charities...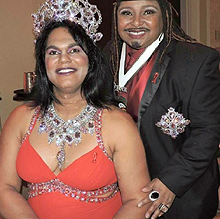 UCPPE Empress Coriander Xaris and Emperor Water Xaris

While I am gone to Colorado Springs, our staff here at Jason St. will be continuing to work at full speed under Lynne and Will's gentle guidance. Thanks to the recent addition of some exceptionally energetic and talented new staff members, we have actually managed to stay much close to current in our shipping of orders during our annual 50% off HALLOWEEN! codeword sale. That may change over this weekend, as the HALLOWEEN! codeword will need to end on Monday, but for right now we're shipping orders rather expeditiously, at least as compared to past sales.
If you would like to take advantage of this last-minute opportunity to save 50% off on your choice of back issue comics and magazines from our immense selection of 10 million comics, please do place your order with us by Monday. The HALLOWEEN! codeword sale applies to all of the back issues comics listed on our website, excepting only new issues a few variants, and our professionally graded comics. Included in the half price sale are most of the new arrivals that we have just listed for you in our vast New-In-Stock and Premium New-In-Stock links. Please do enjoy the last couple of days of HALLOWEEN! with our sincere thanks for your kindness and support of Mile High Comics.
Happy collecting!
Chuck Rozanski,
President - Mile High Comics, Inc.
November 3, 2017

P.S. Here are just a few of the excellent back issues that Will and Pam have added into New-In-Stock for you during this past week
MARVEL

AMAZING SPIDER-MAN (1999) #500

AMAZING SPIDER-MAN (1999) (#1-700.5) (MARVEL) #500 Very Fine
AMAZING SPIDER-MAN (1999) (#1-700.5) (MARVEL) #509 DIRECT CUT Very Fine
AMAZING SPIDER-MAN (1999) (#1-700.5) (MARVEL) #510 Near Mint/Mint
AMAZING SPIDER-MAN (1999) (#1-700.5) (MARVEL) #516 NEWSSTAND Very Fine
AMAZING SPIDER-MAN (1999) (#1-700.5) (MARVEL) #568 Near Mint/Mint
AMAZING SPIDER-MAN (1999) (#1-700.5) (MARVEL) #568 ROSS Very Fine
AMAZING SPIDER-MAN (1999) (#1-700.5) (MARVEL) #569 Fine
AMAZING SPIDER-MAN (1999) (#1-700.5) (MARVEL) #569 VARIANT Very Good
AMAZING SPIDER-MAN (1999) (#1-700.5) (MARVEL) #570 Fine
AMAZING SPIDER-MAN (1999) (#1-700.5) (MARVEL) #600 ROMITA JR. Good

DAREDEVIL (2017) (#595-UP) (MARVEL LEAGCY) #595 SHALVEY Near Mint/Mint

DEADPOOL (1994) (#1-4) (MARVEL) #2 Fine

EPIC ILLUSTRATED (1980) #31 Near Mint/Mint

FANTASTIC FOUR (1961) (#1-416) (MARVEL) #346 Near Mint/Mint

KICK ASS (2008) #1 DIRECT CUT Very Fine
KICK ASS (2008) #2 2ND PRINT Near Mint/Mint
KICK ASS (2008) #3 Fine

KICK ASS (2008) #4 Very Fine
KICK ASS (2008) #6 Near Mint/Mint

MOON KNIGHT (2017) (#188-UP) (MARVEL LEGACY) #188 JOHNSON Near Mint/Mint

NYX (2003) #1 Near Mint/Mint
NYX (2003) #2 Fine
NYX (2003) #4 Very Fine
NYX (2003) #5 Very Fine

SHE-HULK (2017) (#159-UP) (MARVEL LEGACY) #159 EVELY Near Mint/Mint

SPIDER-MAN (1963) (AMAZING SPIDER-MAN) (#1-441) #109 Good
SPIDER-MAN (1963) (AMAZING SPIDER-MAN) (#1-441) #204 Very Fine

SPIDER-MAN/DEADPOOL (2015) #23 HEPBURN Near Mint/Mint

SPIDER-MAN: NOIR (2008) #1 VARIANT Near Mint/Mint

STAR WARS (2015) #38 DODSON Near Mint/Mint
STAR WARS (2015) #38 LARRAZ Near Mint/Mint

SUB-MARINER (1968) #2 Fair
SUB-MARINER (1968) #3 Good
SUB-MARINER (1968) #4 Good
SUB-MARINER (1968) #6 Good
SUB-MARINER (1968) #8 Very Good
SUB-MARINER (1968) #14 Very Good

TALES OF SUSPENSE (1959) #63 Fair
TALES OF SUSPENSE (1959) #64 Fair
TALES OF SUSPENSE (1959) #68 Good
TALES OF SUSPENSE (1959) #69 Fair
TALES OF SUSPENSE (1959) #73 Very Good
TALES OF SUSPENSE (1959) #74 Good
TALES OF SUSPENSE (1959) #77 Very Good
TALES OF SUSPENSE (1959) #81 Fine
TALES OF SUSPENSE (1959) #82 Very Good
TALES OF SUSPENSE (1959) #83 Fine
TALES OF SUSPENSE (1959) #86 Very Good
TALES OF SUSPENSE (1959) #87 Very Good
TALES OF SUSPENSE (1959) #92 Good
TALES TO ASTONISH (1959) #67 Very Good

TALES TO ASTONISH (1959) #70 Good
TALES TO ASTONISH (1959) #94 Good
TALES TO ASTONISH (1959) #98 Fine
TALES TO ASTONISH (1959) #99 Good
TALES TO ASTONISH (1959) #100 Good

THANOS QUEST #1 NEWSSTAND Near Mint/Mint
THANOS QUEST #2 NEWSSTAND Near Mint/Mint

THOR (1962) #114 Fair
THOR (1962) #119 Good
THOR (1962) #122 Good
THOR (1962) #138 Good
THOR (1962) #145 Very Good
THOR (1962) #153 Good
THOR (1962) #172 Good
THOR (1962) #199 Fine

THOR (1998) #22 Near Mint/Mint
THOR (1998) #33 Fine
THOR (1998) #35 Fine

TOMB OF DRACULA (1972) #42 Good
TOMB OF DRACULA (1972) #57 Very Good
TOMB OF DRACULA (1972) #58 Very Good
TOMB OF DRACULA (1972) #58 Very Fine
TOMB OF DRACULA (1972) #59 Very Good

WHAT IF... (1989) #1 Near Mint/Mint
WHAT IF... (1989) #105 Very Fine
WHAT IF... (1989) #108 Very Fine

WHAT IF: ANNIHILATION (2007) #1 Fine

WHERE CREATURES ROAM (1970) #3 Fine
WHERE CREATURES ROAM (1970) #4 Very Fine

WOLVERINE (2003) (#1-90 & 900) (MARVEL) #25 NEWSSTAND Fine
WOLVERINE (2003) (#1-90 & 900) (MARVEL) #66 Fine
WOLVERINE (2003) (#1-90 & 900) (MARVEL) #66 Very Fine
WOLVERINE (2003) (#1-90 & 900) (MARVEL) #67 Near Mint/Mint
WOLVERINE (2003) (#1-90 & 900) (MARVEL) #67 Very Fine
WOLVERINE (2003) (#1-90 & 900) (MARVEL) #68 Near Mint/Mint
WOLVERINE (2003) (#1-90 & 900) (MARVEL) #68 2ND PRINT Very Fine
WOLVERINE (2003) (#1-90 & 900) (MARVEL) #70 3RD PRINT Near Mint/Mint


WOLVERINE: ORIGINS (2006) #10 VARIANT

WOLVERINE: ORIGINS (2006) #10 VARIANT Very Good
WOLVERINE: ORIGINS (2006) #28 Near Mint/Mint

WOLVERINE: THE ORIGIN (2001) #1 Fine

X 23 (2005) #4 Near Mint/Mint
X 23 (2005) #4 Fine
X 23 (2005) #4 Very Fine

X-MEN (1963) (#1-113, UNCANNY X-MEN #114-544) (MARVEL) #56 Good
X-MEN (1963) (#1-113, UNCANNY X-MEN #114-544) (MARVEL) #59 Very Good
X-MEN (1963) (#1-113, UNCANNY X-MEN #114-544) (MARVEL) #96 Fine
X-MEN (1963) (#1-113, UNCANNY X-MEN #114-544) (MARVEL) #138 Fine

X-MEN (1991) (#1-275) (MARVEL) #10 Near Mint/Mint
X-MEN (1991) (#1-275) (MARVEL) #151 DFE S&N Very Fine

X-MEN ORIGINS: JEAN GREY (2008) #1 Near Mint/Mint

DC
ALL-STAR BATMAN AND ROBIN THE BOY WONDER (2005) #1 SPECIAL ED Very Fine


ALL-STAR BATMAN AND ROBIN THE BOY WONDER (2005) #2

ALL-STAR BATMAN AND ROBIN THE BOY WONDER (2005) #2 Near Mint/Mint

BATMAN (1940) (#0-713) (DC) #404 Very Good
BATMAN (1940) (#0-713) (DC) #457 NEWSSTAND Fine
BATMAN (1940) (#0-713) (DC) #695 Near Mint/Mint
BATMAN (1940) (#0-713) (DC) #697 Near Mint/Mint
BATMAN (1940) (#0-713) (DC) #698 Near Mint/Mint
BATMAN (1940) (#0-713) (DC) #700 Very Fine
BATMAN (1940) (#0-713) (DC) #702 Near Mint/Mint

BATMAN (2011) (#0-52) (DC NEW52) #1 4TH PRINT Very Fine
BATMAN (2011) (#0-52) (DC NEW52) #2 Near Mint/Mint
BATMAN (2011) (#0-52) (DC NEW52) #3 Near Mint/Mint
BATMAN (2011) (#0-52) (DC NEW52) #4 3RD PRINT Near Mint/Mint
BATMAN (2011) (#0-52) (DC NEW52) #6 Very Fine
BATMAN (2011) (#0-52) (DC NEW52) #9 Near Mint/Mint

BATMAN & ROBIN (2011) #1 2ND PRINT Fine
BATMAN & ROBIN (2011) #2 Fine
BATMAN & ROBIN (2011) #7 Near Mint/Mint
BATMAN & ROBIN (2011) #9 Near Mint/Mint


BATMAN: ARKHAM UNHINGED (2012) #1

BATMAN: ARKHAM UNHINGED (2012) #1 Near Mint/Mint

BATMAN: BEYOND (2010) (#1-6) (BATMAN BEYOND) (DC) #1 Near Mint/Mint

BATMAN/DANGER GIRL (DC WILDSTORN)(BATMAN & DANGER GIRL) (2004) #1 (DC/Wildstorm) Near Mint/Mint

DETECTIVE COMICS (1937) (#1-881) (DC) #600 Near Mint/Mint
DETECTIVE COMICS (1937) (#1-881) (DC) #609 NEWSSTAND Fine
DETECTIVE COMICS (1937) (#1-881) (DC) #619 NEWSSTAND Very Fine

DETECTIVE COMICS (2011) (#0-52) (DC NEW52) #1 NEWSSTAND Very Fine

HARLEY QUINN (2000) (#1-38) (DC) #1 Near Mint/Mint
HARLEY QUINN (2000) (#1-38) (DC) #2 Near Mint/Mint

JUSTICE LEAGUE (2011) (#0-52) (DC NEW52) #1 Very Fine
JUSTICE LEAGUE (2011) (#0-52) (DC NEW52) #5 COMBO Very Fine

NIGHTWING (2011) (#0-30) (DC NEW52) #3 Near Mint/Mint
NIGHTWING (2011) (#0-30) (DC NEW52) #5 Near Mint/Mint

SUICIDE SQUAD (2011) (#0-30) (DC NEW52) #9 Near Mint/Mint

SUPERMAN: MAN OF STEEL (1991) #29 DCUNIVERSE Very Fine

WONDER WOMAN (1987) (#0-226) (DC) #154 Near Mint/Mint

DARK HORSE COMICS
HELLBOY: THE ISLAND (2005) #1 Near Mint/Mint

IMAGE COMICS
CHEW (2009) #6 Near Mint/Mint

TENTH: EVIL'S CHILD #3 VARIANT Near Mint/Mint
TENTH: EVIL'S CHILD #3 VARIANT Very Fine

WALKING DEAD (2003) #23 Very Fine
WALKING DEAD (2003) #24 Fine
WALKING DEAD (2003) #26 Very Fine
WALKING DEAD (2003) #37 Fine
WALKING DEAD (2003) #39 Very Fine
WALKING DEAD (2003) #68 Near Mint/Mint

WITCHBLADE #116 WW LA (Image Top Cow) Very Fine
WITCHBLADE #118 (Image Top Cow) Very Fine
WITCHBLADE #119 B (Image Top Cow) Very Fine
WITCHBLADE #141 A (Image Top Cow) Near Mint/Mint
WITCHBLADE #142 A (Image Top Cow) Near Mint/Mint

WITCHBLADE #143 A (Image Top Cow) Near Mint/Mint
WITCHBLADE #144 A (Image Top Cow) Very Fine

INDEPENDENTS
KONG ON THE PLANET OF THE APES (2017) #1 CHUNG (Boom Studios Publishing) Near Mint/Mint

MARS ATTACKS (2012) #1 INCENTIVE (IDW Publishing) Near Mint/Mint
MARS ATTACKS (2012) #1 SAN DIEGO (IDW Publishing) Near Mint/Mint

TAROT: WITCH OF THE BLACK ROSE #4 (Broadsword Comics) Near Mint/Mint
TAROT: WITCH OF THE BLACK ROSE #4 VARIANT (Broadsword Comics) Near Mint/Mint

TEENAGE MUTANT NINJA TURTLES (1984) #43 (Mirage Studios) Near Mint/Mint
TEENAGE MUTANT NINJA TURTLES (1984) #43 (Mirage Studios) Very Fine
TEENAGE MUTANT NINJA TURTLES (1984) #54 (Mirage Studios) Near Mint/Mint
TEENAGE MUTANT NINJA TURTLES (1984) #54 (Mirage Studios) Very Fine

TEENAGE MUTANT NINJA TURTLES ADVENTURES (1989) #72 (Archie Comics) Fine
TEENAGE MUTANT NINJA TURTLES ADVENTURES (1989) #72 (Archie Comics) Near Mint/Mint
TEENAGE MUTANT NINJA TURTLES ADVENTURES (1989) #72 (Archie Comics) Very Fine

TOM AND JERRY (1962) (#213-327) (GOLD KEY) #269 (Gold Key) Fine
TOM AND JERRY (1962) (#213-327) (GOLD KEY) #269 (Gold Key) Very Fine


TOM AND JERRY (1962) (#213-327) (GOLD KEY) #270

TOM AND JERRY (1962) (#213-327) (GOLD KEY) #270 (Gold Key) Fine
TOM AND JERRY (1962) (#213-327) (GOLD KEY) #277 (Gold Key) Very Fine
TOM AND JERRY (1962) (#213-327) (GOLD KEY) #279 (Gold Key) Very Fine
TOM AND JERRY (1962) (#213-327) (GOLD KEY) #282 (Gold Key) Very Fine
TOM AND JERRY (1962) (#213-327) (GOLD KEY) #293 (Gold Key) Near Mint/Mint
TOM AND JERRY (1962) (#213-327) (GOLD KEY) #293 (Gold Key) Very Fine
TOM AND JERRY (1962) (#213-327) (GOLD KEY) #294 (Gold Key) Near Mint/Mint
TOM AND JERRY (1962) (#213-327) (GOLD KEY) #294 (Gold Key) Very Fine
TOM AND JERRY (1962) (#213-327) (GOLD KEY) #295 (Gold Key) Near Mint/Mint
TOM AND JERRY (1962) (#213-327) (GOLD KEY) #295 (Gold Key) Very Fine
TOM AND JERRY (1962) (#213-327) (GOLD KEY) #296 (Gold Key) Near Mint/Mint
TOM AND JERRY (1962) (#213-327) (GOLD KEY) #296 (Gold Key) Very Fine
TOM AND JERRY (1962) (#213-327) (GOLD KEY) #297 (Gold Key) Near Mint/Mint
TOM AND JERRY (1962) (#213-327) (GOLD KEY) #297 (Gold Key) Very Fine
TOM AND JERRY (1962) (#213-327) (GOLD KEY) #298 (Gold Key) Near Mint/Mint
TOM AND JERRY (1962) (#213-327) (GOLD KEY) #298 (Gold Key) Very Fine
TOM AND JERRY (1962) (#213-327) (GOLD KEY) #300 (Gold Key) Very Fine
TOM AND JERRY (1962) (#213-327) (GOLD KEY) #301 (Gold Key) Near Mint/Mint
TOM AND JERRY (1962) (#213-327) (GOLD KEY) #301 (Gold Key) Very Fine
TOM AND JERRY (1962) (#213-327) (GOLD KEY) #303 (Gold Key) Near Mint/Mint
TOM AND JERRY (1962) (#213-327) (GOLD KEY) #303 (Gold Key) Very Fine


TOM AND JERRY (1962) (#213-327) (GOLD KEY) #309 WHITMAN

TOM AND JERRY (1962) (#213-327) (GOLD KEY) #309 WHITMAN (Gold Key) Fine
TOM AND JERRY (1962) (#213-327) (GOLD KEY) #324 (Gold Key) Very Fine
TOM AND JERRY (1962) (#213-327) (GOLD KEY) #326 (Gold Key) Very Fine

TOM AND JERRY (1980) (#328-344) (WHITMAN) #336 (Whitman Publishing) Very Fine
TOM AND JERRY (1980) (#328-344) (WHITMAN) #337 (Whitman Publishing) Very Fine
TOM AND JERRY (1980) (#328-344) (WHITMAN) #339 (Whitman Publishing) Very Fine

TOONEY LOONS AND MARIJUANA MELODIES #1 2ND PRT (Rip Off Press) Fine

TOP COMICS (1967) #1 SUPER GOOF (Top Comics) Near Mint/Mint
TOP COMICS (1967) #1 LASSIE (Top Comics) Near Mint/Mint
TOP COMICS (1967) #1 SUPER GOOF (Top Comics) Very Fine
TOP COMICS (1967) #1 LASSIE (Top Comics) Fine
TOP COMICS (1967) #1 SUPER GOOF (Top Comics) Fine
TOP COMICS (1967) #1 DAFFY DUCK (Top Comics) Near Mint/Mint
TOP COMICS (1967) #1 LASSIE (Top Comics) Very Good
TOP COMICS (1967) #1 SUPER GOOF (Top Comics) Very Good
TOP COMICS (1967) #1 DAFFY DUCK (Top Comics) Very Fine
TOP COMICS (1967) #1 GNOMEMOBIL (Top Comics) Fine
TOP COMICS (1967) #1 LASSIE (Top Comics) Good
TOP COMICS (1967) #1 MICKEY (Top Comics) Near Mint/Mint
TOP COMICS (1967) #1 SUPER GOOF (Top Comics) Good
TOP COMICS (1967) #1 ZORRO (Top Comics) Very Fine
TOP COMICS (1967) #1 DAFFY DUCK (Top Comics) Fine


TOP COMICS (1967) #1 GNOMEMOBIL

TOP COMICS (1967) #1 GNOMEMOBIL (Top Comics) Very Good
TOP COMICS (1967) #1 MICKEY (Top Comics) Very Fine
TOP COMICS (1967) #1 YOGI BEAR (Top Comics) Very Fine
TOP COMICS (1967) #1 ZORRO (Top Comics) Fine
TOP COMICS (1967) #2 3 STOOGES (Top Comics) Near Mint/Mint
TOP COMICS (1967) #2 SNOW WHITE (Top Comics) Very Fine
TOP COMICS (1967) #2 3 STOOGES (Top Comics) Very Fine
TOP COMICS (1967) #2 SNOW WHITE (Top Comics) Fine
TOP COMICS (1967) #2 3 STOOGES (Top Comics) Fine
TOP COMICS (1967) #2 SNOW WHITE (Top Comics) Good
TOP COMICS (1967) #2 YOGI BEAR (Top Comics) Near Mint/Mint
TOP COMICS (1967) #2 3 STOOGES (Top Comics) Very Good
TOP COMICS (1967) #2 PORKY PIG (Top Comics) Fine
TOP COMICS (1967) #2 SNOW WHITE (Top Comics) Fair
TOP COMICS (1967) #2 YOGI BEAR (Top Comics) Very Good

TORCHY (INNOVATION) (1991) #1 (Innovation Publishing) Fine

TRAGG AND THE SKY GODS (1975) (#1-8) (GOLD KEY) #1 (Gold Key) Fine

TRAGG AND THE SKY GODS (1982) (#9) (WHITMAN) #9 (Whitman Publishing) Near Mint/Mint
TRAGG AND THE SKY GODS (1982) (#9) (WHITMAN) #9 (Whitman Publishing) Very Fine

TRANSFORMERS MOVIE SEQUEL: REIGN OF STARSCREAM (2008) #2 INC B (IDW Publishing) Near Mint/Mint

TRANSFORMERS SPOTLIGHT: TARGET 2006 (2007) #4 INC A (IDW Publishing) Near Mint/Mint


TRANSFORMERS SPOTLIGHT: TARGET 2006 (2007) #4 INC B

TRANSFORMERS SPOTLIGHT: TARGET 2006 (2007) #4 INC B (IDW Publishing) Near Mint/Mint

TRANSFORMERS: BEAST WARS-THE ASCENDING (2007) #3 INC B (IDW Publishing) Near Mint/Mint

TRANSFORMERS: TALES OF THE FALLEN (2009) #5 INCENTIVE (IDW Publishing) Near Mint/Mint

TRAVELER (STAN LEE) (2010) #11 LIMITED ED (Boom Studios Publishing) Near Mint/Mint

TRAVELERS (KENZER & COMPANY) (2000) #17 SIGNED (Kenzer & Company) Near Mint/Mint

TRUE BLOOD (2010) #1 SDCC 2010 (IDW Publishing) Near Mint/Mint

TRUE FAN ADVENTURE THEATER (1968) #8 (TCR PUBLICATIONS) Near Mint/Mint
TRUE FAN ADVENTURE THEATER (1968) #8 (TCR PUBLICATIONS) Very Fine

TRUE STORY OF SMOKEY THE BEAR #1 1964 (Dell Publishing) Fine

WALT DISNEY'S COMICS AND STORIES (1940) (#1-263) (Dell Publishing) #243 (Dell Publishing) Fine