Celebrating 50 Mile High Comics Exclusive STAR WARS Variant Editions
Howdy!
Today's special edition newsletter is entirely devoted to illustrating for you the 50 different Marvel STAR WARS comics for which we have been allowed to publish exclusive Mile High Comics variant editions. With just a few exceptions, our variants were published with a print run of the absolute minimum of 3,000 copies. Because of their tiny print runs, these variants constitute the rarest STAR WARS comics produced in the entire history of the franchise. Our supplies are now running low on some of these cool variants, both because they have been selling quite well for us, and also because we lost copies of a few of the earlier issues when that epic Denver hailstorm broke our warehouse skylights back in May.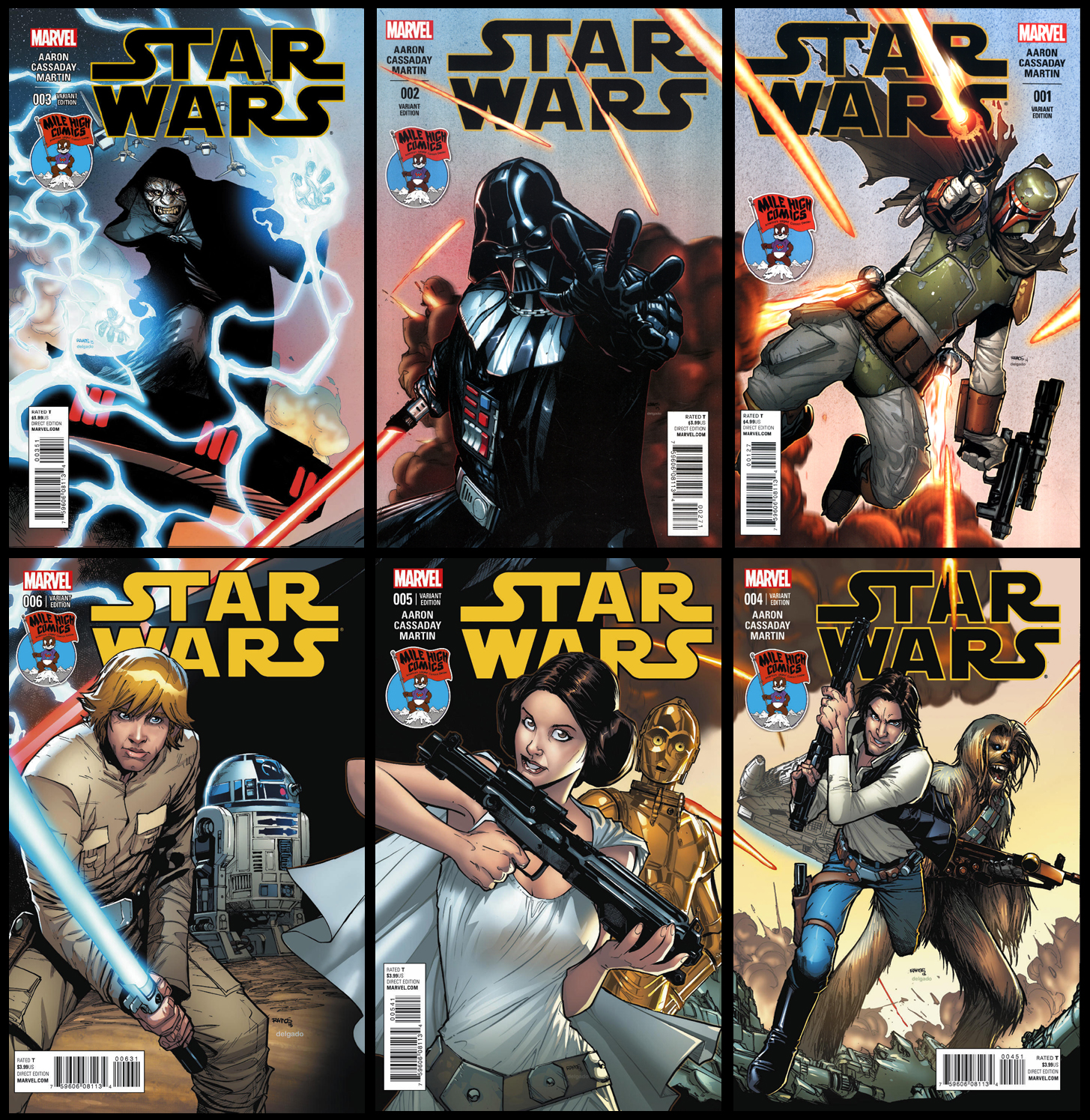 STAR WARS (2015) #1-6 MILE HIGH CONNECTED

All of the above having been said, installment VIII of the STAR WARS movies will be releasing soon. This is relevant because if past patterns repeat, we will see a substantial uptick in demand for all of our earlier Mile High Comics STAR WARS variants during the week that the film releases. In anticipation of that upsurge in demand, Will Moulton is planning to revise our backlist prices on all of our exclusives. If you would like to add some of our ultra-low print run exclusive Mile High Comics STAR WARS variants to your personal collection at today's lower prices, now is definitely the time for you to act.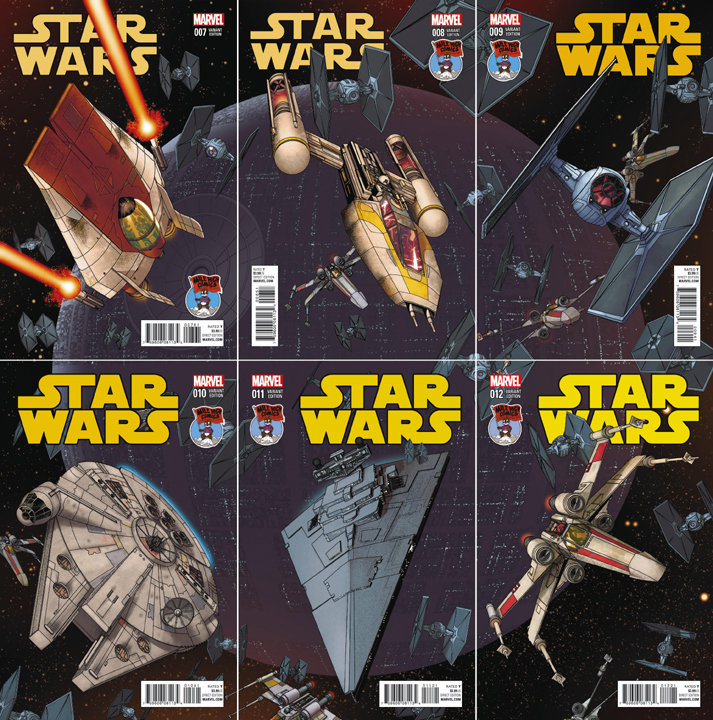 STAR WARS (2015) #7-12 MILE HIGH CONNECTED

I will close by mentioning that our STAR WARS (2015) #38 will be releasing on Wednesday of next week. That allows you seven more days to take advantage of our $19.95 advance order price. Please note, however, that we do not wholesale our variants, so there is a limit of three copies of each issue per collector. Thank you!

STAR WARS (2015) #38 MILE HIGH EXCLUSIVE
$19.95 (Pre-Order)
Limited to 3,000 copies world wide

Happy collecting!
Chuck Rozanski,
President - Mile High Comics, Inc.
October 31, 2017


STAR WARS (2015) #1 MILE HIGH EXCLUSIVE
$124.95
Limited to 3,000 copies world wide


STAR WARS (2015) #2 MILE HIGH EXCLUSIVE
$74.95
Limited to 3,000 copies world wide


STAR WARS (2015) #3 MILE HIGH EXCLUSIVE
$59.95
Limited to 3,000 copies world wide


STAR WARS (2015) #4 MILE HIGH EXCLUSIVE
$59.95
Limited to 3,000 copies world wide


STAR WARS (2015) #5 MILE HIGH EXCLUSIVE
$49.95
Limited to 3,000 copies world wide


STAR WARS (2015) #6 MILE HIGH EXCLUSIVE
$49.95
Limited to 3,000 copies world wide


STAR WARS (2015) #7 MILE HIGH EXCLUSIVE
$39.95
Limited to 4,000 copies world wide


STAR WARS (2015) #8 MILE HIGH EXCLUSIVE
$39.95
Limited to 4,000 copies world wide


STAR WARS (2015) #9 MILE HIGH EXCLUSIVE
$39.95
Limited to 4,000 copies world wide


STAR WARS (2015) #10 MILE HIGH EXCLUSIVE
$39.95
Limited to 4,000 copies world wide


STAR WARS (2015) #11 MILE HIGH EXCLUSIVE
$39.95
Limited to 4,000 copies world wide


STAR WARS (2015) #12 MILE HIGH EXCLUSIVE
$39.95
Limited to 4,000 copies world wide


STAR WARS (2015) #13 MILE HIGH EXCLUSIVE
$39.95
Limited to 4,000 copies world wide


STAR WARS (2015) #14 MILE HIGH EXCLUSIVE
$39.95
Limited to 4,000 copies world wide


STAR WARS (2015) #15 MILE HIGH EXCLUSIVE
$34.95
Limited to 3,000 copies world wide


STAR WARS (2015) #16 MILE HIGH EXCLUSIVE
$34.95
Limited to 3,000 copies world wide


STAR WARS (2015) #17 MILE HIGH EXCLUSIVE
$34.95
Limited to 3,000 copies world wide


STAR WARS (2015) #18 MILE HIGH EXCLUSIVE
$34.95
Limited to 3,000 copies world wide


STAR WARS (2015) #19 MILE HIGH EXCLUSIVE
$34.95
Limited to 3,000 copies world wide


STAR WARS (2015) #20 MILE HIGH EXCLUSIVE
$34.95
Limited to 3,000 copies world wide


STAR WARS (2015) #21 MILE HIGH EXCLUSIVE
$34.95
Limited to 3,000 copies world wide


STAR WARS (2015) #22 MILE HIGH EXCLUSIVE
$34.95
Limited to 3,000 copies world wide


STAR WARS (2015) #23 MILE HIGH EXCLUSIVE
$34.95
Limited to 3,000 copies world wide


STAR WARS (2015) #24 MILE HIGH EXCLUSIVE
$34.95
Limited to 3,000 copies world wide


STAR WARS (2015) #25 MILE HIGH EXCLUSIVE
$34.95
Limited to 3,000 copies world wide


STAR WARS (2015) #26 MILE HIGH EXCLUSIVE
$29.95
Limited to 3,000 copies world wide


STAR WARS (2015) #27 MILE HIGH EXCLUSIVE
$29.95
Limited to 3,000 copies world wide


STAR WARS (2015) #28 MILE HIGH EXCLUSIVE
$29.95
Limited to 3,000 copies world wide


STAR WARS (2015) #29 MILE HIGH EXCLUSIVE
$29.95
Limited to 3,000 copies world wide


STAR WARS (2015) #30 MILE HIGH EXCLUSIVE
$29.95
Limited to 3,000 copies world wide


STAR WARS (2015) #31 MILE HIGH EXCLUSIVE
$29.95
Limited to 3,000 copies world wide


STAR WARS (2015) #32 MILE HIGH EXCLUSIVE
$29.95
Limited to 3,000 copies world wide


STAR WARS (2015) #33 MILE HIGH EXCLUSIVE
$24.95
Limited to 3,000 copies world wide


STAR WARS (2015) #34 MILE HIGH EXCLUSIVE
$24.95
Limited to 3,000 copies world wide


STAR WARS (2015) #35 MILE HIGH EXCLUSIVE
$24.95
Limited to 3,000 copies world wide


STAR WARS (2015) #36 MILE HIGH EXCLUSIVE
$24.95
Limited to 3,000 copies world wide


STAR WARS (2015) #37 MILE HIGH EXCLUSIVE
$24.95
Limited to 3,000 copies world wide


STAR WARS (2015) #38 MILE HIGH EXCLUSIVE
$19.95 (Pre-Order)
Limited to 3,000 copies world wide


STAR WARS (2015) #39 MILE HIGH EXCLUSIVE
$19.95 (Pre-Order)
Limited to 3,000 copies world wide

PRINCESS LEIA

PRINCESS LEIA (2015) #1 MILE HIGH EXCLUSIVE
$39.95
Limited to 3,000 copies world wide


PRINCESS LEIA (2015) #2 MILE HIGH EXCLUSIVE
$39.95
Limited to 3,000 copies world wide


PRINCESS LEIA (2015) #3 MILE HIGH EXCLUSIVE
$39.95
Limited to 3,000 copies world wide


PRINCESS LEIA (2015) #4 MILE HIGH EXCLUSIVE
$39.95
Limited to 3,000 copies world wide


PRINCESS LEIA (2015) #5 MILE HIGH EXCLUSIVE
$39.95
Limited to 3,000 copies world wide

VADER DOWN

VADER DOWN (2015) #1 MILE HIGH EXCLUSIVE
$34.95
Limited to 5,000 copies world wide
PART 1


DARTH VADER (2015) #13 MILE HIGH EXCLUSIVE
$34.95
Limited to 4,000 copies world wide
PART 2


STAR WARS (2015) #13 MILE HIGH EXCLUSIVE
$39.95
Limited to 4,000 copies world wide
PART 3


DARTH VADER (2015) #14 MILE HIGH EXCLUSIVE
$39.95
Limited to 4,000 copies world wide
PART 4


STAR WARS (2015) #14 MILE HIGH EXCLUSIVE
$39.95
Limited to 4,000 copies world wide
PART 5


DARTH VADER (2015) #15 MILE HIGH EXCLUSIVE
$39.95
Limited to 4,000 copies world wide
PART 6

SCREAMING CITADEL


STAR WARS: SCREAMING CITADEL MILE HIGH CONNECTED


STAR WARS: SCREAMING CITADEL (2017) #1 MILE HIGH EXCLUSIVE
$29.95
Limited to 3,000 copies world wide
PART 1


STAR WARS (2015) #31 MILE HIGH EXCLUSIVE
$29.95
Limited to 3,000 copies world wide
PART 2


DOCTOR APHRA (2016) #7 MILE HIGH EXCLUSIVE
$29.95
Limited to 3,000 copies world wide
PART 3


STAR WARS (2015) #32 MILE HIGH EXCLUSIVE
$29.95
Limited to 3,000 copies world wide
PART 4


DOCTOR APHRA (2016) #8 MILE HIGH EXCLUSIVE
$29.95
Limited to 3,000 copies world wide
PART 5