SUPERMAN #1 Banner Installed - Half Price Comics Sale Ending
Howdy!
As the photo below clearly illustrates, our wonderful SUPERMAN #1 banner has now been installed on the outside wall of our Jason St. Mega-Store. This banner is the same one that I had concerns about last week, but I was told that there was nothing to be done about the shadow line in the center. We're trying a different technique with banner #2 (SILVER SURFER #4), which we hope will hope will minimize that flaw. We have 14 more immense banners to produce, so these early ones are essentially experimental. Whatever the case may be, we have been getting totally enthusiastic feedback about our wonderful new banner from everyone coming to the store!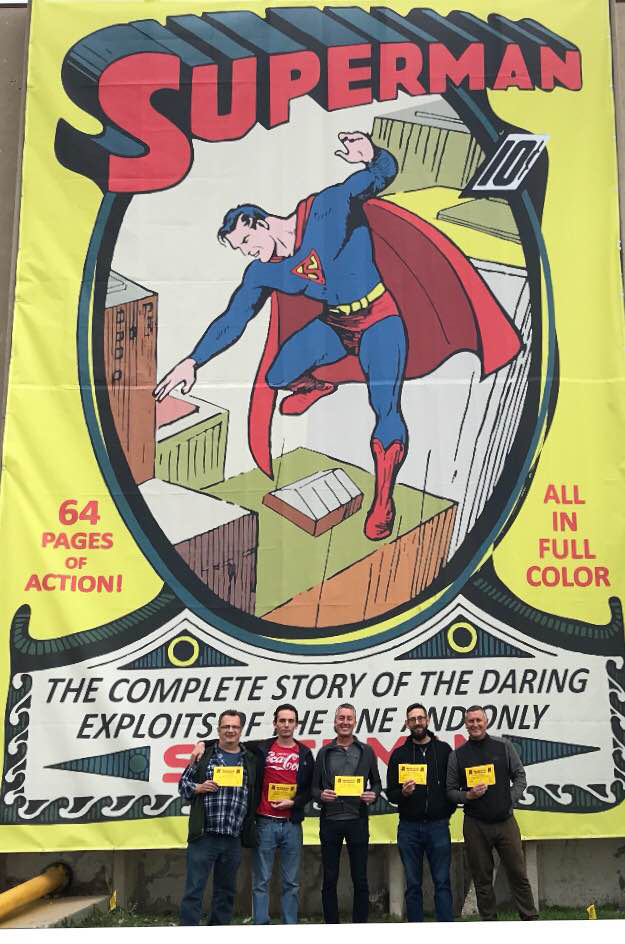 SUPERMAN #1 banner with the poker winners from Saturday

In other news, our drawing for the life-size HARLEY QUINN statue was won by Jason Hunt, of Denver. Our sincere thanks go out to everyone from around the world who supported this effort. We raised $2,660.00 that will go to help purchase Christmas presents for the 250+ kids being helped by Denver's Rainbow Alley Youth Center. Thank you!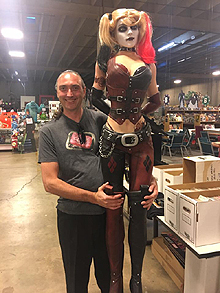 Jason Hunt, Life-Size Harley Winner!

Returning to a past topic, after a record-setting response at Jason St. to this year's HALLOWEENFEST party on Saturday, we did (as I feared might happen...) run out of copies on a couple of this year's exclusive HALLOWEENFEST variant editions. That having been said, we do still have over a dozen different titles left in stock, with an average of about 20 copies of each remaining. I am having Will Moulton post all that are still in stock for you below. You can request one free HALLOWEENFEST variant for each $10 that you spend with us (after discounts) through Halloween. Just let us know your free choices in the "notes" section of our online order form.
Finally, our annual 50% off HALLOWEEN! codeword sale will be ending next Monday. You have just one week left in which to purchase your choice of any of the ten million back issue comics and magazines offers through our website. Only new issues, a few variants, and our professionally graded comics are excluded from our once-a-year HALLOWEEN! half price sale. Enjoy!
Happy collecting!
Chuck Rozanski,
President - Mile High Comics, Inc.
October 30, 2017

P.S. Below are even more excellent comics that just arrived at Jason St. With so many people moving and/or downsizing in Denver right now, we are being offered a collection just about every 60 minutes. Despite a huge backlog of unsorted comics, we keep right on buying. This is one of the very best times to purchase wonderful old comics that I have ever seen...
MARVEL

ALPHA FLIGHT (1983) #5 NEWSSTAND

ALPHA FLIGHT (1983) #5 NEWSSTAND Near Mint/Mint

AVENGERS ANNUAL (1967) #10 Near Mint/Mint

BARBIE (MARVEL) (1991) #1 NEWSW/CARD Very Fine

BLACK WIDOW (1999) (#1-3) (MARVEL) #1 DFE ALT CV Near Mint/Mint

CAPTAIN AMERICA (2017) (#695-UP) (MARVEL LEGACY) #695 GRANOV Near Mint/Mint

DEFENDERS (1972) (#1-152) (MARVEL) #134 NEWSSTAND Fine
DEFENDERS (1972) (#1-152) (MARVEL) #135 NEWSSTAND Fine

GUARDIANS OF THE GALAXY (2017)(#146-UP)(MARVEL LEGACY) #146 GRANOV Near Mint/Mint

ROM (1979) #75 Near Mint/Mint
ROM (1979) #75 Very Fine

SECRET WARS (1984) #8 NEWSSTAND Very Good

SPIDER-MAN (2017) (#234-UP) (MARVEL LEGACY) #234 GREENE Near Mint/Mint

STREET FIGHTER (1993) #2 GOLD LOGO (Marvel Malibu/Ultraverse) Very Fine

ULTRAVERSE PREMIERE (1994) #0 (Marvel Malibu/Ultraverse) Very Fine

WOLVERINE (1988) (#1/2-189) (MARVEL) #75 Near Mint/Mint

X-MEN (1963) (#1-113, UNCANNY X-MEN #114-544) (MARVEL) #185 NEWSSTAND Fine
X-MEN (1963) (#1-113, UNCANNY X-MEN #114-544) (MARVEL) #186 NEWSSTAND Fine
X-MEN (1963) (#1-113, UNCANNY X-MEN #114-544) (MARVEL) #187 NEWSSTAND Very Fine


X-MEN (1963) (#1-113, UNCANNY X-MEN #114-544) (MARVEL) #266

X-MEN (1963) (#1-113, UNCANNY X-MEN #114-544) (MARVEL) #266 Near Mint/Mint

DC
ACTION COMICS (1938) (#0-904) (DC) #700 PLATINUM Fine

BATMAN (1940) (#0-713) (DC) #121 Fair
BATMAN (1940) (#0-713) (DC) #491 3RD PRINT Very Fine
BATMAN (1940) (#0-713) (DC) #567 Near Mint/Mint
BATMAN (1940) (#0-713) (DC) #567 Very Fine
BATMAN (1940) (#0-713) (DC) #588 Near Mint/Mint

BATMAN ADVENTURES: MAD LOVE #1 Very Fine

BATMAN CHRONICLES (1995) #16 NEWSSTAND Near Mint/Mint

BATMAN MILLENNIUM EDITION (REPRINT 1940'S #1) (2001) #1 Near Mint/Mint

BATMAN: BEYOND (1999) (2ND) (#1-24) (BATMAN BEYOND)(DC) #16 Near Mint/Mint
BATMAN: BEYOND (1999) (2ND) (#1-24) (BATMAN BEYOND)(DC) #17 Near Mint/Mint

BATMAN: BOOK OF THE DEAD (ELSEWORLDS) (PRESTIGE) (1999) #2 Near Mint/Mint

BATMAN: GOTHAM ADVENTURES (1998) #14 Near Mint/Mint
BATMAN: GOTHAM ADVENTURES (1998) #33 Near Mint/Mint
BATMAN: GOTHAM ADVENTURES (1998) #34 Near Mint/Mint
BATMAN: GOTHAM ADVENTURES (1998) #35 Near Mint/Mint

BATMAN: NO MAN'S LAND GALLERY (1999) #1 Near Mint/Mint

BATMAN: NOSFERATU (TED MCKEEVER) (ELSEWORLDS)(PRESTIGE) (1999) #1 Near Mint/Mint


BATMAN: THE ANIMATED MOVIE - MASK OF THE PHANTASM (1993) #1 DELUXE

BATMAN: THE ANIMATED MOVIE - MASK OF THE PHANTASM (1993) #1 DELUXE Near Mint/Mint

BATTLE CHASERS COLLECTED EDITION (DC WILDSTORM) (1999) #2 (DC/Wildstorm) Near Mint/Mint

BOOKS OF MAGIC (1994) #1 PLATINUM (DC: Vertigo Press) Fine

CATWOMAN-THE SERIES (1993) #89 Near Mint/Mint

DANGER GIRL (DC/Wildstorm) #5 DFE ALT CV (DC/Wildstorm) Near Mint/Mint

DC COMICS PRESENTS (1978) #51 NO MONTH Fine

DC COMICS PRESENTS ANNUAL (1982) #3 NEWSSTAND Very Good

DETECTIVE COMICS (1937) (#1-881) (DC) #526 Very Fine
DETECTIVE COMICS (1937) (#1-881) (DC) #658 2ND PRT Very Fine

FLASH (1987) (#0-247) (DC) #100 DELUXE Near Mint/Mint

FOX AND THE CROW (1951) #65 Very Good

GI COMBAT (1957) (#44-288) (DC) #131 Fair
GI COMBAT (1957) (#44-288) (DC) #132 Good
GI COMBAT (1957) (#44-288) (DC) #134 Good
GI COMBAT (1957) (#44-288) (DC) #143 Good
GI COMBAT (1957) (#44-288) (DC) #148 Very Good

GREEN LANTERN (1990) (#0-181) (DC) #48 Near Mint/Mint
GREEN LANTERN (1990) (#0-181) (DC) #49 DCUNIVERSE Near Mint/Mint
GREEN LANTERN (1990) (#0-181) (DC) #50 DCUNIVERSE Near Mint/Mint


HARLEY QUINN (2000) (#1-38) (DC) #3

HARLEY QUINN (2000) (#1-38) (DC) #3 Near Mint/Mint
HARLEY QUINN (2000) (#1-38) (DC) #4 Near Mint/Mint
HARLEY QUINN (2000) (#1-38) (DC) #5 Near Mint/Mint

HELLBLAZER (1988) (#1-300) (DC VERTIGO) #139 (DC: Vertigo Press) Near Mint/Mint

IMPULSE (1995) #50 Near Mint/Mint

JLA VS. PREDATOR (2000) #1 Near Mint/Mint

LEAVE IT TO BINKY (1948) #66 Very Good
LEAVE IT TO BINKY (1948) #69 Very Good

LEGENDS OF THE DARK KNIGHT (BATMAN) (1989) #50 Near Mint/Mint

LUCIFER (DC) (2000) #10 (DC: Vertigo Press) Near Mint/Mint

OUR ARMY AT WAR (1952) #220 Good

POWERPUFF GIRLS (2000) #10 Near Mint/Mint
POWERPUFF GIRLS (2000) #11 Near Mint/Mint

ROBIN: YEAR ONE (2000) #4 Near Mint/Mint

STAR SPANGLED WAR STORIES (1952) #139 Good
STAR SPANGLED WAR STORIES (1952) #143 Good


STAR SPANGLED WAR STORIES (1952) #148

STAR SPANGLED WAR STORIES (1952) #148 Good

SUPERMAN (1939) (#1-423) (DC) #146 Fair
SUPERMAN (1939) (#1-423) (DC) #147 Good
SUPERMAN (1939) (#1-423) (DC) #148 Very Good
SUPERMAN (1939) (#1-423) (DC) #149 Very Good
SUPERMAN (1939) (#1-423) (DC) #150 Fair
SUPERMAN (1939) (#1-423) (DC) #151 Good
SUPERMAN (1939) (#1-423) (DC) #152 Good
SUPERMAN (1939) (#1-423) (DC) #399 NEWSSTAND Fine
SUPERMAN (1939) (#1-423) (DC) #400 NEWSSTAND Fine

SUPERMAN (1986) (#0-226, #650-714) (DC) #75 PLATINUM Near Mint/Mint
SUPERMAN (1986) (#0-226, #650-714) (DC) #189 Near Mint/Mint
SUPERMAN (1986) (#0-226, #650-714) (DC) #189 Very Fine

SUPERMAN ADVENTURES (1996) #34 Near Mint/Mint

SUPERMAN: MAN OF STEEL (1991) #18 Near Mint/Mint
SUPERMAN: MAN OF STEEL (1991) #19 Very Fine

WONDER WOMAN (1987) (#0-226) (DC) #88 Near Mint/Mint
WONDER WOMAN (1987) (#0-226) (DC) #91 Near Mint/Mint

WORLDS COLLIDE #1 PLATINUM Very Fine

XOMBI (1994) #1 PLATINUM (DC: Milestone Press) Near Mint/Mint

DARK HORSE COMICS

GREEN LANTERN VS. ALIENS (2000) #4

GREEN LANTERN VS. ALIENS (2000) #4 Near Mint/Mint

SAN DIEGO COMICS CON COMICS #3 Near Mint/Mint

STAR WARS (1998) #6 Near Mint/Mint
STAR WARS (1998) #25 Near Mint/Mint
STAR WARS (1998) #26 Near Mint/Mint

STAR WARS TALES #6 Near Mint/Mint

STAR WARS: CRIMSON EMPIRE II #5 Near Mint/Mint

STAR WARS: QUI-GON & OBI-WAN - LSOOM #1 BACHS CVR Near Mint/Mint
STAR WARS: QUI-GON & OBI-WAN - LSOOM #1 PHOTO CVR Near Mint/Mint

STAR WARS: UNDERWORLD (2000) #2 Near Mint/Mint

IMAGE COMICS
ADVENTURES OF BARRY WEEN, BOY GENIUS (IMAGE) (1999) #1 Near Mint/Mint

DARKCHYLDE: THE LEGACY SUMMER PREVIEW #1 WIZ SIL FL Near Mint/Mint

GRAVEDIGGERS UNION (2017) #1 B GOLDLOGO Near Mint/Mint

SPAWN (1992) #101 Near Mint/Mint
SPAWN (1992) #102 Near Mint/Mint

STREET FIGHTER (2003) #1 DFE VIRGIN Near Mint/Mint


STREET FIGHTER (2003) #3 POWER FOIL

STREET FIGHTER (2003) #3 POWER FOIL Near Mint/Mint

INDEPENDENTS
BETTIE PAGE (2017) #4 E LINSNVIR (DYNAMITE Entertainment) Near Mint/Mint
BETTIE PAGE (2017) #4 F CHANTVIR (DYNAMITE Entertainment) Near Mint/Mint

CEREBUS (1977) #242 (Aardvark-Vanaheim) Near Mint/Mint
CEREBUS (1977) #263 (Aardvark-Vanaheim) Near Mint/Mint

CHASTITY: LUST FOR LIFE #1 DFE ALT CV (Chaos Comics) Near Mint/Mint
CHASTITY: LUST FOR LIFE #1 PREMIUM (Chaos Comics) Near Mint/Mint

FUTURAMA COMICS (2000) #2 (Bongo Comics) Near Mint/Mint

GRUMPY CAT/GARFIELD (2017) #1 I SIGNED (DYNAMITE Entertainment) Near Mint/Mint

LADY DEATH (1994) #1 (Chaos Comics) Near Mint/Mint
LADY DEATH (1994) #2 (Chaos Comics) Very Fine

LADY DEATH: TRIBULATION (2000) #2 (Chaos Comics) Near Mint/Mint
LADY DEATH: TRIBULATION (2000) #3 (Chaos Comics) Near Mint/Mint
LADY DEATH: TRIBULATION (2000) #4 (Chaos Comics) Near Mint/Mint

LEAVE IT TO BEAVER (1959) #1 FC #912 (Dell Publishing) Good

LONE RANGER (1948) (#1-145) (Dell Publishing) #113 (Dell Publishing) Good

PURGATORI VS. LADY DEATH (2000) #1 (Chaos Comics) Near Mint/Mint


RADIOACTIVE MAN (VOL. 2) (2001) #1 #100

RADIOACTIVE MAN (VOL. 2) (2001) #1 #100 (Bongo Comics) Near Mint/Mint

RAZOR'S EDGE #0 (London Night Studios) Near Mint/Mint
RAZOR'S EDGE #0 NUDE (London Night Studios) Near Mint/Mint

RAZOR: TILL I BLEED DAYLIGHT (2000) #2 (Avatar Comics) Near Mint/Mint

SATANIKA (1996) #11 (Verotik) Near Mint/Mint

SHADOW/BATMAN (2017) #2 G DANIEVIR (DYNAMITE Entertainment) Near Mint/Mint
SHADOW/BATMAN (2017) #2 H TRAKNVIR (DYNAMITE Entertainment) Near Mint/Mint
SHADOW/BATMAN (2017) #2 I PETERB&W (DYNAMITE Entertainment) Near Mint/Mint
SHADOW/BATMAN (2017) #2 J DANIEB&W (DYNAMITE Entertainment) Near Mint/Mint

SIMPSONS COMICS (BONGO) (1993) #54 (Bongo Comics) Near Mint/Mint

SINNAMON #12 (Catfish Comics) Near Mint/Mint
SINNAMON #12 POLIWKO (Catfish Comics) Near Mint/Mint

SMOKEY THE BEAR (1955) #1 FC #653 (Dell Publishing) Good

STREET COMIX (1973) #1 (King Features) Fine
STREET COMIX (1973) #1 (King Features) Very Fine
STREET COMIX (1973) #2 (King Features) Very Fine

SUPER GOOF (1965) (#1-57) (GOLD KEY) #10 (Gold Key) Fine
SUPER GOOF (1965) (#1-57) (GOLD KEY) #22 WHITMAN (Gold Key) Very Fine


SUPER GOOF (1965) (#1-57) (GOLD KEY) #22 WHITMAN

SUPER GOOF (1965) (#1-57) (GOLD KEY) #22 WHITMAN (Gold Key) Fine