More Comics Collections Arrive - Batman, X-Men, Spider-Man, more
Howdy!
I am in a bit of a rush this afternoon, as I spent the day working on preparing for our huge Jason St. in-store comics, toy, and statues auction. that begins at 11:30 tomorrow morning. If you are ever visiting the Denver area and would like to have a very fun morning, try to stop by one of our auctions. We typically offer about 1,000 items without any minimum bids or reserves, and more than a few of these cool collectibles sell for only a small fraction of retail.
I am also hustling to get out of here because I am going to deliver a check for $2,618 from our last poker tournament to Judy and Dennis Shepard, the parents of Matthew Shepard. He was the young gay man who was savagely beaten in Laramie, Wyoming in November of 1998, and left tied to a barb wire fence in subfreezing weather. After he died, his parents formed a foundation which helps support LGBT youth, and also tries to educate legislators about the need for hate crimes statues. We are proud to be able to help them in their wonderful mission.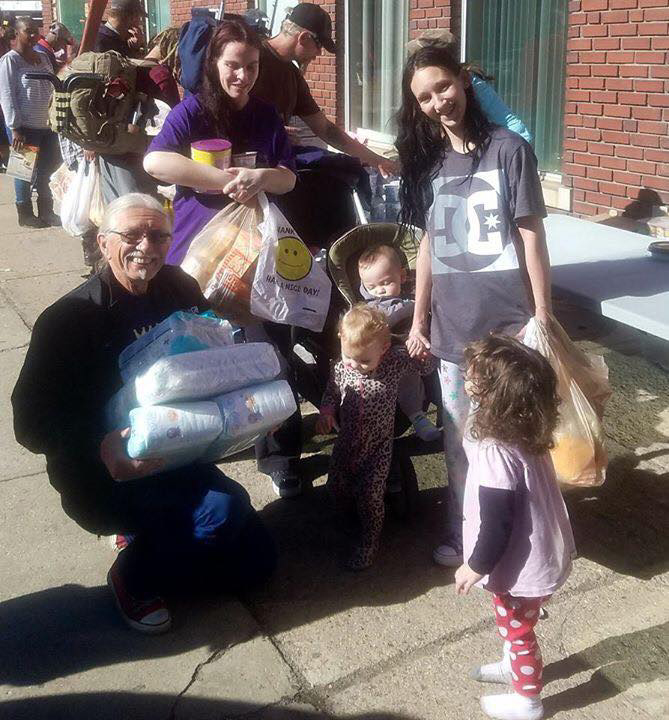 Chuck handing out Diapers to those in need.

Speaking of helping people, I spent all of yesterday with "Feeding Denver's Hungry," passing out 10,000+ lbs of food to the homeless on the streets of Denver. As Denver rents have risen, we have been seeing a rapidly increasing number of women and girls on the street, and even entire families. Because of that fact, we now carry diapers and baby wipes with us whenever we distribute. Those supplies came in very handy yesterday when two young women approached us for food, with four very small children in tow. Suffice it to say, I am very happy when I can help to get critical resources into the hands of those who really need them.
Moving on to comics news, my preparations for tomorrow's auction forced me to quickly peruse boxes containing over 10,000 comics from recent collection purchases. While I set some very nice duplicate issues aside to include in the auction, I also found about 1,200 issues that were either completely out-of-stock, or where we did not have that issue in that same grade. Pam graded many of those issues over the course of this week, and then added them for you into our New-In-Stock link. All can be purchased right now at a full 40% off when you utilize our ongoing SEPTOBER! codeword. Only new issues, a few variants, and our professionally graded comics are excluded from this very generous sale.
Happy collecting!
Chuck Rozanski,
President - Mile High Comics, Inc.
October 13, 2017

Here are a few of the comics from New-In-Stock:
MARVEL

AGE OF APOCALYPSE: THE CHOSEN (1995) #1

AGE OF APOCALYPSE: THE CHOSEN (1995) #1 Near Mint/Mint

AMAZING SPIDER-MAN (1999) (#1-700.5) (MARVEL) #532 2ND PRINT Very Fine
AMAZING SPIDER-MAN (1999) (#1-700.5) (MARVEL) #648 TRON VAR Near Mint/Mint

ANNIHILATION CONQUEST: STAR LORD (MARVEL) (2007) #4 Very Good

ANNIHILATION: NOVA (MARVEL) (2006) #4 Near Mint/Mint

ASTONISHING ANT-MAN (2015) #1 ALLRED Near Mint/Mint

ASTONISHING X-MEN (1996) (#1-4) (AGE OF APOCALYPSE) #1 Near Mint/Mint
ASTONISHING X-MEN (1996) (#1-4) (AGE OF APOCALYPSE) #2 Fine
ASTONISHING X-MEN (1996) (#1-4) (AGE OF APOCALYPSE) #3 Very Fine

CONAN (1970) #47 MV MAILER Fine

DOCTOR STRANGE (1968) (#169-183) (MARVEL)(DR. STRANGE) #183 Very Good

EDGE OF SPIDER-VERSE (2014) #2 2ND PRINT Near Mint/Mint

EXCALIBUR (1988) #95 Near Mint/Mint
EXCALIBUR (1988) #118 Near Mint/Mint
EXCALIBUR (1988) #120 Near Mint/Mint
EXCALIBUR (1988) #121 Near Mint/Mint
EXCALIBUR (1988) #122 Near Mint/Mint
EXCALIBUR (1988) #123 Near Mint/Mint
EXCALIBUR (1988) #125 Near Mint/Mint

GUARDIANS OF THE GALAXY (2013) (#0.1-27) (MARVEL) #11 Near Mint/Mint


GUARDIANS OF THE GALAXY (2013) (#0.1-27) (MARVEL) #12

GUARDIANS OF THE GALAXY (2013) (#0.1-27) (MARVEL) #12 Near Mint/Mint
GUARDIANS OF THE GALAXY (2013) (#0.1-27) (MARVEL) #13 Near Mint/Mint

HULK VS. WOLVERINE (1986) #1 Fine

HULK/PITT (1997) #1 Fine

INVINCIBLE IRON MAN (2008) (#1-33 & 500-527) (MARVEL) #24 VARIANT Near Mint/Mint

IRON FIST (1998) (#1-3) (MARVEL) #1 Near Mint/Mint
IRON FIST (1998) (#1-3) (MARVEL) #3 Near Mint/Mint

IRON FIST/WOLVERINE (2000) #1 Near Mint/Mint
IRON FIST/WOLVERINE (2000) #2 Very Fine
IRON FIST/WOLVERINE (2000) #4 Near Mint/Mint

IRON MAN (1968) (#1-332) (INVINCIBLE IRON MAN)(MARVEL) #225 Very Fine
IRON MAN (1968) (#1-332) (INVINCIBLE IRON MAN)(MARVEL) #228 Near Mint/Mint

MARVEL MILESTONE EDITION: FANTASTIC FOUR (1991) #1 Very Fine

MARVEL TALES (1964) #240 NEWSSTAND Fine

MARVEL TEAM-UP (1972) #141 Fine

MASTER OF KUNG FU (1974) #15 Fair

MOON GIRL & DEVIL DINOSAUR (2015) #1 Near Mint/Mint


MS. MARVEL (2014) (#1-19) (MARVEL) (KAMALA KHAN) #1

MS. MARVEL (2014) (#1-19) (MARVEL) (KAMALA KHAN) #1 Near Mint/Mint

NEW MUTANTS (1983) #97 TIGER INC Near Mint/Mint

POWER MAN & IRON FIST (2011) (#1-5) (MARVEL)(LUKE CAGE) #4 Near Mint/Mint
POWER MAN & IRON FIST (2011) (#1-5) (MARVEL)(LUKE CAGE) #5 Near Mint/Mint

POWER MAN/IRON FIST (LUKE CAGE, POWER MAN #1-49) (1972) #6 Very Good
POWER MAN/IRON FIST (LUKE CAGE, POWER MAN #1-49) (1972) #7 Very Good
POWER MAN/IRON FIST (LUKE CAGE, POWER MAN #1-49) (1972) #10 Very Good

SHIELD (1973) #1 Very Good

SPIDER-MAN (1963) (AMAZING SPIDER-MAN) (#1-441) #301 Very Good

SPIDER-VERSE TEAM-UP (2014) #2 Near Mint/Mint

THOR 2000 ANNUAL #1 Near Mint/Mint

THOR 2001 ANNUAL #1 Near Mint/Mint

THOR: BLOOD OATH (2005) #6 Near Mint/Mint

THOR: GOD OF THUNDER (2012) #1 RIBIC Very Fine

TRANSFORMERS (1984) #51 NEWSSTAND Good


WEAPON X (1995) (#1-4) (AGE OF APOCALYPSE) #2

WEAPON X (1995) (#1-4) (AGE OF APOCALYPSE) #2 Near Mint/Mint
WEAPON X (1995) (#1-4) (AGE OF APOCALYPSE) #3 Near Mint/Mint

WHERE MONSTERS DWELL (1970) #23 Very Good
WHERE MONSTERS DWELL (1970) #27 Very Good

WOLVERINE: ORIGINS (2006) #23 Near Mint/Mint
WOLVERINE: ORIGINS (2006) #25 Near Mint/Mint

X-CALIBRE (1995) #1 Very Fine

X-FORCE (2008) #27 Near Mint/Mint

X-MEN (1963) (#1-113, UNCANNY X-MEN #114-544) (MARVEL) #143 NEWSSTAND Fine
X-MEN (1963) (#1-113, UNCANNY X-MEN #114-544) (MARVEL) #264 Near Mint/Mint
X-MEN (1963) (#1-113, UNCANNY X-MEN #114-544) (MARVEL) #265 Near Mint/Mint
X-MEN (1963) (#1-113, UNCANNY X-MEN #114-544) (MARVEL) #268 Near Mint/Mint
X-MEN (1963) (#1-113, UNCANNY X-MEN #114-544) (MARVEL) #271 Very Fine
X-MEN (1963) (#1-113, UNCANNY X-MEN #114-544) (MARVEL) #492 Near Mint/Mint
X-MEN (1963) (#1-113, UNCANNY X-MEN #114-544) (MARVEL) #493 Very Fine

X-MEN (1991) (#1-275) (MARVEL) #8 Near Mint/Mint
X-MEN (1991) (#1-275) (MARVEL) #8 NEWSSTAND Fine

X-MEN CHRONICLES (1995) #1 NEWSSTAND Near Mint/Mint

X-MEN: RISE OF APOCALYPSE (1996) #2 Near Mint/Mint

DC

BATMAN (1940) (#0-713) (DC) #282

BATMAN (1940) (#0-713) (DC) #282 Very Good
BATMAN (1940) (#0-713) (DC) #406 NEWSSTAND Fine
BATMAN (1940) (#0-713) (DC) #407 Fine
BATMAN (1940) (#0-713) (DC) #418 NEWSSTAND Very Good
BATMAN (1940) (#0-713) (DC) #427 NEWSSTAND Fine
BATMAN (1940) (#0-713) (DC) #428 Fine

BATMAN (2011) (#0-52) (DC NEW52) #6 Very Fine

BATMAN/SPAWN: WAR DEVIL (DC) (IMAGE) (PRESTIGE) (1994) #1 NEWSSTAND Near Mint/Mint

BLACK CANARY (2015) (#1-12) (DC) #3 Near Mint/Mint

CONVERGENCE: SUPERBOY & THE LEGION OF SUPER-HEROES (2015) #2 Near Mint/Mint

DETECTIVE COMICS (2011) (#0-52) (DC NEW52) #32 BOMBSHELL Near Mint/Mint

FLASH (1959) (#105-350) (DC) #244 Very Fine

HARLEY QUINN INVADES COMIC-CON INTERNATIONAL SAN DIEGO (2014) #1 Near Mint/Mint

LOBO (1990) (#1-4) (DC) #2 NEWSSTAND Very Fine

LUCIFER (DC) (2000) #1 (DC: Vertigo Press) Very Fine

RED HOOD & THE OUTLAWS (2011) (#0-40) (DC NEW52) #32 BOMBSHELL Very Fine

SANDMAN (1988) #19 MISPRINT (DC: Vertigo Press) Fine

SHERIFF OF BABYLON (2015) #1 Near Mint/Mint

SWEET TOOTH (2009) #1 Very Fine
SWEET TOOTH (2009) #3 Near Mint/Mint

WEIRD WESTERN TALES (1972) #15 Good
WEIRD WESTERN TALES (1972) #16 Good

DARK HORSE COMICS
STAR WARS (1998) #3 HOLOCHROME Very Fine

STAR WARS PHANTOM MENACE: OBI-WAN KENOBI #1 DFEGLOWS&N Near Mint/Mint

STAR WARS: AGENT OF THE EMPIRE - HARD TARGETS (2012) #1 Near Mint/Mint
STAR WARS: AGENT OF THE EMPIRE - HARD TARGETS (2012) #2 Near Mint/Mint
STAR WARS: AGENT OF THE EMPIRE - HARD TARGETS (2012) #3 Near Mint/Mint
STAR WARS: AGENT OF THE EMPIRE - HARD TARGETS (2012) #4 Very Fine

STAR WARS: CRIMSON EMPIRE III - EMPIRE LOST (2011) #1 DORMAN Near Mint/Mint

STAR WARS: INFINITIES-RETURN OF THE JEDI (2003) #1 Very Fine

STAR WARS: LUCAS DRAFT (2013) #0 Very Fine

IMAGE COMICS

RENATO JONES: ONE PERCENT (2016) #1

RENATO JONES: ONE PERCENT (2016) #1 Near Mint/Mint

SPAWN (1992) #4 Near Mint/Mint
SPAWN (1992) #153 Near Mint/Mint

SPAWN/BATMAN #1 Near Mint/Mint

INDEPENDENTS
BREAKING FREE (AMERICAN CANCER SOCIETY) (1985) #1 (American Cancer Society) Very Fine

HARD ROCK COMICS VOL.16: RUNAWAYS - JOAN JETT/LITA FORD (1993) #1 (Revolutionary Comics) Very Fine

I LOVE YOU (1955) #127 (Charlton) Fine

INTERVIEW WITH THE VAMPIRE (1991) #12 (Innovation Publishing) Near Mint/Mint

JUGHEAD (1949) #164 (Archie Comics) Fine

LIFE WITH ARCHIE (1958) #42 (Archie Comics) Fair
LIFE WITH ARCHIE (1958) #132 (Archie Comics) Very Good

PEP COMICS (1946) (#56-411) (ARCHIE) #204 (Archie Comics) Very Good
PEP COMICS (1946) (#56-411) (ARCHIE) #207 (Archie Comics) Very Good
PEP COMICS (1946) (#56-411) (ARCHIE) #282 (Archie Comics) Fine
PEP COMICS (1946) (#56-411) (ARCHIE) #286 (Archie Comics) Fine

RAI (2014) #2 MASK VAR (Valiant Comics) Near Mint/Mint
RAI (2014) #3 CAFU (Valiant Comics) Near Mint/Mint

RAI (2014) #5 FABRY (Valiant Comics) Very Fine
RAI (2014) #13 CAFU (Valiant Comics) Near Mint/Mint

RED CIRCLE SORCERY (1974) #10 (Archie Comics) Fine
RED CIRCLE SORCERY (1974) #11 (Archie Comics) Near Mint/Mint

RICHIE RICH GOLD & SILVER (1975) #25 (Harvey Comics) Near Mint/Mint
RICHIE RICH GOLD & SILVER (1975) #27 (Harvey Comics) Near Mint/Mint

RICHIE RICH INVENTIONS (1977) #1 (Harvey Comics) Fine
RICHIE RICH INVENTIONS (1977) #1 (Harvey Comics) Very Fine
RICHIE RICH INVENTIONS (1977) #4 (Harvey Comics) Very Fine
RICHIE RICH INVENTIONS (1977) #7 (Harvey Comics) Near Mint/Mint

RICHIE RICH JACKPOTS (1972) #6 (Harvey Comics) Near Mint/Mint
RICHIE RICH JACKPOTS (1972) #6 (Harvey Comics) Fine
RICHIE RICH JACKPOTS (1972) #6 (Harvey Comics) Very Fine
RICHIE RICH JACKPOTS (1972) #7 (Harvey Comics) Fine
RICHIE RICH JACKPOTS (1972) #8 (Harvey Comics) Fine
RICHIE RICH JACKPOTS (1972) #9 (Harvey Comics) Fine
RICHIE RICH JACKPOTS (1972) #10 (Harvey Comics) Fine
RICHIE RICH JACKPOTS (1972) #27 (Harvey Comics) Near Mint/Mint
RICHIE RICH JACKPOTS (1972) #41 (Harvey Comics) Very Fine
RICHIE RICH JACKPOTS (1972) #42 (Harvey Comics) Near Mint/Mint
RICHIE RICH JACKPOTS (1972) #42 (Harvey Comics) Very Fine
RICHIE RICH JACKPOTS (1972) #43 (Harvey Comics) Very Fine

RICHIE RICH MILLIONS (1961) #80 (Harvey Comics) Near Mint/Mint
RICHIE RICH MILLIONS (1961) #80 (Harvey Comics) Very Fine
RICHIE RICH MILLIONS (1961) #81 (Harvey Comics) Near Mint/Mint


RICHIE RICH MILLIONS (1961) #81

RICHIE RICH MILLIONS (1961) #81 (Harvey Comics) Very Fine
RICHIE RICH MILLIONS (1961) #82 (Harvey Comics) Fine
RICHIE RICH MILLIONS (1961) #83 (Harvey Comics) Very Fine
RICHIE RICH MILLIONS (1961) #84 (Harvey Comics) Very Fine
RICHIE RICH MILLIONS (1961) #86 (Harvey Comics) Near Mint/Mint
RICHIE RICH MILLIONS (1961) #86 (Harvey Comics) Very Fine
RICHIE RICH MILLIONS (1961) #88 (Harvey Comics) Very Fine
RICHIE RICH MILLIONS (1961) #92 (Harvey Comics) Near Mint/Mint
RICHIE RICH MILLIONS (1961) #92 (Harvey Comics) Very Fine
RICHIE RICH MILLIONS (1961) #94 (Harvey Comics) Near Mint/Mint
RICHIE RICH MILLIONS (1961) #94 (Harvey Comics) Very Fine
RICHIE RICH MILLIONS (1961) #95 (Harvey Comics) Near Mint/Mint
RICHIE RICH MILLIONS (1961) #95 (Harvey Comics) Very Fine
RICHIE RICH MILLIONS (1961) #96 (Harvey Comics) Very Fine
RICHIE RICH MILLIONS (1961) #97 (Harvey Comics) Very Fine
RICHIE RICH MILLIONS (1961) #100 (Harvey Comics) Near Mint/Mint

RICHIE RICH MONEY WORLD (1972) #8 (Harvey Comics) Fine
RICHIE RICH MONEY WORLD (1972) #9 (Harvey Comics) Fine
RICHIE RICH MONEY WORLD (1972) #25 (Harvey Comics) Near Mint/Mint
RICHIE RICH MONEY WORLD (1972) #28 (Harvey Comics) Near Mint/Mint

RICHIE RICH PROFITS (1974) #2 (Harvey Comics) Very Fine
RICHIE RICH PROFITS (1974) #6 (Harvey Comics) Fine
RICHIE RICH PROFITS (1974) #9 (Harvey Comics) Very Fine
RICHIE RICH PROFITS (1974) #16 (Harvey Comics) Very Fine


RICHIE RICH PROFITS (1974) #17

RICHIE RICH PROFITS (1974) #17 (Harvey Comics) Very Fine
RICHIE RICH PROFITS (1974) #18 (Harvey Comics) Very Fine
RICHIE RICH PROFITS (1974) #19 (Harvey Comics) Near Mint/Mint
RICHIE RICH PROFITS (1974) #19 (Harvey Comics) Very Fine
RICHIE RICH PROFITS (1974) #20 (Harvey Comics) Very Fine
RICHIE RICH PROFITS (1974) #27 (Harvey Comics) Near Mint/Mint
RICHIE RICH PROFITS (1974) #29 (Harvey Comics) Near Mint/Mint

ROCK 'N' ROLL COMICS VOL.26: THE DOORS PART ONE (1991) #1 (Revolutionary Comics) Very Fine

ROCK 'N' ROLL COMICS VOL.46: GRATEFUL DEAD PART TWO #1 (Revolutionary Comics) Very Good

ROCK 'N' ROLL COMICS VOL.47: GRATEFUL DEAD PART THREE #1 (Revolutionary Comics) Very Fine

SECRET ROMANCE (1968) #47 (Charlton) Fine

SEX TREK: TO BOLDLY GO... #1 (Friendly Comics) Very Fine

TANK GIRL: 2 GIRLS 1 TANK (2016) #3 A POPE (Titan Distributing) Near Mint/Mint

TRANSFORMERS: REGENERATION ONE (2012) #100 INCENTIVE (IDW Publishing) Near Mint/Mint

TWO GUNS (2GUNS) (2 GUNS) (2006) #4 (Boom Studios Publishing) Near Mint/Mint

VAMPIRELLA MANGA 2999 ASHCAN (1998) #1 (Harris Comics) Near Mint/Mint

X-FILES SEASON 10 (2013) #1 A (IDW Publishing) Very Fine
X-FILES SEASON 10 (2013) #2 A (IDW Publishing) Very Fine

X-FILES SEASON 10 (2013) #3 A (IDW Publishing) Near Mint/Mint