Local News - Comics Auction, Poker, $1,000 Shopping Spree
Howdy!
I want to begin today's newsletter by sincerely thanking everyone who turned out last Saturday evening for our awesome benefit put on by the talented athletes of New Era Wrestling. Thanks to you kindness and generosity, we raised nearly $2,100 in donations for the Chelsea Hutchinson Foundation, which helps kids who suffer from seizures and/or epilepsy. It was an incredibly fun night!
Our next charity event will be one of our wonderful no-minimum-bid auctions. It will be held at our Jason St. Mega-Store a week from Saturday morning, October 14th, beginning at 11:30 AM. We will be offering hundreds of comic books, graphic novels, toys, statues, and art prints for sale at auction without any reserves or minimums. Approximately half of the auction will be items that we sell to help support our store, with the remainder being items where the proceeds will be donated to the annual Imperial Court of the Rocky Mountain Empire Snow Ball Charities, hosted by the Empress of the ICRME.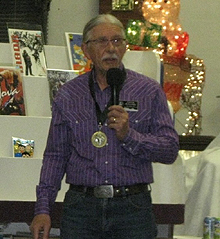 Chuck auction of a bunch of cool stuff

All of the above having been said, Rosa Marie Sugarbaker, this year's ICRME Empress, has chosen C.A.S.A. (Court Appointed Special Advocate) as her designated charity. This great local organization works cooperatively with the Department of Human Services, County Courts, Child-Serving Agencies, and other partners to improve the lives of abused and neglected children in Colorado. If you would like to contribute to this very worthy cause, you can do so by donating unwanted items from your collection to the charity portion of our auction. We will then auction your items, and contribute all of the proceeds to the ICRME. If you can, please also attend our event as a bidder and offer your support. You will be quite happy if you attend, as there are always wonderful bargains to be had at our auctions, and free refreshments, too!
In other news, our biggest charity event for October will be a huge Texas Hold'em poker tournament that will be conducted at our Jason St. Mega-Store on Saturday morning, October 28th, beginning at 11 AM. Our last tournament attracted 82 avid poker fans, and resulted in $2,600 being contributed to the Matthew Shepard Foundation. You can now advance register for the game on the 28th at any Mile High Comics location for this tournament, and if you do so you will immediately receive a $25 gift certificate in exchange for your $25 registration fee. In effect, you are able to compete for $1,000 in Mile High Comics gift certificates, almost entirely for free. Our tournaments are amazingly exciting and fun, which explains why they have doubled in size this year...
So you know, this month's tournament will be a benefit for the White Rose Scholarship Fund, which provides grants of $1,000+ to upwards of a dozen worthy Colorado higher education students each year. If you know of a student needing assistance to stay in school, bring them to the tournament. Representatives of White Rose will be in attendance to provide application assistance.
My last (but not least...) charitable effort for this month is a chance drawing for either a $1,000 Mile High Comics shopping spree, or an awesome life size HARLEY QUINN statue. Drawing tickets are $5 each, or 5/$20, with the drawing being held on Saturday, October 28th, at Jason St. You need not be present to win, as we will call you with the good news!
Our HARLEY QUINN drawing is a benefit that I put together specifically to help buy the 250+ kids helped by Rainbow Alley to receive small holiday gifts at their annual potluck dinner. For many of these children, the small gifts (and food) that we provide are the only holiday cheer that they will see. Rainbow Alley helps kids from the LGBTQ world by providing them with a critically needed safe space. As sad as it may seem, reported hate crimes in our area are up over 20% since last year, and our LGBTQ teens are extremely vulnerable and frequently end up as victims. By purchasing an entry into our chance drawing you will be helping us to brighten the lives of many children. Thank you.
I will close by quickly mentioning that we have purchased well over 30,000 great back issue comics and magazines at Jason St., as well as 250+ statues and 1,000+ toys and action figures. Most of these new arrivals ended up on Jason St. shelves, but a generous portion were also shared with our Lakewood and Colorado Blvd. stores. All of the back issues (except new comics, $1 books, graded books, and blue sticker items) can be purchased at a 40% discount right now when you mention our SEPTOBER! codeword sale to our clerk at the register. Please enjoy these great savings with our sincere thanks and gratitude for all of your kindness and support.
Happy collecting!
Chuck Rozanski,
President - Mile High Comics, Inc.
October 5, 2017

P.S. Her are a few photos of items that will be auctioned next Saturday. I will have many more photos for you next week. In the meantime, you can also preview many items on the auction tables in Jason St. Enjoy!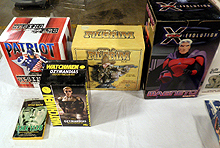 Some of the items in the Auction on October 14th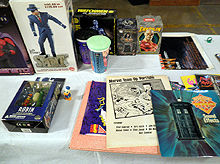 Some of the items in the Auction on October 14th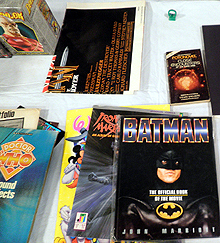 Some of the items in the Auction on October 14th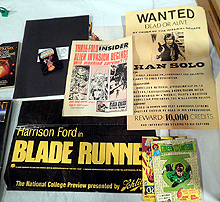 Some of the items in the Auction on October 14th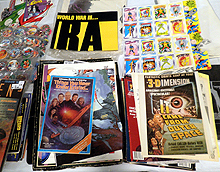 Some of the items in the Auction on October 14th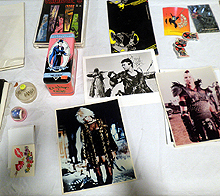 Some of the items in the Auction on October 14th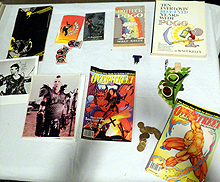 Some of the items in the Auction on October 14th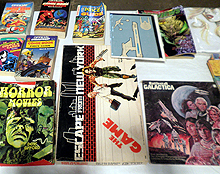 Some of the items in the Auction on October 14th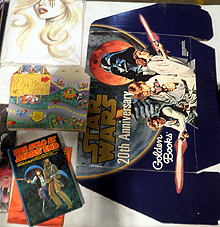 Some of the items in the Auction on October 14th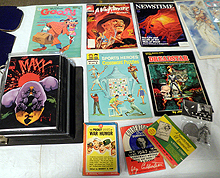 Some of the items in the Auction on October 14th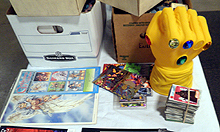 Some of the items in the Auction on October 14th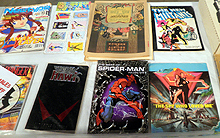 Some of the items in the Auction on October 14th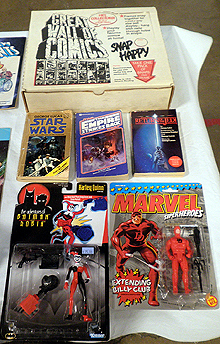 Some of the items in the Auction on October 14th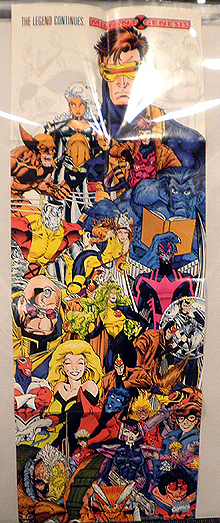 Some of the items in the Auction on October 14th