Harley Quinn Statue, STAR WARS #37 Variant, More
Howdy!
A couple of weeks ago, I mentioned that we had made our last payment on our company operating loan. After a long wait, our unconditional release of lien statement finally arrived from our bank on Monday. This means that all ten million of our comics, books, toys, and statues stored in our immense Jason St. Mega-Store are now paid off. Hooray!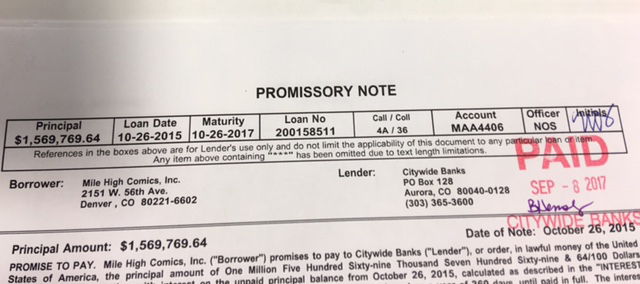 unconditional release of lien statement

To be clear, most of the funds that we utilized to pay off this longstanding debt came not from our selling comics, but rather from the sale last year of our smaller 56th Ave. warehouse building. But, we also struggled and scratched to cover the last $200,000 of that loan through our online comics sales of the past 15 months. While we do still have moving costs and other short term debts still remaining to pay, having our primary bank loan completely paid off (for the first time in 37 years!) is a true blessing. Our sincere thanks and gratitude are extended to everyone who has supported of efforts through these many years of struggle. We could not have reached this awesome goal without your kindness and assistance. Thank you.

STAR WARS (2015) #37 Mile High Exclusive

Moving on to current news, we are continuing in our longstanding effort to publish exclusive Mile High Comics variant editions. Releasing this week are STAR WARS (2015) #37 from Marvel and BLOODSHOT: SALVATION #1 from Valiant. As you are probably already aware, we have been producing a variant edition for every new issue of the Marvel STAR WARS (2015) editions, usually with a minimal 3,000-copy print run. We offer them for $19.95 in advance, or $24.95 after release. I love the fact that we are the only comics retailer to have ever published a variant edition to an entire monthly comics title for over three years...

BLOODSHOT: SALVATION #1 Mile High Exclusive

As regards our BLOODSHOT: SALVATION #1 variant edition from Valiant, this is one of our all-time lowest print run variant editions, with only 400 copies have been produced! I am going to offer these to you for the remainder of this week only for $24.95 each, with a strictly enforced limit of three copies. Our son-in-law, Justin Ehart (who is one of the foremost Valiant experts in the world...), enabled this awesome variant to exist through his contacts at Valiant, and also published a variant of his own! (Collecting Valiant Comics Podcast), also with a print run of only 400 copies. If you wish, you can obtain both our variant, and Justin's, as a package deal for only $29.95. Because Justin only allocated us a few copies, however, this offer is very limited, and definitely needs to end on Sunday.

BLOODSHOT: SALVATION #1 Collecting Valiant Comics Podcast Exclusive

In other news, I am asking today for $20 donations to help cover the cost of the little holiday gifts that we give out each year to the kids attending the RAINBOW ALLEY potluck dinner. I started volunteering to help serve food at this heartwarming holiday event five years ago, and have watched our event grow from helping 30 kids in the first year, to helping 250+ last Christmas. RAINBOW ALLEY is a part of Denver's LGBTQ Center, and helps to provide a safe space for gay and transgender kids who are being bullied and/or abused because of their orientation. With hate crimes up 20% this year, having a safe place is a critical need for the children. Here is a short video about RAINBOW ALLEY:
Sadly, a few of these kids are also homeless, as they were abandoned by their families after they came out. More than a few of the children have also told us that our potluck dinner is the only substantial meal that they are able to enjoy during the holidays, and that the little gifts that the counselors give out are the only presents that they receive. With demand growing exponentially each Christmas, however, the ability of our small group of volunteers to help all of these children is being strained to its limits.
In a nutshell, that is why I jumped at the chance to order a wonderful life-size HARLEY QUINN statue when it appeared on Diamond's closeout list. With an original list price of $1,995.00, I figured that this cool statue would make an awesome prize for a chance drawing to benefit the kids. Tickets are priced at only 5/$20. If you win the drawing, but the statue doesn't fit in with your decor, you can opt instead for the alternate prize of a $1,000.00 Mile High Comics shopping spree. Either way, 100% of your $20 donation will be given directly to RAINBOW ALLEY. Please help us to bring a bit of holiday cheer to kids that are struggling in a world that is becoming increasing harsh. The drawing will be held in our Jason St. Mega-Store at 1 PM on Saturday, October 28th. We will contact you later that day if you win. Thank you!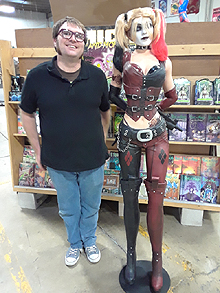 Dan with the life-size HARLEY QUINN statue

I will close by quickly mentioning that our annual 40% off SEPTOBER! codeword sale on our ten million back issue comics and magazines is still in effect for you. Only new issues, a few variants, and our professionally graded comics are excluded. We are also providing free shipping on all Domestic comics orders over $50, and most International orders over $125. We all sincerely thank you for your support...
Happy collecting!
Chuck Rozanski,
President - Mile High Comics, Inc.
October 4, 2017

P.S. Here are a few more comics and magazines from our most recent New-In-Stock and Premium New-In-Stock links. Our frenetic buying of old comics continues unabated!
MARVEL

ALF (MARVEL) (1988) #1 NEWSSTAND

ALF (MARVEL) (1988) #1 NEWSSTAND Fine

ALL-NEW GHOST RIDER (2014) #3 SMITH Near Mint/Mint

ALPHA FLIGHT (1983) #17 Very Fine
ALPHA FLIGHT (1983) #33 NEWSSTAND Fine

ALPHA FLIGHT (1997) #16 Fine
ALPHA FLIGHT (1997) #17 Fine

AVENGERS (1963) (#1-402) (MARVEL) #109 Fine
AVENGERS (1963) (#1-402) (MARVEL) #120 Very Fine
AVENGERS (1963) (#1-402) (MARVEL) #142 Very Good
AVENGERS (1963) (#1-402) (MARVEL) #146 Very Good
AVENGERS (1963) (#1-402) (MARVEL) #164 Fine
AVENGERS (1963) (#1-402) (MARVEL) #171 Fine
AVENGERS (1963) (#1-402) (MARVEL) #175 Very Good
AVENGERS (1963) (#1-402) (MARVEL) #179 WHITMAN Fine
AVENGERS (1963) (#1-402) (MARVEL) #185 NEWSSTAND Very Good
AVENGERS (1963) (#1-402) (MARVEL) #187 Fine
AVENGERS (1963) (#1-402) (MARVEL) #187 NEWSSTAND Fine
AVENGERS (1963) (#1-402) (MARVEL) #188 NEWSSTAND Fine
AVENGERS (1963) (#1-402) (MARVEL) #189 NEWSSTAND Very Good
AVENGERS (1963) (#1-402) (MARVEL) #190 NEWSSTAND Very Good


AVENGERS (1963) (#1-402) (MARVEL) #191 NEWSSTAND

AVENGERS (1963) (#1-402) (MARVEL) #191 NEWSSTAND Very Good
AVENGERS (1963) (#1-402) (MARVEL) #192 NEWSSTAND Very Good
AVENGERS (1963) (#1-402) (MARVEL) #193 NEWSSTAND Fine
AVENGERS (1963) (#1-402) (MARVEL) #194 NEWSSTAND Fine
AVENGERS (1963) (#1-402) (MARVEL) #195 NEWSSTAND Very Good
AVENGERS (1963) (#1-402) (MARVEL) #195 NEWSSTAND Good
AVENGERS (1963) (#1-402) (MARVEL) #196 NEWSSTAND Fine
AVENGERS (1963) (#1-402) (MARVEL) #199 Fine
AVENGERS (1963) (#1-402) (MARVEL) #200 NEWSSTAND Good
AVENGERS (1963) (#1-402) (MARVEL) #202 NEWSSTAND Good
AVENGERS (1963) (#1-402) (MARVEL) #211 NEWSSTAND Very Good
AVENGERS (1963) (#1-402) (MARVEL) #213 NEWSSTAND Very Good
AVENGERS (1963) (#1-402) (MARVEL) #216 NEWSSTAND Fine
AVENGERS (1963) (#1-402) (MARVEL) #219 NEWSSTAND Fine

CAPTAIN AMERICA (1968) (#100-454) (MARVEL) #360 NEWSSTAND Good

CIVIL WAR (2006) #1 UNLEASHED Fine
CIVIL WAR (2006) #2 3RD PRINT Fine

CONAN (1970) #16 Good
CONAN (1970) #25 Good
CONAN (1970) #41 Fine

DAREDEVIL (1964) (#1-380) (MAN WITHOUT FEAR) (MARVEL) #165 NEWSSTAND Very Good

DEADPOOL: WADE WILSON'S WAR (2010) #2 Near Mint/Mint


DEADPOOL: WADE WILSON'S WAR (2010) #4

DEADPOOL: WADE WILSON'S WAR (2010) #4 Near Mint/Mint

DEATH OF WOLVERINE (2014) #2 2ND PRINT Near Mint/Mint
DEATH OF WOLVERINE (2014) #2 2ND PRINT Very Fine
DEATH OF WOLVERINE (2014) #2 2ND PRINT Fine

DEFENDERS (1972) (#1-152) (MARVEL) #13 Very Good

DOCTOR STRANGE (1974) (#1-81) (MARVEL) (DR. STRANGE) #9 Very Good
DOCTOR STRANGE (1974) (#1-81) (MARVEL) (DR. STRANGE) #10 Very Good
DOCTOR STRANGE (1974) (#1-81) (MARVEL) (DR. STRANGE) #35 NEWSSTAND Fine
DOCTOR STRANGE (1974) (#1-81) (MARVEL) (DR. STRANGE) #37 NEWSSTAND Fine
DOCTOR STRANGE (1974) (#1-81) (MARVEL) (DR. STRANGE) #38 NEWSSTAND Fine
DOCTOR STRANGE (1974) (#1-81) (MARVEL) (DR. STRANGE) #39 NEWSSTAND Fine
DOCTOR STRANGE (1974) (#1-81) (MARVEL) (DR. STRANGE) #40 NEWSSTAND Fine
DOCTOR STRANGE (1974) (#1-81) (MARVEL) (DR. STRANGE) #42 NEWSSTAND Fine
DOCTOR STRANGE (1974) (#1-81) (MARVEL) (DR. STRANGE) #46 NEWSSTAND Fine
DOCTOR STRANGE (1974) (#1-81) (MARVEL) (DR. STRANGE) #48 NEWSSTAND Fine

EXCALIBUR (1988) #4 NEWSSTAND Near Mint/Mint
EXCALIBUR (1988) #25 NEWSSTAND Very Fine

FANTASTIC FOUR (1961) (#1-416) (MARVEL) #1 TOY BIZ Very Fine
FANTASTIC FOUR (1961) (#1-416) (MARVEL) #1 TOY BIZ Fine

GHOST RIDER (1973) (#1-81) (MARVEL) #41 NEWSSTAND Fine


GHOST RIDER (1973) (#1-81) (MARVEL) #43 NEWSSTAND

GHOST RIDER (1973) (#1-81) (MARVEL) #43 NEWSSTAND Fine
GHOST RIDER (1973) (#1-81) (MARVEL) #47 NEWSSTAND Fine

GI JOE #1 Good
GI JOE #2 Good
GI JOE #4 Very Good
GI JOE #5 Very Good
GI JOE #6 NEWSSTAND Very Good
GI JOE #124 NEWSSTAND Very Good

INVADERS (1975) (#1-41) (MARVEL) #5 Very Good

MARVEL COLLECTORS ITEM CLASSICS (1965) #4 Good

MARVEL PRESENTS (1975) #3 Good
MARVEL PRESENTS (1975) #3 Fine
MARVEL PRESENTS (1975) #5 Fine
MARVEL PRESENTS (1975) #6 Fine

MASTER OF KUNG FU (1974) #16 Good

NEW AVENGERS (2013) (#1-33) (MARVEL) #33 MOVIE D CV Near Mint/Mint

NEW AVENGERS (2015) (#1-UP) (MARVEL) #1 CHO Near Mint/Mint

NEW AVENGERS: ULTRON FOREVER (2015) #1 MOVIE F CV Near Mint/Mint


NEW MUTANTS (1983) #25 NEWSSTAND

NEW MUTANTS (1983) #25 NEWSSTAND Good

SHE-HULK (1980) (#1-25) (SAVAGE SHE-HULK) (MARVEL) #1 Very Good

SPIDER-MAN (1963) (AMAZING SPIDER-MAN) (#1-441) #104 Fair
SPIDER-MAN (1963) (AMAZING SPIDER-MAN) (#1-441) #347 Fine
SPIDER-MAN (1963) (AMAZING SPIDER-MAN) (#1-441) #362 NEWSSTAND Very Fine

SPIDER-MAN ANNUAL (1964) #25 NEWSSTAND Very Fine

STAR TREK (MARVEL) #17 NEWSSTAND Fine

STAR WARS (1977) #1 Near Mint/Mint
STAR WARS (1977) #100 Good

SUPERNATURAL THRILLERS (1972) #5 Very Good

THOR (1962) #225 Very Good
THOR (1962) #236 Fine

TOMB OF DRACULA (1991) #4 NEWSSTAND Near Mint/Mint

VENOM ON TRIAL (1997) #1 Very Fine

VENOM: DARK ORIGIN (2008) #5 Very Fine

WARLOCK (1972) #14 Very Good
WARLOCK (1972) #15 Very Good

X-FORCE (1991) #1 DEADPOOL Near Mint/Mint
X-FORCE (1991) #11 Very Fine

X-MEN (1963) (#1-113, UNCANNY X-MEN #114-544) (MARVEL) #106 Good
X-MEN (1963) (#1-113, UNCANNY X-MEN #114-544) (MARVEL) #107 Good
X-MEN (1963) (#1-113, UNCANNY X-MEN #114-544) (MARVEL) #108 Good
X-MEN (1963) (#1-113, UNCANNY X-MEN #114-544) (MARVEL) #110 Good
X-MEN (1963) (#1-113, UNCANNY X-MEN #114-544) (MARVEL) #136 NEWSSTAND Very Good
X-MEN (1963) (#1-113, UNCANNY X-MEN #114-544) (MARVEL) #136 Very Good
X-MEN (1963) (#1-113, UNCANNY X-MEN #114-544) (MARVEL) #139 NEWSSTAND Good
X-MEN (1963) (#1-113, UNCANNY X-MEN #114-544) (MARVEL) #140 NEWSSTAND Good
X-MEN (1963) (#1-113, UNCANNY X-MEN #114-544) (MARVEL) #146 NEWSSTAND Very Good
X-MEN (1963) (#1-113, UNCANNY X-MEN #114-544) (MARVEL) #221 NEWSSTAND Fine
X-MEN (1963) (#1-113, UNCANNY X-MEN #114-544) (MARVEL) #256 Very Fine
X-MEN (1963) (#1-113, UNCANNY X-MEN #114-544) (MARVEL) #257 Near Mint/Mint
X-MEN (1991) (#1-275) (MARVEL) #128 Very Fine

DC
BATMAN (1940) (#0-713) (DC) #515 DELUXE Near Mint/Mint

BLACKEST NIGHT: FLASH (2009) #1 VARIANT Very Fine


BRAVE AND THE BOLD (1955) #200

BRAVE AND THE BOLD (1955) #200 Fine

DEMON (1972) #5 Very Good

GUY GARDNER (GUY GARDNER: WARRIOR #17-44) (1992) #18 Near Mint/Mint

LEGION OF SUPER-HEROES (1980) (#259-354) (DC) #259 NEWSSTAND Very Good

LOIS LANE (1958) #126 Very Good

PLANETARY (1999) #1 (DC/Wildstorm) Near Mint/Mint

RONIN (1983) #5 Near Mint/Mint
RONIN (1983) #6 Very Good

SHAZAM! (1973) #15 Good

STAR SPANGLED WAR STORIES (1952) #136 Very Good

SUPER DC GIANT (1970) #26 Good

TEEN TITANS (1966) (#1-53) (DC) #48 Very Good

TRANSMETROPOLITAN (1997) #23 (DC: Vertigo Press) Near Mint/Mint

TRANSMETROPOLITAN (1997) #27 (DC: Vertigo Press) Near Mint/Mint

WEIRD WESTERN TALES (1972) #39 Very Fine

DARK HORSE COMICS
BATMAN VS. PREDATOR (1991) #3 DELUXE Very Fine

IMAGE COMICS
MAGDALENA/ANGELUS (2000) #1 1/2 DLX (Image Top Cow) Near Mint/Mint

SEX (2013) #8 Near Mint/Mint

INDEPENDENTS
BOYS (2006) #5 (DC/Wildstorm) Very Fine

CAVEWOMAN COLOR SPECIAL #1 (Avatar Comics) Near Mint/Mint

CEREBUS (1977) #23 (Aardvark-Vanaheim) Very Fine
CEREBUS (1977) #24 (Aardvark-Vanaheim) Very Good
CEREBUS (1977) #25 (Aardvark-Vanaheim) Very Good
CEREBUS (1977) #26 (Aardvark-Vanaheim) Very Good
CEREBUS (1977) #27 (Aardvark-Vanaheim) Fine
CEREBUS (1977) #29 (Aardvark-Vanaheim) Very Good
CEREBUS (1977) #30 (Aardvark-Vanaheim) Fine
CEREBUS (1977) #31 (Aardvark-Vanaheim) Very Good

IT'S ABOUT TIME (1967) #1 (Gold Key) Fine

JUGHEAD'S JOKES (1967) #19 (Archie Comics) Very Good

JUNGLE JIM (1953) (#1-20) (Dell Publishing) #15 (Dell Publishing) Very Good

KORAK, SON OF TARZAN (1964) (#1-45) (GOLD KEY) #3 (Gold Key) Good
KORAK, SON OF TARZAN (1964) (#1-45) (GOLD KEY) #17 (Gold Key) Good
KORAK, SON OF TARZAN (1964) (#1-45) (GOLD KEY) #19 (Gold Key) Good
KORAK, SON OF TARZAN (1964) (#1-45) (GOLD KEY) #20 (Gold Key) Good
KORAK, SON OF TARZAN (1964) (#1-45) (GOLD KEY) #21 (Gold Key) Good
KORAK, SON OF TARZAN (1964) (#1-45) (GOLD KEY) #22 (Gold Key) Good
KORAK, SON OF TARZAN (1964) (#1-45) (GOLD KEY) #29 (Gold Key) Very Good
KORAK, SON OF TARZAN (1964) (#1-45) (GOLD KEY) #33 (Gold Key) Very Good

LAND OF THE GIANTS (1968) #3 (Gold Key) Very Good

LAUGH (1946) #82 (Archie Comics) Good
LAUGH (1946) #84 (Archie Comics) Fair
LAUGH (1946) #117 (Archie Comics) Good
LAUGH (1946) #127 (Archie Comics) Good
LAUGH (1946) #128 (Archie Comics) Good

MANDRAKE THE MAGICIAN (KING) #5 (King Comics) Very Good

PIONEERS OF CONSERVATION IN AMERICA (1975) #1 (Soil Conservation Society Of Ameri) Fine

PLAGUE OF THE LIVING DEAD (2007) #4 PLATINUM (Avatar Comics) Near Mint/Mint


PLAGUE OF THE LIVING DEAD (2007) #5 PLATINUM

PLAGUE OF THE LIVING DEAD (2007) #5 PLATINUM (Avatar Comics) Near Mint/Mint
PLAGUE OF THE LIVING DEAD (2007) #6 PLATINUM (Avatar Comics) Near Mint/Mint

PLAYBOY: PLAYMATE DESK CALENDAR #1 1985 (PLAYBOY) Very Fine

POCKET PLAYMATES #5 (PLAYBOY) Near Mint/Mint

POE (CHEESE COMICS) (1996) #5 SIGNED (Cheese Comics) Near Mint/Mint

POISON THE CURE (2007) #1 (New Voice Productions) Near Mint/Mint

POPEYE (1969) (#94-138) (CHAR) #100 (Charlton) Good

THUNDER AGENTS (1966) #19 (Tower Comics) Fine

UNCLE SCROOGE (1962) (GOLD KEY) (#40-173) #66 (Gold Key) Very Good
UNCLE SCROOGE (1962) (GOLD KEY) (#40-173) #75 (Gold Key) Fine
UNCLE SCROOGE (1962) (GOLD KEY) (#40-173) #112 (Gold Key) Fine
UNCLE SCROOGE (1962) (GOLD KEY) (#40-173) #162 (Gold Key) Very Fine

UNCLE SCROOGE (1980) (WHITMAN) (#174-209) #181 (Whitman Publishing) Good


WOODY WOODPECKER SUMMER FUN (1966) #1

WOODY WOODPECKER SUMMER FUN (1966) #1 (Gold Key) Very Fine