Ten Million Comics and Magazines on Sale
Free EPIC ILLUSTRATED(1980)
Howdy!
I had no idea when I offered free copies of Marvel's 1980 magazine EPIC ILLUSTRATED in my Wednesday newsletter that they would prove to be so popular. I will grant you that they are excellent magazines, but the flood of orders that we received was so exceptionally strong that I added even more copies than I originally allocated. As a result, we do still have a few copies of EPIC ILLUSTRATED #1 and #2 available, but if you would like free copies, I would encourage you to place your qualifying order via our website as quickly as possible. You can request either #1 or #2 if you place any minimum $50 order with us over the week, or you can request both for free as an incentive for placing a minimum $75 order. Just let us know in "notes" section that you wish to receive free copies of EPIC ILLUSTRATED.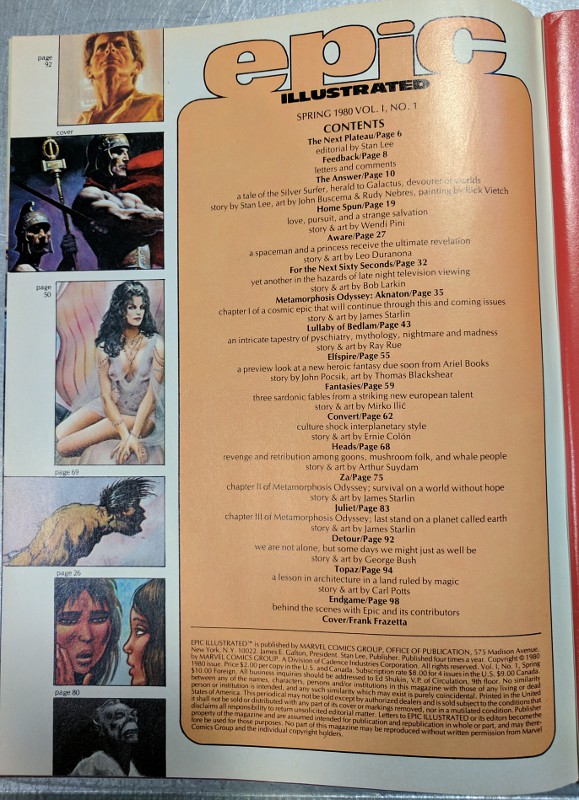 EPIC ILLUSTRATED #1 Contents page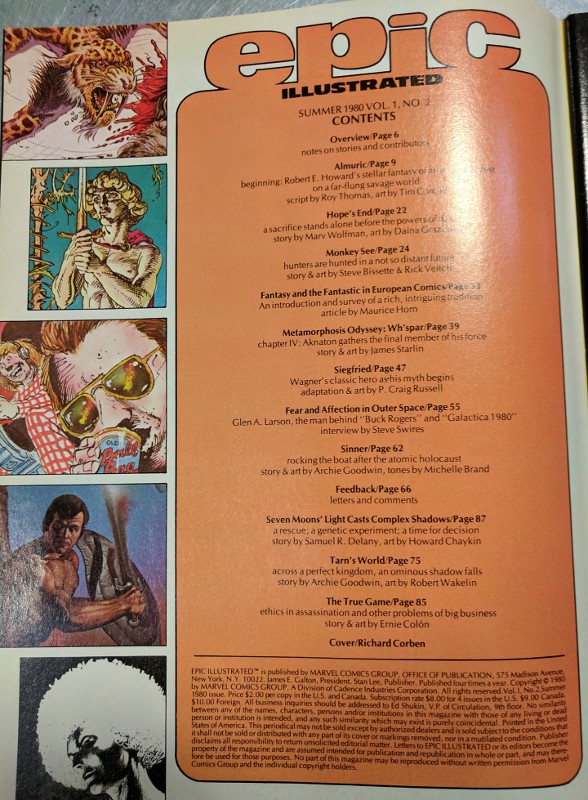 EPIC ILLUSTRATED #2 Contents page

On a related note, the 40% off SEPTOBER! codeword sale that I put into effect for you on Wednesday has also proven to be remarkably popular. The sale applies to all ten million of our back issue comics and magazines, excepting only new issues a few variants, and our professionally graded comics. The 40% off discount does apply to the tens of thousand of newly arrived issues in our New-In-Stock and Premium New-In-Stock links, including the big runs of HOUSE OF SECRETS (1956), TALES OF THE UNEXPECTED (1956), and GHOST MANOR (1971) that Pam added for you yesterday, and all of the AMAZING SPIDER-MAN issues that will found. Enjoy!
That's about it for today's newsletter. I am going to leave lots of room for Will to add direct links for you to some of the choice back issues that we just added. I will mention before leaving, however, to please be sure and bump your order up to over $50 (after the codeword discount is applied) to not only receive a free copy of EPIC ILLUSTRATED, but also to receive free shipping on domestic orders. While reviewing our daily website traffic, I am frequently amazed to see just how many orders are placed with us each day that fall only slightly below the free shipping threshold. That is such a shame... International collectors tend to be a bit more diligent about hitting their own $125 free shipping threshold, but a few slip through in that group, too. Just saying...
Happy collecting!
Chuck Rozanski,
President - Mile High Comics, Inc.
September 22, 2017

Here are a slew of great comics that just arrived at Jason St.:
MARVEL

DEFENDERS (1972) (#1-152) (MARVEL) #47

DEFENDERS (1972) (#1-152) (MARVEL) #47 Very Fine

GENERATIONS: CAPTAIN AMERICAS (2017) #1 RIVERA Near Mint/Mint

GENERATIONS: MORALES & PETER PARKER SPIDER-MAN (2017) #1 SPROUSE Near Mint/Mint

SPIDER-MAN (1963) (AMAZING SPIDER-MAN) (#1-441) #343 INSERT Very Good
SPIDER-MAN (1963) (AMAZING SPIDER-MAN) (#1-441) #344 Very Good
SPIDER-MAN (1963) (AMAZING SPIDER-MAN) (#1-441) #361 Fine
SPIDER-MAN (1963) (AMAZING SPIDER-MAN) (#1-441) #362 2ND PRT Fine
SPIDER-MAN (1963) (AMAZING SPIDER-MAN) (#1-441) #365 Near Mint/Mint

SPIDER-MAN (1990) (#1-74, PETER PARKER SPIDEY #75-98) #1 NBAGSPI Fine

SPIDER-MAN VS. WOLVERINE (1987) #1 2ND NEWS Near Mint/Mint

STAR WARS: JEDI OF THE REPUBLIC - MACE WINDU (2017) #2 NAKAYAMA Near Mint/Mint

WEB OF SPIDER-MAN (1985) #1 Very Good
WEB OF SPIDER-MAN (1985) #6 Near Mint/Mint

X-MEN (1991) (#1-275) (MARVEL) #11 NEWSSTAND Near Mint/Mint

DC

ALL-NEW COLLECTOR'S EDITION #56

ALL-NEW COLLECTOR'S EDITION #56 Near Mint/Mint

GREEN LANTERN (1990) (#0-181) (DC) #50 DCUNIVERSE Near Mint/Mint
GREEN LANTERN (1990) (#0-181) (DC) #52 DCUNIVERSE Fine
GREEN LANTERN (1990) (#0-181) (DC) #53 DCUNIVERSE Fine
GREEN LANTERN (1990) (#0-181) (DC) #54 DCUNIVERSE Fine
GREEN LANTERN (1990) (#0-181) (DC) #55 DCUNIVERSE Near Mint/Mint

HOUSE OF SECRETS (1956) #59 Good
HOUSE OF SECRETS (1956) #89 Good
HOUSE OF SECRETS (1956) #90 Fair
HOUSE OF SECRETS (1956) #94 Good
HOUSE OF SECRETS (1956) #95 Very Good
HOUSE OF SECRETS (1956) #96 Fine
HOUSE OF SECRETS (1956) #97 Very Good
HOUSE OF SECRETS (1956) #98 Fine
HOUSE OF SECRETS (1956) #99 Fine
HOUSE OF SECRETS (1956) #100 Fine
HOUSE OF SECRETS (1956) #101 Fine
HOUSE OF SECRETS (1956) #102 Very Good
HOUSE OF SECRETS (1956) #103 Very Good
HOUSE OF SECRETS (1956) #104 Fine

HOUSE OF SECRETS (1956) #105 Fine
HOUSE OF SECRETS (1956) #106 Fine
HOUSE OF SECRETS (1956) #107 Fine
HOUSE OF SECRETS (1956) #108 Fine
HOUSE OF SECRETS (1956) #109 Very Good
HOUSE OF SECRETS (1956) #110 Fine
HOUSE OF SECRETS (1956) #111 Very Good
HOUSE OF SECRETS (1956) #112 Very Good
HOUSE OF SECRETS (1956) #113 Fine
HOUSE OF SECRETS (1956) #114 Fine
HOUSE OF SECRETS (1956) #115 Very Good
HOUSE OF SECRETS (1956) #116 Fine
HOUSE OF SECRETS (1956) #117 Very Good
HOUSE OF SECRETS (1956) #118 Fine
HOUSE OF SECRETS (1956) #119 Fine
HOUSE OF SECRETS (1956) #120 Very Good
HOUSE OF SECRETS (1956) #139 Fine

MARTIAN MANHUNTER (2015) #8 COLORING Near Mint/Mint

SANDMAN: OVERTURE (2013) #5 COMBO Near Mint/Mint

UNEXPECTED (TALES OF THE UNEXPECTED #1-104) (1956) #94 Good
UNEXPECTED (TALES OF THE UNEXPECTED #1-104) (1956) #103 Very Good


UNEXPECTED (TALES OF THE UNEXPECTED #1-104) (1956) #104

UNEXPECTED (TALES OF THE UNEXPECTED #1-104) (1956) #104 Good
UNEXPECTED (TALES OF THE UNEXPECTED #1-104) (1956) #105 Good
UNEXPECTED (TALES OF THE UNEXPECTED #1-104) (1956) #111 Good
UNEXPECTED (TALES OF THE UNEXPECTED #1-104) (1956) #113 Good
UNEXPECTED (TALES OF THE UNEXPECTED #1-104) (1956) #119 Good
UNEXPECTED (TALES OF THE UNEXPECTED #1-104) (1956) #130 Very Good
UNEXPECTED (TALES OF THE UNEXPECTED #1-104) (1956) #131 Very Good
UNEXPECTED (TALES OF THE UNEXPECTED #1-104) (1956) #132 Very Good
UNEXPECTED (TALES OF THE UNEXPECTED #1-104) (1956) #133 Fine
UNEXPECTED (TALES OF THE UNEXPECTED #1-104) (1956) #134 Fine
UNEXPECTED (TALES OF THE UNEXPECTED #1-104) (1956) #170 Fine
UNEXPECTED (TALES OF THE UNEXPECTED #1-104) (1956) #172 Fine

WITCHING HOUR (1969) #9 Fair
WITCHING HOUR (1969) #11 Fair
WITCHING HOUR (1969) #25 Fine
WITCHING HOUR (1969) #56 Fine
WITCHING HOUR (1969) #57 Fine
WITCHING HOUR (1969) #58 Fine

INDEPENDENTS
BETTIE PAGE (2017) #3 E LINSNVIR (DYNAMITE Entertainment) Near Mint/Mint
BETTIE PAGE (2017) #3 F CHANTVIR (DYNAMITE Entertainment) Near Mint/Mint

GHOST MANOR (1971) #2 (Charlton) Very Good

GHOST MANOR (1971) #3 (Charlton) Very Good
GHOST MANOR (1971) #4 (Charlton) Very Good
GHOST MANOR (1971) #5 (Charlton) Very Good
GHOST MANOR (1971) #6 (Charlton) Fine
GHOST MANOR (1971) #7 (Charlton) Fine
GHOST MANOR (1971) #9 (Charlton) Fine
GHOST MANOR (1971) #11 (Charlton) Fine
GHOST MANOR (1971) #15 (Charlton) Fine
GHOST MANOR (1971) #16 (Charlton) Fine
GHOST MANOR (1971) #18 (Charlton) Fine
GHOST MANOR (1971) #19 (Charlton) Fine
GHOST MANOR (1971) #21 (Charlton) Fine
GHOST MANOR (1971) #28 (Charlton) Fine
GHOST MANOR (1971) #29 (Charlton) Fine

JUGHEAD'S JOKES (1967) #37 (Archie Comics) Very Fine
JUGHEAD'S JOKES (1967) #40 (Archie Comics) Very Fine
JUGHEAD'S JOKES (1967) #45 (Archie Comics) Near Mint/Mint
JUGHEAD'S JOKES (1967) #45 (Archie Comics) Very Fine

JUNGLE ADVENTURES (1971) #2 (Skywald Publications) Fine

JUNGLE COMICS (BLACKTHORNE) (1988) #3 (Blackthorne Publishing) Fine
JUNGLE COMICS (BLACKTHORNE) (1988) #3 (Blackthorne Publishing) Very Fine

JUNGLE GIRLS #16 (Americomics) Fine

JUNGLE JIM (1953) (#1-20) (Dell Publishing) #17 (Dell Publishing) Fine

JUNGLE LOVE #2 (Aircel Publications) Very Fine

JUNGLE TWINS (1972) (#1-17) (GOLD KEY) #9 WHITMAN (Gold Key) Fine
JUNGLE TWINS (1972) (#1-17) (GOLD KEY) #11 WHITMAN (Gold Key) Fine

JUNKWAFFEL (1972) (#1-4) (PRINT MINT/LAST CASP) #3 3RD 2.50 (Print Mint) Near Mint/Mint
JUNKWAFFEL (1972) (#1-4) (PRINT MINT/LAST CASP) #3 3RD 2.50 (Print Mint) Very Fine
JUNKWAFFEL (1972) (#1-4) (PRINT MINT/LAST CASP) #3 3RD 2.50 (Print Mint) Fine
JUNKWAFFEL (1972) (#1-4) (PRINT MINT/LAST CASP) #4 3RD 2.50 (Print Mint) Fine

JUSTICE MACHINE COMICS ON DISK (1989) #1 MACINTOSH (Innovation Publishing) Near Mint/Mint
JUSTICE MACHINE COMICS ON DISK (1989) #1 ATARI (Innovation Publishing) Near Mint/Mint
JUSTICE MACHINE COMICS ON DISK (1989) #1 IBM (Innovation Publishing) Near Mint/Mint

KANE (1993) #17 (Dancing Elephant Press) Near Mint/Mint

KORAK, SON OF TARZAN (1964) (#1-45) (GOLD KEY) #31 (Gold Key) Fine
KORAK, SON OF TARZAN (1964) (#1-45) (GOLD KEY) #31 (Gold Key) Very Fine
KORAK, SON OF TARZAN (1964) (#1-45) (GOLD KEY) #31 (Gold Key) Very Good
KORAK, SON OF TARZAN (1964) (#1-45) (GOLD KEY) #32 (Gold Key) Fine
KORAK, SON OF TARZAN (1964) (#1-45) (GOLD KEY) #32 (Gold Key) Very Fine
KORAK, SON OF TARZAN (1964) (#1-45) (GOLD KEY) #32 (Gold Key) Very Good


KORAK, SON OF TARZAN (1964) (#1-45) (GOLD KEY) #33

KORAK, SON OF TARZAN (1964) (#1-45) (GOLD KEY) #33 (Gold Key) Fine
KORAK, SON OF TARZAN (1964) (#1-45) (GOLD KEY) #33 (Gold Key) Very Fine
KORAK, SON OF TARZAN (1964) (#1-45) (GOLD KEY) #34 (Gold Key) Fine
KORAK, SON OF TARZAN (1964) (#1-45) (GOLD KEY) #34 (Gold Key) Very Good
KORAK, SON OF TARZAN (1964) (#1-45) (GOLD KEY) #35 (Gold Key) Fine
KORAK, SON OF TARZAN (1964) (#1-45) (GOLD KEY) #35 (Gold Key) Very Good
KORAK, SON OF TARZAN (1964) (#1-45) (GOLD KEY) #36 (Gold Key) Very Good
KORAK, SON OF TARZAN (1964) (#1-45) (GOLD KEY) #37 (Gold Key) Fine
KORAK, SON OF TARZAN (1964) (#1-45) (GOLD KEY) #37 (Gold Key) Very Fine
KORAK, SON OF TARZAN (1964) (#1-45) (GOLD KEY) #37 (Gold Key) Very Good
KORAK, SON OF TARZAN (1964) (#1-45) (GOLD KEY) #38 (Gold Key) Fine
KORAK, SON OF TARZAN (1964) (#1-45) (GOLD KEY) #38 (Gold Key) Very Fine
KORAK, SON OF TARZAN (1964) (#1-45) (GOLD KEY) #38 (Gold Key) Very Good
KORAK, SON OF TARZAN (1964) (#1-45) (GOLD KEY) #39 (Gold Key) Fine
KORAK, SON OF TARZAN (1964) (#1-45) (GOLD KEY) #40 (Gold Key) Fine
KORAK, SON OF TARZAN (1964) (#1-45) (GOLD KEY) #40 (Gold Key) Very Good
KORAK, SON OF TARZAN (1964) (#1-45) (GOLD KEY) #41 (Gold Key) Fine
KORAK, SON OF TARZAN (1964) (#1-45) (GOLD KEY) #41 (Gold Key) Very Good
KORAK, SON OF TARZAN (1964) (#1-45) (GOLD KEY) #41 (Gold Key) Very Fine
KORAK, SON OF TARZAN (1964) (#1-45) (GOLD KEY) #43 (Gold Key) Fine
KORAK, SON OF TARZAN (1964) (#1-45) (GOLD KEY) #43 (Gold Key) Very Fine
KORAK, SON OF TARZAN (1964) (#1-45) (GOLD KEY) #43 (Gold Key) Very Good

KORG: 70,000 B.C. (1975) #1 (Charlton) Fine

KROFFT SUPERSHOW (1978) #1 (Gold Key) Fine
KROFFT SUPERSHOW (1978) #2 (Gold Key) Fine


KROFFT SUPERSHOW (1978) #2 WHITMAN

KROFFT SUPERSHOW (1978) #2 WHITMAN (Gold Key) Very Fine
KROFFT SUPERSHOW (1978) #3 (Gold Key) Fine
KROFFT SUPERSHOW (1978) #3 WHITMAN (Gold Key) Very Fine
KROFFT SUPERSHOW (1978) #3 WHITMAN (Gold Key) Fine
KROFFT SUPERSHOW (1978) #5 (Gold Key) Near Mint/Mint

LACUNAE #4 (Cry For Dawn Productions) Fine

LADY DEATH (2011) #13 DRAGONS (Boundless Comics) Near Mint/Mint
LADY DEATH (2011) #16 ART DECO (Boundless Comics) Near Mint/Mint

LADY DEATH GALLERY: NAUGHTY HALLOWEEN ONE-SHOT (2017) #1 (Coffin Comics) Near Mint/Mint

LADY DEATH: ABANDON ALL HOPE (2005) #3 PLATINUM (Avatar Comics) Near Mint/Mint

LAUGH (1946) #202 (Archie Comics) Fine
LAUGH (1946) #211 (Archie Comics) Fine
LAUGH (1946) #215 (Archie Comics) Fine
LAUGH (1946) #222 (Archie Comics) Fine
LAUGH (1946) #230 (Archie Comics) Fine
LAUGH (1946) #235 (Archie Comics) Fine
LAUGH (1946) #238 (Archie Comics) Fine
LAUGH (1946) #238 (Archie Comics) Near Mint/Mint
LAUGH (1946) #238 (Archie Comics) Very Fine

LAUGH (1946) #251 (Archie Comics) Fine
LAUGH (1946) #257 (Archie Comics) Fine
LAUGH (1946) #262 (Archie Comics) Fine
LAUGH (1946) #264 (Archie Comics) Fine
LAUGH (1946) #265 (Archie Comics) Fine
LAUGH (1946) #272 (Archie Comics) Fine
LAUGH (1946) #275 (Archie Comics) Fine
LAUGH (1946) #276 (Archie Comics) Fine
LAUGH (1946) #279 (Archie Comics) Fine
LAUGH (1946) #280 (Archie Comics) Fine
LAUGH (1946) #292 (Archie Comics) Very Fine
LAUGH (1946) #293 (Archie Comics) Very Fine
LAUGH (1946) #294 (Archie Comics) Near Mint/Mint
LAUGH (1946) #294 (Archie Comics) Very Fine
LAUGH (1946) #300 (Archie Comics) Near Mint/Mint
LAUGH (1946) #300 (Archie Comics) Very Fine

LAUGH DIGEST (1974) #11 (Archie Comics) Fine
LAUGH DIGEST (1974) #11 (Archie Comics) Very Fine
LAUGH DIGEST (1974) #18 (Archie Comics) Fine
LAUGH DIGEST (1974) #22 (Archie Comics) Very Fine
LAUGH DIGEST (1974) #36 (Archie Comics) Fine
LAUGH DIGEST (1974) #36 (Archie Comics) Near Mint/Mint

LAUGH DIGEST (1974) #52 (Archie Comics) Very Good
LAUGH DIGEST (1974) #53 (Archie Comics) Fine
LAUGH DIGEST (1974) #53 (Archie Comics) Very Fine
LAUGH DIGEST (1974) #54 (Archie Comics) Very Fine
LAUGH DIGEST (1974) #55 (Archie Comics) Fine
LAUGH DIGEST (1974) #56 (Archie Comics) Fine
LAUGH DIGEST (1974) #60 (Archie Comics) Fine
LAUGH DIGEST (1974) #60 (Archie Comics) Near Mint/Mint
LAUGH DIGEST (1974) #60 (Archie Comics) Very Good
LAUGH DIGEST (1974) #60 (Archie Comics) Very Fine

LEATHERFACE (TEXAS CHAINSAW MASSACRE) (NORTHSTAR) (1991) #4 (Northstar Publications) Fine

LEGEND OF THE SAGE (2001) #1 PREMIUM ED (Chaos Comics) Very Fine

LEGENDS OF NASCAR VOL. 1: BILL ELLIOTT (1991) #1 (Vortex Comics, Inc.) Near Mint/Mint

LETHAL LADIES OF BRAINSTORM #1 (Brainstorm Comics) Very Fine

LI'L GENIUS (1954) #37 (Charlton) Fine

LI'L JINX GIANT LAUGH-OUT (1971) #39 (Archie Comics) Fine
LI'L JINX GIANT LAUGH-OUT (1971) #42 (Archie Comics) Fine
LI'L JINX GIANT LAUGH-OUT (1971) #43 (Archie Comics) Fine

LIFE WITH ARCHIE (1958) #82 (Archie Comics) Fine

LIFE WITH ARCHIE (1958) #82 (Archie Comics) Very Good
LIFE WITH ARCHIE (1958) #83 (Archie Comics) Fine
LIFE WITH ARCHIE (1958) #83 (Archie Comics) Very Good
LIFE WITH ARCHIE (1958) #84 (Archie Comics) Very Good
LIFE WITH ARCHIE (1958) #85 (Archie Comics) Very Good