Half Price LABORDAY! Comics Sale Ends Friday
Howdy!
I am (briefly) back in my office in Denver, after attending this year's Imperial Court Coronation in Anchorage, Alaska. The news that greeted me upon my return was remarkably positive, as all of our hard work and preparation at Mile High Comics was rewarded during the Labor Day weekend. Not only did we experience record-setting foot traffic in our giant Jason St. Mega-Store (our weekend sales were up 109% over last year!), but your response to our annual 50% off LABORDAY! codeword sale was also remarkably robust. Our sincere thanks go out to everyone who helped us by supporting our end-of-the-summer events.
For those of you who have not yet placed a LABORDAY! order through our website, you have 48 hours left in which to do so. Please be aware, however, that we have a backlog of two weeks of online orders already in house. While we are going to be working diligently to get all of those orders shipped as quickly as possible, orders that we receive this week are definitely going to take a while to ship. On the flip side, LABORDAY! is our last half price sale for a while, so it is probably well worth your time to go ahead and get your order in with us now. We only charge you for your order upon shipment...
In other news, all of us here at Mile High Comics send out our sincere best wishes to those of you who have already been affected by the fires in the Northwest and the flooding in South Texas. We have already sent a contribution of $1,000 in our Mile High Comics variants for a benefit being run for a family in Houston that was displaced by the flood waters, and plan on trying to help others as opportunities present themselves. Suffice it to say, with darn near the entire state of Florida now also at risk, we are worried about all of our friends in that beautiful state, too. Please take cover, and be safe.
Speaking of benefit events, Will Moulton helped me to put together an absolutely fantastic opportunity for those who would like to help the young kids being served at Denver's Rainbow Alley Youth Center. As those of you who read this newsletter are already aware, Rainbow Alley is a refuge for teens in the Denver area who are in any way gender questioning. It is a sad reality that bullying and suicide remain pandemic among kids who do not fit in due to their orientation, and as shocking as it may seem, many children are still being abandoned by their families. As a provider of last resort, Rainbow Alley serves as a critical social services function in Denver by helping these children with food, shelter, and clothing, and also acts as an important mental health resource.
Through my involvement in the Imperial Court of the Rocky Mountain Empire, I have raised many thousands of dollars for Rainbow Alley, and have also been helping out with serving Rainbow Alley's annual Christmas potluck dinners for the past four years. These dinners are entirely free to the kids, and allow them to be in a cheery and welcoming place for one night during the holidays. What began as a special treat for only about 30 kids expanded to 250+ attendees last year, as the young people being helped by Rainbow Alley (with our benediction) brought friends and siblings with them for what would be the only holiday meal that most would receive. It was a night of incredible joy!
Fast-forward to this year, and the counselors at Rainbow Alley have asked us to help them with funding a small Christmas gift for each of the kids. With that thought in mind, I authorized Will to purchase a wonderful 6' tall HARLEY QUINN statue, which originally listed for $1,995.00. We are going to have a drawing for this beautiful statue on October 28 (the Saturday before Halloween). Tickets for this drawing are $20 (for five entries), and you do not need to be present to win. All of the money received will be contributed to the Rainbow Alley Christmas Fund.
*Because the way our website is set up it will add shipping fees to your order but ALL those fees will be removed before you are charged for your entries.*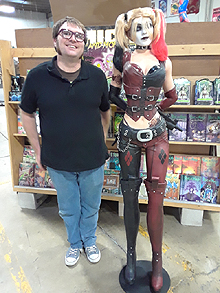 Dan with the Full Size Harley Statue

So you know, while this awesome HARLEY QUINN statue is quite tall and has beautiful detailing, it is also rather light, as the interior is made of sculpted foam. That means that it can be shipped anywhere in the world for relatively little. It also came with a custom-built shipping box, so it can be safely sent anywhere. Shipping costs will need to be borne by the winner, but we will issue a credit for that amount as an offset. That having been said, I understand that some may have no interest in Harley, so there is an alternate prize (the winner can choose only one) of a $1,000 Mile High Comics shopping spree! With all the proceeds going directly to Rainbow Alley for the Christmas program, we would hope that you could find room in your budget to contribute. Thank you.
Happy collecting!
Chuck Rozanski,
President - Mile High Comics, Inc.
September 6, 2017

P.S. Will and Pam have been adding even more great comics into New-In-Stock for you this week. Below is a sampling of just a few. Most can be purchased at a 50% discount when the LABORDAY! codeword is utilized. Only new issues, a few variants, and our professionally graded comics are exempt.
MARVEL
INDESTRUCTIBLE HULK (2012) #4 VARIANT Near Mint/Mint


MARVEL COMICS PRESENTS (1988) #1

MARVEL COMICS PRESENTS (1988) #1 Fine
MARVEL COMICS PRESENTS (1988) #19 Near Mint/Mint

MARVEL FEATURE (1971) #2 Good
MARVEL FEATURE (1971) #3 Good
MARVEL FEATURE (1971) #5 Good

ROCKET RACCOON (1985) (#1-4) (MARVEL) #1 Fine
ROCKET RACCOON (1985) (#1-4) (MARVEL) #1 NEWSSTAND Very Fine

SPIDER-MAN (1963) (AMAZING SPIDER-MAN) (#1-441) #345 Very Fine
SPIDER-MAN (1963) (AMAZING SPIDER-MAN) (#1-441) #346 Fine
SPIDER-MAN (1963) (AMAZING SPIDER-MAN) (#1-441) #347 Very Fine

SUB-MARINER (1968) #59 Very Good

TOMB OF DRACULA (1972) #25 Good

UNCANNY AVENGERS (2012) #5 VARIANT Near Mint/Mint

WEAPON X (2017) (#1-UP) (MARVEL) #7 Near Mint/Mint
WEAPON X (2017) (#1-UP) (MARVEL) #7 Very Fine

WOLVERINE & THE X-MEN (2011) #25 VARIANT Near Mint/Mint

X-FORCE (1991) #2 Very Fine

DC
BATMAN (1940) (#0-713) (DC) #398 2ND CGC9.4 Near Mint/Mint
BATMAN (1940) (#0-713) (DC) #500 DLX CGC9.6 Near Mint/Mint

BATMAN & SUPERMAN: ADVENTURES OF THE WORLD'S FINEST (1997) #1 Near Mint/Mint


BATMAN CHRONICLES: GAUNTLET (1997) #1

BATMAN CHRONICLES: GAUNTLET (1997) #1 Near Mint/Mint

BATMAN FOREVER MOVIE ADAPTATION (1995) #1 DELUXE Near Mint/Mint

BATMAN LEGACY COLLECTOR'S SET #1 Near Mint/Mint
BATMAN LEGACY COLLECTOR'S SET #2 Near Mint/Mint

BATMAN/BANE (BATMAN VS. BANE) (1997) #1 Near Mint/Mint

BATMAN/BATGIRL (BATMAN AND BATGIRL) (1997) #1 Near Mint/Mint

BATMAN/HOUDINI: DEVIL'S WORKSHOP (HOWARD CHAYKIN) (1993) #1 Near Mint/Mint

BATMAN/JUDGE DREDD: THE ULTIMATE RIDDLE (PRESTIGE) (1995) #1 Near Mint/Mint

BATMAN/MR. FREEZE (PAUL DINI) (PRESTIGE) (1997) #1 Near Mint/Mint

BATMAN/PHANTOM STRANGER (PRESTIGE) (1997) #1 Near Mint/Mint

BATMAN/POISON IVY (PRESTIGE) (1997) #1 Near Mint/Mint

BATMAN: BLUE, GRAY, & THE BAT (PRESTIGE) (1992) #1 Near Mint/Mint

BATMAN: BROTHERHOOD OF THE BAT (ELSEWORLDS) (1995) #1 Near Mint/Mint

BATMAN: CONTAGION COLLECTOR'S SET (1996) #1 Near Mint/Mint
BATMAN: CONTAGION COLLECTOR'S SET (1996) #2 Near Mint/Mint

BATMAN: DARK ALLEGIANCES (HOWARD CHAYKIN) (PRESTIGE) (1995) #1 Near Mint/Mint

BATMAN: GHOSTS-DARK KNIGHT HALLOWEEN SPECIAL (TIM SALE) (1995) #1 Near Mint/Mint

BATMAN: HOLY TERROR (NORM BREYFOGEL) (ELSEWORLDS) (1991) #1 Near Mint/Mint

BATMAN: IN DARKEST KNIGHT (MIKE W. BARR) (ELSEWORLDS) (1994) #1 Near Mint/Mint


BATMAN: MADNESS - LEGENDS OF THE DARK KNIGHT HALLOWEEN (1994) #1

BATMAN: MADNESS - LEGENDS OF THE DARK KNIGHT HALLOWEEN (1994) #1 Near Mint/Mint

BATMAN: MASQUE (MIKE GRELL) (ELSEWORLDS) (PRESTIGE) (1997) #1 Near Mint/Mint

BATMAN: MASTER OF THE FUTURE (GOTHAM BY GASLIGHT II) (1991) #1 Fine

BATMAN: SCAR OF THE BAT (MAX ALLAN COLLINS)(ELSEWORLDS) (1996) #1 Near Mint/Mint

BATMAN: THE ANIMATED MOVIE - MASK OF THE PHANTASM (1993) #1 DELUXE Near Mint/Mint

BATMAN: THE KILLING JOKE (ALAN MOORE) (1988) #1 Near Mint/Mint

DARK KNIGHT (1986) #2 1ST PRT Near Mint/Mint
DARK KNIGHT (1986) #3 1ST PRT Near Mint/Mint
DARK KNIGHT (1986) #4 1ST PRT Near Mint/Mint
DARK KNIGHT (1986) #4 1ST PRT Very Fine
DARK KNIGHT (1986) #4 1ST PRT Very Good

GOTHAM BY GASLIGHT (1989) #1 Good

JUSTICE LEAGUE (2011) (#0-52) (DC NEW52) #7 VARIANT Near Mint/Mint
JUSTICE LEAGUE (2011) (#0-52) (DC NEW52) #12 Near Mint/Mint

JUSTICE LEAGUE OF AMERICA (1960) (#1-261) (DC) #184 NEWSSTAND Very Fine

KATANA (2013) #2 VARIANT Very Fine

LEGENDS OF THE DARK KNIGHT HALLOWEEN SPECIAL (1993) #1 Near Mint/Mint

SANDMAN: OVERTURE (2013) #1 A Near Mint/Mint

SUPERMAN (1939) (#1-423) (DC) #190 Fair

TEEN TITANS (2011) (#0-30) (DC NEW52) #0 VARIANT Very Fine
TEEN TITANS (2011) (#0-30) (DC NEW52) #8 VARIANT Near Mint/Mint
TEEN TITANS (2011) (#0-30) (DC NEW52) #10 VARIANT Near Mint/Mint
TEEN TITANS (2011) (#0-30) (DC NEW52) #10 VARIANT Very Fine
TEEN TITANS (2011) (#0-30) (DC NEW52) #12 VARIANT Near Mint/Mint

WONDER WOMAN (1987) (#0-226) (DC) #96 Near Mint/Mint

IMAGE COMICS
BLACK SCIENCE (2013) #3 Near Mint/Mint

SAGA (2012) #8 Near Mint/Mint

SPAWN (1992) #1 Near Mint/Mint
SPAWN (1992) #1 Very Good
SPAWN (1992) #1 Very Fine
SPAWN (1992) #2 W/O NICK Near Mint/Mint

WITCHBLADE #80 COVER A (Image Top Cow) Near Mint/Mint
WITCHBLADE #161 D (Image Top Cow) Near Mint/Mint

INDEPENDENTS
ART OF ABRAMS (LIGHTENING COMICS) (1996) #1 NUDE (Lightning Comics) Near Mint/Mint


ART OF ABRAMS (LIGHTENING COMICS) (1996) #1 PLATINUM

ART OF ABRAMS (LIGHTENING COMICS) (1996) #1 PLATINUM (Lightning Comics) Near Mint/Mint

CATFIGHT: DREAM INTO ACTION (1996) #1 NUDE A (Lightning Comics) Very Fine
CATFIGHT: DREAM INTO ACTION (1996) #1 NUDE B (Lightning Comics) Very Fine

CATFIGHT: ESCAPE FROM LIMBO #1 NUDE A (Lightning Comics) Near Mint/Mint
CATFIGHT: ESCAPE FROM LIMBO #1 NUDE B (Lightning Comics) Near Mint/Mint

CATFIGHT: SWEET REVENGE #1 NUDE A (Lightning Comics) Near Mint/Mint
CATFIGHT: SWEET REVENGE #1 NUDE B (Lightning Comics) Near Mint/Mint

CLAIRE VOYANTE (1996) #1 NUDE A (Lightning Comics) Near Mint/Mint
CLAIRE VOYANTE (1996) #1 NUDE B (Lightning Comics) Near Mint/Mint

CREED/TEENAGE MUTANT NINJA TURTLES (1996) #1 AE VARIANT (Lightning Comics) Near Mint/Mint
CREED/TEENAGE MUTANT NINJA TURTLES (1996) #1 GOLD (Lightning Comics) Very Fine
CREED/TEENAGE MUTANT NINJA TURTLES (1996) #1 AE VARIANT (Lightning Comics) Very Fine

JAY & SILENT BOB #1 2ND PRINT (Oni Press Inc.) Near Mint/Mint

LIFE WITH ARCHIE (1958) #10 (Archie Comics) Good
LIFE WITH ARCHIE (1958) #11 (Archie Comics) Good
LIFE WITH ARCHIE (1958) #20 (Archie Comics) Good
LIFE WITH ARCHIE (1958) #30 (Archie Comics) Good

LITTLE ARCHIE (1956) #3 (Archie Comics) Fair
LITTLE ARCHIE (1956) #11 (Archie Comics) Good
LITTLE ARCHIE (1956) #12 (Archie Comics) Good

LITTLE ARCHIE (1956) #35 (Archie Comics) Good
LITTLE ARCHIE (1956) #53 (Archie Comics) Good

MIRACLEMAN (1985) #1 (Eclipse Enterprises) Very Fine
MIRACLEMAN (1985) #2 (Eclipse Enterprises) Near Mint/Mint
MIRACLEMAN (1985) #3 (Eclipse Enterprises) Near Mint/Mint
MIRACLEMAN (1985) #4 (Eclipse Enterprises) Very Fine
MIRACLEMAN (1985) #5 (Eclipse Enterprises) Fine
MIRACLEMAN (1985) #6 (Eclipse Enterprises) Very Fine
MIRACLEMAN (1985) #7 (Eclipse Enterprises) Very Fine
MIRACLEMAN (1985) #8 (Eclipse Enterprises) Fine

RED SONJA (2005) (#0-80) (DYNAMITE) #4 RRP (DYNAMITE Entertainment) Near Mint/Mint
RED SONJA (2005) (#0-80) (DYNAMITE) #8 RRP (DYNAMITE Entertainment) Near Mint/Mint
RED SONJA (2005) (#0-80) (DYNAMITE) #12 LEE VIRGIN (DYNAMITE Entertainment) Near Mint/Mint

TEENAGE MUTANT NINJA TURTLES (1984) #1 5TH PRT (Mirage Studios) Very Fine
TEENAGE MUTANT NINJA TURTLES (1984) #7 2ND PRINT (Mirage Studios) Very Good
TEENAGE MUTANT NINJA TURTLES (1984) #17 (Mirage Studios) Fine
TEENAGE MUTANT NINJA TURTLES (1984) #18 (Mirage Studios) Very Fine
TEENAGE MUTANT NINJA TURTLES (1984) #19 (Mirage Studios) Fine
TEENAGE MUTANT NINJA TURTLES (1984) #20 (Mirage Studios) Near Mint/Mint

WACKY RACES (1969) #3 (Gold Key) Very Good