Local News - New Store Hours for the Jason Street Mega Store!
Hi!
This is William with Mile High Comics. I just wanted to drop a quick newsletter letting everyone know that we have changed our Jason Street Mega Store hours. They are:
Mon-Fri: 9 AM - 6 PM
Sat: 10AM - 6PM
Sun: 11AM - 5PM

Please keep this in mind when coming down to visit.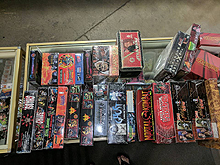 Some of the complete Card boxes we just got it.

We have still been inundated with more and more awesome collections. Including Comics, Toys, Trades, Posters, Cards, and Hardcovers. Every time I look at the shelves there is something new.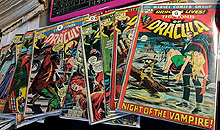 A few of the Tomb of Dracula comics we just got in.

Hope you have a great week!
William Moulton,
Head Flunky - Mile High Comics, Inc.
September 5, 2017