Jason St. Open Now On Saturdays and Sundays
Howdy!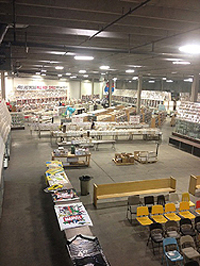 Jason St
Mega-Store

A quick note to let you know that we now have regular weekend hours at our new Jason St. Mega-Store. Our original plan had been to try and focus all of our monthly visits to Jason St. Into a single event day, but we have discovered that a great many avid comics fans visit Denver at times of the month aside from when we are holding our Open House/Auction events. Simply put, we were turning away 10, or more, fans every day. That being the case, we are now going to open the Mega-Store for anyone who wishes to visit us every Saturday from 10 AM - 5 PM, and every Sunday from Noon - 5 PM.


While the Mega-Store will now be consistently open on weekends, the same policy of minimal staffing will apply as we have already had on weekdays. Randy, Bill, and Lisa will still keep the Mega-Store open Monday -Friday from 9 AM - 5 PM, but they will now also individually alternate with me on working the weekends. If you need directions, or want to know who will be operating the Mega-Store on any given day, you can call the store at 303-477-0042.


In other news, our next big Open House and No-Minimum-Bid Auction are now scheduled for Labor Day, Monday, September 3rd. We picked this date intentionally so that those of you who live in areas some distance from Denver can potentially make a small vacation out of your visit to the Mega-Store. Among other activities, the wonderful Taste of Colorado street fair is in downtown Denver that day. With that thought in mind, we are opening the Mega-Store at 10 AM, with the no-minimum-bid Silver Age comics auction beginning at 10:30. Come by the store, pick up a few great comics and/or books, and then have a fun afternoon lunch in the Civic Center Park!


I will close by mentioning that our two biggest improvements that we are seeking to make in the Jason St. Mega-Store by our Labor Day Open House are to A) have upwards of 1,000 long boxes (!!!) of $1 comics out for everyone to pick through, and B) sorting and pricing an incredible collection of 30,000 NM comics that we purchased from a single owner in San Diego last month. If you want to visit Jason before the big sale, it might interest you to know ghat over 100 of those new bargain boxes are already on sale, with more being added daily...


Happy Collecting!

Chuck Rozanski,
President - Mile High Comics, Inc.
August 9, 2012
Advance Previews
of next weeks comics from
Archie Comics

Sample of Auction for September 3, 2012
AMAZING ADVENTURES (JULY 1972) #13 Fine

AMAZING SPIDER-MAN (JULY 1965) #26 Very Good

AMAZING SPIDER-MAN (DECEMBER 1973) #127 Very Fine

AVENGERS (MAY 1969) #64 Fine

80 PAGE GIANT (JULY 1965) #12 (BATMAN) Very Good

CHAMBER OF DARKNESS #1 (OCTOBER 1969) #1 Fine

CIVIL WAR (DECEMBER 2006) #1 TUNER SKETCH COVER Near Mint

CONAN (SEPTEMBER 1971) #9 Very Good

DAREDEVIL (AUGUST 1966) #19 Very Good

GIANT-SIZE DAREDEVIL (1975) #1 Fine

DEJAH THORIS & THE WHITE APES OF MARS (2012) #2 DF EXCLUSIVE COVER Near Mint

DETECTIVE COMICS (AUGUST 2012) #10 SKETCH COVER Near Mint

FLASH (JUNE 1963) #137 Good

FOREVER PEOPLE (FEBRUARY-MARCH 1971) #1 Fine

GI JOE (JUNE 1994) #149 Near Mint

GROO THE WANDERER (MARCH 1985) #1 Near Mint

HAUNT OF FEAR (MAY-JUNE 1954) #25 Fine

HULK (AUGUST 1968) #106 Fine

JOURNEY INTO MYSTERY (APRIL 1965) #115 Very Good

KICK-ASS (MAY 2008) #1 2ND PRINT Near Mint

OUT OF THE SHADOWS (JULY 1953) #9 Fine

SPAWN (JUNE 2012) #220 20TH ANNIVERSARY EDITION Near Mint

SPIRIT GIANT-SIZE (OCTOBER 1966) #1 Fine

SUPER-HEROES VERSUS SUPER-VILLAINS (1966) #1 Very Good

X-MEN (SEPTEMBER 1968) #48 Very Good




Click here to view all of the Premium New-In-Stock


Click here to view all of the New In Stock


Click here to view all of the recently added Trade Paperbacks and HardCovers