Free AVENGERS VS. X-MEN Variant Comics
Howdy!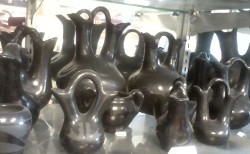 Chuck's Pottery

Today's newsletter is coming to you from scenic Santa Fe, New Mexico. I am here with my wife, Nanette, on our annual vacation and quest for the unique and beautiful pottery created by the Pueblo Indians. We will also be visiting with our many friends in the Santa Fe area, and attending the annual Feast Day celebrations and dances at Santa Clara Pueblo, on Sunday.


In honor of those sacred dances, I have made our steep discount codeword for this week SANTAFE! This 50% off codeword applies to all eight million of our back issue comics and magazines in our database, including the many thousands of great back issues just listed in our New-In-Stock and Premium New-In-Stock links. Only books, new comics, non-comics items, and/or CGC-graded comics are excluded from the sale. With over a million of our back issues listed on our website for under $2, however, our SANTAFE! half price sale also allows you to shop what is effectively the world's largest and most extensive $1 comics selection. Simply enter the SANTAFE! Codeword into the line provided for you on our order form, and our computer will automatically slash your net cost in half on all the qualifying items in your order. Enjoy!


Avengers vs
X-Men #9

While I am personally in Santa Fe this week, our various teams at Mile High Comics are hard at work. In our main warehouse, William and Rich are making certain that all the orders that we receive via our website are processed immediately. Pam's inventory team is sorting and grading approximately 25,000 back issue comics and magazines per week, thus continually improving our website for you. Meanwhile, Will Moulton is busy restocking many of our sold out trade paperbacks and hardbacks, while simultaneously improving our website database for you.


Will's other major task is continuing to create inventory records of all of the newsstand variant editions of Marvel and DC comics. After many, many requests from readers of this newsletter, we began our herculean program of separating out our newsstand editions out from our Direct Market (comics shop) editions about this time last year. We now have over 30,000 (!) newsstand variants listed and scanned in our database. Even with all that effort, however, we still have been unable to find definitive proof that some missing newsstand editions even exist. That having been said, our inventory teams are acutely aware of the importance of our identifying all newsstand editions in our database, so as we do locate copies of the particularly rare newsstand variants, we send them right to Will Moulton for documentation. Given another year of intense effort, I think that we will finally be able to list for you almost all Marvel and DC newsstand variants.


Avengers vs
X-Men #9
Avengers

I am telling you about our newsstand variants efforts because I thought that you might like to know that our newsstand variants are selling quite well, even though we list them at significant premiums over Direct Market editions. Simply put, there are quite a few astute comics fans worldwide who have completed their entire runs on all major Marvel and DC comics titles, and are now seeking to also complete much harder-to-find newsstand runs. The problem with this effort is that A) almost no other comics dealers even offer newsstand editions as an option, and B) the print runs on newsstand editions were oftentimes less than 10% of the Direct Market editions, especially on comics printed after 1995.


The good news for those of you who read this newsletter is that I am alerting you to this new trend in comics collecting, far in advance. That means that you can probably still pick up a great many newsstand editions locally, at no premium at all, or even out of some dealer's bargain boxes. At first, locating newsstand editions may seem easy, but as you eventually try to fill in all the holes in your newsstand runs, however, I am certain that you are going to encounter the exact same scarcities of some specific issues that we have been experiencing. This is a really fun new area of comics collecting, but I do have to caution you that a few of those darn newsstand variants almost never show up, especially in NM condition. Which is precisely why seeking to complete a newsstand run is so much fun!


Avengers vs
X-Men #9
X-Men

My final item for today is an offer of free copies for you of AVENGERS VS. X-MEN #9. You can request any one of the following three AVENGERS VS. X-MEN variants in the "notes" section of our online order form if you place any minimum $20 order with us this week, or all three for any $50 order, AVENGERS VS. X-MEN #9, #9 AVENGERS VARIANT or #9 X-MEN VARIANT. When compiling your order, please do not forget that we also still offer free shipping on all domestic comics orders over $30, and all International comics orders over $60. If you include books or non-comics items in your order there will be some minor shipping surcharges added, but even they add up to far less than the actual cost of our shipping your order to you.


I will close today's newsletter by personally thanking you for your kind patronage of Mile High Comics. I hope that you have a great week enjoying your comics!


Happy Collecting!

Chuck Rozanski,
President - Mile High Comics, Inc.
August 8, 2012
Advance Previews
of next weeks comics from
Archie Comics

Click here to view all of the Premium New-In-Stock


Click here to view all of the New In Stock


Click here to view all of the recently added Trade Paperbacks and HardCovers