60% Off Back Issue Comics and Magazines
Howdy!

I will start off today by again thanking all of you who have designated a portion of the gross proceeds of your recent order with us to be contributed to a charitable fund to help the victims of last Thursday's shooting here in Colorado. Thanks to your support we have now raised over $3,000, which will be contributed over the next couple of days to GivingFirst.org, a charity to which Warner Bros. has already donated one million dollars.

If you would like to be a part of our helping to cover the funeral and medical expenses of the 70 Dark Knight Rising shooting victims, you can still do so by placing any order with us utilizing the 60% off HELPHEAL codeword. When you use HELPHEAL, we give you a 60% off on all of the back issue comics and magazines in your order, while also donating 10% of the net proceeds of your order to the help the victims. Under normal circumstances we would not be able to afford that additional 10% that we are contributing in your name, but in this instance we are taking a small loss on many orders that we are filling, simply in order to help.

All of the above having been said, please do bear in mind that the 60% off discount provided by the HELPHEAL codeword is applicable only to back issue comics and magazines. New comics, books, CGC-graded issues, and non-comics items are excluded from the HELPHEAL codeword discount. All 250,000 of our backlist comics trade paperbacks and hardbacks are, however, on sale for your right now on our website at 50% off, and if you use the HELPHEAL codeword, we will still designate 10% of the entire net of your entire order toward the contribution fund.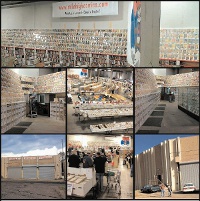 Jason St Mega-Store

Moving on to a more cheerful topic, we will be having a special sale at our Jason St. Mega-Store on this Saturday, from 10 AM - 3 PM. We now have almost all of the 45,000 great back issue comics that we brought home from this year's San Diego Comic-Con International collated together with our pre-existing Jason St. Back issues. What that means for those of you who can attend Saturday's sale is that we will have over 100,000 Marvel, DC, Dark Horse, Image, and Independent/Small Press comics and magazines available, some of which are not yet available on our website. All of Jason St. back issues will on sale this Saturday at half price, while our books will have a sliding scale of discounts topping out at 50% off for 6+ books.


On a related topic, we will be comparing our website inventory listing against the Jason St. back issue comics inventory starting next Monday, pulling out of Jason all of the issues where we are out-of-stock on our website. We have already begun this process with a few highly desirable magazine titles, such as STARLOG, SAVAGE SWORD OF CONAN, COMICS REVIEW, and DOCTOR WHO, but for the most part we are going to hold off on stripping down the Jason St. inventory until after next Saturday's sale. Suffice it to say, however, if are seeking scarce comics and magazines, you really should update your personal want list ASAP, and also keep a sharp eye on our daily New-In-Stock listings.




Dr Who #206

I will close today's newsletter with a cautionary warning. Because we have been adding so many additional comics titles into our online inventory listings over the past couple of years, we are going to need to renumber all one million+ listings that we have in our database over this upcoming weekend. The last time that we had to do this a snafu occurred that shut our website down for two days, and kept our website cover scans from appearing for a week. We are all hoping and praying that this dreaded renumbering program will go more smoothly this time around, but just in case it doesn't, it would probably be best for you to get any orders that your are planning to place with us into our system before we start the renumbering program on Friday evening. So you know, we can easily continue to fill orders using our in-house systems, even when the website is temporarily down for maintenance, so any orders received by Friday afternoon will ship as usual, without any interruptions.


Happy Collecting!
Chuck Rozanski,
President - Mile High Comics, Inc.
July 25, 2012
Advance Previews
of next weeks comics from
Archie Comics

P.S. Here are actual listings from some of the magazines that we just added from Jason St. Some of these magazines are so scarce that have never been in stock in the 16 years that we have been building our database...

MARVEL

CLASSIC MARVEL FIGURINE COLLECTION MAGAZINE (2006) #175
CLASSIC MARVEL FIGURINE COLLECTION MAGAZINE (2006) #176
CLASSIC MARVEL FIGURINE COLLECTION MAGAZINE (2006) #177

DEADLIEST HEROES OF KUNG FU MAGAZINE (1975) #1

DEADLY HANDS OF KUNG FU (1974) #1
DEADLY HANDS OF KUNG FU (1974) #3
DEADLY HANDS OF KUNG FU (1974) #4
DEADLY HANDS OF KUNG FU (1974) #5
DEADLY HANDS OF KUNG FU (1974) #6
DEADLY HANDS OF KUNG FU (1974) #7
DEADLY HANDS OF KUNG FU (1974) #8
DEADLY HANDS OF KUNG FU (1974) #9
DEADLY HANDS OF KUNG FU (1974) #10
DEADLY HANDS OF KUNG FU (1974) #16
DEADLY HANDS OF KUNG FU (1974) #17
DEADLY HANDS OF KUNG FU (1974) #18
DEADLY HANDS OF KUNG FU (1974) #20
DEADLY HANDS OF KUNG FU (1974) #21
DEADLY HANDS OF KUNG FU (1974) #23
DEADLY HANDS OF KUNG FU (1974) #25
DEADLY HANDS OF KUNG FU (1974) #26
DEADLY HANDS OF KUNG FU (1974) #28
DEADLY HANDS OF KUNG FU (1974) #29
DEADLY HANDS OF KUNG FU (1974) #30
DEADLY HANDS OF KUNG FU (1974) #31
DEADLY HANDS OF KUNG FU (1974) #32
DEADLY HANDS OF KUNG FU (1974) #33

DEADLY HANDS OF KUNG FU SPECIAL (1974) #1

DOC SAVAGE (MAGAZINE) (1975) #2
DOC SAVAGE (MAGAZINE) (1975) #3
DOC SAVAGE (MAGAZINE) (1975) #4
DOC SAVAGE (MAGAZINE) (1975) #5
DOC SAVAGE (MAGAZINE) (1975) #7
DOC SAVAGE (MAGAZINE) (1975) #8

DOCTOR WHO MAGAZINE #176
DOCTOR WHO MAGAZINE #177
DOCTOR WHO MAGAZINE #200
DOCTOR WHO MAGAZINE #206
DOCTOR WHO MAGAZINE #207
DOCTOR WHO MAGAZINE #209
DOCTOR WHO MAGAZINE #213
DOCTOR WHO MAGAZINE #214
DOCTOR WHO MAGAZINE #216
DOCTOR WHO MAGAZINE #219
DOCTOR WHO MAGAZINE #220
DOCTOR WHO MAGAZINE #221
DOCTOR WHO MAGAZINE #224
DOCTOR WHO MAGAZINE #226
DOCTOR WHO MAGAZINE #228
DOCTOR WHO MAGAZINE #229
DOCTOR WHO MAGAZINE #230
DOCTOR WHO MAGAZINE #231
DOCTOR WHO MAGAZINE #236
DOCTOR WHO MAGAZINE #246
DOCTOR WHO MAGAZINE #247
DOCTOR WHO MAGAZINE #251
DOCTOR WHO MAGAZINE #252
DOCTOR WHO MAGAZINE #255
DOCTOR WHO MAGAZINE #257
DOCTOR WHO MAGAZINE #258
DOCTOR WHO MAGAZINE #259
DOCTOR WHO MAGAZINE #260
DOCTOR WHO MAGAZINE #264
DOCTOR WHO MAGAZINE #265
DOCTOR WHO MAGAZINE #267
DOCTOR WHO MAGAZINE #272
DOCTOR WHO MAGAZINE #273
DOCTOR WHO MAGAZINE #274
DOCTOR WHO MAGAZINE #275
DOCTOR WHO MAGAZINE #277
DOCTOR WHO MAGAZINE #281
DOCTOR WHO MAGAZINE #282
DOCTOR WHO MAGAZINE #284
DOCTOR WHO MAGAZINE #287
DOCTOR WHO MAGAZINE #290
DOCTOR WHO MAGAZINE #300
DOCTOR WHO MAGAZINE #310
DOCTOR WHO MAGAZINE #314
DOCTOR WHO MAGAZINE #315
DOCTOR WHO MAGAZINE #317
DOCTOR WHO MAGAZINE #318
DOCTOR WHO MAGAZINE #320
DOCTOR WHO MAGAZINE #321
DOCTOR WHO MAGAZINE #323
DOCTOR WHO MAGAZINE #324
DOCTOR WHO MAGAZINE #326 W/ CD
DOCTOR WHO MAGAZINE #328
DOCTOR WHO MAGAZINE #329
DOCTOR WHO MAGAZINE #330
DOCTOR WHO MAGAZINE #332
DOCTOR WHO MAGAZINE #333
DOCTOR WHO MAGAZINE #334
DOCTOR WHO MAGAZINE #336
DOCTOR WHO MAGAZINE #337
DOCTOR WHO MAGAZINE #340
DOCTOR WHO MAGAZINE #343
DOCTOR WHO MAGAZINE #344
DOCTOR WHO MAGAZINE #345
DOCTOR WHO MAGAZINE #348
DOCTOR WHO MAGAZINE #350 BAGGED
DOCTOR WHO MAGAZINE #351

DRACULA LIVES! (MAGAZINE) (1973) #1
DRACULA LIVES! (MAGAZINE) (1973) #2
DRACULA LIVES! (MAGAZINE) (1973) #3
DRACULA LIVES! (MAGAZINE) (1973) #5
DRACULA LIVES! (MAGAZINE) (1973) #6
DRACULA LIVES! (MAGAZINE) (1973) #7
DRACULA LIVES! (MAGAZINE) (1973) #8
DRACULA LIVES! (MAGAZINE) (1973) #9
DRACULA LIVES! (MAGAZINE) (1973) #10
DRACULA LIVES! (MAGAZINE) (1973) #11
DRACULA LIVES! (MAGAZINE) (1973) #12

DRACULA LIVES! ANNUAL MAGAZINE (1975) #1

HULK! MAGAZINE(RAMPAGING HULK #1-9) (1977) #4
HULK! MAGAZINE(RAMPAGING HULK #1-9) (1977) #8
HULK! MAGAZINE(RAMPAGING HULK #1-9) (1977) #16

MARVEL COMICS INDEX VOL. 9B: DAREDEVIL #1

MARVEL SUPER SPECIAL (1977) #2
MARVEL SUPER SPECIAL (1977) #6
MARVEL SUPER SPECIAL (1977) #8 TREASURY
MARVEL SUPER SPECIAL (1977) #9
MARVEL SUPER SPECIAL (1977) #17
MARVEL SUPER SPECIAL (1977) #22 NEWSSTAND

MARVEL TREASURY EDITION #1
MARVEL TREASURY EDITION #11
MARVEL TREASURY EDITION #12
MARVEL TREASURY EDITION #14
MARVEL TREASURY EDITION #15
MARVEL TREASURY EDITION #17
MARVEL TREASURY EDITION #19
MARVEL TREASURY EDITION #21
MARVEL TREASURY EDITION #28

MARVEL TREASURY SPECIAL: CAPT. AMERICA'S BICEN BATTLES #1

MARVEL TREASURY SPECIAL: KUNG FU #1

MARVEL TREASURY SPECIALS: 2001: A SPACE ODYSSEY #1

MARVEL TREASURY SPECIALS: LAND OF OZ #1

MARVEL TREASURY SPECIALS: SPECTACULAR SPIDER-MAN #1

MARVEL TREASURY SPECIALS: STAR WARS #1
MARVEL TREASURY SPECIALS: STAR WARS #2
MARVEL TREASURY SPECIALS: STAR WARS #3

MARVEL TREASURY SPECIALS: WIZARD OF OZ #1

MONSTER MADNESS #1
MONSTER MADNESS #3
MONSTER MADNESS #3

MONSTERS OF THE MOVIES #1
MONSTERS OF THE MOVIES #2
MONSTERS OF THE MOVIES #3
MONSTERS OF THE MOVIES #4
MONSTERS OF THE MOVIES #9

MONSTERS UNLEASHED #1
MONSTERS UNLEASHED #2
MONSTERS UNLEASHED #3
MONSTERS UNLEASHED #4
MONSTERS UNLEASHED #5
MONSTERS UNLEASHED #6
MONSTERS UNLEASHED #7
MONSTERS UNLEASHED #9
MONSTERS UNLEASHED #10
MONSTERS UNLEASHED #11

PLANET OF THE APES (1974) #1
PLANET OF THE APES (1974) #2
PLANET OF THE APES (1974) #5
PLANET OF THE APES (1974) #6
PLANET OF THE APES (1974) #7
PLANET OF THE APES (1974) #9
PLANET OF THE APES (1974) #10
PLANET OF THE APES (1974) #11
PLANET OF THE APES (1974) #12
PLANET OF THE APES (1974) #14
PLANET OF THE APES (1974) #15
PLANET OF THE APES (1974) #16
PLANET OF THE APES (1974) #17
PLANET OF THE APES (1974) #18
PLANET OF THE APES (1974) #19
PLANET OF THE APES (1974) #20
PLANET OF THE APES (1974) #21
PLANET OF THE APES (1974) #22
PLANET OF THE APES (1974) #23
PLANET OF THE APES (1974) #24
PLANET OF THE APES (1974) #25
PLANET OF THE APES (1974) #26
PLANET OF THE APES (1974) #27
PLANET OF THE APES (1974) #28
PLANET OF THE APES (1974) #29

SAVAGE SWORD OF CONAN (MAGAZINE) #1
SAVAGE SWORD OF CONAN (MAGAZINE) #2
SAVAGE SWORD OF CONAN (MAGAZINE) #3
SAVAGE SWORD OF CONAN (MAGAZINE) #4
SAVAGE SWORD OF CONAN (MAGAZINE) #4
SAVAGE SWORD OF CONAN (MAGAZINE) #7
SAVAGE SWORD OF CONAN (MAGAZINE) #10
SAVAGE SWORD OF CONAN (MAGAZINE) #11
SAVAGE SWORD OF CONAN (MAGAZINE) #16
SAVAGE SWORD OF CONAN (MAGAZINE) #17
SAVAGE SWORD OF CONAN (MAGAZINE) #19
SAVAGE SWORD OF CONAN (MAGAZINE) #22
SAVAGE SWORD OF CONAN (MAGAZINE) #23
SAVAGE SWORD OF CONAN (MAGAZINE) #26
SAVAGE SWORD OF CONAN (MAGAZINE) #28
SAVAGE SWORD OF CONAN (MAGAZINE) #29
SAVAGE SWORD OF CONAN (MAGAZINE) #35
SAVAGE SWORD OF CONAN (MAGAZINE) #36
SAVAGE SWORD OF CONAN (MAGAZINE) #40
SAVAGE SWORD OF CONAN (MAGAZINE) #41
SAVAGE SWORD OF CONAN (MAGAZINE) #42
SAVAGE SWORD OF CONAN (MAGAZINE) #49
SAVAGE SWORD OF CONAN (MAGAZINE) #54 NEWSSTAND
SAVAGE SWORD OF CONAN (MAGAZINE) #55 NEWSSTAND
SAVAGE SWORD OF CONAN (MAGAZINE) #56 NEWSSTAND
SAVAGE SWORD OF CONAN (MAGAZINE) #60 NEWSSTAND
SAVAGE SWORD OF CONAN (MAGAZINE) #61 NEWSSTAND
SAVAGE SWORD OF CONAN (MAGAZINE) #63 NEWSSTAND
SAVAGE SWORD OF CONAN (MAGAZINE) #64 NEWSSTAND
SAVAGE SWORD OF CONAN (MAGAZINE) #72
SAVAGE SWORD OF CONAN (MAGAZINE) #77 NEWSSTAND
SAVAGE SWORD OF CONAN (MAGAZINE) #79 NEWSSTAND
SAVAGE SWORD OF CONAN (MAGAZINE) #94
SAVAGE SWORD OF CONAN (MAGAZINE) #96
SAVAGE SWORD OF CONAN (MAGAZINE) #139 NEWSSTAND
SAVAGE SWORD OF CONAN (MAGAZINE) #140 NEWSSTAND
SAVAGE SWORD OF CONAN (MAGAZINE) #155 NEWSSTAND
SAVAGE SWORD OF CONAN (MAGAZINE) #158 NEWSSTAND
SAVAGE SWORD OF CONAN (MAGAZINE) #160 NEWSSTAND
SAVAGE SWORD OF CONAN (MAGAZINE) #165 NEWSSTAND
SAVAGE SWORD OF CONAN (MAGAZINE) #182 NEWSSTAND
SAVAGE SWORD OF CONAN (MAGAZINE) #186 NEWSSTAND
SAVAGE SWORD OF CONAN (MAGAZINE) #188 NEWSSTAND
SAVAGE SWORD OF CONAN (MAGAZINE) #191 NEWSSTAND
SAVAGE SWORD OF CONAN (MAGAZINE) #219
SAVAGE SWORD OF CONAN (MAGAZINE) #223
SAVAGE SWORD OF CONAN (MAGAZINE) #224
SAVAGE SWORD OF CONAN (MAGAZINE) #226
SAVAGE SWORD OF CONAN (MAGAZINE) #227
SAVAGE SWORD OF CONAN (MAGAZINE) #228
SAVAGE SWORD OF CONAN (MAGAZINE) #229
SAVAGE SWORD OF CONAN (MAGAZINE) #230
SAVAGE SWORD OF CONAN (MAGAZINE) #231
SAVAGE SWORD OF CONAN (MAGAZINE) #232
SAVAGE SWORD OF CONAN (MAGAZINE) #233
SAVAGE SWORD OF CONAN (MAGAZINE) #234
SAVAGE SWORD OF CONAN (MAGAZINE) #235

SAVAGE SWORD OF CONAN ANNUAL (MAGAZINE) #1

SAVAGE TALES (1971) #1
SAVAGE TALES (1971) #7
SAVAGE TALES (1971) #8

SPECTACULAR SPIDER-MAN MAGAZINE #1
SPECTACULAR SPIDER-MAN MAGAZINE #2

VAMPIRE TALES #2
VAMPIRE TALES #4
VAMPIRE TALES #8
VAMPIRE TALES #9
VAMPIRE TALES #11

DC

ALL-NEW COLLECTOR'S EDITION #58

FAMOUS FIRST EDITION #4
FAMOUS FIRST EDITION #6
FAMOUS FIRST EDITION #7
FAMOUS FIRST EDITION #8

LIMITED COLLECTOR'S EDITION #21
LIMITED COLLECTOR'S EDITION #22
LIMITED COLLECTOR'S EDITION #25
LIMITED COLLECTOR'S EDITION #29

INDEPENDENTS

1994 (#11-29) MAGAZINE (1980) #23 (Warren Publishing Company)

AMAZING HEROES #97 (Fantagraphics)

COMICS REVUE (COMICS REVIEW #1-10) (1984) #102 (Magazine)
COMICS REVUE (COMICS REVIEW #1-10) (1984) #103 (Magazine)
COMICS REVUE (COMICS REVIEW #1-10) (1984) #106 (Magazine)
COMICS REVUE (COMICS REVIEW #1-10) (1984) #109 (Magazine)
COMICS REVUE (COMICS REVIEW #1-10) (1984) #111 (Magazine)
COMICS REVUE (COMICS REVIEW #1-10) (1984) #114 (Magazine)
COMICS REVUE (COMICS REVIEW #1-10) (1984) #116 (Magazine)
COMICS REVUE (COMICS REVIEW #1-10) (1984) #128 (Magazine)
COMICS REVUE (COMICS REVIEW #1-10) (1984) #130 (Magazine)
COMICS REVUE (COMICS REVIEW #1-10) (1984) #132 (Magazine)
COMICS REVUE (COMICS REVIEW #1-10) (1984) #133 (Magazine)
COMICS REVUE (COMICS REVIEW #1-10) (1984) #146 (Magazine)
COMICS REVUE (COMICS REVIEW #1-10) (1984) #147 (Magazine)
COMICS REVUE (COMICS REVIEW #1-10) (1984) #151 (Magazine)
COMICS REVUE (COMICS REVIEW #1-10) (1984) #152 (Magazine)
COMICS REVUE (COMICS REVIEW #1-10) (1984) #153 (Magazine)
COMICS REVUE (COMICS REVIEW #1-10) (1984) #155 (Magazine)
COMICS REVUE (COMICS REVIEW #1-10) (1984) #156 (Magazine)
COMICS REVUE (COMICS REVIEW #1-10) (1984) #157 (Magazine)
COMICS REVUE (COMICS REVIEW #1-10) (1984) #168 (Magazine)
COMICS REVUE (COMICS REVIEW #1-10) (1984) #172 (Magazine)
COMICS REVUE (COMICS REVIEW #1-10) (1984) #176 (Magazine)
COMICS REVUE (COMICS REVIEW #1-10) (1984) #197 (Magazine)
COMICS REVUE (COMICS REVIEW #1-10) (1984) #198 (Magazine)
COMICS REVUE (COMICS REVIEW #1-10) (1984) #200 (Magazine)
COMICS REVUE (COMICS REVIEW #1-10) (1984) #212 (Magazine)
COMICS REVUE (COMICS REVIEW #1-10) (1984) #213 (Magazine)
COMICS REVUE (COMICS REVIEW #1-10) (1984) #214 (Magazine)
COMICS REVUE (COMICS REVIEW #1-10) (1984) #216 (Magazine)
COMICS REVUE (COMICS REVIEW #1-10) (1984) #217 (Magazine)
COMICS REVUE (COMICS REVIEW #1-10) (1984) #218 (Magazine)
COMICS REVUE (COMICS REVIEW #1-10) (1984) #219 (Magazine)
COMICS REVUE (COMICS REVIEW #1-10) (1984) #220 (Magazine)
COMICS REVUE (COMICS REVIEW #1-10) (1984) #221 (Magazine)
COMICS REVUE (COMICS REVIEW #1-10) (1984) #222 (Magazine)
COMICS REVUE (COMICS REVIEW #1-10) (1984) #223 (Magazine)
COMICS REVUE (COMICS REVIEW #1-10) (1984) #225 (Magazine)
COMICS REVUE (COMICS REVIEW #1-10) (1984) #226 (Magazine)
COMICS REVUE (COMICS REVIEW #1-10) (1984) #227 (Magazine)
COMICS REVUE (COMICS REVIEW #1-10) (1984) #229 (Magazine)
COMICS REVUE (COMICS REVIEW #1-10) (1984) #230 (Magazine)
COMICS REVUE (COMICS REVIEW #1-10) (1984) #231 (Magazine)
COMICS REVUE (COMICS REVIEW #1-10) (1984) #232 (Magazine)
COMICS REVUE (COMICS REVIEW #1-10) (1984) #233 (Magazine)
COMICS REVUE (COMICS REVIEW #1-10) (1984) #235 (Magazine)
COMICS REVUE (COMICS REVIEW #1-10) (1984) #236 (Magazine)
COMICS REVUE (COMICS REVIEW #1-10) (1984) #237 (Magazine)
COMICS REVUE (COMICS REVIEW #1-10) (1984) #238 (Magazine)
COMICS REVUE (COMICS REVIEW #1-10) (1984) #239 (Magazine)
COMICS REVUE (COMICS REVIEW #1-10) (1984) #240 (Magazine)
COMICS REVUE (COMICS REVIEW #1-10) (1984) #241 (Magazine)
COMICS REVUE (COMICS REVIEW #1-10) (1984) #242 (Magazine)
COMICS REVUE (COMICS REVIEW #1-10) (1984) #244 (Magazine)
COMICS REVUE (COMICS REVIEW #1-10) (1984) #245 (Magazine)
COMICS REVUE (COMICS REVIEW #1-10) (1984) #246 (Magazine)
COMICS REVUE (COMICS REVIEW #1-10) (1984) #249 (Magazine)
COMICS REVUE (COMICS REVIEW #1-10) (1984) #250 (Magazine)
COMICS REVUE (COMICS REVIEW #1-10) (1984) #252 (Magazine)
COMICS REVUE (COMICS REVIEW #1-10) (1984) #258 (Magazine)
COMICS REVUE (COMICS REVIEW #1-10) (1984) #259 (Magazine)
COMICS REVUE (COMICS REVIEW #1-10) (1984) #261 (Magazine)
COMICS REVUE (COMICS REVIEW #1-10) (1984) #263 (Magazine)
COMICS REVUE (COMICS REVIEW #1-10) (1984) #264 (Magazine)
COMICS REVUE (COMICS REVIEW #1-10) (1984) #265 (Magazine)
COMICS REVUE (COMICS REVIEW #1-10) (1984) #266 (Magazine)
COMICS REVUE (COMICS REVIEW #1-10) (1984) #267 (Magazine)
COMICS REVUE (COMICS REVIEW #1-10) (1984) #268 (Magazine)
COMICS REVUE (COMICS REVIEW #1-10) (1984) #271 (Magazine)
COMICS REVUE (COMICS REVIEW #1-10) (1984) #272 (Magazine)
COMICS REVUE (COMICS REVIEW #1-10) (1984) #273 (Magazine)
COMICS REVUE (COMICS REVIEW #1-10) (1984) #274 (Magazine)
COMICS REVUE (COMICS REVIEW #1-10) (1984) #275 (Magazine)
COMICS REVUE (COMICS REVIEW #1-10) (1984) #279 (Magazine)
COMICS REVUE (COMICS REVIEW #1-10) (1984) #280 (Magazine)

COMICS SCENE VOL. 2 (MAG) #43 (Starlog)
COMICS SCENE VOL. 2 (MAG) #49 (Starlog)
COMICS SCENE VOL. 2 (MAG) #50 (Starlog)
COMICS SCENE VOL. 2 (MAG) #55 (Starlog)

CRACKED (MAG) #131 (Major Magazines)
CRACKED (MAG) #135 (Major Magazines)

CREEPY (MAGAZINE) (1964) #125 (Warren Publishing Company)
CREEPY (MAGAZINE) (1964) #136 (Warren Publishing Company)

DC SUPERHERO CHESS FIGURINE COLLECTION MAGAZINE (2011) #8 (Magazine)

DC SUPERHERO FIGURINE COLLECTION MAGAZINE (2009) #109 (Magazine)
DC SUPERHERO FIGURINE COLLECTION MAGAZINE (2009) #110 (Magazine)
DC SUPERHERO FIGURINE COLLECTION MAGAZINE (2009) #111 (Magazine)

EERIE MAGAZINE (1965) #118 (Warren Publishing Company)

FAMOUS MONSTERS OF FILMLAND (#250-UP) (2010) #262 (IDW Publishing)

JUDGE DREDD MEGAZINE (VOL.4) (2001) #324 (Fleetway-Quality Comics)

SFX SPECIAL (2003) #56 (Magazine)

SPACE: 1999 MAGAZINE (1975) #7 (Charlton)
SPACE: 1999 MAGAZINE (1975) #8 (Charlton)

SPIRIT (MAG) #1 (Warren Publishing Company)
SPIRIT (MAG) #2 (Warren Publishing Company)
SPIRIT (MAG) #3 (Warren Publishing Company)
SPIRIT (MAG) #4 (Warren Publishing Company)
SPIRIT (MAG) #5 (Warren Publishing Company)
SPIRIT (MAG) #6 (Warren Publishing Company)
SPIRIT (MAG) #7 (Warren Publishing Company)
SPIRIT (MAG) #8 (Warren Publishing Company)
SPIRIT (MAG) #9 (Warren Publishing Company)
SPIRIT (MAG) #10 (Warren Publishing Company)
SPIRIT (MAG) #11 (Warren Publishing Company)
SPIRIT (MAG) #12 (Warren Publishing Company)
SPIRIT (MAG) #14 (Warren Publishing Company)
SPIRIT (MAG) #15 (Warren Publishing Company)
SPIRIT (MAG) #16 (Warren Publishing Company)

STARLOG (MAGAZINE) #272 (Starlog)
STARLOG (MAGAZINE) #273 (Starlog)
STARLOG (MAGAZINE) #274 (Starlog)
STARLOG (MAGAZINE) #281 (Starlog)
STARLOG (MAGAZINE) #294 (Starlog)
STARLOG (MAGAZINE) #295 (Starlog)
STARLOG (MAGAZINE) #296 (Starlog)
STARLOG (MAGAZINE) #297 (Starlog)
STARLOG (MAGAZINE) #298 (Starlog)
STARLOG (MAGAZINE) #299 (Starlog)
STARLOG (MAGAZINE) #300 (Starlog)
STARLOG (MAGAZINE) #303 (Starlog)
STARLOG (MAGAZINE) #308 (Starlog)
STARLOG (MAGAZINE) #312 (Starlog)
STARLOG (MAGAZINE) #314 (Starlog)
STARLOG (MAGAZINE) #316 (Starlog)
STARLOG (MAGAZINE) #319 (Starlog)
STARLOG (MAGAZINE) #320 (Starlog)
STARLOG (MAGAZINE) #328 (Starlog)
STARLOG (MAGAZINE) #329 (Starlog)
STARLOG (MAGAZINE) #330 (Starlog)
STARLOG (MAGAZINE) #333 (Starlog)
STARLOG (MAGAZINE) #338 (Starlog)
STARLOG (MAGAZINE) #339 (Starlog)
STARLOG (MAGAZINE) #340 (Starlog)
STARLOG (MAGAZINE) #341 (Starlog)
STARLOG (MAGAZINE) #342 (Starlog)
STARLOG (MAGAZINE) #343 (Starlog)
STARLOG (MAGAZINE) #344 (Starlog)
STARLOG (MAGAZINE) #345 (Starlog)
STARLOG (MAGAZINE) #346 (Starlog)
STARLOG (MAGAZINE) #347 (Starlog)
STARLOG (MAGAZINE) #348 (Starlog)
STARLOG (MAGAZINE) #349 (Starlog)
STARLOG (MAGAZINE) #351 (Starlog)
STARLOG (MAGAZINE) #353 (Starlog)
STARLOG (MAGAZINE) #354 (Starlog)
STARLOG (MAGAZINE) #355 (Starlog)
STARLOG (MAGAZINE) #356 (Starlog)
STARLOG (MAGAZINE) #357 (Starlog)
STARLOG (MAGAZINE) #361 (Starlog)
STARLOG (MAGAZINE) #362 (Starlog)
STARLOG (MAGAZINE) #363 (Starlog)
STARLOG (MAGAZINE) #364 (Starlog)
STARLOG (MAGAZINE) #365 (Starlog)
STARLOG (MAGAZINE) #366 (Starlog)
STARLOG (MAGAZINE) #367 (Starlog)
STARLOG (MAGAZINE) #369 (Starlog)
STARLOG (MAGAZINE) #370 (Starlog)
STARLOG (MAGAZINE) #371 (Starlog)
STARLOG (MAGAZINE) #372 (Starlog)
STARLOG (MAGAZINE) #373 (Starlog)
STARLOG (MAGAZINE) #374 (Starlog)

STARLOG YEARBOOK #11 (Starlog)
STARLOG YEARBOOK #15 (Starlog)
STARLOG YEARBOOK #16 (Starlog)

VAMPIRELLA (MAGAZINE) (1969) #93 (Warren Publishing Company)
VAMPIRELLA (MAGAZINE) (1969) #103 (Warren Publishing Company)




Click here to view all of the Premium New-In-Stock


Click here to view all of the New In Stock


Click here to view all of the recently added Trade Paperbacks and HardCovers