San Diego Comic-Con Report #2
Howdy!

Today's newsletter is being written to you from inside my van in the parking garage of the gigantic San Diego Convention Center. I would have preferred to write to you from within the confines of our Comic-Con booth as has been my habit for the past dozen years, but that is simply no longer possible. Aside from the fact that our newly-redesigned booth has almost no free space, the notoriety that has been bestowed upon me as a consequence of my prominent role in Morgan Spurlock's new movie, COMIC-CON EPISODE IV: A FAN'S HOPE, has made it completely impossible for me to any longer construct prose in public view.

Our booth
filled with fans!
While I readily admit that I enjoy having so many kind people taking time from their busy Comic-Con schedules to come and meet me, I do also feel this overwhelming sense of obligation to meet their expectations. It is very humbling to realize that so many comics fans now have such a positive impression of me, and that, at least in their eyes, that I represent what is good about the comics world, and the comics retailing community.
So you know, I do, in fact, live my life pretty much as I was portrayed in the film. It is important to note, however, that Morgan's editorial team was kind enough to excise from the final cut of the movie many of my more egregious verbal indiscretions. That being the case, I now have to be especially vigilant when speaking to make certain that I do not inadvertently offend anyone. That non-stop caution creates a constant anxiety within me that can be extremely wearing, which probably explains why I am feeling totally exhausted this morning. Knowing what I do today, I would not change one thing about my participating in Morgan's film, but I readily admit that I am now much more aware of the all-encompassing effort required, both before and after filming, to star in a movie that is being released to worldwide audience.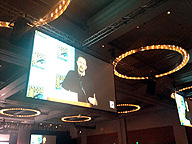 Morgan on one of
several giant screens
hung in Hall 20.
Moving on to news about the convention, the biggest change that I have noticed this year is that we are selling enormous numbers of recent back issue comics. We brought about 50,000 back issues with us in 28 specially-designed drawer bins, and they have been met with stunning enthusiasm! Two years ago, books were 90% of our business, with comics at about 10%. Last year, we brought a nice selection of about 15,000 pre-1985 comics, and our comics sales tripled to 30%, versus 70% book sales. This year, comics are over 60% of our gross! Our overall books sales have held steady over the past two years, so this surge in our comics sales has led to our total revenues from our booth being up a stunning 60% over last year! Suffice it to say, I could not be happier...
While our comics sales at the convention are quite robust, we also sold thousands of back issues online via our milehighcomics.com website during the past two days. I have no doubt that our very strong comics sales are as a direct result of our new 60% off SANDIEGO codeword sale that I put into effect for you on Wednesday, on all of our back issue comics and magazines. This exceptionally generous 60% off codeword is my way of thanking all of you who cannot attend the convention for your support of Mile High Comics throughout the year. I wish that you could be here in San Diego with us, but since you cannot, I figure that the very least that I can do is to offer you even our very best and hardest-to-find back issues at a great 60% off discount. Please do enjoy the SANDIEGO codeword sale over this upcoming weekend with my personal "thank you!" for being a part of our Mile High Comics family.
Happy Collecting!

Chuck Rozanski,
President - Mile High Comics, Inc.
July 13, 2012
Advance Previews
of next weeks comics from
Archie Comics


Insanely crowded
aisles in the
comics section!
Click here to view all of the Premium New-In-Stock
Click here to view all of the New In Stock


Click here to view all of the recently added Trade Paperbacks and HardCovers