Local News - New Era Wrestling Presents: Red, White and Bruised this Saturday!
Howdy!
This Saturday we will be hosting another Spectacular New Era Wrestling Event! This event is New Era Wrestling Presents: Red, White and Bruised and will start at 7:00pm (Doors open at 6:30) at our Jason St. Mega-Store.
Bring the kids and the whole family for a fun filled night!
Colorado's best wrestling is back live from the world's largest comic book store. New Era Wrestling and Mile High Comics bring to you Red, White and Bruised. The best wrestling action is back July 14th. Come witness high flying, death defying action. How will the roster of New Era Wrestling react to the actions of General Manger Alexus Vayne? Find out July 14th. Affordable family friendly entertainment just minutes from Downtown Denver. The best wrestling in the rocky mountains! For more information visit www.neweraprowrestling.com!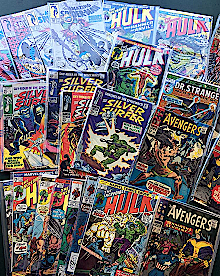 Some of the comics from the East Coast deal

We have been getting in some awesome collections. Including some of the great books that where purchased on the East Coast. These books are available at our Mega Store right now. Above is a picture of some of the books from the East Coast deal. Plus we already have over ten million comics in stock and over two hundred thousand trades all in this one location! Come down and take a look.
Happy collecting!
Chuck Rozanski,
President - Mile High Comics, Inc.
July 12, 2018