July 4th Half Price All Comics and
Books At Mile High Comics

Howdy!

Today's newsletter is intended to let you know about a fantastic sale that we are putting into effect for you at Mile High Comics on the July 4th holiday. If you are going to be in the Denver area that day, this incredible one-day sale will provide you with 50% off savings on all of our back issue comics, comics trade paperbacks and graphic novels, comics hardbacks, and even our toys and action figures!





San Diego Comics
at Jason Street

The Mile High Comics 50% off July 4th comics sale will be in effect at our Colorado Blvd., Lakewood, and Littleton neighborhood stores, as well as our Jason St. Mega-Store. Please note, however, that this half price sale is for five hours only (!), from 10 AM -3 PM, at all of our retail locations. We will be closing all of our stores at 3 PM so that we can enjoy the rest of the holiday with our families, so please do plan to arrive early.


As an aside, it might interest you to know that we have been working frantically at our Jason St. Mega-Store for the past three weeks, bagging and pricing two huge private collections of high grade back issue comics. These two collections total over 70,000 NM back issues, dating from verger net issues all the way back as far the late 1960's. Because we are intending these comics to constitute the core of our entire San Diego Comic-Con display this year (which we will need ship to SD on July 6th...) we have not entered them into our online inventory. As a direct result, we have several thousand comics that will be available to you during the Jason $St. 50% off sale that are currently completely sold out on our website. Need I say any more?


Happy Collecting!

Chuck Rozanski,
President - Mile High Comics, Inc.
July 1, 2012
Advance Previews
of next weeks comics from
Archie Comics

July 4th Sale Summary:

50% Off All Back Issue Comics
50% Off All Back Issue Magazines
50% Off All Backlist Trade Paperbacks
50% Off All Backlist Graphic Novels
50% Off All Backlist Hardbacks
50% Off All Toys
50% Off All Action Figures

July 4th, 10 AM - 3 PM Only!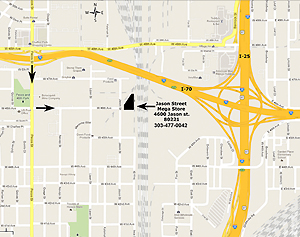 Jason Street Mega Store - 303-477-0042
Click here to view all of the Premium New-In-Stock


Click here to view all of the New In Stock


Click here to view all of the recently added Trade Paperbacks and HardCovers