50% Off JULY4TH! Comics Sale - Ten Million Back Issues
Howdy!
I'm running a little late with my newsletter today, as I had to drive my minivan out to the wonderful Food Bank of the Rockies. There, I met up with the founder of "Feeding Denver's Hungry," Jim Scharper. Jim needed my help with picking up whatever fresh produce and dairy that the Food Bank might have for us in their huge walk-in cooler.
As things turned out, they had an overabundance today, which meant that we were able to completely fill both of our vehicles. In total, we picked up about 3,000 lbs! That food will help to sustain a great many people during this critical time near the end of the month, when many of our 800+ elderly, disabled, and indigent clients completely run out of food.
So you know, I will supplement our bounty from today by returning (alone) to the Food Bank at noon, tomorrow. My plan is to pick up whatever produce and dairy that I can make to fit into my van, as the Food Bank will be closed from Wednesday - Tuesday for the July 4th holiday. Since most fresh produce and dairy left in the cooler for that long will deteriorate, anything I can't transport tomorrow stands a good chance of being thrown away. Suffice it to say, I plan to work extra diligently in my packing of my van tomorrow, so that I can rescue as much food for our clients as possible.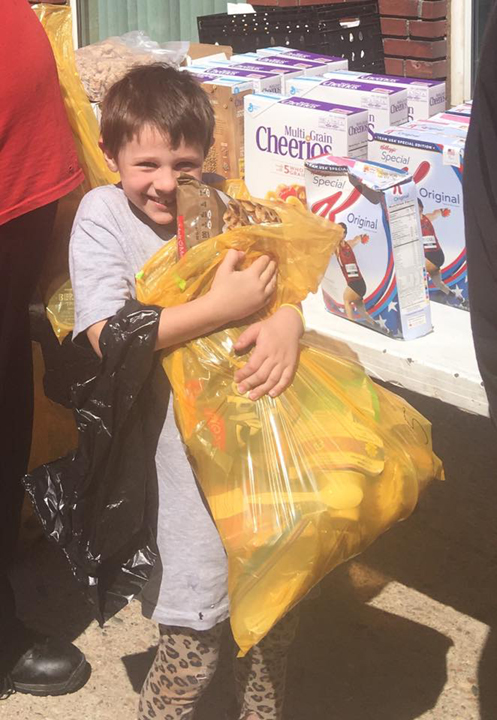 Handing out food to a hungry Child

Speaking of the July 4th holiday, I am going to commence our annual JULY4TH! codeword sale today, with a very special 50% off! discount. I offer this crazy discount only with great reluctance, but quite frankly, we need the money. It's not that business has been bad, but rather that we have had to absorb a ridiculously high number of costs directly related to cleaning up from the huge hailstorm that struck Jason St. on May 10th. We should eventually recover those tens of thousands (hundreds of thousands?) of dollars in accrued costs from our insurance company, but in the meantime, paying all those clean-up costs out-of-pocket is draining our company bank account. Thank you for your understanding.
As with all of our codeword sales, the 50% off discount applies to all ten million of our back issue comics and magazines. Only new issues, a few variants, and our professionally graded comics are excluded. Most newly arrived issues that we have just listed for you in New-In-Stock and Premium New-In-Stock are eligible for the 50% off savings. Enjoy!
Happy collecting!
Chuck Rozanski,
President - Mile High Comics, Inc.
June 26, 2017