Free 1972 Comics Fanzine,
Batman Movie Book, Rolling Stones Book
Howdy!
We have had an incredibly busy couple of days. It began with our having to move 20,000 storm-damaged items that we had temporarily stored in a roped off area in our Jason St. Mega-Store. That restricted area was the same space in which we hold our monthly auctions and poker tournaments, so we had to get everything into a different place by the start of the game this morning. We got it done, but I was still hard at work late last night to meet our deadline. Whew!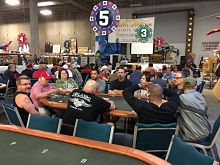 Players at our latest Charity Poker Tournament

The good news is that our poker game this morning was quite successful, raising $1,677.00 for the International Court System and the Jose' Julio Sarria scholarship fund. I am one of the leaders of the ICS, and to keep our organization solvent it is beholden upon the 33 Heir Apparents who form the Imperial Court Council to raise enough money for us to continue our charitable mission. I sincerely thank everyone who helped me to make this contribution in Jose's name to the ICS.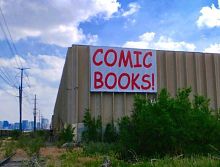 New sign on our Jason Street Mega Store

In other news, we finally had the time this afternoon to mount a huge new sign on our north wall of Jason St. We actually have had this sign since the day before the hailstorm hit us on May 10th, but could never get it put into place. We kept the verbiage on the sign very simple, as it faces directly toward I-70, where 350,000+ cars per day zoom by our building at 70 mph each day. With Denver Comic-Con coming up next week, I thought it was important that we finally prioritize getting it into place. So far, everyone loves it!

STAR WARS: DOCTOR APHRA #5 Mile High Exclusive

As regards to our online sales, the 5th and final installment of STAR WARS: SCREAMING CITADEL (DR. APHRA #8) will release on Wednesday. Our Mile High Comics variant edition of this issue can be yours for our advance order price of only $19.95 through Tuesday. As of Wednesday it will rise in price to $24.95. All of our Mile High Comics variants of this series are limited to only 3,000 copies worldwide, and are only available through us. Limit three copies per person, please.


STAR WARS: SCREAMING CITADEL Mile High Exclusive connecting covers

I did also want to let you know that our ongoing 40% off SUMMER! Codeword sale is still in effect on all ten million of our back issue comics and magazines. Only new issues, a few variants, and our professionally graded comics are excluded. The thousands of newly arrived back issues in our New-In-Stock and Premium New-In-Stock links ARE included in the 40% off SUMMER! sale. We've been buying some excellent back issues!
My final item for today is an offering of several more fun giveaways that I located for you in the hidden unsorted magazines shelving back of Jason St.
Here are my special offers for today:
1) COMIC CRUSADER #13 This is a scarce 1972 fanzine that had a tiny print run. I had forgotten that we ended up with six copies via a store liquidation that I purchased about 30 years ago. We have these priced quite high on our website, but you can request a VF copy for free (in the "notes" section of our online order form) if you place a minimum $250 order with us.
2) If you are a fan of the ROLLING STONES, we have a cool book for you. It was published over thirty years ago, and contains rare photos and interviews. We found a bunch of these nice books, so I will offer them to you for only a minimum $100 order.
3) If you are a DOCTOR WHO fan, you can obtain a copy of the very nice 1983 FANTASY EMPIRE #5 fanzine for only a minimum $50 order.

BATMAN: OFFICIAL MOVIE MAGAZINE

4) Finally, if you are a fan of the original 1989 BATMAN movie, we copies of the BATMAN: OFFICIAL MOVIE MAGAZINE available for only a minimum $20 order, Chock full of great photos from the 1989 movie!
That's it for today. Please have a great weekend, and enjoy reading your comics.
Happy collecting!
Chuck Rozanski,
President - Mile High Comics, Inc.
June 24, 2017