60% Off Huge Comics Collection - 3 Days Only!
Howdy!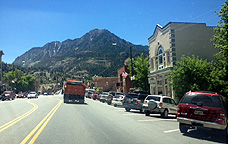 Downtown Ouray
A shorter newsletter today, as I am just exhausted this morning after driving a total of 680 miles (1,040 km) yesterday, to, and from, Ouray, Colorado. Ouray is an astoundingly beautiful little mountain town on the western slope of the Rockies, about 100 miles south of Grand Junction. A long-time comics client of ours had a collection there for me to purchase that fit perfectly with our plans for our booth at this year's San Diego Comic-Con. The only day that I could spare for buying this collection was yesterday, however, so I had to make the entire round trip in just 13 hours. I got the job done, and brought the comics home, but suffice it to say that I am feeling a little crispy around the edges this morning...
The good news from my efforts of yesterday is that we now have 10,000 more great comics to add into our already incredible San Diego inventory. We have a dozen of our Mile High Comics staff working on bagging and pricing those comics right now , so I feel very confident that they will all be ready to ship by our July 3rd trucking deadline. In reality, the hardest part is going to be trying to decide which comics to take along to San Diego, and which to leave behind. We have about 100,000 comics already ready to go, but our booth will only hold 20,000. Clearly, a great many excellent comics will not able to make the San Diego trip...

San Diego Comics being sorted
This overabundance of great comics that we have prepared for San Diego leads me directly into a special event that we are planning for Wednesday, July 4th. Our retail stores general manager, David Saindon, called me on my cell phone the other day to mention that the publishers were shipping new comics to us on Wednesday, the 4th. That being the case, David suggested that we open our Colorado Blvd, Lakewood, and Littleton stores with reduced hours on the July 4th holiday, specifically so that our new comics subscribers could pick up their weekly delivery. David asked me if we could also do some sort of a sale that day, so I suggested our stores being open only from 10 AM - 3 PM, and putting all of our trade paperbacks, back issues, and action figures (not including items shipped in the last 6 months) on sale that day (only) at 50% off. David readily agreed with my proposal, so those of you who shop at our three neighborhood stores have a great opportunity on the 4th to score back issue comics, books, and toys at half price.
While discussing what to do during the holiday at our other two stores, the thought also occurred to me that we should open up Jason St. that day. I called up Reese, Mike ,and James from our main warehouse, and they agreed to help me open Jason St. on the July 4th holiday, with the same 10 AM - 3 PM hours as our other stores. With our truck shipment for the convention leaving on the 3rd, we are going to have a 50% Off San Diego Surplus Sale on July 4th featuring all of our in stock back issue comics, comics trade paperbacks and hardbacks, and toys. Because we purchased several very large collections specifically for the convention, this one-day Jason St. sale will feature an amazing selection of back issue comics, magazines, trade paperbacks, and hardbacks, including quite a few that we currently do not have listed as available on our website.
Speaking of comics that are unavailable on our website, a computer glitch hit us earlier this week that caused a great many of the comics that we just listed in our New-In-Stock and Premium New-In-Stock links, to immediately go out-of-stock. This snafu included about 20,000 New-In-Stock comics, including almost all of the 2,000+ Silver Age and Bronze Age comics that we were specifically putting on sale for you during the 60% off NEALADAMS!
AVENGERS VS X-MEN #6
To make a long story a bit shorter, I decided this morning that I have no choice but to extend the 60% off NEALADAMS! codeword once again, specifically so that those 2,000+ highly desirable older comics and magazines can still be purchased using the 60% off codeword. The new deadline for ending the 60% off all back issues sale is next Tuesday, at noon. No more extensions...
Happy Collecting!

Chuck Rozanski,
President - Mile High Comics, Inc.
June 22, 2012
Advance Previews
of next weeks comics from
Archie Comics

P.S. We did also just receive our copies of AVENGERS VS X-MEN #6. As with all the other issues from this great new mini-series, you can choose any one cover for free as a bonus for placing any $20 order with us this weekend, or all three covers for free as a reward for placing any order of $50, or more. Just ask for your free bonus in the "notes" section of our online order form.
AVENGERS VS X-MEN #6 X-Men
AVENGERS VS X-MEN #6 Avengers
Here are the last few Premium New in Stock Links
Tuesday
Wednesday
Thursday
Friday
Thank you for your support of Mile High Comics! Current Newsletter