Frank Brunner Prints, 1976 Escher Calendars, New Comics Collections Arrive
Howdy!
I want you to know that our Mile High Comics team here in Denver has been working incredibly hard for you! Will and Pam both purchased collections of really nice comics and books on Friday, all of which will appear for you in New-In-Stock and Premium New-In-Stock each day this week. I highly recommend that you check out our N-I-S links for this past week, as they have already added a slew of great comics for you. All are available to you at a full 40% discount when you utilize our new SUMMER! codeword. Only new issues, a few variants, and our professionally grade comics are excluded from the 40% off SUMMER! promotion.

Interior Page from the calendar


Interior Page from the calendar


Interior Page from the calendar

In other news, I have two more cool 1970's items to offer you. The first is a mint condition copy of the scarce M.C. Escher 1976 calendar, still in its original unopened box. We located four of these awesome calendars in a long-lost corner, that originated from THE SHADOW BOOK AND RECORD EXCHANGE, a legendary Denver comics store that closed in 1980. Each calendar contains twelve awesome Escher prints, each suitable for framing. Only $50 unopened, or we have one copy that we opened (to scan) this morning, at $40.
The second cool item we have for you today is a limited edition Frank Brunner "The Incantation" print published by Golden Graphics, which was the publishing division of THE SHADOW. There were only 600 of these lithographs printed, and they came out in 1976. I discovered three signed copies of this beautiful litho in my deceased friend, Dennis Wakabyashi's, convention inventory. I am pricing two at $99.95 as they are nearly mint (#563 & #564). The third copy (#566 has a small wrinkle in one bottom corner, and a tiny water stain in the top corner. Because neither of these flaws will show after framing, I would still like to get $74.95. Shipping in the USA will need to be $15.00 each.
In other news, the several of the Frank Frazetta prints that we offered over the weekend sold out, but we do still have a few nice ones left. Here are links to our remaining stock. Order quickly, as many of these haven't been published in over 30 years!

FRANK FRAZETTA DARK KINGDOM PRINT


FRANK FRAZETTA DINOSAURS PRINT


FRANK FRAZETTA JEWEL IN THE SKULL PRINT


FRANK FRAZETTA KANE GOLDEN SEA PRINT


FRANK FRAZETTA NEANDERTHAL PRINT


FRANK FRAZETTA NIGHT WINDS PRINT


FRANK FRAZETTA OUTLAW OF TORN PRINT


FRANK FRAZETTA SEA WITCH PRINT


FRANK FRAZETTA SILVER WARRIOR PRINT


FRANK FRAZETTA SNOW GIANTS PRINT


FRANK FRAZETTA SPIDER-MAN PRINT

My only other news is that I was in Washington, D.C. this past weekend, representing our Denver Imperial Court at Washington's Pride Parade (Saturday) and at the National March for Equality (Sunday). ICRME Empress Norrie Reynolds joined me on this journey, and we represented Denver all over our nation's capitol. An amazing number of people were delighted to see Denver represented. Below are a few photos, including one of someone in the National Equality March dressed as one of our favorite Marvel characters!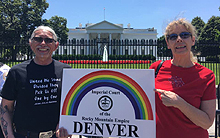 Chuck and Norrie at White House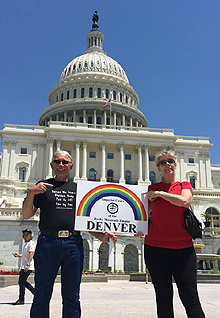 Chuck and Norrie at the U.S. Capitol Building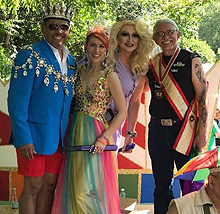 On the Imperial float at the Washington, D. C. Pride Parade with Imperial Court of New York Emperor XXVI Harrington, Imperial Court of New York Regent Empress XXXI Madison Mansfield, and Imperial Court of Washington, D.C. Empress V Cookie Dennis B Childs Von Shigglesworth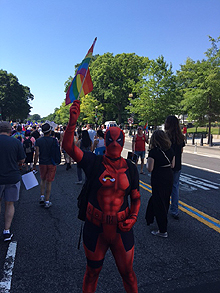 Deadpool at National Equality March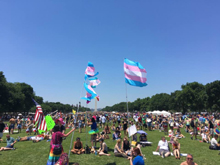 The crowd in front of the Washington Monument

Happy collecting!
Chuck Rozanski,
President - Mile High Comics, Inc.
June 12, 2017