Original Chaykin Artwork and
Rare Carl Barks and Frazetta Prints
Howdy!
I am in Washington, D.C. Today, preparing to participate in their Pride Parade tomorrow, and the National Equality March on Sunday. Before I left, I worked with Will Moulton to sort through more of the items that I purchased from my friend, Dennis Wakabyashi's, estate. As I have mentioned in previous newsletters, Dennis was one of the founders of Denver's legendary Middle Earth publishing company. As such he not only published some incredible portfolios and prints during the 1970's, but he also was a dealer in prints from other companies, such as Frank Frazetta's personal company.

FRANK FRAZETTA BATTLESTAR GALACTICA PRINT


FRANK FRAZETTA DARK KINGDOM PRINT


FRANK FRAZETTA DINOSAURS PRINT


FRANK FRAZETTA JEWEL IN THE SKULL PRINT


FRANK FRAZETTA KANE GOLDEN SEA PRINT


FRANK FRAZETTA NEANDERTHAL PRINT


FRANK FRAZETTA NIGHT WINDS PRINT


FRANK FRAZETTA OUTLAW OF TORN PRINT


FRANK FRAZETTA ROGUE ROMAN PRINT


FRANK FRAZETTA SEA WITCH PRINT


FRANK FRAZETTA SILVER WARRIOR PRINT


FRANK FRAZETTA SNOW GIANTS PRINT


FRANK FRAZETTA SPIDER-MAN PRINT

To our surprise, what we discovered on Wednesday afternoon was a second art folio containing extremely scarce 1970's Frazetta prints. In several instances we only discovered one copy of each, but since the first batch sold very quickly in last Friday's newsletter, I asked Will to go ahead and list all of the remaining prints today. Any that do not sell this weekend will be incorporated into our Jason St. store inventory on Monday. Enjoy!

HOWARD CHAYKIN ORIGINAL FRAMED ART


HOWARD CHAYKIN ORIGINAL FRAMED ART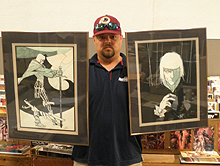 Will holding the HOWARD CHAYKIN Originals

I am now going to offer up three pieces of extremely rare artwork from Dennis' person collection. The first two are original ink and wash paintings by Howard Chaykin. These pieces were created in simple B&W for the ELRIC portfolio that Middle Earth published in 1976. Dennis apparently asked Howard to enhance the original B&W images with wash tones after the fact, creating remarkable new renditions. To the best of my knowledge, these have never been published in this form. Both are quite large and come beautifully matted and framed with the larger of the two priced at $5,000, and the slightly small image at $3,500. Payments can be arranged.

CARL BARKS: NUDE BY CARL BARKS LITHO

Payments can also be arranged for piece #3, which is an extremely early Carl Barks litho, published in Europe in an edition of only 299. This rare and beautiful print is signed by Carl Barks, and is priced at $5,000. This is the only copy of this print that I have ever owned in my 47 years as a dealer, so if it doesn't sell over this weekend, I am taking it home.
I will close today's newsletter with a quick mention that our 40% off SUMMER! codeword sale is still in effect for you on all ten million of our back issue comics and magazines. Only new issues, a few variants, and our professionally graded comics are excluded from this extremely generous codeword.
Happy collecting!
Chuck Rozanski,
President - Mile High Comics, Inc.
June 9, 2017