Local News - Fantastic Book Signing Event At Jason St. this Sunday - Huge Discounts, too!
Howdy!
A couple of weeks ago I got a phone call from my good friend, Jeff Weaver, asking if I would be willing to host an autograph signing event at our Jason St. Mega-Store for his new book. That sounded like a great idea to me, as Jeff's book is already a national bestseller, and appeals to an audience quite a bit different than our traditional comics demographic. Given that I am always seeking to expand the interest in comics in all of our communities, bringing in Jeff's completely new fans seemed like a great idea.
Well, not all things turn out as originally planned. In this instance, after posting our first mention of Jeff's book signing, we have found ourselves under relentless online attack by those who disagree with Jeff's political leanings. Simply put, aside from owning the awesome VICTORY COMICS retail comics store in suburban Virginia, Jeff was also the campaign manager for Senator Bernie Sanders during our last election. As such, Jeff was in a unique position to observe the behind-the-scenes machinations of the Democratic National Committee in their quest to deny Bernie Sanders their party's presidential nomination. In a nutshell, that is why his book is called "How Bernie Won: Inside the Revolution That's Taking Back Our Country - and Where We Go From Here..."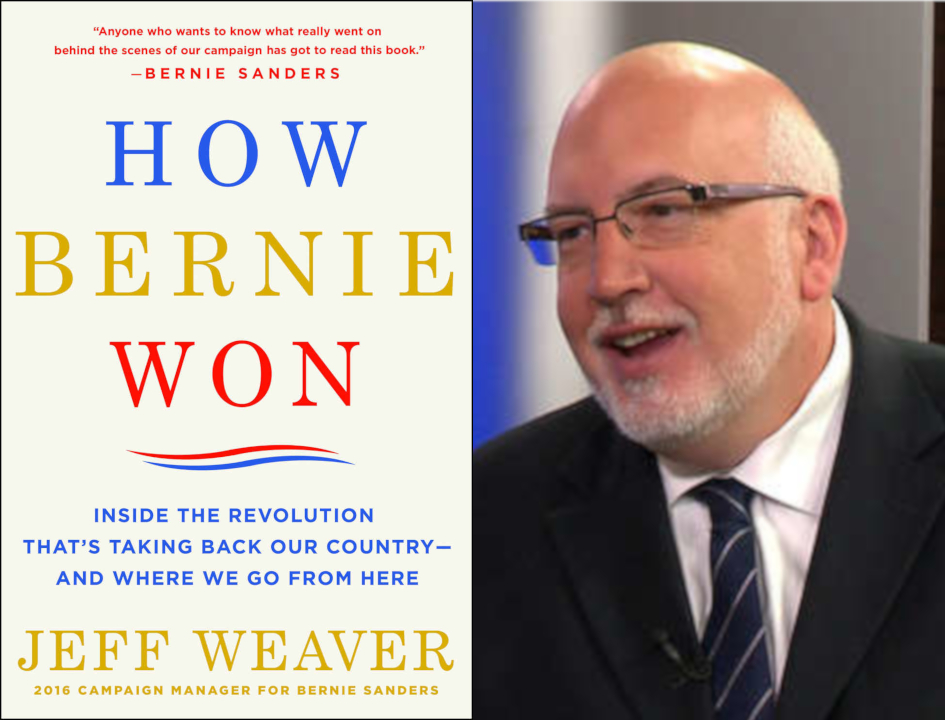 How Bernie Won Book Signing by author Jeff Weaver

In case you are wondering, Jeff's insider account of Bernie's campaign currently sports a five-star rating on Amazon, and has been generating extremely positive reviews from both casual readers and professional reviewers. In effect, it is both a reflection on the changes in America's political perspectives inspired by Bernie's relentless attacks on the 1% who control our country, and the positive effects of Bernie's powerful advocacy for the 99% of our citizens who actually do all the hard lifting. Regardless of whether Bernie ever runs again, his refusal to ignore the needs of our most vulnerable citizens has definitely expanded our national political dialogs.
All of the above having been said, what we discovered last evening is that there is an organized social media campaign to silence Bernie Sanders, Jeff Weaver, and anyone else advocating for the poor and disadvantaged. As I am sure that you have already read elsewhere, there are some remarkably unpleasant Internet trolls who seek to disrupt any messages online that do not hew to their conservative perspectives. In some instances these attacks have involved misogynistic tirades against girls and women for speaking out for their rights as people, and in other cases it has to do more with trying to silence political opposition. Our post about Jeff's signing this Sunday afternoon at Jason St. fell into the latter category.
Just to be clear, Jeff's signing will be going on at Jason St. this Sunday as planned, regardless of what anyone might say. Quite frankly, I do not particularly pay any heed to those who would seek to silence free speech (unless it is hate speech that is intended to inspire harm). I have a statue in my office that was awarded to me 15 years ago by the Comic Book Legal Defense Fund called the "Defender of Liberty" award. It is their highest honor, given to thank those who have worked the hardest to protect free speech in America. At the time that I was given the award (and a standing ovation...) at San Diego Comic-Con in a ballroom filled with over 1,000 comics luminaries, I was the only comics retailer ever chosen for this honor. Other honorees from the comics world include Jim Lee, Frank Miller, and Alan Moore. Suffice it to say, it will be a cold day in hell before anyone ever coerces me into silence on any subject, but most especially when it comes to advocating for the rights of the poor.
I am now going to make everyone a special offer. Since we are also having trouble getting Facebook advertising for Jeff's book signing event (ads perceived as being political require a special registration?), I am going to offer everyone a chance to purchase darn near anything in our Jason St. store at huge discounts, but only on this Sunday. The complete list of the incredibly generous discounts that I am offering you is at the end of this newsletter.
To be very clear, there are no restriction on my Sunday discounts offer, and most certainly not any requirement to even talk to Jeff, if you do not wish to do so. In all honesty, however, I want to share with you that I have been friends with Jeff Weaver for over 15 years (long before I even knew about Bernie Sanders...), and I have found him to be one of the brilliant people that I have ever met. He is also one of the hardest negotiators that Will Moulton and I ever encountered, back when we used to fly to the East Coast to buy comics collections. Seriously, Jeff Weaver has a brilliant political mind, but he also knows more about Golden Age and Silver Age comics than damn near anyone else that I know in the comics world. Without a doubt, you would be doing yourself a big favor if you visited Jason St. on Sunday afternoon, and took the time to meet this great man.
Jason St. Mega-Store Sunday Discounts:
*Back Issue Comics and Magazines - 60% Off!
*Trade Paperbacks - 50% Off!
*Comics Hardbacks - 40% Off!
*Statues and Busts - 40% Off!
*Apparel and Toys - 40% Off!
Happy collecting!
Chuck Rozanski,
President - Mile High Comics, Inc.
June 7, 2017

P.S. Thanks to the generosity of Jeff Weaver, Sunday's event will also be a benefit for "Feeding Denver's Hungry." I think that is totally awesome!