Local News - Huge Comics, Toys, and Books Sale this Wednesday ONLY!
Howdy!
As pretty much all comics fans know, new comics day is Wednesday. The only exception is when there is a major holiday, or a blizzard, when we sometimes shift to Thursday. This week, however, we have no clue as to when our new comics will arrive, as our trucking company has sent our shipment (and that of all the other local comics retailers who pick up at our building...) to parts unknown. When we first checked this morning Denver's new comics shipment was headed for Phoenix, and now that has been changed to Dallas. Honestly, I just cannot believe this is happening. Diamond Distributing is normally quite reliable, but this week something has gone seriously wrong...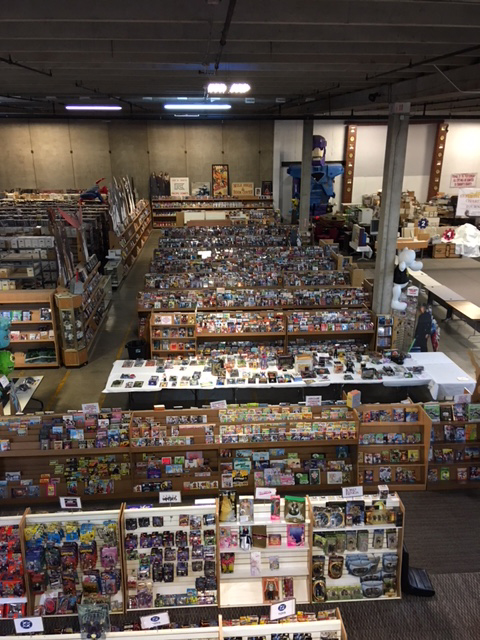 Trade Paperback and Hardcover racks

All of the previous having been said, we have to do something for tomorrow, as our weekly cash flow relies upon steady shipments. With no new comics tomorrow we are going to have a lot of people in the stores, but nothing to sell them. Rather than let that happen without any response, I am going to have a massive one-day DIAMOND! codeword sale. Come into any of our stores tomorrow and simply mention to the clerk the DIAMOND! codeword, and you instantly qualify for the following incredibly generous discounts:
*Back Issue Comics and Magazines - 60% Off!
*Trade Paperbacks - 50% Off!
*Comics Hardbacks - 40% Off!
*Statues and Busts - 40% Off!
*Apparel and Toys - 40% Off!
As per usual a few exceptions apply to the comics, such as variants, $1 books, blue priced issues and slabbed issues, but generally it applies to most of our ten million in-stock comics and magazines. Please do bear in mind, however, that this sale is intended for WEDNESDAY only. Once we get our new comics shipment (hopefully Thursday morning), the sale ends.
Happy collecting!
Chuck Rozanski,
President - Mile High Comics, Inc.
June 5, 2017