New Codeword Sale - Great Comics Collections
Howdy!
Today's newsletter is coming to you from scenic Santa Fe. I am here on my way to this year's annual Coronation in Albuquerque of the United Court of the Sandias. On my way down, I drove a rented cargo van filled with 4,000 lbs of toiletries and food over to Twotone Grant's house. She helps the homeless in Albuquerque via her wonderful "A Light in the Night" charitable organization. Combining social obligations and charitable efforts always brings me joy.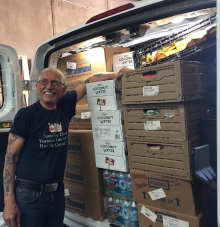 Chuck with the truckload full of toiletries and food.

While I am in NM our fulfillment team in Colorado is working diligently at shipping orders from our huge Memorial Day sale. That sale was a huge success, so we do have quite a backlog of orders. If you have an order with us right now, please do allow us some extra time to get it pulled and shipped. Not only have we been dealing with losing a working day because of the holiday, but also with the sadness of having lost Josh Brown, one of our absolutely nicest staff members. Josh unexpectedly passed away last week, and many of us were present for his very moving memorial service on Tuesday. Josh was much loved, and will be missed by all who knew him.
My final item for today is a quick mention that our new 40% off codeword is SUMMERTIME! It applies to all of our ten million back issue comics and magazines. Only new issues, a few variants, and our Professionally-graded comics are excluded. The sale does, however, include all of the newly arrived back issues in Premium New-In-Stock and New-In-Stock. As the list that follows clearly shows, we have purchased some wonderful comics this week.
Happy collecting!
Chuck Rozanski,
President - Mile High Comics, Inc.
June 1, 2018



MARVEL
2001 (1976) #1 Fine
ALIAS (MARVEL) (BRIAN MICHAEL BENDIS) (2001) #1 Near Mint/Mint
AMAZING ADVENTURES (MARVEL) (1970) #14 Very Fine
AMAZING SPIDER-MAN (1999) (#1-700.5) (MARVEL) #30 Near Mint/Mint
AMAZING SPIDER-MAN (1999) (#1-700.5) (MARVEL) #32 Near Mint/Mint
AMAZING SPIDER-MAN (1999) (#1-700.5) (MARVEL) #33 Near Mint/Mint
AMAZING SPIDER-MAN (1999) (#1-700.5) (MARVEL) #34 Near Mint/Mint
AMAZING SPIDER-MAN (1999) (#1-700.5) (MARVEL) #35 Near Mint/Mint
AMAZING SPIDER-MAN (1999) (#1-700.5) (MARVEL) #36 Very Fine
AMAZING SPIDER-MAN (1999) (#1-700.5) (MARVEL) #51 Near Mint/Mint
AMAZING SPIDER-MAN (1999) (#1-700.5) (MARVEL) #52 Near Mint/Mint
AMAZING SPIDER-MAN (1999) (#1-700.5) (MARVEL) #500 Very Fine
AMAZING SPIDER-MAN (1999) (#1-700.5) (MARVEL) #532 Near Mint/Mint
AMAZING SPIDER-MAN (1999) (#1-700.5) (MARVEL) #533 Very Fine
AMAZING SPIDER-MAN (1999) (#1-700.5) (MARVEL) #534 Near Mint/Mint
AMAZING SPIDER-MAN (1999) (#1-700.5) (MARVEL) #535 Very Fine
AMAZING SPIDER-MAN (1999) (#1-700.5) (MARVEL) #537 Very Fine
AMAZING SPIDER-MAN (1999) (#1-700.5) (MARVEL) #607 Very Fine
AMAZING SPIDER-MAN (1999) (#1-700.5) (MARVEL) #612 Fine
AMAZING SPIDER-MAN (1999) (#1-700.5) (MARVEL) #613 Very Fine
AMAZING SPIDER-MAN (1999) (#1-700.5) (MARVEL) #623 PLANET COM Near Mint/Mint
AMAZING SPIDER-MAN (1999) (#1-700.5) (MARVEL) #623 VARIANT Near Mint/Mint
AMAZING SPIDER-MAN (1999) (#1-700.5) (MARVEL) #635 Near Mint/Mint
AMAZING SPIDER-MAN (1999) (#1-700.5) (MARVEL) #641 Near Mint/Mint
AMAZING SPIDER-MAN (1999) (#1-700.5) (MARVEL) #642 Very Fine
AMAZING SPIDER-MAN (1999) (#1-700.5) (MARVEL) #643 Near Mint/Mint
AMAZING SPIDER-MAN (1999) (#1-700.5) (MARVEL) #688 SAN DIEGO Very Good
AMAZING SPIDER-MAN (1999) (#1-700.5) (MARVEL) #692 Near Mint/Mint
AMAZING SPIDER-MAN (1999) (#1-700.5) (MARVEL) #694 Near Mint/Mint
AMAZING SPIDER-MAN (1999) (#1-700.5) (MARVEL) #696 Near Mint/Mint
AMAZING SPIDER-MAN (1999) (#1-700.5) (MARVEL) #697 Very Fine
AMAZING SPIDER-MAN (1999) (#1-700.5) (MARVEL) #698 Near Mint/Mint
AMAZING SPIDER-MAN (1999) (#1-700.5) (MARVEL) #698 2ND PRINT Near Mint/Mint
AMAZING SPIDER-MAN (1999) (#1-700.5) (MARVEL) #699 Near Mint/Mint
AMAZING SPIDER-MAN (1999) (#1-700.5) (MARVEL) #699 .1 Near Mint/Mint
AMAZING SPIDER-MAN (1999) (#1-700.5) (MARVEL) #700 Fine
AMAZING SPIDER-MAN (1999) (#1-700.5) (MARVEL) #700 COIPEL Near Mint/Mint
AMAZING SPIDER-MAN (2014) (#1-20.1) (MARVEL) #1 MILE HIGH Near Mint/Mint
AMAZING SPIDER-MAN (2014) (#1-20.1) (MARVEL) #3 Near Mint/Mint
AMAZING SPIDER-MAN (2017) (#789-UP) (MARVEL LEGACY) (2017) #800 DELL OTTO Near Mint/Mint
AMAZING SPIDER-MAN (2017) (#789-UP) (MARVEL LEGACY) (2017) #800 MOEBIUSVIR Very Fine
AMAZING SPIDER-MAN PRESENTS ANTI-VENOM (2009) #3 Very Fine
AMAZING SPIDER-MAN PRESENTS BLACK CAT (2010) #4 Fine
AMAZING SPIDER-MAN SUPER SPECIAL: PLANET OF THE SYMBIOT (1995) #1 Fine
AMAZING SPIDER-MAN: RENEW YOUR VOWS VOL. 3: EIGHT TPB (2018) #1 Near Mint/Mint
ANNIHILATION CONQUEST (MARVEL) (2007) #2 Near Mint/Mint
ASTONISHING X-MEN VOL. 2: DANGEROUS TPB (2005) #1 5TH PRINT Very Fine
AVENGERS (1963) (#1-402) (MARVEL) #30 Good
AVENGERS (1963) (#1-402) (MARVEL) #45 Good
AVENGERS (1963) (#1-402) (MARVEL) #46 Good
AVENGERS (1963) (#1-402) (MARVEL) #57 Fair
AVENGERS (1963) (#1-402) (MARVEL) #92 Fine
AVENGERS (1963) (#1-402) (MARVEL) #106 Very Good
AVENGERS (1963) (#1-402) (MARVEL) #131 Very Good
AVENGERS (1963) (#1-402) (MARVEL) #132 Very Good
AVENGERS (1963) (#1-402) (MARVEL) #133 Fine
AVENGERS (1963) (#1-402) (MARVEL) #134 Very Good
AVENGERS (1963) (#1-402) (MARVEL) #135 Fine


AVENGERS (1963) (#1-402) (MARVEL) #136

AVENGERS (1963) (#1-402) (MARVEL) #136 Very Good
AVENGERS (1963) (#1-402) (MARVEL) #137 Very Good
AVENGERS (1963) (#1-402) (MARVEL) #138 Fine
AVENGERS (1963) (#1-402) (MARVEL) #139 Very Good
AVENGERS (1963) (#1-402) (MARVEL) #140 Fine
AVENGERS (1963) (#1-402) (MARVEL) #141 Very Good
AVENGERS (1963) (#1-402) (MARVEL) #143 Very Good
AVENGERS (1963) (#1-402) (MARVEL) #145 Very Good
AVENGERS (1963) (#1-402) (MARVEL) #146 Very Good
AVENGERS (1963) (#1-402) (MARVEL) #147 Fine
AVENGERS (1963) (#1-402) (MARVEL) #148 Very Good
AVENGERS (1963) (#1-402) (MARVEL) #149 Fine
AVENGERS (1963) (#1-402) (MARVEL) #150 Fine
AVENGERS (1963) (#1-402) (MARVEL) #152 Very Fine
AVENGERS (1963) (#1-402) (MARVEL) #153 Fine
AVENGERS (1963) (#1-402) (MARVEL) #154 Fine
AVENGERS (1963) (#1-402) (MARVEL) #155 Very Fine
AVENGERS (1963) (#1-402) (MARVEL) #156 Fine
AVENGERS (1963) (#1-402) (MARVEL) #157 Fine
AVENGERS (1963) (#1-402) (MARVEL) #158 Very Fine
AVENGERS (1963) (#1-402) (MARVEL) #159 Very Fine
AVENGERS (1963) (#1-402) (MARVEL) #161 Very Fine
AVENGERS (1963) (#1-402) (MARVEL) #194 NEWSSTAND Very Fine
AVENGERS (1963) (#1-402) (MARVEL) #227 Near Mint/Mint
AVENGERS (1963) (#1-402) (MARVEL) #227 NEWSSTAND Near Mint/Mint
AVENGERS (1963) (#1-402) (MARVEL) #227 NEWSSTAND Very Fine
AVENGERS (1963) (#1-402) (MARVEL) #227 NEWSSTAND Fine
AVENGERS (1963) (#1-402) (MARVEL) #334 Near Mint/Mint
AVENGERS (1998) (#0-84, 500-503) (MARVEL) #27 NEWSSTAND Near Mint/Mint
AVENGERS (2010) (#1-34) (MARVEL) #7 VARIANT Near Mint/Mint
AVENGERS ACADEMY (2010) #2 MCKONE Near Mint/Mint
AVENGERS ACADEMY (2010) #4 VARIANT Near Mint/Mint
AVENGERS ACADEMY (2010) #6 VARIANT Near Mint/Mint
AVENGERS ACADEMY (2010) #20 Near Mint/Mint
AVENGERS PRIME (2010) #1 DJURDJEVIC Near Mint/Mint
AVENGERS VS. X-MEN (AVX) (2012) #10 Near Mint/Mint
AVENGERS VS. X-MEN (AVX) (2012) #11 Near Mint/Mint
AVENGERS/INVADERS (2008) #5 SKETCH CV Near Mint/Mint
AVENGERS/INVADERS (2008) #5 VARIANT Near Mint/Mint
BATTLEBOOKS STORM #1 Near Mint/Mint
BLACK PANTHER (1976) (#1-15) (MARVEL) #1 Fine
BLACK PANTHER (1998) (#1-62) (MARVEL) #1 Very Fine
BLACK PANTHER (2016) (#1-18) (MARVEL) #1 Near Mint/Mint
BLACK PANTHER (2018) (#1-UP) (MARVEL) #1 LEE Near Mint/Mint
BLACK PANTHER (2018) (#1-UP) (MARVEL) #1 ARTGERMVIR Near Mint/Mint
BLACK PANTHER (2018) (#1-UP) (MARVEL) #1 COIPEL Near Mint/Mint
BLACK PANTHER (2018) (#1-UP) (MARVEL) #1 KIRBY Near Mint/Mint
BLACK PANTHER (2018) (#1-UP) (MARVEL) #1 KIRBY B&W Near Mint/Mint
BLACK PANTHER (2018) (#1-UP) (MARVEL) #1 LEE Near Mint/Mint
BLACK PANTHER VOL. 5: AVENGERS OF THE NEW WORLD 2 TPB (2018) #1 Near Mint/Mint
BLACK PANTHER: LONG LIVE THE KING TPB (2018) #1 Near Mint/Mint
CAPTAIN AMERICA (1968) (#100-454) (MARVEL) #107 Very Fine
CAPTAIN AMERICA (1968) (#100-454) (MARVEL) #109 Very Fine
CAPTAIN AMERICA (1968) (#100-454) (MARVEL) #111 Fine
CAPTAIN AMERICA (1968) (#100-454) (MARVEL) #250 Very Fine
CAPTAIN AMERICA/NICK FURY: BLOOD TRUCE (1995) #1 Near Mint/Mint
CAPTAIN AMERICA: REBORN (2009) #6 QUESADA Near Mint/Mint
CAPTAIN BRITAIN (1976) #3 Near Mint/Mint
CAPTAIN BRITAIN (1976) #4 Near Mint/Mint


CAPTAIN MARVEL (1968) (#1-62) (MARVEL) #36

CAPTAIN MARVEL (1968) (#1-62) (MARVEL) #36 Very Fine
CAPTAIN MARVEL (1968) (#1-62) (MARVEL) #50 Very Fine
CARNAGE: IT'S A WONDERFUL LIFE (1996) #1 Fine
CARNAGE: MINDBOMB (1996) #1 Very Fine
CHAMBER OF DARKNESS (1969) #2 Very Fine
CHAOS WAR (2010) #1 SKETCH CV Near Mint/Mint
CHAOS WAR (2010) #1 SKETCH CV Very Fine
CIVIL WAR (2006) (#1-7) #1 Near Mint/Mint
CIVIL WAR (2006) (#1-7) #1 Very Fine
CIVIL WAR (2006) (#1-7) #2 Near Mint/Mint
CIVIL WAR (2006) (#1-7) #3 Near Mint/Mint
CIVIL WAR (2006) (#1-7) #4 Near Mint/Mint
CIVIL WAR (2006) (#1-7) #5 Near Mint/Mint
CIVIL WAR (2006) (#1-7) #6 Near Mint/Mint
CIVIL WAR (2006) (#1-7) #7 Very Fine
CIVIL WAR: FRONT LINE TPB (2007) #1 Very Fine
CONAN (#1-275)(CONAN THE BARBARIAN)(MARVEL) (1970) #2 Very Fine
DAREDEVIL (1998) (#1-119, 500-512) (MARVEL) #1 Near Mint/Mint
DAREDEVIL (1998) (#1-119, 500-512) (MARVEL) #8 Near Mint/Mint
DAREDEVIL (2011) (#1-36) (MARVEL) #15 Near Mint/Mint
DAREDEVIL VS. PUNISHER (2005) #3 Very Good
DAREDEVIL VS. PUNISHER (2005) #4 Very Good
DAREDEVIL VS. PUNISHER (2005) #5 Fine
DAREDEVIL VS. PUNISHER (2005) #6 Good
DEADPOOL (1997) (#0-69) (MARVEL) #12 VARIANT Fine
DEATH OF WOLVERINE (2014) #1 Near Mint/Mint
DEFENDERS (1972) (#1-152) (MARVEL) #3 Very Fine
DEFENDERS (1972) (#1-152) (MARVEL) #6 Very Fine
DEFENDERS (1972) (#1-152) (MARVEL) #47 Fine
DOCTOR STRANGE (1974) (#1-81) (MARVEL) (DR. STRANGE) #2 Very Fine
DOCTOR STRANGE (1974) (#1-81) (MARVEL) (DR. STRANGE) #3 Very Fine
DOCTOR STRANGE (1974) (#1-81) (MARVEL) (DR. STRANGE) #9 Very Fine
DOCTOR STRANGE (1974) (#1-81) (MARVEL) (DR. STRANGE) #12 Very Fine
DOCTOR STRANGE (1974) (#1-81) (MARVEL) (DR. STRANGE) #13 Very Fine
DOCTOR WHO MAGAZINE #198 Near Mint/Mint
DOCTOR WHO MAGAZINE #198 Very Fine
EDGE OF SPIDER-VERSE (2014) #2 Fine
ELFQUEST (1985) #26 Near Mint/Mint
EMPIRE OF THE DEAD: ACT ONE (GEORGE A. ROMERO) (2013) #5 VARIANT Very Good
ESSENTIAL CAPTAIN AMERICA TPB (2000) #2 Good
ESSENTIAL MARVEL TEAM-UP TPB (2002) #1 NEW PRINT Fine
ETERNALS (1976) (#1-19) (MARVEL) (JACK KIRBY) #1 Fine
ETERNALS (1976) (#1-19) (MARVEL) (JACK KIRBY) #3 Very Fine
ETERNALS (1976) (#1-19) (MARVEL) (JACK KIRBY) #6 Very Fine
ETERNALS (1976) (#1-19) (MARVEL) (JACK KIRBY) #7 Very Fine
ETERNALS (1976) (#1-19) (MARVEL) (JACK KIRBY) #10 Fine
ETERNALS (1976) (#1-19) (MARVEL) (JACK KIRBY) #10 Near Mint/Mint
ETERNALS (1976) (#1-19) (MARVEL) (JACK KIRBY) #10 Very Fine
ETERNALS (1976) (#1-19) (MARVEL) (JACK KIRBY) #11 Very Fine
ETERNALS (1985) (#1-12) (MARVEL LIMITED SERIES) #7 NEWSSTAND Fine
FEAR (ADVENTURE INTO...) (1970) #20 Very Fine
FEAR (ADVENTURE INTO...) (1970) #24 Very Fine
FEAR ITSELF (2011) #2 IMMONEN Near Mint/Mint
FEAR ITSELF (2011) #2 IMMONEN Very Fine
FEAR ITSELF (2011) #4 IMMONEN Near Mint/Mint
FEAR ITSELF (2011) #4 IMMONEN Very Fine
FEAR ITSELF (2011) #6 ARCHI SKET Near Mint/Mint
FF (2011) #2 DJURDJEVIC Near Mint/Mint
GHOST RIDER (1973) (#1-81) (MARVEL) #3 Very Fine


GHOST RIDER (1973) (#1-81) (MARVEL) #4

GHOST RIDER (1973) (#1-81) (MARVEL) #4 Very Fine
GHOST RIDER (1973) (#1-81) (MARVEL) #6 Very Fine
GHOST RIDER (1973) (#1-81) (MARVEL) #8 Very Fine
GHOST RIDER (1973) (#1-81) (MARVEL) #20 Very Fine
GHOST RIDER (1990) (#1-94) (MARVEL) #94 Good
GI JOE #26 Very Fine
GI JOE #100 Fine
GI JOE #135 Near Mint/Mint
GI JOE #135 Fine
GI JOE #135 Very Fine
GI JOE #136 Fine
GODZILLA (1977) #8 Fine
GUARDIANS OF THE GALAXY (2008) (#1-25) (MARVEL) #1 Near Mint/Mint
GUARDIANS OF THE GALAXY (2008) (#1-25) (MARVEL) #2 Near Mint/Mint
GUARDIANS OF THE GALAXY (2008) (#1-25) (MARVEL) #3 Very Fine
GUARDIANS OF THE GALAXY (2008) (#1-25) (MARVEL) #4 Very Fine
GUARDIANS OF THE GALAXY (2008) (#1-25) (MARVEL) #5 Very Fine
GUARDIANS OF THE GALAXY (2008) (#1-25) (MARVEL) #6 Very Fine
GUARDIANS OF THE GALAXY (2008) (#1-25) (MARVEL) #7 Near Mint/Mint
GUARDIANS OF THE GALAXY (2008) (#1-25) (MARVEL) #8 Very Fine
GUARDIANS OF THE GALAXY (2008) (#1-25) (MARVEL) #9 Near Mint/Mint
GUARDIANS OF THE GALAXY (2008) (#1-25) (MARVEL) #10 Fine
GUARDIANS OF THE GALAXY (2008) (#1-25) (MARVEL) #11 Near Mint/Mint
GUARDIANS OF THE GALAXY (2008) (#1-25) (MARVEL) #12 Very Good
GUARDIANS OF THE GALAXY (2008) (#1-25) (MARVEL) #13 Near Mint/Mint
GUARDIANS OF THE GALAXY (2008) (#1-25) (MARVEL) #14 Very Fine
GUARDIANS OF THE GALAXY (2008) (#1-25) (MARVEL) #15 Very Fine
GUARDIANS OF THE GALAXY (2008) (#1-25) (MARVEL) #16 Near Mint/Mint
GUARDIANS OF THE GALAXY (2008) (#1-25) (MARVEL) #17 Near Mint/Mint
GUARDIANS OF THE GALAXY (2008) (#1-25) (MARVEL) #18 Very Fine
GUARDIANS OF THE GALAXY (2008) (#1-25) (MARVEL) #19 Near Mint/Mint
GUARDIANS OF THE GALAXY (2008) (#1-25) (MARVEL) #20 Near Mint/Mint
GUARDIANS OF THE GALAXY (2008) (#1-25) (MARVEL) #21 Very Fine
GUARDIANS OF THE GALAXY (2008) (#1-25) (MARVEL) #22 Near Mint/Mint
GUARDIANS OF THE GALAXY (2008) (#1-25) (MARVEL) #23 Near Mint/Mint
GUARDIANS OF THE GALAXY (2008) (#1-25) (MARVEL) #24 Very Fine
GUARDIANS OF THE GALAXY (2008) (#1-25) (MARVEL) #25 Near Mint/Mint
HOUSE OF M (2005) #3 Near Mint/Mint
HOUSE OF M (2005) #4 Near Mint/Mint
HOUSE OF M (2005) #5 Near Mint/Mint
HOUSE OF M (2005) #6 Near Mint/Mint
HOUSE OF M (2005) #7 Near Mint/Mint
HOUSE OF M (2005) #8 Very Fine
HOUSE OF M: AVENGERS (2007) #3 Near Mint/Mint
HOUSE OF M: AVENGERS (2007) #3 Very Fine
HOUSE OF M: AVENGERS (2007) #4 Near Mint/Mint
HOUSE OF M: AVENGERS (2007) #4 Fine
HOUSE OF M: AVENGERS (2007) #4 Very Fine
HOUSE OF M: AVENGERS (2007) #5 Very Fine
HOWARD THE DUCK (1979) (#1-6) (MAGAZINE) #1 Fine
HULK (1962) (#1-6, #102-474, #600-635)(INCREDIBLE)(MV) #449 Fine
HULK (2008) (#1-57) (RED HULK) (MARVEL) #20 VARIANT Near Mint/Mint
HULK VS. VENOM (1994) #1 Very Fine
HULK VS. WOLVERINE (1986) #1 Very Fine
HULK! MAGAZINE(RAMPAGING HULK #1-9) (1977) #24 Very Fine
HULK! MAGAZINE(RAMPAGING HULK #1-9) (1977) #27 Near Mint/Mint

HUMAN TORCH (1974) #1 Very Fine
INFINITY (2013) #3 LEGO Very Fine
INFINITY CRUSADE (1993) #1 NEWSSTAND Very Fine
INFINITY CRUSADE (1993) #1 NEWSSTAND Fine
INFINITY FCBD (2013) #1 Fine
INFINITY GAUNTLET (1991) #3 Fine
INFINITY GAUNTLET (1991) #3 Very Fine
INFINITY GAUNTLET (1991) #5 Fine
INFINITY WAR (1992) #2 NEWSSTAND Near Mint/Mint
INFINITY WAR (1992) #2 NEWSSTAND Very Fine
INFINITY WAR (1992) #3 NEWSSTAND Near Mint/Mint
INFINITY WAR (1992) #3 NEWSSTAND Very Fine
INHUMANS (1975) (#1-12) (MARVEL) #1 Very Fine
INHUMANS (2003) (1-12) (MARVEL) #10 Fine
INHUMANS (2003) (1-12) (MARVEL) #11 Fine
INVADERS NOW (2010) #3 VARIANT Near Mint/Mint
INVINCIBLE IRON MAN (2008) (#1-33 & 500-527) (MARVEL) #500 QUESADAB&W Very Fine
INVINCIBLE IRON MAN (2017) (#593-UP) (MARVEL LEGACY) (2017) #600 COIPEL Near Mint/Mint
INVINCIBLE IRON MAN ANNUAL (2010) #1 VARIANT Near Mint/Mint
IRON MAN (1968) (#1-332) (INVINCIBLE IRON MAN)(MARVEL) #1 Fine
IRON MAN (1968) (#1-332) (INVINCIBLE IRON MAN)(MARVEL) #7 Very Fine
IRON MAN (1968) (#1-332) (INVINCIBLE IRON MAN)(MARVEL) #8 Very Fine
IRON MAN (1968) (#1-332) (INVINCIBLE IRON MAN)(MARVEL) #47 Fine
IRON MAN (1968) (#1-332) (INVINCIBLE IRON MAN)(MARVEL) #56 Very Fine
IRON MAN (1968) (#1-332) (INVINCIBLE IRON MAN)(MARVEL) #125 NEWSSTAND Very Fine
IRON MAN (1968) (#1-332) (INVINCIBLE IRON MAN)(MARVEL) #128 NEWSSTAND Very Fine
IRON MAN (1968) (#1-332) (INVINCIBLE IRON MAN)(MARVEL) #282 Fine
IRON MAN & SUB-MARINER (1968) #1 Good
JOHN CARTER (1977) #1 Fine
JUNGLE ACTION (#1-24) (1972) #5 Good
LOGAN'S RUN (1977) #6 Very Fine
MARVEL FEATURE (1971) #2 Very Fine
MARVEL FEATURE (1971) #3 Fine
MARVEL FEATURE (1971) #12 Good
MARVEL LEGACY (2017) #1 PREMIERE Near Mint/Mint
MARVEL PREMIERE (1972) #9 Very Fine
MARVEL PREMIERE (1972) #10 Very Fine
MARVEL PREMIERE (1972) #14 Very Fine
MARVEL PRESENTS (1975) #3 Good
MARVEL SPOTLIGHT (1971) (#1-33) (MARVEL) #12 Good
MARVEL SPOTLIGHT (1971) (#1-33) (MARVEL) #13 Very Fine
MARVEL SUPER SPECIAL (1977) #16 Near Mint/Mint
MARVEL SUPER SPECIAL (1977) #18 Near Mint/Mint
MARVEL SUPER SPECIAL (1977) #18 Very Fine
MARVEL SUPER SPECIAL (1977) #21 NEWSSTAND Near Mint/Mint
MARVEL SUPER SPECIAL (1977) #21 NEWSSTAND Fine
MARVEL SUPER SPECIAL (1977) #24 Near Mint/Mint
MARVEL SUPER SPECIAL (1977) #26 Very Fine
MARVEL SUPER SPECIAL (1977) #39 Near Mint/Mint
MARVEL TEAM-UP (1972) #1 Very Fine
MARVEL TEAM-UP (1972) #117 Very Fine
MARVEL TWO-IN-ONE (1974) (#1-100) (MARVEL) #1 Very Fine
MARVEL UNIVERSE: THE END (2003) #1 Near Mint/Mint
MARVEL UNIVERSE: THE END (2003) #6 Fine
MARVEL VISIONARIES: JACK KIRBY HC (2004) #1 Near Mint/Mint
MARVEL VISIONARIES: ROY THOMAS HC (2005) #1 Near Mint/Mint
MARVEL VISIONARIES: STAN LEE HC (2005) #1 Near Mint/Mint
MARVEL VISIONARIES: STEVE DITKO HC (2005) #1 Near Mint/Mint
MARVEL WEDDINGS TPB (2005) #1 Near Mint/Mint
MARVEL ZOMBIES (VOL.5) (2010) #1 Very Fine


MARVEL ZOMBIES RETURN (2009) #5

MARVEL ZOMBIES RETURN (2009) #5 Very Fine
MARVEL ZOMBIES/ARMY OF DARKNESS (2007) #1 2ND PRINT Fine
MARVEL ZOMBIES/ARMY OF DARKNESS (2007) #2 Very Good
MARVEL ZOMBIES: DEAD DAYS TPB (2009) #1 Very Good
MASTER OF KUNG FU (1974) (#15-125) (MARVEL) (SHANG-CHI) #15 Very Fine
MS. MARVEL (1977) (#1-23) (MARVEL) (CAROL DANVERS) #1 Fine
MS. MARVEL (1977) (#1-23) (MARVEL) (CAROL DANVERS) #18 Very Fine
MS. MARVEL (1977) (#1-23) (MARVEL) (CAROL DANVERS) #23 Very Fine
MS. MARVEL: MONSTER SMASH (VOL. 4) TPB (2008) #1 Very Fine
MUPPET BABIES WEEKLY (UK MAG) (1986) #23 W/STICKERS Near Mint/Mint
MUPPET BABIES WEEKLY (UK MAG) (1986) #27 Near Mint/Mint
MUPPET BABIES WEEKLY (UK MAG) (1986) #27 Very Fine
MUPPET BABIES WEEKLY (UK MAG) (1986) #32 Near Mint/Mint
NEMESIS (2010) (#1-4) (MARVEL/ICON) #1 VARIANT Near Mint/Mint
NEMESIS (2010) (#1-4) (MARVEL/ICON) #2 VARIANT Near Mint/Mint
NEMESIS (2010) (#1-4) (MARVEL/ICON) #2 VARIANT Very Fine
NEW AVENGERS/TRANSFORMERS (2007) #4 Near Mint/Mint
NEW AVENGERS/TRANSFORMERS (2007) #4 Very Fine
NEW AVENGERS: ILLUMINATI (2006) #2 Fine
NEW MUTANTS (1983) (#1-100) (MARVEL) #87 Fine
NEW MUTANTS (1983) (#1-100) (MARVEL) #87 2ND PRT Very Fine
PHOENIX RESURRECTION: RETURN OF JEAN GREY (2017) #1 LENTICULAR Near Mint/Mint
PIZZAZZ MAGAZINE (1977) #1 Fine
PIZZAZZ MAGAZINE (1977) #2 Near Mint/Mint
POWER MAN/IRON FIST (LUKE CAGE, POWER MAN #1-49) (1972) #15 Very Fine
POWER MAN/IRON FIST (LUKE CAGE, POWER MAN #1-49) (1972) #84 Very Fine
PUNISHER (1985) (#1-5) (MARVEL) #1 Very Fine
PUNISHER (1987) (#1-104) (MARVEL) #1 NEWSSTAND Fine
PUNISHER (1987) (#1-104) (MARVEL) #1 NEWSSTAND Very Good
PUNISHER (1987) (#1-104) (MARVEL) #1 Very Fine
PUNISHER VS. DAREDEVIL (2000) #1 Very Fine
PUNISHER: THE END (2004) #1 Very Fine
PUNISHER: WAR MACHINE TPB (2018) #1 Near Mint/Mint
REN & STIMPY (1992) #1 REN Near Mint/Mint
REN & STIMPY (1992) #6 Near Mint/Mint
RISE OF THE BLACK PANTHER (2017) #1 STANLEEDNA Near Mint/Mint
ROCKET RACCOON (1985) (#1-4) (MARVEL) #1 NEWSSTAND Near Mint/Mint
ROCKET RACCOON (1985) (#1-4) (MARVEL) #2 Near Mint/Mint
ROCKET RACCOON (1985) (#1-4) (MARVEL) #3 NEWSSTAND Near Mint/Mint
ROCKET RACCOON (1985) (#1-4) (MARVEL) #4 Very Fine
SABRETOOTH ONE-SHOT: BACK TO NATURE (1997) #1 Near Mint/Mint
SAVAGE SWORD OF CONAN (MAGAZINE) (1974) #7 Good
SCARLET SPIDER (2012) #1 Near Mint/Mint
SCARLET SPIDER (2012) (#1-25) (MARVEL) #10 Fine
SECRET AVENGERS (2010) (#1-37) (MARVEL) #5 VARIANT Near Mint/Mint
SECRET WAR (2004) #1 Very Fine
SECRET WAR (2004) #2 Near Mint/Mint
SENSATIONAL SPIDER-MAN (1996) #3 NEWSSTAND Very Fine
SENTRY (MARVEL) (2000) #1 Near Mint/Mint
SENTRY (MARVEL) (2000) #2 Near Mint/Mint
SENTRY (MARVEL) (2000) #3 Near Mint/Mint
SENTRY (MARVEL) (2000) #4 Near Mint/Mint
SENTRY (MARVEL) (2000) #5 Near Mint/Mint
SHOGUN WARRIORS (1979) #5 NEWSSTAND Very Fine
SIEGE (MARVEL) (2010) #1 SKETCH CV Near Mint/Mint
SIEGE (MARVEL) (2010) #1 SKETCH CV Very Fine
SIEGE (MARVEL) (2010) #1 SKETCH CV Fine
SIEGE (MARVEL) (2010) #1 SKETCH CV Very Good
SIEGE (MARVEL) (2010) #1 SKETCH CV Good
SIEGE (MARVEL) (2010) #4 COIPEL Near Mint/Mint
SILVER SURFER (1987) (#1-146) (MARVEL) #44 NEWSSTAND Very Good


SILVER SURFER (1988) (#1-2) (MARVEL) (EPIC) (MOEBIUS) #1

SILVER SURFER (1988) (#1-2) (MARVEL) (EPIC) (MOEBIUS) #1 Near Mint/Mint
SILVER SURFER (1988) (#1-2) (MARVEL) (EPIC) (MOEBIUS) #2 Near Mint/Mint
SILVER SURFER EPIC COLLECTION: THANOS QUEST TPB (2018) #1 Near Mint/Mint
SPECTACULAR SPIDER-MAN MAGAZINE #2 Near Mint/Mint
SPECTACULAR SPIDER-MAN MAGAZINE #2 Very Fine
SPECTACULAR SPIDER-MAN: SUPER SIZE SPECIAL #1 Near Mint/Mint
SPIDER-MAN (1963) (AMAZING SPIDER-MAN) (#1-441) #99 Fine
SPIDER-MAN (1963) (AMAZING SPIDER-MAN) (#1-441) #111 Very Fine
SPIDER-MAN (1963) (AMAZING SPIDER-MAN) (#1-441) #113 Very Fine
SPIDER-MAN (1963) (AMAZING SPIDER-MAN) (#1-441) #115 Very Fine
SPIDER-MAN (1963) (AMAZING SPIDER-MAN) (#1-441) #126 Very Fine
SPIDER-MAN (1963) (AMAZING SPIDER-MAN) (#1-441) #139 Very Fine
SPIDER-MAN (1963) (AMAZING SPIDER-MAN) (#1-441) #140 Very Fine
SPIDER-MAN (1963) (AMAZING SPIDER-MAN) (#1-441) #141 Very Fine
SPIDER-MAN (1963) (AMAZING SPIDER-MAN) (#1-441) #142 Fine
SPIDER-MAN (1963) (AMAZING SPIDER-MAN) (#1-441) #143 Very Fine
SPIDER-MAN (1963) (AMAZING SPIDER-MAN) (#1-441) #148 Very Fine
SPIDER-MAN (1963) (AMAZING SPIDER-MAN) (#1-441) #195 NEWSSTAND Very Fine
SPIDER-MAN (1963) (AMAZING SPIDER-MAN) (#1-441) #252 NEWSSTAND Good
SPIDER-MAN (1963) (AMAZING SPIDER-MAN) (#1-441) #298 NEWSSTAND Very Good
SPIDER-MAN (1963) (AMAZING SPIDER-MAN) (#1-441) #308 Very Fine
SPIDER-MAN (1963) (AMAZING SPIDER-MAN) (#1-441) #361 NEWSSTAND Fine
SPIDER-MAN (1963) (AMAZING SPIDER-MAN) (#1-441) #363 Fine
SPIDER-MAN (1963) (AMAZING SPIDER-MAN) (#1-441) #365 Near Mint/Mint
SPIDER-MAN (1963) (AMAZING SPIDER-MAN) (#1-441) #379 Near Mint/Mint
SPIDER-MAN (1990) (#1-74, PETER PARKER SPIDEY #75-98) #1 NEWSSPI Near Mint/Mint
SPIDER-MAN (1990) (#1-74, PETER PARKER SPIDEY #75-98) #2 NEWSSTAND Fine
SPIDER-MAN (1990) (#1-74, PETER PARKER SPIDEY #75-98) #3 Near Mint/Mint
SPIDER-MAN (1990) (#1-74, PETER PARKER SPIDEY #75-98) #4 Near Mint/Mint
SPIDER-MAN (1990) (#1-74, PETER PARKER SPIDEY #75-98) #4 NEWSSTAND Fine
SPIDER-MAN (1990) (#1-74, PETER PARKER SPIDEY #75-98) #6 NEWSSTAND Fine
SPIDER-MAN (1990) (#1-74, PETER PARKER SPIDEY #75-98) #37 Very Fine
SPIDER-MAN & CAPTAIN AMERICA: DR. DOOM'S REVENGE (1989) #1 Good
SPIDER-MAN 2099 (2014) #8 Near Mint/Mint
SPIDER-MAN 2099 MEETS SPIDER-MAN #1 Near Mint/Mint
SPIDER-MAN SPECTACULAR (2014) #1 Near Mint/Mint
SPIDER-MAN SUPER SPECIAL (1995) #1 Near Mint/Mint
SPIDER-MAN UNLIMITED (1993) #2 Very Fine
SPIDER-MAN VISIONARIES: TODD MCFARLANE COLLECTION (2001) #1 SC Fine
SPIDER-MAN VS. THE PUNISHER (2000) #1 Very Fine
SPIDER-MAN/BLACK CAT: EVIL THAT MEN DO (2002) #3 Near Mint/Mint
SPIDER-MAN: CARNAGE TPB (1993) #1 SIGNED Fine
SPIDER-MAN: HOBGOBLIN LIVES TPB (1998) #1 PEREZ SGN Near Mint/Mint
SPIDER-MAN: SAGA OF THE ALIEN COSTUME TPB (1988) #1 5TH PRINT Fine
SPIDER-MAN: WEDDING TPB (1991) #1 SHOOTERSGN Near Mint/Mint
SPIDER-VERSE TEAM-UP (2014) #2 Near Mint/Mint
SPIDER-WOMAN (1978) (#1-50) (JESSICA DREW) (MARVEL) #1 Very Fine
SPIDEY SUPER STORIES #14 Fine
SPIDEY SUPER STORIES #41 NEWSSTAND Very Good
SPIDEY SUPER STORIES #45 NEWSSTAND Fine
SPIDEY SUPER STORIES #49 NEWSSTAND Fine
SPIDEY SUPER STORIES #54 NEWSSTAND Fine
SPIDEY SUPER STORIES #56 NEWSSTAND Fine
STAND: SOUL SURVIVORS (2009) #1 VARIANT Near Mint/Mint
STAND: SOUL SURVIVORS (2009) #4 VARIANT Near Mint/Mint
STAND: SOUL SURVIVORS (2009) #5 VARIANT Near Mint/Mint


STAR WARS (1977) (#1-107) (MARVEL) #8

STAR WARS (1977) (#1-107) (MARVEL) #8 Fine
STAR WARS (1977) (#1-107) (MARVEL) #47 Very Fine
STAR WARS (1977) (#1-107) (MARVEL) #52 NEWSSTAND Fine
STAR WARS (2015) (#1-UP) (MARVEL) #1 FAN EXPO Near Mint/Mint
STAR WARS LEGENDS EPIC COLLECTION: EMPIRE TPB (2015) #4 Near Mint/Mint
STEVE ROGERS: SUPER SOLDIER (2010) #1 FINCH CVR Near Mint/Mint
STRANGE TALES (1951) (#1-85 ATLAS, #86-188 MARVEL) #178 Very Fine
SUPER-HEROES GIANT-SIZE (1974) #1 Very Fine
SUPERIOR SPIDER-MAN (2013) #1 Fine
TASKMASTER (2002) #1 Near Mint/Mint
THANOS (2003) (#1-12) (MARVEL) #4 Very Good
THANOS (2003) (#1-12) (MARVEL) #5 Fine
THANOS (2003) (#1-12) (MARVEL) #10 Very Fine
THANOS (2003) (#1-12) (MARVEL) #11 Very Good
THANOS (2003) (#1-12) (MARVEL) #12 Very Fine
THANOS (2016) (#1-UP) (MARVEL NOW) #18 Near Mint/Mint
THOR (1962) (#83-125 JOURNEY INTO MYSTERY, 126-502) #388 Very Fine
THOR ANNUAL (1965) #6 Very Good
THOR ANNUAL (1965) #7 Fine
THUNDERBOLTS (1997) (#0-174) (MARVEL) #1 PRELUDE Very Fine
THUNDERBOLTS (1997) (#0-174) (MARVEL) #45 Fine
THUNDERCATS (1986) #1 75 CENT CV Fine
TOMB OF DRACULA (1972) (#1-70) (MARVEL) #45 Fine
TOXIN (2005) #6 Near Mint/Mint
TRANSFORMERS (1984) (#1-80) (MARVEL) #1 SPANISH ED Very Fine
ULTIMATE FANTASTIC FOUR (2003) #22 Near Mint/Mint
ULTIMATE FANTASTIC FOUR (2003) #23 Near Mint/Mint
ULTIMATE SPIDER-MAN (2000) #1 Near Mint/Mint
ULTIMATE SPIDER-MAN (2000) #2 COVER B Very Fine
ULTIMATE SPIDER-MAN (2000) #2 COVER B Fine
ULTIMATE SPIDER-MAN (2000) #33 Near Mint/Mint
ULTIMATE SPIDER-MAN (2000) #34 Near Mint/Mint
ULTIMATE SPIDER-MAN (2000) #34 Fine
ULTIMATE SPIDER-MAN (2000) #35 Near Mint/Mint
ULTIMATE SPIDER-MAN (2000) #35 Fine
ULTIMATE SPIDER-MAN (2000) #36 Near Mint/Mint
ULTIMATE SPIDER-MAN (2000) #37 Near Mint/Mint
ULTIMATE SPIDER-MAN (2000) #60 Near Mint/Mint
ULTIMATE SPIDER-MAN (2000) #61 Near Mint/Mint
ULTIMATE SPIDER-MAN (2000) #62 Near Mint/Mint
ULTIMATE SPIDER-MAN (2000) #63 Near Mint/Mint
ULTIMATE SPIDER-MAN (2000) #64 Near Mint/Mint
ULTIMATE SPIDER-MAN (2000) #82 Near Mint/Mint
ULTIMATE SPIDER-MAN TPB #6 2ND PRINT Fine
UNTOLD TALES OF SPIDER-MAN: STRANGE ENCOUNTER (1998) #1 Very Fine
VENOM (2017) (#1-6, #150-165) (MARVEL) #151 MATTINA Near Mint/Mint
VENOM & X-MEN: POISON-X TPB (2018) #1 Near Mint/Mint
VENOM ON TRIAL (1997) #2 Fine
VENOM SUPER SIZE SPECIAL (1995) #1 Very Fine
VENOM: CARNAGE UNLEASHED (1995) #1 Fine
VENOM: CARNAGE UNLEASHED (1995) #2 NEWSSTAND Fine
VENOM: CARNAGE UNLEASHED (1995) #4 Fine
VENOM: ENEMY WITHIN (1994) #1 Fine
VENOM: ENEMY WITHIN (1994) #2 Fine
VENOM: ENEMY WITHIN (1994) #3 Fine
VENOM: FUNERAL PYRE (1993) #2 Near Mint/Mint
VENOM: FUNERAL PYRE (1993) #3 Very Fine
VENOM: LETHAL PROTECTOR (1993) #1 NEWSSTAND Fine
VENOM: LETHAL PROTECTOR (1993) #1 Very Good


VENOM: LETHAL PROTECTOR (1993) #2

VENOM: LETHAL PROTECTOR (1993) #2 Fine
VENOM: LETHAL PROTECTOR (1993) #3 Fine
VENOM: LETHAL PROTECTOR (1993) #4 NEWSSTAND Very Good
VENOM: LETHAL PROTECTOR (1993) #5 Very Fine
VENOM: LETHAL PROTECTOR (1993) #5 Very Good
VENOM: LETHAL PROTECTOR (1993) #6 Very Fine
WARLOCK (1972) #2 Very Fine
WARLOCK (1972) #6 Very Fine
WARLOCK (1992) #6 Near Mint/Mint
WEB OF SPIDER-MAN (1985) (#1-129) (MARVEL) #103 Very Fine
WEB OF SPIDER-MAN SUPER SPECIAL: PLANET OF SYMBIOTES (1995) #1 Near Mint/Mint
WHAT IF... (1977) #10 Very Fine
WHAT IF: SPIDER-MAN THE OTHER (2006) #1 Near Mint/Mint
WHAT IF: SPIDER-MAN THE OTHER (2006) #1 Fine
WOLVERINE (1982) (#1-4) (MARVEL LIMITED SERIES) #1 NEWSSTAND Good
WOLVERINE (1982) (#1-4) (MARVEL LIMITED SERIES) #1 Very Good
WOLVERINE (1982) (#1-4) (MARVEL LIMITED SERIES) #2 Very Good
WOLVERINE (1988) (#1/2-189) (MARVEL) #40 NEWSSTAND Very Fine
WOLVERINE (1988) (#1/2-189) (MARVEL) #134 Near Mint/Mint
WOLVERINE (1988) (#1/2-189) (MARVEL) #138 Very Fine
WOLVERINE (1988) (#1/2-189) (MARVEL) #145 DELUXE Fine
WOLVERINE (1988) (#1/2-189) (MARVEL) #146 Fine
WOLVERINE (1988) (#1/2-189) (MARVEL) #154 Fine
WOLVERINE (1988) (#1/2-189) (MARVEL) #155 Very Fine
WOLVERINE: ORIGINS (2006) #10 QUESADA Very Fine
WOLVERINE: THE ORIGIN (2001) #2 Near Mint/Mint
WORLD WAR HULK (2007) #4 Near Mint/Mint
WORLD WAR HULK (2007) #5 ROMITA JR. Fine
X 23 (2005) #1 Very Fine
X 23 (2010) #7 Near Mint/Mint
X 23 (2010) #10 Near Mint/Mint
X 23 (2010) #12 Near Mint/Mint
X 23 (2010) #19 Very Fine
X 23: TARGET X (2006) #5 Very Fine
X-FACTOR (#1-149) (ORIGINAL X-MEN) (1986) #1 Fine
X-FACTOR (#1-149) (ORIGINAL X-MEN) (1986) #5 Near Mint/Mint
X-FACTOR (#1-149) (ORIGINAL X-MEN) (1986) #6 Near Mint/Mint
X-FORCE (2008) (#1-28) (MARVEL) #9 Very Fine
X-FORCE (2008) (#1-28) (MARVEL) #12 Near Mint/Mint
X-FORCE (2008) (#1-28) (MARVEL) #21 2ND PRINT Very Fine
X-FORCE (2008) (#1-28) (MARVEL) #21 2ND PRINT Fine
X-FORCE (2008) (#1-28) (MARVEL) #21 2ND PRINT Very Fine
X-MEN (1963) (#1-113, UNCANNY X-MEN #114-544) (MARVEL) #103 Good
X-MEN (1963) (#1-113, UNCANNY X-MEN #114-544) (MARVEL) #110 Good
X-MEN (1963) (#1-113, UNCANNY X-MEN #114-544) (MARVEL) #120 Fine
X-MEN (1963) (#1-113, UNCANNY X-MEN #114-544) (MARVEL) #121 Fine
X-MEN (1963) (#1-113, UNCANNY X-MEN #114-544) (MARVEL) #141 NEWSSTAND Good
X-MEN (1963) (#1-113, UNCANNY X-MEN #114-544) (MARVEL) #142 NEWSSTAND Very Good
X-MEN (1963) (#1-113, UNCANNY X-MEN #114-544) (MARVEL) #266 CGC 7.5 Very Fine
X-MEN (1963) (#1-113, UNCANNY X-MEN #114-544) (MARVEL) #266 NEWSSTAND Very Good
X-MEN (1963) (#1-113, UNCANNY X-MEN #114-544) (MARVEL) #322 Near Mint/Mint
X-MEN (1963) (#1-113, UNCANNY X-MEN #114-544) (MARVEL) #337 Near Mint/Mint
X-MEN (1963) (#1-113, UNCANNY X-MEN #114-544) (MARVEL) #342 Near Mint/Mint
X-MEN (1963) (#1-113, UNCANNY X-MEN #114-544) (MARVEL) #342 VARIANT Near Mint/Mint
X-MEN (1963) (#1-113, UNCANNY X-MEN #114-544) (MARVEL) #345 Near Mint/Mint
X-MEN (1963) (#1-113, UNCANNY X-MEN #114-544) (MARVEL) #346 Near Mint/Mint
X-MEN (1963) (#1-113, UNCANNY X-MEN #114-544) (MARVEL) #347 Near Mint/Mint
X-MEN (1963) (#1-113, UNCANNY X-MEN #114-544) (MARVEL) #348 Fine


X-MEN (1963) (#1-113, UNCANNY X-MEN #114-544) (MARVEL) #349

X-MEN (1963) (#1-113, UNCANNY X-MEN #114-544) (MARVEL) #349 Near Mint/Mint
X-MEN (1963) (#1-113, UNCANNY X-MEN #114-544) (MARVEL) #350 Very Fine
X-MEN (1963) (#1-113, UNCANNY X-MEN #114-544) (MARVEL) #353 Near Mint/Mint
X-MEN (1963) (#1-113, UNCANNY X-MEN #114-544) (MARVEL) #354 Near Mint/Mint
X-MEN (1963) (#1-113, UNCANNY X-MEN #114-544) (MARVEL) #355 Near Mint/Mint
X-MEN (1963) (#1-113, UNCANNY X-MEN #114-544) (MARVEL) #356 Very Fine
X-MEN (1963) (#1-113, UNCANNY X-MEN #114-544) (MARVEL) #357 Near Mint/Mint
X-MEN (1963) (#1-113, UNCANNY X-MEN #114-544) (MARVEL) #358 Very Fine
X-MEN (1963) (#1-113, UNCANNY X-MEN #114-544) (MARVEL) #359 Near Mint/Mint
X-MEN (1963) (#1-113, UNCANNY X-MEN #114-544) (MARVEL) #361 Near Mint/Mint
X-MEN (1963) (#1-113, UNCANNY X-MEN #114-544) (MARVEL) #362 Near Mint/Mint
X-MEN (1963) (#1-113, UNCANNY X-MEN #114-544) (MARVEL) #363 Near Mint/Mint
X-MEN (1963) (#1-113, UNCANNY X-MEN #114-544) (MARVEL) #364 Near Mint/Mint
X-MEN (1963) (#1-113, UNCANNY X-MEN #114-544) (MARVEL) #365 Near Mint/Mint
X-MEN (1963) (#1-113, UNCANNY X-MEN #114-544) (MARVEL) #366 Near Mint/Mint
X-MEN (1963) (#1-113, UNCANNY X-MEN #114-544) (MARVEL) #367 Near Mint/Mint
X-MEN (1963) (#1-113, UNCANNY X-MEN #114-544) (MARVEL) #368 Near Mint/Mint
X-MEN (1963) (#1-113, UNCANNY X-MEN #114-544) (MARVEL) #369 Very Fine
X-MEN (1963) (#1-113, UNCANNY X-MEN #114-544) (MARVEL) #370 Very Fine
X-MEN (1963) (#1-113, UNCANNY X-MEN #114-544) (MARVEL) #373 Very Fine
X-MEN (1963) (#1-113, UNCANNY X-MEN #114-544) (MARVEL) #374 Very Fine
X-MEN (1963) (#1-113, UNCANNY X-MEN #114-544) (MARVEL) #375 Near Mint/Mint
X-MEN (1963) (#1-113, UNCANNY X-MEN #114-544) (MARVEL) #376 Very Fine
X-MEN (1963) (#1-113, UNCANNY X-MEN #114-544) (MARVEL) #377 Very Fine
X-MEN (1963) (#1-113, UNCANNY X-MEN #114-544) (MARVEL) #379 Near Mint/Mint
X-MEN (1963) (#1-113, UNCANNY X-MEN #114-544) (MARVEL) #384 Near Mint/Mint
X-MEN (1963) (#1-113, UNCANNY X-MEN #114-544) (MARVEL) #385 Near Mint/Mint
X-MEN (1963) (#1-113, UNCANNY X-MEN #114-544) (MARVEL) #391 Near Mint/Mint
X-MEN (1963) (#1-113, UNCANNY X-MEN #114-544) (MARVEL) #393 Near Mint/Mint
X-MEN (1963) (#1-113, UNCANNY X-MEN #114-544) (MARVEL) #507 Near Mint/Mint
X-MEN (1963) (#1-113, UNCANNY X-MEN #114-544) (MARVEL) #509 Near Mint/Mint
X-MEN (1991) (#1-275) (MARVEL) #40 DELUXE Near Mint/Mint
X-MEN (1991) (#1-275) (MARVEL) #41 DELUXE Very Fine
X-MEN (1991) (#1-275) (MARVEL) #50 DELUXE Near Mint/Mint
X-MEN (1991) (#1-275) (MARVEL) #53 Near Mint/Mint
X-MEN (1991) (#1-275) (MARVEL) #65 Near Mint/Mint
X-MEN (1991) (#1-275) (MARVEL) #67 Near Mint/Mint
X-MEN (1991) (#1-275) (MARVEL) #71 Near Mint/Mint
X-MEN (1991) (#1-275) (MARVEL) #78 Near Mint/Mint
X-MEN (1991) (#1-275) (MARVEL) #79 Near Mint/Mint
X-MEN (1991) (#1-275) (MARVEL) #81 Near Mint/Mint
X-MEN (1991) (#1-275) (MARVEL) #83 Near Mint/Mint
X-MEN (1991) (#1-275) (MARVEL) #84 Near Mint/Mint
X-MEN (1991) (#1-275) (MARVEL) #116 Near Mint/Mint
X-MEN (1991) (#1-275) (MARVEL) #129 Near Mint/Mint
X-MEN (1991) (#1-275) (MARVEL) #134 Near Mint/Mint
X-MEN (2010) (#1-41) (MARVEL) #5 MEDINA Near Mint/Mint
X-MEN GOLD (2017) #1 Fine
X-MEN GOLD (2017) #5 PIPER Near Mint/Mint
X-MEN GOLD VOL. 5: CRUEL & UNUSUAL TPB (2018) #1 Near Mint/Mint
X-MEN UNLIMITED (1993) #36 Near Mint/Mint
X-MEN: MESSIAH COMPLEX TPB (2008) #1 6TH PRINT Very Fine
YOUNG X-MEN (2008) #10 Fine
YOUNG X-MEN (2008) #11 Fine
YOUNG X-MEN (2008) #12 Fine

DC

ACTION COMICS (1938) (#0-600, 643-904) (DC) #296

ACTION COMICS (1938) (#0-600, 643-904) (DC) #296 Very Good
ACTION COMICS (1938) (#0-600, 643-904) (DC) #870 NEWSSTAND Near Mint/Mint
ADVENTURE COMICS (1938) #263 Good
ADVENTURE COMICS (1938) #268 Very Good
ADVENTURE COMICS (1938) #271 Very Good
ADVENTURE COMICS (1938) #274 Good
ADVENTURE COMICS (1938) #274 Very Good
ADVENTURE COMICS (1938) #276 Very Good
ADVENTURE COMICS (1938) #277 Very Good
ADVENTURE COMICS (1938) #279 Very Good
ADVENTURE COMICS (1938) #289 Very Good
ADVENTURE COMICS (1938) #297 Very Good
ADVENTURE COMICS (1938) #298 Good
ADVENTURE COMICS (1938) #298 Very Good
ADVENTURE COMICS (1938) #301 Fine
ADVENTURE COMICS (1938) #309 Very Good
ADVENTURE COMICS (1938) #314 Good
ADVENTURE COMICS (1938) #320 Fair
ADVENTURE COMICS (1938) #333 Very Good
ADVENTURE COMICS (1938) #334 Very Good
ADVENTURE COMICS (1938) #336 Very Good
ADVENTURE COMICS (1938) #381 Very Good
ALL-AMERICAN MEN OF WAR (1952) #11 Fair
ALL-AMERICAN MEN OF WAR (1952) #12 Fair
ALL-AMERICAN MEN OF WAR (1952) #13 Very Good
ALL-AMERICAN MEN OF WAR (1952) #16 Fair
ALL-AMERICAN MEN OF WAR (1952) #22 Good
ALL-AMERICAN MEN OF WAR (1952) #23 Good
ALL-AMERICAN MEN OF WAR (1952) #25 Good
ALL-AMERICAN MEN OF WAR (1952) #26 Fair
ALL-AMERICAN MEN OF WAR (1952) #27 Fair
ALL-AMERICAN MEN OF WAR (1952) #28 Good
ALL-AMERICAN MEN OF WAR (1952) #29 Fair
ALL-AMERICAN MEN OF WAR (1952) #30 Good
ALL-AMERICAN MEN OF WAR (1952) #31 Good
ALL-AMERICAN MEN OF WAR (1952) #32 Good
ALL-AMERICAN MEN OF WAR (1952) #33 Good
ALL-AMERICAN MEN OF WAR (1952) #35 Good
ALL-AMERICAN MEN OF WAR (1952) #36 Good
ALL-AMERICAN MEN OF WAR (1952) #38 Fair
ALL-AMERICAN MEN OF WAR (1952) #40 Fair
ALL-AMERICAN MEN OF WAR (1952) #41 Fair
ALL-AMERICAN MEN OF WAR (1952) #42 Good
ALL-AMERICAN MEN OF WAR (1952) #46 Good
ALL-AMERICAN MEN OF WAR (1952) #49 Good
ALL-AMERICAN MEN OF WAR (1952) #50 Fair
ALL-AMERICAN MEN OF WAR (1952) #50 Good
ALL-AMERICAN MEN OF WAR (1952) #51 Good
ALL-AMERICAN MEN OF WAR (1952) #55 Good
ALL-AMERICAN MEN OF WAR (1952) #56 Fair
ALL-AMERICAN MEN OF WAR (1952) #58 Fair
ALL-AMERICAN MEN OF WAR (1952) #59 Very Good
ALL-AMERICAN MEN OF WAR (1952) #60 Fair
ALL-AMERICAN MEN OF WAR (1952) #60 Good
ALL-AMERICAN MEN OF WAR (1952) #62 Good
ALL-AMERICAN MEN OF WAR (1952) #64 Very Good
ALL-AMERICAN MEN OF WAR (1952) #67 Fair
ALL-AMERICAN MEN OF WAR (1952) #70 Good


ALL-AMERICAN MEN OF WAR (1952) #71

ALL-AMERICAN MEN OF WAR (1952) #71 Good
ALL-AMERICAN MEN OF WAR (1952) #75 Very Good
ALL-AMERICAN MEN OF WAR (1952) #76 Very Good
ALL-AMERICAN MEN OF WAR (1952) #78 Good
ALL-AMERICAN MEN OF WAR (1952) #79 Good
ALL-AMERICAN MEN OF WAR (1952) #80 Good
ALL-AMERICAN MEN OF WAR (1952) #84 Good
ALL-AMERICAN MEN OF WAR (1952) #86 Good
ALL-AMERICAN MEN OF WAR (1952) #88 Good
ALL-STAR ARCHIVES HC #1 Good
ANIMAL ANTICS (DC) (1946) #2 Good
ANIMAL ANTICS (DC) (1946) #7 Very Good
AQUAMAN (1962) (#1-63) (DC) #3 Very Good
AQUAMAN (1962) (#1-63) (DC) #4 Very Good
AQUAMAN (1962) (#1-63) (DC) #5 Fair
AQUAMAN (1962) (#1-63) (DC) #5 Fine
AQUAMAN (1962) (#1-63) (DC) #5 Very Good
AQUAMAN (1962) (#1-63) (DC) #6 Very Good
AQUAMAN (1962) (#1-63) (DC) #15 Good
AQUAMAN (1962) (#1-63) (DC) #20 Good
AQUAMAN (1962) (#1-63) (DC) #20 Very Good
ARKHAM ASYLUM TPB (DC) (1990) #1 Very Good
ATOM (DC) (JUSTICE LEAGUE) (1962) #2 Very Good
ATOM (DC) (JUSTICE LEAGUE) (1962) #3 Very Good
ATOM (DC) (JUSTICE LEAGUE) (1962) #4 Good
ATOM (DC) (JUSTICE LEAGUE) (1962) #4 Very Good
ATOM (DC) (JUSTICE LEAGUE) (1962) #5 Good
ATOM (DC) (JUSTICE LEAGUE) (1962) #5 Very Good
ATOM (DC) (JUSTICE LEAGUE) (1962) #6 Fine
ATOM (DC) (JUSTICE LEAGUE) (1962) #6 Very Good
ATOM (DC) (JUSTICE LEAGUE) (1962) #7 Very Good
ATOM (DC) (JUSTICE LEAGUE) (1962) #8 Fine
ATOM (DC) (JUSTICE LEAGUE) (1962) #8 Very Good
ATOM (DC) (JUSTICE LEAGUE) (1962) #9 Fine
ATOM (DC) (JUSTICE LEAGUE) (1962) #9 Good
ATOM (DC) (JUSTICE LEAGUE) (1962) #9 Fair
ATOM (DC) (JUSTICE LEAGUE) (1962) #9 Very Good
ATOM (DC) (JUSTICE LEAGUE) (1962) #10 Very Good
ATOM (DC) (JUSTICE LEAGUE) (1962) #11 Good
ATOM (DC) (JUSTICE LEAGUE) (1962) #13 Very Good
ATOM (DC) (JUSTICE LEAGUE) (1962) #23 Fine
ATOM (DC) (JUSTICE LEAGUE) (1962) #24 Fine
ATOM (DC) (JUSTICE LEAGUE) (1962) #25 Good
ATOM (DC) (JUSTICE LEAGUE) (1962) #25 Fine
ATOM (DC) (JUSTICE LEAGUE) (1962) #36 Very Good
BATMAN (1940) (#0-713) (DC) #160 Fair
BATMAN (1940) (#0-713) (DC) #166 Fair
BATMAN (1940) (#0-713) (DC) #184 Fair
BATMAN (1940) (#0-713) (DC) #184 Good
BATMAN (1940) (#0-713) (DC) #186 Good
BATMAN (1940) (#0-713) (DC) #188 Good
BATMAN (1940) (#0-713) (DC) #192 Very Good
BATMAN (1940) (#0-713) (DC) #195 Good
BATMAN (1940) (#0-713) (DC) #199 Fair
BATMAN (1940) (#0-713) (DC) #206 Good
BATMAN (1940) (#0-713) (DC) #210 Fine


BATMAN (1940) (#0-713) (DC) #214

BATMAN (1940) (#0-713) (DC) #214 Fine
BATMAN (1940) (#0-713) (DC) #318 Fine
BATMAN (1940) (#0-713) (DC) #423 Fine
BATMAN (1940) (#0-713) (DC) #426 Very Fine
BATMAN (1940) (#0-713) (DC) #427 Near Mint/Mint
BATMAN (1940) (#0-713) (DC) #428 NEWSSTAND Near Mint/Mint
BATMAN (1940) (#0-713) (DC) #429 NEWSSTAND Very Fine
BATMAN (1940) (#0-713) (DC) #584 Near Mint/Mint
BATMAN (1940) (#0-713) (DC) #588 Near Mint/Mint
BATMAN (1940) (#0-713) (DC) #589 Near Mint/Mint
BATMAN (1940) (#0-713) (DC) #596 Near Mint/Mint
BATMAN (1940) (#0-713) (DC) #601 Near Mint/Mint
BATMAN (1940) (#0-713) (DC) #602 Near Mint/Mint
BATMAN (1940) (#0-713) (DC) #603 Near Mint/Mint
BATMAN (1940) (#0-713) (DC) #606 Near Mint/Mint
BATMAN (1940) (#0-713) (DC) #607 Near Mint/Mint
BATMAN (1940) (#0-713) (DC) #634 Near Mint/Mint
BATMAN (1940) (#0-713) (DC) #635 Near Mint/Mint
BATMAN (1940) (#0-713) (DC) #636 Very Fine
BATMAN (1940) (#0-713) (DC) #637 Very Fine
BATMAN (1940) (#0-713) (DC) #638 Near Mint/Mint
BATMAN (1940) (#0-713) (DC) #648 Near Mint/Mint
BATMAN (1940) (#0-713) (DC) #651 Near Mint/Mint
BATMAN (1940) (#0-713) (DC) #655 Very Fine
BATMAN (1940) (#0-713) (DC) #656 Very Fine
BATMAN (1940) (#0-713) (DC) #657 Near Mint/Mint
BATMAN (1940) (#0-713) (DC) #663 Near Mint/Mint
BATMAN (1940) (#0-713) (DC) #666 Near Mint/Mint
BATMAN (1940) (#0-713) (DC) #667 Near Mint/Mint
BATMAN (1940) (#0-713) (DC) #696 Near Mint/Mint
BATMAN (1940) (#0-713) (DC) #698 Very Fine
BATMAN ADVENTURES (1992) #12 Near Mint/Mint
BATMAN ADVENTURES: MAD LOVE #1 DELUXE 3RD Near Mint/Mint
BATMAN AND THE OUTSIDERS (1983) #8 NEWSSTAND Near Mint/Mint
BATMAN ANNUAL (1961) (#1-28) (DC) #1 Good
BATMAN ANNUAL (1961) (#1-28) (DC) #3 Fair
BATMAN ANNUAL (1961) (#1-28) (DC) #3 Good
BATMAN SECRET FILES & ORIGINS (1997) #1 Fine
BATMAN VILLAINS SECRET FILES #1 Fine
BATMAN VILLAINS SECRET FILES #1 Near Mint/Mint
BATMAN/DEATHBLOW: AFTER THE FIRE (BATMAN AND DEATHBLOW) (2002) #2 Near Mint/Mint
BATMAN/HARLEY QUINN (PAUL DINI) (ALEX ROSS) (1999) #1 3RD PRINT Fine
BATMAN/POISON IVY: CAST SHADOWS (PRESTIGE) (2004) #1 Near Mint/Mint
BATMAN: CACOPHONY (KEVIN SMITH) (2008) #3 Near Mint/Mint
BATMAN: CHILD OF DREAMS COLLECTION (2003) #1 HC Near Mint/Mint
BATMAN: FORTUNATE SON HC (GERARD JONES) (GENE HA) (1999) #1 Near Mint/Mint
BATMAN: GOTHAM KNIGHTS (2000) #73 Near Mint/Mint
BATMAN: GOTHAM KNIGHTS (2000) #74 Very Fine
BATMAN: HARLEY & IVY (2004) #1 Fine
BATMAN: KNIGHTFALL TPB (2012) #3 Very Good
BATMAN: ORDER OF BEASTS (EDDIE CAMPBELL) (ELSEWORLDS) (2004) #1 Near Mint/Mint
BATMAN: RETURN OF BRUCE WAYNE (GRANT MORRISON) (2010) #5 VARIANT Near Mint/Mint
BATMAN: SWORD OF AZRAEL TPB (DENNY O'NEIL)(JOE QUESADA) (1993) #1 Fine
BATMAN: THE KILLING JOKE (ALAN MOORE) (1988) #1 Near Mint/Mint
BATMAN: THE LONG HALLOWEEN (JEPH LOEB) (TIM SALE) (1996) #8 Near Mint/Mint
BATMAN: YEAR ONE HUNDRED (PAUL POPE) (PRESTIGE) (2006) #1 2ND PRINT Near Mint/Mint
BATMAN: YEAR ONE HUNDRED (PAUL POPE) (PRESTIGE) (2006) #2 2ND PRINT Near Mint/Mint
BATMAN: YEAR ONE HUNDRED (PAUL POPE) (PRESTIGE) (2006) #3 Near Mint/Mint


BATMAN: YEAR ONE HUNDRED (PAUL POPE) (PRESTIGE) (2006) #4

BATMAN: YEAR ONE HUNDRED (PAUL POPE) (PRESTIGE) (2006) #4 Near Mint/Mint
BATWOMAN VOL. 2: WONDERLAND TPB (DC REBIRTH) (2018) #1 Near Mint/Mint
BIRDS OF PREY (2011) (#0-34) (DC NEW52) #1 Very Fine
BLACK ADAM: THE DARK AGE (2007) #4 Near Mint/Mint
BLACK ADAM: THE DARK AGE (2007) #5 Very Fine
BLACK ADAM: THE DARK AGE (2007) #6 Fine
BLACK ADAM: THE DARK AGE (2007) #6 Near Mint/Mint
BLACK ADAM: THE DARK AGE (2007) #6 Very Fine
BLACKEST NIGHT (2009) #4 VARIANT Fine
BLACKEST NIGHT (2009) #4 VARIANT Very Good
BLACKEST NIGHT (2009) #5 SKETCH CV Near Mint/Mint
BLACKEST NIGHT (2009) #7 Near Mint/Mint
BLACKEST NIGHT: SUPERMAN (2009) #3 VARIANT Near Mint/Mint
BLACKEST NIGHT: TITANS (2009) #2 VARIANT Near Mint/Mint
BLACKEST NIGHT: TITANS (2009) #3 VARIANT Near Mint/Mint
BLACKHAWK (1957) (#108-273) (DC) #128 Good
BRAVE AND THE BOLD (1955) #31 Good
BRAVE AND THE BOLD (1955) #36 Very Good
BRAVE AND THE BOLD (1955) #37 Very Good
BRAVE AND THE BOLD (1955) #38 Good
BRAVE AND THE BOLD (1955) #38 Very Good
BRAVE AND THE BOLD (1955) #42 Good
BRAVE AND THE BOLD (1955) #42 Fair
BRAVE AND THE BOLD (1955) #42 Very Good
BRAVE AND THE BOLD (1955) #43 Fair
BRAVE AND THE BOLD (1955) #43 Good
BRAVE AND THE BOLD (1955) #43 Very Good
BRAVE AND THE BOLD (1955) #44 Good
BRAVE AND THE BOLD (1955) #44 Fair
BRAVE AND THE BOLD (1955) #44 Very Good
BRAVE AND THE BOLD (1955) #51 Good
BRAVE AND THE BOLD (1955) #51 Fair
BRAVE AND THE BOLD (1955) #51 Very Good
BRAVE AND THE BOLD (1955) #52 Very Good
BRAVE AND THE BOLD (1955) #58 Very Good
CAPTAIN CARROT & HIS AMAZING ZOO CREW (1982) #9 Near Mint/Mint
CHALLENGERS OF THE UNKNOWN (1958) #6 Very Good
CHALLENGERS OF THE UNKNOWN (1958) #10 Very Good
CHALLENGERS OF THE UNKNOWN (1958) #15 Very Good
CHALLENGERS OF THE UNKNOWN (1958) #21 Good
CHALLENGERS OF THE UNKNOWN (1958) #21 Very Good
CHALLENGERS OF THE UNKNOWN (1958) #22 Good
CHALLENGERS OF THE UNKNOWN (1958) #22 Very Good
CRISIS ON INFINITE EARTHS (1985) #7 NEWSSTAND Very Good
CRISIS ON MULTIPLE EARTHS: TEAM-UPS TPB (2005) #1 Near Mint/Mint
DARK KNIGHT (1986) #1 1ST PRT Fine
DARK KNIGHT (1986) #3 1ST PRT Very Fine
DARK KNIGHT (1986) #4 1ST PRT Very Good
DARK NIGHTS: METAL (2017) #1 ROMITA Near Mint/Mint
DARK NIGHTS: METAL (2017) #1 KUBERT Near Mint/Mint
DARK NIGHTS: METAL (2017) #1 ROMITA Very Fine
DARK NIGHTS: METAL (2017) #2 Near Mint/Mint
DARK NIGHTS: METAL (2017) #2 Very Fine
DC 100 PAGE SUPER SPECTACULAR (1971) #6 Very Good
DC SUPER-STARS (1976) #1 Fine
DCU HOLIDAY SPECIAL (2008) #2008 Near Mint/Mint
DETECTIVE COMICS (1937) (#0-881) (DC) #316 Fair
DETECTIVE COMICS (1937) (#0-881) (DC) #323 Good


DETECTIVE COMICS (1937) (#0-881) (DC) #328

DETECTIVE COMICS (1937) (#0-881) (DC) #328 Fair
DETECTIVE COMICS (1937) (#0-881) (DC) #329 Fair
DETECTIVE COMICS (1937) (#0-881) (DC) #336 Very Good
DETECTIVE COMICS (1937) (#0-881) (DC) #339 Good
DETECTIVE COMICS (1937) (#0-881) (DC) #340 Good
DETECTIVE COMICS (1937) (#0-881) (DC) #345 Fair
DETECTIVE COMICS (1937) (#0-881) (DC) #349 Good
DETECTIVE COMICS (1937) (#0-881) (DC) #351 Good
DETECTIVE COMICS (1937) (#0-881) (DC) #355 Good
DETECTIVE COMICS (1937) (#0-881) (DC) #356 Good
DETECTIVE COMICS (1937) (#0-881) (DC) #357 Good
DETECTIVE COMICS (1937) (#0-881) (DC) #363 Good
DETECTIVE COMICS (1937) (#0-881) (DC) #365 Fair
DETECTIVE COMICS (1937) (#0-881) (DC) #366 Fair
DETECTIVE COMICS (1937) (#0-881) (DC) #367 Fair
DETECTIVE COMICS (1937) (#0-881) (DC) #377 Fair
DETECTIVE COMICS (1937) (#0-881) (DC) #756 Near Mint/Mint
DETECTIVE COMICS (1937) (#0-881) (DC) #763 Near Mint/Mint
DETECTIVE COMICS (1937) (#0-881) (DC) #800 Near Mint/Mint
DETECTIVE COMICS (1937) (#0-881) (DC) #831 Very Fine
DETECTIVE COMICS (1937) (#0-881) (DC) #833 Near Mint/Mint
DETECTIVE COMICS (1937) (#0-881) (DC) #834 Near Mint/Mint
DETECTIVE COMICS (1937) (#0-881) (DC) #837 Near Mint/Mint
DETECTIVE COMICS (1937) (#0-881) (DC) #850 Near Mint/Mint
DETECTIVE COMICS (1937) (#0-881) (DC) #858 VARIANT Near Mint/Mint
DETECTIVE COMICS (1937) (#0-881) (DC) #860 VARIANT Near Mint/Mint
DODO AND THE FROG (1954) #80 Good
DOOM PATROL (1964) (#86-124) (DC) #98 Good
DOOM PATROL (2009) (#1-22) (DC) #1 VARIANT Near Mint/Mint
DOOM PATROL (2009) (#1-22) (DC) #1 VARIANT Very Fine
DOOMSDAY CLOCK (2017) #1 Near Mint/Mint
EIGHTY-PAGE GIANT (1964) #1 Good
EIGHTY-PAGE GIANT (1964) #1 Fine
EIGHTY-PAGE GIANT (1964) #1 Fair
EIGHTY-PAGE GIANT (1964) #1 Very Good
EIGHTY-PAGE GIANT (1964) #2 Fair
EIGHTY-PAGE GIANT (1964) #2 Good
EIGHTY-PAGE GIANT (1964) #2 Very Good
EIGHTY-PAGE GIANT (1964) #3 Good
EIGHTY-PAGE GIANT (1964) #3 Fine
EIGHTY-PAGE GIANT (1964) #3 Very Good
EIGHTY-PAGE GIANT (1964) #4 Fine
EIGHTY-PAGE GIANT (1964) #4 Good
EIGHTY-PAGE GIANT (1964) #4 Very Good
EIGHTY-PAGE GIANT (1964) #5 Fine
EIGHTY-PAGE GIANT (1964) #5 Very Good
EIGHTY-PAGE GIANT (1964) #6 Fine
EIGHTY-PAGE GIANT (1964) #6 Good
EIGHTY-PAGE GIANT (1964) #6 Very Good
EIGHTY-PAGE GIANT (1964) #7 Fine
EIGHTY-PAGE GIANT (1964) #7 Very Good
EIGHTY-PAGE GIANT (1964) #8 Good
EIGHTY-PAGE GIANT (1964) #8 Fair

EIGHTY-PAGE GIANT (1964) #8 Very Good
EIGHTY-PAGE GIANT (1964) #9 Good
EIGHTY-PAGE GIANT (1964) #9 Fine
EIGHTY-PAGE GIANT (1964) #9 Very Good
EIGHTY-PAGE GIANT (1964) #10 Good
EIGHTY-PAGE GIANT (1964) #10 Fair
EIGHTY-PAGE GIANT (1964) #10 Fine
EIGHTY-PAGE GIANT (1964) #10 Very Good
EIGHTY-PAGE GIANT (1964) #11 Good
EIGHTY-PAGE GIANT (1964) #11 Very Good
EIGHTY-PAGE GIANT (1964) #12 Good
EIGHTY-PAGE GIANT (1964) #12 Fair
EIGHTY-PAGE GIANT (1964) #12 Very Good
EIGHTY-PAGE GIANT (1964) #13 Good
EIGHTY-PAGE GIANT (1964) #13 Fair
EIGHTY-PAGE GIANT (1964) #13 Very Good
EIGHTY-PAGE GIANT (1964) #14 Fine
EIGHTY-PAGE GIANT (1964) #14 Good
EIGHTY-PAGE GIANT (1964) #14 Very Good
EIGHTY-PAGE GIANT (1964) #15 Good
EIGHTY-PAGE GIANT (1964) #15 Fine
EIGHTY-PAGE GIANT (1964) #15 Very Good
FLASH (1959) (#105-350) (DC) #138 Good
FLASH (1959) (#105-350) (DC) #138 Fair
FLASH (1959) (#105-350) (DC) #141 Good
FLASH (1959) (#105-350) (DC) #151 Very Good
FLASH (1959) (#105-350) (DC) #158 Very Good
FLASH (1959) (#105-350) (DC) #161 Very Good
FLASH (1959) (#105-350) (DC) #162 Good
FLASH (1959) (#105-350) (DC) #162 Very Good
FLASH (1959) (#105-350) (DC) #163 Good
FLASH (1959) (#105-350) (DC) #163 Very Good
FLASH (1959) (#105-350) (DC) #164 Good
FLASH (1959) (#105-350) (DC) #164 Fair
FLASH (1959) (#105-350) (DC) #164 Very Good
FLASH (1959) (#105-350) (DC) #165 Fine
FLASH (1959) (#105-350) (DC) #165 Good
FLASH (1959) (#105-350) (DC) #165 Very Good
FLASH (1959) (#105-350) (DC) #167 Fine
FLASH (1959) (#105-350) (DC) #170 Good
FLASH (1959) (#105-350) (DC) #170 Fine
FLASH (1959) (#105-350) (DC) #170 Very Good
FLASH (1959) (#105-350) (DC) #171 Fine
FLASH (1959) (#105-350) (DC) #171 Very Good
FLASH (1959) (#105-350) (DC) #172 Good
FLASH (1959) (#105-350) (DC) #172 Very Good
FLASH (1959) (#105-350) (DC) #173 Good
FLASH (1959) (#105-350) (DC) #173 Fine
FLASH (1959) (#105-350) (DC) #173 Very Good
FLASH (1959) (#105-350) (DC) #176 Fine
FLASH (1959) (#105-350) (DC) #176 Very Good


FLASH (1959) (#105-350) (DC) #177

FLASH (1959) (#105-350) (DC) #177 Fine
FLASH (1959) (#105-350) (DC) #177 Very Good
FLASH (1959) (#105-350) (DC) #179 Fine
FLASH (1959) (#105-350) (DC) #179 Good
FLASH (1959) (#105-350) (DC) #179 Very Good
FLASH (1959) (#105-350) (DC) #180 Fine
FLASH (1959) (#105-350) (DC) #180 Good
FLASH (1959) (#105-350) (DC) #180 Very Good
FLASH ANNUAL (1963) #1 Good
FLASH ANNUAL (1963) #1 Fair
FLASH ANNUAL (1963) #1 Very Good
FLASHPOINT (2011) #2 Fine
FOX AND THE CROW (1951) #4 Good
FOX AND THE CROW (1951) #5 Good
FREDDY VS. JASON VS. ASH TPB (2008) #1 Fine
FREDDY VS. JASON VS. ASH: NIGHTMARE WARRIORS (2009) #2 B Near Mint/Mint
FREDDY VS. JASON VS. ASH: NIGHTMARE WARRIORS (2009) #5 Near Mint/Mint
FREDDY VS. JASON VS. ASH: NIGHTMARE WARRIORS (2009) #6 Near Mint/Mint
FUNNY STUFF (1944) #11 Very Good
FUNNY STUFF (1944) #22 Good
GANG BUSTERS (1947) #3 Fine
GEARS OF WAR (2008) #1 GAMESTOP Fine
GEARS OF WAR (2008) #4 VARIANT Near Mint/Mint
GEARS OF WAR (2008) #6 VARIANT Near Mint/Mint
GEORGE PEREZ PORTFOLIO #1 Near Mint/Mint
GEORGE PEREZ PORTFOLIO #1 Fine
GEORGE PEREZ PORTFOLIO #1 Very Fine
GI COMBAT (1957) (#44-288) (DC) #47 Good
GI COMBAT (1957) (#44-288) (DC) #50 Very Good
GI COMBAT (1957) (#44-288) (DC) #59 Fair
GI COMBAT (1957) (#44-288) (DC) #66 Good
GI COMBAT (1957) (#44-288) (DC) #84 Good
GI COMBAT (1957) (#44-288) (DC) #85 Very Good
GI COMBAT (1957) (#44-288) (DC) #103 Very Good
GI COMBAT (1957) (#44-288) (DC) #104 Good
GI COMBAT (1957) (#44-288) (DC) #106 Fine
GI COMBAT (1957) (#44-288) (DC) #107 Very Good
GI COMBAT (1957) (#44-288) (DC) #108 Good
GI COMBAT (1957) (#44-288) (DC) #109 Very Good
GI COMBAT (1957) (#44-288) (DC) #110 Very Good
GI COMBAT (1957) (#44-288) (DC) #111 Very Good
GI COMBAT (1957) (#44-288) (DC) #112 Good
GI COMBAT (1957) (#44-288) (DC) #112 Very Good
GI COMBAT (1957) (#44-288) (DC) #113 Good
GI COMBAT (1957) (#44-288) (DC) #113 Very Good
GI COMBAT (1957) (#44-288) (DC) #115 Good
GI COMBAT (1957) (#44-288) (DC) #116 Very Good
GI COMBAT (1957) (#44-288) (DC) #117 Good
GI COMBAT (1957) (#44-288) (DC) #117 Very Good
GI COMBAT (1957) (#44-288) (DC) #118 Very Good
GI COMBAT (1957) (#44-288) (DC) #119 Fair
GI COMBAT (1957) (#44-288) (DC) #120 Fine
GIRL'S ROMANCES (1950) #113 Very Good


GREATEST TEAM-UP STORIES EVER TOLD HC (1989) #1

GREATEST TEAM-UP STORIES EVER TOLD HC (1989) #1 Very Good
GREEN ARROW (2016) (#1-UP) (DC REBIRTH) #1 VARIANT Near Mint/Mint
GREEN LANTERN (1960) (#1-224) (DC) #22 Very Good
GREEN LANTERN (1960) (#1-224) (DC) #28 Very Good
GREEN LANTERN (1960) (#1-224) (DC) #31 Good
GREEN LANTERN (1960) (#1-224) (DC) #31 Very Good
GREEN LANTERN (1960) (#1-224) (DC) #34 Very Good
GREEN LANTERN (1960) (#1-224) (DC) #35 Very Good
GREEN LANTERN (1960) (#1-224) (DC) #36 Very Good
GREEN LANTERN (1960) (#1-224) (DC) #39 Very Good
GREEN LANTERN (1960) (#1-224) (DC) #48 Fine
GREEN LANTERN (1960) (#1-224) (DC) #48 Good
GREEN LANTERN (1960) (#1-224) (DC) #48 Very Good
GREEN LANTERN (1960) (#1-224) (DC) #49 Fine
GREEN LANTERN (1960) (#1-224) (DC) #53 Fine
GREEN LANTERN (1960) (#1-224) (DC) #54 Fine
GREEN LANTERN (1960) (#1-224) (DC) #54 Very Good
GREEN LANTERN (1960) (#1-224) (DC) #55 Good
GREEN LANTERN (1960) (#1-224) (DC) #55 Fine
GREEN LANTERN (1960) (#1-224) (DC) #55 Very Good
GREEN LANTERN (1960) (#1-224) (DC) #56 Fine
GREEN LANTERN (1960) (#1-224) (DC) #56 Very Good
GREEN LANTERN (1960) (#1-224) (DC) #57 Fine
GREEN LANTERN (1960) (#1-224) (DC) #57 Very Good
GREEN LANTERN/GREEN ARROW TPB (2012) #1 2X SIGNED Near Mint/Mint
GREEN LANTERN: AGENT ORANGE TPB (2010) #1 Very Good
GREEN LANTERN: EMERALD WARRIORS (2010) #1 VARIANT Near Mint/Mint
HARLEY & IVY: LOVE ON THE LAM (2001) #1 Near Mint/Mint
HARLEY QUINN (2000) (#1-38) (DC) #1 Very Fine
HARLEY QUINN (2000) (#1-38) (DC) #2 Fine
HARLEY QUINN (2000) (#1-38) (DC) #3 Very Fine
HARLEY QUINN (2000) (#1-38) (DC) #4 Very Fine
HARLEY QUINN (2000) (#1-38) (DC) #5 Very Fine
HARLEY QUINN (2000) (#1-38) (DC) #6 Very Fine
HARLEY QUINN (2000) (#1-38) (DC) #7 Fine
HARLEY QUINN (2000) (#1-38) (DC) #8 Fine
HARLEY QUINN (2000) (#1-38) (DC) #9 Very Fine
HARLEY QUINN (2000) (#1-38) (DC) #10 Very Fine
HARLEY QUINN (2000) (#1-38) (DC) #11 Fine
HARLEY QUINN (2000) (#1-38) (DC) #12 Fine
HARLEY QUINN (2000) (#1-38) (DC) #13 Fine
HARLEY QUINN (2000) (#1-38) (DC) #32 Very Fine
HARLEY QUINN (2000) (#1-38) (DC) #34 Very Fine
HAWKMAN (1964) (#1-27) (DC) #2 Fair
HAWKMAN (1964) (#1-27) (DC) #2 Very Good
HAWKMAN (1964) (#1-27) (DC) #3 Good
HAWKMAN (1964) (#1-27) (DC) #3 Fine
HAWKMAN (1964) (#1-27) (DC) #3 Very Good
HAWKMAN (1964) (#1-27) (DC) #5 Good
HAWKMAN (1964) (#1-27) (DC) #5 Very Good
HAWKMAN (1964) (#1-27) (DC) #6 Good


HAWKMAN (1964) (#1-27) (DC) #6

HAWKMAN (1964) (#1-27) (DC) #6 Very Good
HAWKMAN (1964) (#1-27) (DC) #8 Good
HAWKMAN (1964) (#1-27) (DC) #8 Fine
HAWKMAN (1964) (#1-27) (DC) #8 Very Good
HAWKMAN (1964) (#1-27) (DC) #9 Fine
HAWKMAN (1964) (#1-27) (DC) #9 Good
HAWKMAN (1964) (#1-27) (DC) #9 Very Good
HAWKMAN (1964) (#1-27) (DC) #19 Good
HEART THROBS (1957) (#47-146) (DC) #60 Fair
HOUSE OF MYSTERY (1951) #143 Very Good
HOUSE OF SECRETS (1956) #99 Very Good
JIMMY OLSEN (1954) #40 Fine
JIMMY OLSEN (1954) #40 Good
JIMMY WAKELY (1949) #1 Fair
JIMMY WAKELY (1949) #2 Fine
JSA: ALL STARS (2009) #1 VARIANT Near Mint/Mint
JUSTICE LEAGUE (2011) (#0-52) (DC NEW52) #21 VARIANT Very Fine
JUSTICE LEAGUE (2011) (#0-52) (DC NEW52) #21 VARIANT Fine
JUSTICE LEAGUE OF AMERICA (1960) (#1-261) (DC) #7 Very Good
JUSTICE LEAGUE OF AMERICA (1960) (#1-261) (DC) #14 Fair
JUSTICE LEAGUE OF AMERICA (1960) (#1-261) (DC) #14 Good
JUSTICE LEAGUE OF AMERICA (1960) (#1-261) (DC) #14 Very Good
JUSTICE LEAGUE OF AMERICA (1960) (#1-261) (DC) #15 Good
JUSTICE LEAGUE OF AMERICA (1960) (#1-261) (DC) #15 Fine
JUSTICE LEAGUE OF AMERICA (1960) (#1-261) (DC) #17 Fine
JUSTICE LEAGUE OF AMERICA (1960) (#1-261) (DC) #17 Very Good
JUSTICE LEAGUE OF AMERICA (1960) (#1-261) (DC) #18 Good
JUSTICE LEAGUE OF AMERICA (1960) (#1-261) (DC) #18 Very Good
JUSTICE LEAGUE OF AMERICA (1960) (#1-261) (DC) #20 Good
JUSTICE LEAGUE OF AMERICA (1960) (#1-261) (DC) #20 Fair
JUSTICE LEAGUE OF AMERICA (1960) (#1-261) (DC) #20 Very Good
JUSTICE LEAGUE OF AMERICA (1960) (#1-261) (DC) #22 Fair
JUSTICE LEAGUE OF AMERICA (1960) (#1-261) (DC) #22 Good
JUSTICE LEAGUE OF AMERICA (1960) (#1-261) (DC) #22 Very Good
JUSTICE LEAGUE OF AMERICA (1960) (#1-261) (DC) #24 Good
JUSTICE LEAGUE OF AMERICA (1960) (#1-261) (DC) #24 Very Good
JUSTICE LEAGUE OF AMERICA (1960) (#1-261) (DC) #25 Very Good
JUSTICE LEAGUE OF AMERICA (1960) (#1-261) (DC) #26 Very Good
JUSTICE LEAGUE OF AMERICA (1960) (#1-261) (DC) #28 Very Good
JUSTICE LEAGUE OF AMERICA (1960) (#1-261) (DC) #31 Very Good
JUSTICE LEAGUE OF AMERICA (1960) (#1-261) (DC) #35 Very Good
JUSTICE LEAGUE OF AMERICA (1960) (#1-261) (DC) #37 Very Good
JUSTICE LEAGUE OF AMERICA (1960) (#1-261) (DC) #38 Fair
JUSTICE LEAGUE OF AMERICA (1960) (#1-261) (DC) #46 Fine
JUSTICE LEAGUE OF AMERICA (1960) (#1-261) (DC) #46 Good
JUSTICE LEAGUE OF AMERICA (1960) (#1-261) (DC) #167 Fine
JUSTICE LEAGUE OF AMERICA (1960) (#1-261) (DC) #244 Near Mint/Mint
JUSTICE LEAGUE OF AMERICA (1960) (#1-261) (DC) #249 NEWSSTAND Very Fine
JUSTICE LEAGUE OF AMERICA (1960) (#1-261) (DC) #250 NEWSSTAND Fine
JUSTICE LEAGUE OF AMERICA (1960) (#1-261) (DC) #251 NEWSSTAND Fine
JUSTICE LEAGUE OF AMERICA (1960) (#1-261) (DC) #253 NEWSSTAND Near Mint/Mint
JUSTICE LEAGUE OF AMERICA (1960) (#1-261) (DC) #254 NEWSSTAND Very Fine
JUSTICE LEAGUE OF AMERICA (1960) (#1-261) (DC) #255 NEWSSTAND Fine
JUSTICE LEAGUE OF AMERICA (1960) (#1-261) (DC) #256 NEWSSTAND Near Mint/Mint


JUSTICE LEAGUE OF AMERICA (2006) (#0-60) #38 VARIANT

JUSTICE LEAGUE OF AMERICA (2006) (#0-60) #38 VARIANT Near Mint/Mint
JUSTICE LEAGUE OF AMERICA (2006) (#0-60) #38 VARIANT Very Fine
JUSTICE LEAGUE VS. SUICIDE SQUAD HC (DC REBIRTH) (2017) #1 Near Mint/Mint
JUSTICE LEAGUE: GENERATION LOST (2010) #5 VARIANT Near Mint/Mint
JUSTICE LEAGUE: GENERATION LOST (2010) #6 VARIANT Near Mint/Mint
KINGDOM COME (1996) #2 Near Mint/Mint
LEADING COMICS (1941) #26 Very Good
LEGENDS OF DANIEL BOONE (1955) #1 Good
LOIS LANE (1958) #26 Fair
LOIS LANE (1958) #28 Good
LOIS LANE (1958) #71 Good
LOIS LANE (1958) #71 Very Good
LOIS LANE ANNUAL (1962) #2 Fair
MAD (MAGAZINE) #182 Very Fine
MAD MONSTER BOOK OF HORRIFYING CLICHES HC (2002) #1 Good
MAD SPECIAL (MAG) #27 Fine
MAD SPECIAL (MAG) #27 Very Fine
MEN OF WAR (1977) #6 Fine
METAL MEN (1963) #1 Good
METAL MEN (1963) #4 Good
METAL MEN (1963) #5 Very Good
METAMORPHO (1965) #1 Very Good
METAMORPHO (1965) #3 Fine
MY GREATEST ADVENTURE (1955) #35 Very Good
MY GREATEST ADVENTURE (1955) #40 Very Good
MYSTERY IN SPACE (1951) #34 Good
MYSTERY IN SPACE (1951) #41 Fair
MYSTERY IN SPACE (1951) #45 Good
MYSTERY IN SPACE (1951) #47 Good
MYSTERY IN SPACE (1951) #53 Good
MYSTERY IN SPACE (1951) #55 Good
MYSTERY IN SPACE (1951) #60 Very Good
MYSTERY IN SPACE (1951) #65 Good
MYSTERY IN SPACE (1951) #68 Good
MYSTERY IN SPACE (1951) #70 Good
MYSTERY IN SPACE (1951) #70 CGC 6.0 Fine
MYSTERY IN SPACE (1951) #71 Very Good
MYSTERY IN SPACE (1951) #73 Very Good
MYSTERY IN SPACE (1951) #77 Very Good
MYSTERY IN SPACE (1951) #79 Very Good
MYSTERY IN SPACE (1951) #84 Good
MYSTERY IN SPACE (1951) #85 Good
MYSTERY IN SPACE (1951) #87 Good
MYSTERY IN SPACE (1951) #88 Good
MYSTERY IN SPACE (1951) #88 Very Good
MYSTERY IN SPACE (1951) #89 Good
MYSTERY IN SPACE (1951) #89 Very Good
MYSTERY IN SPACE (1951) #90 Good
MYSTERY IN SPACE (1951) #90 Very Good
MYSTERY IN SPACE (1951) #98 Fair
NIGHTMARE ON ELM STREET TPB (2007) #1 Very Fine
NIGHTWING: A KNIGHT IN BLUDHAVEN TPB (1998) #1 2ND PRINT Very Good
NIGHTWING: LOVE & BULLETS TPB (2000) #1 Fine
OUR ARMY AT WAR (1952) #151 Fair
OUR ARMY AT WAR (1952) #151 Good
OUR ARMY AT WAR (1952) #151 Very Good
OUR ARMY AT WAR (1952) #153 Good
OUR ARMY AT WAR (1952) #164 Very Good
OUR FIGHTING FORCES (1954) #71 Good

PAT BOONE (1959) #1 Good
PETER PORKCHOPS (1949) #2 Very Good
PETER PORKCHOPS (1949) #8 Good
POWER GIRL (2009) (#1-27) #3 Fine
POWER GIRL (2009) (#1-27) #3 Near Mint/Mint
POWER GIRL (2009) (#1-27) #3 Very Fine
POWER GIRL (2009) (#1-27) #4 Near Mint/Mint
POWER GIRL (2009) (#1-27) #4 Fine
POWER GIRL (2009) (#1-27) #4 Very Fine
POWER GIRL (2009) (#1-27) #5 Near Mint/Mint
POWER GIRL (2009) (#1-27) #5 Fine
POWER GIRL (2009) (#1-27) #5 Very Fine
POWER GIRL (2009) (#1-27) #6 Near Mint/Mint
POWER GIRL (2009) (#1-27) #7 Near Mint/Mint
POWER GIRL (2009) (#1-27) #9 Near Mint/Mint
POWER GIRL (2009) (#1-27) #10 Near Mint/Mint
POWER GIRL (2009) (#1-27) #11 Near Mint/Mint
POWER GIRL: ALIENS & APES TPB (2010) #1 Very Fine
PREACHER HC (2009) #4 Very Fine
PREACHER HC (2009) #5 Very Fine
REAL SCREEN COMICS (1945) #10 Very Good
REAL SCREEN COMICS (1945) #17 Good
RED HOOD: LOST DAYS (2010) #1 VARIANT Near Mint/Mint
RED LANTERNS (2011) #1 Very Fine
RIP HUNTER TIME MASTER (1961) #2 Good
RIP HUNTER TIME MASTER (1961) #4 Fair
RIP HUNTER TIME MASTER (1961) #5 Very Good
ROBIN HOOD TALES (1957) #7 Good
ROBIN HOOD TALES (1957) #8 Good
ROBIN HOOD TALES (1957) #10 Good
RUDOLPH THE RED-NOSED REINDEER (1950) #5 1954-1955 Very Good
SEA DEVILS (1961) #1 Good
SEA DEVILS (1961) #2 Good
SEA DEVILS (1961) #2 Very Good
SEA DEVILS (1961) #3 Good
SEA DEVILS (1961) #4 Good
SEA DEVILS (1961) #5 Good
SECRET ORIGINS (1961) (#1) (SPECIAL GIANT ISSUE) (DC) #1 Fair
SECRET ORIGINS (1986) (#1-50) (DC) #30 Fine
SEVEN SOLDIERS OF VICTORY HC (2010) #1 Near Mint/Mint
SEVEN SOLDIERS OF VICTORY HC (2010) #2 Near Mint/Mint
SEVEN SOLDIERS: ZATANNA (2005) #4 Near Mint/Mint
SGT. BILKO (1957) #3 Good
SGT. BILKO (1957) #3 Very Good
SGT. BILKO (1957) #8 Very Good
SGT. BILKO (1957) #10 Good
SGT. BILKO (1957) #10 Very Good
SGT. BILKO (1957) #14 Good
SGT. BILKO (1957) #14 Very Good
SGT. ROCK'S PRIZE BATTLE TALES (1964) #1 Good
SGT. ROCK'S PRIZE BATTLE TALES (1964) #1 Very Good
SHOWCASE (1956) #19 Very Good
SHOWCASE (1956) #28 Good
SHOWCASE (1956) #28 Very Good
SHOWCASE (1956) #29 Very Good
SHOWCASE (1956) #31 Good
SHOWCASE (1956) #32 Fair

SHOWCASE (1956) #32 Good
SHOWCASE (1956) #32 Very Good
SHOWCASE (1956) #33 Fine
SHOWCASE (1956) #33 Fair
SHOWCASE (1956) #33 Good
SHOWCASE (1956) #33 Very Good
SHOWCASE (1956) #34 Very Good
SHOWCASE (1956) #35 Fair
SHOWCASE (1956) #35 Good
SHOWCASE (1956) #35 Very Good
SHOWCASE (1956) #36 Good
SHOWCASE (1956) #36 Fair
SHOWCASE (1956) #36 Very Good
SHOWCASE (1956) #38 Fair
SHOWCASE (1956) #38 Good
SHOWCASE (1956) #38 Very Good
SHOWCASE (1956) #39 Good
SHOWCASE (1956) #39 Fair
SHOWCASE (1956) #39 Very Good
SHOWCASE (1956) #40 Good
SHOWCASE (1956) #40 Fine
SHOWCASE (1956) #40 Fair
SHOWCASE (1956) #40 Very Good
SHOWCASE (1956) #41 Fair
SHOWCASE (1956) #41 Good
SHOWCASE (1956) #41 Fine
SHOWCASE (1956) #41 Very Good
SHOWCASE (1956) #42 Fair
SHOWCASE (1956) #42 Good
SHOWCASE (1956) #42 Very Good
SHOWCASE (1956) #44 Very Good
SHOWCASE (1956) #45 Good
SHOWCASE (1956) #45 Fair
SHOWCASE (1956) #45 Very Good
SHOWCASE (1956) #46 Good
SHOWCASE (1956) #46 Fair
SHOWCASE (1956) #46 Very Good
SHOWCASE (1956) #47 Good
SHOWCASE (1956) #47 Very Good
SHOWCASE (1956) #53 Very Good
SHOWCASE (1956) #54 Good
SHOWCASE (1956) #54 Fine
SHOWCASE (1956) #57 Good
SHOWCASE (1956) #57 Fair
SHOWCASE (1956) #57 Fine
SHOWCASE (1956) #57 Very Good
SHOWCASE (1956) #58 Fair
SHOWCASE (1956) #58 Good
SHOWCASE (1956) #58 Fine
SHOWCASE (1956) #58 Very Good
SHOWCASE (1956) #98 Fine
SHOWCASE (1956) #98 Very Fine
STARMAN (1994) #0 NEWSSTAND Fine
SUGAR AND SPIKE (1956) #77 Very Good
SUGAR AND SPIKE (1956) #78 Very Good
SUPER SONS (DC REBIRTH) (2017) #1 Near Mint/Mint
SUPERBOY (1949) (#1-258) (DC) #109 Fair
SUPERBOY (1949) (#1-258) (DC) #112 Good


SUPERBOY (1949) (#1-258) (DC) #113

SUPERBOY (1949) (#1-258) (DC) #113 Good
SUPERBOY (1949) (#1-258) (DC) #113 Fair
SUPERBOY (1949) (#1-258) (DC) #114 Good
SUPERBOY (1949) (#1-258) (DC) #114 Fair
SUPERBOY (1949) (#1-258) (DC) #129 Very Good
SUPERGIRL: BEING SUPER TPB (2018) #1 Near Mint/Mint
SUPERMAN (1939) (#1-423) (DC) #136 Fair
SUPERMAN (1939) (#1-423) (DC) #155 Good
SUPERMAN (1939) (#1-423) (DC) #176 Good
SUPERMAN (1939) (#1-423) (DC) #186 Good
SUPERMAN (1939) (#1-423) (DC) #226 Very Good
SUPERMAN (2016) (#1-UP) (DC REBIRTH) #1 VARIANT Near Mint/Mint
SUPERMAN ANNUAL (1960) #1 Fair
SUPERMAN ANNUAL (1960) #3 Very Good
SUPERMAN ANNUAL (1960) #6 Very Good
SUPERMAN ANNUAL (1960) #7 Good
SUPERMAN REBORN HC (DC REBIRTH) (2017) #2 Near Mint/Mint
SUPERMAN/BATMAN (2003) #74 Near Mint/Mint
SUPERMAN/BATMAN (2003) #76 Near Mint/Mint
SUPERMAN: EMPEROR JOKER TPB (2006) #1 Fine
SUPERMAN: LAST SON OF KRYPTON FCBD (2013) #1 MILE HIGH Fine
SUPERMAN: WORLD OF NEW KRYPTON (2009) #6 VARIANT Near Mint/Mint
SUPERMAN: WORLD OF NEW KRYPTON (2009) #7 VARIANT Near Mint/Mint
SUPERWOMAN VOL. 3: MIDNIGHT HOUR TPB (DC REBIRTH) (2018) #1 Near Mint/Mint
SWAMP THING (2011) (#1-40) (NEW 52) #1 NEWSSTAND Fine
TALES OF THE NEW TEEN TITANS (1982) #1 NEWSSTAND Very Good
TEEN TITANS (2016) (#1-UP) (DC REBIRTH) #2 Near Mint/Mint
TEEN TITANS (2016) (#1-UP) (DC REBIRTH) #12 Near Mint/Mint
TEEN TITANS (2016) (#1-UP) (DC REBIRTH) #12 Very Fine
TEEN TITANS: LAZARUS CONTRACT SPECIAL (2017) #1 Near Mint/Mint
THREE MOUSEKETEERS (1970) #1 Very Good
TITANS REBIRTH (2016) #1 VARIANT Very Fine
TRICK 'R TREAT TPB (2009) #1 Very Fine
UNEXPECTED (TALES OF THE UNEXPECTED #1-104) (1956) #8 Very Good
UNEXPECTED (TALES OF THE UNEXPECTED #1-104) (1956) #19 Good
UNKNOWN SOLDIER (1977) (#205-268) (DC) #247 Fine
V (1985) #1 Near Mint/Mint
VINYL UNDERGROUND TPB (2008) #1 Very Fine
WATCHMEN (1986) #1 Very Fine
WATCHMEN (1986) #2 Fine
WATCHMEN (1986) #12 Fine
WATCHMEN (1986) #12 Near Mint/Mint
WONDER WOMAN (1942) (#1-329) (DC) #230 Very Good
WONDER WOMAN (1942) (#1-329) (DC) #249 Very Good
WONDER WOMAN (2006) (#1-44, 600-614) (DC) #28 VARIANT Very Good
WONDER WOMAN REBIRTH (2016) #1 Very Fine
WORLD WITHOUT A SUPERMAN TPB #1 Fine
WORLDS FINEST (1941) (#2-323) (DC) (WORLD'S FINEST) #120 Good
WORLDS FINEST (1941) (#2-323) (DC) (WORLD'S FINEST) #121 Very Good
WORLDS FINEST (1941) (#2-323) (DC) (WORLD'S FINEST) #137 Fair
WORLDS FINEST (1941) (#2-323) (DC) (WORLD'S FINEST) #140 Very Good
WORLDS FINEST (1941) (#2-323) (DC) (WORLD'S FINEST) #141 Very Good
WORLDS FINEST (1941) (#2-323) (DC) (WORLD'S FINEST) #264 Near Mint/Mint


YOUNG ROMANCE (1963) (#125-208) (DC) (2000) #143

YOUNG ROMANCE (1963) (#125-208) (DC) (2000) #143 Very Good