Free BEFORE WATCHMEN Poster
From DC Comics
Howdy!

We hired five new staff members at Mile High Comics today. This unprecedented burst of expansion was prompted by two primary factors. First, our last codeword sale (which ended yesterday afternoon) was so amazingly well-received that we are now 10 working days behind in shipping orders. Second, we have the largest one-time event in the 42-year history of Mile High Comics planned for just 16 days from today! Simply put, there was no way that our existing 40 staff members were going to be able to handle both of these challenging events at the same time. That is why, after mentioning in last week's local newsletter that I wanted to hire two temporary workers for the month of June, I unilaterally increased that number this morning, to five.

What this sudden expansion of our available manpower allows us to do is to continue to offer those of you who shop with us online a 50% off codeword (COMICSPARTY!) on all of your upcoming back issue comics and magazine purchases. It will still take us several weeks to return to our typical 24-hour turnaround on shipping orders, but those shipping delays should steadily decline. In the meantime, we should also be able to make considerable progress on preparing our Jason St. Mega-Store for our opening night party for the Denver Comic-Con, which will be taking place in our our gigantic 65,000 square foot warehouse building on Thursday evening, June 14th, from 5 PM - 11 PM.


Jason St. Mega-Store Wall Panorama
Just in case you missed my earlier announcements, we are right in the middle of expanding the Mega-Store portion of our new Jason St. Warehouse from 25,000, to 35,000, square feet. This expansion will include our adding over one linear mile of retail wall displays around the perimeter of the entire store area, featuring exclusively pre-1985 comics. When completed, this gigantic visual display will be the largest comics exhibit ever created, dwarfing in size even the combined wall displays of ALL the comics dealers exhibiting at the very largest comics conventions! There has never before been such an immense visual display in one spot of Golden Age, Silver Age, and Bronze Age comics...





Denver Comic-
Con 2012

Over the next several newsletters, I will be updating those of you who shop with us online about which comics creators and media personalities will be attending our June 14th event. Here is an initial listing that was provided to us by the Denver Comic-Con of their guests who have already committed to coming to our party:


We now need to contact these guests individually, to see which among them might be willing to also sign autographed comics for those of you who shop with us online. I hope to have news for you on that front, soon. What I can already pass on to you, however, is that Michael Uslan, the Executive Producer of the BATMAN and DARK KNIGHT films has asked for time during the middle of our event to address the entire party, presumably about the his lifelong love of Batman, and the upcoming DARK KNIGHT RISES film release. We are advance ordering a considerable number of his "The Boy Who Loved Batman" hardcovers, and hope that we can offer signed copies of his book via our website to those of you who cannot attend our party in person.


Before I leave the subject of the Denver Comic-Con, I do need to caution those of you who are thinking about attending, but have not yet purchased your tickets, that the Saturday of the convention is now over 70% sold out. With the media coverage of the this new Denver convention just now ramping up, the odds that there might not be any last-minute Saturday tickets left once the convention begins are growing rapidly. I can still vividly recall last fall's Montreal convention, where several thousand people were drawn to that convention on Saturday morning by highly positive media coverage, only to find out that the event was completely sold out. To avoid that possible disappointment, order your Denver Comic-Con tickets today!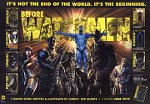 Before Watchmen
Poster

In other news, Pam's inventory team was able to sort and grade over 25,000 more comics for you over the last seven days. As a direct result, our New-In-Stock and Premium New-In-Stock listings on our website for this past week are absolutely wonderful. All of these newly-listed back issue comics and magazines are available to you at half price when you utilize our new 50% off COMICSPARTY! codeword. The new half off codeword applies to all of our back issue comics and magazines listed on our website that were published at least 12 months ago, but does not apply to new comics, books, supplies, and other non-comics items listed on our website. All of our backlist trade paperback and hardback books are also discounted for you right now at 30% off, right on our website, which makes achieving our free shipping minimums of $30 for domestic orders, and $60 for International orders, quite a bit easier. Enjoy!




Before Watchmen
Poster

My final item for today is to offer you a free copy of a brand new DC Comics BEFORE WATCHMAN promotional poster. This two-sided newsprint poster comes conveniently folded, and features the first official cover images of several BEFORE WATCHMEN titles. Simply place any minimum $20 order with us over the next couple of days, and you can have one of these new posters absolutely for free. Just ask for your BEFORE WATCHMAN poster in the "notes" section of our online order form, and we will include it with your order at no charge. Please do remember, however, that our supplies of these free DC Comics promotional posters are quite limited, and that it will take us upwards of two weeks to ship your order. Thank you, in advance, for your patience and understanding...

Chuck Rozanski,
President - Mile High Comics, Inc.
May 30, 2012
Advance Previews
of next weeks comics from
Archie Comics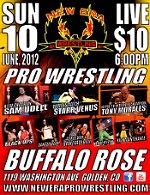 New Era Wrestling

P.S. I don't want to forget to mention again that our friends from NEW ERA wrestling are will be building a full-scale wrestling ring in our Jason St. Mega-Store for our party on the night of June 14th. In between my conducting an incredible 400-item Silver Age Comics auction that evening, they will be staging full-contact exhibitions of their extremely dynamic pro wrestling matches. They normally charge $10 per person admission to their events (such as the one that they are staging at Golden, Colorado's Buffalo Rose nightclub on June 10th) but during our party you will be able to see them wrestling for free! As far as I know, there has never before been a comics store that was so immense that an entire full-scale wrestling ring could be tucked into just one corner...





Click here to view all of the Premium New-In-Stock



Click here to view all of the New In Stock



Click here to view all of the recently added Trade Paperbacks and HardCovers