60% Off ALL COMICS Sale Ending Soon
Howdy!

Today's newsletter is going to be very brief, as I simply want to encourage those of you who have not yet placed an order with us during our current 60% off GREATDEAL! codeword sale to do so as quickly as possible. GREATDEAL! is our first extremely steep discount sale in quite some time, and the initial response to Wednesday's announcement of the 60% off sale prompted the largest surge in business that we have seen in over a year.

Just in case you missed my initial announcement, the 60% off GREATDEAL! codeword sale applies to all eight million of our back issue comics and magazines, but not to new comics, books, statues and other non-comics items. While not included in the codeword sale, all 250,000+ of our backlist trade paperback and hardback books (published more than a year ago...) are also on sale for you right now, discounted at 40% off right on our website.

So you know, our books are on sale for you during the GREATDEAL! back issues sale specifically so that it might be easier for you to meet our free shipping minimums of $30 for domestic orders, and $60 for International orders. That having been said, our per item books shipping surcharges do need to still apply, as they help us to cover about half the actual cost of shipping those substantially heavier items to you.

What I really need to communicate to you at this point is that orders received close to Tuesday's end of the 60% off sale are going to take an estimated 7-10 to ship, and perhaps even longer. With thousands upon thousands of comics being ordered from our website right now at under $2 each (many under $1 each!) the sheer time and labor required to ship those very large orders is going to strain our shipping capacities for at least a couple of weeks. Please be patient when waiting for your comics order to arrive, as we will work through this backlog as quickly as we can...

I will close by stating that my goal in initiating this massive giveaway of our back issue comics and magazines was to thank all of you who have been supporting us. The enthusiastic response that we have already received has been both gratifying, and overwhelming. With that thought in mind, I need you to know that there is no way that we can afford to extend the GREATDEAL! sale past next Tuesday's noon deadline. If you still want to receive some of our very best back issue comics nearly for free, you need to place your 60% off GREATDEAL! order with us right away.

Chuck Rozanski,
President - Mile High Comics, Inc.
May 25, 2012
Advance Previews
of next weeks comics from
Archie Comics

P.S. While our mail order operation will be closed for the Memorial Day Holiday on Monday, our Denver area stores in Lakewood, on Colorado Blvd., and our Jason St. Mega-Store, will be open from 11 AM -4 PM on Monday with some great in-store specials. I won't bore those of you who shop with us online with all the details of these Denver area promotions (unless, of course, you would like to read the local newsletter) except to mention that we added another 10,000 square feet into our Jason St. Mega-Store yesterday by shifting the back wall further into the warehouse area. In the photo below Lisa is shown standing in the middle of the 25' X 400' expansion area. At 35,000 square feet, Jason St. is now, by far, the largest comic book specialty store in the entire world!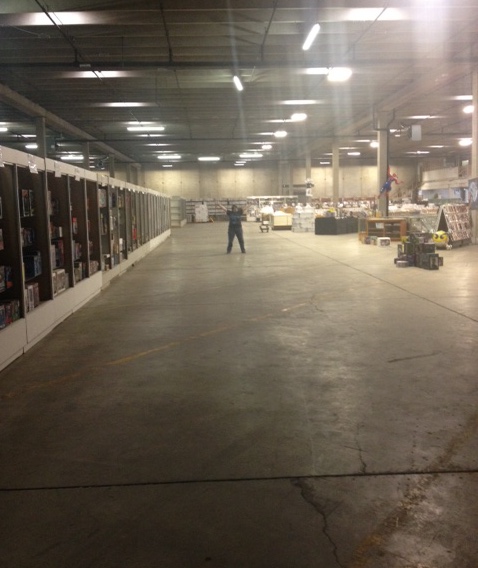 Jason Street Mega Store Expansion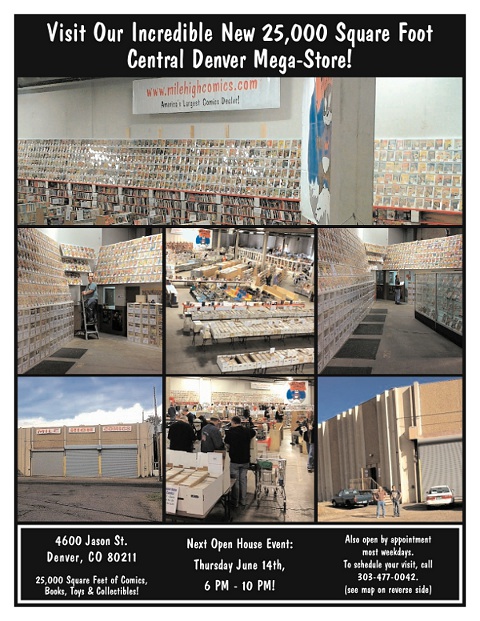 Jason Street Mega Store - 303-477-0042
Click here to view all of the Premium New-In-Stock


Click here to view all of the New In Stock


Click here to view all of the recently added Trade Paperbacks and HardCovers