Local News - DEADPOOL RESTOCK and ROCKY MOUNTAIN COMIC CONVENTION!
Howdy!
This is William with Mile High Comics. Chuck is out of town for a couple days and wanted me to write a quick Local newsletter.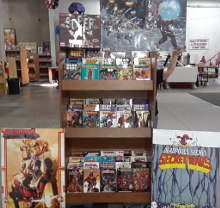 Some of our DEADPOOL Items at Jason Street Mega Store

First, DEADPOOL 2 starts this weekend and we just got restocked on all things DEADPOOL at our Jason Street Mega Store, Lakewood, and Glendale Store. We have Comics, Trade Paperbacks, Hardcovers, Posters, POP figures, Statues, and so much more! Come on down and take a look!


ROCKY MOUNTAIN COMIC CONVENTION

Second this Sunday (May 20th) from 10am-5pm our Friend Terry O'Neill from Terry's Comics is throwing a 1 day show the ROCKY MOUNTAIN COMIC CONVENTION at the DoubleTree by Hilton Hotel Denver - Stapelton North. This should be a fun show with lots of great deals to be found. I will be setting up at the show with $1 books, discounted toys, and a few hundred high grade "key" issues from the single owner collection we picked up last week. Come by and say Hi!
Have a Great Weekend!
William Moulton,
Exucitive Buyer - Mile High Comics, Inc.
May 17, 2018