WALKING DEAD #1-#100, NEW MUTANTS #87 and #98, more!
Howdy!
After catching a crack-of-dawn flight out of Denver, I am in San Diego today. Along with 1,000 other people, I will be attending the annual Harvey Milk Diversity breakfast tomorrow. Noted gay historian, Lillian Faderman, is premiering her new book on Harvey Milk's life at this event, and I just cannot wait to read it. I am sure that she has discovered many cogent points that other historians have missed, some of which may be critical to my upcoming graphic novel about Harvey.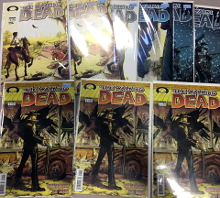 Some of the early WALKING DEAD issues we just got in

While I am away traveling, Will Moulton is continuing to buy great comics for us at Jason St. Just yesterday he purchased 800 amazing recent back issues, including a NM set of WALKING DEAD #1-#100. Woo! Will also purchased another collection that contained a nice NEW MUTANTS #87 and also #98, both of which have vastly increased popularity due to DEADPOOL releasing this weekend. Check out our Premium New-In-Stock link for Will's latest update.
Aside from buying comics, Will has also managed to finish grading the wonderful collection of 4,000+ Silver Age and Bronze Age comics that he bought for us last week. The complete list is at the end of this newsletter. Please note that we only have one copy each of most of these great older comics, and that many are going fast. Our current 40% off PATIENCE! codeword discount does apply to all of these back issue comics. In fact, all ten million of our back issues are in sale for you right now via the 40% off PATIENCE! discount, excluding only new issues, a few variants, and our professionally-graded issues. Enjoy!


ROCKY MOUNTAIN COMIC CONVENTION

Finally, if you live in the Denver area please try to attend the ROCKY MOUNTAIN COMIC CONVENTION this weekend at the DoubleTree by Hilton Hotel Denver - Stapelton North at 4040 Quebec Street, Denver Co. 80216. It is being held from 10am -5pm We will be bringing some of the nicer comics from all of our recent collections to the show.
Happy collecting!
Chuck Rozanski,
President - Mile High Comics, Inc.
May 17, 2018

P.S. Here is a list of the some of the comics from the single-owner collection.
ADVENTURES ON THE PLANET OF THE APES (1975) #5 Fine


AMAZING ADVENTURES (MARVEL) (1970) #1

AMAZING ADVENTURES (MARVEL) (1970) #1 Very Fine
AMAZING ADVENTURES (MARVEL) (1970) #2 Very Fine
AMAZING ADVENTURES (MARVEL) (1970) #4 Near Mint/Mint
AMAZING ADVENTURES (MARVEL) (1970) #6 Near Mint/Mint
AMAZING ADVENTURES (MARVEL) (1970) #8 Near Mint/Mint
AMAZING ADVENTURES (MARVEL) (1970) #9 Very Good
AMAZING ADVENTURES (MARVEL) (1970) #10 Very Fine
AMAZING ADVENTURES (MARVEL) (1970) #11 Good
AMAZING ADVENTURES (MARVEL) (1970) #13 Fine
AMAZING ADVENTURES (MARVEL) (1970) #16 Very Fine
AMAZING ADVENTURES (MARVEL) (1970) #17 Very Fine
AMAZING ADVENTURES (MARVEL) (1970) #18 Very Fine
AMAZING ADVENTURES (MARVEL) (1970) #19 Near Mint/Mint
AMAZING ADVENTURES (MARVEL) (1970) #23 Near Mint/Mint
AMAZING ADVENTURES (MARVEL) (1970) #24 Near Mint/Mint
AMAZING ADVENTURES (MARVEL) (1970) #28 Near Mint/Mint
AMAZING ADVENTURES (MARVEL) (1970) #38 Fine

ARRGH (MARVEL) (1974) #1 Fine
ARRGH (MARVEL) (1974) #2 Very Fine

ASTONISHING TALES (MARVEL) (1970) #1 Fine
ASTONISHING TALES (MARVEL) (1970) #4 Near Mint/Mint
ASTONISHING TALES (MARVEL) (1970) #8 Very Fine
ASTONISHING TALES (MARVEL) (1970) #9 Very Fine
ASTONISHING TALES (MARVEL) (1970) #12 Fine
ASTONISHING TALES (MARVEL) (1970) #13 Very Fine
ASTONISHING TALES (MARVEL) (1970) #18 Near Mint/Mint
ASTONISHING TALES (MARVEL) (1970) #19 Very Fine
ASTONISHING TALES (MARVEL) (1970) #20 Very Fine
ASTONISHING TALES (MARVEL) (1970) #21 Very Good


AVENGERS (1963) (#1-402) (MARVEL) #9

AVENGERS (1963) (#1-402) (MARVEL) #9 Good
AVENGERS (1963) (#1-402) (MARVEL) #48 Fair
AVENGERS (1963) (#1-402) (MARVEL) #53 Fair
AVENGERS (1963) (#1-402) (MARVEL) #57 Good
AVENGERS (1963) (#1-402) (MARVEL) #57 Fair
AVENGERS (1963) (#1-402) (MARVEL) #59 Good
AVENGERS (1963) (#1-402) (MARVEL) #62 Fair
AVENGERS (1963) (#1-402) (MARVEL) #63 Good
AVENGERS (1963) (#1-402) (MARVEL) #72 Very Good
AVENGERS (1963) (#1-402) (MARVEL) #73 Good
AVENGERS (1963) (#1-402) (MARVEL) #75 Very Good
AVENGERS (1963) (#1-402) (MARVEL) #76 Very Good
AVENGERS (1963) (#1-402) (MARVEL) #79 Good
AVENGERS (1963) (#1-402) (MARVEL) #80 Very Good
AVENGERS (1963) (#1-402) (MARVEL) #81 Fine
AVENGERS (1963) (#1-402) (MARVEL) #82 Very Good
AVENGERS (1963) (#1-402) (MARVEL) #83 Fine
AVENGERS (1963) (#1-402) (MARVEL) #84 Very Good
AVENGERS (1963) (#1-402) (MARVEL) #85 Good
AVENGERS (1963) (#1-402) (MARVEL) #86 Good
AVENGERS (1963) (#1-402) (MARVEL) #87 Very Good
AVENGERS (1963) (#1-402) (MARVEL) #89 Very Good
AVENGERS (1963) (#1-402) (MARVEL) #90 Fine
AVENGERS (1963) (#1-402) (MARVEL) #91 Good
AVENGERS (1963) (#1-402) (MARVEL) #93 Fine
AVENGERS (1963) (#1-402) (MARVEL) #94 Fine
AVENGERS (1963) (#1-402) (MARVEL) #95 Very Good
AVENGERS (1963) (#1-402) (MARVEL) #96 Good
AVENGERS (1963) (#1-402) (MARVEL) #97 Very Fine
AVENGERS (1963) (#1-402) (MARVEL) #98 Very Fine
AVENGERS (1963) (#1-402) (MARVEL) #99 Fine
AVENGERS (1963) (#1-402) (MARVEL) #100 Very Good
AVENGERS (1963) (#1-402) (MARVEL) #101 Good
AVENGERS (1963) (#1-402) (MARVEL) #102 Good
AVENGERS (1963) (#1-402) (MARVEL) #103 Good
AVENGERS (1963) (#1-402) (MARVEL) #105 Very Fine
AVENGERS (1963) (#1-402) (MARVEL) #111 Good


AVENGERS (1963) (#1-402) (MARVEL) #115

AVENGERS (1963) (#1-402) (MARVEL) #115 Fine
AVENGERS (1963) (#1-402) (MARVEL) #116 Very Fine
AVENGERS (1963) (#1-402) (MARVEL) #118 Very Fine
AVENGERS (1963) (#1-402) (MARVEL) #125 Fine
AVENGERS (1963) (#1-402) (MARVEL) #126 Very Good
AVENGERS (1963) (#1-402) (MARVEL) #127 Near Mint/Mint
AVENGERS (1963) (#1-402) (MARVEL) #129 Fine
AVENGERS (1963) (#1-402) (MARVEL) #130 Very Fine
AVENGERS (1963) (#1-402) (MARVEL) #132 Fine

AVENGERS ANNUAL (1967) #1 Very Good

AVENGERS GIANT-SIZE (GIANT SIZE) (1974) #2 Near Mint/Mint
AVENGERS GIANT-SIZE (GIANT SIZE) (1974) #3 Fine

AVENGERS: TIME RUNS OUT HC (2016) #1 Near Mint/Mint

BEWARE (1973) #1 Very Fine
BEWARE (1973) #2 Very Fine
BEWARE (1973) #3 Fine
BEWARE (1973) #4 Very Fine
BEWARE (1973) #5 Very Good
BEWARE (1973) #8 Very Fine

BLACK PANTHER (1976) (#1-15) (MARVEL) #2 Fine
BLACK PANTHER (1976) (#1-15) (MARVEL) #3 Very Fine
BLACK PANTHER (1976) (#1-15) (MARVEL) #5 Very Good
BLACK PANTHER (1976) (#1-15) (MARVEL) #6 Fine
BLACK PANTHER (1976) (#1-15) (MARVEL) #8 Fine
BLACK PANTHER (1976) (#1-15) (MARVEL) #10 Fine
BLACK PANTHER (1976) (#1-15) (MARVEL) #11 Fine
BLACK PANTHER (1976) (#1-15) (MARVEL) #12 Very Good


CAPTAIN AMERICA (1968) (#100-454) (MARVEL) #100

CAPTAIN AMERICA (1968) (#100-454) (MARVEL) #100 Very Fine
CAPTAIN AMERICA (1968) (#100-454) (MARVEL) #101 Very Fine
CAPTAIN AMERICA (1968) (#100-454) (MARVEL) #102 Very Good
CAPTAIN AMERICA (1968) (#100-454) (MARVEL) #103 Good
CAPTAIN AMERICA (1968) (#100-454) (MARVEL) #104 Fine
CAPTAIN AMERICA (1968) (#100-454) (MARVEL) #105 Fine
CAPTAIN AMERICA (1968) (#100-454) (MARVEL) #106 Very Fine
CAPTAIN AMERICA (1968) (#100-454) (MARVEL) #108 Fine
CAPTAIN AMERICA (1968) (#100-454) (MARVEL) #110 Fine
CAPTAIN AMERICA (1968) (#100-454) (MARVEL) #112 Near Mint/Mint
CAPTAIN AMERICA (1968) (#100-454) (MARVEL) #113 Near Mint/Mint
CAPTAIN AMERICA (1968) (#100-454) (MARVEL) #116 Very Fine
CAPTAIN AMERICA (1968) (#100-454) (MARVEL) #119 Very Fine
CAPTAIN AMERICA (1968) (#100-454) (MARVEL) #129 Very Fine
CAPTAIN AMERICA (1968) (#100-454) (MARVEL) #130 Near Mint/Mint
CAPTAIN AMERICA (1968) (#100-454) (MARVEL) #138 Near Mint/Mint
CAPTAIN AMERICA (1968) (#100-454) (MARVEL) #139 Fine
CAPTAIN AMERICA (1968) (#100-454) (MARVEL) #140 Near Mint/Mint
CAPTAIN AMERICA (1968) (#100-454) (MARVEL) #141 Fine
CAPTAIN AMERICA (1968) (#100-454) (MARVEL) #142 Near Mint/Mint
CAPTAIN AMERICA (1968) (#100-454) (MARVEL) #143 Near Mint/Mint
CAPTAIN AMERICA (1968) (#100-454) (MARVEL) #144 Very Fine
CAPTAIN AMERICA (1968) (#100-454) (MARVEL) #145 Very Fine
CAPTAIN AMERICA (1968) (#100-454) (MARVEL) #149 Very Fine
CAPTAIN AMERICA (1968) (#100-454) (MARVEL) #153 Very Fine
CAPTAIN AMERICA (1968) (#100-454) (MARVEL) #154 Very Good
CAPTAIN AMERICA (1968) (#100-454) (MARVEL) #155 Near Mint/Mint
CAPTAIN AMERICA (1968) (#100-454) (MARVEL) #157 Very Fine
CAPTAIN AMERICA (1968) (#100-454) (MARVEL) #158 Very Fine
CAPTAIN AMERICA (1968) (#100-454) (MARVEL) #159 Very Fine
CAPTAIN AMERICA (1968) (#100-454) (MARVEL) #160 Very Fine
CAPTAIN AMERICA (1968) (#100-454) (MARVEL) #163 Very Fine
CAPTAIN AMERICA (1968) (#100-454) (MARVEL) #167 Very Fine


CAPTAIN AMERICA (1968) (#100-454) (MARVEL) #168

CAPTAIN AMERICA (1968) (#100-454) (MARVEL) #168 Very Fine
CAPTAIN AMERICA (1968) (#100-454) (MARVEL) #172 Fine
CAPTAIN AMERICA (1968) (#100-454) (MARVEL) #174 Very Fine
CAPTAIN AMERICA (1968) (#100-454) (MARVEL) #183 Fine
CAPTAIN AMERICA (1968) (#100-454) (MARVEL) #184 Fine
CAPTAIN AMERICA (1968) (#100-454) (MARVEL) #185 Very Fine
CAPTAIN AMERICA (1968) (#100-454) (MARVEL) #186 Very Fine
CAPTAIN AMERICA (1968) (#100-454) (MARVEL) #188 Very Fine
CAPTAIN AMERICA (1968) (#100-454) (MARVEL) #190 Near Mint/Mint
CAPTAIN AMERICA (1968) (#100-454) (MARVEL) #193 Fine
CAPTAIN AMERICA (1968) (#100-454) (MARVEL) #194 Very Fine
CAPTAIN AMERICA (1968) (#100-454) (MARVEL) #197 Very Fine
CAPTAIN AMERICA (1968) (#100-454) (MARVEL) #202 Very Fine
CAPTAIN AMERICA (1968) (#100-454) (MARVEL) #206 Near Mint/Mint
CAPTAIN AMERICA (1968) (#100-454) (MARVEL) #207 Very Fine
CAPTAIN AMERICA (1968) (#100-454) (MARVEL) #208 Very Fine
CAPTAIN AMERICA (1968) (#100-454) (MARVEL) #209 Near Mint/Mint
CAPTAIN AMERICA (1968) (#100-454) (MARVEL) #210 Near Mint/Mint
CAPTAIN AMERICA (1968) (#100-454) (MARVEL) #211 Near Mint/Mint
CAPTAIN AMERICA (1968) (#100-454) (MARVEL) #213 Very Fine
CAPTAIN AMERICA (1968) (#100-454) (MARVEL) #220 Very Fine
CAPTAIN AMERICA (1968) (#100-454) (MARVEL) #231 Near Mint/Mint
CAPTAIN AMERICA (1968) (#100-454) (MARVEL) #233 Near Mint/Mint
CAPTAIN AMERICA (1968) (#100-454) (MARVEL) #236 NEWSSTAND Very Fine
CAPTAIN AMERICA (1968) (#100-454) (MARVEL) #237 NEWSSTAND Near Mint/Mint
CAPTAIN AMERICA (1968) (#100-454) (MARVEL) #238 NEWSSTAND Fine
CAPTAIN AMERICA (1968) (#100-454) (MARVEL) #242 Near Mint/Mint
CAPTAIN AMERICA (1968) (#100-454) (MARVEL) #244 Near Mint/Mint
CAPTAIN AMERICA (1968) (#100-454) (MARVEL) #247 Near Mint/Mint
CAPTAIN AMERICA (1968) (#100-454) (MARVEL) #248 Near Mint/Mint
CAPTAIN AMERICA (1968) (#100-454) (MARVEL) #249 Very Fine
CAPTAIN AMERICA (1968) (#100-454) (MARVEL) #251 Fine
CAPTAIN AMERICA (1968) (#100-454) (MARVEL) #252 Near Mint/Mint
CAPTAIN AMERICA (1968) (#100-454) (MARVEL) #253 Very Fine


CAPTAIN AMERICA (1968) (#100-454) (MARVEL) #254

CAPTAIN AMERICA (1968) (#100-454) (MARVEL) #254 Near Mint/Mint
CAPTAIN AMERICA (1968) (#100-454) (MARVEL) #256 Very Fine
CAPTAIN AMERICA (1968) (#100-454) (MARVEL) #257 Very Fine
CAPTAIN AMERICA (1968) (#100-454) (MARVEL) #258 Near Mint/Mint
CAPTAIN AMERICA (1968) (#100-454) (MARVEL) #259 Very Fine
CAPTAIN AMERICA (1968) (#100-454) (MARVEL) #260 Near Mint/Mint
CAPTAIN AMERICA (1968) (#100-454) (MARVEL) #261 Very Fine
CAPTAIN AMERICA (1968) (#100-454) (MARVEL) #262 Near Mint/Mint
CAPTAIN AMERICA (1968) (#100-454) (MARVEL) #263 Near Mint/Mint
CAPTAIN AMERICA (1968) (#100-454) (MARVEL) #266 Near Mint/Mint
CAPTAIN AMERICA (1968) (#100-454) (MARVEL) #267 Near Mint/Mint
CAPTAIN AMERICA (1968) (#100-454) (MARVEL) #269 Near Mint/Mint
CAPTAIN AMERICA (1968) (#100-454) (MARVEL) #270 Near Mint/Mint
CAPTAIN AMERICA (1968) (#100-454) (MARVEL) #271 Near Mint/Mint
CAPTAIN AMERICA (1968) (#100-454) (MARVEL) #273 Near Mint/Mint
CAPTAIN AMERICA (1968) (#100-454) (MARVEL) #274 Near Mint/Mint

CAPTAIN AMERICA ANNUAL (1971) #1 Near Mint/Mint
CAPTAIN AMERICA ANNUAL (1971) #2 Fine

CAPTAIN AMERICA: FIRST AVENGER ADAPTATION NOVEL SC (2011) #1 Very Fine

CAPTAIN MARVEL (1968) (#1-62) (MARVEL) #1 Fine
CAPTAIN MARVEL (1968) (#1-62) (MARVEL) #2 Fine
CAPTAIN MARVEL (1968) (#1-62) (MARVEL) #2 Good
CAPTAIN MARVEL (1968) (#1-62) (MARVEL) #4 Fine
CAPTAIN MARVEL (1968) (#1-62) (MARVEL) #8 Very Fine
CAPTAIN MARVEL (1968) (#1-62) (MARVEL) #9 Very Fine
CAPTAIN MARVEL (1968) (#1-62) (MARVEL) #10 Very Fine
CAPTAIN MARVEL (1968) (#1-62) (MARVEL) #13 Very Fine
CAPTAIN MARVEL (1968) (#1-62) (MARVEL) #15 Near Mint/Mint
CAPTAIN MARVEL (1968) (#1-62) (MARVEL) #20 Very Fine
CAPTAIN MARVEL (1968) (#1-62) (MARVEL) #22 Near Mint/Mint
CAPTAIN MARVEL (1968) (#1-62) (MARVEL) #23 Fine
CAPTAIN MARVEL (1968) (#1-62) (MARVEL) #24 Very Fine


CAPTAIN MARVEL (1968) (#1-62) (MARVEL) #27

CAPTAIN MARVEL (1968) (#1-62) (MARVEL) #27 Near Mint/Mint
CAPTAIN MARVEL (1968) (#1-62) (MARVEL) #28 Very Fine
CAPTAIN MARVEL (1968) (#1-62) (MARVEL) #29 Near Mint/Mint
CAPTAIN MARVEL (1968) (#1-62) (MARVEL) #30 Very Fine
CAPTAIN MARVEL (1968) (#1-62) (MARVEL) #46 Very Fine
CAPTAIN MARVEL (1968) (#1-62) (MARVEL) #49 Near Mint/Mint
CAPTAIN MARVEL (1968) (#1-62) (MARVEL) #53 Very Fine
CAPTAIN MARVEL (1968) (#1-62) (MARVEL) #54 Near Mint/Mint
CAPTAIN MARVEL (1968) (#1-62) (MARVEL) #56 Near Mint/Mint
CAPTAIN MARVEL (1968) (#1-62) (MARVEL) #58 Near Mint/Mint
CAPTAIN MARVEL (1968) (#1-62) (MARVEL) #59 Very Fine
CAPTAIN MARVEL (1968) (#1-62) (MARVEL) #60 Very Fine

CAPTAIN SAVAGE (1968) #1 Fine
CAPTAIN SAVAGE (1968) #2 Near Mint/Mint
CAPTAIN SAVAGE (1968) #3 Near Mint/Mint
CAPTAIN SAVAGE (1968) #4 Near Mint/Mint
CAPTAIN SAVAGE (1968) #5 Near Mint/Mint
CAPTAIN SAVAGE (1968) #6 Very Fine
CAPTAIN SAVAGE (1968) #7 Near Mint/Mint
CAPTAIN SAVAGE (1968) #8 Near Mint/Mint
CAPTAIN SAVAGE (1968) #9 Near Mint/Mint
CAPTAIN SAVAGE (1968) #10 Very Fine
CAPTAIN SAVAGE (1968) #12 Near Mint/Mint
CAPTAIN SAVAGE (1968) #13 Very Fine
CAPTAIN SAVAGE (1968) #14 Near Mint/Mint
CAPTAIN SAVAGE (1968) #15 Near Mint/Mint
CAPTAIN SAVAGE (1968) #16 Fine
CAPTAIN SAVAGE (1968) #17 Near Mint/Mint
CAPTAIN SAVAGE (1968) #18 Near Mint/Mint
CAPTAIN SAVAGE (1968) #19 Near Mint/Mint

CAT (1972) #1 Good

CHAMBER OF CHILLS (1972) #1 Very Fine
CHAMBER OF CHILLS (1972) #2 Fine
CHAMBER OF CHILLS (1972) #3 Very Fine
CHAMBER OF CHILLS (1972) #4 Very Good
CHAMBER OF CHILLS (1972) #5 Very Fine
CHAMBER OF CHILLS (1972) #6 Very Fine
CHAMBER OF CHILLS (1972) #8 Fine

CHAMBER OF DARKNESS (1969) #1 Fine
CHAMBER OF DARKNESS (1969) #3 Fine
CHAMBER OF DARKNESS (1969) #6 Fine

CHAMBER OF DARKNESS SPECIAL (1972) #1 Fine

CHAMPIONS (1975) (#1-17) (MARVEL) #1 Fine
CHAMPIONS (1975) (#1-17) (MARVEL) #3 Very Fine
CHAMPIONS (1975) (#1-17) (MARVEL) #4 Fine
CHAMPIONS (1975) (#1-17) (MARVEL) #5 Very Fine
CHAMPIONS (1975) (#1-17) (MARVEL) #6 Very Fine
CHAMPIONS (1975) (#1-17) (MARVEL) #7 Fine
CHAMPIONS (1975) (#1-17) (MARVEL) #8 Very Fine
CHAMPIONS (1975) (#1-17) (MARVEL) #10 Very Fine
CHAMPIONS (1975) (#1-17) (MARVEL) #11 Fine
CHAMPIONS (1975) (#1-17) (MARVEL) #14 Very Fine
CHAMPIONS (1975) (#1-17) (MARVEL) #16 Very Fine
CHAMPIONS (1975) (#1-17) (MARVEL) #17 Fine

CHILLERS GIANT-SIZE (1974) #1 Very Fine

COMBAT KELLY (1972) #1 Fine
COMBAT KELLY (1972) #4 Very Fine


CONAN (#1-275)(CONAN THE BARBARIAN)(MARVEL) (1970) #1

CONAN (#1-275)(CONAN THE BARBARIAN)(MARVEL) (1970) #1 Good
CONAN (#1-275)(CONAN THE BARBARIAN)(MARVEL) (1970) #3 Very Fine
CONAN (#1-275)(CONAN THE BARBARIAN)(MARVEL) (1970) #9 Near Mint/Mint
CONAN (#1-275)(CONAN THE BARBARIAN)(MARVEL) (1970) #11 Very Fine
CONAN (#1-275)(CONAN THE BARBARIAN)(MARVEL) (1970) #12 Very Good
CONAN (#1-275)(CONAN THE BARBARIAN)(MARVEL) (1970) #13 Very Fine
CONAN (#1-275)(CONAN THE BARBARIAN)(MARVEL) (1970) #14 Good
CONAN (#1-275)(CONAN THE BARBARIAN)(MARVEL) (1970) #15 Near Mint/Mint
CONAN (#1-275)(CONAN THE BARBARIAN)(MARVEL) (1970) #17 Very Fine
CONAN (#1-275)(CONAN THE BARBARIAN)(MARVEL) (1970) #19 Very Fine
CONAN (#1-275)(CONAN THE BARBARIAN)(MARVEL) (1970) #20 Very Fine
CONAN (#1-275)(CONAN THE BARBARIAN)(MARVEL) (1970) #21 Good
CONAN (#1-275)(CONAN THE BARBARIAN)(MARVEL) (1970) #22 Very Fine
CONAN (#1-275)(CONAN THE BARBARIAN)(MARVEL) (1970) #24 Very Fine
CONAN (#1-275)(CONAN THE BARBARIAN)(MARVEL) (1970) #25 Fine
CONAN (#1-275)(CONAN THE BARBARIAN)(MARVEL) (1970) #27 Very Fine
CONAN (#1-275)(CONAN THE BARBARIAN)(MARVEL) (1970) #28 Near Mint/Mint
CONAN (#1-275)(CONAN THE BARBARIAN)(MARVEL) (1970) #29 Very Fine
CONAN (#1-275)(CONAN THE BARBARIAN)(MARVEL) (1970) #31 Very Fine
CONAN (#1-275)(CONAN THE BARBARIAN)(MARVEL) (1970) #32 Near Mint/Mint
CONAN (#1-275)(CONAN THE BARBARIAN)(MARVEL) (1970) #34 Fine
CONAN (#1-275)(CONAN THE BARBARIAN)(MARVEL) (1970) #36 Near Mint/Mint
CONAN (#1-275)(CONAN THE BARBARIAN)(MARVEL) (1970) #37 Very Fine
CONAN (#1-275)(CONAN THE BARBARIAN)(MARVEL) (1970) #38 Very Fine
CONAN (#1-275)(CONAN THE BARBARIAN)(MARVEL) (1970) #42 Near Mint/Mint
CONAN (#1-275)(CONAN THE BARBARIAN)(MARVEL) (1970) #43 Near Mint/Mint
CONAN (#1-275)(CONAN THE BARBARIAN)(MARVEL) (1970) #44 Very Fine
CONAN (#1-275)(CONAN THE BARBARIAN)(MARVEL) (1970) #45 Near Mint/Mint
CONAN (#1-275)(CONAN THE BARBARIAN)(MARVEL) (1970) #46 Near Mint/Mint
CONAN (#1-275)(CONAN THE BARBARIAN)(MARVEL) (1970) #49 Near Mint/Mint
CONAN (#1-275)(CONAN THE BARBARIAN)(MARVEL) (1970) #52 Near Mint/Mint
CONAN (#1-275)(CONAN THE BARBARIAN)(MARVEL) (1970) #53 Near Mint/Mint
CONAN (#1-275)(CONAN THE BARBARIAN)(MARVEL) (1970) #58 Very Fine
CONAN (#1-275)(CONAN THE BARBARIAN)(MARVEL) (1970) #59 Near Mint/Mint
CONAN (#1-275)(CONAN THE BARBARIAN)(MARVEL) (1970) #66 Near Mint/Mint
CONAN (#1-275)(CONAN THE BARBARIAN)(MARVEL) (1970) #67 Very Fine
CONAN (#1-275)(CONAN THE BARBARIAN)(MARVEL) (1970) #69 Very Fine


CONAN (#1-275)(CONAN THE BARBARIAN)(MARVEL) (1970) #71

CONAN (#1-275)(CONAN THE BARBARIAN)(MARVEL) (1970) #71 Very Fine
CONAN (#1-275)(CONAN THE BARBARIAN)(MARVEL) (1970) #73 Very Fine
CONAN (#1-275)(CONAN THE BARBARIAN)(MARVEL) (1970) #76 Near Mint/Mint
CONAN (#1-275)(CONAN THE BARBARIAN)(MARVEL) (1970) #77 Near Mint/Mint
CONAN (#1-275)(CONAN THE BARBARIAN)(MARVEL) (1970) #80 Near Mint/Mint
CONAN (#1-275)(CONAN THE BARBARIAN)(MARVEL) (1970) #81 Near Mint/Mint
CONAN (#1-275)(CONAN THE BARBARIAN)(MARVEL) (1970) #83 Near Mint/Mint
CONAN (#1-275)(CONAN THE BARBARIAN)(MARVEL) (1970) #84 Very Fine
CONAN (#1-275)(CONAN THE BARBARIAN)(MARVEL) (1970) #85 Very Fine
CONAN (#1-275)(CONAN THE BARBARIAN)(MARVEL) (1970) #86 Very Fine
CONAN (#1-275)(CONAN THE BARBARIAN)(MARVEL) (1970) #87 Very Fine
CONAN (#1-275)(CONAN THE BARBARIAN)(MARVEL) (1970) #88 Near Mint/Mint
CONAN (#1-275)(CONAN THE BARBARIAN)(MARVEL) (1970) #89 Near Mint/Mint
CONAN (#1-275)(CONAN THE BARBARIAN)(MARVEL) (1970) #90 Near Mint/Mint
CONAN (#1-275)(CONAN THE BARBARIAN)(MARVEL) (1970) #91 Near Mint/Mint
CONAN (#1-275)(CONAN THE BARBARIAN)(MARVEL) (1970) #93 Near Mint/Mint
CONAN (#1-275)(CONAN THE BARBARIAN)(MARVEL) (1970) #94 Near Mint/Mint
CONAN (#1-275)(CONAN THE BARBARIAN)(MARVEL) (1970) #95 Near Mint/Mint
CONAN (#1-275)(CONAN THE BARBARIAN)(MARVEL) (1970) #97 Near Mint/Mint
CONAN (#1-275)(CONAN THE BARBARIAN)(MARVEL) (1970) #98 Near Mint/Mint
CONAN (#1-275)(CONAN THE BARBARIAN)(MARVEL) (1970) #99 NEWSSTAND Very Fine
CONAN (#1-275)(CONAN THE BARBARIAN)(MARVEL) (1970) #102 NEWSSTAND Near Mint/Mint
CONAN (#1-275)(CONAN THE BARBARIAN)(MARVEL) (1970) #103 NEWSSTAND Very Fine
CONAN (#1-275)(CONAN THE BARBARIAN)(MARVEL) (1970) #104 Near Mint/Mint
CONAN (#1-275)(CONAN THE BARBARIAN)(MARVEL) (1970) #105 Near Mint/Mint
CONAN (#1-275)(CONAN THE BARBARIAN)(MARVEL) (1970) #106 Near Mint/Mint
CONAN (#1-275)(CONAN THE BARBARIAN)(MARVEL) (1970) #107 Near Mint/Mint
CONAN (#1-275)(CONAN THE BARBARIAN)(MARVEL) (1970) #108 Near Mint/Mint
CONAN (#1-275)(CONAN THE BARBARIAN)(MARVEL) (1970) #109 Near Mint/Mint
CONAN (#1-275)(CONAN THE BARBARIAN)(MARVEL) (1970) #110 Near Mint/Mint
CONAN (#1-275)(CONAN THE BARBARIAN)(MARVEL) (1970) #111 Near Mint/Mint
CONAN (#1-275)(CONAN THE BARBARIAN)(MARVEL) (1970) #117 Near Mint/Mint
CONAN (#1-275)(CONAN THE BARBARIAN)(MARVEL) (1970) #118 Near Mint/Mint
CONAN (#1-275)(CONAN THE BARBARIAN)(MARVEL) (1970) #128 Near Mint/Mint
CONAN (#1-275)(CONAN THE BARBARIAN)(MARVEL) (1970) #130 Near Mint/Mint
CONAN (#1-275)(CONAN THE BARBARIAN)(MARVEL) (1970) #137 Near Mint/Mint
CONAN (#1-275)(CONAN THE BARBARIAN)(MARVEL) (1970) #138 Near Mint/Mint
CONAN (#1-275)(CONAN THE BARBARIAN)(MARVEL) (1970) #139 Near Mint/Mint

CONAN ANNUAL (1973) #5 Near Mint/Mint

CONAN GIANT-SIZE (1974) #1 Very Fine

CREATURES ON THE LOOSE (1971) #10 Near Mint/Mint
CREATURES ON THE LOOSE (1971) #11 Very Fine
CREATURES ON THE LOOSE (1971) #14 Very Fine
CREATURES ON THE LOOSE (1971) #16 Very Fine
CREATURES ON THE LOOSE (1971) #22 Fine
CREATURES ON THE LOOSE (1971) #30 Near Mint/Mint
CREATURES ON THE LOOSE (1971) #31 Very Fine
CREATURES ON THE LOOSE (1971) #32 Very Fine

CRYPT OF SHADOWS (1973) #1 Fine
CRYPT OF SHADOWS (1973) #5 Fine

DAREDEVIL (1964) (#1-380) (MAN WITHOUT FEAR) (MARVEL) #93 Very Fine

DAREDEVIL GIANT-SIZE (1975) #1 Fine

DEAD OF NIGHT (1973) #1 Very Fine
DEAD OF NIGHT (1973) #3 Very Fine
DEAD OF NIGHT (1973) #4 Near Mint/Mint

DEFENDERS (1972) (#1-152) (MARVEL) #1 Fine
DEFENDERS (1972) (#1-152) (MARVEL) #2 Very Fine
DEFENDERS (1972) (#1-152) (MARVEL) #4 Very Fine
DEFENDERS (1972) (#1-152) (MARVEL) #5 Very Fine
DEFENDERS (1972) (#1-152) (MARVEL) #7 Very Fine
DEFENDERS (1972) (#1-152) (MARVEL) #9 Very Good
DEFENDERS (1972) (#1-152) (MARVEL) #22 Fine
DEFENDERS (1972) (#1-152) (MARVEL) #23 Near Mint/Mint
DEFENDERS (1972) (#1-152) (MARVEL) #24 Very Fine
DEFENDERS (1972) (#1-152) (MARVEL) #27 Fine


DEFENDERS (1972) (#1-152) (MARVEL) #28

DEFENDERS (1972) (#1-152) (MARVEL) #28 Very Fine
DEFENDERS (1972) (#1-152) (MARVEL) #30 Very Fine
DEFENDERS (1972) (#1-152) (MARVEL) #33 Very Fine
DEFENDERS (1972) (#1-152) (MARVEL) #36 Very Fine
DEFENDERS (1972) (#1-152) (MARVEL) #37 Near Mint/Mint
DEFENDERS (1972) (#1-152) (MARVEL) #39 Very Fine
DEFENDERS (1972) (#1-152) (MARVEL) #41 Near Mint/Mint
DEFENDERS (1972) (#1-152) (MARVEL) #42 Near Mint/Mint
DEFENDERS (1972) (#1-152) (MARVEL) #43 Very Fine
DEFENDERS (1972) (#1-152) (MARVEL) #44 Very Fine
DEFENDERS (1972) (#1-152) (MARVEL) #45 Very Fine
DEFENDERS (1972) (#1-152) (MARVEL) #46 Very Fine
DEFENDERS (1972) (#1-152) (MARVEL) #47 Very Fine
DEFENDERS (1972) (#1-152) (MARVEL) #54 Near Mint/Mint
DEFENDERS (1972) (#1-152) (MARVEL) #56 Near Mint/Mint
DEFENDERS (1972) (#1-152) (MARVEL) #57 Near Mint/Mint
DEFENDERS (1972) (#1-152) (MARVEL) #59 Near Mint/Mint
DEFENDERS (1972) (#1-152) (MARVEL) #60 Near Mint/Mint
DEFENDERS (1972) (#1-152) (MARVEL) #62 Near Mint/Mint
DEFENDERS (1972) (#1-152) (MARVEL) #63 Near Mint/Mint
DEFENDERS (1972) (#1-152) (MARVEL) #64 Near Mint/Mint
DEFENDERS (1972) (#1-152) (MARVEL) #65 Near Mint/Mint
DEFENDERS (1972) (#1-152) (MARVEL) #66 Near Mint/Mint
DEFENDERS (1972) (#1-152) (MARVEL) #67 Near Mint/Mint
DEFENDERS (1972) (#1-152) (MARVEL) #72 NEWSSTAND Near Mint/Mint
DEFENDERS (1972) (#1-152) (MARVEL) #74 NEWSSTAND Very Fine
DEFENDERS (1972) (#1-152) (MARVEL) #79 Near Mint/Mint
DEFENDERS (1972) (#1-152) (MARVEL) #80 Near Mint/Mint
DEFENDERS (1972) (#1-152) (MARVEL) #82 Near Mint/Mint
DEFENDERS (1972) (#1-152) (MARVEL) #83 Near Mint/Mint
DEFENDERS (1972) (#1-152) (MARVEL) #85 Near Mint/Mint
DEFENDERS (1972) (#1-152) (MARVEL) #86 Near Mint/Mint
DEFENDERS (1972) (#1-152) (MARVEL) #89 Near Mint/Mint


DEFENDERS (1972) (#1-152) (MARVEL) #90

DEFENDERS (1972) (#1-152) (MARVEL) #90 Near Mint/Mint
DEFENDERS (1972) (#1-152) (MARVEL) #91 Near Mint/Mint
DEFENDERS (1972) (#1-152) (MARVEL) #92 Near Mint/Mint
DEFENDERS (1972) (#1-152) (MARVEL) #94 Very Fine
DEFENDERS (1972) (#1-152) (MARVEL) #95 Near Mint/Mint
DEFENDERS (1972) (#1-152) (MARVEL) #96 Near Mint/Mint
DEFENDERS (1972) (#1-152) (MARVEL) #98 Near Mint/Mint
DEFENDERS (1972) (#1-152) (MARVEL) #100 Near Mint/Mint
DEFENDERS (1972) (#1-152) (MARVEL) #103 Near Mint/Mint
DEFENDERS (1972) (#1-152) (MARVEL) #104 Near Mint/Mint
DEFENDERS (1972) (#1-152) (MARVEL) #106 Near Mint/Mint
DEFENDERS (1972) (#1-152) (MARVEL) #107 Near Mint/Mint
DEFENDERS (1972) (#1-152) (MARVEL) #108 Near Mint/Mint
DEFENDERS (1972) (#1-152) (MARVEL) #109 Near Mint/Mint
DEFENDERS (1972) (#1-152) (MARVEL) #110 Near Mint/Mint

DEFENDERS GIANT-SIZE (1974) #1 Very Fine
DEFENDERS GIANT-SIZE (1974) #2 Very Fine
DEFENDERS GIANT-SIZE (1974) #3 Very Fine

DOC SAVAGE (1972) (#1-8) (MARVEL) #2 Very Good
DOC SAVAGE (1972) (#1-8) (MARVEL) #3 Near Mint/Mint
DOC SAVAGE (1972) (#1-8) (MARVEL) #4 Very Fine
DOC SAVAGE (1972) (#1-8) (MARVEL) #5 Near Mint/Mint
DOC SAVAGE (1972) (#1-8) (MARVEL) #6 Very Fine

DOC SAVAGE GIANT-SIZE (1975) #1 Very Fine


DOCTOR STRANGE (1974) (#1-81) (MARVEL) (DR. STRANGE) #1

DOCTOR STRANGE (1974) (#1-81) (MARVEL) (DR. STRANGE) #1 Near Mint/Mint
DOCTOR STRANGE (1974) (#1-81) (MARVEL) (DR. STRANGE) #4 Very Fine
DOCTOR STRANGE (1974) (#1-81) (MARVEL) (DR. STRANGE) #5 Fine
DOCTOR STRANGE (1974) (#1-81) (MARVEL) (DR. STRANGE) #7 Fine
DOCTOR STRANGE (1974) (#1-81) (MARVEL) (DR. STRANGE) #8 Fine
DOCTOR STRANGE (1974) (#1-81) (MARVEL) (DR. STRANGE) #10 Very Fine
DOCTOR STRANGE (1974) (#1-81) (MARVEL) (DR. STRANGE) #24 Very Fine
DOCTOR STRANGE (1974) (#1-81) (MARVEL) (DR. STRANGE) #26 Very Fine
DOCTOR STRANGE (1974) (#1-81) (MARVEL) (DR. STRANGE) #28 Near Mint/Mint
DOCTOR STRANGE (1974) (#1-81) (MARVEL) (DR. STRANGE) #29 Very Fine
DOCTOR STRANGE (1974) (#1-81) (MARVEL) (DR. STRANGE) #33 Near Mint/Mint
DOCTOR STRANGE (1974) (#1-81) (MARVEL) (DR. STRANGE) #35 NEWSSTAND Near Mint/Mint
DOCTOR STRANGE (1974) (#1-81) (MARVEL) (DR. STRANGE) #37 NEWSSTAND Very Fine
DOCTOR STRANGE (1974) (#1-81) (MARVEL) (DR. STRANGE) #40 Near Mint/Mint
DOCTOR STRANGE (1974) (#1-81) (MARVEL) (DR. STRANGE) #41 Near Mint/Mint
DOCTOR STRANGE (1974) (#1-81) (MARVEL) (DR. STRANGE) #42 Near Mint/Mint
DOCTOR STRANGE (1974) (#1-81) (MARVEL) (DR. STRANGE) #55 Near Mint/Mint

DOCTOR STRANGE (1988) (#1-90) (MARVEL) (DR. STRANGE) #2 NEWSSTAND Fine

DRACULA GIANT-SIZE (1974) #4 Very Fine

ETERNALS (1976) (#1-19) (MARVEL) (JACK KIRBY) #1 Fine
ETERNALS (1976) (#1-19) (MARVEL) (JACK KIRBY) #8 Very Fine
ETERNALS (1976) (#1-19) (MARVEL) (JACK KIRBY) #9 Fine
ETERNALS (1976) (#1-19) (MARVEL) (JACK KIRBY) #12 Very Fine
ETERNALS (1976) (#1-19) (MARVEL) (JACK KIRBY) #13 Fine
ETERNALS (1976) (#1-19) (MARVEL) (JACK KIRBY) #14 Fine
ETERNALS (1976) (#1-19) (MARVEL) (JACK KIRBY) #15 Very Good
ETERNALS (1976) (#1-19) (MARVEL) (JACK KIRBY) #16 Fine
ETERNALS (1976) (#1-19) (MARVEL) (JACK KIRBY) #17 Very Good
ETERNALS (1976) (#1-19) (MARVEL) (JACK KIRBY) #18 Fine

FANTASTIC FOUR (1961) (#1-416) (MARVEL) #94 Good
FANTASTIC FOUR (1961) (#1-416) (MARVEL) #98 Good
FANTASTIC FOUR (1961) (#1-416) (MARVEL) #99 Good
FANTASTIC FOUR (1961) (#1-416) (MARVEL) #101 Good
FANTASTIC FOUR (1961) (#1-416) (MARVEL) #102 Good
FANTASTIC FOUR (1961) (#1-416) (MARVEL) #103 Good
FANTASTIC FOUR (1961) (#1-416) (MARVEL) #104 Good
FANTASTIC FOUR (1961) (#1-416) (MARVEL) #105 Very Good
FANTASTIC FOUR (1961) (#1-416) (MARVEL) #106 Good
FANTASTIC FOUR (1961) (#1-416) (MARVEL) #107 Good
FANTASTIC FOUR (1961) (#1-416) (MARVEL) #108 Very Good
FANTASTIC FOUR (1961) (#1-416) (MARVEL) #109 Fine
FANTASTIC FOUR (1961) (#1-416) (MARVEL) #110 Very Good
FANTASTIC FOUR (1961) (#1-416) (MARVEL) #111 Good
FANTASTIC FOUR (1961) (#1-416) (MARVEL) #112 Very Good
FANTASTIC FOUR (1961) (#1-416) (MARVEL) #113 Good
FANTASTIC FOUR (1961) (#1-416) (MARVEL) #113 Very Fine
FANTASTIC FOUR (1961) (#1-416) (MARVEL) #114 Very Good
FANTASTIC FOUR (1961) (#1-416) (MARVEL) #115 Good
FANTASTIC FOUR (1961) (#1-416) (MARVEL) #119 Good
FANTASTIC FOUR (1961) (#1-416) (MARVEL) #123 Very Fine
FANTASTIC FOUR (1961) (#1-416) (MARVEL) #124 Fine
FANTASTIC FOUR (1961) (#1-416) (MARVEL) #126 Very Fine
FANTASTIC FOUR (1961) (#1-416) (MARVEL) #129 Very Fine
FANTASTIC FOUR (1961) (#1-416) (MARVEL) #131 Very Good
FANTASTIC FOUR (1961) (#1-416) (MARVEL) #133 Fine
FANTASTIC FOUR (1961) (#1-416) (MARVEL) #134 Very Fine
FANTASTIC FOUR (1961) (#1-416) (MARVEL) #135 Very Good
FANTASTIC FOUR (1961) (#1-416) (MARVEL) #136 Very Fine
FANTASTIC FOUR (1961) (#1-416) (MARVEL) #137 Very Fine
FANTASTIC FOUR (1961) (#1-416) (MARVEL) #138 Very Fine
FANTASTIC FOUR (1961) (#1-416) (MARVEL) #140 Fine
FANTASTIC FOUR (1961) (#1-416) (MARVEL) #142 Very Fine
FANTASTIC FOUR (1961) (#1-416) (MARVEL) #143 Fine
FANTASTIC FOUR (1961) (#1-416) (MARVEL) #153 Very Good
FANTASTIC FOUR (1961) (#1-416) (MARVEL) #154 Very Good
FANTASTIC FOUR (1961) (#1-416) (MARVEL) #155 Very Good

FANTASTIC FOUR ANNUAL (1963) #1 Good
FANTASTIC FOUR ANNUAL (1963) #10 Fine

FANTASTIC FOUR GIANT-SIZE (GIANT-SIZE SUPER-STARS) (1974) #3 Fine

FEAR (ADVENTURE INTO...) (1970) #1 Near Mint/Mint
FEAR (ADVENTURE INTO...) (1970) #2 Very Fine
FEAR (ADVENTURE INTO...) (1970) #3 Very Fine
FEAR (ADVENTURE INTO...) (1970) #4 Very Fine
FEAR (ADVENTURE INTO...) (1970) #6 Fine
FEAR (ADVENTURE INTO...) (1970) #8 Very Fine
FEAR (ADVENTURE INTO...) (1970) #11 Very Fine
FEAR (ADVENTURE INTO...) (1970) #12 Very Fine
FEAR (ADVENTURE INTO...) (1970) #18 Fine
FEAR (ADVENTURE INTO...) (1970) #19 Very Good
FEAR (ADVENTURE INTO...) (1970) #21 Very Fine
FEAR (ADVENTURE INTO...) (1970) #22 Fine
FEAR (ADVENTURE INTO...) (1970) #26 Fine

FRANKENSTEIN (1973) #3 Very Fine
FRANKENSTEIN (1973) #7 Fine
FRANKENSTEIN (1973) #8 Very Good
FRANKENSTEIN (1973) #12 Very Fine
FRANKENSTEIN (1973) #14 Very Fine
FRANKENSTEIN (1973) #15 Very Fine
FRANKENSTEIN (1973) #16 Very Fine

GHOST RIDER (1973) (#1-81) (MARVEL) #1 Fine
GHOST RIDER (1973) (#1-81) (MARVEL) #5 Fine
GHOST RIDER (1973) (#1-81) (MARVEL) #9 Very Fine

GODZILLA (1977) #1 Good

GUNHAWKS (1972) #1 Very Good
GUNHAWKS (1972) #2 Fine
GUNHAWKS (1972) #3 Fine

HOWARD THE DUCK (1976) (#1-33) #1 Very Good
HOWARD THE DUCK (1976) #1 Fine
HOWARD THE DUCK (1976) #1 Very Fine
HOWARD THE DUCK (1976) (#1-33) #12 Fine
HOWARD THE DUCK (1976) (#1-33) #13 Very Good

HULK (1962) (#1-6, #102-474, #600-635)(INCREDIBLE)(MV) #178 Fine
HULK (1962) (#1-6, #102-474, #600-635)(INCREDIBLE)(MV) #314 TOY INSERT Fine

HULK ANNUAL (1968) #1 Fine
HULK ANNUAL (1968) #4 Very Good

HUMAN FLY (1977) #9 Very Fine
HUMAN FLY (1977) #13 Near Mint/Mint
HUMAN FLY (1977) #16 Near Mint/Mint
HUMAN FLY (1977) #17 Near Mint/Mint
HUMAN FLY (1977) #18 Near Mint/Mint
HUMAN FLY (1977) #19 Near Mint/Mint

HUMAN TORCH (1974) #1 Very Fine
HUMAN TORCH (1974) #2 Fine

INCREDIBLE HULK EPIC COLLECTION: MAN OR MONSTER TPB (2016) #1 Very Fine

INHUMANS (1975) (#1-12) (MARVEL) #2 Very Fine
INHUMANS (1975) (#1-12) (MARVEL) #3 Fine
INHUMANS (1975) (#1-12) (MARVEL) #4 Very Fine
INHUMANS (1975) (#1-12) (MARVEL) #5 Fine
INHUMANS (1975) (#1-12) (MARVEL) #7 Fine
INHUMANS (1975) (#1-12) (MARVEL) #8 Fine
INHUMANS (1975) (#1-12) (MARVEL) #10 Very Fine
INHUMANS (1975) (#1-12) (MARVEL) #11 Fine
INHUMANS (1975) (#1-12) (MARVEL) #12 Very Fine

INVADERS (1975) (#1-41) (MARVEL) #2 Fine
INVADERS (1975) (#1-41) (MARVEL) #3 Very Good
INVADERS (1975) (#1-41) (MARVEL) #4 Fine
INVADERS (1975) (#1-41) (MARVEL) #5 Very Good
INVADERS (1975) (#1-41) (MARVEL) #7 Very Fine
INVADERS (1975) (#1-41) (MARVEL) #8 Near Mint/Mint
INVADERS (1975) (#1-41) (MARVEL) #10 Very Fine

IRON FIST (1975) (#1-15) (MARVEL) #1 Fine
IRON FIST (1975) (#1-15) (MARVEL) #1 Very Fine
IRON FIST (1975) (#1-15) (MARVEL) #2 Very Fine
IRON FIST (1975) (#1-15) (MARVEL) #3 Fine
IRON FIST (1975) (#1-15) (MARVEL) #4 Fine
IRON FIST (1975) (#1-15) (MARVEL) #9 Fine
IRON FIST (1975) (#1-15) (MARVEL) #10 Fine
IRON FIST (1975) (#1-15) (MARVEL) #11 Very Good
IRON FIST (1975) (#1-15) (MARVEL) #12 Fine
IRON FIST (1975) (#1-15) (MARVEL) #15 Very Fine

IRON MAN (1968) (#1-332) (INVINCIBLE IRON MAN)(MARVEL) #1 Very Fine
IRON MAN (1968) (#1-332) (INVINCIBLE IRON MAN)(MARVEL) #2 Fine
IRON MAN (1968) (#1-332) (INVINCIBLE IRON MAN)(MARVEL) #3 Very Fine
IRON MAN (1968) (#1-332) (INVINCIBLE IRON MAN)(MARVEL) #5 Very Fine
IRON MAN (1968) (#1-332) (INVINCIBLE IRON MAN)(MARVEL) #6 Very Fine
IRON MAN (1968) (#1-332) (INVINCIBLE IRON MAN)(MARVEL) #11 Very Fine
IRON MAN (1968) (#1-332) (INVINCIBLE IRON MAN)(MARVEL) #12 Good
IRON MAN (1968) (#1-332) (INVINCIBLE IRON MAN)(MARVEL) #14 Very Fine
IRON MAN (1968) (#1-332) (INVINCIBLE IRON MAN)(MARVEL) #15 Near Mint/Mint
IRON MAN (1968) (#1-332) (INVINCIBLE IRON MAN)(MARVEL) #18 Very Fine
IRON MAN (1968) (#1-332) (INVINCIBLE IRON MAN)(MARVEL) #20 Very Fine
IRON MAN (1968) (#1-332) (INVINCIBLE IRON MAN)(MARVEL) #21 Very Fine
IRON MAN (1968) (#1-332) (INVINCIBLE IRON MAN)(MARVEL) #23 Very Fine
IRON MAN (1968) (#1-332) (INVINCIBLE IRON MAN)(MARVEL) #25 Fine
IRON MAN (1968) (#1-332) (INVINCIBLE IRON MAN)(MARVEL) #26 Very Fine
IRON MAN (1968) (#1-332) (INVINCIBLE IRON MAN)(MARVEL) #27 Near Mint/Mint
IRON MAN (1968) (#1-332) (INVINCIBLE IRON MAN)(MARVEL) #31 Very Fine
IRON MAN (1968) (#1-332) (INVINCIBLE IRON MAN)(MARVEL) #33 Very Good
IRON MAN (1968) (#1-332) (INVINCIBLE IRON MAN)(MARVEL) #37 Very Fine
IRON MAN (1968) (#1-332) (INVINCIBLE IRON MAN)(MARVEL) #39 Near Mint/Mint
IRON MAN (1968) (#1-332) (INVINCIBLE IRON MAN)(MARVEL) #40 Near Mint/Mint
IRON MAN (1968) (#1-332) (INVINCIBLE IRON MAN)(MARVEL) #41 Near Mint/Mint
IRON MAN (1968) (#1-332) (INVINCIBLE IRON MAN)(MARVEL) #43 Very Fine
IRON MAN (1968) (#1-332) (INVINCIBLE IRON MAN)(MARVEL) #44 Very Fine
IRON MAN (1968) (#1-332) (INVINCIBLE IRON MAN)(MARVEL) #45 Near Mint/Mint
IRON MAN (1968) (#1-332) (INVINCIBLE IRON MAN)(MARVEL) #46 Near Mint/Mint
IRON MAN (1968) (#1-332) (INVINCIBLE IRON MAN)(MARVEL) #50 Very Fine
IRON MAN (1968) (#1-332) (INVINCIBLE IRON MAN)(MARVEL) #53 Very Fine
IRON MAN (1968) (#1-332) (INVINCIBLE IRON MAN)(MARVEL) #57 Very Fine
IRON MAN (1968) (#1-332) (INVINCIBLE IRON MAN)(MARVEL) #59 Near Mint/Mint
IRON MAN (1968) (#1-332) (INVINCIBLE IRON MAN)(MARVEL) #60 Very Fine
IRON MAN (1968) (#1-332) (INVINCIBLE IRON MAN)(MARVEL) #61 Fine
IRON MAN (1968) (#1-332) (INVINCIBLE IRON MAN)(MARVEL) #62 Very Fine
IRON MAN (1968) (#1-332) (INVINCIBLE IRON MAN)(MARVEL) #63 Very Fine
IRON MAN (1968) (#1-332) (INVINCIBLE IRON MAN)(MARVEL) #65 Very Fine
IRON MAN (1968) (#1-332) (INVINCIBLE IRON MAN)(MARVEL) #67 Near Mint/Mint
IRON MAN (1968) (#1-332) (INVINCIBLE IRON MAN)(MARVEL) #72 Very Fine
IRON MAN (1968) (#1-332) (INVINCIBLE IRON MAN)(MARVEL) #74 Fine
IRON MAN (1968) (#1-332) (INVINCIBLE IRON MAN)(MARVEL) #76 Very Fine
IRON MAN (1968) (#1-332) (INVINCIBLE IRON MAN)(MARVEL) #77 Fine
IRON MAN (1968) (#1-332) (INVINCIBLE IRON MAN)(MARVEL) #78 Very Fine
IRON MAN (1968) (#1-332) (INVINCIBLE IRON MAN)(MARVEL) #80 Very Good
IRON MAN (1968) (#1-332) (INVINCIBLE IRON MAN)(MARVEL) #85 Very Fine
IRON MAN (1968) (#1-332) (INVINCIBLE IRON MAN)(MARVEL) #87 Near Mint/Mint
IRON MAN (1968) (#1-332) (INVINCIBLE IRON MAN)(MARVEL) #90 Fine
IRON MAN (1968) (#1-332) (INVINCIBLE IRON MAN)(MARVEL) #91 Very Fine
IRON MAN (1968) (#1-332) (INVINCIBLE IRON MAN)(MARVEL) #93 Very Fine
IRON MAN (1968) (#1-332) (INVINCIBLE IRON MAN)(MARVEL) #94 Very Fine
IRON MAN (1968) (#1-332) (INVINCIBLE IRON MAN)(MARVEL) #95 Very Good
IRON MAN (1968) (#1-332) (INVINCIBLE IRON MAN)(MARVEL) #96 Fine
IRON MAN (1968) (#1-332) (INVINCIBLE IRON MAN)(MARVEL) #97 Very Fine
IRON MAN (1968) (#1-332) (INVINCIBLE IRON MAN)(MARVEL) #108 Near Mint/Mint
IRON MAN (1968) (#1-332) (INVINCIBLE IRON MAN)(MARVEL) #109 Very Fine
IRON MAN (1968) (#1-332) (INVINCIBLE IRON MAN)(MARVEL) #110 Fine
IRON MAN (1968) (#1-332) (INVINCIBLE IRON MAN)(MARVEL) #111 Very Fine
IRON MAN (1968) (#1-332) (INVINCIBLE IRON MAN)(MARVEL) #112 Very Fine
IRON MAN (1968) (#1-332) (INVINCIBLE IRON MAN)(MARVEL) #113 Fine
IRON MAN (1968) (#1-332) (INVINCIBLE IRON MAN)(MARVEL) #114 Near Mint/Mint
IRON MAN (1968) (#1-332) (INVINCIBLE IRON MAN)(MARVEL) #115 Very Fine
IRON MAN (1968) (#1-332) (INVINCIBLE IRON MAN)(MARVEL) #116 Fine
IRON MAN (1968) (#1-332) (INVINCIBLE IRON MAN)(MARVEL) #117 Fine
IRON MAN (1968) (#1-332) (INVINCIBLE IRON MAN)(MARVEL) #119 Very Fine
IRON MAN (1968) (#1-332) (INVINCIBLE IRON MAN)(MARVEL) #120 Fine
IRON MAN (1968) (#1-332) (INVINCIBLE IRON MAN)(MARVEL) #121 Fine
IRON MAN (1968) (#1-332) (INVINCIBLE IRON MAN)(MARVEL) #122 Near Mint/Mint
IRON MAN (1968) (#1-332) (INVINCIBLE IRON MAN)(MARVEL) #123 NEWSSTAND Near Mint/Mint
IRON MAN (1968) (#1-332) (INVINCIBLE IRON MAN)(MARVEL) #124 NEWSSTAND Fine
IRON MAN (1968) (#1-332) (INVINCIBLE IRON MAN)(MARVEL) #127 NEWSSTAND Very Fine
IRON MAN (1968) (#1-332) (INVINCIBLE IRON MAN)(MARVEL) #129 Near Mint/Mint
IRON MAN (1968) (#1-332) (INVINCIBLE IRON MAN)(MARVEL) #130 NEWSSTAND Very Fine
IRON MAN (1968) (#1-332) (INVINCIBLE IRON MAN)(MARVEL) #132 Fine
IRON MAN (1968) (#1-332) (INVINCIBLE IRON MAN)(MARVEL) #134 Near Mint/Mint
IRON MAN (1968) (#1-332) (INVINCIBLE IRON MAN)(MARVEL) #135 Very Fine
IRON MAN (1968) (#1-332) (INVINCIBLE IRON MAN)(MARVEL) #136 Near Mint/Mint
IRON MAN (1968) (#1-332) (INVINCIBLE IRON MAN)(MARVEL) #137 Very Fine
IRON MAN (1968) (#1-332) (INVINCIBLE IRON MAN)(MARVEL) #138 Very Fine
IRON MAN (1968) (#1-332) (INVINCIBLE IRON MAN)(MARVEL) #139 Very Fine
IRON MAN (1968) (#1-332) (INVINCIBLE IRON MAN)(MARVEL) #140 Near Mint/Mint
IRON MAN (1968) (#1-332) (INVINCIBLE IRON MAN)(MARVEL) #141 Near Mint/Mint
IRON MAN (1968) (#1-332) (INVINCIBLE IRON MAN)(MARVEL) #142 Very Fine
IRON MAN (1968) (#1-332) (INVINCIBLE IRON MAN)(MARVEL) #143 Very Fine
IRON MAN (1968) (#1-332) (INVINCIBLE IRON MAN)(MARVEL) #144 Near Mint/Mint
IRON MAN (1968) (#1-332) (INVINCIBLE IRON MAN)(MARVEL) #146 Near Mint/Mint
IRON MAN (1968) (#1-332) (INVINCIBLE IRON MAN)(MARVEL) #147 Near Mint/Mint
IRON MAN (1968) (#1-332) (INVINCIBLE IRON MAN)(MARVEL) #148 Near Mint/Mint
IRON MAN (1968) (#1-332) (INVINCIBLE IRON MAN)(MARVEL) #150 Fine
IRON MAN (1968) (#1-332) (INVINCIBLE IRON MAN)(MARVEL) #152 Near Mint/Mint
IRON MAN (1968) (#1-332) (INVINCIBLE IRON MAN)(MARVEL) #153 NEWSSTAND Very Fine
IRON MAN (1968) (#1-332) (INVINCIBLE IRON MAN)(MARVEL) #154 Near Mint/Mint
IRON MAN (1968) (#1-332) (INVINCIBLE IRON MAN)(MARVEL) #157 Near Mint/Mint

IRON MAN ANNUAL (1970) #1 Very Fine

JOHN CARTER (1977) #1 Very Good
JOHN CARTER (1977) #10 Near Mint/Mint
JOHN CARTER (1977) #18 Very Fine
JOHN CARTER (1977) #19 Near Mint/Mint
JOHN CARTER (1977) #22 Near Mint/Mint
JOHN CARTER (1977) #26 NEWSSTAND Near Mint/Mint
JOHN CARTER (1977) #27 NEWSSTAND Fine

JOURNEY INTO MYSTERY (1972) #1 Fine
JOURNEY INTO MYSTERY (1972) #2 Very Fine
JOURNEY INTO MYSTERY (1972) #9 Fine
JOURNEY INTO MYSTERY (1972) #10 Very Fine

KA-ZAR (1970) (#1-3) (MARVEL) #2 Near Mint/Mint
KA-ZAR (1974) (#1-20) (MARVEL) #2 Very Fine
KA-ZAR (1974) (#1-20) (MARVEL) #4 Near Mint/Mint
KA-ZAR (1974) (#1-20) (MARVEL) #5 Very Fine

KULL THE CONQUEROR (1971) #2 Very Fine
KULL THE CONQUEROR (1971) #3 Very Fine
KULL THE CONQUEROR (1971) #4 Very Good
KULL THE CONQUEROR (1971) #5 Fine
KULL THE CONQUEROR (1971) #6 Very Fine
KULL THE CONQUEROR (1971) #7 Very Fine
KULL THE CONQUEROR (1971) #10 Near Mint/Mint
KULL THE CONQUEROR (1971) #12 Very Fine
KULL THE CONQUEROR (1971) #13 Near Mint/Mint
KULL THE CONQUEROR (1971) #14 Very Fine
KULL THE CONQUEROR (1971) #15 Near Mint/Mint
KULL THE CONQUEROR (1971) #18 Near Mint/Mint

LOGAN: PATH OF THE WARLORD #1 Near Mint/Mint

MACHINE MAN (1978) #3 Very Fine
MACHINE MAN (1978) #4 Very Fine
MACHINE MAN (1978) #5 Very Fine
MACHINE MAN (1978) #6 Near Mint/Mint
MACHINE MAN (1978) #8 Very Fine
MACHINE MAN (1978) #9 Very Fine
MACHINE MAN (1978) #12 Near Mint/Mint

MAN-THING (1974) (#1-22) (MARVEL) #3 Near Mint/Mint
MAN-THING (1974) (#1-22) (MARVEL) #8 Near Mint/Mint
MAN-THING (1974) (#1-22) (MARVEL) #10 Very Fine
MAN-THING (1974) (#1-22) (MARVEL) #15 Very Fine
MAN-THING (1974) (#1-22) (MARVEL) #19 Very Fine
MAN-THING (1974) (#1-22) (MARVEL) #22 Near Mint/Mint

MAN-THING (1979) (#1-11) (MARVEL) #1 Near Mint/Mint
MAN-THING (1979) (#1-11) (MARVEL) #5 Near Mint/Mint

MAN-THING GIANT-SIZE (1974) #1 Very Fine
MAN-THING GIANT-SIZE (1974) #2 Near Mint/Mint

MARVEL ADVENTURE (1975) #1 Near Mint/Mint

MARVEL ADVENTURES FLIPBOOK (2005) #24 NEWSSTAND Fine

MARVEL CHILLERS (1975) #1 Fine
MARVEL CHILLERS (1975) #2 Very Fine
MARVEL CHILLERS (1975) #4 Very Fine

MARVEL CLASSICS (1976) #1 Very Fine
MARVEL CLASSICS (1976) #2 Near Mint/Mint
MARVEL CLASSICS (1976) #5 Near Mint/Mint
MARVEL CLASSICS (1976) #6 Near Mint/Mint

MARVEL COLLECTORS ITEM CLASSICS (1965) #2 Good

MARVEL DOUBLE FEATURE (1973) #1 Very Good

MARVEL FEATURE (1971) #1 Very Fine
MARVEL FEATURE (1971) #5 Very Fine
MARVEL FEATURE (1971) #6 Fine
MARVEL FEATURE (1971) #8 Very Fine
MARVEL FEATURE (1971) #9 Very Good
MARVEL FEATURE (1971) #10 Very Fine
MARVEL FEATURE (1971) #11 Very Fine
MARVEL FEATURE (1971) #12 Fine
MARVEL FEATURE (1975) #3 Near Mint/Mint
MARVEL FEATURE (1975) #4 Near Mint/Mint
MARVEL FEATURE (1975) #7 Very Fine

MARVEL PREMIERE (1972) #2 Near Mint/Mint
MARVEL PREMIERE (1972) #4 Very Fine
MARVEL PREMIERE (1972) #5 Very Fine
MARVEL PREMIERE (1972) #7 Fine
MARVEL PREMIERE (1972) #8 Very Fine
MARVEL PREMIERE (1972) #11 Very Fine
MARVEL PREMIERE (1972) #12 Fine
MARVEL PREMIERE (1972) #19 Fine
MARVEL PREMIERE (1972) #20 Fine
MARVEL PREMIERE (1972) #53 Fine

MARVEL PRESENTS (1975) #3 Fine
MARVEL PRESENTS (1975) #5 Near Mint/Mint
MARVEL PRESENTS (1975) #7 Near Mint/Mint

MARVEL SPECTACULAR (1973) #2 Fine
MARVEL SPECTACULAR (1973) #3 Fine
MARVEL SPECTACULAR (1973) #4 Very Fine
MARVEL SPECTACULAR (1973) #5 Near Mint/Mint
MARVEL SPECTACULAR (1973) #6 Very Fine
MARVEL SPECTACULAR (1973) #8 Near Mint/Mint
MARVEL SPECTACULAR (1973) #10 Very Fine
MARVEL SPECTACULAR (1973) #13 Fine

MARVEL SPOTLIGHT (1971) (#1-33) (MARVEL) #2 Fine
MARVEL SPOTLIGHT (1971) (#1-33) (MARVEL) #4 Very Fine
MARVEL SPOTLIGHT (1971) (#1-33) (MARVEL) #9 Very Fine
MARVEL SPOTLIGHT (1971) (#1-33) (MARVEL) #10 Very Fine
MARVEL SPOTLIGHT (1971) (#1-33) (MARVEL) #11 Very Fine
MARVEL SPOTLIGHT (1971) (#1-33) (MARVEL) #28 Very Fine

MARVEL SPOTLIGHT (1979) (#1-11) (MARVEL) #1 NEWSSTAND Fine

MARVEL TEAM-UP (1972) #3 Very Fine
MARVEL TEAM-UP (1972) #4 Very Fine
MARVEL TEAM-UP (1972) #5 Very Fine
MARVEL TEAM-UP (1972) #6 Fine
MARVEL TEAM-UP (1972) #7 Near Mint/Mint
MARVEL TEAM-UP (1972) #10 Very Fine
MARVEL TEAM-UP (1972) #11 Very Fine
MARVEL TEAM-UP (1972) #12 Very Fine
MARVEL TEAM-UP (1972) #14 Very Fine
MARVEL TEAM-UP (1972) #17 Near Mint/Mint
MARVEL TEAM-UP (1972) #18 Near Mint/Mint
MARVEL TEAM-UP (1972) #19 Very Fine
MARVEL TEAM-UP (1972) #23 Very Fine
MARVEL TEAM-UP (1972) #30 Very Fine
MARVEL TEAM-UP (1972) #35 Very Fine
MARVEL TEAM-UP (1972) #39 Fine
MARVEL TEAM-UP (1972) #41 Fine
MARVEL TEAM-UP (1972) #46 Fine
MARVEL TEAM-UP (1972) #58 Near Mint/Mint
MARVEL TEAM-UP (1972) #89 Near Mint/Mint
MARVEL TEAM-UP (1972) #92 Near Mint/Mint
MARVEL TEAM-UP (1972) #94 Near Mint/Mint
MARVEL TEAM-UP (1972) #95 Very Fine
MARVEL TEAM-UP (1972) #96 Near Mint/Mint
MARVEL TEAM-UP (1972) #97 Near Mint/Mint
MARVEL TEAM-UP (1972) #98 Near Mint/Mint
MARVEL TEAM-UP (1972) #99 Near Mint/Mint
MARVEL TEAM-UP (1972) #100 Near Mint/Mint
MARVEL TEAM-UP (1972) #101 Near Mint/Mint
MARVEL TEAM-UP (1972) #102 Near Mint/Mint
MARVEL TEAM-UP (1972) #103 Very Fine
MARVEL TEAM-UP (1972) #113 Near Mint/Mint
MARVEL TEAM-UP (1972) #121 Near Mint/Mint

MARVEL TRIPLE ACTION (1972) #1 Near Mint/Mint
MARVEL TRIPLE ACTION (1972) #3 Very Fine
MARVEL TRIPLE ACTION (1972) #4 Very Fine
MARVEL TRIPLE ACTION (1972) #5 Very Fine
MARVEL TRIPLE ACTION (1972) #6 Fine
MARVEL TRIPLE ACTION (1972) #7 Near Mint/Mint
MARVEL TRIPLE ACTION (1972) #9 Very Fine

MARVEL TWO-IN-ONE (1974) (#1-100) (MARVEL) #2 Near Mint/Mint
MARVEL TWO-IN-ONE (1974) (#1-100) (MARVEL) #5 Very Fine
MARVEL TWO-IN-ONE (1974) (#1-100) (MARVEL) #7 Very Fine
MARVEL TWO-IN-ONE (1974) (#1-100) (MARVEL) #8 Very Fine
MARVEL TWO-IN-ONE (1974) (#1-100) (MARVEL) #9 Very Fine
MARVEL TWO-IN-ONE (1974) (#1-100) (MARVEL) #19 Very Fine
MARVEL TWO-IN-ONE (1974) (#1-100) (MARVEL) #30 Very Fine
MARVEL TWO-IN-ONE (1974) (#1-100) (MARVEL) #31 Very Fine
MARVEL TWO-IN-ONE (1974) (#1-100) (MARVEL) #33 Very Fine
MARVEL TWO-IN-ONE (1974) (#1-100) (MARVEL) #39 Near Mint/Mint
MARVEL TWO-IN-ONE (1974) (#1-100) (MARVEL) #47 Near Mint/Mint
MARVEL TWO-IN-ONE (1974) (#1-100) (MARVEL) #49 Near Mint/Mint
MARVEL TWO-IN-ONE (1974) (#1-100) (MARVEL) #58 Near Mint/Mint
MARVEL TWO-IN-ONE (1974) (#1-100) (MARVEL) #60 Near Mint/Mint
MARVEL TWO-IN-ONE (1974) (#1-100) (MARVEL) #61 Near Mint/Mint
MARVEL TWO-IN-ONE (1974) (#1-100) (MARVEL) #62 Near Mint/Mint
MARVEL TWO-IN-ONE (1974) (#1-100) (MARVEL) #63 Near Mint/Mint
MARVEL TWO-IN-ONE (1974) (#1-100) (MARVEL) #69 Very Fine
MARVEL TWO-IN-ONE (1974) (#1-100) (MARVEL) #70 Near Mint/Mint
MARVEL TWO-IN-ONE (1974) (#1-100) (MARVEL) #71 Near Mint/Mint
MARVEL TWO-IN-ONE (1974) (#1-100) (MARVEL) #73 Near Mint/Mint
MARVEL TWO-IN-ONE (1974) (#1-100) (MARVEL) #74 Near Mint/Mint
MARVEL TWO-IN-ONE (1974) (#1-100) (MARVEL) #75 Very Fine
MARVEL TWO-IN-ONE (1974) (#1-100) (MARVEL) #91 Near Mint/Mint

MARVEL TWO-IN-ONE ANNUAL (1976) #1 Fine

MARVEL'S GREATEST COMICS (1969) #29 Fine

MASTER OF KUNG FU (1974) (#15-125) (MARVEL) (SHANG-CHI) #16 Fine
MASTER OF KUNG FU (1974) (#15-125) (MARVEL) (SHANG-CHI) #17 Very Fine
MASTER OF KUNG FU (1974) (#15-125) (MARVEL) (SHANG-CHI) #18 Very Fine
MASTER OF KUNG FU (1974) (#15-125) (MARVEL) (SHANG-CHI) #19 Near Mint/Mint
MASTER OF KUNG FU (1974) (#15-125) (MARVEL) (SHANG-CHI) #20 Very Fine
MASTER OF KUNG FU (1974) (#15-125) (MARVEL) (SHANG-CHI) #21 Very Fine
MASTER OF KUNG FU (1974) (#15-125) (MARVEL) (SHANG-CHI) #22 Very Fine
MASTER OF KUNG FU (1974) (#15-125) (MARVEL) (SHANG-CHI) #23 Fine
MASTER OF KUNG FU (1974) (#15-125) (MARVEL) (SHANG-CHI) #24 Very Fine
MASTER OF KUNG FU (1974) (#15-125) (MARVEL) (SHANG-CHI) #25 Fine
MASTER OF KUNG FU (1974) (#15-125) (MARVEL) (SHANG-CHI) #26 Very Fine
MASTER OF KUNG FU (1974) (#15-125) (MARVEL) (SHANG-CHI) #27 Near Mint/Mint
MASTER OF KUNG FU (1974) (#15-125) (MARVEL) (SHANG-CHI) #28 Very Fine
MASTER OF KUNG FU (1974) (#15-125) (MARVEL) (SHANG-CHI) #29 Very Fine
MASTER OF KUNG FU (1974) (#15-125) (MARVEL) (SHANG-CHI) #31 Very Fine
MASTER OF KUNG FU (1974) (#15-125) (MARVEL) (SHANG-CHI) #32 Very Fine
MASTER OF KUNG FU (1974) (#15-125) (MARVEL) (SHANG-CHI) #34 Near Mint/Mint
MASTER OF KUNG FU (1974) (#15-125) (MARVEL) (SHANG-CHI) #35 Very Fine
MASTER OF KUNG FU (1974) (#15-125) (MARVEL) (SHANG-CHI) #37 Very Fine
MASTER OF KUNG FU (1974) (#15-125) (MARVEL) (SHANG-CHI) #38 Very Fine
MASTER OF KUNG FU (1974) (#15-125) (MARVEL) (SHANG-CHI) #39 Very Fine
MASTER OF KUNG FU (1974) (#15-125) (MARVEL) (SHANG-CHI) #40 Very Fine
MASTER OF KUNG FU (1974) (#15-125) (MARVEL) (SHANG-CHI) #41 Near Mint/Mint
MASTER OF KUNG FU (1974) (#15-125) (MARVEL) (SHANG-CHI) #42 Very Fine
MASTER OF KUNG FU (1974) (#15-125) (MARVEL) (SHANG-CHI) #43 Near Mint/Mint
MASTER OF KUNG FU (1974) (#15-125) (MARVEL) (SHANG-CHI) #45 Very Fine
MASTER OF KUNG FU (1974) (#15-125) (MARVEL) (SHANG-CHI) #46 Very Fine
MASTER OF KUNG FU (1974) (#15-125) (MARVEL) (SHANG-CHI) #47 Very Fine
MASTER OF KUNG FU (1974) (#15-125) (MARVEL) (SHANG-CHI) #48 Very Fine
MASTER OF KUNG FU (1974) (#15-125) (MARVEL) (SHANG-CHI) #50 Near Mint/Mint
MASTER OF KUNG FU (1974) (#15-125) (MARVEL) (SHANG-CHI) #55 Near Mint/Mint
MASTER OF KUNG FU (1974) (#15-125) (MARVEL) (SHANG-CHI) #60 Near Mint/Mint
MASTER OF KUNG FU (1974) (#15-125) (MARVEL) (SHANG-CHI) #64 Near Mint/Mint
MASTER OF KUNG FU (1974) (#15-125) (MARVEL) (SHANG-CHI) #67 Near Mint/Mint
MASTER OF KUNG FU (1974) (#15-125) (MARVEL) (SHANG-CHI) #71 Near Mint/Mint
MASTER OF KUNG FU (1974) (#15-125) (MARVEL) (SHANG-CHI) #75 Near Mint/Mint
MASTER OF KUNG FU (1974) (#15-125) (MARVEL) (SHANG-CHI) #77 NEWSSTAND Very Fine
MASTER OF KUNG FU (1974) (#15-125) (MARVEL) (SHANG-CHI) #80 NEWSSTAND Near Mint/Mint
MASTER OF KUNG FU (1974) (#15-125) (MARVEL) (SHANG-CHI) #82 Near Mint/Mint
MASTER OF KUNG FU (1974) (#15-125) (MARVEL) (SHANG-CHI) #84 Near Mint/Mint
MASTER OF KUNG FU (1974) (#15-125) (MARVEL) (SHANG-CHI) #86 Near Mint/Mint
MASTER OF KUNG FU (1974) (#15-125) (MARVEL) (SHANG-CHI) #87 Near Mint/Mint
MASTER OF KUNG FU (1974) (#15-125) (MARVEL) (SHANG-CHI) #88 Near Mint/Mint
MASTER OF KUNG FU (1974) (#15-125) (MARVEL) (SHANG-CHI) #89 Near Mint/Mint
MASTER OF KUNG FU (1974) (#15-125) (MARVEL) (SHANG-CHI) #91 Near Mint/Mint
MASTER OF KUNG FU (1974) (#15-125) (MARVEL) (SHANG-CHI) #92 Near Mint/Mint
MASTER OF KUNG FU (1974) (#15-125) (MARVEL) (SHANG-CHI) #93 Near Mint/Mint
MASTER OF KUNG FU (1974) (#15-125) (MARVEL) (SHANG-CHI) #94 Near Mint/Mint
MASTER OF KUNG FU (1974) (#15-125) (MARVEL) (SHANG-CHI) #95 Near Mint/Mint
MASTER OF KUNG FU (1974) (#15-125) (MARVEL) (SHANG-CHI) #98 Near Mint/Mint
MASTER OF KUNG FU (1974) (#15-125) (MARVEL) (SHANG-CHI) #99 Near Mint/Mint
MASTER OF KUNG FU (1974) (#15-125) (MARVEL) (SHANG-CHI) #100 Near Mint/Mint
MASTER OF KUNG FU (1974) (#15-125) (MARVEL) (SHANG-CHI) #101 Near Mint/Mint
MASTER OF KUNG FU (1974) (#15-125) (MARVEL) (SHANG-CHI) #103 Near Mint/Mint
MASTER OF KUNG FU (1974) (#15-125) (MARVEL) (SHANG-CHI) #104 Near Mint/Mint
MASTER OF KUNG FU (1974) (#15-125) (MARVEL) (SHANG-CHI) #105 Near Mint/Mint
MASTER OF KUNG FU (1974) (#15-125) (MARVEL) (SHANG-CHI) #108 Near Mint/Mint
MASTER OF KUNG FU (1974) (#15-125) (MARVEL) (SHANG-CHI) #112 Near Mint/Mint
MASTER OF KUNG FU (1974) (#15-125) (MARVEL) (SHANG-CHI) #116 Near Mint/Mint

MASTER OF KUNG FU GIANT-SIZE (1974) #1 Very Fine
MASTER OF KUNG FU GIANT-SIZE (1974) #2 Near Mint/Mint
MASTER OF KUNG FU GIANT-SIZE (1974) #3 Near Mint/Mint

MICRONAUTS (1979) (#1-59) (MARVEL) #1 Near Mint/Mint
MICRONAUTS (1979) (#1-59) (MARVEL) #2 Near Mint/Mint
MICRONAUTS (1979) (#1-59) (MARVEL) #3 Near Mint/Mint
MICRONAUTS (1979) (#1-59) (MARVEL) #4 Near Mint/Mint
MICRONAUTS (1979) (#1-59) (MARVEL) #5 Near Mint/Mint
MICRONAUTS (1979) (#1-59) (MARVEL) #6 NEWSSTAND Near Mint/Mint
MICRONAUTS (1979) (#1-59) (MARVEL) #8 NEWSSTAND Near Mint/Mint
MICRONAUTS (1979) (#1-59) (MARVEL) #9 NEWSSTAND Very Fine
MICRONAUTS (1979) (#1-59) (MARVEL) #10 NEWSSTAND Near Mint/Mint
MICRONAUTS (1979) (#1-59) (MARVEL) #11 NEWSSTAND Near Mint/Mint
MICRONAUTS (1979) (#1-59) (MARVEL) #12 Near Mint/Mint
MICRONAUTS (1979) (#1-59) (MARVEL) #15 Near Mint/Mint
MICRONAUTS (1979) (#1-59) (MARVEL) #16 Near Mint/Mint
MICRONAUTS (1979) (#1-59) (MARVEL) #17 Near Mint/Mint
MICRONAUTS (1979) (#1-59) (MARVEL) #18 Near Mint/Mint
MICRONAUTS (1979) (#1-59) (MARVEL) #19 Near Mint/Mint
MICRONAUTS (1979) (#1-59) (MARVEL) #22 Near Mint/Mint
MICRONAUTS (1979) (#1-59) (MARVEL) #27 Near Mint/Mint
MICRONAUTS (1979) (#1-59) (MARVEL) #28 Near Mint/Mint
MICRONAUTS (1979) (#1-59) (MARVEL) #30 Near Mint/Mint
MICRONAUTS (1979) (#1-59) (MARVEL) #34 Near Mint/Mint
MICRONAUTS (1979) (#1-59) (MARVEL) #37 Near Mint/Mint
MICRONAUTS (1979) (#1-59) (MARVEL) #38 Near Mint/Mint
MICRONAUTS (1979) (#1-59) (MARVEL) #42 Near Mint/Mint

MICRONAUTS ANNUAL #1 Near Mint/Mint

MONSTERS ON THE PROWL (1971) #13 Near Mint/Mint
MONSTERS ON THE PROWL (1971) #14 Very Good
MONSTERS ON THE PROWL (1971) #17 Fine
MONSTERS ON THE PROWL (1971) #21 Very Fine
MONSTERS ON THE PROWL (1971) #22 Fine
MONSTERS ON THE PROWL (1971) #23 Fine
MONSTERS ON THE PROWL (1971) #24 Very Fine
MONSTERS ON THE PROWL (1971) #28 Fine

MS. MARVEL (1977) (#1-23) (MARVEL) (CAROL DANVERS) #2 Very Fine
MS. MARVEL (1977) (#1-23) (MARVEL) (CAROL DANVERS) #3 Fine
MS. MARVEL (1977) (#1-23) (MARVEL) (CAROL DANVERS) #4 Fine
MS. MARVEL (1977) (#1-23) (MARVEL) (CAROL DANVERS) #5 Fine
MS. MARVEL (1977) (#1-23) (MARVEL) (CAROL DANVERS) #6 Very Fine
MS. MARVEL (1977) (#1-23) (MARVEL) (CAROL DANVERS) #7 Fine
MS. MARVEL (1977) (#1-23) (MARVEL) (CAROL DANVERS) #8 Fine
MS. MARVEL (1977) (#1-23) (MARVEL) (CAROL DANVERS) #9 Very Fine
MS. MARVEL (1977) (#1-23) (MARVEL) (CAROL DANVERS) #10 Very Fine
MS. MARVEL (1977) (#1-23) (MARVEL) (CAROL DANVERS) #11 Very Good
MS. MARVEL (1977) (#1-23) (MARVEL) (CAROL DANVERS) #12 Fine
MS. MARVEL (1977) (#1-23) (MARVEL) (CAROL DANVERS) #13 Very Good
MS. MARVEL (1977) (#1-23) (MARVEL) (CAROL DANVERS) #15 Very Fine
MS. MARVEL (1977) (#1-23) (MARVEL) (CAROL DANVERS) #16 Fine

NOVA (1976) (#1-25) (RICHARD RIDER) (MARVEL) #1 Very Fine
NOVA (1976) (#1-25) (RICHARD RIDER) (MARVEL) #4 Very Fine
NOVA (1976) (#1-25) (RICHARD RIDER) (MARVEL) #5 Very Fine
NOVA (1976) (#1-25) (RICHARD RIDER) (MARVEL) #6 Very Fine
NOVA (1976) (#1-25) (RICHARD RIDER) (MARVEL) #12 Near Mint/Mint
NOVA (1976) (#1-25) (RICHARD RIDER) (MARVEL) #13 Very Fine
NOVA (1976) (#1-25) (RICHARD RIDER) (MARVEL) #14 Very Fine
NOVA (1976) (#1-25) (RICHARD RIDER) (MARVEL) #15 Very Fine
NOVA (1976) (#1-25) (RICHARD RIDER) (MARVEL) #16 Very Fine
NOVA (1976) (#1-25) (RICHARD RIDER) (MARVEL) #21 Very Fine
NOVA (1976) (#1-25) (RICHARD RIDER) (MARVEL) #23 Very Fine
NOVA (1976) (#1-25) (RICHARD RIDER) (MARVEL) #24 Very Fine
NOVA (1976) (#1-25) (RICHARD RIDER) (MARVEL) #25 Near Mint/Mint

OMEGA (1976) #1 Fine
OMEGA (1976) #9 Near Mint/Mint
OMEGA (1976) #10 Near Mint/Mint

OUTLAW KID (1970) #1 Very Fine
OUTLAW KID (1970) #3 Near Mint/Mint
OUTLAW KID (1970) #4 Very Fine
OUTLAW KID (1970) #6 Near Mint/Mint
OUTLAW KID (1970) #7 Near Mint/Mint
OUTLAW KID (1970) #10 Very Fine

POWER MAN/IRON FIST (LUKE CAGE, POWER MAN #1-49) (1972) #1 Fine
POWER MAN/IRON FIST (LUKE CAGE, POWER MAN #1-49) (1972) #4 Very Fine
POWER MAN/IRON FIST (LUKE CAGE, POWER MAN #1-49) (1972) #6 Very Fine
POWER MAN/IRON FIST (LUKE CAGE, POWER MAN #1-49) (1972) #7 Near Mint/Mint
POWER MAN/IRON FIST (LUKE CAGE, POWER MAN #1-49) (1972) #8 Very Fine
POWER MAN/IRON FIST (LUKE CAGE, POWER MAN #1-49) (1972) #9 Very Fine
POWER MAN/IRON FIST (LUKE CAGE, POWER MAN #1-49) (1972) #17 Near Mint/Mint
POWER MAN/IRON FIST (LUKE CAGE, POWER MAN #1-49) (1972) #18 Near Mint/Mint
POWER MAN/IRON FIST (LUKE CAGE, POWER MAN #1-49) (1972) #19 Very Fine
POWER MAN/IRON FIST (LUKE CAGE, POWER MAN #1-49) (1972) #20 Very Fine
POWER MAN/IRON FIST (LUKE CAGE, POWER MAN #1-49) (1972) #21 Very Fine
POWER MAN/IRON FIST (LUKE CAGE, POWER MAN #1-49) (1972) #22 Near Mint/Mint
POWER MAN/IRON FIST (LUKE CAGE, POWER MAN #1-49) (1972) #23 Near Mint/Mint
POWER MAN/IRON FIST (LUKE CAGE, POWER MAN #1-49) (1972) #23 Very Fine
POWER MAN/IRON FIST (LUKE CAGE, POWER MAN #1-49) (1972) #24 Near Mint/Mint
POWER MAN/IRON FIST (LUKE CAGE, POWER MAN #1-49) (1972) #25 Near Mint/Mint
POWER MAN/IRON FIST (LUKE CAGE, POWER MAN #1-49) (1972) #26 Fine
POWER MAN/IRON FIST (LUKE CAGE, POWER MAN #1-49) (1972) #27 Near Mint/Mint
POWER MAN/IRON FIST (LUKE CAGE, POWER MAN #1-49) (1972) #29 Near Mint/Mint
POWER MAN/IRON FIST (LUKE CAGE, POWER MAN #1-49) (1972) #30 Near Mint/Mint
POWER MAN/IRON FIST (LUKE CAGE, POWER MAN #1-49) (1972) #31 Very Fine
POWER MAN/IRON FIST (LUKE CAGE, POWER MAN #1-49) (1972) #33 Very Fine
POWER MAN/IRON FIST (LUKE CAGE, POWER MAN #1-49) (1972) #34 Near Mint/Mint
POWER MAN/IRON FIST (LUKE CAGE, POWER MAN #1-49) (1972) #35 Very Fine
POWER MAN/IRON FIST (LUKE CAGE, POWER MAN #1-49) (1972) #36 Very Fine
POWER MAN/IRON FIST (LUKE CAGE, POWER MAN #1-49) (1972) #39 Near Mint/Mint
POWER MAN/IRON FIST (LUKE CAGE, POWER MAN #1-49) (1972) #40 Near Mint/Mint
POWER MAN/IRON FIST (LUKE CAGE, POWER MAN #1-49) (1972) #42 Near Mint/Mint
POWER MAN/IRON FIST (LUKE CAGE, POWER MAN #1-49) (1972) #43 Near Mint/Mint
POWER MAN/IRON FIST (LUKE CAGE, POWER MAN #1-49) (1972) #45 Very Fine
POWER MAN/IRON FIST (LUKE CAGE, POWER MAN #1-49) (1972) #46 Very Fine
POWER MAN/IRON FIST (LUKE CAGE, POWER MAN #1-49) (1972) #47 Very Fine
POWER MAN/IRON FIST (LUKE CAGE, POWER MAN #1-49) (1972) #48 Very Fine
POWER MAN/IRON FIST (LUKE CAGE, POWER MAN #1-49) (1972) #53 Near Mint/Mint
POWER MAN/IRON FIST (LUKE CAGE, POWER MAN #1-49) (1972) #55 Near Mint/Mint
POWER MAN/IRON FIST (LUKE CAGE, POWER MAN #1-49) (1972) #56 Near Mint/Mint
POWER MAN/IRON FIST (LUKE CAGE, POWER MAN #1-49) (1972) #58 NEWSSTAND Near Mint/Mint
POWER MAN/IRON FIST (LUKE CAGE, POWER MAN #1-49) (1972) #61 Near Mint/Mint
POWER MAN/IRON FIST (LUKE CAGE, POWER MAN #1-49) (1972) #64 Near Mint/Mint
POWER MAN/IRON FIST (LUKE CAGE, POWER MAN #1-49) (1972) #65 Near Mint/Mint
POWER MAN/IRON FIST (LUKE CAGE, POWER MAN #1-49) (1972) #67 Near Mint/Mint
POWER MAN/IRON FIST (LUKE CAGE, POWER MAN #1-49) (1972) #68 Near Mint/Mint
POWER MAN/IRON FIST (LUKE CAGE, POWER MAN #1-49) (1972) #70 Near Mint/Mint
POWER MAN/IRON FIST (LUKE CAGE, POWER MAN #1-49) (1972) #72 Near Mint/Mint
POWER MAN/IRON FIST (LUKE CAGE, POWER MAN #1-49) (1972) #74 Near Mint/Mint
POWER MAN/IRON FIST (LUKE CAGE, POWER MAN #1-49) (1972) #75 Near Mint/Mint
POWER MAN/IRON FIST (LUKE CAGE, POWER MAN #1-49) (1972) #78 Near Mint/Mint

RAWHIDE KID ANNUAL (1971) #1 Good


RED SONJA (1977) (#1-15) (MARVEL) #1

RED SONJA (1977) (#1-15) (MARVEL) #1 Very Fine
RED SONJA (1977) (#1-15) (MARVEL) #3 Very Fine
RED SONJA (1977) (#1-15) (MARVEL) #4 Near Mint/Mint
RED SONJA (1977) (#1-15) (MARVEL) #5 Near Mint/Mint
RED SONJA (1977) (#1-15) (MARVEL) #8 Near Mint/Mint
RED SONJA (1977) (#1-15) (MARVEL) #14 Near Mint/Mint

RED WOLF (1972) #1 Fine
RED WOLF (1972) #2 Fine
RED WOLF (1972) #3 Fine
RED WOLF (1972) #4 Very Fine
RED WOLF (1972) #5 Fine

RINGO KID (1970) #2 Near Mint/Mint
RINGO KID (1970) #3 Near Mint/Mint
RINGO KID (1970) #6 Very Fine
RINGO KID (1970) #11 Fine
RINGO KID (1970) #17 Near Mint/Mint

ROM (1979) #1 Fine
ROM (1979) #1 Very Fine

SHANNA THE SHE-DEVIL (1972) #1 Fine

SHE-HULK (1980) (#1-25) (SAVAGE SHE-HULK) (MARVEL) #1 Good

SHIELD (1968) (#1-18) (MARVEL) #1 Very Fine
SHIELD (1968) (#1-18) (MARVEL) #2 Near Mint/Mint
SHIELD (1968) (#1-18) (MARVEL) #3 Near Mint/Mint
SHIELD (1968) (#1-18) (MARVEL) #4 Very Fine
SHIELD (1968) (#1-18) (MARVEL) #5 Very Fine
SHIELD (1968) (#1-18) (MARVEL) #6 Very Fine
SHIELD (1968) (#1-18) (MARVEL) #7 Near Mint/Mint
SHIELD (1968) (#1-18) (MARVEL) #9 Near Mint/Mint


SHIELD (1968) (#1-18) (MARVEL) #13

SHIELD (1968) (#1-18) (MARVEL) #13 Near Mint/Mint
SHIELD (1968) (#1-18) (MARVEL) #17 Near Mint/Mint
SHIELD (1968) (#1-18) (MARVEL) #18 Near Mint/Mint
SHIELD (1973) (#1-5) (MARVEL)(NICK FURY & HIS AGENTS) #1 Very Fine
SHIELD (1973) (#1-5) (MARVEL)(NICK FURY & HIS AGENTS) #2 Very Fine
SHIELD (1973) (#1-5) (MARVEL)(NICK FURY & HIS AGENTS) #3 Very Fine
SHIELD (1973) (#1-5) (MARVEL)(NICK FURY & HIS AGENTS) #4 Fine
SHIELD (1973) (#1-5) (MARVEL)(NICK FURY & HIS AGENTS) #5 Fine

SHOGUN WARRIORS (1979) #1 Very Fine
SHOGUN WARRIORS (1979) #2 Near Mint/Mint
SHOGUN WARRIORS (1979) #4 Very Fine
SHOGUN WARRIORS (1979) #5 Near Mint/Mint
SHOGUN WARRIORS (1979) #5 NEWSSTAND Near Mint/Mint
SHOGUN WARRIORS (1979) #6 NEWSSTAND Near Mint/Mint
SHOGUN WARRIORS (1979) #7 NEWSSTAND Near Mint/Mint
SHOGUN WARRIORS (1979) #8 NEWSSTAND Near Mint/Mint
SHOGUN WARRIORS (1979) #11 Near Mint/Mint
SHOGUN WARRIORS (1979) #12 Near Mint/Mint
SHOGUN WARRIORS (1979) #13 Near Mint/Mint
SHOGUN WARRIORS (1979) #14 Near Mint/Mint
SHOGUN WARRIORS (1979) #15 Near Mint/Mint
SHOGUN WARRIORS (1979) #16 Near Mint/Mint
SHOGUN WARRIORS (1979) #17 Near Mint/Mint
SHOGUN WARRIORS (1979) #18 Near Mint/Mint
SHOGUN WARRIORS (1979) #19 Near Mint/Mint
SHOGUN WARRIORS (1979) #20 Very Fine

SKULL THE SLAYER (1975) #1 Very Fine
SKULL THE SLAYER (1975) #5 Very Fine
SKULL THE SLAYER (1975) #6 Very Fine
SKULL THE SLAYER (1975) #7 Very Fine

SON OF SATAN (1975) #1 Very Fine
SON OF SATAN (1975) #2 Near Mint/Mint
SON OF SATAN (1975) #3 Fine
SON OF SATAN (1975) #3 Very Fine
SON OF SATAN (1975) #4 Very Fine
SON OF SATAN (1975) #5 Near Mint/Mint
SON OF SATAN (1975) #6 Fine
SON OF SATAN (1975) #7 Very Fine
SON OF SATAN (1975) #8 Fine

SPECIAL MARVEL EDITION #1 Very Fine
SPECIAL MARVEL EDITION #2 Near Mint/Mint
SPECIAL MARVEL EDITION #3 Very Fine
SPECIAL MARVEL EDITION #4 Very Fine
SPECIAL MARVEL EDITION #5 Very Fine
SPECIAL MARVEL EDITION #6 Near Mint/Mint
SPECIAL MARVEL EDITION #7 Very Fine
SPECIAL MARVEL EDITION #8 Very Fine
SPECIAL MARVEL EDITION #9 Very Fine
SPECIAL MARVEL EDITION #10 Near Mint/Mint
SPECIAL MARVEL EDITION #11 Very Fine

SPIDER-MAN (1963) (AMAZING SPIDER-MAN) (#1-441) #23 Fair
SPIDER-MAN (1963) (AMAZING SPIDER-MAN) (#1-441) #24 Fair
SPIDER-MAN (1963) (AMAZING SPIDER-MAN) (#1-441) #25 Good
SPIDER-MAN (1963) (AMAZING SPIDER-MAN) (#1-441) #27 Good
SPIDER-MAN (1963) (AMAZING SPIDER-MAN) (#1-441) #29 Fair
SPIDER-MAN (1963) (AMAZING SPIDER-MAN) (#1-441) #31 Very Good
SPIDER-MAN (1963) (AMAZING SPIDER-MAN) (#1-441) #34 Fair
SPIDER-MAN (1963) (AMAZING SPIDER-MAN) (#1-441) #35 Good
SPIDER-MAN (1963) (AMAZING SPIDER-MAN) (#1-441) #36 Fair
SPIDER-MAN (1963) (AMAZING SPIDER-MAN) (#1-441) #38 Good
SPIDER-MAN (1963) (AMAZING SPIDER-MAN) (#1-441) #39 Fair
SPIDER-MAN (1963) (AMAZING SPIDER-MAN) (#1-441) #40 Fair
SPIDER-MAN (1963) (AMAZING SPIDER-MAN) (#1-441) #42 Good
SPIDER-MAN (1963) (AMAZING SPIDER-MAN) (#1-441) #44 Good


SPIDER-MAN (1963) (AMAZING SPIDER-MAN) (#1-441) #45

SPIDER-MAN (1963) (AMAZING SPIDER-MAN) (#1-441) #45 Good
SPIDER-MAN (1963) (AMAZING SPIDER-MAN) (#1-441) #46 Good
SPIDER-MAN (1963) (AMAZING SPIDER-MAN) (#1-441) #47 Good
SPIDER-MAN (1963) (AMAZING SPIDER-MAN) (#1-441) #48 Good
SPIDER-MAN (1963) (AMAZING SPIDER-MAN) (#1-441) #49 Very Good
SPIDER-MAN (1963) (AMAZING SPIDER-MAN) (#1-441) #51 Good
SPIDER-MAN (1963) (AMAZING SPIDER-MAN) (#1-441) #52 Good
SPIDER-MAN (1963) (AMAZING SPIDER-MAN) (#1-441) #53 Very Good
SPIDER-MAN (1963) (AMAZING SPIDER-MAN) (#1-441) #54 Good
SPIDER-MAN (1963) (AMAZING SPIDER-MAN) (#1-441) #55 Good
SPIDER-MAN (1963) (AMAZING SPIDER-MAN) (#1-441) #56 Good
SPIDER-MAN (1963) (AMAZING SPIDER-MAN) (#1-441) #57 Fine
SPIDER-MAN (1963) (AMAZING SPIDER-MAN) (#1-441) #59 Good
SPIDER-MAN (1963) (AMAZING SPIDER-MAN) (#1-441) #60 Very Good
SPIDER-MAN (1963) (AMAZING SPIDER-MAN) (#1-441) #61 Good
SPIDER-MAN (1963) (AMAZING SPIDER-MAN) (#1-441) #62 Good
SPIDER-MAN (1963) (AMAZING SPIDER-MAN) (#1-441) #63 Fair
SPIDER-MAN (1963) (AMAZING SPIDER-MAN) (#1-441) #64 Good
SPIDER-MAN (1963) (AMAZING SPIDER-MAN) (#1-441) #65 Good
SPIDER-MAN (1963) (AMAZING SPIDER-MAN) (#1-441) #66 Good
SPIDER-MAN (1963) (AMAZING SPIDER-MAN) (#1-441) #67 Fine
SPIDER-MAN (1963) (AMAZING SPIDER-MAN) (#1-441) #68 Very Good
SPIDER-MAN (1963) (AMAZING SPIDER-MAN) (#1-441) #69 Very Good
SPIDER-MAN (1963) (AMAZING SPIDER-MAN) (#1-441) #70 Very Good
SPIDER-MAN (1963) (AMAZING SPIDER-MAN) (#1-441) #71 Good
SPIDER-MAN (1963) (AMAZING SPIDER-MAN) (#1-441) #72 Good
SPIDER-MAN (1963) (AMAZING SPIDER-MAN) (#1-441) #73 Very Good
SPIDER-MAN (1963) (AMAZING SPIDER-MAN) (#1-441) #74 Very Good
SPIDER-MAN (1963) (AMAZING SPIDER-MAN) (#1-441) #75 Very Fine
SPIDER-MAN (1963) (AMAZING SPIDER-MAN) (#1-441) #76 Very Fine
SPIDER-MAN (1963) (AMAZING SPIDER-MAN) (#1-441) #77 Fine
SPIDER-MAN (1963) (AMAZING SPIDER-MAN) (#1-441) #78 Very Fine
SPIDER-MAN (1963) (AMAZING SPIDER-MAN) (#1-441) #79 Good
SPIDER-MAN (1963) (AMAZING SPIDER-MAN) (#1-441) #80 Good


SPIDER-MAN (1963) (AMAZING SPIDER-MAN) (#1-441) #81

SPIDER-MAN (1963) (AMAZING SPIDER-MAN) (#1-441) #81 Good
SPIDER-MAN (1963) (AMAZING SPIDER-MAN) (#1-441) #82 Near Mint/Mint
SPIDER-MAN (1963) (AMAZING SPIDER-MAN) (#1-441) #83 Very Fine
SPIDER-MAN (1963) (AMAZING SPIDER-MAN) (#1-441) #84 Good
SPIDER-MAN (1963) (AMAZING SPIDER-MAN) (#1-441) #85 Good
SPIDER-MAN (1963) (AMAZING SPIDER-MAN) (#1-441) #86 Good
SPIDER-MAN (1963) (AMAZING SPIDER-MAN) (#1-441) #87 Very Good
SPIDER-MAN (1963) (AMAZING SPIDER-MAN) (#1-441) #88 Very Good
SPIDER-MAN (1963) (AMAZING SPIDER-MAN) (#1-441) #89 Very Good
SPIDER-MAN (1963) (AMAZING SPIDER-MAN) (#1-441) #90 Very Good
SPIDER-MAN (1963) (AMAZING SPIDER-MAN) (#1-441) #91 Fine
SPIDER-MAN (1963) (AMAZING SPIDER-MAN) (#1-441) #92 Good
SPIDER-MAN (1963) (AMAZING SPIDER-MAN) (#1-441) #93 Good
SPIDER-MAN (1963) (AMAZING SPIDER-MAN) (#1-441) #94 Good
SPIDER-MAN (1963) (AMAZING SPIDER-MAN) (#1-441) #95 Fine
SPIDER-MAN (1963) (AMAZING SPIDER-MAN) (#1-441) #96 Very Good
SPIDER-MAN (1963) (AMAZING SPIDER-MAN) (#1-441) #97 Very Good
SPIDER-MAN (1963) (AMAZING SPIDER-MAN) (#1-441) #98 Near Mint/Mint
SPIDER-MAN (1963) (AMAZING SPIDER-MAN) (#1-441) #100 Very Good
SPIDER-MAN (1963) (AMAZING SPIDER-MAN) (#1-441) #102 Very Good
SPIDER-MAN (1963) (AMAZING SPIDER-MAN) (#1-441) #103 Good
SPIDER-MAN (1963) (AMAZING SPIDER-MAN) (#1-441) #104 Very Good
SPIDER-MAN (1963) (AMAZING SPIDER-MAN) (#1-441) #105 Fine
SPIDER-MAN (1963) (AMAZING SPIDER-MAN) (#1-441) #106 Very Good
SPIDER-MAN (1963) (AMAZING SPIDER-MAN) (#1-441) #107 Very Good
SPIDER-MAN (1963) (AMAZING SPIDER-MAN) (#1-441) #108 Very Good
SPIDER-MAN (1963) (AMAZING SPIDER-MAN) (#1-441) #109 Very Good
SPIDER-MAN (1963) (AMAZING SPIDER-MAN) (#1-441) #110 Fine
SPIDER-MAN (1963) (AMAZING SPIDER-MAN) (#1-441) #112 Fine
SPIDER-MAN (1963) (AMAZING SPIDER-MAN) (#1-441) #114 Very Fine
SPIDER-MAN (1963) (AMAZING SPIDER-MAN) (#1-441) #117 Very Fine
SPIDER-MAN (1963) (AMAZING SPIDER-MAN) (#1-441) #118 Good
SPIDER-MAN (1963) (AMAZING SPIDER-MAN) (#1-441) #119 Very Good
SPIDER-MAN (1963) (AMAZING SPIDER-MAN) (#1-441) #120 Fine
SPIDER-MAN (1963) (AMAZING SPIDER-MAN) (#1-441) #123 Near Mint/Mint
SPIDER-MAN (1963) (AMAZING SPIDER-MAN) (#1-441) #129 Near Mint/Mint
SPIDER-MAN (1963) (AMAZING SPIDER-MAN) (#1-441) #130 Near Mint/Mint
SPIDER-MAN (1963) (AMAZING SPIDER-MAN) (#1-441) #134 Very Fine
SPIDER-MAN (1963) (AMAZING SPIDER-MAN) (#1-441) #138 Near Mint/Mint


SPIDER-MAN (1963) (AMAZING SPIDER-MAN) (#1-441) #147

SPIDER-MAN (1963) (AMAZING SPIDER-MAN) (#1-441) #147 Near Mint/Mint
SPIDER-MAN (1963) (AMAZING SPIDER-MAN) (#1-441) #149 Very Fine
SPIDER-MAN (1963) (AMAZING SPIDER-MAN) (#1-441) #151 Very Fine
SPIDER-MAN (1963) (AMAZING SPIDER-MAN) (#1-441) #152 Very Good
SPIDER-MAN (1963) (AMAZING SPIDER-MAN) (#1-441) #153 Very Fine
SPIDER-MAN (1963) (AMAZING SPIDER-MAN) (#1-441) #154 Near Mint/Mint
SPIDER-MAN (1963) (AMAZING SPIDER-MAN) (#1-441) #158 Fine
SPIDER-MAN (1963) (AMAZING SPIDER-MAN) (#1-441) #159 Fine
SPIDER-MAN (1963) (AMAZING SPIDER-MAN) (#1-441) #160 Fine
SPIDER-MAN (1963) (AMAZING SPIDER-MAN) (#1-441) #161 Very Fine
SPIDER-MAN (1963) (AMAZING SPIDER-MAN) (#1-441) #162 Very Good
SPIDER-MAN (1963) (AMAZING SPIDER-MAN) (#1-441) #163 Very Fine
SPIDER-MAN (1963) (AMAZING SPIDER-MAN) (#1-441) #165 Near Mint/Mint
SPIDER-MAN (1963) (AMAZING SPIDER-MAN) (#1-441) #166 Near Mint/Mint
SPIDER-MAN (1963) (AMAZING SPIDER-MAN) (#1-441) #171 Very Fine
SPIDER-MAN (1963) (AMAZING SPIDER-MAN) (#1-441) #174 Near Mint/Mint
SPIDER-MAN (1963) (AMAZING SPIDER-MAN) (#1-441) #175 Very Fine
SPIDER-MAN (1963) (AMAZING SPIDER-MAN) (#1-441) #201 Near Mint/Mint
SPIDER-MAN (1963) (AMAZING SPIDER-MAN) (#1-441) #219 Near Mint/Mint
SPIDER-MAN (1963) (AMAZING SPIDER-MAN) (#1-441) #228 Near Mint/Mint
SPIDER-MAN (1963) (AMAZING SPIDER-MAN) (#1-441) #232 Near Mint/Mint
SPIDER-MAN (1963) (AMAZING SPIDER-MAN) (#1-441) #233 Near Mint/Mint
SPIDER-MAN (1963) (AMAZING SPIDER-MAN) (#1-441) #263 NEWSSTAND Near Mint/Mint

SPIDER-MAN ANNUAL (1964) #7 Good
SPIDER-MAN ANNUAL (1964) #9 Good

SPIDER-MAN GIANT-SIZE (1974) #1 Near Mint/Mint

SPIDER-WOMAN (1978) (#1-50) (JESSICA DREW) (MARVEL) #3 Near Mint/Mint
SPIDER-WOMAN (1978) (#1-50) (JESSICA DREW) (MARVEL) #5 Near Mint/Mint
SPIDER-WOMAN (1978) (#1-50) (JESSICA DREW) (MARVEL) #5 WHITMAN Near Mint/Mint
SPIDER-WOMAN (1978) (#1-50) (JESSICA DREW) (MARVEL) #6 Near Mint/Mint
SPIDER-WOMAN (1978) (#1-50) (JESSICA DREW) (MARVEL) #11 Near Mint/Mint
SPIDER-WOMAN (1978) (#1-50) (JESSICA DREW) (MARVEL) #12 Near Mint/Mint
SPIDER-WOMAN (1978) (#1-50) (JESSICA DREW) (MARVEL) #13 Near Mint/Mint
SPIDER-WOMAN (1978) (#1-50) (JESSICA DREW) (MARVEL) #18 NEWSSTAND Near Mint/Mint


SPIDER-WOMAN (1978) (#1-50) (JESSICA DREW) (MARVEL) #22

SPIDER-WOMAN (1978) (#1-50) (JESSICA DREW) (MARVEL) #22 Near Mint/Mint
SPIDER-WOMAN (1978) (#1-50) (JESSICA DREW) (MARVEL) #23 Near Mint/Mint
SPIDER-WOMAN (1978) (#1-50) (JESSICA DREW) (MARVEL) #24 Near Mint/Mint
SPIDER-WOMAN (1978) (#1-50) (JESSICA DREW) (MARVEL) #25 Very Fine
SPIDER-WOMAN (1978) (#1-50) (JESSICA DREW) (MARVEL) #26 Near Mint/Mint
SPIDER-WOMAN (1978) (#1-50) (JESSICA DREW) (MARVEL) #30 Near Mint/Mint
SPIDER-WOMAN (1978) (#1-50) (JESSICA DREW) (MARVEL) #31 Near Mint/Mint
SPIDER-WOMAN (1978) (#1-50) (JESSICA DREW) (MARVEL) #32 Near Mint/Mint
SPIDER-WOMAN (1978) (#1-50) (JESSICA DREW) (MARVEL) #33 Near Mint/Mint
SPIDER-WOMAN (1978) (#1-50) (JESSICA DREW) (MARVEL) #34 Near Mint/Mint
SPIDER-WOMAN (1978) (#1-50) (JESSICA DREW) (MARVEL) #35 Near Mint/Mint
SPIDER-WOMAN (1978) (#1-50) (JESSICA DREW) (MARVEL) #37 Very Fine
SPIDER-WOMAN (1978) (#1-50) (JESSICA DREW) (MARVEL) #39 Near Mint/Mint
SPIDER-WOMAN (1978) (#1-50) (JESSICA DREW) (MARVEL) #40 Near Mint/Mint
SPIDER-WOMAN (1978) (#1-50) (JESSICA DREW) (MARVEL) #41 Near Mint/Mint
SPIDER-WOMAN (1978) (#1-50) (JESSICA DREW) (MARVEL) #42 Near Mint/Mint
SPIDER-WOMAN (1978) (#1-50) (JESSICA DREW) (MARVEL) #44 Very Fine
SPIDER-WOMAN (1978) (#1-50) (JESSICA DREW) (MARVEL) #45 Very Fine

SPIDEY SUPER STORIES #1 Very Good
SPIDEY SUPER STORIES #2 Very Fine

STAR WARS (1977) (#1-107) (MARVEL) #1 Good
STAR WARS (1977) (#1-107) (MARVEL) #2 Good
STAR WARS (1977) (#1-107) (MARVEL) #3 Very Fine

STRANGE TALES (1951) (#1-85 ATLAS, #86-188 MARVEL) #170 Fine
STRANGE TALES (1951) (#1-85 ATLAS, #86-188 MARVEL) #172 Near Mint/Mint
STRANGE TALES (1951) (#1-85 ATLAS, #86-188 MARVEL) #174 Near Mint/Mint
STRANGE TALES (1951) (#1-85 ATLAS, #86-188 MARVEL) #176 Fine
STRANGE TALES (1951) (#1-85 ATLAS, #86-188 MARVEL) #177 Fine

SUB-MARINER (1968) (#1-72) (PRINCE NAMOR SUB-MARINER) #1 Good
SUB-MARINER (1968) (#1-72) (PRINCE NAMOR SUB-MARINER) #4 Very Fine
SUB-MARINER (1968) (#1-72) (PRINCE NAMOR SUB-MARINER) #5 Near Mint/Mint


SUB-MARINER (1968) (#1-72) (PRINCE NAMOR SUB-MARINER) #6

SUB-MARINER (1968) (#1-72) (PRINCE NAMOR SUB-MARINER) #6 Near Mint/Mint
SUB-MARINER (1968) (#1-72) (PRINCE NAMOR SUB-MARINER) #7 Very Fine
SUB-MARINER (1968) (#1-72) (PRINCE NAMOR SUB-MARINER) #8 Near Mint/Mint
SUB-MARINER (1968) (#1-72) (PRINCE NAMOR SUB-MARINER) #9 Near Mint/Mint
SUB-MARINER (1968) (#1-72) (PRINCE NAMOR SUB-MARINER) #13 Fine
SUB-MARINER (1968) (#1-72) (PRINCE NAMOR SUB-MARINER) #14 Near Mint/Mint
SUB-MARINER (1968) (#1-72) (PRINCE NAMOR SUB-MARINER) #15 Very Fine
SUB-MARINER (1968) (#1-72) (PRINCE NAMOR SUB-MARINER) #18 Very Fine
SUB-MARINER (1968) (#1-72) (PRINCE NAMOR SUB-MARINER) #21 Near Mint/Mint
SUB-MARINER (1968) (#1-72) (PRINCE NAMOR SUB-MARINER) #25 Near Mint/Mint
SUB-MARINER (1968) (#1-72) (PRINCE NAMOR SUB-MARINER) #26 Very Fine
SUB-MARINER (1968) (#1-72) (PRINCE NAMOR SUB-MARINER) #31 Fine
SUB-MARINER (1968) (#1-72) (PRINCE NAMOR SUB-MARINER) #34 Very Good
SUB-MARINER (1968) (#1-72) (PRINCE NAMOR SUB-MARINER) #35 Near Mint/Mint
SUB-MARINER (1968) (#1-72) (PRINCE NAMOR SUB-MARINER) #36 Near Mint/Mint
SUB-MARINER (1968) (#1-72) (PRINCE NAMOR SUB-MARINER) #37 Very Fine
SUB-MARINER (1968) (#1-72) (PRINCE NAMOR SUB-MARINER) #42 Very Fine
SUB-MARINER (1968) (#1-72) (PRINCE NAMOR SUB-MARINER) #43 Fine
SUB-MARINER (1968) (#1-72) (PRINCE NAMOR SUB-MARINER) #44 Very Fine
SUB-MARINER (1968) (#1-72) (PRINCE NAMOR SUB-MARINER) #45 Very Fine
SUB-MARINER (1968) (#1-72) (PRINCE NAMOR SUB-MARINER) #47 Near Mint/Mint
SUB-MARINER (1968) (#1-72) (PRINCE NAMOR SUB-MARINER) #48 Fine
SUB-MARINER (1968) (#1-72) (PRINCE NAMOR SUB-MARINER) #52 Very Fine
SUB-MARINER (1968) (#1-72) (PRINCE NAMOR SUB-MARINER) #54 Very Fine
SUB-MARINER (1968) (#1-72) (PRINCE NAMOR SUB-MARINER) #55 Very Fine
SUB-MARINER (1968) (#1-72) (PRINCE NAMOR SUB-MARINER) #59 Near Mint/Mint
SUB-MARINER (1968) (#1-72) (PRINCE NAMOR SUB-MARINER) #63 Near Mint/Mint
SUB-MARINER (1968) (#1-72) (PRINCE NAMOR SUB-MARINER) #64 Near Mint/Mint
SUB-MARINER (1968) (#1-72) (PRINCE NAMOR SUB-MARINER) #66 Near Mint/Mint
SUB-MARINER (1968) (#1-72) (PRINCE NAMOR SUB-MARINER) #71 Near Mint/Mint
SUB-MARINER (1968) (#1-72) (PRINCE NAMOR SUB-MARINER) #72 Near Mint/Mint

SUB-MARINER ANNUAL (1971) #1 Near Mint/Mint
SUB-MARINER ANNUAL (1971) #2 Very Fine


SUPER-VILLAIN TEAM-UP (1975) #1

SUPER-VILLAIN TEAM-UP (1975) #1 Very Fine
SUPER-VILLAIN TEAM-UP (1975) #2 Fine
SUPER-VILLAIN TEAM-UP (1975) #2 Very Fine
SUPER-VILLAIN TEAM-UP (1975) #3 Very Fine
SUPER-VILLAIN TEAM-UP (1975) #4 Fine
SUPER-VILLAIN TEAM-UP (1975) #6 Very Fine
SUPER-VILLAIN TEAM-UP (1975) #7 Very Fine
SUPER-VILLAIN TEAM-UP (1975) #8 Very Fine
SUPER-VILLAIN TEAM-UP (1975) #12 Very Fine
SUPER-VILLAIN TEAM-UP (1975) #13 Very Fine
SUPER-VILLAIN TEAM-UP (1975) #14 Very Fine

SUPERNATURAL THRILLERS (1972) #1 Very Fine
SUPERNATURAL THRILLERS (1972) #2 Very Fine
SUPERNATURAL THRILLERS (1972) #3 Very Fine
SUPERNATURAL THRILLERS (1972) #5 Good
SUPERNATURAL THRILLERS (1972) #6 Very Fine
SUPERNATURAL THRILLERS (1972) #7 Near Mint/Mint
SUPERNATURAL THRILLERS (1972) #8 Near Mint/Mint
SUPERNATURAL THRILLERS (1972) #9 Very Fine
SUPERNATURAL THRILLERS (1972) #10 Very Fine
SUPERNATURAL THRILLERS (1972) #11 Fine
SUPERNATURAL THRILLERS (1972) #11 Very Fine

TALES OF ASGARD (1968) #1 Good

TEX DAWSON GUN-SLINGER (1973) #1 Fine

THOR (1962) (#83-125 JOURNEY INTO MYSTERY, 126-502) #145 Good
THOR (1962) (#83-125 JOURNEY INTO MYSTERY, 126-502) #149 Good
THOR (1962) (#83-125 JOURNEY INTO MYSTERY, 126-502) #168 Good
THOR (1962) (#83-125 JOURNEY INTO MYSTERY, 126-502) #188 Good


THOR (1962) (#83-125 JOURNEY INTO MYSTERY, 126-502) #189

THOR (1962) (#83-125 JOURNEY INTO MYSTERY, 126-502) #189 Good
THOR (1962) (#83-125 JOURNEY INTO MYSTERY, 126-502) #190 Good
THOR (1962) (#83-125 JOURNEY INTO MYSTERY, 126-502) #192 Good
THOR (1962) (#83-125 JOURNEY INTO MYSTERY, 126-502) #213 Near Mint/Mint
THOR (1962) (#83-125 JOURNEY INTO MYSTERY, 126-502) #214 Near Mint/Mint
THOR (1962) (#83-125 JOURNEY INTO MYSTERY, 126-502) #218 Very Fine
THOR (1962) (#83-125 JOURNEY INTO MYSTERY, 126-502) #219 Near Mint/Mint
THOR (1962) (#83-125 JOURNEY INTO MYSTERY, 126-502) #221 Near Mint/Mint
THOR (1962) (#83-125 JOURNEY INTO MYSTERY, 126-502) #222 Near Mint/Mint
THOR (1962) (#83-125 JOURNEY INTO MYSTERY, 126-502) #223 Very Fine
THOR (1962) (#83-125 JOURNEY INTO MYSTERY, 126-502) #224 Near Mint/Mint
THOR (1962) (#83-125 JOURNEY INTO MYSTERY, 126-502) #225 Near Mint/Mint
THOR (1962) (#83-125 JOURNEY INTO MYSTERY, 126-502) #226 Near Mint/Mint
THOR (1962) (#83-125 JOURNEY INTO MYSTERY, 126-502) #227 Near Mint/Mint
THOR (1962) (#83-125 JOURNEY INTO MYSTERY, 126-502) #229 Very Fine
THOR (1962) (#83-125 JOURNEY INTO MYSTERY, 126-502) #230 Very Fine
THOR (1962) (#83-125 JOURNEY INTO MYSTERY, 126-502) #231 Near Mint/Mint
THOR (1962) (#83-125 JOURNEY INTO MYSTERY, 126-502) #232 Very Fine
THOR (1962) (#83-125 JOURNEY INTO MYSTERY, 126-502) #339 NEWSSTAND Near Mint/Mint

THOR ANNUAL (1965) #1 Very Good
THOR ANNUAL (1965) #4 Very Fine

TOMB OF DRACULA (1972) (#1-70) (MARVEL) #1 Fine
TOMB OF DRACULA (1972) (#1-70) (MARVEL) #2 Very Fine
TOMB OF DRACULA (1972) (#1-70) (MARVEL) #3 Fine
TOMB OF DRACULA (1972) (#1-70) (MARVEL) #4 Fine
TOMB OF DRACULA (1972) (#1-70) (MARVEL) #5 Very Good
TOMB OF DRACULA (1972) (#1-70) (MARVEL) #6 Very Fine
TOMB OF DRACULA (1972) (#1-70) (MARVEL) #7 Very Fine
TOMB OF DRACULA (1972) (#1-70) (MARVEL) #8 Fine
TOMB OF DRACULA (1972) (#1-70) (MARVEL) #9 Very Good
TOMB OF DRACULA (1972) (#1-70) (MARVEL) #11 Near Mint/Mint
TOMB OF DRACULA (1972) (#1-70) (MARVEL) #12 Very Fine


TOMB OF DRACULA (1972) (#1-70) (MARVEL) #13

TOMB OF DRACULA (1972) (#1-70) (MARVEL) #13 Near Mint/Mint
TOMB OF DRACULA (1972) (#1-70) (MARVEL) #14 Very Fine
TOMB OF DRACULA (1972) (#1-70) (MARVEL) #15 Very Fine
TOMB OF DRACULA (1972) (#1-70) (MARVEL) #16 Near Mint/Mint
TOMB OF DRACULA (1972) (#1-70) (MARVEL) #17 Very Fine
TOMB OF DRACULA (1972) (#1-70) (MARVEL) #18 Near Mint/Mint
TOMB OF DRACULA (1972) (#1-70) (MARVEL) #19 Near Mint/Mint
TOMB OF DRACULA (1972) (#1-70) (MARVEL) #20 Near Mint/Mint
TOMB OF DRACULA (1972) (#1-70) (MARVEL) #21 Very Fine
TOMB OF DRACULA (1972) (#1-70) (MARVEL) #22 Very Fine
TOMB OF DRACULA (1972) (#1-70) (MARVEL) #23 Very Fine
TOMB OF DRACULA (1972) (#1-70) (MARVEL) #24 Very Fine
TOMB OF DRACULA (1972) (#1-70) (MARVEL) #26 Near Mint/Mint
TOMB OF DRACULA (1972) (#1-70) (MARVEL) #28 Fine
TOMB OF DRACULA (1972) (#1-70) (MARVEL) #28 Very Fine
TOMB OF DRACULA (1972) (#1-70) (MARVEL) #30 Fine
TOMB OF DRACULA (1972) (#1-70) (MARVEL) #32 Very Fine
TOMB OF DRACULA (1972) (#1-70) (MARVEL) #34 Near Mint/Mint
TOMB OF DRACULA (1972) (#1-70) (MARVEL) #35 Fine
TOMB OF DRACULA (1972) (#1-70) (MARVEL) #36 Fine
TOMB OF DRACULA (1972) (#1-70) (MARVEL) #37 Very Fine
TOMB OF DRACULA (1972) (#1-70) (MARVEL) #38 Very Fine
TOMB OF DRACULA (1972) (#1-70) (MARVEL) #39 Very Fine
TOMB OF DRACULA (1972) (#1-70) (MARVEL) #40 Very Fine
TOMB OF DRACULA (1972) (#1-70) (MARVEL) #41 Near Mint/Mint
TOMB OF DRACULA (1972) (#1-70) (MARVEL) #42 Near Mint/Mint
TOMB OF DRACULA (1972) (#1-70) (MARVEL) #43 Very Fine
TOMB OF DRACULA (1972) (#1-70) (MARVEL) #44 Very Fine
TOMB OF DRACULA (1972) (#1-70) (MARVEL) #46 Near Mint/Mint
TOMB OF DRACULA (1972) (#1-70) (MARVEL) #47 Very Fine
TOMB OF DRACULA (1972) (#1-70) (MARVEL) #48 Very Fine
TOMB OF DRACULA (1972) (#1-70) (MARVEL) #49 Very Fine
TOMB OF DRACULA (1972) (#1-70) (MARVEL) #50 Very Fine
TOMB OF DRACULA (1972) (#1-70) (MARVEL) #51 Very Fine
TOMB OF DRACULA (1972) (#1-70) (MARVEL) #52 Near Mint/Mint
TOMB OF DRACULA (1972) (#1-70) (MARVEL) #53 Fine


TOMB OF DRACULA (1972) (#1-70) (MARVEL) #54

TOMB OF DRACULA (1972) (#1-70) (MARVEL) #54 Very Fine
TOMB OF DRACULA (1972) (#1-70) (MARVEL) #55 Near Mint/Mint
TOMB OF DRACULA (1972) (#1-70) (MARVEL) #56 Near Mint/Mint
TOMB OF DRACULA (1972) (#1-70) (MARVEL) #57 Very Fine
TOMB OF DRACULA (1972) (#1-70) (MARVEL) #58 Fine
TOMB OF DRACULA (1972) (#1-70) (MARVEL) #59 Very Fine
TOMB OF DRACULA (1972) (#1-70) (MARVEL) #60 Very Fine
TOMB OF DRACULA (1972) (#1-70) (MARVEL) #61 Very Fine
TOMB OF DRACULA (1972) (#1-70) (MARVEL) #62 Very Fine
TOMB OF DRACULA (1972) (#1-70) (MARVEL) #63 Very Fine
TOMB OF DRACULA (1972) (#1-70) (MARVEL) #64 Fine
TOMB OF DRACULA (1972) (#1-70) (MARVEL) #65 Near Mint/Mint
TOMB OF DRACULA (1972) (#1-70) (MARVEL) #66 Fine
TOMB OF DRACULA (1972) (#1-70) (MARVEL) #67 Very Fine
TOMB OF DRACULA (1972) (#1-70) (MARVEL) #69 Fine

TOWER OF SHADOWS (1969) #1 Good
TOWER OF SHADOWS (1969) #2 Near Mint/Mint
TOWER OF SHADOWS (1969) #5 Very Fine
TOWER OF SHADOWS (1969) #6 Very Fine
TOWER OF SHADOWS (1969) #9 Very Fine

TOWER OF SHADOWS ANNUAL (1971) #1 Fine

UNCANNY TALES (UNCANNY TALES FROM THE GRAVE #3-12) (1973) #2 Very Fine
UNCANNY TALES (UNCANNY TALES FROM THE GRAVE #3-12) (1973) #3 Very Fine
UNCANNY TALES (UNCANNY TALES FROM THE GRAVE #3-12) (1973) #4 Very Fine

VAULT OF EVIL #1 Fine
VAULT OF EVIL #2 Very Good
VAULT OF EVIL #4 Very Fine
VAULT OF EVIL #7 Very Good
VAULT OF EVIL #11 Very Good

WARLOCK (1972) #1 Fine
WARLOCK (1972) #3 Very Fine
WARLOCK (1972) #5 Very Fine
WARLOCK (1972) #7 Very Fine
WARLOCK (1972) #8 Near Mint/Mint

WEIRD WONDER TALES (1973) #1 Fine
WEIRD WONDER TALES (1973) #4 Very Fine

WEREWOLF BY NIGHT (1972) #1 Very Fine
WEREWOLF BY NIGHT (1972) #3 Near Mint/Mint
WEREWOLF BY NIGHT (1972) #4 Near Mint/Mint
WEREWOLF BY NIGHT (1972) #5 Good
WEREWOLF BY NIGHT (1972) #6 Good
WEREWOLF BY NIGHT (1972) #7 Good
WEREWOLF BY NIGHT (1972) #8 Good
WEREWOLF BY NIGHT (1972) #10 Very Fine
WEREWOLF BY NIGHT (1972) #11 Near Mint/Mint
WEREWOLF BY NIGHT (1972) #12 Very Good
WEREWOLF BY NIGHT (1972) #21 Near Mint/Mint
WEREWOLF BY NIGHT (1972) #23 Very Fine
WEREWOLF BY NIGHT (1972) #25 Very Fine
WEREWOLF BY NIGHT (1972) #35 Near Mint/Mint
WEREWOLF BY NIGHT (1972) #41 Near Mint/Mint
WEREWOLF BY NIGHT (1972) #42 Near Mint/Mint

WEREWOLF BY NIGHT GIANT-SIZE (1974) #2 Very Fine

WESTERN KID (1971) #1 Fine
WESTERN KID (1971) #3 Very Fine
WESTERN KID (1971) #5 Very Fine

WHAT IF... (1977) #3 Near Mint/Mint
WHAT IF... (1977) #4 Near Mint/Mint


WHERE CREATURES ROAM (1970) #1

WHERE CREATURES ROAM (1970) #1 Fine
WHERE CREATURES ROAM (1970) #1 Very Fine
WHERE CREATURES ROAM (1970) #5 Near Mint/Mint
WHERE CREATURES ROAM (1970) #6 Very Fine
WHERE CREATURES ROAM (1970) #8 Near Mint/Mint

WHERE MONSTERS DWELL (1970) #2 Near Mint/Mint
WHERE MONSTERS DWELL (1970) #3 Fine
WHERE MONSTERS DWELL (1970) #6 Very Fine
WHERE MONSTERS DWELL (1970) #13 Very Fine
WHERE MONSTERS DWELL (1970) #14 Very Fine
WHERE MONSTERS DWELL (1970) #15 Near Mint/Mint
WHERE MONSTERS DWELL (1970) #16 Very Good
WHERE MONSTERS DWELL (1970) #18 Fine
WHERE MONSTERS DWELL (1970) #19 Fine
WHERE MONSTERS DWELL (1970) #20 Near Mint/Mint
WHERE MONSTERS DWELL (1970) #21 Fine
WHERE MONSTERS DWELL (1970) #22 Very Fine
WHERE MONSTERS DWELL (1970) #24 Fine
WHERE MONSTERS DWELL (1970) #25 Very Fine
WHERE MONSTERS DWELL (1970) #26 Very Fine
WHERE MONSTERS DWELL (1970) #27 Very Fine
WHERE MONSTERS DWELL (1970) #28 Very Fine

WORLDS UNKNOWN (1973) #1 Very Fine
WORLDS UNKNOWN (1973) #2 Fine
WORLDS UNKNOWN (1973) #3 Fine