4,000+ High Grade Bronze and Silver Age Comics
Howdy!
The good news continues unabated here at Mile High Comics. The incredible positive energy that resulted from this year's record-setting Free Comics Book Day event at our Jason St. Mega-Store has washed over into this week, with a remarkable number of great collections being offered to us. The pace of our buying over the past month has actually been so frenetic that I can honestly say that never in our 48-year history as a comics retailing company have we been blessed with so many opportunities to pick up awesome material. Even after nearly half a century in the comics world, I have to admit that being able to purchase vast numbers comics, books, and toys is still a lot of fun!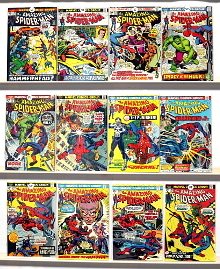 Some of the SPIDER-MAN comics from the Single owner Collection

So you know, the largest and best of the collections that we purchased this week was a remarkable single-owner collection of 4,000+ Silver Age and Bronze Age Marvel comics. The owner had purchased many of these issue from us during the 1970's and early 1980's, read them once, and then put them away. As a result, many are still in beautiful VF and NM conditions. Our head buyer, Will Moulton has been working until late at night grading these issues for you, with the list at the end of this newsletter being the result of his initial efforts. He does, however, have nine more full long boxes of this collection to grade, so our daily Premium New-In-Stock listings are going to be filled with awesome issues for at least the next week.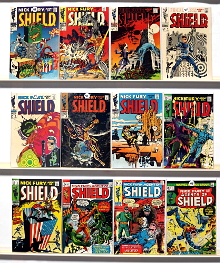 Some of the SHIELD comics from the Single owner Collection

On a related topic, I am keeping our current 40% off PATIENCE! codeword sale in effect for you on all of our back issue comics and magazines through at least this weekend. Only new issue issues, a few variants, and our professionally-graded comics are exempt. The 40% off PATIENCE! savings do apply to all of the comics from this wonderful new collection...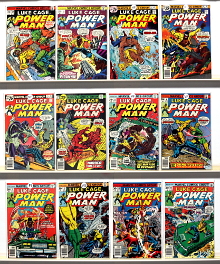 Some of the POWER MAN comics from the Single owner Collection

I will close by quickly mentioning that because of my many friendships in the International Court System, I have been offered the opportunity to be an out-of-realm participant in this year's immense June 24th Pride Parade in New York City. I will be riding on the Imperial Court of New York's float, along with their current and past Monarchs. This is an incredible honor, and I am very grateful to Emperor Robert DiSanto and Empress Gaye Banter, as I believe that the NYC parade is largest in North America. For those of you who have been among the hundreds of thousands of people who have lined the streets of Manhattan in past years to view this amazing spectacle, this year's parade will begin at the historic Stonewall Inn, and then go uptown, which is the reverse of past events.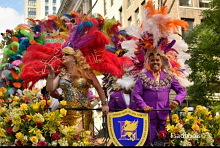 Last year's spectacular Imperial Court of New York float with my awesome friends Regent Empress Madison Mansfield and Emperor Harrington (Henry Wood)

In case you are wondering, I am mentioning my participation in NY Pride because it will probably cause me to spend ten days in the NY area, as I have also been invited to Fire Island on July 4th to attend this year's "Invasion." With 11 days to fill between those two fun personal events, I am asking Pam to set up some visits for me to view private collections in the Northeast. If you have part or all of a collection that you are thinking about selling, this will be your first opportunity in over three years for me to stop by your home or business to consider purchasing your comics. I generally rent a cargo van for these NE trips and drive from New York up to Boston, then down to DC, and then east to Allentown, PA. If you live anywhere in that vast region, Pam can work with you to try and set up a visit. Please contact her ASAP at pamb@milehighcomics.com.
Happy collecting!
Chuck Rozanski,
President - Mile High Comics, Inc.
May 10, 2018

P.S. Here is a list of the first group of comics from the single-owner collection.

POWER MAN/IRON FIST (LUKE CAGE, POWER MAN #1-49) (1972) #27

POWER MAN/IRON FIST (LUKE CAGE, POWER MAN #1-49) (1972) #27 Near Mint/Mint
POWER MAN/IRON FIST (LUKE CAGE, POWER MAN #1-49) (1972) #29 Near Mint/Mint
POWER MAN/IRON FIST (LUKE CAGE, POWER MAN #1-49) (1972) #30 Near Mint/Mint
POWER MAN/IRON FIST (LUKE CAGE, POWER MAN #1-49) (1972) #31 Very Fine
POWER MAN/IRON FIST (LUKE CAGE, POWER MAN #1-49) (1972) #33 Very Fine
POWER MAN/IRON FIST (LUKE CAGE, POWER MAN #1-49) (1972) #34 Near Mint/Mint
POWER MAN/IRON FIST (LUKE CAGE, POWER MAN #1-49) (1972) #35 Very Fine
POWER MAN/IRON FIST (LUKE CAGE, POWER MAN #1-49) (1972) #36 Very Fine
POWER MAN/IRON FIST (LUKE CAGE, POWER MAN #1-49) (1972) #39 Near Mint/Mint
POWER MAN/IRON FIST (LUKE CAGE, POWER MAN #1-49) (1972) #40 Near Mint/Mint
POWER MAN/IRON FIST (LUKE CAGE, POWER MAN #1-49) (1972) #42 Near Mint/Mint
POWER MAN/IRON FIST (LUKE CAGE, POWER MAN #1-49) (1972) #43 Near Mint/Mint
POWER MAN/IRON FIST (LUKE CAGE, POWER MAN #1-49) (1972) #45 Very Fine
POWER MAN/IRON FIST (LUKE CAGE, POWER MAN #1-49) (1972) #46 Very Fine
POWER MAN/IRON FIST (LUKE CAGE, POWER MAN #1-49) (1972) #47 Very Fine
POWER MAN/IRON FIST (LUKE CAGE, POWER MAN #1-49) (1972) #48 Very Fine
POWER MAN/IRON FIST (LUKE CAGE, POWER MAN #1-49) (1972) #53 Near Mint/Mint
POWER MAN/IRON FIST (LUKE CAGE, POWER MAN #1-49) (1972) #55 Near Mint/Mint
POWER MAN/IRON FIST (LUKE CAGE, POWER MAN #1-49) (1972) #56 Near Mint/Mint
POWER MAN/IRON FIST (LUKE CAGE, POWER MAN #1-49) (1972) #58 NEWSSTAND Near Mint/Mint
POWER MAN/IRON FIST (LUKE CAGE, POWER MAN #1-49) (1972) #61 Near Mint/Mint
POWER MAN/IRON FIST (LUKE CAGE, POWER MAN #1-49) (1972) #64 Near Mint/Mint
POWER MAN/IRON FIST (LUKE CAGE, POWER MAN #1-49) (1972) #65 Near Mint/Mint
POWER MAN/IRON FIST (LUKE CAGE, POWER MAN #1-49) (1972) #67 Near Mint/Mint
POWER MAN/IRON FIST (LUKE CAGE, POWER MAN #1-49) (1972) #68 Near Mint/Mint
POWER MAN/IRON FIST (LUKE CAGE, POWER MAN #1-49) (1972) #70 Near Mint/Mint
POWER MAN/IRON FIST (LUKE CAGE, POWER MAN #1-49) (1972) #72 Near Mint/Mint
POWER MAN/IRON FIST (LUKE CAGE, POWER MAN #1-49) (1972) #74 Near Mint/Mint
POWER MAN/IRON FIST (LUKE CAGE, POWER MAN #1-49) (1972) #75 Near Mint/Mint
POWER MAN/IRON FIST (LUKE CAGE, POWER MAN #1-49) (1972) #78 Near Mint/Mint

RAWHIDE KID ANNUAL (1971) #1 Good


RED SONJA (1977) (#1-15) (MARVEL) #1

RED SONJA (1977) (#1-15) (MARVEL) #1 Very Fine
RED SONJA (1977) (#1-15) (MARVEL) #3 Very Fine
RED SONJA (1977) (#1-15) (MARVEL) #4 Near Mint/Mint
RED SONJA (1977) (#1-15) (MARVEL) #5 Near Mint/Mint
RED SONJA (1977) (#1-15) (MARVEL) #8 Near Mint/Mint
RED SONJA (1977) (#1-15) (MARVEL) #14 Near Mint/Mint

RED WOLF (1972) #1 Fine
RED WOLF (1972) #2 Fine
RED WOLF (1972) #3 Fine
RED WOLF (1972) #4 Very Fine
RED WOLF (1972) #5 Fine

RINGO KID (1970) #2 Near Mint/Mint
RINGO KID (1970) #3 Near Mint/Mint
RINGO KID (1970) #6 Very Fine
RINGO KID (1970) #11 Fine
RINGO KID (1970) #17 Near Mint/Mint

ROM (1979) #1 Fine
ROM (1979) #1 Very Fine

SHANNA THE SHE-DEVIL (1972) #1 Fine

SHE-HULK (1980) (#1-25) (SAVAGE SHE-HULK) (MARVEL) #1 Good

SHIELD (1968) (#1-18) (MARVEL) #1 Very Fine
SHIELD (1968) (#1-18) (MARVEL) #2 Near Mint/Mint
SHIELD (1968) (#1-18) (MARVEL) #3 Near Mint/Mint
SHIELD (1968) (#1-18) (MARVEL) #4 Very Fine
SHIELD (1968) (#1-18) (MARVEL) #5 Very Fine
SHIELD (1968) (#1-18) (MARVEL) #6 Very Fine
SHIELD (1968) (#1-18) (MARVEL) #7 Near Mint/Mint
SHIELD (1968) (#1-18) (MARVEL) #9 Near Mint/Mint


SHIELD (1968) (#1-18) (MARVEL) #13

SHIELD (1968) (#1-18) (MARVEL) #13 Near Mint/Mint
SHIELD (1968) (#1-18) (MARVEL) #17 Near Mint/Mint
SHIELD (1968) (#1-18) (MARVEL) #18 Near Mint/Mint
SHIELD (1973) (#1-5) (MARVEL)(NICK FURY & HIS AGENTS) #1 Very Fine
SHIELD (1973) (#1-5) (MARVEL)(NICK FURY & HIS AGENTS) #2 Very Fine
SHIELD (1973) (#1-5) (MARVEL)(NICK FURY & HIS AGENTS) #3 Very Fine
SHIELD (1973) (#1-5) (MARVEL)(NICK FURY & HIS AGENTS) #4 Fine
SHIELD (1973) (#1-5) (MARVEL)(NICK FURY & HIS AGENTS) #5 Fine

SHOGUN WARRIORS (1979) #1 Very Fine
SHOGUN WARRIORS (1979) #2 Near Mint/Mint
SHOGUN WARRIORS (1979) #4 Very Fine
SHOGUN WARRIORS (1979) #5 Near Mint/Mint
SHOGUN WARRIORS (1979) #5 NEWSSTAND Near Mint/Mint
SHOGUN WARRIORS (1979) #6 NEWSSTAND Near Mint/Mint
SHOGUN WARRIORS (1979) #7 NEWSSTAND Near Mint/Mint
SHOGUN WARRIORS (1979) #8 NEWSSTAND Near Mint/Mint
SHOGUN WARRIORS (1979) #11 Near Mint/Mint
SHOGUN WARRIORS (1979) #12 Near Mint/Mint
SHOGUN WARRIORS (1979) #13 Near Mint/Mint
SHOGUN WARRIORS (1979) #14 Near Mint/Mint
SHOGUN WARRIORS (1979) #15 Near Mint/Mint
SHOGUN WARRIORS (1979) #16 Near Mint/Mint
SHOGUN WARRIORS (1979) #17 Near Mint/Mint
SHOGUN WARRIORS (1979) #18 Near Mint/Mint
SHOGUN WARRIORS (1979) #19 Near Mint/Mint
SHOGUN WARRIORS (1979) #20 Very Fine

SKULL THE SLAYER (1975) #1 Very Fine
SKULL THE SLAYER (1975) #5 Very Fine
SKULL THE SLAYER (1975) #6 Very Fine
SKULL THE SLAYER (1975) #7 Very Fine

SON OF SATAN (1975) #1 Very Fine
SON OF SATAN (1975) #2 Near Mint/Mint
SON OF SATAN (1975) #3 Fine
SON OF SATAN (1975) #3 Very Fine
SON OF SATAN (1975) #4 Very Fine
SON OF SATAN (1975) #5 Near Mint/Mint
SON OF SATAN (1975) #6 Fine
SON OF SATAN (1975) #7 Very Fine
SON OF SATAN (1975) #8 Fine

SPECIAL MARVEL EDITION #1 Very Fine
SPECIAL MARVEL EDITION #2 Near Mint/Mint
SPECIAL MARVEL EDITION #3 Very Fine
SPECIAL MARVEL EDITION #4 Very Fine
SPECIAL MARVEL EDITION #5 Very Fine
SPECIAL MARVEL EDITION #6 Near Mint/Mint
SPECIAL MARVEL EDITION #7 Very Fine
SPECIAL MARVEL EDITION #8 Very Fine
SPECIAL MARVEL EDITION #9 Very Fine
SPECIAL MARVEL EDITION #10 Near Mint/Mint
SPECIAL MARVEL EDITION #11 Very Fine

SPIDER-MAN (1963) (AMAZING SPIDER-MAN) (#1-441) #23 Fair
SPIDER-MAN (1963) (AMAZING SPIDER-MAN) (#1-441) #24 Fair
SPIDER-MAN (1963) (AMAZING SPIDER-MAN) (#1-441) #25 Good
SPIDER-MAN (1963) (AMAZING SPIDER-MAN) (#1-441) #27 Good
SPIDER-MAN (1963) (AMAZING SPIDER-MAN) (#1-441) #29 Fair
SPIDER-MAN (1963) (AMAZING SPIDER-MAN) (#1-441) #31 Very Good
SPIDER-MAN (1963) (AMAZING SPIDER-MAN) (#1-441) #34 Fair
SPIDER-MAN (1963) (AMAZING SPIDER-MAN) (#1-441) #35 Good
SPIDER-MAN (1963) (AMAZING SPIDER-MAN) (#1-441) #36 Fair
SPIDER-MAN (1963) (AMAZING SPIDER-MAN) (#1-441) #38 Good
SPIDER-MAN (1963) (AMAZING SPIDER-MAN) (#1-441) #39 Fair
SPIDER-MAN (1963) (AMAZING SPIDER-MAN) (#1-441) #40 Fair
SPIDER-MAN (1963) (AMAZING SPIDER-MAN) (#1-441) #42 Good
SPIDER-MAN (1963) (AMAZING SPIDER-MAN) (#1-441) #44 Good


SPIDER-MAN (1963) (AMAZING SPIDER-MAN) (#1-441) #45

SPIDER-MAN (1963) (AMAZING SPIDER-MAN) (#1-441) #45 Good
SPIDER-MAN (1963) (AMAZING SPIDER-MAN) (#1-441) #46 Good
SPIDER-MAN (1963) (AMAZING SPIDER-MAN) (#1-441) #47 Good
SPIDER-MAN (1963) (AMAZING SPIDER-MAN) (#1-441) #48 Good
SPIDER-MAN (1963) (AMAZING SPIDER-MAN) (#1-441) #49 Very Good
SPIDER-MAN (1963) (AMAZING SPIDER-MAN) (#1-441) #51 Good
SPIDER-MAN (1963) (AMAZING SPIDER-MAN) (#1-441) #52 Good
SPIDER-MAN (1963) (AMAZING SPIDER-MAN) (#1-441) #53 Very Good
SPIDER-MAN (1963) (AMAZING SPIDER-MAN) (#1-441) #54 Good
SPIDER-MAN (1963) (AMAZING SPIDER-MAN) (#1-441) #55 Good
SPIDER-MAN (1963) (AMAZING SPIDER-MAN) (#1-441) #56 Good
SPIDER-MAN (1963) (AMAZING SPIDER-MAN) (#1-441) #57 Fine
SPIDER-MAN (1963) (AMAZING SPIDER-MAN) (#1-441) #59 Good
SPIDER-MAN (1963) (AMAZING SPIDER-MAN) (#1-441) #60 Very Good
SPIDER-MAN (1963) (AMAZING SPIDER-MAN) (#1-441) #61 Good
SPIDER-MAN (1963) (AMAZING SPIDER-MAN) (#1-441) #62 Good
SPIDER-MAN (1963) (AMAZING SPIDER-MAN) (#1-441) #63 Fair
SPIDER-MAN (1963) (AMAZING SPIDER-MAN) (#1-441) #64 Good
SPIDER-MAN (1963) (AMAZING SPIDER-MAN) (#1-441) #65 Good
SPIDER-MAN (1963) (AMAZING SPIDER-MAN) (#1-441) #66 Good
SPIDER-MAN (1963) (AMAZING SPIDER-MAN) (#1-441) #67 Fine
SPIDER-MAN (1963) (AMAZING SPIDER-MAN) (#1-441) #68 Very Good
SPIDER-MAN (1963) (AMAZING SPIDER-MAN) (#1-441) #69 Very Good
SPIDER-MAN (1963) (AMAZING SPIDER-MAN) (#1-441) #70 Very Good
SPIDER-MAN (1963) (AMAZING SPIDER-MAN) (#1-441) #71 Good
SPIDER-MAN (1963) (AMAZING SPIDER-MAN) (#1-441) #72 Good
SPIDER-MAN (1963) (AMAZING SPIDER-MAN) (#1-441) #73 Very Good
SPIDER-MAN (1963) (AMAZING SPIDER-MAN) (#1-441) #74 Very Good
SPIDER-MAN (1963) (AMAZING SPIDER-MAN) (#1-441) #75 Very Fine
SPIDER-MAN (1963) (AMAZING SPIDER-MAN) (#1-441) #76 Very Fine
SPIDER-MAN (1963) (AMAZING SPIDER-MAN) (#1-441) #77 Fine
SPIDER-MAN (1963) (AMAZING SPIDER-MAN) (#1-441) #78 Very Fine
SPIDER-MAN (1963) (AMAZING SPIDER-MAN) (#1-441) #79 Good
SPIDER-MAN (1963) (AMAZING SPIDER-MAN) (#1-441) #80 Good


SPIDER-MAN (1963) (AMAZING SPIDER-MAN) (#1-441) #81

SPIDER-MAN (1963) (AMAZING SPIDER-MAN) (#1-441) #81 Good
SPIDER-MAN (1963) (AMAZING SPIDER-MAN) (#1-441) #82 Near Mint/Mint
SPIDER-MAN (1963) (AMAZING SPIDER-MAN) (#1-441) #83 Very Fine
SPIDER-MAN (1963) (AMAZING SPIDER-MAN) (#1-441) #84 Good
SPIDER-MAN (1963) (AMAZING SPIDER-MAN) (#1-441) #85 Good
SPIDER-MAN (1963) (AMAZING SPIDER-MAN) (#1-441) #86 Good
SPIDER-MAN (1963) (AMAZING SPIDER-MAN) (#1-441) #87 Very Good
SPIDER-MAN (1963) (AMAZING SPIDER-MAN) (#1-441) #88 Very Good
SPIDER-MAN (1963) (AMAZING SPIDER-MAN) (#1-441) #89 Very Good
SPIDER-MAN (1963) (AMAZING SPIDER-MAN) (#1-441) #90 Very Good
SPIDER-MAN (1963) (AMAZING SPIDER-MAN) (#1-441) #91 Fine
SPIDER-MAN (1963) (AMAZING SPIDER-MAN) (#1-441) #92 Good
SPIDER-MAN (1963) (AMAZING SPIDER-MAN) (#1-441) #93 Good
SPIDER-MAN (1963) (AMAZING SPIDER-MAN) (#1-441) #94 Good
SPIDER-MAN (1963) (AMAZING SPIDER-MAN) (#1-441) #95 Fine
SPIDER-MAN (1963) (AMAZING SPIDER-MAN) (#1-441) #96 Very Good
SPIDER-MAN (1963) (AMAZING SPIDER-MAN) (#1-441) #97 Very Good
SPIDER-MAN (1963) (AMAZING SPIDER-MAN) (#1-441) #98 Near Mint/Mint
SPIDER-MAN (1963) (AMAZING SPIDER-MAN) (#1-441) #100 Very Good
SPIDER-MAN (1963) (AMAZING SPIDER-MAN) (#1-441) #102 Very Good
SPIDER-MAN (1963) (AMAZING SPIDER-MAN) (#1-441) #103 Good
SPIDER-MAN (1963) (AMAZING SPIDER-MAN) (#1-441) #104 Very Good
SPIDER-MAN (1963) (AMAZING SPIDER-MAN) (#1-441) #105 Fine
SPIDER-MAN (1963) (AMAZING SPIDER-MAN) (#1-441) #106 Very Good
SPIDER-MAN (1963) (AMAZING SPIDER-MAN) (#1-441) #107 Very Good
SPIDER-MAN (1963) (AMAZING SPIDER-MAN) (#1-441) #108 Very Good
SPIDER-MAN (1963) (AMAZING SPIDER-MAN) (#1-441) #109 Very Good
SPIDER-MAN (1963) (AMAZING SPIDER-MAN) (#1-441) #110 Fine
SPIDER-MAN (1963) (AMAZING SPIDER-MAN) (#1-441) #112 Fine
SPIDER-MAN (1963) (AMAZING SPIDER-MAN) (#1-441) #114 Very Fine
SPIDER-MAN (1963) (AMAZING SPIDER-MAN) (#1-441) #117 Very Fine
SPIDER-MAN (1963) (AMAZING SPIDER-MAN) (#1-441) #118 Good
SPIDER-MAN (1963) (AMAZING SPIDER-MAN) (#1-441) #119 Very Good
SPIDER-MAN (1963) (AMAZING SPIDER-MAN) (#1-441) #120 Fine
SPIDER-MAN (1963) (AMAZING SPIDER-MAN) (#1-441) #123 Near Mint/Mint
SPIDER-MAN (1963) (AMAZING SPIDER-MAN) (#1-441) #129 Near Mint/Mint
SPIDER-MAN (1963) (AMAZING SPIDER-MAN) (#1-441) #130 Near Mint/Mint
SPIDER-MAN (1963) (AMAZING SPIDER-MAN) (#1-441) #134 Very Fine
SPIDER-MAN (1963) (AMAZING SPIDER-MAN) (#1-441) #138 Near Mint/Mint


SPIDER-MAN (1963) (AMAZING SPIDER-MAN) (#1-441) #147

SPIDER-MAN (1963) (AMAZING SPIDER-MAN) (#1-441) #147 Near Mint/Mint
SPIDER-MAN (1963) (AMAZING SPIDER-MAN) (#1-441) #149 Very Fine
SPIDER-MAN (1963) (AMAZING SPIDER-MAN) (#1-441) #151 Very Fine
SPIDER-MAN (1963) (AMAZING SPIDER-MAN) (#1-441) #152 Very Good
SPIDER-MAN (1963) (AMAZING SPIDER-MAN) (#1-441) #153 Very Fine
SPIDER-MAN (1963) (AMAZING SPIDER-MAN) (#1-441) #154 Near Mint/Mint
SPIDER-MAN (1963) (AMAZING SPIDER-MAN) (#1-441) #158 Fine
SPIDER-MAN (1963) (AMAZING SPIDER-MAN) (#1-441) #159 Fine
SPIDER-MAN (1963) (AMAZING SPIDER-MAN) (#1-441) #160 Fine
SPIDER-MAN (1963) (AMAZING SPIDER-MAN) (#1-441) #161 Very Fine
SPIDER-MAN (1963) (AMAZING SPIDER-MAN) (#1-441) #162 Very Good
SPIDER-MAN (1963) (AMAZING SPIDER-MAN) (#1-441) #163 Very Fine
SPIDER-MAN (1963) (AMAZING SPIDER-MAN) (#1-441) #165 Near Mint/Mint
SPIDER-MAN (1963) (AMAZING SPIDER-MAN) (#1-441) #166 Near Mint/Mint
SPIDER-MAN (1963) (AMAZING SPIDER-MAN) (#1-441) #171 Very Fine
SPIDER-MAN (1963) (AMAZING SPIDER-MAN) (#1-441) #174 Near Mint/Mint
SPIDER-MAN (1963) (AMAZING SPIDER-MAN) (#1-441) #175 Very Fine
SPIDER-MAN (1963) (AMAZING SPIDER-MAN) (#1-441) #201 Near Mint/Mint
SPIDER-MAN (1963) (AMAZING SPIDER-MAN) (#1-441) #219 Near Mint/Mint
SPIDER-MAN (1963) (AMAZING SPIDER-MAN) (#1-441) #228 Near Mint/Mint
SPIDER-MAN (1963) (AMAZING SPIDER-MAN) (#1-441) #232 Near Mint/Mint
SPIDER-MAN (1963) (AMAZING SPIDER-MAN) (#1-441) #233 Near Mint/Mint
SPIDER-MAN (1963) (AMAZING SPIDER-MAN) (#1-441) #263 NEWSSTAND Near Mint/Mint

SPIDER-MAN ANNUAL (1964) #7 Good
SPIDER-MAN ANNUAL (1964) #9 Good

SPIDER-MAN GIANT-SIZE (1974) #1 Near Mint/Mint

SPIDER-WOMAN (1978) (#1-50) (JESSICA DREW) (MARVEL) #3 Near Mint/Mint
SPIDER-WOMAN (1978) (#1-50) (JESSICA DREW) (MARVEL) #5 Near Mint/Mint
SPIDER-WOMAN (1978) (#1-50) (JESSICA DREW) (MARVEL) #5 WHITMAN Near Mint/Mint
SPIDER-WOMAN (1978) (#1-50) (JESSICA DREW) (MARVEL) #6 Near Mint/Mint
SPIDER-WOMAN (1978) (#1-50) (JESSICA DREW) (MARVEL) #11 Near Mint/Mint
SPIDER-WOMAN (1978) (#1-50) (JESSICA DREW) (MARVEL) #12 Near Mint/Mint
SPIDER-WOMAN (1978) (#1-50) (JESSICA DREW) (MARVEL) #13 Near Mint/Mint
SPIDER-WOMAN (1978) (#1-50) (JESSICA DREW) (MARVEL) #18 NEWSSTAND Near Mint/Mint


SPIDER-WOMAN (1978) (#1-50) (JESSICA DREW) (MARVEL) #22

SPIDER-WOMAN (1978) (#1-50) (JESSICA DREW) (MARVEL) #22 Near Mint/Mint
SPIDER-WOMAN (1978) (#1-50) (JESSICA DREW) (MARVEL) #23 Near Mint/Mint
SPIDER-WOMAN (1978) (#1-50) (JESSICA DREW) (MARVEL) #24 Near Mint/Mint
SPIDER-WOMAN (1978) (#1-50) (JESSICA DREW) (MARVEL) #25 Very Fine
SPIDER-WOMAN (1978) (#1-50) (JESSICA DREW) (MARVEL) #26 Near Mint/Mint
SPIDER-WOMAN (1978) (#1-50) (JESSICA DREW) (MARVEL) #30 Near Mint/Mint
SPIDER-WOMAN (1978) (#1-50) (JESSICA DREW) (MARVEL) #31 Near Mint/Mint
SPIDER-WOMAN (1978) (#1-50) (JESSICA DREW) (MARVEL) #32 Near Mint/Mint
SPIDER-WOMAN (1978) (#1-50) (JESSICA DREW) (MARVEL) #33 Near Mint/Mint
SPIDER-WOMAN (1978) (#1-50) (JESSICA DREW) (MARVEL) #34 Near Mint/Mint
SPIDER-WOMAN (1978) (#1-50) (JESSICA DREW) (MARVEL) #35 Near Mint/Mint
SPIDER-WOMAN (1978) (#1-50) (JESSICA DREW) (MARVEL) #37 Very Fine
SPIDER-WOMAN (1978) (#1-50) (JESSICA DREW) (MARVEL) #39 Near Mint/Mint
SPIDER-WOMAN (1978) (#1-50) (JESSICA DREW) (MARVEL) #40 Near Mint/Mint
SPIDER-WOMAN (1978) (#1-50) (JESSICA DREW) (MARVEL) #41 Near Mint/Mint
SPIDER-WOMAN (1978) (#1-50) (JESSICA DREW) (MARVEL) #42 Near Mint/Mint
SPIDER-WOMAN (1978) (#1-50) (JESSICA DREW) (MARVEL) #44 Very Fine
SPIDER-WOMAN (1978) (#1-50) (JESSICA DREW) (MARVEL) #45 Very Fine

SPIDEY SUPER STORIES #1 Very Good
SPIDEY SUPER STORIES #2 Very Fine

STAR WARS (1977) (#1-107) (MARVEL) #1 Good
STAR WARS (1977) (#1-107) (MARVEL) #2 Good
STAR WARS (1977) (#1-107) (MARVEL) #3 Very Fine

STRANGE TALES (1951) (#1-85 ATLAS, #86-188 MARVEL) #170 Fine
STRANGE TALES (1951) (#1-85 ATLAS, #86-188 MARVEL) #172 Near Mint/Mint
STRANGE TALES (1951) (#1-85 ATLAS, #86-188 MARVEL) #174 Near Mint/Mint
STRANGE TALES (1951) (#1-85 ATLAS, #86-188 MARVEL) #176 Fine
STRANGE TALES (1951) (#1-85 ATLAS, #86-188 MARVEL) #177 Fine

SUB-MARINER (1968) (#1-72) (PRINCE NAMOR SUB-MARINER) #1 Good
SUB-MARINER (1968) (#1-72) (PRINCE NAMOR SUB-MARINER) #4 Very Fine
SUB-MARINER (1968) (#1-72) (PRINCE NAMOR SUB-MARINER) #5 Near Mint/Mint


SUB-MARINER (1968) (#1-72) (PRINCE NAMOR SUB-MARINER) #6

SUB-MARINER (1968) (#1-72) (PRINCE NAMOR SUB-MARINER) #6 Near Mint/Mint
SUB-MARINER (1968) (#1-72) (PRINCE NAMOR SUB-MARINER) #7 Very Fine
SUB-MARINER (1968) (#1-72) (PRINCE NAMOR SUB-MARINER) #8 Near Mint/Mint
SUB-MARINER (1968) (#1-72) (PRINCE NAMOR SUB-MARINER) #9 Near Mint/Mint
SUB-MARINER (1968) (#1-72) (PRINCE NAMOR SUB-MARINER) #13 Fine
SUB-MARINER (1968) (#1-72) (PRINCE NAMOR SUB-MARINER) #14 Near Mint/Mint
SUB-MARINER (1968) (#1-72) (PRINCE NAMOR SUB-MARINER) #15 Very Fine
SUB-MARINER (1968) (#1-72) (PRINCE NAMOR SUB-MARINER) #18 Very Fine
SUB-MARINER (1968) (#1-72) (PRINCE NAMOR SUB-MARINER) #21 Near Mint/Mint
SUB-MARINER (1968) (#1-72) (PRINCE NAMOR SUB-MARINER) #25 Near Mint/Mint
SUB-MARINER (1968) (#1-72) (PRINCE NAMOR SUB-MARINER) #26 Very Fine
SUB-MARINER (1968) (#1-72) (PRINCE NAMOR SUB-MARINER) #31 Fine
SUB-MARINER (1968) (#1-72) (PRINCE NAMOR SUB-MARINER) #34 Very Good
SUB-MARINER (1968) (#1-72) (PRINCE NAMOR SUB-MARINER) #35 Near Mint/Mint
SUB-MARINER (1968) (#1-72) (PRINCE NAMOR SUB-MARINER) #36 Near Mint/Mint
SUB-MARINER (1968) (#1-72) (PRINCE NAMOR SUB-MARINER) #37 Very Fine
SUB-MARINER (1968) (#1-72) (PRINCE NAMOR SUB-MARINER) #42 Very Fine
SUB-MARINER (1968) (#1-72) (PRINCE NAMOR SUB-MARINER) #43 Fine
SUB-MARINER (1968) (#1-72) (PRINCE NAMOR SUB-MARINER) #44 Very Fine
SUB-MARINER (1968) (#1-72) (PRINCE NAMOR SUB-MARINER) #45 Very Fine
SUB-MARINER (1968) (#1-72) (PRINCE NAMOR SUB-MARINER) #47 Near Mint/Mint
SUB-MARINER (1968) (#1-72) (PRINCE NAMOR SUB-MARINER) #48 Fine
SUB-MARINER (1968) (#1-72) (PRINCE NAMOR SUB-MARINER) #52 Very Fine
SUB-MARINER (1968) (#1-72) (PRINCE NAMOR SUB-MARINER) #54 Very Fine
SUB-MARINER (1968) (#1-72) (PRINCE NAMOR SUB-MARINER) #55 Very Fine
SUB-MARINER (1968) (#1-72) (PRINCE NAMOR SUB-MARINER) #59 Near Mint/Mint
SUB-MARINER (1968) (#1-72) (PRINCE NAMOR SUB-MARINER) #63 Near Mint/Mint
SUB-MARINER (1968) (#1-72) (PRINCE NAMOR SUB-MARINER) #64 Near Mint/Mint
SUB-MARINER (1968) (#1-72) (PRINCE NAMOR SUB-MARINER) #66 Near Mint/Mint
SUB-MARINER (1968) (#1-72) (PRINCE NAMOR SUB-MARINER) #71 Near Mint/Mint
SUB-MARINER (1968) (#1-72) (PRINCE NAMOR SUB-MARINER) #72 Near Mint/Mint

SUB-MARINER ANNUAL (1971) #1 Near Mint/Mint
SUB-MARINER ANNUAL (1971) #2 Very Fine


SUPER-VILLAIN TEAM-UP (1975) #1

SUPER-VILLAIN TEAM-UP (1975) #1 Very Fine
SUPER-VILLAIN TEAM-UP (1975) #2 Fine
SUPER-VILLAIN TEAM-UP (1975) #2 Very Fine
SUPER-VILLAIN TEAM-UP (1975) #3 Very Fine
SUPER-VILLAIN TEAM-UP (1975) #4 Fine
SUPER-VILLAIN TEAM-UP (1975) #6 Very Fine
SUPER-VILLAIN TEAM-UP (1975) #7 Very Fine
SUPER-VILLAIN TEAM-UP (1975) #8 Very Fine
SUPER-VILLAIN TEAM-UP (1975) #12 Very Fine
SUPER-VILLAIN TEAM-UP (1975) #13 Very Fine
SUPER-VILLAIN TEAM-UP (1975) #14 Very Fine

SUPERNATURAL THRILLERS (1972) #1 Very Fine
SUPERNATURAL THRILLERS (1972) #2 Very Fine
SUPERNATURAL THRILLERS (1972) #3 Very Fine
SUPERNATURAL THRILLERS (1972) #5 Good
SUPERNATURAL THRILLERS (1972) #6 Very Fine
SUPERNATURAL THRILLERS (1972) #7 Near Mint/Mint
SUPERNATURAL THRILLERS (1972) #8 Near Mint/Mint
SUPERNATURAL THRILLERS (1972) #9 Very Fine
SUPERNATURAL THRILLERS (1972) #10 Very Fine
SUPERNATURAL THRILLERS (1972) #11 Fine
SUPERNATURAL THRILLERS (1972) #11 Very Fine

TALES OF ASGARD (1968) #1 Good

TEX DAWSON GUN-SLINGER (1973) #1 Fine

THOR (1962) (#83-125 JOURNEY INTO MYSTERY, 126-502) #145 Good
THOR (1962) (#83-125 JOURNEY INTO MYSTERY, 126-502) #149 Good
THOR (1962) (#83-125 JOURNEY INTO MYSTERY, 126-502) #168 Good
THOR (1962) (#83-125 JOURNEY INTO MYSTERY, 126-502) #188 Good


THOR (1962) (#83-125 JOURNEY INTO MYSTERY, 126-502) #189

THOR (1962) (#83-125 JOURNEY INTO MYSTERY, 126-502) #189 Good
THOR (1962) (#83-125 JOURNEY INTO MYSTERY, 126-502) #190 Good
THOR (1962) (#83-125 JOURNEY INTO MYSTERY, 126-502) #192 Good
THOR (1962) (#83-125 JOURNEY INTO MYSTERY, 126-502) #213 Near Mint/Mint
THOR (1962) (#83-125 JOURNEY INTO MYSTERY, 126-502) #214 Near Mint/Mint
THOR (1962) (#83-125 JOURNEY INTO MYSTERY, 126-502) #218 Very Fine
THOR (1962) (#83-125 JOURNEY INTO MYSTERY, 126-502) #219 Near Mint/Mint
THOR (1962) (#83-125 JOURNEY INTO MYSTERY, 126-502) #221 Near Mint/Mint
THOR (1962) (#83-125 JOURNEY INTO MYSTERY, 126-502) #222 Near Mint/Mint
THOR (1962) (#83-125 JOURNEY INTO MYSTERY, 126-502) #223 Very Fine
THOR (1962) (#83-125 JOURNEY INTO MYSTERY, 126-502) #224 Near Mint/Mint
THOR (1962) (#83-125 JOURNEY INTO MYSTERY, 126-502) #225 Near Mint/Mint
THOR (1962) (#83-125 JOURNEY INTO MYSTERY, 126-502) #226 Near Mint/Mint
THOR (1962) (#83-125 JOURNEY INTO MYSTERY, 126-502) #227 Near Mint/Mint
THOR (1962) (#83-125 JOURNEY INTO MYSTERY, 126-502) #229 Very Fine
THOR (1962) (#83-125 JOURNEY INTO MYSTERY, 126-502) #230 Very Fine
THOR (1962) (#83-125 JOURNEY INTO MYSTERY, 126-502) #231 Near Mint/Mint
THOR (1962) (#83-125 JOURNEY INTO MYSTERY, 126-502) #232 Very Fine
THOR (1962) (#83-125 JOURNEY INTO MYSTERY, 126-502) #339 NEWSSTAND Near Mint/Mint

THOR ANNUAL (1965) #1 Very Good
THOR ANNUAL (1965) #4 Very Fine

TOMB OF DRACULA (1972) (#1-70) (MARVEL) #1 Fine
TOMB OF DRACULA (1972) (#1-70) (MARVEL) #2 Very Fine
TOMB OF DRACULA (1972) (#1-70) (MARVEL) #3 Fine
TOMB OF DRACULA (1972) (#1-70) (MARVEL) #4 Fine
TOMB OF DRACULA (1972) (#1-70) (MARVEL) #5 Very Good
TOMB OF DRACULA (1972) (#1-70) (MARVEL) #6 Very Fine
TOMB OF DRACULA (1972) (#1-70) (MARVEL) #7 Very Fine
TOMB OF DRACULA (1972) (#1-70) (MARVEL) #8 Fine
TOMB OF DRACULA (1972) (#1-70) (MARVEL) #9 Very Good
TOMB OF DRACULA (1972) (#1-70) (MARVEL) #11 Near Mint/Mint
TOMB OF DRACULA (1972) (#1-70) (MARVEL) #12 Very Fine


TOMB OF DRACULA (1972) (#1-70) (MARVEL) #13

TOMB OF DRACULA (1972) (#1-70) (MARVEL) #13 Near Mint/Mint
TOMB OF DRACULA (1972) (#1-70) (MARVEL) #14 Very Fine
TOMB OF DRACULA (1972) (#1-70) (MARVEL) #15 Very Fine
TOMB OF DRACULA (1972) (#1-70) (MARVEL) #16 Near Mint/Mint
TOMB OF DRACULA (1972) (#1-70) (MARVEL) #17 Very Fine
TOMB OF DRACULA (1972) (#1-70) (MARVEL) #18 Near Mint/Mint
TOMB OF DRACULA (1972) (#1-70) (MARVEL) #19 Near Mint/Mint
TOMB OF DRACULA (1972) (#1-70) (MARVEL) #20 Near Mint/Mint
TOMB OF DRACULA (1972) (#1-70) (MARVEL) #21 Very Fine
TOMB OF DRACULA (1972) (#1-70) (MARVEL) #22 Very Fine
TOMB OF DRACULA (1972) (#1-70) (MARVEL) #23 Very Fine
TOMB OF DRACULA (1972) (#1-70) (MARVEL) #24 Very Fine
TOMB OF DRACULA (1972) (#1-70) (MARVEL) #26 Near Mint/Mint
TOMB OF DRACULA (1972) (#1-70) (MARVEL) #28 Fine
TOMB OF DRACULA (1972) (#1-70) (MARVEL) #28 Very Fine
TOMB OF DRACULA (1972) (#1-70) (MARVEL) #30 Fine
TOMB OF DRACULA (1972) (#1-70) (MARVEL) #32 Very Fine
TOMB OF DRACULA (1972) (#1-70) (MARVEL) #34 Near Mint/Mint
TOMB OF DRACULA (1972) (#1-70) (MARVEL) #35 Fine
TOMB OF DRACULA (1972) (#1-70) (MARVEL) #36 Fine
TOMB OF DRACULA (1972) (#1-70) (MARVEL) #37 Very Fine
TOMB OF DRACULA (1972) (#1-70) (MARVEL) #38 Very Fine
TOMB OF DRACULA (1972) (#1-70) (MARVEL) #39 Very Fine
TOMB OF DRACULA (1972) (#1-70) (MARVEL) #40 Very Fine
TOMB OF DRACULA (1972) (#1-70) (MARVEL) #41 Near Mint/Mint
TOMB OF DRACULA (1972) (#1-70) (MARVEL) #42 Near Mint/Mint
TOMB OF DRACULA (1972) (#1-70) (MARVEL) #43 Very Fine
TOMB OF DRACULA (1972) (#1-70) (MARVEL) #44 Very Fine
TOMB OF DRACULA (1972) (#1-70) (MARVEL) #46 Near Mint/Mint
TOMB OF DRACULA (1972) (#1-70) (MARVEL) #47 Very Fine
TOMB OF DRACULA (1972) (#1-70) (MARVEL) #48 Very Fine
TOMB OF DRACULA (1972) (#1-70) (MARVEL) #49 Very Fine
TOMB OF DRACULA (1972) (#1-70) (MARVEL) #50 Very Fine
TOMB OF DRACULA (1972) (#1-70) (MARVEL) #51 Very Fine
TOMB OF DRACULA (1972) (#1-70) (MARVEL) #52 Near Mint/Mint
TOMB OF DRACULA (1972) (#1-70) (MARVEL) #53 Fine


TOMB OF DRACULA (1972) (#1-70) (MARVEL) #54

TOMB OF DRACULA (1972) (#1-70) (MARVEL) #54 Very Fine
TOMB OF DRACULA (1972) (#1-70) (MARVEL) #55 Near Mint/Mint
TOMB OF DRACULA (1972) (#1-70) (MARVEL) #56 Near Mint/Mint
TOMB OF DRACULA (1972) (#1-70) (MARVEL) #57 Very Fine
TOMB OF DRACULA (1972) (#1-70) (MARVEL) #58 Fine
TOMB OF DRACULA (1972) (#1-70) (MARVEL) #59 Very Fine
TOMB OF DRACULA (1972) (#1-70) (MARVEL) #60 Very Fine
TOMB OF DRACULA (1972) (#1-70) (MARVEL) #61 Very Fine
TOMB OF DRACULA (1972) (#1-70) (MARVEL) #62 Very Fine
TOMB OF DRACULA (1972) (#1-70) (MARVEL) #63 Very Fine
TOMB OF DRACULA (1972) (#1-70) (MARVEL) #64 Fine
TOMB OF DRACULA (1972) (#1-70) (MARVEL) #65 Near Mint/Mint
TOMB OF DRACULA (1972) (#1-70) (MARVEL) #66 Fine
TOMB OF DRACULA (1972) (#1-70) (MARVEL) #67 Very Fine
TOMB OF DRACULA (1972) (#1-70) (MARVEL) #69 Fine

TOWER OF SHADOWS (1969) #1 Good
TOWER OF SHADOWS (1969) #2 Near Mint/Mint
TOWER OF SHADOWS (1969) #5 Very Fine
TOWER OF SHADOWS (1969) #6 Very Fine
TOWER OF SHADOWS (1969) #9 Very Fine

TOWER OF SHADOWS ANNUAL (1971) #1 Fine

UNCANNY TALES (UNCANNY TALES FROM THE GRAVE #3-12) (1973) #2 Very Fine
UNCANNY TALES (UNCANNY TALES FROM THE GRAVE #3-12) (1973) #3 Very Fine
UNCANNY TALES (UNCANNY TALES FROM THE GRAVE #3-12) (1973) #4 Very Fine

VAULT OF EVIL #1 Fine
VAULT OF EVIL #2 Very Good
VAULT OF EVIL #4 Very Fine
VAULT OF EVIL #7 Very Good
VAULT OF EVIL #11 Very Good

WARLOCK (1972) #1 Fine
WARLOCK (1972) #3 Very Fine
WARLOCK (1972) #5 Very Fine
WARLOCK (1972) #7 Very Fine
WARLOCK (1972) #8 Near Mint/Mint

WEIRD WONDER TALES (1973) #1 Fine
WEIRD WONDER TALES (1973) #4 Very Fine

WEREWOLF BY NIGHT (1972) #1 Very Fine
WEREWOLF BY NIGHT (1972) #3 Near Mint/Mint
WEREWOLF BY NIGHT (1972) #4 Near Mint/Mint
WEREWOLF BY NIGHT (1972) #5 Good
WEREWOLF BY NIGHT (1972) #6 Good
WEREWOLF BY NIGHT (1972) #7 Good
WEREWOLF BY NIGHT (1972) #8 Good
WEREWOLF BY NIGHT (1972) #10 Very Fine
WEREWOLF BY NIGHT (1972) #11 Near Mint/Mint
WEREWOLF BY NIGHT (1972) #12 Very Good
WEREWOLF BY NIGHT (1972) #21 Near Mint/Mint
WEREWOLF BY NIGHT (1972) #23 Very Fine
WEREWOLF BY NIGHT (1972) #25 Very Fine
WEREWOLF BY NIGHT (1972) #35 Near Mint/Mint
WEREWOLF BY NIGHT (1972) #41 Near Mint/Mint
WEREWOLF BY NIGHT (1972) #42 Near Mint/Mint

WEREWOLF BY NIGHT GIANT-SIZE (1974) #2 Very Fine

WESTERN KID (1971) #1 Fine
WESTERN KID (1971) #3 Very Fine
WESTERN KID (1971) #5 Very Fine

WHAT IF... (1977) #3 Near Mint/Mint
WHAT IF... (1977) #4 Near Mint/Mint


WHERE CREATURES ROAM (1970) #1

WHERE CREATURES ROAM (1970) #1 Fine
WHERE CREATURES ROAM (1970) #1 Very Fine
WHERE CREATURES ROAM (1970) #5 Near Mint/Mint
WHERE CREATURES ROAM (1970) #6 Very Fine
WHERE CREATURES ROAM (1970) #8 Near Mint/Mint

WHERE MONSTERS DWELL (1970) #2 Near Mint/Mint
WHERE MONSTERS DWELL (1970) #3 Fine
WHERE MONSTERS DWELL (1970) #6 Very Fine
WHERE MONSTERS DWELL (1970) #13 Very Fine
WHERE MONSTERS DWELL (1970) #14 Very Fine
WHERE MONSTERS DWELL (1970) #15 Near Mint/Mint
WHERE MONSTERS DWELL (1970) #16 Very Good
WHERE MONSTERS DWELL (1970) #18 Fine
WHERE MONSTERS DWELL (1970) #19 Fine
WHERE MONSTERS DWELL (1970) #20 Near Mint/Mint
WHERE MONSTERS DWELL (1970) #21 Fine
WHERE MONSTERS DWELL (1970) #22 Very Fine
WHERE MONSTERS DWELL (1970) #24 Fine
WHERE MONSTERS DWELL (1970) #25 Very Fine
WHERE MONSTERS DWELL (1970) #26 Very Fine
WHERE MONSTERS DWELL (1970) #27 Very Fine
WHERE MONSTERS DWELL (1970) #28 Very Fine

WORLDS UNKNOWN (1973) #1 Very Fine
WORLDS UNKNOWN (1973) #2 Fine
WORLDS UNKNOWN (1973) #3 Fine