Half Of Our 2019 Free Comic Book Day Sets Now Committed
Howdy!
With only eight days left to go until Free Comic Book Day 2019, excitement is really building here at Mile High Comics. All 200 of the complete sets of all 53 of this year's variants that we are offering have now been collated, with over half already committed to fans, both via our Jason St. Mega-Store, and also to readers of this newsletter all around the world. Single issues are also going fast, with a slew of additional orders arriving each day, most with multiple requests for individual FCBD issues. This is fun!
If you have not yet reserved your complete set, I urge you to do so right away. We sold completely out last year, and expect to do so again, at least in part because your donation of $75 to Camp Aranu'tiq not only entitles you to not only all 53 of the standard 2019 editions, but also the free copies of our two exclusive Mile High Comics variant editions. Our post-FCBD price on just those two exclusive MHC variants will be $35, so your donation ahead of the event is a very good investment for 55 comics. Shipping this year is a flat $15 Domestic, and $30 International, with all orders containing any FCBD editions shipping on Monday, May 6th. Enjoy!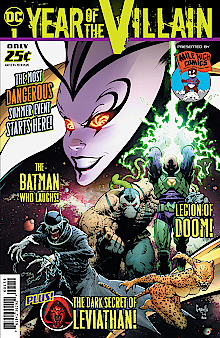 DC YEAR OF THE VILLAIN #1 Mile High Exclusive

In other news, we have a huge Texas Hold'em Poker Tournament scheduled for in Jason St. on May 18th. That tournament will be a benefit to help the International Court System to cover the costs of setting up a National LGBTQ Wall of Honor in the historic Stonewall Inn, in New York City. A police crackdown on LGBTQ patrons at the Stonewall on June 28th, 1969 was the seminal point for the first violent resistance to the draconian anti-gay laws that were then in effect all across America.

Mile High Comics THANOS (2019) #1

In case you are wondering, my personal involvement with the Stonewall 50 celebrations is in my official capacity as ICS Imperial Crown Princess of the Americas. In that role, I have been honored to have been chosen to accompany our Queen Mother I of the Americas, Nicole the Great, to Stonewall on June 27th to help to dedicate that special wall in that historic building (it is now on America's register of Historic Places...) to the brave pioneers, such as Jose' Sarria, Harvey Milk, Frank Kameny, Barbara Gittings, and many others who gave up the relative safety of their closets in order to advocate for civil rights for the millions of LGBTQ Americans who were being oppressed.
What makes this all especially important to me is that it is widely held that it was the drag queens (including Sylvia Rivera), lesbians, and transgender girls who frequented Stonewall that threw the first punches (and bricks...) on the night that sparked those historic days of rebellion. I view my attending that ceremony at Stonewall on June 27th as Bettie Pages as a very personal way for me to honor the remarkable courage of those brave 1969 drag queens who, after decades of repression, finally resisted. Truth be told, the Stonewall is actually a very small bar, so for me to have been invited to personally participate in this historic celebration on June 27th is truly an honor.
If you would like to play in our May 18th poker tournament, it will begin at 11 AM, on the 18th. Buy-in is only $25, all of which will be reimbursed to you via a $25 gift certificate if you register in advance. Registration on the day of the tournament is also OK, but we urge you to arrive no later than 10 AM, as seats go fast. We had 81 players in our last tournament, and everyone had a great time! First prize is a $500 shopping spree, with $200 for second, and $100 each for 3rd-5th. And, just so you know, I personally donate all the gift certificate prizes to our tournaments, and then always donate 100% of the proceeds to that month's beneficiary.

DEAR JUSTICE LEAGUE FREE COMIC BOOK DAY MINI COMIC (2019) #1
My only other news for today is a quick reminder that you can still request one of this year's FCBD variant editions be included with your order at no charge for every $10 (net of discounts). Just let us know in the "Notes" as to which FCBD variants you would like to receive. Our current codeword is a 30% off FCBD! codeword that applies to all ten million+ back issue comics and magazines that we offer on our website. Only new issues, a few variants, and our professionally-graded items are excluded. Will and Pam just listed a ton of great back issues for you in our Premium New-In-Stock.
Chuck Rozanski,
President - Mile High Comics, Inc.
April 26, 2019
Here are all 53 Free Comics Book Day Variants:

ANIMOSITY TALES FREE COMIC BOOK DAY (2019) #1

AVENGERS/SAVAGE AVENGERS FREE COMIC BOOK DAY (2019) #1

BLASTOSAURUS FREE COMIC BOOK DAY (2019) #1

BLOODSHOT FREE COMIC BOOK DAY (2019) #1

BOB'S BURGERS FREE COMIC BOOK DAY (2019) #1

BUFFY THE VAMPIRE SLAYER/FIREFLY FREE COMIC BOOK DAY (2019) #1

CAPTAIN CANUCK FREE COMIC BOOK DAY (2019) #1

CASPER'S SPOOKSVILLE FREE COMIC BOOK DAY (2019) #1

DARK AGE FREE COMIC BOOK DAY (2019) #1

DEADLY CLASS: KILLER SET FREE COMIC BOOK DAY (2019) #1

DEAR JUSTICE LEAGUE FREE COMIC BOOK DAY MINI COMIC (2019) #1

DEFEND COMICS: CBLDF FREE COMIC BOOK DAY (2019) #1

DESCENDANTS: DIZZY'S NEW FORTUNE FREE COMIC BOOK DAY (2019) #1

DOCTOR WHO: 13TH DOCTOR FREE COMIC BOOK DAY (2019) #1

DRAGONFLY & DRAGONFLYMAN FREE COMIC BOOK DAY (2019) #1

GHOST HOG FREE COMIC BOOK DAY (2019) #1

GILLBERT FREE COMIC BOOK DAY (2019) #1

GO FISH FREE COMIC BOOK DAY (2019) #1

GRUMBLE VS. THE GOON FREE COMIC BOOK DAY (2019) #1

H1 IGNITION FREE COMIC BOOK DAY (2019) #1

HOPE FREE COMIC BOOK DAY (2019) #1

INTERCEPTOR FREE COMIC BOOK DAY (2019) #1

KINO'S JOURNEY: BEAUTIFUL WORLD FREE COMIC BOOK DAY (2019) #1

LADY MECHANIKA FREE COMIC BOOK DAY (2019) #1

LITTLE LULU FREE COMIC BOOK DAY (2019) #1

LUCY & ANDY NEANDERTHAL FREE COMIC BOOK DAY (2019) #1

LUMBERJANES: SHAPES OF FRIENDSHIP FREE COMIC BOOK DAY (2019) #1

MALIKA: FIRE & FROST FREE COMIC BOOK DAY (2019) #1

MIDNIGHT SKY FREE COMIC BOOK DAY (2019) #0

MINECRAFT FREE COMIC BOOK DAY (2019) #1

MY HERO ACADEMIA FREE COMIC BOOK DAY (2019) #1

OUR FAVORITE THING IS MY FAVORITE THING IS MONSTER FCBD (2019) #1

OVERSTREET GUIDE TO COLLECTING FREE COMIC BOOK DAY (2019) #1

POKEMON FREE COMIC BOOK DAY (2019) #1

PUNCHLINE FREE COMIC BOOK DAY (2019) #1

RIVERDALE SEASON 3 FREE COMIC BOOK DAY (2019) #1

ROBOTECH FREE COMIC BOOK DAY (2019) #0

SHEETS STORY FREE COMIC BOOK DAY (2019) #1

SPAWN FREE COMIC BOOK DAY (2019) #1

SPIDER-MAN/VENOM FREE COMIC BOOK DAY (2019) #1

STAR WARS ADVENTURES FREE COMIC BOOK DAY (2019) #1

STARBURNS PRESENTS FREE COMIC BOOK DAY (2019) #2

STRANGER THINGS/BLACK HAMMER FREE COMIC BOOK DAY (2019) #1

STREET FIGHTER: SAKURA VS. KARIN FREE COMIC BOOK DAY (2019) #1

STRIKER FORCE 7 FREE COMIC BOOK DAY (2019) #1

TEENAGE MUTANT NINJA TURTLES FREE COMIC BOOK DAY (2019) #1

TICK FREE COMIC BOOK DAY (2019) #1

TREASURY OF BRITISH COMICS PRESENTS FUNNY PAGES FCBD (2019) #1

UNDER THE MOON: A CATWOMAN TALE FREE COMIC BOOK DAY (2019) #1

VAMPIRELLA (2019) (#0-UP) (DYNAMITE) #0

WITCH HAT ATELIER FREE COMIC BOOK DAY (2019) #1

WOLFIE MONSTER & THE BIG BAD PIZZA BATTLE FCBD (2019) #1

ZAGOR: ALIEN SAGA FREE COMIC BOOK DAY (2019) #1