>THANOS and DEADPOOL Variants Plus FCBD
Howdy!
I will begin today by mentioning that our new 40% off PATIENCE! codeword sale has proven to be surprisingly popular. From what I am seeing from reviewing orders as they arrive from our server, quite a few people are taking advantage of the sale discount to purchase some of the great comics that Will and Pam have added into our Premium New-In-Stock link this week. Upon review, I can see why this has elected such a strong response, as the diversity of our recent additions is amazing broad. As per usual, the PATIENCE! codeword does not apply to new issues, a few variants, and our professionally-graded comics, but it does apply to all other issues listed in New-In-Stock and Premium New-In-Stock. Please do allow an extra couple of weeks for PATIENCE! Orders to ship, as we are still working down a prodigious backlog. Thank you.
A nice diversion occurred on Thursday when local comics promoter Rio Herrera brought noted Marvel and Valiant comics artist (West Coast Avengers, Shadowman, etc), Bob Hall, by Jason St. for a tour of the Mega-Store. We had a very enjoyable visit!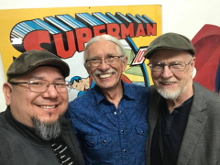 Rio Herrera, Chuck Rozanski, and Bob Hall

In other news, I remembered the other day that in past years that we created exclusive Mile High Comics variant editions that are now perfect tie-ins for both the new AVENGERS: INFINITY WAR and the upcoming DEADPOOL 2 movies. All of the issues shown below had original print runs that were only a tiny 3,000 copies, worldwide. A few of these variants were also soaked when our 70 skylights were caved in by hail last May, so our number remaining in stock continues to diminish. Just saying...

THANOS RISING (2013) #1 Mile High Comics Exclusive


DEADPOOL (2013) #30 Mile High Comics Exclusive


DEADPOOL (2016) #1 Mile High Comics Exclusive


DEADPOOL (2016) #2 Mile High Comics Exclusive


DEADPOOL ANNUAL (2013) #1 Mile High Comics Exclusive


DEADPOOL KILLS DEADPOOL (2013) #1 Mile High Comics Exclusive

My only other bit of news for today is that we are now down to only 45 complete sets remaining (out of 200...) of this year's Free Comic Book Day variant editions. If you want to order a complete set from us, you had better place your order immediately. A set will be shipped to you on Monday, May 7th, of you pledge a donation of $40 (plus exact shipping) to the Matthew Shepard Foundation.
Happy collecting!
Chuck Rozanski,
President - Mile High Comics, Inc.
April 21, 2018

Below are a few of this year's FCBD variants, including our two Mile High Comics cover variant exclusives, available ONLY through us!

AMAZING SPIDER-MAN FREE COMIC BOOK DAY MILE HIGH EXCLUSIVE (Only available through Mile High Comics)


AVENGERS/CAPTAIN AMERICA FLIPBOOK FREE COMIC BOOK DAY MILE HIGH EXCLUSIVE (Only available through Mile High Comics)


BOB'S BURGERS FREE COMIC BOOK DAY


DC SUPER HERO GIRLS FREE COMIC BOOK DAY


DISNEY PRINCESS FREE COMIC BOOK DAY


HOWARD LOVECRAFT BIG BOOK OF SUMMER FUN FCBD


INVADER ZIM FREE COMIC BOOK DAY


MIGHTY MORPHIN POWER RANGERS: SHATTERED GRID FCBD


NIGHTMARE BEFORE CHRISTMAS: ZERO'S JOURNEY FCBD